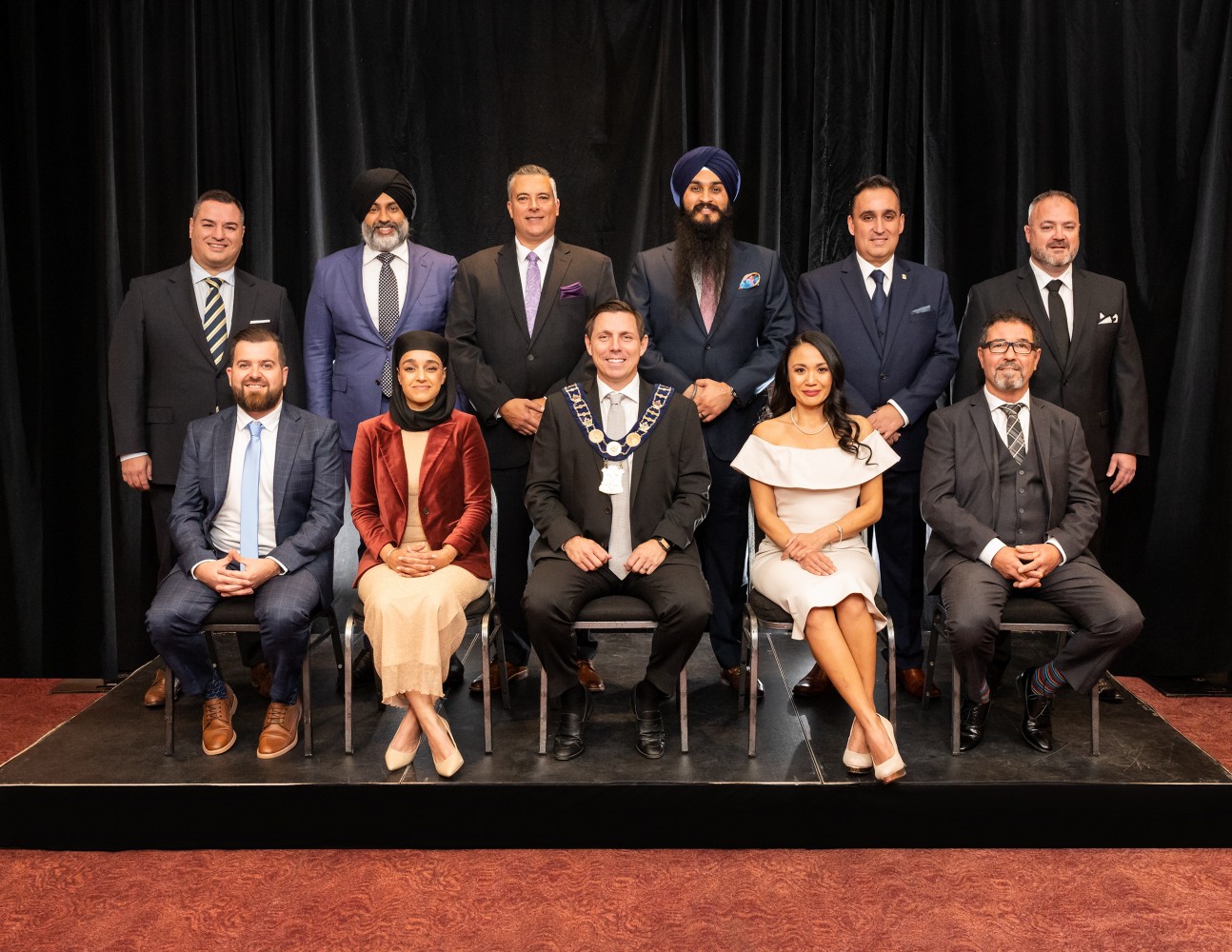 City of Brampton
Less than 24 hours after promising to end nepotism inside City Hall Patrick Brown breaks his vow
"Gone are the days of any notion of nepotism, untendered contracts and catering to special interests of any old guard. We are building a modern, transparent, accountable City that every Bramptonian can be proud of," Patrick Brown told the audience inside Brampton's Rose Theatre Tuesday evening, as the new members of council were sworn in.
It took him less than a day to break his promise to end nepotism, which has been a mounting concern, highlighted by Brown's conduct throughout the past term.
In August, Brown cancelled a forensic investigation into the mishandling of $629,000 for the failed Brampton University Project. The probe was entering a third phase, where investigators were planning to delve into the relationship between Brown and consultant Rob Godfrey, whose firm received almost $360,000 more than what was approved by Council for the work in 2019.
Members were never told Godfrey is one of Brown's closest friends, as the mayor himself admitted in his 2018 memoir.
Former CAO David Barrick, who was brought to Brampton by Brown, was fired in February after improper hiring practices and questionable procurements for City contracts were revealed. Questions were also raised after former integrity commissioner Muneeza Sheikh, who was let go when Council learned she had billed taxpayers $321,600 in 2020 then $340,000 in 2021 for the part-time role, was hired despite her connections to Brown and her lack of experience.
After pledging to end nepotism, Sheikh was rehired Wednesday. She has said publicly that she has "no personal ties" to Brown. She has attended events with him, came out publicly in his defence following sexual misconduct allegations against him in 2018, and her husband at the time was hired to do work for Brown when he was the PC leader.
An independent review by Williams HR Consulting Inc. into the experiences of Black employees at the City found nepotism to be viewed as a significant issue in hiring practices across multiple departments.
Brown's comments about untendered contracts came after allegations were levelled at his feet, following a string of questionable procurements under his leadership last term. In August, he cancelled four forensic investigations into some of those contracts.
It wasn't a promising start to the new term, with the mayor vowing to end concerning conduct he himself was at the centre of, conduct that he made sure would not be investigated.
A clear divide on council last term prevented many pieces of key City business from being completed.
(The Pointer files)
Accountability isn't the only issue the new elected officials will have to address to regain the trust of residents and business owners who have grown tired after years of scandal inside City Hall.
The new councillors will have a challenging budget following four consecutive years of freezes forced by Brown with sweeping cuts to capital projects that were neglected.
A 2019 State of Local Infrastructure (SOLI) report examined in depth the assets Brampton owns. It determined that across the next decade, the City will need to spend just over $1.8 billion in infrastructure maintenance, just to keep existing assets in working shape.
Climate initiatives have also been lackluster, with the City spending more on a single road than all of its climate initiatives combined in 2022.
This was after the City declared a climate emergency in 2019.
Brown referenced the emergency in his speech Tuesday, telling residents the City is currently looking at adding 450 zero emission buses to replace its diesel fleet by 2027. While federal funding is available and there are also financing options through Ottawa, under Brown's mandate to freeze the Brampton budget and a complete lack of investment in climate initiatives over the last four years, it's unclear how the City will pay for the expensive new fleet.
Transit has been a budget pressure for the city. A 2020 audit of Brampton Transit found the department needed better controls over its budget process and improvements to its fuel purchasing procedures, painting a picture of a system under stress.
A tunnelled LRT into the city's downtown, which was proposed by Brown in 2019, along with his claims that funding conversations with higher levels of government were promising, has seen no progress. The estimated cost of up to $1.7 billion has not been addressed in any of the budgets under Brown.
Healthcare is another pressing issue with the city facing a hallway healthcare crisis and only one full-service hospital in Brampton. The PC government is requiring a local share investment of $250 million, half from William Osler and half from City Hall, to transform Peel Memorial from a wellness centre into an actual hospital, in order to move forward with the planned expansion of the medical facility. Brown previously opposed a special levy to help move the project forward, despite the dire need for more healthcare, as it prevented him from claiming that he had kept the budget frozen for four years. He was the only council member who refused to support the vote for the levy which was passed earlier in the year, when Brown used his Brampton budget freeze claim as a slogan during his bid to win the federal Conservative leadership race.
Challenges are also expected through the PC government's Bill 23, which aims for more housing units in Brampton by 2031 than what the City's Draft Official Plan anticipates by 2051. The new provincial housing target for Brampton is 113,000 units by 2031, compared to the City's own forecast of 102,000 housing units by 2051.
Brown has supported the controversial plan pushed by developers, calling the goals "realistic and achievable."
Four new faces will be present at Council this term.
Dennis Keenan, who will replace Jeff Bowman as City Councillor for Wards 3 and 4; Navjit Kaur Brar captured the empty City Council seat in Wards 2 and 6 left by the departure of Doug Whillans; and Rod Power will be stepping up to represent constituents as City Councillor for Wards 7 and 8, the position previously held by Charmaine Williams before she was elected to Queen's Park.
Gurpartap Singh Toor will be replacing unseated incumbent Gurpreet Dhillon for Wards 9 and 10.
Councillors Pat Fortini, Martin Medeiros, Michael Palleschi, Paul Vicente, Rowena Santos and Harkirat Singh will be returning, Singh as the deputy mayor, following a decision this week.
Councillors Fortini and Medeiros, along with four now former councillors, alleged "democracy is under siege" last term, calling Brown's leadership "authoritarian."
The same six members of Council supported a forensic investigation into the failed Brampton University project after a staff report came back that found work on the contracts that went to friends of Brown and Santos was never completed.
A number of investigations into allegations of wrongdoing around other procurements involving Brown were also ordered. These include one for legal billing to the City involving a lawyer used by Brown personally; the RFP that led to the appointment of integrity commissioner Muneeza Sheikh, who had personal connections to Brown; the RFP to shape the Municipal Development Corporation initiative, which was given to another associate of Brown despite having no experience in the area; and the RFPs around COVID-19 supply purchases, after a private equity firm was given a contract for masks that was supposed to be for $82,000 but ended up costing $896,000.
Brown, along with his allies, cancelled all six of the forensic investigations Council previously ordered in May.
One was narrowing in on Brown's relationship with his close friend Godfrey, whose firm was given three times the amount of money approved by council, when the mayor moved to terminate the investigation.
"This city can do great things, and this Council will work day in and day out to make sure our city can serve our potential," Brown told the inauguration audience Tuesday.
"My commitment to City Council, to City staff and to the wider community is to lead the best way I can: to be a champion and a fighter for our city. I will work hard everyday over the next four years to create opportunities for Bramptonians to succeed and thrive. I believe in my heart of hearts that the best days for our city lay ahead, and I can't wait to get to work tomorrow at City Hall. Thank you so much."
---
Email: [email protected]
Twitter: @JessicaRDurling
---
COVID-19 is impacting all Canadians. At a time when vital public information is needed by everyone, The Pointer has taken down our paywall on all stories relating to the pandemic and those of public interest to ensure every resident of Brampton and Mississauga has access to the facts. For those who are able, we encourage you to consider a subscription. This will help us report on important public interest issues the community needs to know about now more than ever. You can register for a 30-day free trial HERE. Thereafter, The Pointer will charge $10 a month and you can cancel any time right on the website. Thank you
Submit a correction about this story