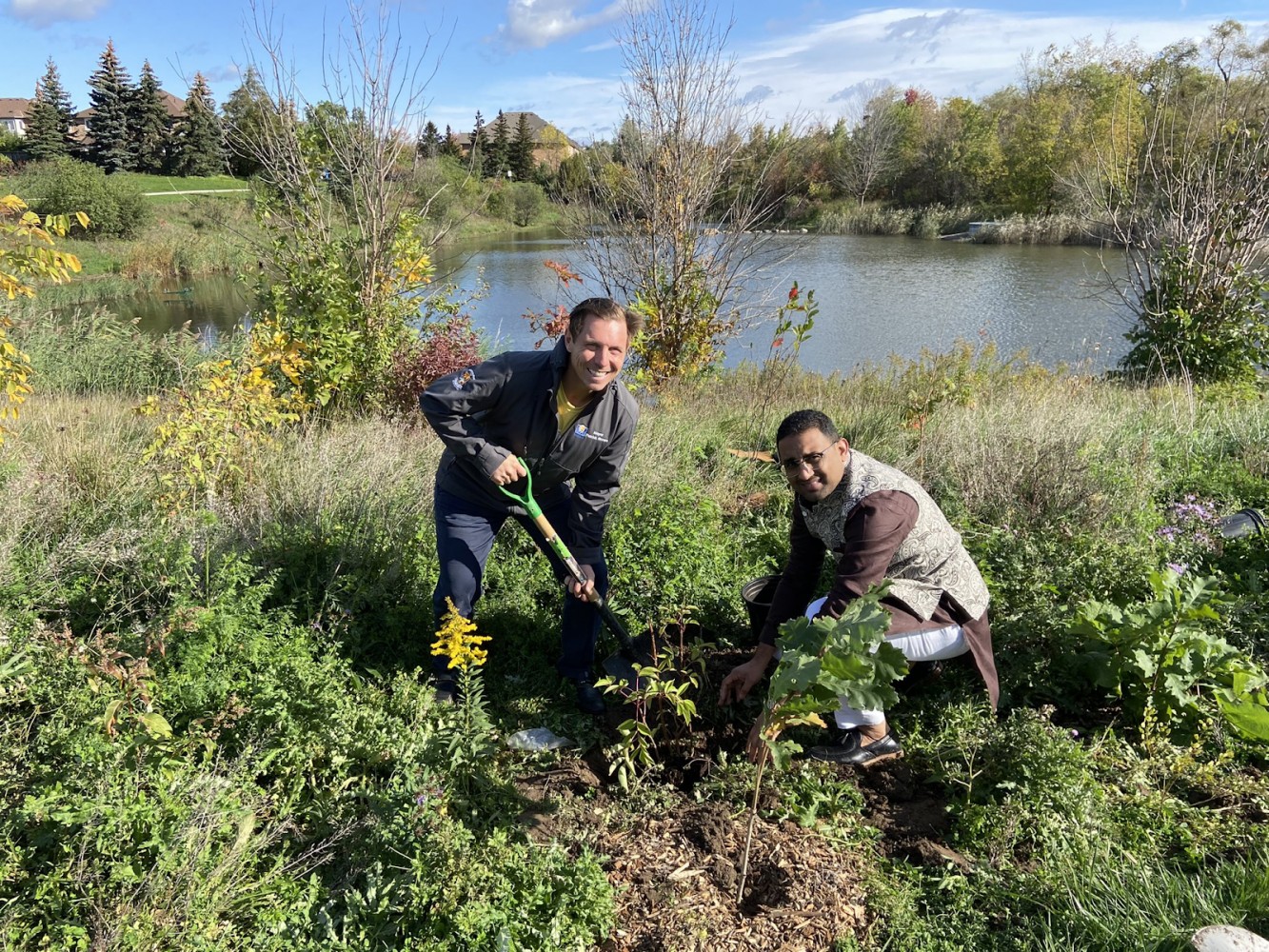 Feature image from Patrick Brown/Twitter
In 2022, Brampton will spend more on a single road than all of its climate initiatives combined 
"No more blah blah blah," Greta Thunberg told protestors rallying during COP26 in Glasgow at the beginning of the month. "No more whatever the f*** they're doing inside there."
Her contempt was directed at world leaders, diplomats and negotiators gathered in Scotland at an event that was branded as humanity's last chance to save the planet. The young Swedish environmentalist showed nothing but frustration with the world's most powerful men and women, unable or unwilling to act in the face of an inevitably approaching catastrophe.
"You can shove your climate crisis up your arse," she sang at one protest.
A week later, large areas of British Columbia succumbed to what Thunberg railed against: inaction on the part of leaders, including those who oversee our municipalities, despite knowing what the impacts of our changing climate will do to cities and towns.
The flooding across parts of BC has left entire communities devastated, highways and rail lines washed out and tens of thousands of farm animals dead.
The most tragic part of it is that much of the damage could have been avoided, had municipalities been better prepared.
Thunberg has bigger fish to fry than Brampton City Council, but her frustration applies to its members as much as Joe Biden, Justin Trudeau or Narendra Modi. Societal focus rests on the leaders of a country, while municipal politicians coast under the radar. The latter have a huge responsibility for, and agency over the progression of Earth's climate crisis.
They also have perhaps more power to protect residents than any other level of government, by paying for proper flood mitigation, pursuing urban planning designed to shield against the effects of a warming planet and ensuring homes and buildings are as weather proof as possible.
The way municipalities use land, meanwhile, is perhaps the most crucial tool in the fight to keep Earth's temperature from rising beyond the point of no return.
From budgeting to create more transit and less roads, and prohibiting zoning for sprawling, carbon gobbling subdivisions, to ensuring all municipal assets — community centres, office buildings that house City staff and large fleets of buses and other vehicles — are energy efficient, municipalities are where the fight against climate change happens.
The United Nations Intergovernmental Panel on Climate Change says cities are "one of four critical global systems that can accelerate and upscale climate action". The group's seminal 2018 report on the alarming progress of global warming explained, "climate science must be accessible to urban policymakers, because without them, there will be no limiting global warming to 1.5°C".
Under Mayor Patrick Brown, Brampton city council has been an unfortunate example of what Thunberg calls out: leaders who like to score points with voters by talking a good game, but offer little actual action when it comes to the climate crisis — council declared a climate crisis locally in 2019. You would not know it by looking at the city's financial blueprint for 2022.
As the leaders closest to the people, councillors have an enormous impact on how we live our lives. They decide where communities are built and how the roads that connect people are designed. The right decisions can move thousands out of their cars while actions driven by developers or others who influence local elected officials mean the majority of residents spend their mornings stuck in bumper-to-bumper traffic.
Brown claims to want to help our environment out of one side of his mouth, then brags about being the driving force behind the 413 Highway, or GTA West Highway, out of the other.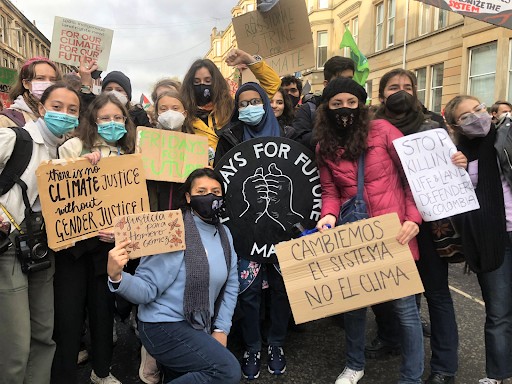 Greta Thunberg (holding Friday's for Future sign) in Glasgow.
(Image from Greta Thunberg/Twitter)
In 2019, the City of Brampton declared a climate emergency. It was a symbolic gesture that did nothing to arrest the worsening impacts of climate change.
Brampton City Council's commitment to the promise has been limited. During the meeting that the declaration was made, councillors, led by Brown, endorsed the Doug Ford PC government's environmentally disastrous Highway 413 plan, after the previous provincial government scrapped it following a damning study that showed it would offer next to no time saving for commuters, while doing irreversible damage to surrounding ecosystems and the climate generally.
About 18 months later, a report came before council that showed Brampton was completely failing to meet its own climate targets, proving its so-called emergency declaration was pure performance, as Thunberg and others point out, to remind the public not to be fooled by politicians who pose a threat to our planet.
An update on Brampton's environmental master plan (titled Grow Green) showed the City was off target for the majority of its internal climate goals. The City was only on target for three of its 18 goals and failing to meet five goals, including distance travelled in private vehicles.
For a council that declared a climate emergency, the information should have sent shockwaves through City Hall. Staff and councillors would surely scramble to get their organization back on track.
An analysis of spending plans next year by The Pointer suggests that less than 13 percent of Brampton's $328 million capital budget will focus on climate change. Projects in this category would either help Brampton adapt to the impacts of climate change, such as extreme weather, or mitigate the city's impacts on rising global temperature.
By contrast, 18 percent of the 2022 capital budget is being spent on a single road.
A project to widen Goreway Drive will cost the City $58 million next year. All environmental projects come to a total of approximately $41 million, with just $26 million set aside to reduce Brampton's impact on the planet.
The Pointer added the total budgeted cost of projects that will help Brampton with its climate crisis. The list does not include business-as-usual transit projects like the purchase of new buses or renovation of transit centres unless they explicitly link to low-emission or zero-emission vehicles. Brampton's capital budget sets aside $15 million to purchase battery-electric buses next year with the caveat that $9.1 million of that figure remains unfunded. The unfunded sum was excluded from calculations.

Brampton's budget document includes more than $9 million that is unfunded for bus purchases next year.
(Image from City of Brampton)
Brampton's budget document, at just over 300 pages, contains limited information on the projects staff are recommending elected officials endorse and fund. Mississauga's budget document is 784 pages.
One line, for example, promises $600,000 next year for implementation of the City's environmental master plan. A single sentence explains this money will be used "to undertake the action items identified in the council endorsed Environmental Master Plan in order to meet the City's goals for air, land, water, people, energy and waste across the organization".
The master plan includes 57 separate action items. The budget offers no indication of which parts of the plan will be advanced with the requested funding. It's unclear how $600,000 or about 0.075 percent of the overall proposed 2022 budget will be effectively used to cover the implementation of the ambitious Environmental Master Plan.
City staff are also recommending $665,000 to repair and replace recreational trails that could increase active transportation in Brampton and $2.7 million to improve the urban tree canopy. Almost $3.8 million is set aside for electric vehicle charging stations, $1.6 million for active transportation and $500,000 for vaguely titled "energy programs".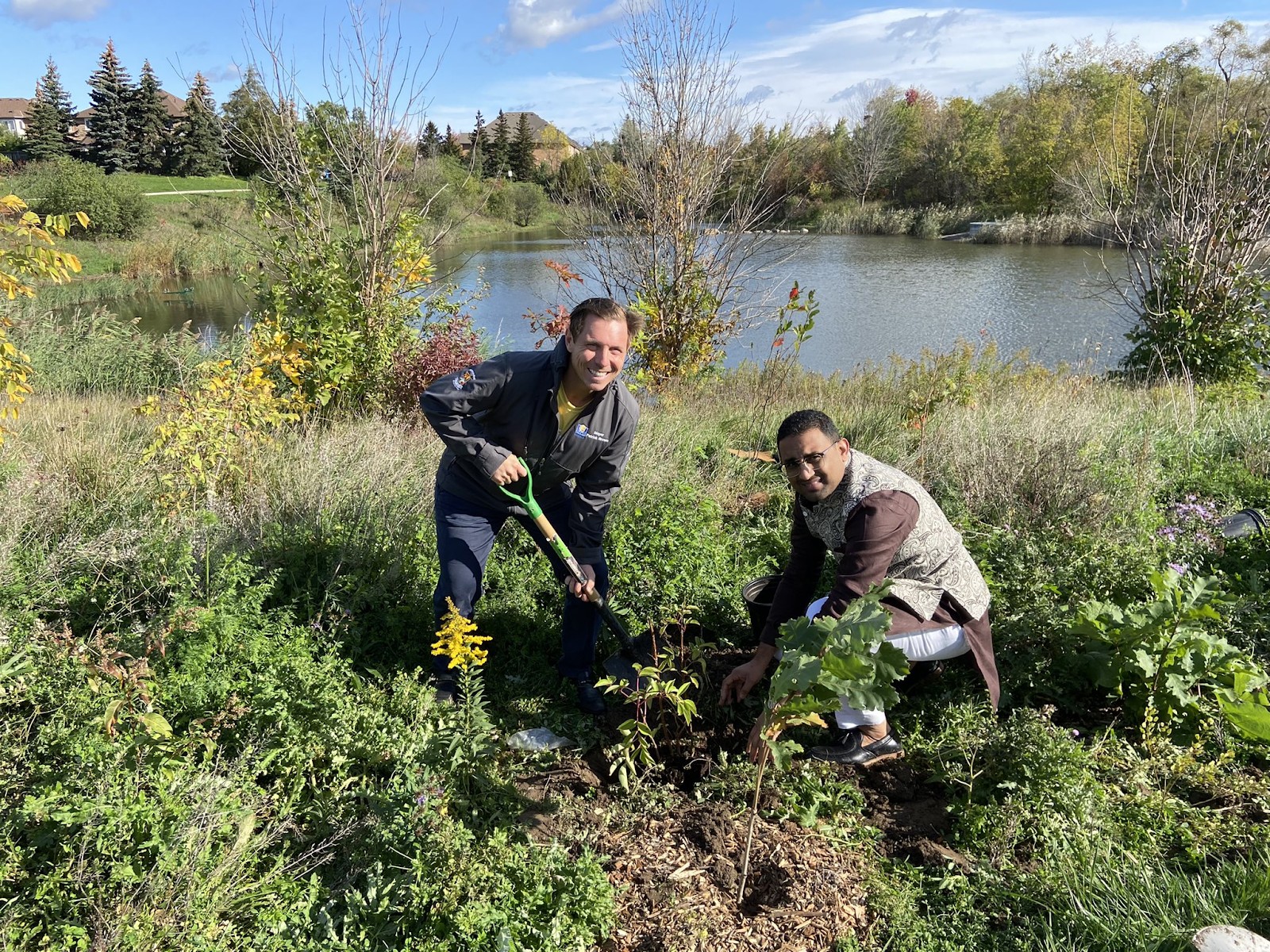 Mayor Patrick Brown plants a tree in Brampton for a photo op.
(Image from Patrick Brown/Twitter)
The programs suggest a very small move to environmentally conscious budgeting, with an emphasis on performative actions that do little compared to the large-scale moves the City should be making. Tree planting, for example, can help reduce heat in cities during the summer and minimally offset carbon, but it is a less effective strategy than significant investments in public transit. Transit service will be frozen in 2022.
A study into natural climate solutions completed by Nature United earlier this year identified a trio of different project types that can help reduce Canada's GHG emissions — protect, manage, and restore — of which management efforts (projects like those that improve the health of existing forests, or agricultural efforts like planting cover crops to keep soil healthy) have the potential to reduce 57 percent of the total GHG emissions identified.
Protection efforts, or simply leaving our green and agricultural spaces alone, can reduce Canada's emissions by 30 megatonnes of carbon by 2030. Only 5 percent of the GHG emission reductions identified come from restoration efforts like tree planting programs or wetland restorations — although these appear to be the most popular among politicians, as they make for easy opportunities to show the public they are doing something, and most people identify trees with environmentalism.
It means that while municipalities celebrate successful tree planting programs, and local politicians spread photos of themselves at such events, any mitigating impact those trees have on the climate picture is completely erased by making poor land use decisions that compromise the protected Greenbelt, encroach on other sensitive ecosystems and watersheds or destroy prime agricultural land.
The largest sum of funding relating to the environment is suggested for the downtown Riverwalk. The project — which has been promised $38 million in funding from the federal government — will work to re-align Etobicoke Creek and remove a flooding issue that impacts large parts of downtown Brampton. It will not change or reduce Brampton's carbon footprint, but will help build its resilience to extreme storms and climate change-induced weather events.
Staff are budgeting $9.3 million for Riverwalk next year, along with a further $5.9 million for improvements to the stormwater system that handles rain and snowmelt. The latter figure is a tiny fraction of what the City needs to spend to avoid the type of wide scale flooding seen more commonly, which can cause hundreds of millions of dollars in damages to cities, as severe rainfall like what BC has been ravaged by becomes more and more common.
Built in a floodplain, Brampton's downtown has previously seen catastrophic flooding, like that which occurred in 1948.
(Image from Region of Peel Archives)
The 2022 budget remains vague and frugal on environmental investments; it is clearer on its commitment to the car. A total of $58 million will be spent next year to widen Goreway Drive from two to four lanes, doubling the traffic capacity it can handle. A further $21 million will be spent on road resurfacing across the city.
Elected officials face difficult decisions about Brampton's roads going forward.
In the one headline action councillors took after declaring a climate emergency, Councillor Rowena Santos spearheaded a move to cancel the widening of Williams Parkway, but her motives might have been to simply shave money off the capital budget so Brown could achieve the tax freezes he has demanded since being elected.
Santos, like her council colleagues, has done nothing to fight against the 413 Highway, the single biggest threat to the local environment. She could be petitioning the federal government and Queen's Park, standing up against Caledon councillors pushing the plan and organizing constituents against those supporting the 400-series highway that would run along the western side of Brampton. She has remained silent, but claims to be concerned about the climate.
Council is currently consulting on the fate of Williams Parkway, after years of planning, and is suggesting an active transportation refresh. Plans that now focus on multi-use trails and improvements to the road that will not allow it to increase its traffic capacity have a cost of $26.7 million, but, like so much of the budgeting process under Brown and his handpicked CAO David Barrick, that money is nowhere to be found in the proposed 2022 budget. It has been kicked down the road to 2023, when Brown might be gone.
He has made clear that while he is mayor he does not want to increase the budget if it means raising the tax rate.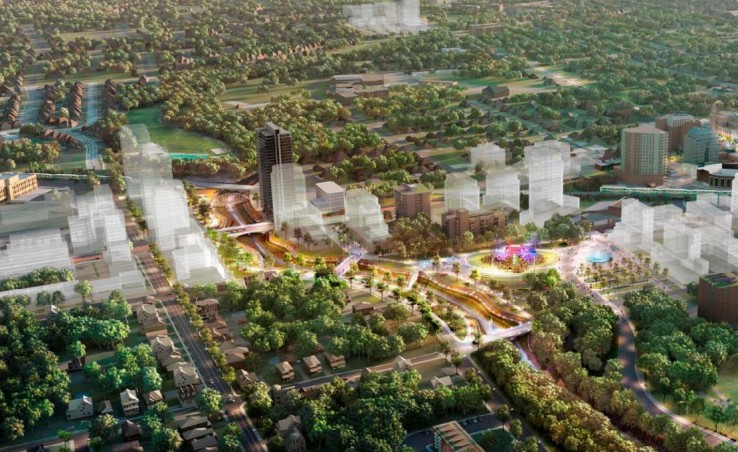 The Riverwalk project has the potential to transform downtown Brampton.
(Rendering from City of Brampton)
Plans to widen Torbram Road, which are also budgeted for 2023, have been altered too.
"Instead of the initially proposed widening of Torbram Road from four to six lanes, Brampton Council has instead redirected staff to deliver a 'Complete Street' that supports all users and modes of travel, including walking, cycling, public transit, and driving," a spokesperson for the City told The Pointer.
It remains to be seen if future budgets will actually provide the money to do this, or if it's just more talk.
Other decisions that could allow the City to meet its climate commitments are missing.
One of the reasons for Brampton's poor climate performance identified in 2020, for example, was its fleet of municipal vehicles. "The City's greenhouse gas (GHG) emissions … have been trending in the wrong direction, primarily due to our fleet," the report said, without offering specifics.
A placeholder in the budget shows the City is planning to spend $1.8 million on "replacement equipment/vehicles", with no indication these procurements will be for zero-emission vehicles. The small figure is just a sliver of what Brampton needs to green its entire fleet of vehicles and buses.
"Sustainability and resilience have been at the forefront during the global pandemic," CAO Barrick wrote at the beginning of the budget document. If the line was designed to imply a commitment to the environment, it's a claim Thunberg might label as "blah blah blah".
---
Email: [email protected]
Twitter: @isaaccallan
Tel: 647 561-4879
---
COVID-19 is impacting all Canadians. At a time when vital public information is needed by everyone, The Pointer has taken down our paywall on all stories relating to the pandemic and those of public interest to ensure every resident of Brampton and Mississauga has access to the facts. For those who are able, we encourage you to consider a subscription. This will help us report on important public interest issues the community needs to know about now more than ever. You can register for a 30-day free trial HERE. Thereafter, The Pointer will charge $10 a month and you can cancel any time right on the website. Thank you
Submit a correction about this story