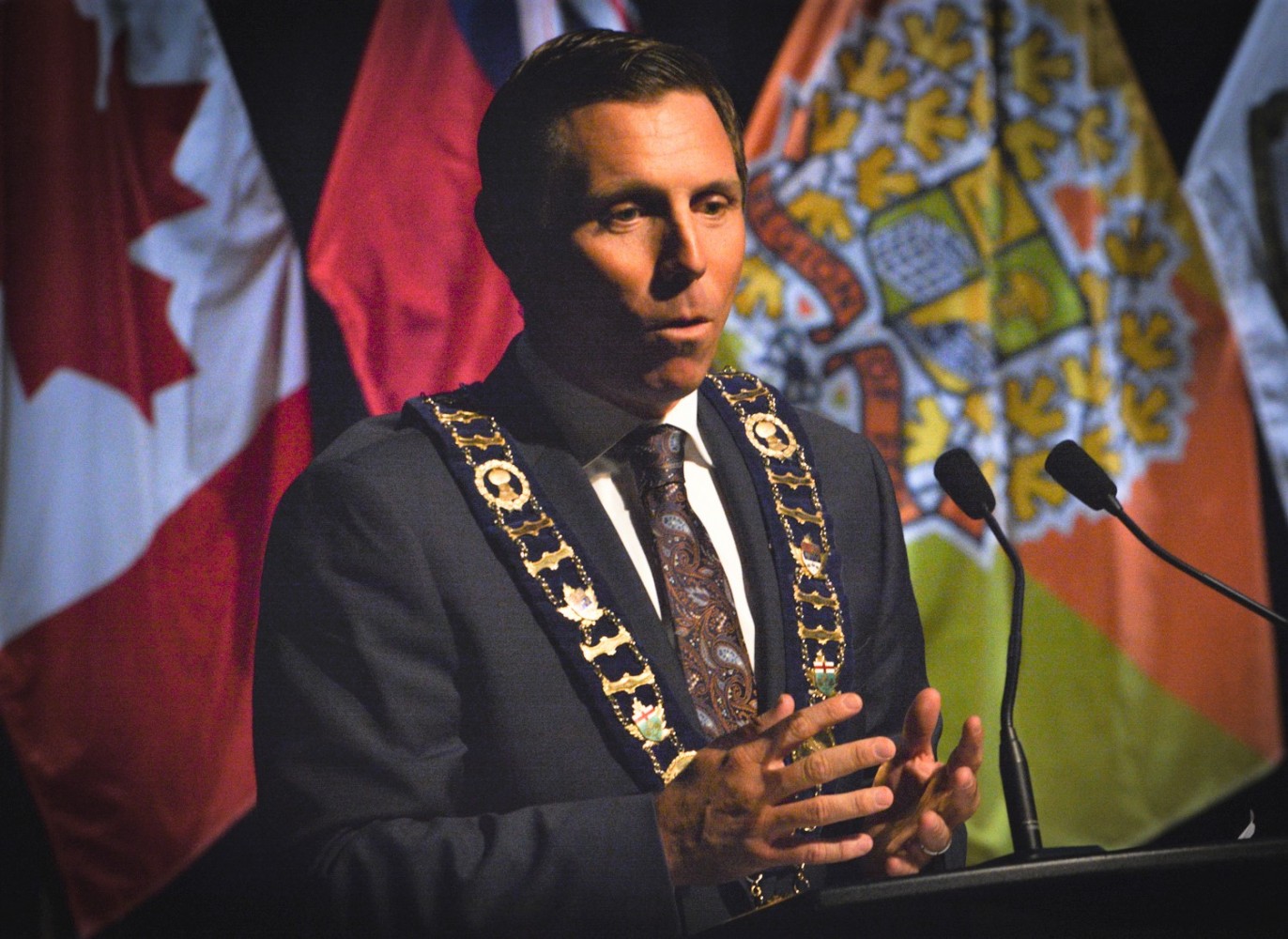 The Pointer file photo
'A very high-level cover-up': with mounting evidence of wrongdoing under his leadership Patrick Brown terminates sweeping City Hall forensic investigation
After receiving a damning forensic investigation update that revealed widespread wrongdoing in the use of taxpayer dollars for City contracts—at least one involving a close friend of Patrick Brown—on Friday during a last-minute special council meeting called hastily by the mayor at the end of the day, he terminated the ongoing investigations.
The forensic investigations by an independent audit firm were ordered May 18 by Brampton Council initially to look into the mishandling of $629,000 for the failed Brampton University plan pushed by Brown, following a staff report that showed much of the work was never completed and a firm whose point person on the project is one of Brown's closest friends received three times more money than the amount approved by Council.
The investigation was broadened to include other procurements identified by senior staff and council members who raised concerns about the way contracts were handed out under Brown.
The investigation was being led by Froese Forensic Partners Ltd. which was authorized to use other procurement experts as well. According to the forensic update, included on the Special Council meeting agenda Friday, investigators found a number of violations in the procurements they had started to probe.
The full investigation report, after all work was set to be completed, was on track to be released before the end of September, ahead of the October 24 municipal election.
Brown moved to shut down the investigations, and unless his motion is overturned, the findings will not be revealed to the public with the election about eight weeks away.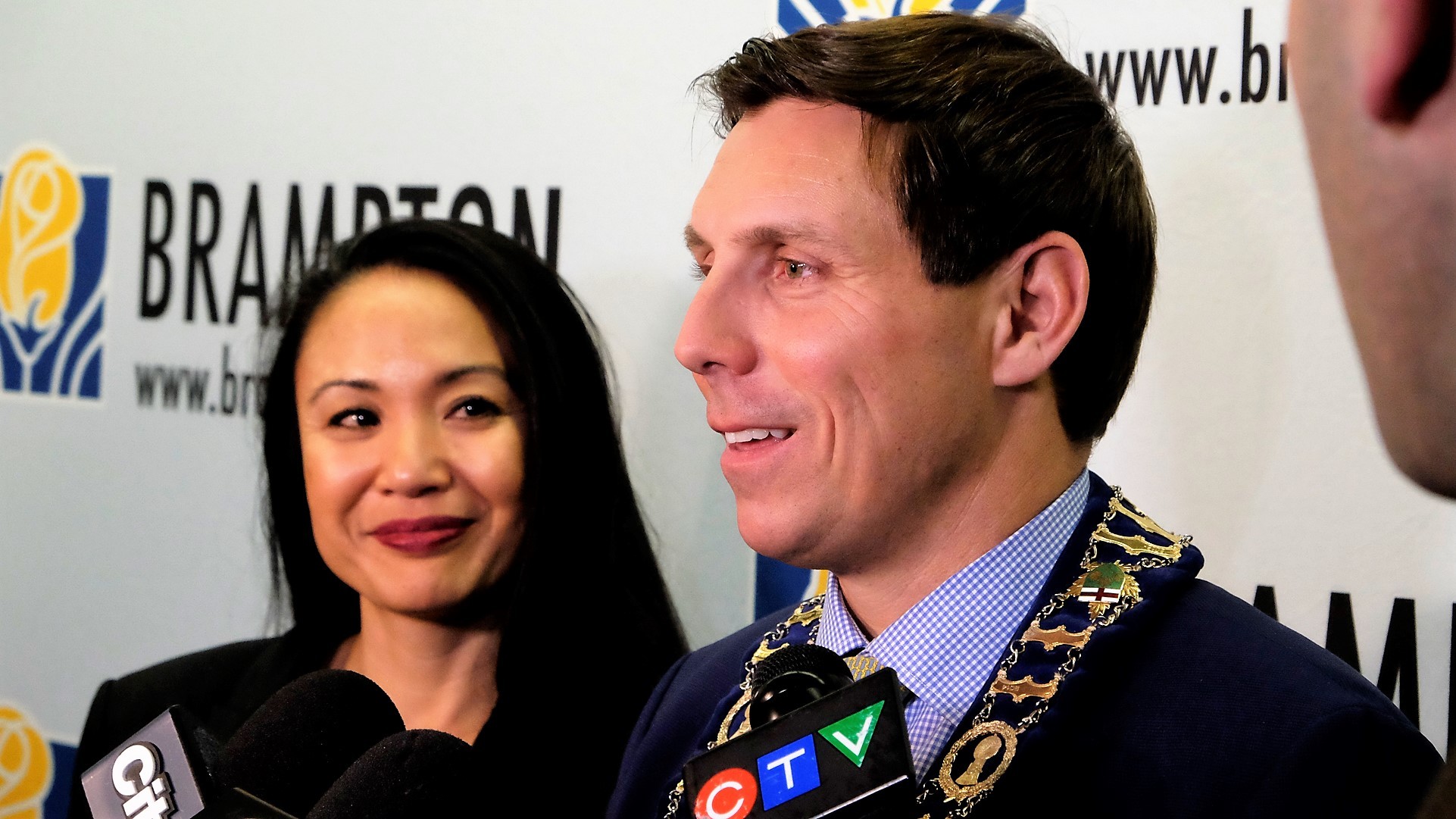 Patrick Brown standing next to his closest Council ally, Rowena Santos. Both were implicated in allegations of wrongdoing inside City Hall and both just voted to terminate the ongoing forensic investigation into those allegations.
(The Pointer file photo)
Council members learned through a disturbing staff report earlier this year that the since abandoned BramptonU plan cost $629,000, after a consultant called SRA received almost $360,000 more than what was approved. Rob Godfrey, son of Post Media Chair Paul Godfrey and one of Brown's closest friends, worked for SRA and a senior City staffer (Nikki Kaur, who is now running against Brown in the mayor's race) stated in a previous Council meeting that Godfrey demanded payments that she was pressured to approve despite a lack of work to show for them.
The other company that received a contract for the work was ASI, specifically a man named David Wheeler (ASI has since said it had nothing to do with the BramptonU project and that Wheeler pursued the work on his own). Wheeler is a mentor and close friend of Councillor Rowena Santos, Brown's loudest supporter on council, who documents show arranged to get Wheeler the $100,000 contract.
When Wheeler and Godfrey's firm were awarded the contracts in October of 2019 Council was not informed of their relationship with Brown and Santos.
Regarding the two main contracts for the BramptonU plan awarded in the fall of 2019 after a bidding contest that began October 2 that year, the investigation firm wrote in its update to the City: "1. Was the work contracted by the City performed and were the contracted deliverables received by the City?
No."
"There was insufficient information to evaluate the work performed for government relations and property developer / investment community outreach activities for which $100,000 was invoiced to the City. There were no time records available to support the time spent by SRA's consultant for government relations activities, and limited hours disclosed in available time records for Dr. Wheeler and Ms. Partridge as related to property developer / investment community outreach activities and we were unable to gather sufficient information to substantiate whether Mr. Rudderham performed the contracted work for this delayed deliverable."
The investigation update continues.
"3. Was there compliance with City policies and procedures? No. In our view there was an unfair advantage provided to SRA and ASI within the procurement process for RFP2019-079 and RFP2019-080, as Dr. Wheeler had knowledge, information and relationships that were not available to other vendors and the time period for submitting proposals, although meeting minimum policy limits, also favoured Dr. Wheeler."
The investigators found Godfrey's firm was lobbying to get the work and communicating information to help secure the contract directly with Brown's office months before the open bidding process began in October of 2019.
"SRA (in association with ASI) had prepared a proposal for the Academic Planning component (or the work related to RFP2019-080) dated August 13, 2019 and emailed the proposal to the Chief of Staff for the Mayor's office and Councillor Santos (on the same date). On the same date, Dr. Wheeler shared the proposal with Al Meneses, the then Acting CAO (of the City of Brampton)."
"Dr. Wheeler was aware in mid-August 2019, if not earlier, that the City might issue RFPs or possibly sole source the consulting work, allowing him time to plan, gather resources etc. in preparation for potential future work. By September 16, 2019, Dr. Wheeler had already begun to put a consulting team together…".
"As part of the procurement process, vendors had requested that the City share the budget or budget range for RFP2019-079 and the City responded that it was not willing to disclose its budget. Dr. Wheeler appears to have prior knowledge that Council had approved up to $300,000 for BramptonU from existing budgets, as SRA and ASI combined proposed cost estimates fell within that budget range. We also observed that, although the technical proposals from SRA and ASI appeared to reasonably be scored higher than competing proposals, adjustments to consensus scoring for RFP2019-079 resulted in a competing proposal's scoring being reduced from above the minimum score of 70% to just below the minimum, resulting in none of the competing proposals having their pricing bids opened. This may have impacted which consulting firm was successful."
"4. Were there potential conflicts of interest for City staff, Councillors and / or consultants? Yes."
The blistering investigation update clearly did not sit well with Brown. During the special council meeting he called Friday afternoon, he had just enough votes to terminate the investigations after Councillor Gurpreet Dhillon, who had previously supported the probes, failed to show up. That meant Brown and his four supporters, including Santos, who is implicated in the allegations of wrongdoing, were able to kill the investigations through a 5-4 vote. Previously, there were six councillors committed to the investigations, which they initiated with a series of 6-5 votes in the spring, but after the June provincial election, Charmaine Williams moved to Queen's Park as an MPP and council has only had ten members since. Dhillon's absence seemed to have been known by Brown, who sprung the meeting and his move to cancel the investigations with a prepared motion.
It left members of council and others furious.
Councillor Jeff Bowman spoke during Friday's snap meeting against Brown's motion, saying he and his supporters "can't stop this at this stage now."
"We've got some pretty damning evidence in this report that says, 'We need to do this.' When questions are being asked, 'Did this RFP happen within the guidelines' and the answer is, 'No.' That's a red flag, a big, big red flag. We observed through technical proposals that scores were altered after the original scoring was done. That's a huge red flag. 'Were there potential conflicts of interests for City staff?' 'Yes' there were, but 'we are still working on that' for phases 2 and 3. We can't stop this at this stage now."
Currently a mayoral candidate, Kaur is a lawyer and director with the City and was the former "point person" on the BramptonU file, regularly communicating with Wheeler alongside since fired CAO David Barrick, after he assigned her to the project in December, 2019.
She had been brought before Council in May to describe her experience, and was interviewed by the external firm for its forensic investigation.
"Brampton taxpayers need to be alarmed, this is very alarming," Kaur told The Pointer Tuesday, after she watched the last-minute council meeting on Friday.
She said Brown's conduct is "shocking" and fits his pattern, after allegations came forward that he committed federal election crimes, which led to his termination from the CPC leadership race and immediate decision to run for mayor again.
"This is the latest of his corruption and it's so sad to see that he just covers up, covers up, covers up. It's almost illegal. He pulled the investigation on his own. He was getting investigated and he pulled the plug. How will the taxpayers of Brampton ever know, and the residents of Brampton, what this was? And it will never get uncovered."
Chris Bejnar, co-founder of local advocacy group Citizens For a Better Brampton, said Brown's move denies taxpayers the opportunity to get the truth.
"It's very disturbing to see this Mayor and his allies allowed to basically shut down further investigation when there is already damning conclusions coming to light and further investigative work still to be completed by the forensic audit firm. How is this OK in Ontario?"
Brown and Rob Godfrey, son of Postmedia Chair Paul Godfrey, are close friends. Godfrey was an employee of SRA when the firm was given what was supposed to be a $170,000 contract. Godfrey's firm ended up getting more than $500,000 from Brampton taxpayers. The two worked together closely according to Brown's own book which chronicles his fall from the PC Party in 2018, when Rob Godfrey, one of his most trusted confidantes, was part of his inner circle.
Santos is a former student and political ally of David Wheeler, co-founder of ASI; the firm no longer lists him as an employee and includes no mention of him on its website. Wheeler taught Santos as a post-secondary business instructor. Santos, who has called him a mentor, helped Wheeler when he sought political office in Nova Scotia in 2017, traveling to Halifax to assist with his campaign.
"Dr. Wheeler had knowledge, information and relationships that were not available to other vendors and the time period for submitting proposals, although meeting minimum policy limits, also favoured Dr. Wheeler," the investigators wrote in their update, detailing communications for the BramptonU plan between Santos and him starting in early 2019.
Froese Forensic Partners included several examples of what it described as an "unfair advantage" to Godfrey's firm and Wheeler.
The investigators found the scope section for one of the contract tender documents, which described what the successful bidder would have to do, contained similar language to communications SRA provided to the City before the RFPs were even issued, suggesting that City Staff actually used SRA's August 2019 Proposal to shape the bid requirements. In addition, the tender response time was only 16 calendar days, the minimum range possible, and included a holiday.
Froese said the shorter response time combined with SRA's prior communications about the work, were clear advantages (such communication prior to a tender process is prohibited under Ontario legislation).
The firm's investigation into potential conflicts of interests were still ongoing, which they said were to be addressed for Phases 2 and 3 of the work, which has now been halted by Brown.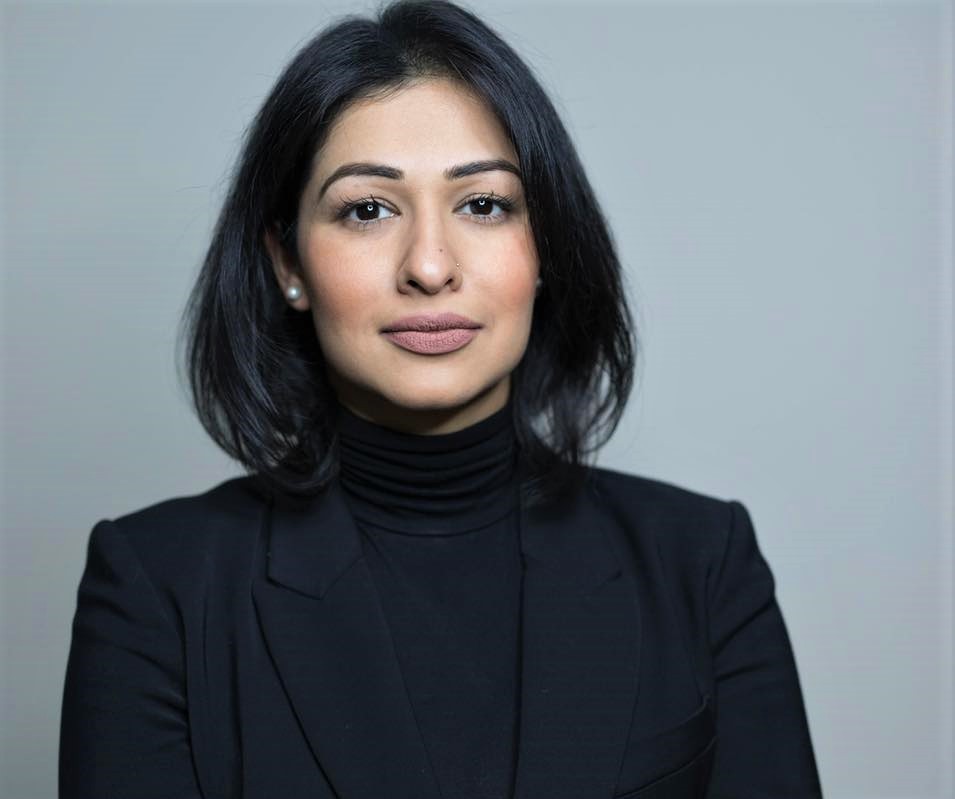 Senior staffer and Brampton mayoral candidate Nikki Kaur, who brought forward evidence of alarming misconduct by Patrick Brown calls his move to end the investigation "the latest of his corruption."
(Facebook)
In the investigation update, the firm identified emails that disclose the connection between Santos and Wheeler that assisted Wheeler (through SRA) in obtaining the initial consulting contract related to BramptonU; and that Dr. Wheeler emailed Councillor Santos a draft of the July 10, 2019 presentation to Council that he prepared for the Acting CAO Joe Pittari, with Santos advising Pittari that she could assist "in cleaning the presentation up." (Councillors have said they were unaware of the presentation and were never told of the relationship between Santos and Wheeler.)
The firm noted that Santos obtained a legal opinion in August 2019 from Muneeza Sheikh, then Ethics and Integrity Commissioner for the City of Brampton, that concluded there was no potential conflict of interest as it related to Councilor Santos' involvement with the Brampton University initiative and her relationship with Dr. Wheeler.
"Although in our view the relationship was a potential conflict of interest, consistent with the description in Section 6.2 of the current Code of Conduct," the investigators found. This section outlines obligations of council members to disclose potential conflicts and detail any relationships that could give rise to a perception of conflict. Santos did not do this. The investigators accepted that Santos did not violate conflict of interest rules pertaining to potential personal financial benefits to herself. However, while she might not have stood to benefit, her friend did, which is the point of section 6.2, which she appears to have violated.
The final investigation report was planned to be released at a special council meeting on September 12.
According to Paul Morrison, Brampton's acting CAO, the final investigation would include three additional witness interviews, a final written piece on Section 3 and a governance conclusion.
The investigators wrote in the update that Godfrey and Wheeler have yet to be interviewed, it's unclear why. Other senior City staff were also set to be interviewed in the immediate future.
"At this time this is what the forensic audit company has given us and they advised us to go further, they require more funds," Morrison told council members Friday.
The investigation was to cost the City $100,000. The expected cost increased to about $150,000.
"That's why I'm reporting back to Council because I'm required to report back on the financial piece of this. The expectation was that we had a limit set where we were going to go, and this would exceed that."
Brown was adamantly against finishing the investigation, calling it a "witch hunt" during the meeting, despite the findings that showed serious rules had been broken. He previously tried to prevent the investigations from happening, voting against them, with the support of his four followers, in a series of 6-5 decisions that went against him. On Friday, he had enough votes to stop the investigations into conduct under his leadership.
Brown and Santos were joined by Michael Palleschi, Paul Vicente and Harkirat Singh, who terminated the forensic work.
The same members of Council voted on May 31 to not supply the investigators with the files and information needed, but they were outvoted by Pat Fortini, Jeff Bowman, Martin Medeiros, Doug Whillans, Gurpreet Dhillon and then-Councillor Charmaine Williams.
This time Dhillon wasn't present for the votes and Charmaine Williams' Wards 7 and 8 seat remains vacant after being elected as MPP.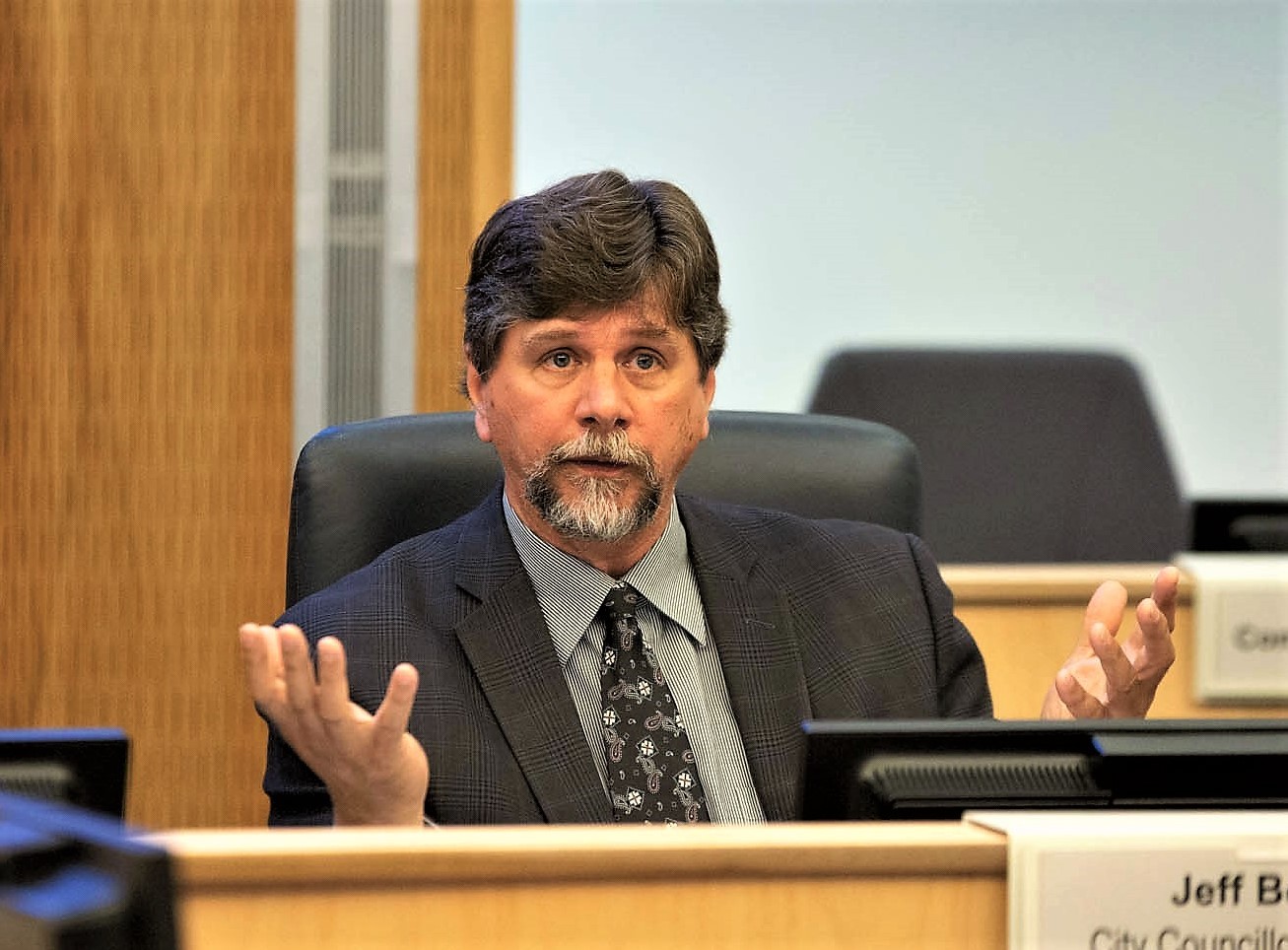 Councillor Jeff Bowman says legal action might be an option to fight back against Patrick Brown's move to terminate the forensic investigation.
(The Pointer file photo)
Brown's motion on Friday, seconded by Councillor Vicente, called for the allocated budget not to be exceeded and "any further work be ceased and the draft report be received as final."
Peter Fay, Brampton's City Clerk, said "technically Council can stop an investigation if they so choose" but reminded them of a letter from the Ontario Ombudsman's Office discouraging them from doing exactly that.
"It appears to me from the attempt of Council's resolution in May, there would be progress reports and this appears to be one," Fay said. "Even though it's Councils decision at the end of the day, I would be remiss if I didn't remind members of Council that at the same meeting that they authorized this review, there was a letter from the Ombudsman of Ontario commenting on the investigation that occured in 2021 and was reminding Council that if they do investigations, independent investigations, there are three things to keep in mind: Have a clear purpose and mandate, make sure if there are real or perceived independence in the review, and make sure there are time and resources to complete the review. That was the advice of the Ombudsman that was provided to Council."
During the special meeting Councillor Fortini accused Brown and his four supporters of sweeping the financial mishandlings "underneath the carpet."
"We went this far, we got to continue it," Fortini said. "This has been going along for a long time and we deserve answers. I think we should continue this, we can't stop half-way, or three-quarters of the way and just throw money out the door and nobody's here. Media's been looking, we've been asking, everyone's asking about this thing. It's been over a year."
Councillor Medeiros said the update is a "snapshot" of serious wrongdoing.
"Obviously the folks who prepared this interim report expected full well to come in September to provide a fulsome report which would have the appendices, have those statements, have the copies of whatever copies they have. This is part of a complete report to come forth."
Medeiros tried to add an amendment to Brown's motion, seconded by Fortini, that all supporting documentation and appendices on the document be provided to the public. Brown called for it to be a separate vote, then voted against it.
In favour of the amendment were Fortini, Bowman, Medeiros and Whillans. Against the amendment were Singh, Palleschi, Santos, Vicente and Brown. The amendment failed 4-5.
Medeiros questioned why Santos was present for the vote, not declaring any conflict of interest after being named throughout the investigation update.
"If she's not declaring a conflict on a report that's about her regarding an RFP, at this point there isn't a conflict?" Medeiros asked. "I would say she has an opportunity to declare a conflict, because clearly there's a conflict."
Diana Soos, the City's deputy solicitor and commissioner of legislative services, suggested it was not up to Brown or any other member of council to decide if the additional $50,000 for the investigation should be approved.
"To the extent that there is an issue of spending money excess of $50,000, that would not be something that would go to Council right now, that would go to the CAO," Soos told Council. "I don't believe there was a limitation on the resolution passed in May (which ordered the investigation) that really wouldn't be an issue; what I think what I'm hearing is Council wants to cease the work."
It's unclear why a two-thirds majority vote was not required to change direction (cancelling the investigations) given through an earlier approved resolution of Council. The City did not provide an explanation.
In an interview with The Pointer after the special meeting, Bowman, who is not seeking reelection, said Brown's motion means the City has lost all accountability over the activities that happened in the last three years under his chaotic leadership.
"I think personally that a couple of the motions the mayor made were not in order and should not be allowed to be made. There were questions I asked in regards to being in lame duck status, whether that meant the CAO had the power to make the decision (about extending the investigation) to which the City Clerk said yes, in his opinion it did, but that was overruled by the mayor."
Bowman said the option of having Froese Forensic Partners come before Council to answer questions at a future meeting hasn't been ruled out.
"In some instances there are some very damning things in here. I cannot envision anyone anywhere not reading this report and saying, 'Something is definitely going on at the City,'" he said.
"We want to see the work, we want to see the appendices as Councillor Medeiros has suggested, we want to see emails that implicate Councillors in activities that they should have not necessarily be involved with—we want to see all of that."
Bowman said he hasn't personally started to look into legal action, but believes there is the "definite possibility" following Brown's motion.
"I think these motions should be struck down as well. They do not represent good governance, it's obviously a very high-level cover-up. They know there's damaging material to come out of these reports and Mayor Brown and his four crutches on Council feel that it's in their best interests to cancel the reports—not in the public's best interest."
With the election coming up, Bowman recommends all Brampton voters watch the meeting's video recording and make up their own mind.
"Is this justifiable? Is this open and transparent? Or is there something more nefarious going on here and there's a massive cover-up that needs to be looked at. In my mind when you watch the tape of that, you can clearly see every effort is being made to cover things up."
Residents who go to listen to the meeting recording at 18 minutes and 53 seconds when Brown's motion is being discussed will find audio missing, returning at 19 minutes and 40 seconds when Brown is part-way through explaining his motion to terminate any further investigation work.
Bejnar compared Brown's conduct to a dictator.
"Brampton is not located in Russia, ruled by a dictator that can end an investigation before its completion. Where is our Minister of Municipal Affairs and Housing to step in and investigate this corruption and abuse of taxpayers money?
"It's very clear that members of both the Conservative Party of Canada and the Ontario PC Party want nothing to do with Patrick Brown. I sure hope that the residents of Brampton will feel the same on October 24."
---
Email: [email protected]
Twitter: @JessicaRDurling
---
COVID-19 is impacting all Canadians. At a time when vital public information is needed by everyone, The Pointer has taken down our paywall on all stories relating to the pandemic and those of public interest to ensure every resident of Brampton and Mississauga has access to the facts. For those who are able, we encourage you to consider a subscription. This will help us report on important public interest issues the community needs to know about now more than ever. You can register for a 30-day free trial HERE. Thereafter, The Pointer will charge $10 a month and you can cancel any time right on the website. Thank you
Submit a correction about this story