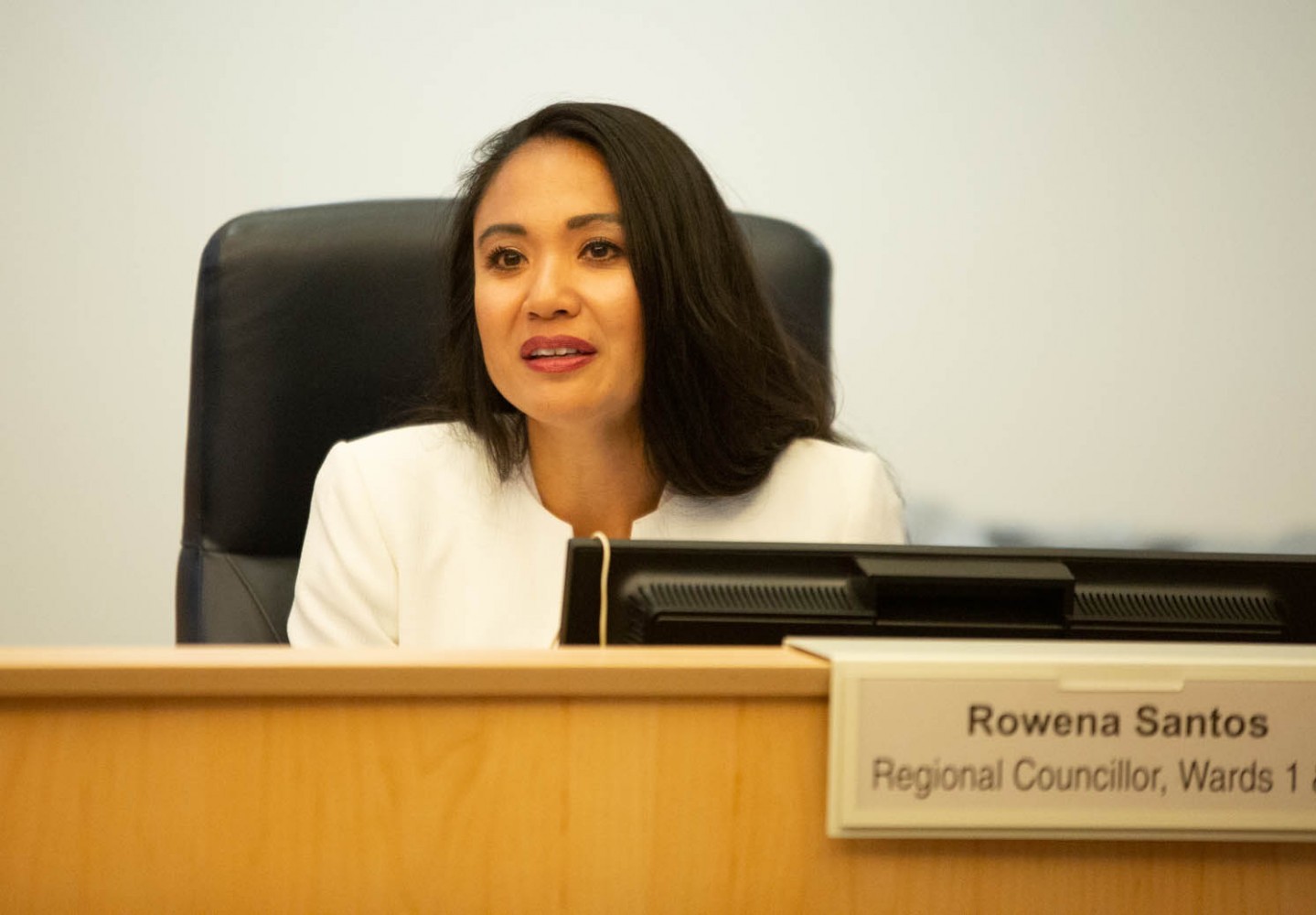 Feature image from The Pointer files
Councillor Rowena Santos to be investigated by Integrity Commissioner for alleged harassment of staff
Allegations arose from staff questioning on the failed Brampton University project that resulted in Council passing a motion Wednesday to send a complaint to the Integrity Commissioner. Senior staff member Gurdeep Kaur, who uses the first name Nikki, alleges Councillor Rowena Santos harassed her while working behind the scenes to advance ideas from her mentor and political ally, a man named David Wheeler.
After Santos worked with Wheeler without council's knowledge on the BramptonU concept in the spring of 2019, he was eventually given a $100,000 contract in a process now under a separate investigation being led by council.
Santos is also being investigated by the Integrity Commissioner for her involvement with the project, after council voted to have her connection with the consultant, Wheeler, probed.
Members have voiced anger over the way the project was handled and the lack of work produced after almost $630,000 was spent on consultants, one linked to Santos and the other with close ties to Mayor Patrick Brown.
Council met on May 18 to discuss the findings of a recent staff report on the mismanagement of the Brampton University file that resulted in a forensic audit ordered by council.
Kaur's comments arose from questions by Councillor Gurpreet Dhillon on the process that was pursued on the file, which did not conform with the Province's use of a "Proposal Call" for a new university which outlines specific requirements for successful applications such as partnering with an existing institution. "Did anyone ever make it clear that we're not using the normal protocol or the process and we should do it in a particular order?"
Kaur replied.
"There was an incident that took place in late January 2020. Councillor Santos called and said I was not enthusiastic about some sort of delivery, and came in to the… office and there's witnesses to this and she shouted at me, and I asked, 'Why are you being like that' and she went to the then CAO at the time, Mr. Barrick, and met with him. I'm not familiar with exactly what took place after that."
When asked if there was any type of pressure in relation to the unusual process Wheeler was pursuing, Kaur referenced the incident and said other co-workers who were there could confirm how Santos behaved.
The idea for an independent BramptonU, pushed by Mayor Brown, Councillor Santos and Councillor Harkirat Singh for more than two years, was questioned from the start as it did not conform to provincial guidelines that demand new universities be launched in partnership with existing ones.
Santos is a former student and political ally of Wheeler, co-founder of the Academy for Sustainable Innovation (ASI), which was given a contract to frame how BramptonU would be launched and undertake work to get the project off the ground. Wheeler taught Santos as a post-secondary business instructor. Santos, who has called him a mentor, helped Wheeler when he sought political office in Nova Scotia in 2017, flying to Halifax to assist with his campaign.
ASI, the firm Wheeler was associated with when he did the work (he no longer is affiliated with it) focused on helping companies transition to green technologies and processes, and did not list any experience helping launch post-secondary institutions.
In a confusing response to the staff review, under a section regarding the $25,400 payment for the comprehensive report on the development and strategy to establish BramptonU that was supposed to be produced in 2019, Wheeler's former firm, ASI, recently wrote the City the following:
"ASI was not retained for this project nor received revenue for this report. SRA was the sole vendor and retained De. (sic) Wheeler in his capacity as an independent consultant. As co-founder of ASI, Dr. Wheeler often represented ASI in related activities."
During the meeting, Santos denied all allegations by Kaur.
"While there might have been some public statements that were made, I completely disagree with them and have no idea, per se, what this staff person is referring to."
Santos isn't the only one with ties to consultants hired on the project.
Brown and Rob Godfrey, the son of Postmedia Chair Paul Godfrey and an employee of Stakeholder Research Associates (SRA), are close friends. The two worked together according to Brown's own book which chronicles his fall from the PC Party in 2018, when Rob Godfrey, one of his most trusted confidantes, was part of his inner circle.
Godfrey's firm was paid three times more than what council had approved and what the contract was for, with $505,398.95 paid out to a $170,000 contract.
SRA did not list any work around launching a university either, and its website did not indicate any experience with partners in the post-secondary education space.
The SRA website no longer lists Godfrey as an associate and his Linkedin profile has no mention of the firm he used to work for when it was given the BramptonU contract.
Brown, who was absent for most of the meeting, out of the province campaigning for his run to become federal Conservative Party leader, questioned Kaur's claim that Santos had yelled at her, and tried to upend the move to have the Integrity Commissioner investigate Santos.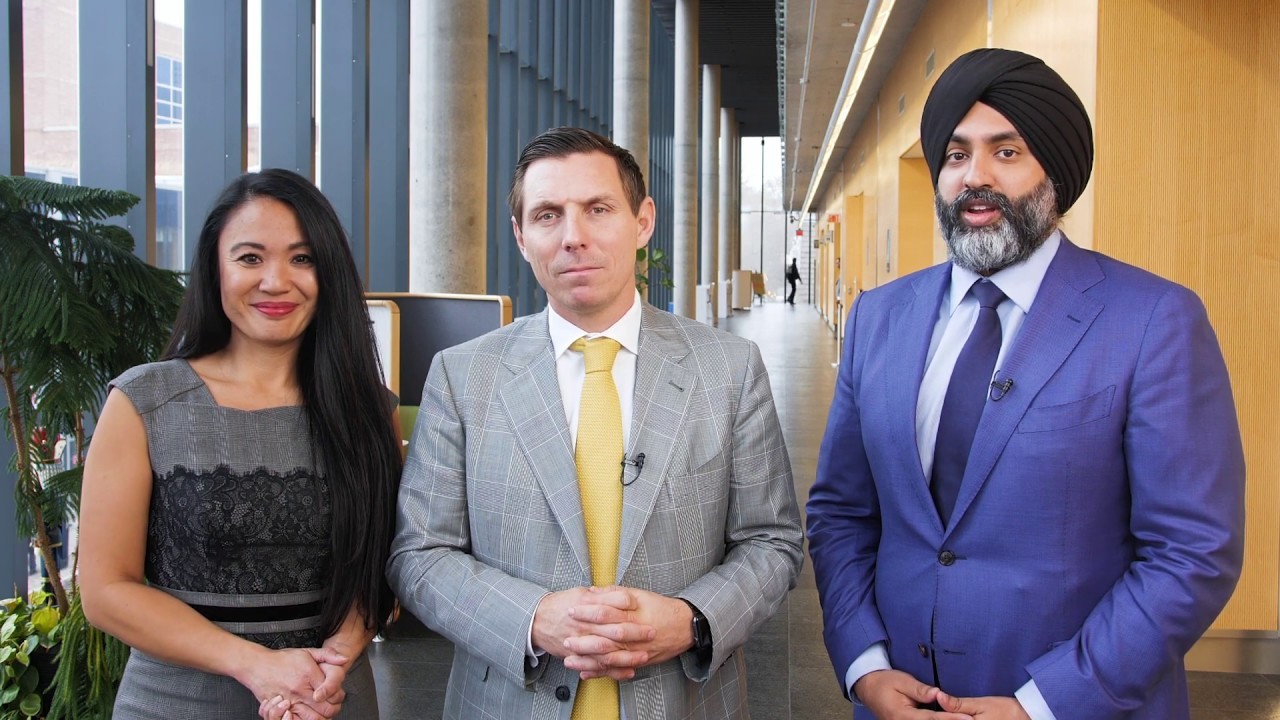 Councillor Rowena Santos, Mayor Patrick Brown and Councillor Harkirat Singh were all closely involved with the launch of BramptonU.
(City of Brampton)
The motion to request the Integrity Commissioner look into Kaur's comments was passed in two parts—but not without an attempt to overrule the chair.
Councillor Martin Medeiros chaired the meeting. Brown missed many key votes (he has not taken a leave of absence despite spending most of his time outside Brampton since he announced his candidacy two months ago).
The meeting chair is able to rule that an item be added to the agenda with a standard majority, rather than the two-thirds majority vote of council it would usually require when a new item is created during a meeting.
"In this case, because the item was discussed but there is a related item discussion that has come out unexpectedly, who could have prepared this as an agenda item?" Medeiros asked, explaining his decision.
He said harassment of staff, particularly a woman and someone who is a visible minority, has to be dealt with.
"We've heard it and for how we take this seriously, the way society takes this seriously and the way that this council always has talked about this being serious, I think the way for us to be bogged down by procedure—I'd simply like to say a simple majority for us to move on."
It wasn't without a challenge.
Such a challenge to the chair's ruling can only be successful if a majority of the council members vote to oppose. Santos was absent for the vote, having excused herself due to the obvious conflict of interest—she has failed to do so when her relationship with Wheeler was discussed previously, and when the BramptonU file was dealt with, even after council sent the motion to investigate her involvement to the integrity commissioner.
Votes to oppose the chair's ruling included Councillor Paul Vicente, Michael Palleschi, and Brown, all close allies of Santos.
Even the City Clerk, Peter Fay, seemed surprised by the Mayor's sudden attendance, after he had been absent for the discussion leading up to the decision, attending to his campaign in another province.
"Just wanting to confirm I don't see Mayor Brown present," Fay said, checking the virtual screen Wednesday, as he had done for many of the votes prior. "Mayor Brown, do you wish to uphold the chair's ruling?"
"Opposed," Brown added.
Votes in favour of upholding included Councillors Dhillon, Jeff Bowman, Pat Fortini, Doug Whillans, Charmaine Williams and Medeiros.
In a show of their lack of consistency, Brown did not vote when the referral to the Integrity Commissioner passed and Vicente flip-flopped, supporting the decision. Only Michael Palleschi voted against both.
The referral motion passed in two parts, brought forward by Councillor Fortini, seconded by Councillor Bowman.
"We take it seriously. We keep talking about harassment, every councillor back and forth. I think this should go," Fortini said. "This is unacceptable, we got to have our staff to come to work, to be proud to come in here, not walk on eggshells and be scared of councillors and other staff."
Both votes had Mayor Brown absent once again.
The first section of the motion was that all relevant resources available to staff be provided to "the impacted staff member" passed in a unanimous vote.
The second part that, "the statements made by a member of staff in relation to the behavior of a member of council in relation to the BramptonU item be referred to the Integrity Commissioner for evaluation and investigation" had the sole vote against by Councillor Michael Palleschi.
Palleschi said that he felt a "motion of support" for Kaur would be better than having council "actually do something about it."
"I don't think it's appropriate that politicians are going to say to a member of staff, 'Don't worry, what you just said in public, we're going to handle this, we're going to take care of it,'" Palleschi said.
While absent for the vote, earlier in the meeting during discussions Mayor Brown stated that he felt "uncomfortable" bringing the complaint forward.
"I think any complaint should be looked at, but I have never seen Councillor Santos bully anyone in the four years I have known her, I've never heard her raise her voice so this is inconsistent from what I've seen, and if anything I've seen her speak against bullying of any kind."
Instead, Brown asked council to "lower the temperature."
"I find increasingly, unfortunately, there is heated conversations around this table on a number of topics and I just hope we can lower the temperature and get back to doing everything we can to make sure we put Brampton in a strong position."
Brown also claimed it is not in accordance with protocol for councils to send complaints to the integrity commissioner when a subject raises such allegations, suggesting Kaur should do it herself.
Between his disregard for her bravery in coming forward, when Brown suggested Kaur was incorrect because Santos would not do such a thing, and his unwillingness to defend her by letting the Integrity Commissioner find the truth, councillors seemed offended by Brown's remarks. Williams challenged his claim that it's not protocol for council to send the complaint on someone else's behalf, and supported it being brought forward.
"Does this council not remember when they filed an Integrity Commissioner complaint against me for fraud? That was found to be completely untrue—this council files Integrity Commissioner complaints," she said.
Williams also made reference to Mississauga Council calling on the Integrity Commissioner to investigate alleged property damage committed by a City Councillor on February 2.
"We should be doing something as a council to ensure our staff are protected and if you don't agree with that, vote no."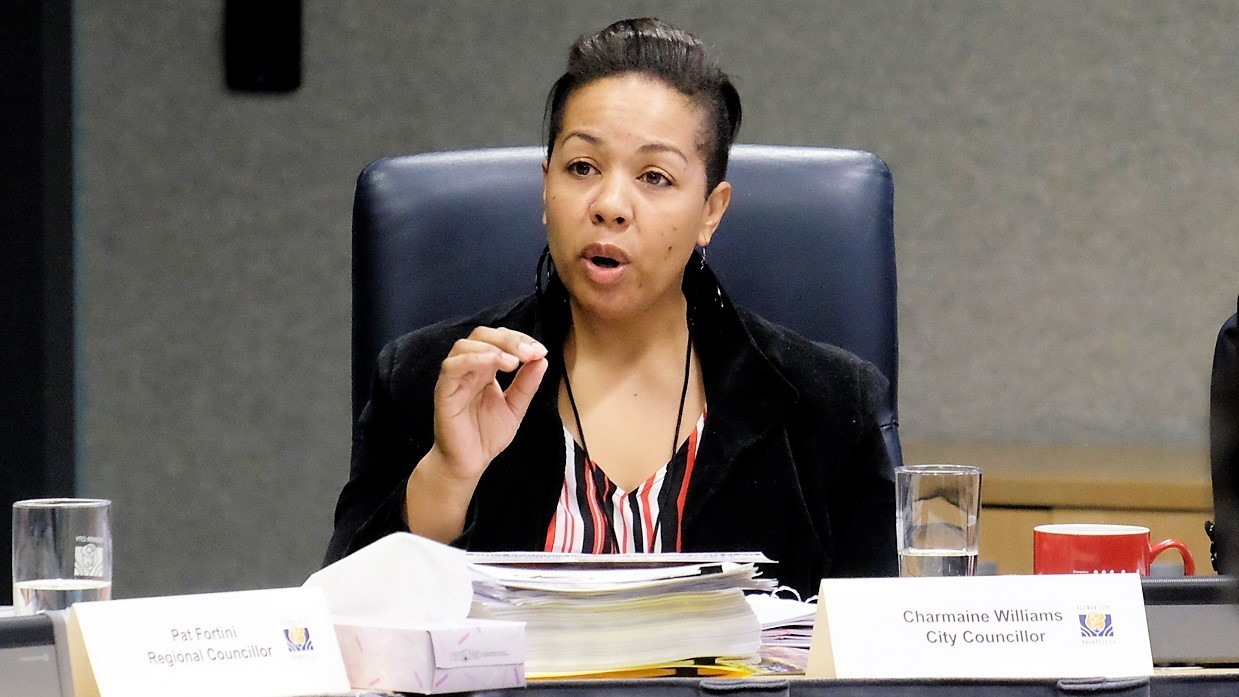 Councillor Charmaine Williams urged her fellow councillors to send the allegations to the City's integrity commissioner.
(The Pointer files)
Brown, who tried to minimize Kaur's experience of harassment, as she described it, while defending the alleged harasser, is himself under a dark cloud.
He is facing allegations of sexual misconduct from two women, who have not retracted their statements about Brown's alleged conduct. He has publicly stated they are not telling the truth, and is now taking Santos's side, suggesting Kaur is not telling the truth.
Councillor Dhillon said that it would be irresponsible of council to not bring the allegations forward.
"We're dealing with a person who was extremely brave, I'm not sure if anyone at home could see her, very nervous, getting emotional today, telling her story."
Kaur was previously fired in 2021 after she emailed allegations that Mayor Brown used City resources, including staff who don't work in his office, to campaign for federal Conservative leadership candidate Peter MacKay who sought the role ahead of last year's federal election. She also provided information about widespread misconduct under former CAO David Barrick who was recruited to Brampton by Brown.
Her termination letter, signed by Barrick (who was fired by council in February), stated that her dismissal was "a result of your failure to accept the transfer to the position of Strategic Leader, Planning, Building & Economic Development Projects."
Days after she was fired, Council ordered her to be rehired and she was offered a position in the planning department.
It was reported by TorStar that Brown went to her house and asked Kaur to drop her allegations in exchange for getting her job back.
The Pointer has not confirmed this and Brown has refused to answer questions about the alleged visit.
Santos and Brown did not reply to The Pointer's request for comment.
---
Email: [email protected]
Twitter: @JessicaRDurling
---
COVID-19 is impacting all Canadians. At a time when vital public information is needed by everyone, The Pointer has taken down our paywall on all stories relating to the pandemic and those of public interest to ensure every resident of Brampton and Mississauga has access to the facts. For those who are able, we encourage you to consider a subscription. This will help us report on important public interest issues the community needs to know about now more than ever. You can register for a 30-day free trial HERE. Thereafter, The Pointer will charge $10 a month and you can cancel any time right on the website. Thank you
Submit a correction about this story