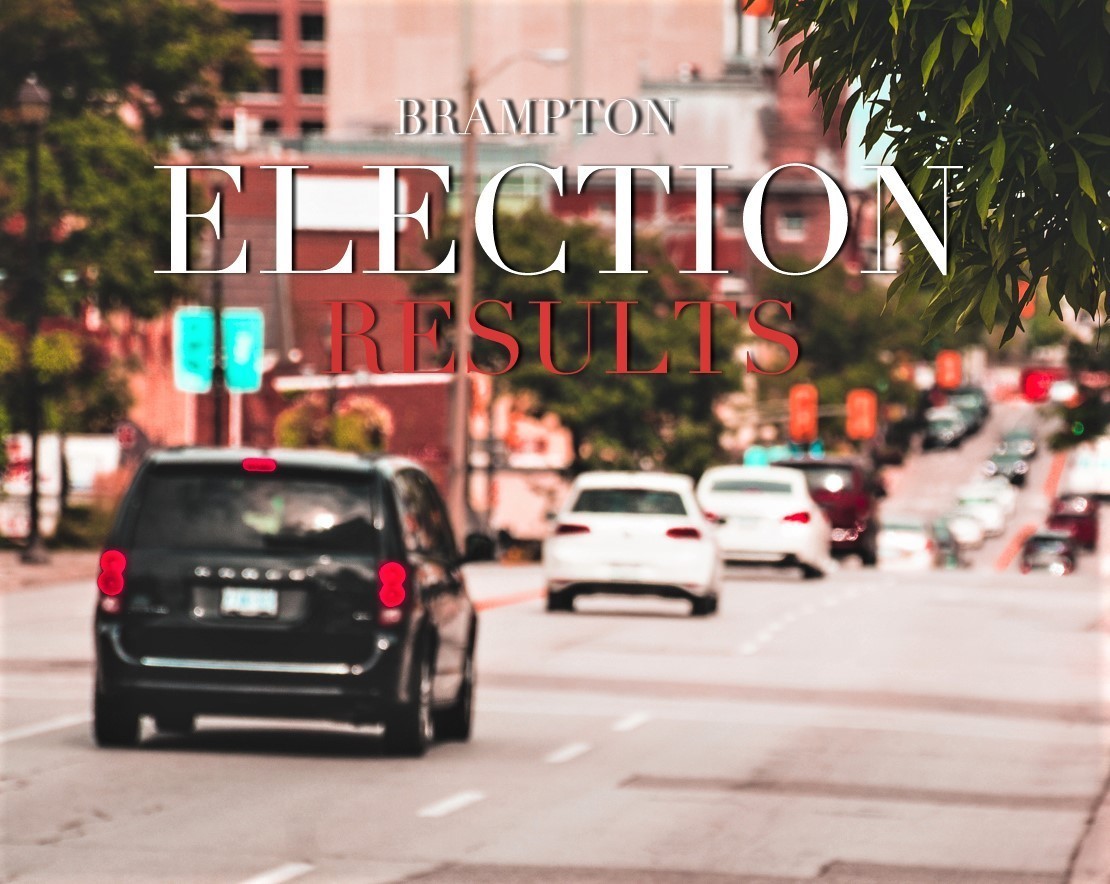 Feature illustration from Joel Wittnebel/The Pointer
Brampton swept by PCs, loses all local opposition after abysmal turnout; Who will advocate for healthcare? 
By 9:30 p.m. Thursday evening, Brampton healthcare advocates were wondering what happened to the city's two biggest backers inside Queen's Park—Sara Singh and Gurratan Singh, who pushed desperately needed healthcare expansion in the city to the top of the legislative agenda over the past four years, were gone.
Brampton Centre and Brampton East had been unexpectedly swallowed in the blue wave, removing two of the highest profile provincial politicians from the picture as we now move toward the 43rd Parliament.
Both of the popular incumbents had championed the need for hospital expansion in the city to end Brampton's hallway healthcare crisis. Now it will be up to the five PC members who will help govern under a powerful majority government to bring the needs of the city's residents before other legislators at Queen's Park.
Sara Singh often spoke inside the legislature of growing up in a city where people avoided the local hospital, Brampton Civic, due to chronic overcrowding.
Former Brampton East NDP MPP Gurratan Singh, now replaced by PC Hardeep Grewal, also frequently championed the need for healthcare funding in his city and was a vocal opponent to the Highway 413 project pushed by the PCs.
It is one of three 400-series highways planned by the PCs that will run partially through Ontario's protected Greenbelt. It was condemned by all three of the other major parties who vowed to kill it. They will now, like the rest of Ontarians, be at the whim of the powerful PC majority.
Voter turnout is what really hurt the NDP and Liberals, with only 43 percent of those eligible casting a ballot, the lowest figure ever and 12 points below the last election in 2018 when 57 percent of eligible voters participated.
In Brampton, the turnout was abysmal, with ridings reporting figures between 33 and 37 percent, which means less than one and six eligible voters actually showed their support for the PCs, who will now dictate much of the city's future.
Brampton Centre: Charmaine Williams
Winning the seat for Williams means leaving Brampton council, where she served as a representative of Wards 7 and 8 with Councillor Pat Fortini.
Council members voted earlier this week to replace Williams, in the event that she won, with long-time former councillor Elaine Moore. Williams herself supported the move.
Williams was one of the five Progressive Conservative candidates in the city who swept it for the Progressive Conservatives in Thursday's election.
She's also one of six councillors that has been pushing for a forensic audit into the mishandling of $629,000 for the city's failed BramptonU project, with Councillor Rowena Santos and Mayor Patrick Brown linked to the two consulting firms who were given the money. Williams was also one of the same group of six councillors who has pushed to restore good government inside City Hall after a term filled with scandals and allegations of staff misconduct, connected to Brown and the senior employees he recruited despite their checkered past.
Williams will now be expected to take her strong advocacy and defence of taxpayers to Queen's Park where she will be asked to fight for local needs such as hospital expansion.
Turnout in Brampton Centre, like the rest of the city, was disturbing. Only 36 percent of eligible voters cast a ballot.
Williams won 10,120 votes, a total of 41.4 percent and several thousand more than NDP Sara Singh who gained 6,524 votes, 26.7 percent.
Singh was a household name for Brampton residents, as the deputy leader of Ontario's official opposition over much of the past four years; she was a vocal voice for Brampton's needs in the legislature.
In third was Safdar Hussain of the Liberals, at 6,119, a total of 25 percent, barely behind Singh. Karitsa Tye came in fourth for the Greens, with 882 votes or 3.6 percent.
Under the Municipal Elections Act, once a city council seat is declared vacant, which will likely be done at the next meeting, council is required to appoint a new member as it is longer than 90 days to the next municipal election.
Williams will have to fill large shoes, as Singh was a prominent voice inside Queen's Park. Williams has vowed to continue her advocacy around public safety, with promises to improve youth engagement and community relationships with Peel Police. She has also been vocal about the need to end Brampton's healthcare crisis, voting with her council colleagues to declare a healthcare emergency in the city even before it was ravaged by the pandemic.
---
Brampton South: Prabmeet Sarkaria
Incumbent Prabmeet Sarkaria won the riding with 12,980 votes, a total of 45.4 percent of the turnout, well ahead of second place finisher, Liberal Marilyn Raphael, with 7,957 votes or 27.8 percent.
Andria Barrett of the NDP was third with 5,475 votes, 19.1 percent and in fourth was Ines Espinoza of the Greens with 1,028 votes or 3.6 percent of eligible votes cast.
In 2018, Sarkaria first became Brampton South's MPP, capturing 15,652 votes, a total of 41.01 percent of all valid votes cast. The reason for the disparity between overall votes won and percentage of the total vote is because of how low turnout was Thursday. Only 35.6 percent of eligible voters cast a ballot.
Sarkaria's record from Queen's Park shows a firm ally of Doug Ford, toeing the party line for four years. He refused to support desperately needed healthcare expansion in his own city, he pushed Highway 413, did little to advocate for more local resources during the pandemic and would not support 10 paid sick days for the essential workers in his own riding.
Sarkaria repeatedly ignored the lack of testing resources given to Brampton during the first three waves of the pandemic, refused to support the need for ten paid sick days so essential workers wouldn't have to choose between their safety or their jobs, and he voted against funding a new hospital in Brampton.
When dealing with public safety, Sarkaria once again ignored his constituents, backing his Party even on policies despised by residents in the riding, such as voting against a ban on police street checks, also known as carding, which targets Black residents and other visible minorities who are routinely confronted by police in these encounters.
A focus for Sarkaria during his 2022 reelection campaign was building Highway 413. He spoke often of the highway commitment during the second half of his term.
---
Brampton West: Amarjot Sandhu
Keeping his seat for the PCs is Amarjot Sandhu, gaining 14,544 votes, or 48 percent of the valid votes cast.
Following him was Rimmy Jhajj of the Liberals with 7,904 votes, or 26.1 percent. Third was Navjit Kaur of the NDP with 6,290 votes, 20.7 percent, and in fourth was Green candidate Pauline Thornham, with 837 or 2.8 percent of the valid votes cast.
In 2018, then unknown as a candidate, Sandhu narrowly beat NDP candidate Jagroop Singh who had 14,461 votes, just short of Sandhu's 14,921.
Shortly after his victory in 2018 Sandhu was charged for operating illegal basement rental suites, one of the biggest issues in Brampton West and across the city.
His record in Queen's Park wasn't anything to brag about either, as reviewed by The Pointer in his record check.
While his campaign website boasted about being dedicated to improving the quality of life for Bramptonians and advocating passionately for needed critical improvements, in 2021 he voted down an NDP motion to fund two new hospitals in Brampton. He had previously failed to support similar motions earlier in the term, despite the city's desperate need for a second hospital and despite the widespread awareness of Brampton's ongoing healthcare crisis.
The NDP motion asked the Ford government to increase funding commitments for Peel Memorial's expansion to ensure 850 hospital acute-care beds, rather than the 250 non-acute beds promised by the PCs, an actual emergency department in the facility and a third hospital in Brampton.
His campaign website referred to Sandhu as having "advocated for a second hospital," as well as promising Peel Memorial will be transformed into a full-service hospital.
He has failed to answer questions about the expansion of Peel Memorial and why the PCs refuse to fund its redevelopment into an actual hospital. There has been no money for its construction put into the provincial budget, only a planning grant has been funded.
---
Brampton North: Graham McGregor
Graham McGregor won the seat for the PCs, with 13,524 votes, 45 percent of ballots cast in the riding. Turnout saw just 35 percent of eligible voters participate.
In second was Liberal Harinder Malhi with 8,652 votes or 28.8 percent, while the NDP, represented by Sandeep Singh, came in third only earning 5,951 votes, 19.8 percent of the valid votes cast.
In fourth was Aneep Dhade with the Greens, earning 897 votes or 3 percent.
The seat was previously held by the NDP after Kevin Yarde was elected in 2018.
Singh was awarded the nomination in a process that was criticized by Yarde, Brampton's first Black representative at Queen's Park, who alleged he was given very little notice that his nomination would be contested.
Yarde left the NDP caucus in April and served out the remainder of his term as an Independent MPP.
McGregor is a former PC staffer with Brampton West MPP Amarjot Sandhu and also worked for Parm Gill when he was Member of Parliament for the now reformed riding of Brampton-Springdale.
"My pledge to the people of Brampton is simple, and that is I will never forget the people I serve, and I will never let our community down," he stated in the initial press release, announcing his candidacy.
McGregor has also worked for the Government of Ontario in roles with the environment, municipal affairs and finance ministries.
---
Brampton East: Hardeep Grewal
Taking over the riding held by NDP Gurratan Singh, brother of federal NDP Leader Jagmeet Singh, is PC Hardeep Grewal who won 12,552 votes, 43.3 percent of the vote compared to Singh's 8,940 votes or 30.8 percent.
Only 36 percent of eligible voters turned out.
In third was Liberal Jannat Garewal with 6,140 votes, or 21.2 percent. Fourth was Jamaal Blackwood for the Greens with 557 votes or 1.9 percent.
In 2018, Singh won his big brother's old riding with 47 percent of the votes cast.
The loss was a shock to many, as polls suggested Singh was not at risk of losing his seat, with some showing he was as much as 13 points ahead the morning of the election. It's the latest indication that polling approaches have not been able to accurately gauge the electorate.
Grewal will have to replace Singh's vocal and frequent advocacy for the riding and Brampton inside Queen's Park. He was a rising star inside the provincial NDP and there have already been suggestions that he might seek the Party leadership now that Andrea Horwath is stepping down.
Issues such as local healthcare funding, high Brampton auto-insurance rates and the need to reduce class sizes were all brought forward by Singh inside the legislature, often through bills he introduced.
Not much is known of Grewal, whose recent social media posts were direct retweets from Prabmeet Sarkaria, Conservative incumbent in Brampton South, and Doug Ford.
Grewal has also been an advocate for Highway 413, sharing promises that a PC government will make it a reality.
"Brampton is always on the go and we need the roads, the highways, to keep Brampton moving," Sarkaria said in a video Grewal recently tweeted. "Doug Ford and the Ontario PCs are saying yes. Yes to Highway 413 for Brampton, this means saying yes to saving commuters up to 30 minutes per trip, yes to creating 3,500 local jobs each year and generating over $350 million in GDP annually."
---
Email: [email protected]
Twitter: @JessicaRDurling
---
COVID-19 is impacting all Canadians. At a time when vital public information is needed by everyone, The Pointer has taken down our paywall on all stories relating to the pandemic and those of public interest to ensure every resident of Brampton and Mississauga has access to the facts. For those who are able, we encourage you to consider a subscription. This will help us report on important public interest issues the community needs to know about now more than ever. You can register for a 30-day free trial HERE. Thereafter, The Pointer will charge $10 a month and you can cancel any time right on the website. Thank you
Submit a correction about this story