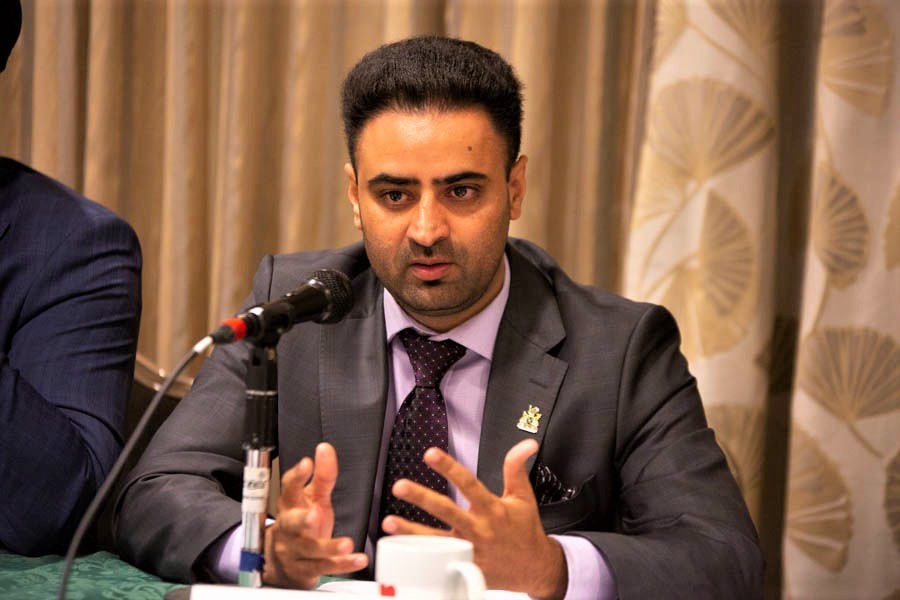 The Pointer file photo
Amarjot Sandhu 'A puppet to the premier'
Elected in 2018 to represent Brampton West, a previously Liberal riding, Progressive Conservative Amarjot Sandhu was an adamant supporter of Doug Ford, not his own constituents.
Little was known about Sandhu at the time, after he won the nomination when the PCs were under fire following Patrick Brown's time as Party leader, when the entire nomination process was widely described even by PC insiders as a mess. Ford would later turn around a half-dozen nominations ahead of the 2018 election and refer to the process as cleaning out the "rot" created under Brown.
Sandhu had no track record of public service, was a complete unknown to those who had worked in Brampton's political sphere and there was no record of community work or previous efforts to seek public office.
Brampton East NDP MPP Gurratan Singh and three other MPPs in the city honoured those who committed the ultimate sacrifice during the marking of the 100th anniversary of the end of the First World War in 2018 in front of the city's cenotaph. Amarjot Sandhu was supposed to attend but he did not show up.
(Photo: The Pointer files)
When he was introduced inside Queen's Park as a new MPP, when members usually list their most significant accomplishments, he said, "I'm especially honoured to be the first international student in the history of Canada to be elected to the provincial legislature, on behalf of the constituents of Brampton West."
During his term he received no shortage of criticism. He even pleaded guilty after being caught operating illegal basement apartments weeks before he was elected.
Kevin Yarde, former NDP MPP from Brampton North described him as being "pretty much a puppet to the premier," and working for Ford's agenda over what his constituents want him to do.

Residents took to social media to express their frustration with Brampton West PC MPP Amarjot Sandhu.
(Twitter)
After he was charged and convicted in 2018 for operating illegal basement apartments in two Brampton houses, three years later it was unclear if he had complied with orders to legally register them and ensure they met all fire and building code requirements. He refused to answer questions about his behaviour.
Such units are a huge problem in the city, stretching municipal resources beyond capacity, forcing other law-abiding property owners to subsidize all the costs of illegal tenants, such as garbage collection and utilities, while the Province is unable to properly plan for key services such as education and healthcare.
Brampton City Councillor Jeff Bowman has made illegal apartments a key issue of his, pointing out that tenants are often put at great risk, crammed into these units often with no proper fire safety features. He has implored law-breaking landlords to think of the danger tenants are being placed in.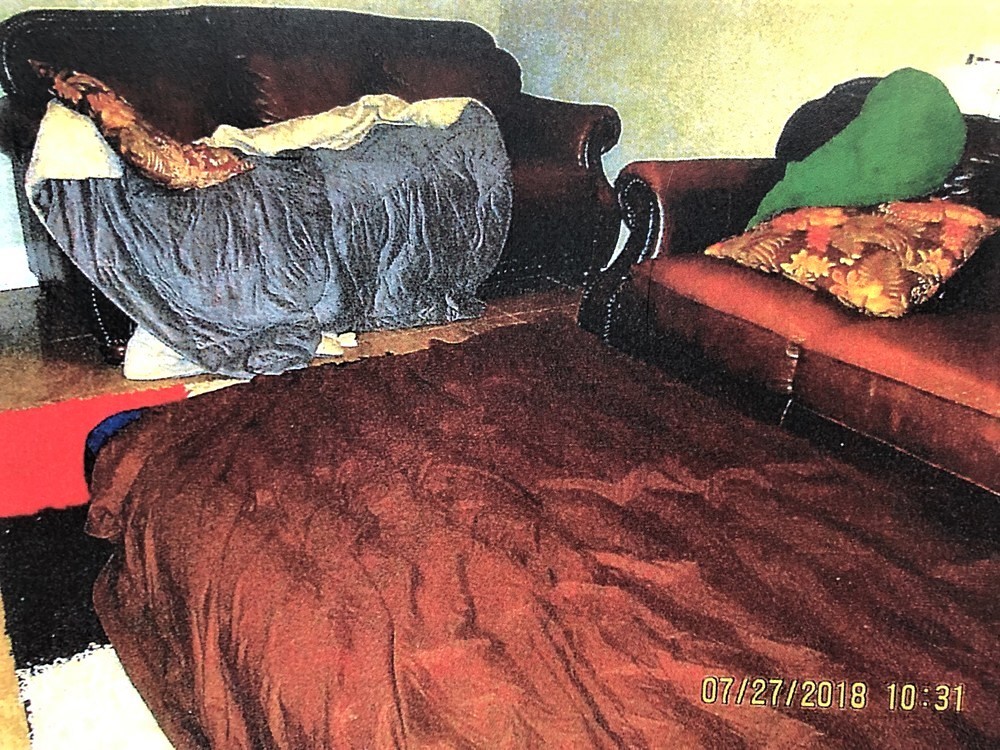 A photo after he was elected of one of the illegal basement apartments operated by Amarjot Sandhu who was charged and convicted.
(Image: City of Brampton)
Brampton voters did not expect that a man elected to represent them at Queen's Park would break the very laws he is expected to help shape and uphold.
Sandhu showed further callousness when in 2018 he was expected, along with other elected representatives in the City, to attend and lay a wreath at the official Remembrance Day commemoration that year. After other officials did their duty, his name was repeatedly called by Reverend Joseph Murray in front of a large crowd to come up to the city cenotaph. All four of the other MPPs stood up and came forward to lay a wreath. Sandhu missed the entire event, held in honour of those who paid the ultimate sacrifice to defend freedom.
Sandhu's record inside Queen's Park offers little to defend him.
The first time Amarjot Sandhu spoke inside Queen's Park after being elected was on July 19, 2018, and was in defence of police street checks, also known as carding, which targets Black residents and other visible minorities who are routinely confronted by police in these encounters.
In his comment, he called the NDP's movement to ban the practice "shameless".
Brampton's mayor at the time, Linda Jeffrey, who sat on the Peel Police Services Board, told members of a meeting with South Asian-Canadian business owners who told her police harassment of family members and staff forced them to consider leaving the city. She also recalled the stories of Black parents who had to explain to their children that police carding was an unfortunate reality for them.
"Yesterday, the Leader of the Opposition and her caucus spent the day making petty, partisan, political attacks about the minister. They accused the minister of being racist because he told a story about participating in a ride-along with 31 division," Sandhu said, defending minister of community safety and correctional services Michael Tibollo.
It set the tone for Sandhu's representation inside the legislature, ignoring the key concerns of his constituents on their most pressing issues, failing to defend and protect their interests. He was instead used as a backbench attack dog by the PCs, often voicing positions in opposition to the overwhelming concerns of Brampton West residents.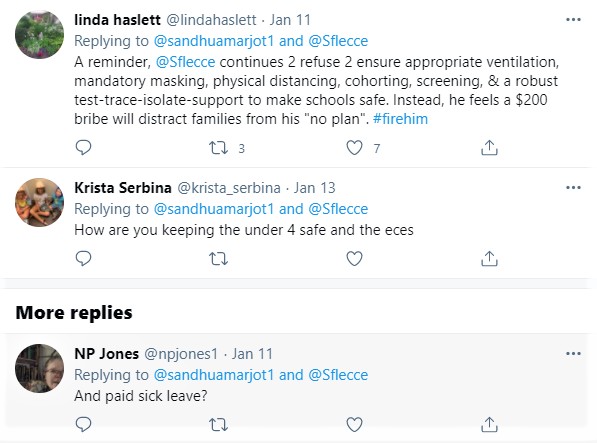 Residents criticized Amarjot Sandhu for not doing anything to keep schools and workers safe. He refused to support 10 paid sick days even as many of his own constituents demanded the move.
(Twitter)
In late 2018, when the PCs unexpectedly cut $90 million of funding promised to help build a downtown university campus in partnership with what is now called Toronto Metropolitan University, leading to the cancellation of the entire project, Sandhu was silent. Despite widespread public backlash and criticism from other Brampton MPPs, Sandhu either failed to respond or did not attend meetings on the topic.
Before the end of 2018 it was apparent that Sandhu had little intention of being responsive to his constituents. His office voicemail was full and would not accept messages and repeated requests for comment on issues were not returned.
It was much the same inside the legislature.
"Based on the clear evidence of his voting record, I would say that he is not speaking for the interest of Bramptonians at all right now," Brampton East NDP MPP Gurrattan Singh said inside Queen's Park at the end of the year.
"In the past two months, we have seen votes around every major issue in Brampton. From the hospital to the university and auto insurance, and we have seen the member, Sandhu, not speak and not vote."
In Brampton and Mississauga, data from the five-year period between 2009 to 2014 found that almost 25 per cent of those residents carded were Black, almost three times their representation in the overall population.
Black residents were more than three times as likely to be carded compared to whites in Brampton and Mississauga.
"What's your policy on carding," Sandhu asked Tibollo.
"We have been clear from the very beginning with respect to where we stand, wanting to have safe communities and to ensure that police have the proper tools to do their jobs," Tibollo answered.
On August 9, 2018, Sandhu was not present when his fellow PC MPPs voted against a motion to ban carding, but he had previously expressed his support for the harmful practice which has been denounced by a growing number of police chiefs across the province who have stated carding deeply damages trust between citizens and the officers expected to protect them. The ban would have also instructed all police forces to destroy existing personal information that was being collected and retained through the discriminatory practice of carding.
The motion failed 24 to 61.
Another issue heavily impacting Brampton is auto-insurance discrimination. Brampton drivers pay thousands of dollars each year as they are counted among the highest rates in Canada, sometimes triple what Toronto residents pay.
Sandhu voted on November 1, 2018 against a comprehensive proposal brought forward by the NDP and Gurratan Singh, which many observers said would have been far more effective than a stalled PC Bill brought forward in response to rising complaints about auto-insurance discrimination.
The NDP proposal would have prevented insurance companies from using postal code data to set prices, automatically discriminating against those drivers who live in particular parts of the province. Singh's bill, which was rejected by Sandhu and the other PCs, would have forced companies to use the individual driving record of each driver as the main criteria to set auto-insurance rates.
Sandhu's campaign website refers to him as having "advocated for a second hospital," in Brampton as well as promising Peel Memorial will be transformed into a full-service hospital.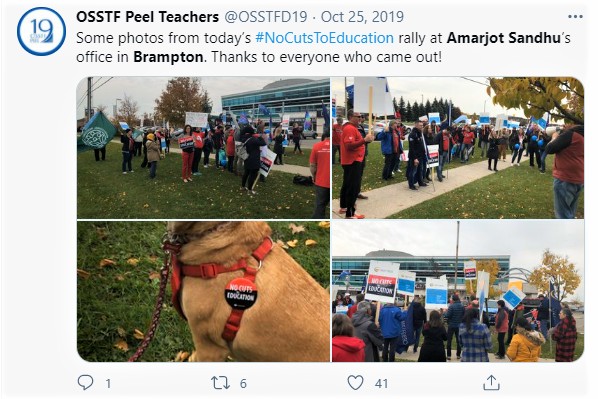 Amarjot Sandhu was the focus of local protest when the PCs made cuts to education increasing class sizes before the pandemic.
(Twitter)
This is in direct contrast to his actions inside Queen's Park during his term.
On October 16, 2018, opposition Leader Andrea Horwath tabled a motion to secure funding for extra beds for Brampton Civic. While he was absent earlier in the day and participated in proceedings before the vote, Sandhu left prior to the decision, when it came time to commit extra funding for hospital beds in his own city.
A spokesperson for his office said he had to "leave the House early to meet with constituents in Brampton due to prior commitments" despite MPPs being instructed to not schedule commitments when votes inside the legislature are set to take place, which is the central function of Sandhu's job.
During the pandemic Sandhu was silent when Brampton received inadequate testing resources and when the city had the worst infection rates in the country.
Despite high infection rates in the city's school communities he voted against a 2020 motion to lower class sizes to help control viral spread when the province was trying to keep schools open.
When health minister Christine Elliott was called out inside the legislature and made insensitive remarks following the death of 13-year-old Brampton teenager Emily Victoria Viegas, who died at home of Covid-19 last year while Brampton Civic Hospital was at the edge of collapse, Sandhu was again silent. Elliott claimed Brampton residents didn't receive "any less than they're entitled to" during the pandemic. Sandhu refused to speak up on behalf of his battered constituents, once again remaining loyal to his Party instead.
On November 24, 2021, the most recent NDP motion dealing with healthcare in Brampton asked the Ford government to increase funding commitments for Peel Memorial's expansion to ensure 850 hospital beds, rather than the 250 promised by the PCs—an actual emergency department in the facility and a third hospital in Brampton.
The PCs have failed to provide any funding for the expansion in the provincial budget and healthcare advocates including hospital staff in the city have pointed out that the 250 beds will not be for acute care, meaning most serious medical procedures will not be done at Peel Memorial and its emergency patients will have to be transferred to other actual full-service hospitals.
Sandhu, along with his PC colleagues, voted down the NDP motion to secure funding for a second and third full-service hospital in Brampton. It was another example that showed Sandhu's loyalty to his Party ahead of the constituents who voted for him to represent their needs.
On November 16, 2021, Sandhu was back supporting another PC policy unpopular with most constituents, when he defended the Highway 413 project.
It is one of three 400-series highways being planned by the PCs that will run partially through Ontario's protected Greenbelt.
"Ontario's population is continuing to grow, and that is why we are saying yes to building highways, projects like the Bradford Bypass and Highway 413," Sandhu said inside Queen's Park. "People deserve a transportation system that benefits businesses, commuters, families and reduces traffic congestion. This is a much-needed highway that will not only reduce traffic congestion, but it will attract more jobs, more businesses."
The proposed route is expected to cause significant environmental destruction in the headwaters of key watersheds that support much of the biodiversity in southern Ontario.
Research spearheaded by the Simcoe County Greenbelt Coalition shows the highway alone would pave over 2,200 acres of Greenbelt land.
The project has been condemned by environmentalist groups, including Environmental Defence and climate law group Ecojustice, who have argued it would have sweeping consequences on everything from federally protected at-risk species to the health of ecologically vital lands that are also safeguarded from human activity.
Polling by EKOS for the David Suzuki Foundation found 65 percent of respondents across Ontario said Doug Ford has done a poor job of protecting the environment; 76 percent said the Greenbelt is no place for a new four-to-six-lane highway; and 69 percent said the Greenbelt needs more protection. EKOS polling for Nature Canada shows only one in three Peel residents supports Highway 413, which would run through the western side of Brampton and across the southern part of Caledon, if built.
The project was also condemned by the Greens, Liberals and the NDP.
Sandhu ended his statement on November 16 by asking Liberal MPP Mitzie Hunter to explain why her Party was opposed to the project.
"I can't believe the member opposite is asking me that question, because I believe that if you understand that there's climate change happening and you support a green environment, you would actually be investing in things like transit that will continue to move more people in our region and to do it in a way that is more efficient," Hunter responded.
"At the same time, when you look at Highway 413 and you look along that corridor, look at the farmlands that you're going to be destroying, look at the environmentally sensitive watersheds and green areas that you're going to be paving over—for what? To save 30 seconds? It's just not the vision that we have. It's not what this province needs. You should be investing in things like education instead of Highway 413."
When Sandhu was charged and convicted for operating illegal basement rental suites, after he failed to legally register properties at 58 Sandy Beach Road and 39 Duffield Road, the City of Brampton fought to bring an estimated 30,000 to 50,000 basement apartments up to provincial legislation and city bylaws.
Sandhu was charged under the provincial Planning Act for committing "the offence of using or permitting the use of lands for purposes not permitted" under the Act as well as a 2015 bylaw for "failing to register a second unit in a two unit house."
In April, 2021, The Pointer reported that it was still unclear if he had complied, after finding 58 Beach Road didn't appear on the City's list of registered two-unit dwellings. Sandhu was asked why, according to the City's list of legally registered units, his property still was not in compliance, almost three years after he was first notified and eventually charged and convicted.
He did not respond.
To find out whether you are registered to vote, and where your nearest voting location is, visit Elections Ontario.
---
Email: [email protected]
Twitter: @JessicaRDurling
---
COVID-19 is impacting all Canadians. At a time when vital public information is needed by everyone, The Pointer has taken down our paywall on all stories relating to the pandemic and those of public interest to ensure every resident of Brampton and Mississauga has access to the facts. For those who are able, we encourage you to consider a subscription. This will help us report on important public interest issues the community needs to know about now more than ever. You can register for a 30-day free trial HERE. Thereafter, The Pointer will charge $10 a month and you can cancel any time right on the website. Thank you
Submit a correction about this story