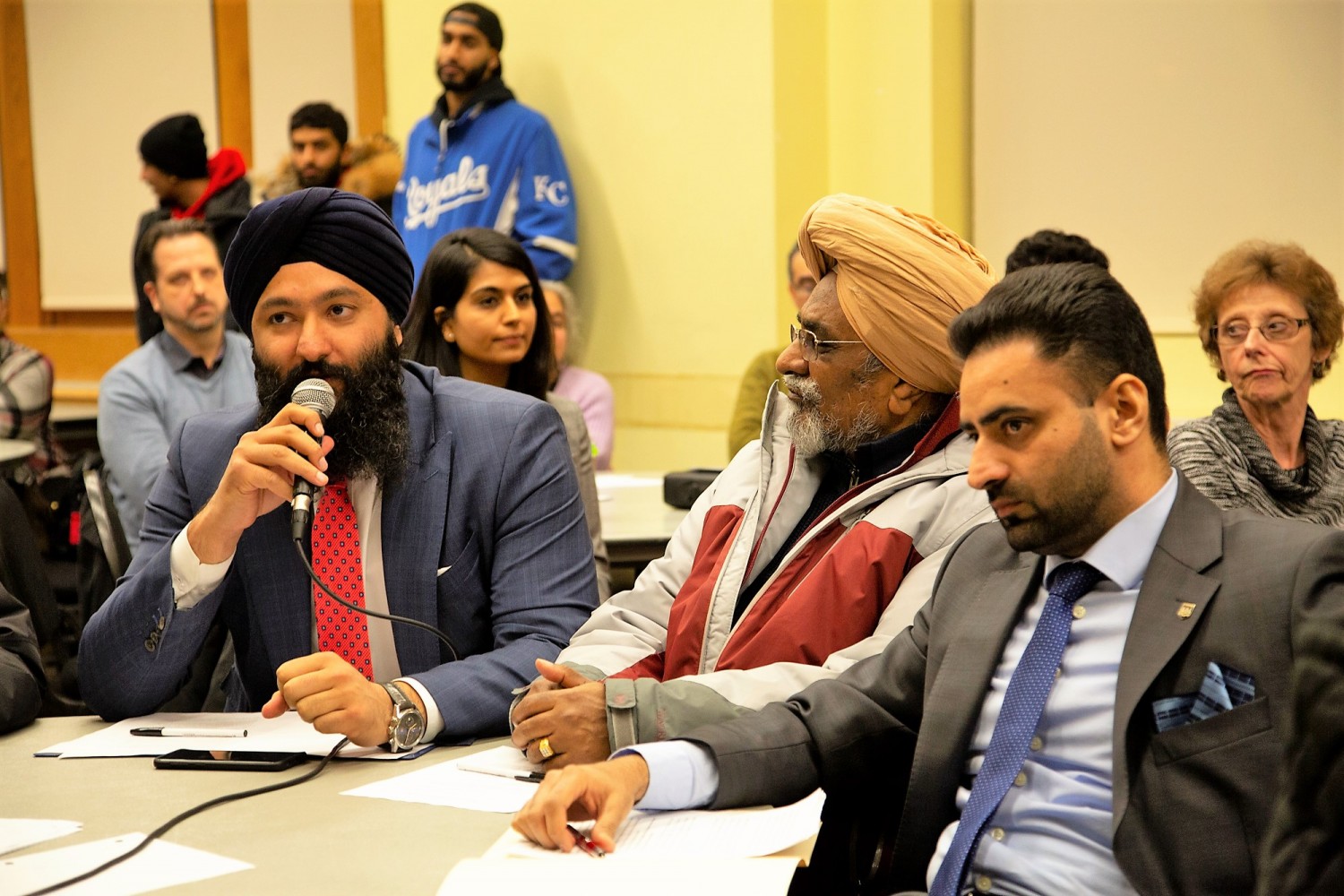 The Pointer file photo
PCs Prabmeet Sarkaria and Amarjot Sandhu say 'No' to motion for two new hospitals in their own city
The PCs crushed an NDP motion Wednesday asking the Ford government to increase its lacklustre funding commitment for Peel Memorial to ensure 850 hospital beds — not the 250 promised by the PCs — an actual emergency department in the facility and a third hospital in Brampton.
Even the two PCs who represent the city, Prabmeet Sarkaria and Amarjot Sandhu, voted against the motion, once again thumbing their nose at the very residents who voted them into office to represent their most pressing needs.
Healthcare is at the top of that list.
Sandhu repeated claims by the PCs that the 250-bed expansion of Peel Memorial will be an "amazing state-of-the-art facility which will include over 250 patient beds."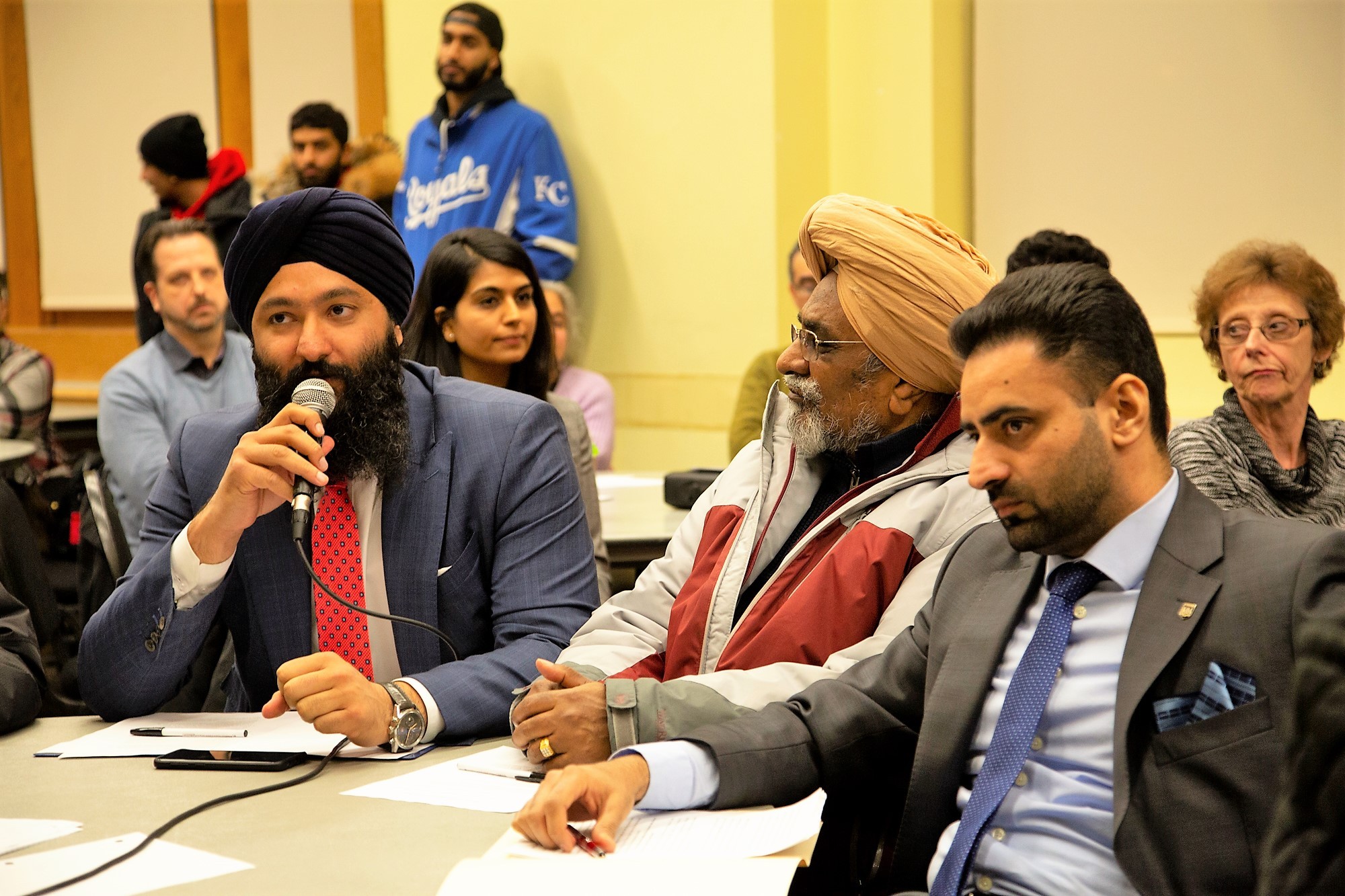 Brampton PC MPPs Prabmeet Sarkaria, holding mic, and Amarjot Sandhu, right, rejected a motion calling for expanded hospital investment desperately needed in their own city.
(The Pointer file photo)
Sandhu, Sarkaria and the rest of the PCs continue to mislead Brampton residents, failing to explain that none of those 250 beds will be for acute care, under the PC plan. This means the most pressing needs of Brampton patients who suffer a heart attack, need emergency surgery, get into a car crash that requires life-saving procedures, experience a major stroke or seizure along with almost all other medical issues described as hyper-acute or acute, will not be able to get needed medical care at Peel Memorial.
Despite the lack of full medical units, no intensive care unit and the absence of other features needed to be considered a full-service hospital, the PCs continue to claim this is what Brampton is getting.
The NDP motion for an actual second hospital — in addition to the chronically over-capacity Brampton Civic facility, where the term hallway healthcare was popularized — along with an actual second emergency department and a third hospital in the city lost by a vote of 45 to 23.
"There are nearly 650,000 people in Brampton, and they have just one full-time hospital, one ER," NDP Leader Andrea Horwath said inside the legislature Wednesday, shortly before the vote on her motion was held. "Compare that to Toronto, where there are nearly three million people and we have 15 emergency rooms here."
"Patients are left in hallways, stacked up on stretchers or gurneys, waiting in pain, families not being able to figure out exactly where their loved one is — 24 hours with lights on and noises, and a lack of a room, lack of a washroom, lack of a call bell for a nurse," she said, describing the everyday conditions at Brampton Civic. "That's what's going on there."
Horwath, who has for years advocated to get Brampton a fair share of healthcare funding, bringing previous motions for an extensive Peel Memorial expansion to transform it into an actual hospital along with a third hospital, expressed the frustration she has felt from Brampton families.
"I've heard from parents who said that they avoid driving to the Brampton Civic Hospital because they're fearful of being stuck in a hallway for days on end with their loved one, whether it's their children or whether it's their parents or whether it's any loved one whatsoever. They literally drive further. They drive to Georgetown, some people have told me, because they just simply cannot trust that the services are going to be there."
Ottawa Liberal MPP John Fraser acknowledged Brampton's dire need for meaningful healthcare expansion, and said what the PCs are delivering is far from what the city so desperately requires.
"Simply put, the people of Brampton deserve the hospital that they were promised — not an extension, not phase 2, not an urgent care room that might be an emergency room. That's not the way you plan for a hospital or a health care facility."
The veteran legislator said that not only are 250 beds, which won't even be for acute care, woefully inadequate, it will take a decade to build the phase-2 Peel Memorial expansion.
"It takes about 10 years to build a hospital now; it used to take 17. It's a very, very deliberate process. The reason that it takes that long is that it's important to get it right. In other words, right now the government is not going to be able to deliver. The member from Brampton East was right: Your timelines aren't going to work," he said, speaking to the PCs and referring to earlier comments by Brampton NDP MPP Gurratan Singh. "When I look at the amount of money that you're putting into that and getting shovels in the ground between now and then, it's not going to work. You're not going to deliver on the promise that you've made there. That's what's going to happen. He's right."
Sandhu had to be admonished by the Deputy Speaker and was ordered to withdraw a statement claiming the NDP were not telling the truth when characterizing the Peel Memorial expansion as far from an actual hospital.
He then went on to blatantly mislead the legislature and the public about PC investments in Brampton.
He claimed his government is "building" a "medical school" in Brampton. It is not. The PCs have supported a feasibility study to determine if a future medical school in the city might be something to pursue. Both Sandhu and Sarkaria, along with the City's Conservative Mayor Patrick Brown, have used the announcement ahead of next year's provincial and municipal election to claim Brampton is getting a medical school.
The reality is the city doesn't even have a university or a teaching hospital, and institutions such as York University have been preparing for years to secure the province's next medical school.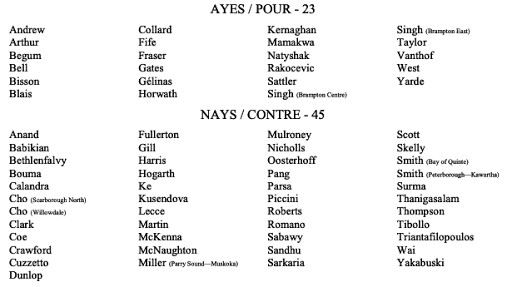 The NDP motion lost 45-23 with Brampton PC MPPs Amarjot Sandhu and Prabmeet Sarkaria voting against the motion.
(Legislative Assembly of Ontario)
Of the five MPPs from Brampton, Sandhu and Sarkaria were the only ones that voted 'no' to the NDP motion.
Premier Doug Ford and Health Minister Christine Elliott did not vote; Elliott was absent after speaking to the issue before the vote was called.
The same two MPPs for Brampton West and Brampton South, facing widespread criticism for absenting themselves from a previous vote to expand hospital investment in the city, had voted yes to essentially the same NDP motion as yesterday's, back in 2019.
But on Wednesday they once again flip-flopped.
Horwath challenged the PCs to offer a clear description of what Brampton will get under their Peel Memorial plan, and questioned why local taxpayers and donors are being asked to provide $125 million toward the project.
"What has happened is that, instead of the phase 2 that was contemplated for Peel Memorial that should have been implemented, a phase 2 that included a full-service hospital with a 24-hour emergency room and 250 acute care beds, here's what the people of Brampton were told, just a couple of weeks ago, that they're actually getting: no in-patient [acute care] beds, no ICU, no full-service medical units and no 24-hour emergency department—only minor day surgery capacity. That's the reality, Speaker."
She then asked for an explanation about the required local share.
"The reality is that usually it's about 10% of capital costs that are expected to be raised by the local community, but for some reason this Ford government is expecting this municipality, the city of Brampton, to provide 25% of the capital costs. I don't think that's fair. I don't think that's fair at all, Speaker."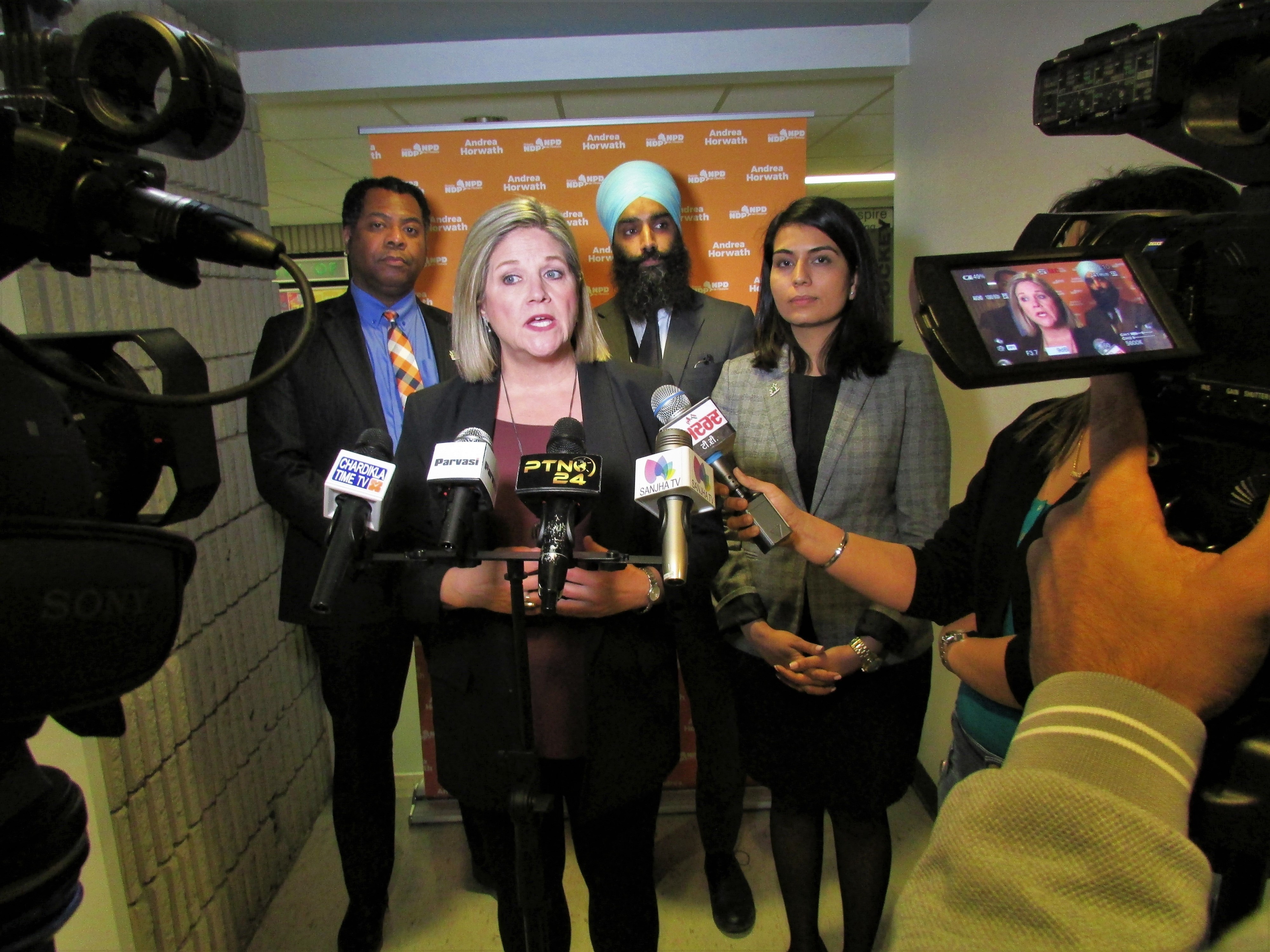 NDP Leader Andrea Horwath in Brampton for a healthcare townhall prior to the pandemic, flanked by her local MPPs Kevin Yarde, Gurratan Singh and Sara Singh.
(The Pointer file photo)
Horwath spoke to The Pointer Thursday and said Brampton appears to be getting unfair treatment on the funding expectation.
"It is irresponsible to continue to stand by as the population grows and not provide the necessary infrastructure for people to meet their health care needs," she said. "That shouldn't be happening. Brampton should not be shortchanged the way they have been for such a long time, and neither should the Premier or his MPPs be pork-barreling for their ridings." She pointed out that Ford handed over funding for Etobicoke General Hospital's recent expansion without asking Etobicoke taxpayers in his own riding to pay for it.
Brampton taxpayers, meanwhile, who have suffered with deplorable access to healthcare, are now being asked to pay their fair share to get a Peel Memorial expansion that won't even deliver what they need.
"It is really disgraceful," Horwath said.
NDP Health critic France Gélinas called the treatment discrimination, alluding to Brampton's demographics, which show about 75 percent of the population is not white.
"I can't help but think of racism. I can't help but think of discrimination. This is wrong," she said before the vote inside Queen's Park Wednesday.
Gélinas said Brampton Civic has become the poster child for hospital overcrowding.
"Shame on all of us to let that happen. How could it be? I am proud of the healthcare system we have in Ontario. I am proud of our hospital system. But we fail the people of Brampton each and every day," she said.
"It doesn't have to be like this."
"Maybe they don't consider Brampton as part of Ontario," Brampton North NDP MPP, Kevin Yarde said Wednesday.
"This government could have included funding for our health care system in the provincial budget or the fall economic statement, but they chose not to do so. They could have funded another hospital and converted Peel Memorial into a full-service hospital, but they left Brampton behind once again."
He said his constituents have expressed frustration when told the reality of what the PCs are actually going to deliver with the Peel Memorial expansion.
"Myself and my colleagues, we had to go throughout Brampton, talking to our constituents, letting them know the real facts and telling them the bad news that they were not getting a brand new hospital. They were shocked, because they felt that they were not spoken to honestly."
He announced a petition titled 'A Fair Deal in Healthcare For Brampton' on Twitter, "The people of Brampton are tired of waiting for better healthcare. For too long, residents have dealt with long waits in ER, receiving hallway medicine while waiting for a bed, and enduring hardships."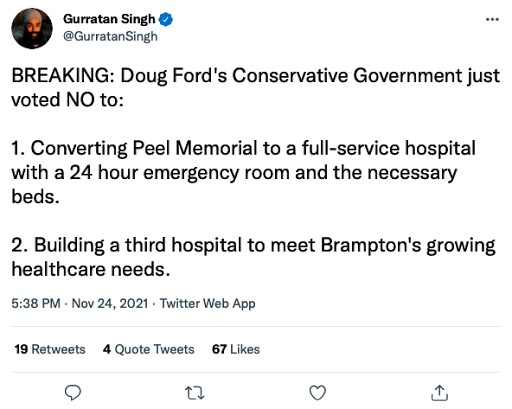 NDP MPP for Brampton East & Deputy Opposition House Leader Gurratan Singh tweeted Wednesday after the PCs voted no to addressing Brampton's growing healthcare needs.
(Twitter-Gurratan Singh)
NDP MPP for Brampton Centre and Deputy NDP Leader, Sara Singh, told The Pointer a $125-million tax levy for the Peel Memorial expansion would be the largest in the history of the city, for a facility that won't even come close to providing the range and capacity of healthcare the city's residents need.
"Why is the city of Brampton being asked to pay more for healthcare when we have never received our fair share of health care funding?" she asked.
Like Brampton Councillor Pat Fortini, who recently spoke about the ordeal his wife endured, Singh too has seen a family member in pain, waiting to receive care in Brampton Civic's hallways.
"My father had a quadruple bypass. I met him on a stretcher in the hallway at Brampton Civic and then he had to be rushed to Toronto General."
"Why is this still the reality for people in our communities?"
"Can you imagine the fear of calling 911, knowing that you aren't going to get the services because your hospital is in gridlock?"
"This is not the first time we've presented the motion in the house to help Brampton get a new hospital and a fully functioning emergency room at Peel Memorial," Singh told The Pointer Thursday.
"We have committed to Brampton that we will fix the healthcare crisis by starting with committing to a third hospital but also addressing the lack of funding to our community," she said.
"They deserve better than that."
---
Email: [email protected]
Twitter: Anukul_AT
---
COVID-19 is impacting all Canadians. At a time when vital public information is needed by everyone, The Pointer has taken down our paywall on all stories relating to the pandemic and those of public interest to ensure every resident of Brampton and Mississauga has access to the facts. For those who are able, we encourage you to consider a subscription. This will help us report on important public interest issues the community needs to know about now more than ever. You can register for a 30-day free trial HERE. Thereafter, The Pointer will charge $10 a month and you can cancel any time right on the website. Thank you
Submit a correction about this story