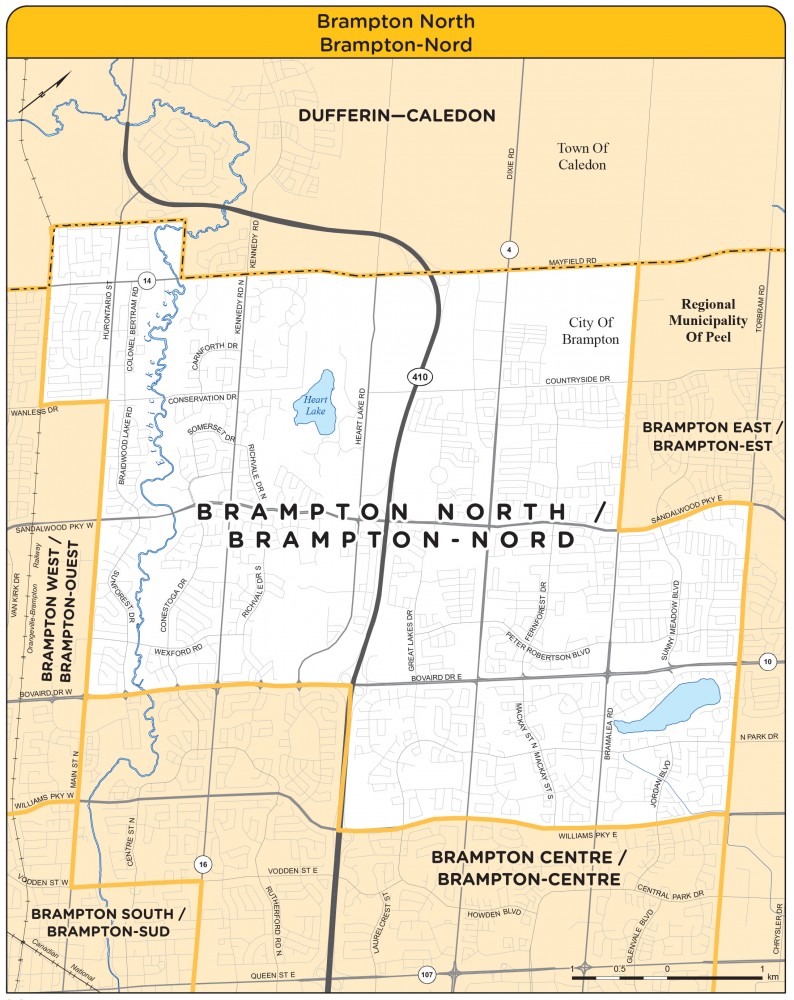 Feature image from Elections Ontario
A riding up for grabs: party leaders make early visits to Brampton North in effort to win swing voters 
In an effort to provide voters with the information they need to know about incumbents and new candidates this election, The Pointer will be looking at Peel's 12 ridings and how candidates in Ontario's four main parties plan to help their would-be constituents.
---
Political colours don't mean much to the residents of Brampton North.
Following a successful, but close, campaign by Kevin Yarde, the NDP scooped up the riding in the 2018 election after district lines were redrawn, molding together pieces of several different ridings. Old iterations of the Brampton North riding were held by Joe Spina with the Progressive Conservatives for a term between 1995 and 1999, and for two terms by the Liberals' Carmen McLelland before that.
This changing of political alliances means Ontario's big party leaders have the riding at the top of their list of potential gains following the June 2 election. But it's clear the riding will not be an easy sweep for one candidate.
Doug Ford, campaigning to win a second term as premier, made his very first campaign stop in Brampton North, reiterating his commitment to build the controversial Highway 413 project alongside his PC candidate in the riding, Graham McGregor.
Doug Ford made his first campaign stop in Brampton to promote the Highway 413 project, which the federal government is still considering for environmental impact assessment.
(PC Party)
McGregor has made no secret of his support for the highway project, despite the clear opposition from local municipalities like the Region of Peel and the wish of the City of Brampton to see the portion that runs through the riding converted into a "boulevard design", something the Province has said is not possible. There is no mention of this in his many social media posts. But he does take time to repeat Ford's unproven line that the Highway 413 will save commuters 30 minutes of travel time. The PCs have not provided any studies to back up this claim. An independent panel commissioned by the former Liberal government found the time savings were closer to 30 seconds. The Liberals then canned the project.
"Residents here want it," McGregor states in a video posted to his Twitter page. "We're tired of consultants getting paid millions of dollars to study the problem, we need a government to take action and get things done."
A recent poll by EKOS, commissioned by Nature Canada, shows only 29 percent of Ontarians and 34 percent of Peel residents support the construction of the 413 Highway.
Brampton North PC candidate Graham McGrer frequently promotes Highway 413 on Twitter.
(Twitter/Graham McGregor)
The problem the PCs claim the new 400-series highway will solve is southern Ontario's traffic congestion issues, but again they have provided no evidence to support how a highway between Milton and Vaughan, arching north then east through Brampton and Caledon will solve these issues.
According to a press release announcing his candidacy with the PCs, McGregor is a former PC staffer with Brampton West MPP Amarjot Sandhu and also worked for Parm Gill when he was Member of Parliament for the now-changed riding of Brampton-Springdale. Gill is now a PC MPP in Milton. McGregor has also worked for the Government of Ontario in roles with the environment, municipal affairs and finance ministries.
"My pledge to the people of Brampton is simple, and that is I will never forget the people I serve, and I will never let our community down," he stated in the initial press release.
NDP Leader Andrea Horwath also made an early stop in Brampton, making the announcement that her party would fund the conversion of Peel Memorial into a full-service hospital while reducing the municipal share of funding required to pay for the project, and promised to fund a third hospital in the city. Horwath made the announcement alongside her full slate of NDP candidates, which in Brampton North includes Sandeep Singh.
NDP Leader Andrea Horwath (centre), alongside her slate of Brampton candidates, including Brampton North candidate Sandeep Singh (second from right).
(Andrea Horwath/Twitter)
Singh was awarded the nomination in a process that was criticized by incumbent Kevin Yarde, Brampton's first Black representative at Queen's Park, who alleged he was given very little notice that his nomination would be contested. It's uncommon for a party to allow a nomination to be contested if the incumbent plans to run again. Yarde left the NDP caucus last month and served out the rest of his term as an Independent MPP. His lack of social media activity since the writ dropped earlier this month suggests he does not intend to have his name included on the June 2 ballot, but it remains unclear.
According to his social media profiles, Singh is a "human rights activist" and a small business owner in Brampton where he lives with his wife and three children.
"I strongly believe politics is for those who believe in bringing positive change in our community. I believe the Ontario NDP has the opportunity to make that change. And I would be honoured to be part of it," Singh said in a Twitter thread announcing his intention to seek the nomination in Brampton North.
Singh's listed priorities on the party's website are securing healthcare and seniors care funding for Brampton, and a "focus on tackling high auto insurance costs and skyrocketing prices for things like housing."
In an announcement in Brampton on May 11, again attended by Horwath, the NDP promised to reduce insurance rates by 40 percent in Ontario, a move the Party says could save the average Bramptonian up to $2,000 annually. To accomplish this, Horwath said the NDP would end postal code discrimination, plan a moratorium on auto insurance rate increases for 18 months while an expert panel "recommends a new system — a public or partially public system, or major reforms to the private system."
Critics have questioned the lack of details or costing in the vague NDP plan.
"Getting immense support from Brampton North," Singh said in a May 12 Facebook post. "The response at the doors boosts me up with confidence and determination to work for better Brampton."
In a further effort by the NDP to boost Singh's profile in the community, federal NDP Leader Jagmeet Singh was in attendance for the opening of Sandeep's campaign office on May 7. Jagmeet returned over the weekend for a rally hosted by Horwath in Brampton on May 14.
Federal NDP Leader Jagmeet Singh in Brampton for the launch of Brampton North candidate Sandeep Singh's campaign launch.
(Sandeep Singh/Twitter)
Increasing name recognition in Brampton North will be crucial for candidates facing off against Liberal candidate Harinder Malhi, who previously held the riding before losing it to Yarde in 2018. During her first term as MPP, Malhi held several parliamentary assistant positions, including in the office of the Minister of Tourism, Culture and Sport and worked with ministers responsible for anti-racism and women's issues. She was a member of the Select Committee on Sexual Violence and Harassment.
On social media Malhi has promoted many of the Liberal platform's keystone promises, including the introduction of an $8,000 incentive for the purchase of an electric vehicle; a retroactive childcare refund of $2,750 per child; and the implementation of the Pay Transparency Act that will work to ensure women are given equal pay. Additionally, Malhi has tweeted about issues like human trafficking, topics not front and centre in the Liberal platform that are, nonetheless, widely known in Peel.
"I'm so proud to be part of an (Ontario Liberal) team that's listening to Ontarians as we build a new plan for our province," Malhi tweeted in February.
Brampton North Liberal candidate Harinder Malhi (far right), during a visit to Brampton by Liberal Party Leader Steven Del Duca (centre).
(Harinder Malhi/Twitter)
Malhi is the daughter of Canada's first ever Sikh Member of Parliament Gurbax Singh Malhi. In December, the City of Brampton renamed a local park after the elder Malhi who served 18 years as MP for the now redrawn riding of Bramalea-Gore-Malton, portions of which now form Brampton North.
The Green Party received less than 4 percent of the vote in the 2018 election, but Leader Mike Schreiner has made an effort to convince Bramptonians his slate of candidates, including Aneep Dhade in Brampton North, should be a serious consideration for voters.
Schreiner was in Brampton North on April 20th ahead of the writ dropping, to reiterate the Green Party's stance against Highway 413, noting that his government would cancel the highway project and create a dedicated trucking lane on the underused Highway 407.
Ontario Green Party Leader Mike Schreiner in Brampton reiterating his promise to cancel Highway 413 if elected premier.
(Joel Wittnebel/The Pointer)
Similar to McGregor with the PCs, Dhade has also spent time working in different roles at Queen's Park, including in ministries responsible for social services, health, the environment and infrastructure.
According to her bio on the Green Party website, social justice, support for mental health, affordable housing and green transit are causes she is passionate about.
"I hope to bring some vitality and revitalization to the Brampton North political landscape," Dhade states in a Twitter post. "We can reshape our neighbourhoods to make it easier to get around, whether walking, cycling or taking public transit, to provide access to park space, and to get a handle on soaring housing prices so that everyone can afford a roof over their head."
"Let's work together to ensure sustainably and responsibly planned development, while making sure green space is available for generations to enjoy," she adds.
Brampton North Green Party candidate Aneep Dhade as routinely taken to Twitter to share her thoughts on issues impacting Brampton's environment, including the proposed Highway 413 as well as the preservation of local greenspace.
(Aneep Dhade/Twitter)
A focus on racial justice and tackling systemic racism, protecting local food and water by preserving forests, farmland and wetlands, and creating a long-term care system that mandates at least four hours of care per day are all listed as priorities for Dhade.
To find out whether you are registered to vote, or your nearest voting location, visit Elections Ontario.
---
Email: [email protected]
Twitter: @JoeljWittnebel
---
COVID-19 is impacting all Canadians. At a time when vital public information is needed by everyone, The Pointer has taken down our paywall on all stories relating to the pandemic and those of public interest to ensure every resident of Brampton and Mississauga has access to the facts. For those who are able, we encourage you to consider a subscription. This will help us report on important public interest issues the community needs to know about now more than ever. You can register for a 30-day free trial HERE. Thereafter, The Pointer will charge $10 a month and you can cancel any time right on the website. Thank you
Submit a correction about this story