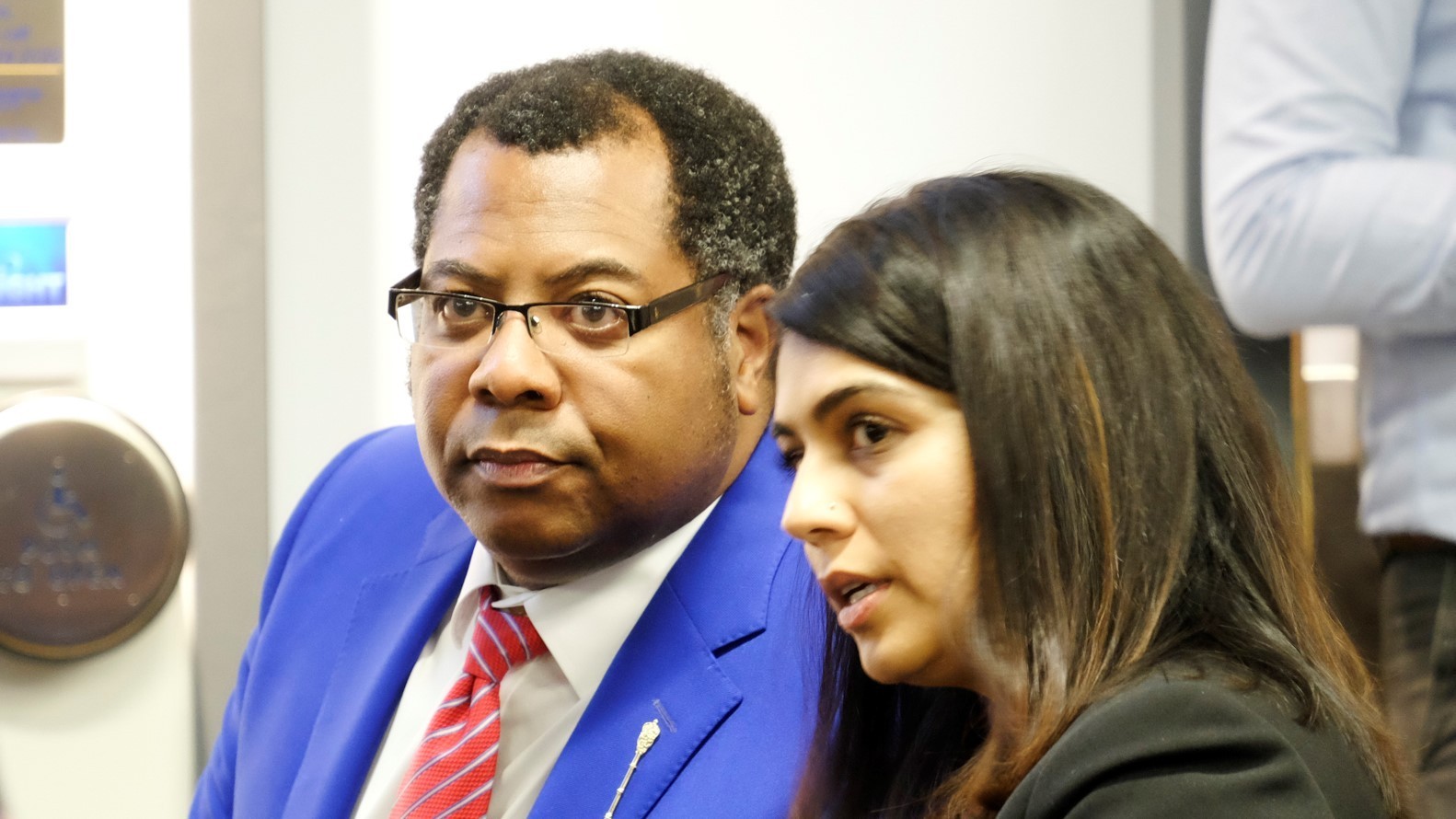 Feature image from The Pointer files
What role did race play in the move to replace NDP MPP Kevin Yarde as a candidate? 
The Brampton North Member of Provincial Parliament for the New Democratic Party, Kevin Yarde, who lost a nomination battle in his riding, announced he will sit as an independent MPP until the end of his term. His future in politics ahead of the June 2 provincial election remains unclear.
He did not respond to questions and it remains unclear if he will contest the election as an independent.
Yarde, who was the first Black member to represent Peel Region at Queen's Park, announced his decision last week on Twitter following the rare nomination contest, something incumbents usually do not face.
Kevin Yarde announced his decision to part ways with the Ontario New Democrats and sit as an independent member until the end of his term in a tweet last week.
"After careful discussion with my family I have decided to sit as an Independent member in the Ontario legislature. I will continue to represent the people of Brampton North until my term of office ends June 2, 2022. I want to thank my constituents for their support," Yarde tweeted Friday.
NDP Leader Andrea Horwath said she will review the policy that allows incumbents to be challenged, telling Post Media that Yarde did a "great job" representing Brampton North.
It's uncommon for parties to allow a nomination contest in ridings where the incumbent intends to run again, unless there has been a problem with the performance of their duties, or, in some cases, the expectation around certain fundraising targets for the party each elected member is responsible for.
The Toronto Star has reported Yarde left the Party amid claims the NDP had closed party membership sales before Yarde knew there was a challenger in his riding of Brampton North.
Sources have told The Pointer that the cut-off date for membership sales would have been discussed and consented to by Yarde and the Brampton North NDP riding association executive.
"There's no way Yarde wouldn't have known it," an NDP insider told The Pointer anonymously.
The move has left the NDP's Black Caucus members upset. Several party members expressed their anger, tweeting their frustration.
Members of NDP's Black Caucus shared their dissapointment over Kevin Yarde's nomination loss.
(Twitter/Jill Andrew/Laura Mae Lindo/Rima Berns-McGown)
"This week has been anything but okay. Leadership is ensuring someone who needs help gets it," said Laura Mae Lindo, NDP MPP for Kitchener Centre in a tweet.
"If we are a team, then we support and lift each other up. If we don't, there's a deep, deep, systemic and structural problem," MPP for Beaches-East York Rima Berns-McGown replied to Lindo's tweet.
Jill Andrew MPP for Toronto-St. Paul's was the third NDP Black Caucus member to join in the conversation.
"That's the 'tricky' thing about committing to leadership rooted in anti-oppression and anti-racism. You've actually got to commit to the work and to the people who you ask to believe in you and be on the journey with you," Andrew tweeted April 9.
The news spread east of Brampton with former York and Toronto city councillor Rob Davis tweeting that Yarde was forced out of his seat.
"NDP member of provincial parliament has been turfed as a candidate. In an unusual move the first Black MPP in Peel had to run for his own nomination. He lost," Davis wrote.
Ontario NDP President Janelle Brady told The Pointer, "The NDP is listening, and takes these concerns very seriously."
"We have heard the disappointment and frustration some are expressing following the Brampton North nomination," she wrote in an email Tuesday.
Brady explained the NDP's open nominations policy was established many years ago, but it has never been reviewed through an equity lens.
"Our Leader(Andrea Horwath) and I are committed to doing that now. She's committed to spark an examination of our constitutional rules and policies with a view to being even better at supporting incumbents who are Black, or from other historically and presently disenfranchised communities," she said. "We have undertaken similar initiatives before — four years ago, we adopted a powerful policy of only nominating equity-deserving candidates to replace retiring MPPs in incumbent ridings in order to grow the number of Black, Indigenous and racialized MPPs."
Brady said the party is focussed on tackling anti-Black racism in all its forms, everywhere it appears, and centring Black experiences and voices is the only way to do that.
"Yarde's work, along with the work of the other members of the Black caucus, is deeply valued in our party, by our leader and caucus, and by me, personally. We are the only party to have a Black caucus, and by making it a part of our structure, we are ensuring that Black voices are always a part of the Ontario NDP's leadership," Brady said.
Members of the Black caucus she trumpeted clearly don't feel "deeply valued" as shown by the frustration in their tweets following the Party's treatment of Yarde.
It's unclear why the Ontario NDP has not implemented policies and procedures to ensure equity and fair process. Its constitution was updated in 2019 and includes extensive language around equity and inclusion and the structure of its "Ethno Racial Equity Committee". If the steps that were allowed to unfold, which led to Yarde's ouster, were taken without applying the equity lens the Party's own committee is supposed to ensure, Horwath and the NDP will have to answer to charges of hypocrisy.
Yarde lost his NDP nomination for Brampton North to Sandeep Singh, who calls himself a human rights advocate, on April 7.
Sources told The Pointer that race and ethnicity played a role in the move by the NDP, with one source who did not want to be named, saying, "Yarde obviously isn't a Punjabi, and the fear is that the Liberals are running a strong Punjabi candidate in a riding that has a huge Punjabi base."
He said tactics were planned at the local riding association level, without the direct involvement of the provincial Party and its leaders, but added that they would have been informed of what was happening.
The Liberals have Harinder Malhi on the Brampton North Ballot. She has served as a Peel School Board Trustee for Northwest Brampton and was the Brampton-Springdale MPP (the old riding name before the electoral map was redrawn) before losing her seat in 2018. Malhi is the daughter of popular long-time former MP Gurbax Malhi. The family name, after Gurbax Malhi's pioneering tenure as an MP for 18 years, still carries considerable weight in the city's huge Punjabi-Canadian community. He was the first turban-wearing Sikh to serve in the House of Commons and was known locally by thousands of constituents for his work on family immigration files and round the clock appearance at community and family events.
The NDP are now concerned that his daughter, who is a Punjabi-Canadian, will be able to reconnect with enough voters to win back the seat she lost to Yarde in 2018.
Census data from 2016 show just how significant the Punjabi-Canadian influence is in the riding. One of the census tracts within the electoral district had 6,608 residents in 2015, 70 percent were South Asian-Canadians, and 43 percent listed Punjabi as the language most often spoken at home.
In 2018, Yarde was the only candidate of five who won a provincial riding in Brampton that does not have Punjabi roots. The two other NDP MPPs in the city, Gurratan Singh and Sara Singh have Punjabi roots. Neither faced a nomination contest internally this year.
Sandeep Singh, who will now be running against Malhi and the other candidates, said he appreciates what Yarde has done for the area.
"I have nothing but respect for Kevin Yarde, and wish him all the best," Singh Told The Pointer.
The 37-year-old said he is a lifelong Brampton resident and has worked as a marketing director at an immigration consultancy.
He and his wife have three children, and he has volunteered for the Pan American Health Organization (PAHO), a regional affiliate of the World Health Organization.
"I really want to be a part of the NDP government — the government that will get in there, roll up our sleeves and get to work for people, instead of working for buddies and insiders like the Conservatives and the Wynne and Del Duca Liberals. I want to make a difference for people. Now is the time."
A long-time member of the NDP, Singh says he is currently knocking on doors in Brampton hoping to address healthcare inequity and high-auto insurance rates in the city.
"We have only one ER, and Doug Ford has no plans to build a second ER and hospital, let alone invest in three full hospitals for Brampton, which is what we need. Our cost of living is far too high — and Doug Ford broke his promise to cut auto insurance and end postal code discrimination. These issues, health care, the cost of housing and the cost of living, all have to be fixed."
Brampton North candidates for the other two parties include Graham McGregor who is running for the Progressive Conservatives, and Aneep Dhade of the Green Party of Ontario.
---
Email: [email protected]
Twitter: Anukul_AT
---
COVID-19 is impacting all Canadians. At a time when vital public information is needed by everyone, The Pointer has taken down our paywall on all stories relating to the pandemic and those of public interest to ensure every resident of Brampton and Mississauga has access to the facts. For those who are able, we encourage you to consider a subscription. This will help us report on important public interest issues the community needs to know about now more than ever. You can register for a 30-day free trial HERE. Thereafter, The Pointer will charge $10 a month and you can cancel any time right on the website. Thank you
Submit a correction about this story