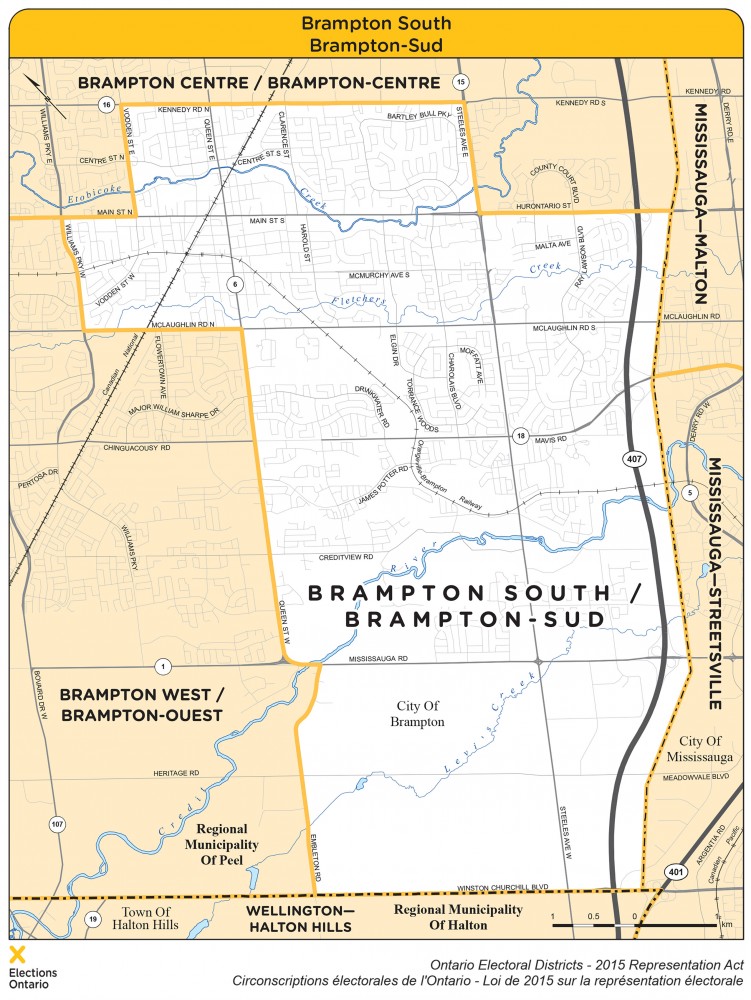 Feature image from Elections Ontario
Brampton South: Where needs & political support clashed under Prabmeet Sarkaria
In an effort to provide voters with the information they need to know about incumbents and new candidates this election, The Pointer will be looking at Peel's 12 ridings and how candidates in Ontario's four big parties plan to help their future constituents.
---
After four years of representation by Prabmeet Sarkaria many Brampton South residents were left wondering why the PC MPP worked actively against their interests.
In 2018, Sarkaria became Brampton South's newest MPP, capturing 15,652 votes, a total of 41.01 percent of all valid votes cast, and 2,733 more than second place finisher, Paramjit Gill of the NDP who won 33.85 percent of the vote.
Brampton South is growing rapidly and the healthcare needs of its residents are top of mind, but you wouldn't know it from listening to Sarkaria, who repeatedly ignored the lack of testing resources given to Brampton during the first three waves of the pandemic, refused to support the need for ten paid sick days so essential workers wouldn't have to choose between their safety or their jobs, and he voted against funding a new hospital in Brampton.
Those were just some of the issues that saw him repeatedly side with his Party, making political calculations, over the most pressing needs of his constituents.
Sarkaria is seeking reelection, opposed by Andria Barrett representing the NDP, Marilyn Raphael for the Liberals and Ines Espinoza who is running for the Greens.
Sarkaria's pinned post on Twitter says it all, for him this election is about Highway 413. He has avoided the biggest issue in his riding—healthcare.
A focus for Prabmeet Sarkaria during his reelection campaign is building Highway 413 through the Greenbelt.
(Prabmeet Sarkaria/ Twitter)
Highway 413 is one of three 400-series highways being planned by the PCs that will run partially through Ontario's protected Greenbelt.
The proposed route is expected to cause significant environmental destruction in the headwaters of key watersheds that support much of the biodiversity in southern Ontario.
Research spearheaded by the Simcoe County Greenbelt Coalition shows the highway alone would pave over 2,200 acres of Greenbelt land.
The project has been condemned by environmentalist groups, including Environmental Defence and climate law group Ecojustice, who have argued it would have sweeping consequences on everything from federally protected at-risk species to the health of ecologically vital lands that are also safeguarded from human activity.
Polling by EKOS for the David Suzuki Foundation found 65 percent of respondents across Ontario said Doug Ford has done a poor job of protecting the environment; 76 percent said the Greenbelt is no place for a new four-to-six-lane highway; and 69 percent said the Greenbelt needs more protection.
Despite overwhelming numbers that show GTA voters do not want the 413 Highway, Sarkaria is falling in line with developers and Doug Ford, who secretly promised them in 2018 he would open up the Greenbelt for development. The highways are the trigger to do so.
In April, Sarkaria wrote an opinion piece in TorStar advocating for the highway. He claimed "Highway 413 will cut commute times for GTA drivers by 30 minutes each way" and "the route.. was chosen after extensive consultation with stakeholders and based on expert recommendations."
Neither he, nor his Party, has provided studies or evidence to support the 30-minute claim, and an expert panel that provided reams of data and research showed time savings would only amount to 30 seconds.
In another section Sarkaria claimed that "these decisions should seek to minimize disruption as much as possible. That's why Ontario has a process in place to evaluate and reduce the impact of any major infrastructure project on local communities."
The 413 project is currently being reviewed for a potential federal environmental impact assessment, after the provincial assessment process was weakened by the PCs.
Both the NDP and Green Party have vowed to cancel the project. The Liberal Party platform has also vowed to cancel and the party has been consistent in that, excluding some contradiction from its Brampton East candidate Jannat Garewal.
Sarkaria and the PCs have refused to explain their plans for healthcare expansion, making vague claims about a new hospital and a future medical school, while refusing to put money in the provincial budget for them. The opposition NDP fiercely criticized Sarkaria and his Party for neglecting Brampton's ongoing healthcare crisis, as the Party in power refused to support NDP motions for two new hospitals to get the city's bed count to the provincial average. It currently has less than half the provincial per capita number of hospital beds and about a third of the national average.
The NDP are promising two new full-service hospitals in Brampton, if elected to govern, a pledge supported by their repeated motions over the last four years which were defeated by the majority PCs.
Representing the NDP for Brampton South is Andria Barrett, who describes herself as a pre-diabetes nutritionist and Bramptonian.
Throughout her campaign she's had several high profile endorsements, such as the one from the Ontario Secondary School Teachers' Federation (OSSTF) District 19, while federal NDP Leader Jagmeet Singh attended her campaign launch.
Her focuses highlight Sarkaria's neglect of his own riding.
"Seven-hundred thousand people but one hospital," Barrett said in a pinned campaign video on May 26. "Hallway medicine, the highest car insurance rates in the country, out of control housing costs. All these things have made life harder in the community but it doesn't have to be this way."
In the video, Barrett promised to save residents 40 percent on auto insurance, as well as delivering three fully funded hospitals.
The high price of auto insurance in Brampton, fueled by postal code discrimination, is something other Brampton MPPs have been fighting. In 2018, NDP Brampton East MPP Gurratan Singh raised a motion to ensure that residents in the Greater Toronto Area are paying auto insurance rates based on their driving record rather than geographical location. It was voted down by the PCs, including Sarkaria.
Barrett's solution to the region's gridlock issue is to immediately make the 407 free for truckers.
Andria Barrett intends to cut down on traffic through removing toll fees for truckers.
(Andria Barrett/ Twitter)
For Liberal candidate and Co-founder of ICON Talent Partners, Marilyn Raphael, this election "is not about building more highways."
"This race is about raising our expectations of our representatives and demanding more from those who get the privilege to serve us," Raphael said in a pinned Twitter video on May 27.
"That includes doing the hard work of changing the healthcare funding formula so we can finally get the hospital that we've been promised and prepare for future growth. It means addressing systematic racism and investing in public education so our children get the support they need to learn to graduate and find meaningful work."
Her strategy for ending hallway healthcare is by building two new full hospitals, and ending for profit long-term care, investing instead in homecare.
Raphael promises to address housing through rent control; capping childcare at $10 per day, extending paid parental leave to 18 months; and bringing a full university plus medical school to Brampton.
The gridlock issue would be reduced by funding the Main Street light rail transit plan, Queen Street bus rapid transit, and all-day, two-way GO Train service; as well as funding the Riverwalk to mitigate Brampton flooding issues that prevent transit expansion and growth.
Marilyn Raphael makes it clear that for her campaign, Highway 413 is a non-starter.
(Marilyn Raphael/ Twitter)
Representing the Greens is Ines Espinoza.
A business management instructor at Algonquin Career College, Espinoza holds a degree in economics from the University of Waterloo and another in business administration from York University.
"A firm believer that the status quo cannot continue in Ontario, Ines believes we must act now if we want a viable legacy for our children," reads her Green Party profile. "She is offering the people of Brampton South a sincere, community-connected approach to address their concerns on the climate crisis, mental health accessibility, and safe, affordable housing. Ines is confident that Brampton South can accomplish much while working side-by-side."
Ines Espinoza will be replacing Lindsay Falt with the Greens, who earned 1,472 votes in 2018, a total of 3.86 percent of the votes cast.
(Green Party of Ontario website.)
The Green Party's platform promises to freeze urban boundaries, build 1.5 million homes and 182,000 affordable community rental homes, increase mental health spending to 10 percent of the health budget to include mental health care under Ontario Health Insurance Plan (OHIP), reduce wait times for children's mental health care to less than 30 days, establish an annual carbon budget to reach net zero by 2045, electrify transportation, buildings and industry to crush pollution and lower energy costs, and provide up to $25,000 for homeowners for energy retrofits.
They are also promising to repeal Bill 124 which limited pay increases and has been condemned by the Registered Nurses' Association of Ontario (RNAO), increase pay for Personal Support Workers, nurses and Early Child Educators and hire 33,000 additional nurses.
To find out whether you are registered to vote, and where your nearest voting location is, visit Elections Ontario.
---
Email: [email protected]
Twitter: @JessicaRDurling
---
COVID-19 is impacting all Canadians. At a time when vital public information is needed by everyone, The Pointer has taken down our paywall on all stories relating to the pandemic and those of public interest to ensure every resident of Brampton and Mississauga has access to the facts. For those who are able, we encourage you to consider a subscription. This will help us report on important public interest issues the community needs to know about now more than ever. You can register for a 30-day free trial HERE. Thereafter, The Pointer will charge $10 a month and you can cancel any time right on the website. Thank you
Submit a correction about this story