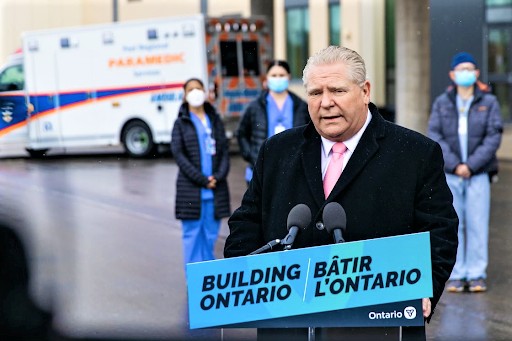 Government of Ontario-Twitter
William Osler and PCs won't clarify healthcare plans in Brampton ahead of June election
With their thumbs raised in the air—Ontario government officials, including Premier Doug Ford, staff from William Osler and Brampton council members stood against a signboard that read 'Building Brampton's New Hospital', celebrating a $21 million funding announcement.
But more and more people are concerned that there is no actual plan to create a second hospital in the beleaguered city.
"Last year Ford came to Brampton and LIED about building a hospital in Brampton [with] no money in the budget," Brampton NDP MPP Gurratan Singh tweeted on April 3, right after the announcement.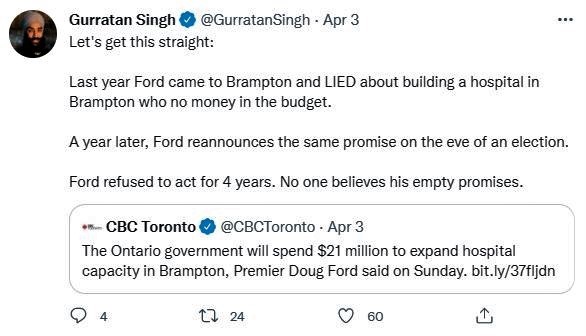 He continued.
"A year later, Ford reannounces the same promise on the eve of an election. Ford refused to act for 4 years. No one believes his empty promises."
The $21 million commitment came with few specifics and when reporters asked Ford and Health Minister Christine Elliott for details about what exactly Brampton is getting, both failed to provide them during the announcement last weekend.
Elliott said $18 million is for a grant "to allow for the planning" of Peel Memorial's Phase 2 expansion.
She said 250 more beds will be added "into the system".
About $3 million of the $21 million announced is for a new cancer care centre at the Brampton Civic Hospital campus, but details around the facility and how it will be fully funded also have not been provided.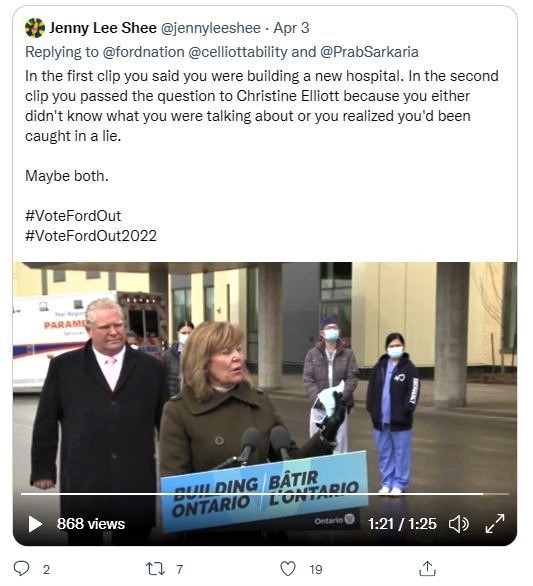 Residents took to social media to highlight concerns over the recent Brampton healthcare funding announcement by the PC government.
(Twitter)
Funding for the cancer care centre, William Osler says, will add capacity for six medical linear accelerators to provide radiation treatment and new services, making it easier for patients to access cancer care right within the city without having to drive to other hospitals.
The 250 new beds for Brampton that Osler and the PCs have spoken about since last year will not be for acute care, according to Chris Bejnar, co-founder of Citizens For a Better Brampton, who met with Osler officials last year and was told the beds will be for ambulatory care, mental health support and chronic care.
Currently, Peel Memorial has no in-patient beds and healthcare advocates have demanded that acute care in-patient beds be added to treat everything from heart attacks, acute cancer problems, emergencies caused by diabetes and other diseases.
This does not appear to be what Brampton is getting.
The PC government says the new in-patient beds will reduce wait times and expand services, including enhanced seniors care, mental health and addictions, rehabilitation and complex continuing care for patients and their families, a government press release states.
The Ford government last spring had previously announced $18 million to expand the urgent care operation at Peel Memorial, which does not operate as an emergency department and is only open until 9 p.m..
The healthcare dollars for Brampton announced last weekend are in addition to that amount and will help Peel Memorial transform the urgent care centre into a 24/7 emergency department, a press release by the Ontario government states.
However, it remains unclear how an emergency department could be created without the types of diagnostic, surgical, ICU and other acute care support a fully operational ER requires in a hospital that can admit patients who need intensive care after being triaged in the emergency area.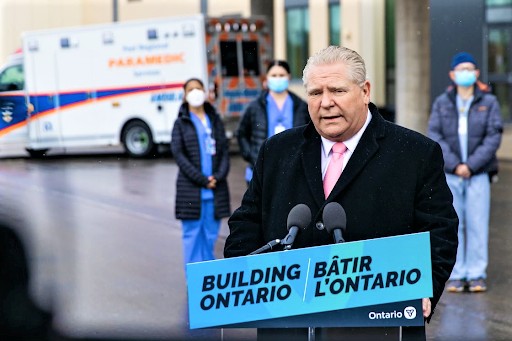 Premier Doug Ford on April 3, announcing $21 in funding for William Osler's Peel Memorial Phase 2 expansion and a Cancer Care Centre at Brampton Civic Hospital.
Catalina Guran, senior manager of public relations for William Osler, told The Pointer the $18 million announced by Premier Ford on April 3 will help Osler to continue planning for the transformation of Peel Memorial with a new 24/7 emergency department.
There is some confusion about the 250 new beds, what exactly they will be for and if all of them will be operational when the Phase 2 expansion opens (Osler says 2027 is the current timeline for completion, but added this could change depending on the construction process).
"As part of Peel Memorials' transformation, a new multi-storey patient tower will house 250 inpatient beds (at Peel Memorial) for patients requiring longer hospital stays (with space to add more in the future), as well as new and enhanced outpatient services and day programs," Guran said, but she changed her response after previously stating the expansion would open with 250 in-patient beds. "Providing beds for longer term hospital stays at Peel Memorial will help create more medicine beds for very sick patients at Brampton Civic Hospital. An exact number is not available at this time."
The expansion project is currently in stage two (the functional program as part of the planning) of a five-stage process, and Osler is working with the Ministry of Health to finalize the scope, Guran says.
"Osler continues the detailed planning of the various clinical programs that will be housed in the new Peel Memorial, working with project consultants and architects to finalize the details."
For Peel Memorial to become a fully functional hospital, it would need more than an emergency department. The provincial government and William Osler have not offered clear details about what the announcements last year and last weekend will mean for new healthcare infrastructure in Brampton.
The Pointer reached out to the Ministry of Health for clarity.
When asked how Ontario is looking to help Brampton with increasing hospital capacity and a third hospital, Bill Campbell, MOH media relations officer, said the new in-patient beds at Memorial will reduce wait times and expand services, including urgent care, complex continuing care, enhanced mental health and rehabilitation for patients and their families, repeating what was stated in the press release.
"Over 250 new inpatient acute and post-acute beds are planned to be added to William Osler Health System, which will significantly increase capacity. The new beds and expanded services at Peel Memorial and Brampton Civic Hospital will help William Osler Health System meet the needs of Brampton and the surrounding communities as they continue to grow."
Campbell said that all 250 in-patient beds will be located in Brampton but did not share a breakdown of how many, when they come online, will go to Brampton Civic and how many to Peel Memorial. The number of acute care beds out of this total was not provided.
The MOH did not respond to follow-up questions ahead of publication.
The PCs have repeatedly called Peel Memorial a full-service hospital in their announcements, without specifying if the facility will open with acute care beds, a fully operational emergency department and all the units required to support an actual emergency department.
Geoffrey Ritchie, chair of the board of the William Osler Health System, in a press release said that with the most recent funding announcement Osler is one significant step closer to increased hospital and health care capacity for Brampton.
"Building the next phase of Peel Memorial and expanding cancer care services will increase hospital capacity in Brampton, and will elevate Osler's long-standing tradition of exceptional health care. This is excellent news for the community," he said.
That is not how Brampton councillors reacted in November when Ritchie and Dr. Naveed Mohammad, who was CEO of Osler at the time but has since been replaced, addressed members of council to talk about Memorial's Phase 2 expansion and the need for City Hall to contribute a required local share of funding (City staff later told council members $250 million has to be raised, half by Osler and half by the municipality).
"I don't know how to put this any other way: we are critical. We are too far behind everybody else, Councillor Jeff Bowman told the two men when hearing only 250 beds would be provided with no plans to ensure they will be for acute care, which is what the city badly needs. "When we get those 250 beds opened, we'll be another 500 beds behind," Bowman said. "We should be pushing this government, right now, before this election, to make sure that when this hospital opens, it has a minimum of 850 beds."
He later provided The Pointer with comments.
"How is it possible that the residents and those frontline workers who have worked so hard in Civic and Peel Memorial for the past several years are expected to accept this gross inequity for another 6 years and beyond? I asked for a public meeting to be held prior to budget to inform residents what they will be getting in real terms for the levy of a possible 125 million dollars."
Bowman told The Pointer no such public meeting to provide a detailed breakdown of what exactly taxpayers will be getting for $125 million has been conducted by Osler and the provincial government. This past Wednesday council approved a one percent levy that will be added to the 2022 property tax bill to help raise the required $125 million City Hall share.
Councillor Pat Fortini, who has demanded the City take responsibility for its local funding requirement, after his wife suffered at Civic during the pandemic before he rushed her to Georgetown Hospital where she received proper care, called November's announcement "disappointing" shortly after the vague presentation to council at the time.
Councillor Gurpreet Dhillon in November told The Pointer that Brampton taxpayers were promised a full-service hospital, but that's not what they will get, if the plan even moves forward.
"Brampton taxpayers have paid their fair share for decades, and have been treated like second-class citizens," he said.
"Though the announcement of an expansion is welcome news, we are still severely behind in the number of beds Brampton requires to meet the provincial per-capita average, and also in the number of medical units required to be considered a 'full' hospital. We will be receiving a handful of inpatient beds, however, the very sick patients will likely be sent to other, full-service hospitals."
Dhillon said his constituents have been led to believe the Memorial expansion would go a long way toward finally addressing the city's ongoing hallway healthcare crisis.
"Taxpayers do not mind paying their share of the $125 million, but their expectation is for a hospital that will also treat heart patients, cancer patients, and diabetes patients. Unfortunately, that is not what we're getting."
He said what's needed are hundreds of "acute-care beds", to treat Brampton residents who need immediate treatment and surgery for a wide range of medical issues.
Bejnar, who for years has advocated to get equitable healthcare funding for the city's taxpayers who contribute to Queen's Park and Ottawa, but don't see that money coming back to their community, could not hide his frustration when Osler made its presentation to council members in the fall.
"It was quite shocking to see how Council was trying to pass a motion to what essentially would be the largest tax in our city's history ($120-$125 million), all without having concrete details and plans from the William Osler delegation, and more disturbing without any public consultation or input."
He echoed Bowman's concerns about cutting the public out of a process that so many are desperately relying on.
"Did Council not realize that William Osler's plan is not going to deliver a 24/7 Emergency Department and acute in-patient beds on OPENING day?" he wrote in an email in November.
It remains unclear if an ER will be part of the Memorial Phase 2 opening.
Mayor Patrick Brown, who has been busy criss-crossing the country campaigning to become the next federal Conservative Party leader, and was not present for recent discussion and voting on the Peel Memorial levy, flip-flopped from previous comments when he took credit for helping bring a second hospital to Brampton.
After last weekend's announcement, which he was not present for, Brown said, "It is not a second hospital," doing a U-turn from his earlier statements when he called Peel Memorial's Phase 2 expansion Brampton's second hospital.
Prabmeet Sarkaria and Amarjot Sandhu, PC MPPs representing Brampton, had voted no to a motion asking for increased funding for Peel Memorial to bring more beds and a third hospital for the rapidly growing city, but called last weekend's announcement a "fair share" for Brampton.
"It's not really if you look at the population," Fortini, who is also the city's deputy mayor and has spearheaded the hospital levy, told The Pointer, "but it's a good start."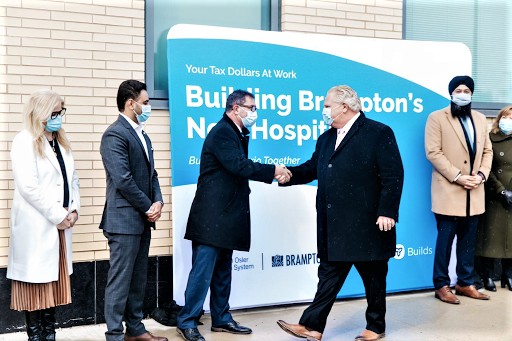 Brampton Councillor and Deputy Mayor Pat Fortini shaking hands with Premier Doug Ford at the April 3 announcement outside Peel Memorial.
"The cancer portion was never there on the table. So they added something new, which I think is good for everyone," Fortini said.
Brampton's other deputy mayor, Martin Medeiros, told The Pointer the announcement is an important improvement in addressing healthcare needs.
"Everyone in the community knows that we're already thinking about a third hospital… but do you look at it as the glass half empty or half full?"
To Medeiros, the announcement was a building block.
"I think that idea of being the 'Les Enfants Terribles', someone who always pouts and gets mad at governments, that doesn't help you," he said.
Fortini told The Pointer that if everything goes well Peel Memorial will open up with 250 beds with a full emergency department by 2026 and the cancer care features at Civic will be built by 2027.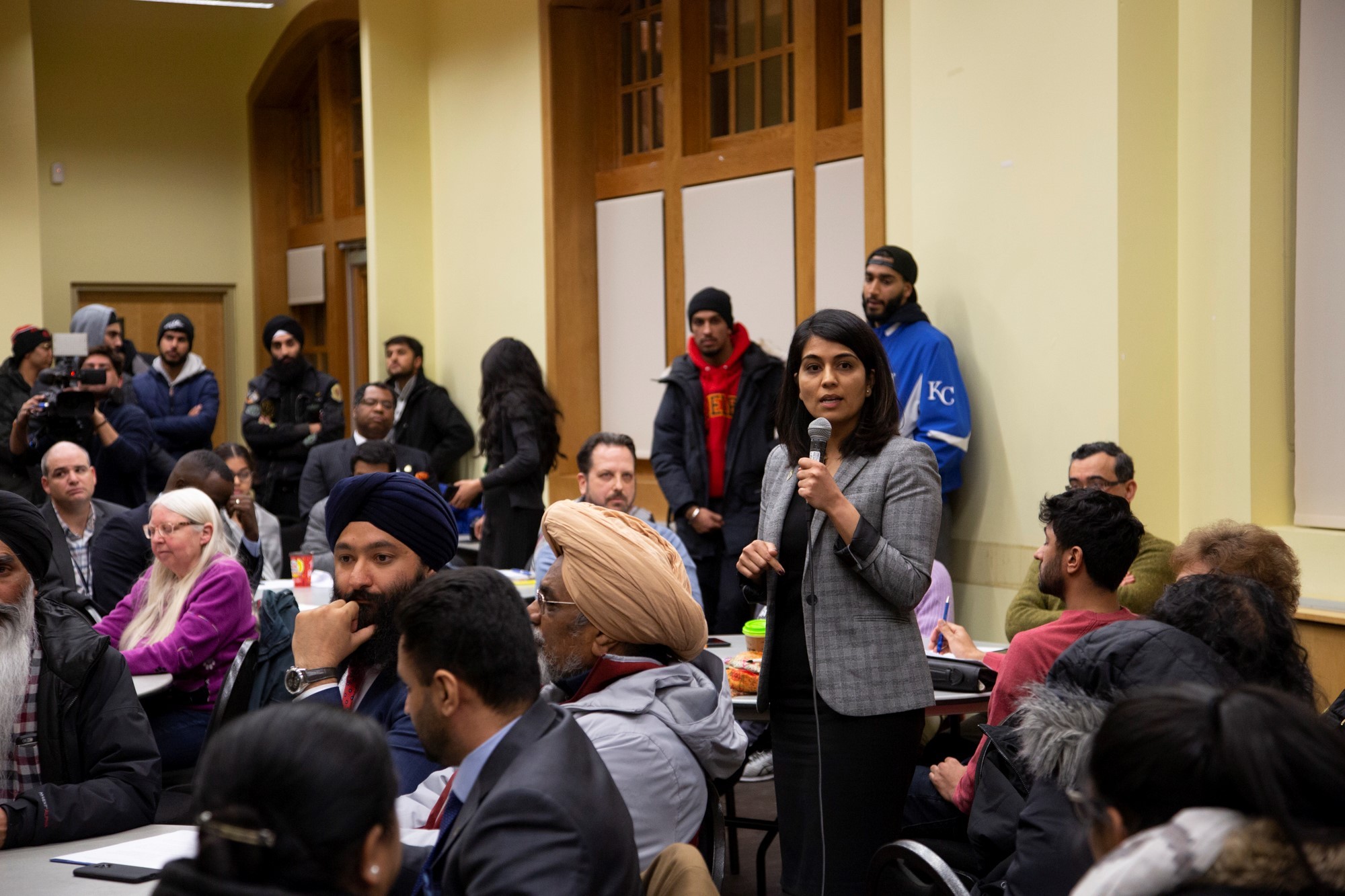 NDP Deputy Leader and Brampton MPP Sara Singh at a local healthcare townhall prior to the pandemic.
(The Pointer file photo)
The announcement does not represent a fair share for Brampton, NDP Deputy Leader and MPP for Brampton Centre, Sara Singh, told The Pointer.
"We need over 800 beds in our community. This announcement isn't going to help us get closer to that… And these empty promises just before an election are not going to help with the health care that Brampton deserves."
She promised a full service second hospital with a dedicated emergency room, a third hospital and a commitment to ensure staffing resources for Brampton, if the NDP is elected to government in the upcoming June election.
"We've had government here for four years but they couldn't make these announcements in the first year? We might have had shovels in the ground right now instead of an urgent care center that's still closed," Singh said.
Singh went on to call the announcement an election stunt that falls hundreds of beds short.
"It's devastating that Doug Ford has delayed investing in Brampton families who hoped they would get cancer treatment close to home and that the ER for Peel Memorial will not be in the budget—only a plan to get a plan for future years," she said.
"Overcrowding is breaking hospital care in Brampton, and families are sick and tired of campaign promises that never come true. If Doug Ford was actually going to deliver for Brampton, he'd have done it by now."
Singh says Brampton voters can see through these vague healthcare announcements.
"I think the voters of Brampton are much smarter than that."
---
Email: [email protected]
Twitter: Anukul_AT
---
COVID-19 is impacting all Canadians. At a time when vital public information is needed by everyone, The Pointer has taken down our paywall on all stories relating to the pandemic and those of public interest to ensure every resident of Brampton and Mississauga has access to the facts. For those who are able, we encourage you to consider a subscription. This will help us report on important public interest issues the community needs to know about now more than ever. You can register for a 30-day free trial HERE. Thereafter, The Pointer will charge $10 a month and you can cancel any time right on the website. Thank you
Submit a correction about this story