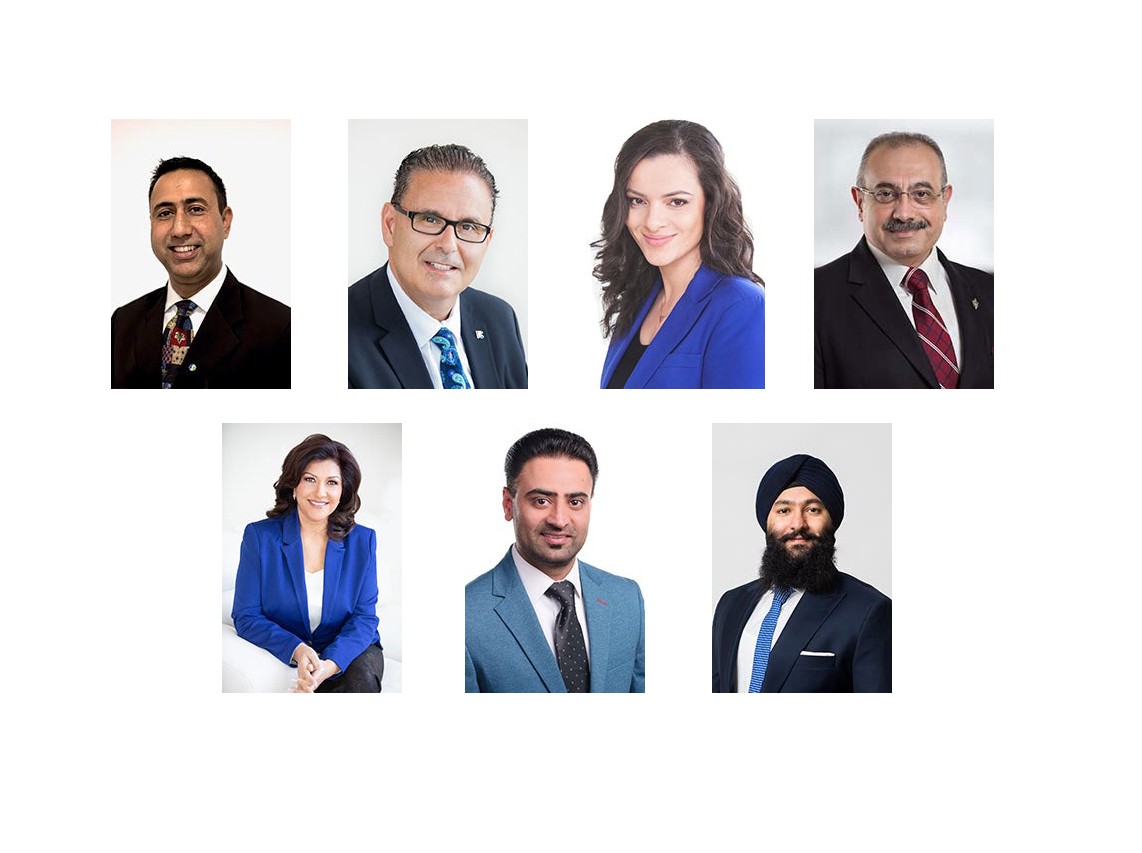 Photos from The Pointer files/City of Brampton/Government of Ontario/Twitter
Peel's governing MPPs will not answer questions after voting against paid sick days
Ontario Premier Doug Ford regularly refers to his local MPPs as "champions".
Introducing riding representatives at his now discontinued daily briefings, Ford heaped praise on the work local Progressive Conservatives do for their communities.
In Mississauga and Brampton, a recent vote at Queen's Park has left municipal officials and constituents wondering why Ford's MPPs don't listen to those they're supposed to "champion".
On Monday, PC MPPs in Brampton and Mississauga voted with their party to strike down an NDP Bill to give workers in Ontario permanent and pandemic-specific paid sick days. The vote was a direct contraction of requests made by the cities the MPPs are elected to represent.
Paid sick days are something the Official Opposition has been pushing for months. Brampton Mayor Patrick Brown and his Mississauga counterpart Bonnie Crombie have also been making the demand continually, with workplace transmission in Peel Region a major barrier to bringing the pandemic under control.
It's a major reason why Peel, unlike most of Ontario, remains under a stay-at-home-order.
Dr. Lawrence Loh, the Region's medical officer of health, the man tasked with managing pandemic response in Ontario's hardest hit area, has vocally backed the calls.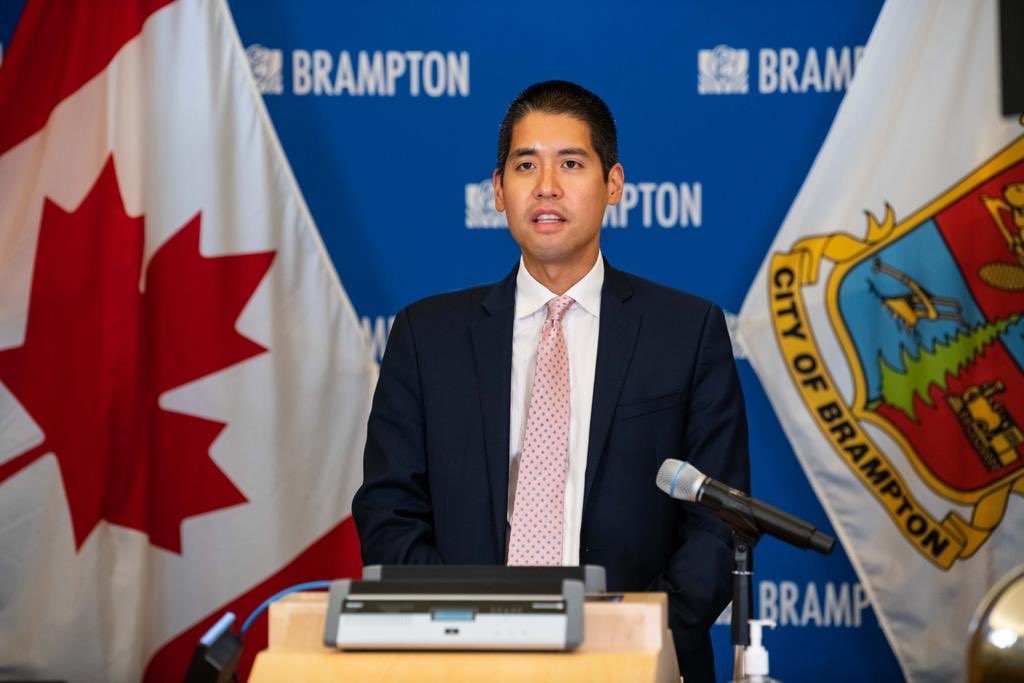 Dr. Lawrence Loh, Peel's medical officer of health
Research completed by Peel Public Health illustrates the impact of not having paid sick days in the region. Workplaces, many of which remain open in Brampton, Caledon and Mississauga, have been a major source of the novel coronavirus transmission in Peel. Between August and January, 66 percent of all confirmed community outbreaks in the region took place in workplaces. In August, workplace transmission was the most common likely source of infection that resulted in spread within households.
The threat is especially pervasive in Peel because of the number of essential jobs the area hosts and due to the large percentage of residents who work in these sectors, including those who have to commute outside the region. A series of major highways, Toronto Pearson Airport and large corridors of industrial zoning have created an ideal nexus in Peel for viral infection and spread.
Essential workers makeup a significant portion of the population. According to the 2016 census, manufacturing employed more Peel residents than any other sector, including jobs that are deemed essential to keep supply chains running. Roughly 90,000 Peel residents worked in the manufacturing sector.
Other job categories dominated by essential workers are common in Peel. In 2016, there were 69,920 residents working in transportation and warehousing; 59,270 in healthcare and social assistance; 44,755 in construction; and 42,205 in accommodation and food services.
"This pandemic has highlighted the fact that lack of access to paid sick days is a health hazard," Peel Public Health wrote in the briefing that accompanied its research into workplace cases.
Between August and January, a total of 1,993 people who later tested positive for COVID-19 reported going to work for one or more days after their symptoms began to show. The figure represents roughly 25 percent of all cases through the period, meaning one in four went to work infectious.
Discussing the data, Loh has pointed out this is probably an underestimate. Despite reassurances from health officials collecting the data, it is likely some chose not to admit to authority figures they went to work while infected.
Of all the data collected by Peel Public Health, one statistic stands out. Eighty individuals reported to work between August and January after their positive result had been reported to public health and they were confirmed to have the novel coronavirus that causes COVID-19.
Armed with these statistics, Peel's mayors and medical officer of health have been begging for paid sick days. With the GTHA Mayors providing ample media attention to voice the reality for hundreds of thousands of their constituents, they had hoped to be heard by now.
But they have been ignored and even the region's local, governing MPPs have tuned out.
The Stay Home If You Are Sick Act, tabled by the NDP and struck down with the help of seven Peel based PC MPPs Monday, would have offered workers 14 paid sick days during the pandemic. It also suggested seven paid days after the pandemic is over.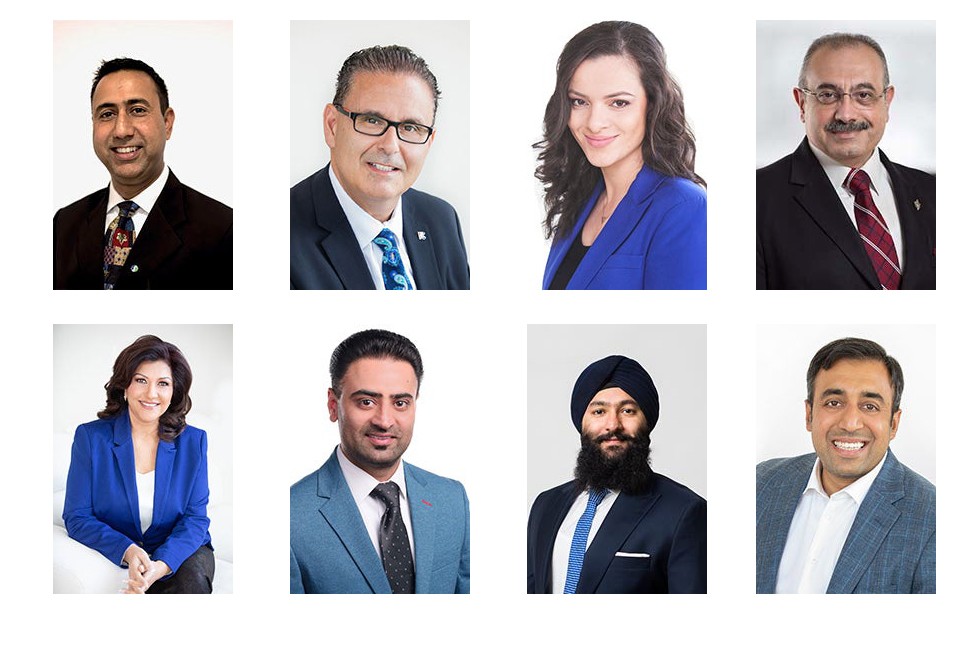 Peel PC MPPs (clockwise from top left): Deepak Anand (Mississauga-Malton) Rudy Cuzzetto (Mississauga—Lakeshore) Natalia Kusendova (Mississauga Centre) Sheref Sabawy (Mississauga—Erin Mills) Kaleed Rasheed (Mississauga East—Cooksville) Prabmeet Sarkaria (Brampton South) Amarjot Sandhu (Brampton West) and Nina Tangri (Mississauga—Streetsville).
"If Peel's Conservative MPPs hadn't helped the Ford government block the Stay Home If You Are Sick Act, workers in Brampton and Mississauga could have had paid sick days when they woke up today," NDP Deputy Leader and Brampton Centre MPP, Sara Singh, said. "Instead, people in Peel are returning to jobs in health care and food processing without that support, doing essential work while the government turns its back on them, again."
The Pointer reached out to all seven PC MPPs to ask them to justify their vote and if they listened to Loh's advice as the local medical expert.
Staff members at the offices of Mississauga—Lakeshore MPP Rudy Cuzzetto, Mississauga—Malton MPP Deepak Anand, Mississauga Centre MPP Natalia Kusendova and Mississauga—Streetsville MPP Nina Tangri answered phone calls confirming they had received questions, but did not provide responses. The remaining MPPs, Associate Minister Prabmeet Sarkaria (Brampton South) Amarjot Sandhu (Brampton West) and Sheref Sabawy (Mississauga—Erin Mills) did not answer messages left by email and voicemail.
Kaleed Rasheed (Mississauga East—Cooksville) did not vote.
"I'm very disappointed in our Mississauga provincial members of parliament," Crombie said at a Wednesday press conference. "They know how important sick days are. This should not come down to ideological differences — we need to do the right thing."
It's not the first time questions have been raised about Peel's MPPs. In 2018, Sarkaria and Sandhu felt the wrath of their community after they skipped a vote pushing to bring a third hospital to Brampton.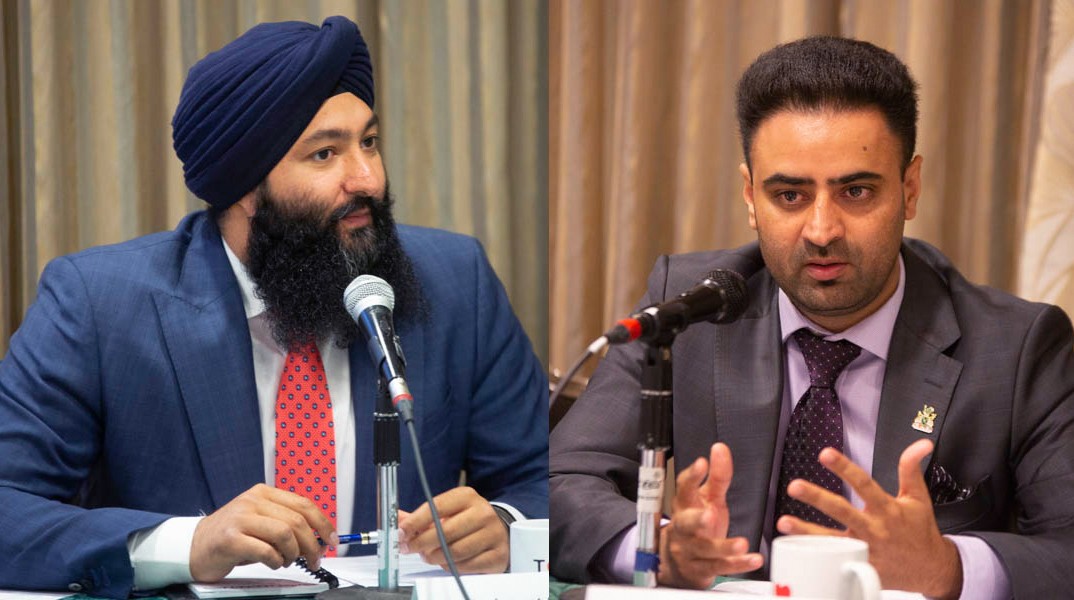 Brampton PC MPPs Prabmeet Sarkaria (left) and Amarjot Sandhu have been critized by Brampton residents in the past for not supporting votes at Queen's Park which could benefit the city.
The Progressive Conservatives' official party line on introducing paid sick days is that they duplicate a benefit being offered by the federal government, the Canada Recovery Sickness Benefit (CRSB). Communications staff for the PC government have blanketed social media with the position, saying paid sick days already exist and that the NDP is muddying the waters.
Ivana Yelich, Premier Ford's director of media relations defending the PC's stance on paid sick days.
But the experts in Peel take issue with the idea CRSB solves the issue. Peel Public Health says the benefit's usefulness is "limited" by duration, delayed release of funds and "lack of linguistic cultural support for applicants". "Eligibility criteria further limit the ability of programs such as CRSB and Employment Insurance to address COVID-19 transmission in the workplace," Peel Public Health wrote in its research.
"The whole COVID-19 thing is a jigsaw puzzle, but this is one really big piece that continues to be missing in my estimation," Loh said at Mississauga's weekly press conference, referring to the need for paid sick days.
In the legislature, the message is being ignored by the ruling PCs. Despite recently posting screenshots of a virtual briefing with Loh, the region's MPPs have not acted on his advice.
"Local leaders like Brampton Mayor Patrick Brown, and Peel Medical Officer of Health Dr. Lawrence Loh recognize that paid sick days are a vital public health measure to keep workers safe in Brampton's essential workplaces," Singh said in the legislature Wednesday. "But this government ignores them again and again, refusing to take action to stop this virus, keep workers safe and end the cycle of lockdowns."
---
Email: [email protected]
Twitter: @isaaccallan
Tel: 647 561-4879
---
COVID-19 is impacting all Canadians. At a time when vital public information is needed by everyone, The Pointer has taken down our paywall on all stories relating to the pandemic and those of public interest to ensure every resident of Brampton and Mississauga has access to the facts. For those who are able, we encourage you to consider a subscription. This will help us report on important public interest issues the community needs to know about now more than ever. You can register for a 30-day free trial HERE. Thereafter, The Pointer will charge $10 a month and you can cancel any time right on the website. Thank you.
Submit a correction about this story