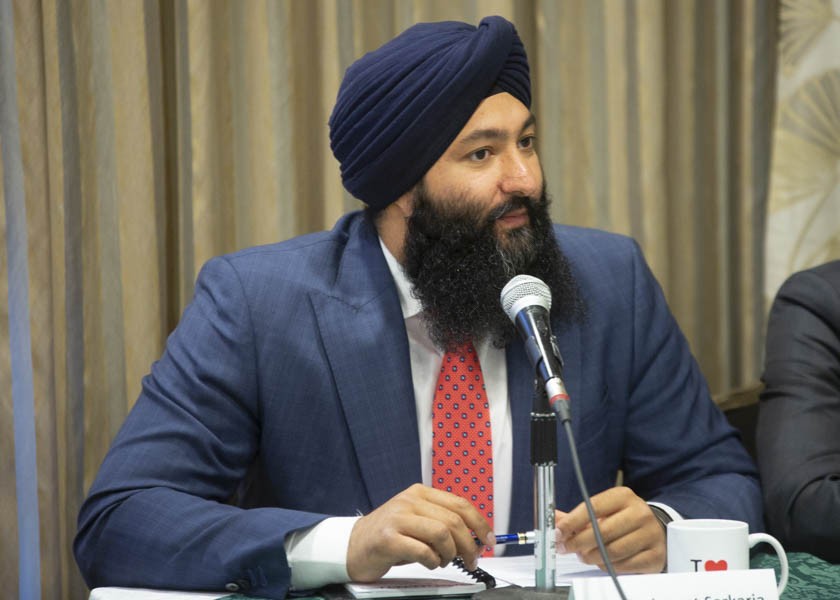 Feature image from The Pointer files
Prabmeet Sarkaria: An ally of Doug Ford & his highway agenda
The first time Prabmeet Sarkaria spoke inside Queen's Park after his successful election run was on July 18, 2018, thanking his constituency of Brampton South for voting him into office.
"Our government is committed to making life more affordable for Ontarians, with a number of commitments, starting with the striking of cap-and-trade. Cancelling the cap-and-trade carbon tax will save money and put more money into the pockets of those who so desperately need it and will be a necessary first step in making sure that we reduce the price of gas by 10 cents a litre," Sarkaria said.
"As a resident of Brampton, I also know all too well that our healthcare system is broken. But I am happy that, once again, our government is taking action. This starts by respecting our front-line workers: our doctors, our nurses and our health care practitioners. Our system can count on stable, long-term funding, which includes 15,000 new long-term-care beds in the first five years."
The respect for frontline healthcare workers turned out to be nothing more than empty words.
Even before the pandemic struck, Sarkaria supported his PC Party's move to loosen regulations around the inspection of long-term care facilities. When the pandemic hit and the sector was ravaged he voted with his Party to make it harder to sue irresponsible companies that run private care homes, eroding the protection of vulnerable seniors and staff.
He and his Party refused to support NDP motions for two new hospitals to get Brampton's bed count to the provincial average. It currently has less than half the provincial per capita number of hospital beds and about a third of the national average. Sarkaria also refused to put pressure on his own government when it ignored his city as it faced some of the worst infection rates in the country, partly due to the woeful testing infrastructure the PCs provided in Brampton. And when essential workers in his riding demanded 10 paid sick days, Sarkaria once again turned a blind eye, choosing to side with his Party over his struggling constituents.
Sarkaria showed he was more interested in promoting his Party than advocating for the voters who gave him his authority.
Throughout his time as MPP, he often asked non-critical open ended questions to ministers inside the legislature to allow them to talk about their policies.
These included questions such as "Can the Minister of Municipal Affairs and Housing tell us what our government is doing to help regional government work more effectively and efficiently for their taxpayers?"
Prabmeet Sarkaria speaking at the University of Toronto Scarborough.
(Prabmeet Sarkaria/ Twitter)
On October 16, 2018, Sarkaria questioned former finance minister Victor Fedeli on what action was being proposed to address fairness in Ontario's insurance system. Auto insurance discrimination is an issue that costs Brampton drivers thousands of dollars each year as they continue to pay among the highest rates in Canada, sometimes triple what Toronto residents pay.
"The previous government did nothing to help them. Could the minister please explain what action is being proposed to address fairness in Ontario's auto insurance system," Sarkaria asked.
In response, Fedeli pointed to PC MPP Parm Gill's Bill 42, Ending Discrimination in Automobile Insurance Act, 2019, which had its first reading the following day on October 15, 2018.
"His proposed legislation is a great way to combat rate discrimination in our auto insurance system," Fedeli said. "There are nearly 10 million drivers in Ontario who expect us to do everything we can to ensure the auto insurance system is working for them."
Sarkaria praised the response.
"It is very exciting to see our caucus taking direct action to support drivers in Ontario. There's no doubt that this legislation brought forward by the member from Milton, if passed, will bring more fairness to our auto insurance system. I'm very happy with the proposed action to combat rate discrimination. We finally have a government that listens to the needs of the people and takes action."
Gill's Bill 42 passed its second reading on March 21, 2019, and was ordered to be referred to the standing committee on finance and economic affairs.
As of May, 2022, Bill 42 is dead in the water– still being reviewed with no actual law in sight.
Sarkaria, meanwhile, thwarted a much more comprehensive proposal brought forward by the NDP and Brampton MPP Gurratan Singh, which many observers said would have been far more effective than the stalled PC Bill.
Despite his opposition to real change, Sarkaria liked to create the impression he was concerned about unaffordable auto insurance rates in Brampton and the unfair practices of the industry which bases rates on where a driver lives, not on their own record.
On April 3, 2019, Sarkaria presented and affixed his signature to a petition asking the government to "continue working with stakeholders across the province to develop an auto insurance system that puts the needs of drivers first."
But on November 1, 2018, Sarkaria had voted against Bill 44, the "Ending Automobile Insurance Discrimination in the Greater Toronto Area Act, 2018."
It was the proposed legislation introduced by Gurratan Singh, the NDP Brampton East MPP, which would have ensured that residents in the Greater Toronto Area are paying auto-insurance rates based on their driving record and not based on where they live.
If insurance companies provide policies based on geographic location, they could have been fined as much as $250,000 and up to $500,000 under Singh's proposal.
Fedeli opposed the Bill, arguing it would not lower costs for everyone, it would do the opposite, without providing industry examples.
"This will only serve to increase insurance costs across the entire GTA," Fedeli claimed.
Singh refuted Fedeli's claim and argued the Bill would effectively change the system so an insurance premium would be based on record, not on where the individual lives.
"It's also important to understand that this is not just a Brampton issue," Singh told Queen's Park.
"This issue of postal code discrimination impacts communities across the GTA, including Scarborough, Jane and Finch, and Weston. It makes no sense that these communities, along with Brampton, are paying this higher rate, because if we look at the GTA, I reject this premise by the auto insurance companies that we are not in a regional integrated community."
The motion lost with 24 votes in favour, and 55 against.
Sarkaria supported another piece of unpopular legislation that negatively impacted many residents in his riding. He advocated for Bill 74: The People's Health Care Act, 2019.
Under the Bill, the Minister of Health was given the power to transfer assets, liabilities, rights, obligations and employees of certain organizations to Ontario Health, a health service provider or an integrated care delivery system. The Minister may also dissolve such organizations under the new power.
"When we got elected, when we were campaigning in June, we promised to fix the healthcare system, and that's exactly what this piece of legislation is doing," Sarkaria told Queen's Park on March 20, 2019.
"It puts the patient first and ensures that every single person in this province has access to good public healthcare."
Other Brampton MPPs, including NDP Sara Singh of Brampton Centre called it an "ill-conceived health care privatization scheme" that would greatly erode local healthcare bodies and reduce funding for local program delivery, a view that was widely shared among Ontario's leading healthcare organizations.
"After spending a month denying that this government has been cooking up a secret scheme to overhaul our public health care system, the minister today will be tabling a bill that will do just that," Singh said. "Dr. Rueben Devlin, who has been paid $1 million to consult with Ontarians about ending hallway medicine, hasn't even made a single recommendation yet, but this government is prepared to move forward with their disastrous plan that will carve out parts of our healthcare system to for-profit interests that they know will leave patients lost in the shuffle."
When dealing with public safety, Sarkaria once again ignored his constituents, backing his Party even on policies despised by residents in the riding.
Sarkaria was an advocate of police street checks, also known as carding, which targets Black residents and other visible minorities who are routinely confronted by police in these encounters. Brampton's mayor at the time, Linda Jeffrey, who sat on the Peel Police Services Board, told members of a meeting with South Asian-Canadian business owners who told her police harassment of family members and staff forced them to consider leaving the city. She also recalled the stories of Black parents who had to explain to their children that police carding was an unfortunate reality for them.
Sarkaria ignored all of it.
"The status quo is failing. And we're the only party in this House prepared to do something. We're going to get resources to our police services," Sarkaria told Queen's Park, during his first session on June 18, 2018. "It means boots on the ground, it means more resources to the front line, so they can do their job.That is what we committed to in the last election: more tools, more resources, more supports."
In Brampton and Mississauga, data from the five-year period between 2009 to 2014 found that almost 25 per cent of those residents carded were Black, almost three times their representation in the overall population.
Black residents were more than three times as likely to be carded compared to whites in Brampton and Mississauga.
On August 9, 2018, Sarkaria voted along with other PC MPPs against a motion to ban carding. The motion would have also instructed all police forces to destroy existing personal information that was being collected and retained through the discriminatory practice of carding.
The motion failed 24 to 61.
The climate crisis was a frequent topic of discussion that saw Sarkaria defend PC policies that work against emissions reduction strategies.
One such motion was Bill 4, the Cap and Trade Cancellation Act, 2018. While the Bill involved the preparation of a climate change plan, it also provided for the wind down of the cap and trade program and repealing the Climate Change Mitigation and Low-carbon Economy Act, 2016.
"I think one thing that we need to make very clear is that our party recognizes that climate change is here and climate change is real. But we don't believe in taxing the hard-working people of Ontario to pay for failed ideologies on the other side of the House," Sarkaria said on August 1, 2018.
"So I'm really proud to stand here with my colleagues and advocate to make life more affordable, make life easier, and also ensure that we have a sustainable environment and we make sure that we work towards fighting climate change—which nobody over here has denied, and we acknowledge it. But exactly what we don't want to do is make sure that hard-working people—the single mothers working day and night to feed their families—are hurt by these policies."
A focus for Sarkaria during his 2022 reelection campaign is building Highway 413, one of three 400-series highways being planned by the PCs that will run partially through Ontario's protected Greenbelt.
He spoke often of the highway commitment during the second half of his term.
To find out whether you are registered to vote, and where your nearest voting location is, visit Elections Ontario.
---
Email: [email protected]
Twitter: @JessicaRDurling
---
COVID-19 is impacting all Canadians. At a time when vital public information is needed by everyone, The Pointer has taken down our paywall on all stories relating to the pandemic and those of public interest to ensure every resident of Brampton and Mississauga has access to the facts. For those who are able, we encourage you to consider a subscription. This will help us report on important public interest issues the community needs to know about now more than ever. You can register for a 30-day free trial HERE. Thereafter, The Pointer will charge $10 a month and you can cancel any time right on the website. Thank you
Submit a correction about this story