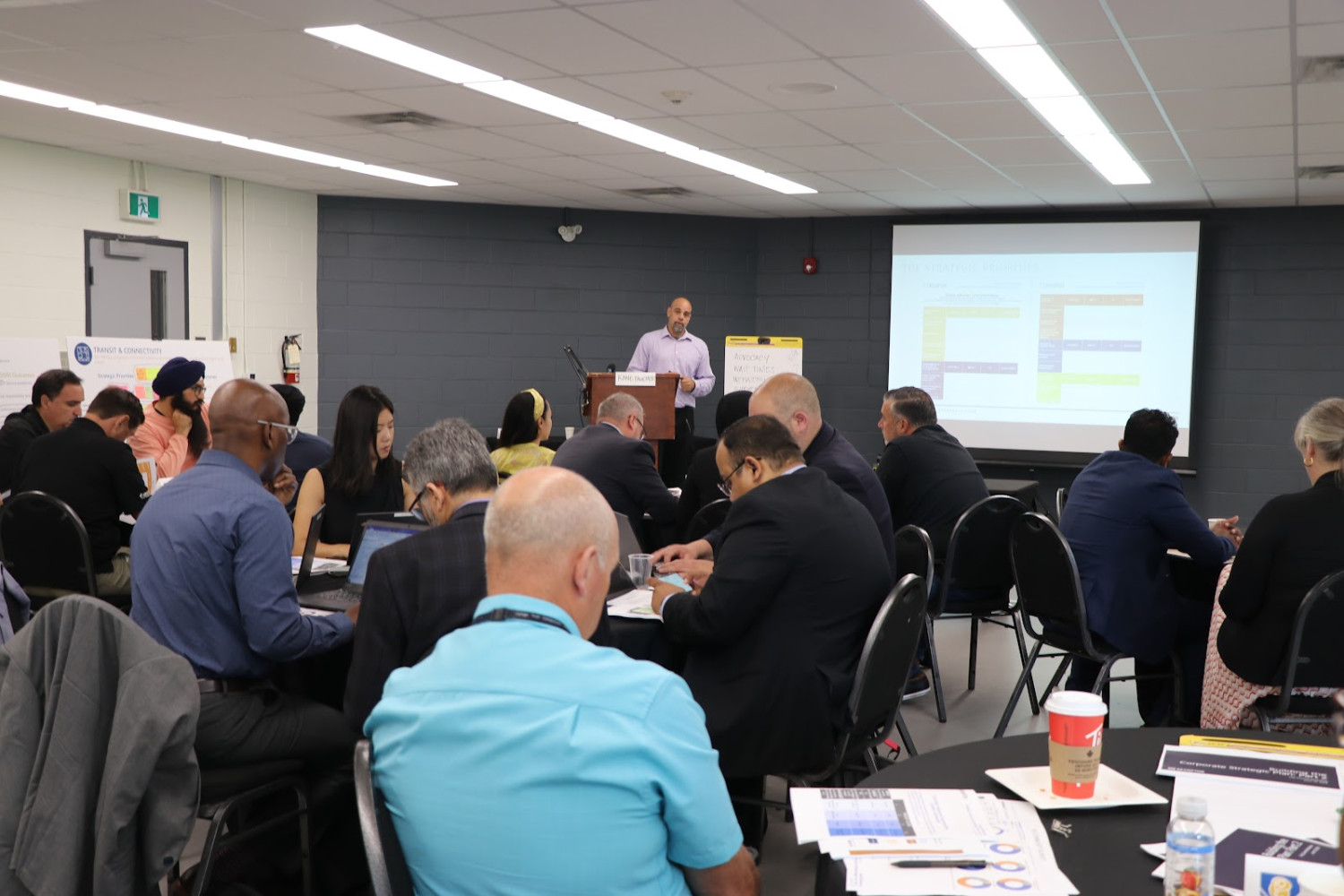 (Samanah Ali/The Pointer)
Brampton Council lists health, environment as top priorities, despite poor track record on both files 
New term of council, same priorities.
That was the main takeaway from recent workshop discussions carried out by Brampton city council and staff to determine what "strategic priorities" elected officials wish to focus on over the remaining course of the council term.
Councillors blended their own priorities, staff input and the results of a community survey, which asked residents to rank a number of different issues in order of importance to them. The survey was active for two weeks on the City's website and shared on social media, but was met with limited engagement, especially from wards with higher proportions of visible minority residents.
Environmental action to address climate change was part of 7 of the 23 priorities identified by residents. Meanwhile, under Patrick Brown, who supports conservative policies such as the building of more highways, Brampton Council has largely neglected crucial sustainability investments being made in cities across Canada.
Wards with the highest population of visible minorities had the lowest response rate.
(City of Brampton)
When councillors raised concerns about this limited response rate, Kane Faucher, planning consultant and presenter for the first session of the workshop, told them the survey was only meant to be a snapshot of what residents wish to see implemented by the City.
"It wasn't the most biggest and most robust survey, it's one input of many. It is a snapshot. It does still have value, it's just not something that you're going to make the primary decision-maker for these priorities," he said.
Discussions in the workshop surrounded six "focus areas", including growing urban centres and neighbourhoods; transit and connectivity; environmental resilience and sustainability; culture and diversity; health and wellbeing; and government and leadership.
For returning councillors, this list was very familiar.
Following the 2022 municipal election, four new faces joined the Brampton council table. But for the seven incumbents, these items are nearly identical to those in the strategic plan for the previous tumultuous term, which saw council members—working through a series of scandals—straining to focus on "strategic directions" that covered the same territory.
Certain projects on the list from last term did get some attention, including Brampton's Riverwalk urban redevelopment; the creation of the City of Brampton equity office to focus on eradicating systemic racism from within the corporation (how successful that effort has been remains unclear); and the continued advancement of studies for the Hurontario LRT extension into downtown Brampton, something that continues to frustrate residents as it slogs onward without any real prospect for construction in sight. However, a more common theme among Brampton's strategic plan from last term are items either incomplete, or projects that resulted in significant losses for Brampton residents.
Brampton University was listed as a top priority for last term. The project championed by Mayor Brown and Councillor Rowena Santos turned into a boondoggle that cost residents approximately $630,000 for planning work that amounted to little more than flimsy, vague reports by two consultants with direct links to Brown and Santos (they eventually shut down council-ordered investigations into the contracts handed to their friends).
The second full service hospital was also a priority for the previous term of council. But after four years, the expansion plan is barely any closer to launching as discussions continue between the William Osler Health System and the PC government over what the proposed redevelopment of the Peel Memorial Centre for Integrated Wellness will look like. Despite being listed as a priority last term, under Brown's cost-cutting agenda, one of the items absent from the City budget was a levy to raise money for the City of Brampton's share of the Peel Memorial expansion to finally turn it into a hospital. It was only after councillors pushed back against Brown who refused to support the levy—while he trumpeted his Brampton belt tightening during his failed bid to become leader of the Conservative Party of Canada—that council was able to push through the much-needed levy.
In the recent community survey, health and wellbeing was listed as a top priority for residents, many of whom experience long wait times at the city's lone full-service hospital, Brampton Civic. The average length of stay for patients admitted from the emergency department is around 26 hours, 30 percent higher than the provincial average, with only 17 percent admitted within the target time of eight hours.
Currently, Peel Memorial's expansion is in Phase-2, or the "detailed planning stage" of the Ministry of Health's required three-stage capital planning process. Both Osler and the City of Brampton are required to pay $125 million each, to make a combined local share contribution of $250 million. Despite Brown's stance against imposing a levy and his attempt to have the Region of Peel cover the costs, the City committed to $62.5 million through the dedicated levy Brown opposed, despite the dire need for healthcare investment. After many discussions and virtual town hall meetings, neither Osler, nor the City, has provided clarity on the process, timeline and update on how and when the remaining funds will be raised.
The inclusion of healthcare expansion within council's top priorities is not a surprise. But Brown has shown little interest in keeping residents safe, instead pushing his budget cuts which he has used to promote himself politically while trying to leave Brampton for higher office.
After health and wellbeing, improving safety was the next highest priority.
"We have streets where people have hired private security," Councillor Gurpartap Singh Toor said. "We have security cars on like I would say one per small block. Neighbours pitch in and pay for security guards every night. That's the common trend."
Council members claimed there is not much the City can do about public safety, as the responsibility falls to the Region of Peel and Peel Police.
Kane Faucher, planning consultant and presenter at the Council workshop, helping council members finalize priorities under the "Health & Well-Being" focus area.
(Samanah Ali/The Pointer)

Increasing parkland, trees and naturalized areas ranked fourth out of 23 of the most important issues for councillors. It is listed as a top priority for residents.
Addressing another facet of this priority, Councillor Michael Palleschi said there is great opportunity for the City to retrofit a number of existing facilities to achieve sustainability targets.
"[We can] revamp those facilities and make them as green as possible," he said, adding that increasing parklands was "absolutely" a priority, but that resources are not being leveraged.
"There's $130 million sitting in a bank and we don't spend it on increasing parkland," he said. It's not clear what account the councillor was referring to or what it is intended for.
With much of the city centre and other areas along Etobicoke Creek sitting in a floodplain the impacts of climate change are also top of mind for many Brampton residents.
They will be encouraged to hear local elected officials list parkland and other green initiatives as a top priority over the next four years. But any excitement should be tampered by the track record of the incumbent council members who failed to prioritize environmental sustainability and climate action over the last four years of council. Under Brown, environmental spending has ground to a halt, and save for those projects like green transit initiatives that are being funded by other levels of government, Brampton has done very little to become more sustainable.
Staff have said these new strategic priorities will be used in the development of the 2024 budget. If so, it will require a significant shift in spending toward green initiatives under Brown's demands to curtail spending; Brampton has spent more on a single road project than all of its environmental initiatives combined.
"Health & Well-being" and "Environmental Resilience & Sustainability" were ranked as the most important strategic priorities by residents in Brampton.
(City of Brampton)
One such initiative, suggested by Councilor Toor, is for increased warming and cooling shelters to be planned for the city.
Among the other priorities listed in the score sheet at the end of the first session of the workshop were creating more public engagement and participation in local decision making; supporting affordable housing development; creating more recreational spaces and programs; and reducing Brampton's carbon footprint.
---
Email: [email protected]
Twitter: @SamanahAli
---
At a time when vital public information is needed by everyone, The Pointer has taken down our paywall on all stories to ensure every resident of Brampton and Mississauga has access to the facts. For those who are able, we encourage you to consider a subscription. This will help us report on important public interest issues the community needs to know about now more than ever. You can register for a 30-day free trial HERE. Thereafter, The Pointer will charge $10 a month and you can cancel any time right on the website. Thank you
Submit a correction about this story