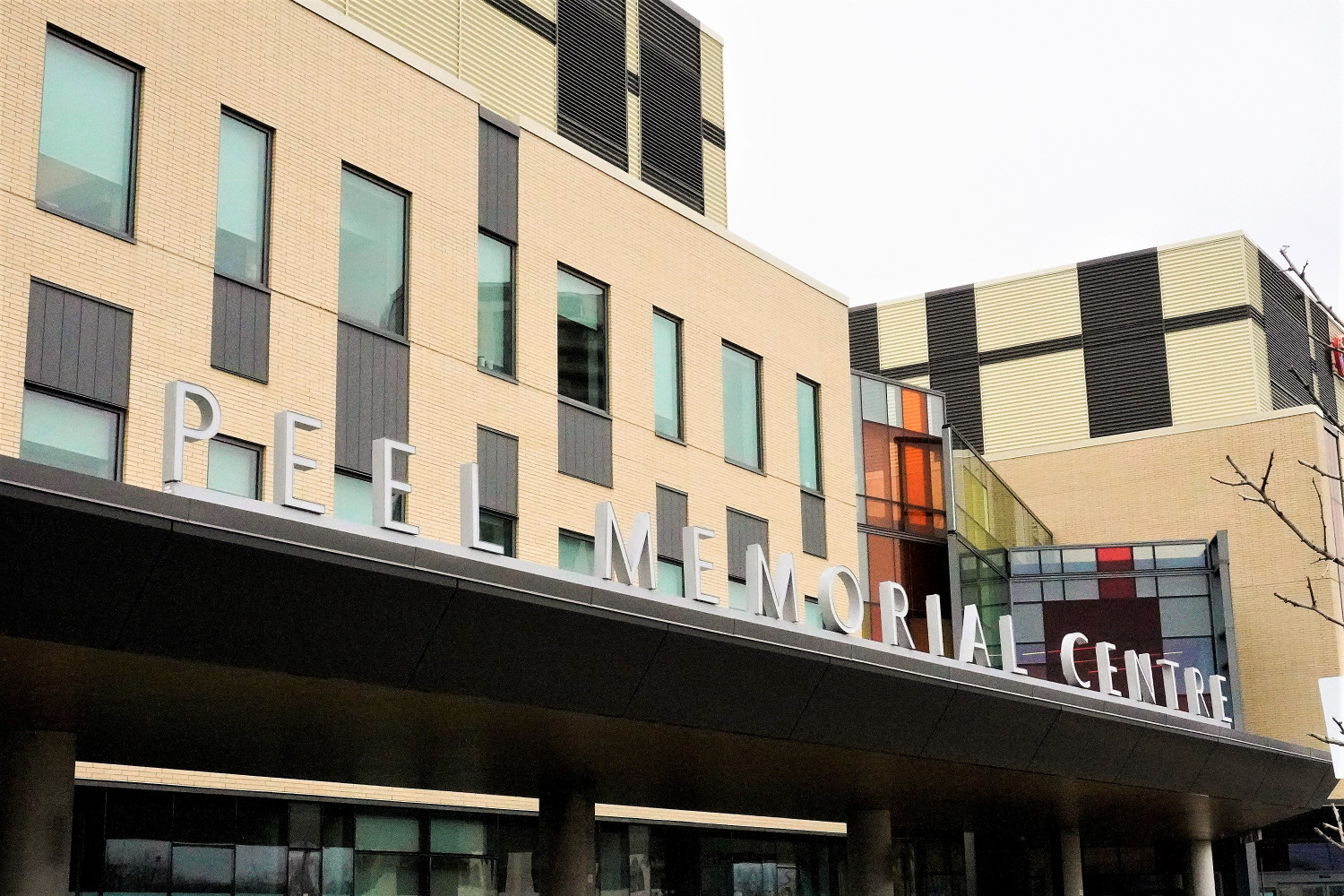 Feature image Alexis Wright/The Pointer
Brampton's Peel Memorial expansion plan to bring more beds to the beleaguered city moves glacially
A telephone town hall meeting on May 2 was set to announce "exciting developments" regarding the transformation of Peel Memorial Centre for Integrated Health & Wellness into Brampton's desperately needed "second hospital", a description that itself has been questioned by critics of the PC government.
The event was hosted by William Osler Health System, which manages Peel Memorial and Brampton Civic Hospital, as well as Toronto's Etobicoke General Hospital.
Civic's well documented trouble, operating well beyond capacity as Brampton's lone hospital since it opened 16 years ago, has been the top issue in Canada's ninth largest city for more than a decade.
In 2007, Peel Memorial closed down, leaving residents with only one hospital, the newly constructed Brampton Civic, which opened with only two-third the number of beds originally committed by the Dalton McGuinty Liberal government of the day.
To make the growing crisis in frontline healthcare even worse in the rapidly growing municipality, where immigrants continue to arrive in large numbers each year, promises to turn the new Peel Memorial into a second full-service hospital never materialized. Instead, it was eventually opened by Osler and the Liberal government as a preventative medicine facility with no in-patient beds, no acute care for medical conditions such as heart attacks and diabetes, no emergency surgeries and no full-service, 24/7 emergency department (an urgent care unit that could not admit patients and closed in the evening was opened instead).
To address the healthcare crisis and take pressure off the chronically overflowing emergency department at Brampton Civic, Peel Memorial recently began operating a 24/7 urgent care centre that treats immediate but non-life threatening conditions.
But questions about its Phase-2 expansion have continued to mount as the board and administration deals with internal disruption.
Several executives participated in the town hall's panel discussion, including Dr. Frank Martino, CEO of Osler, and Ann Ford, executive vice president. Martino fell into the role after former CEO Dr. Naveed Mohammad suddenly was no longer with the organization, stepping away with no explanation last year, less than two years into the job. He had taken the helm after the previous CEO unexpectedly resigned, while the hospital struggled with patient care issues and chronic over-capacity. Osler's board has also seen signficant change in recent years with a revolving door of members, as criticism has mounted, including over the way Osler managed Brampton's poorly led pandemic response.
Amid the controversy and appeals from an angry public demanding their fair share of healthcare funding, the Phase-2 expansion plan has not delivered what the city so desperately needs.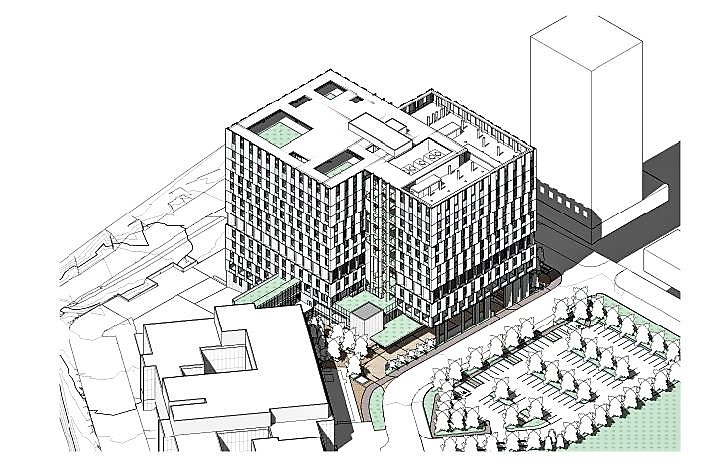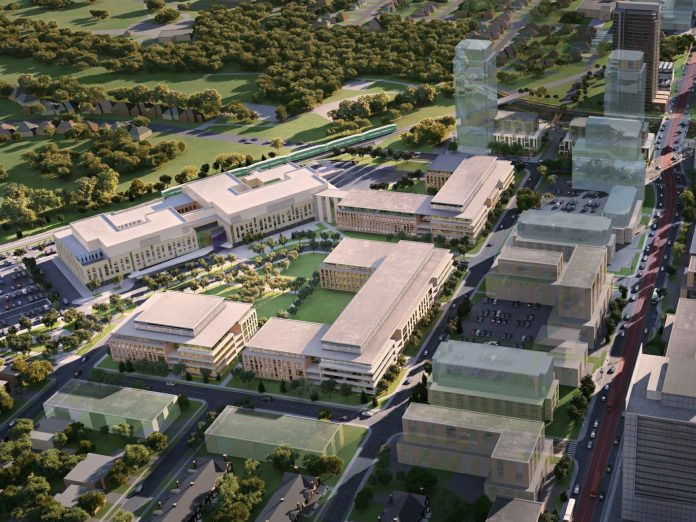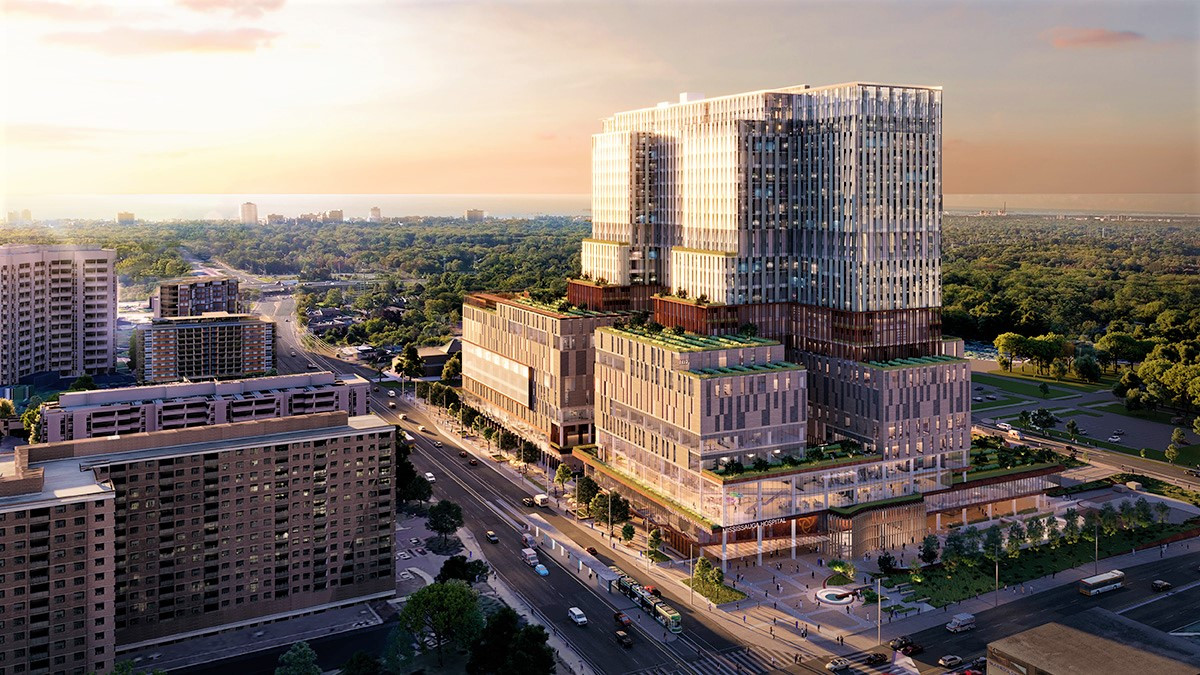 Top: The HOK Peel Memorial Phase-2 design submitted to the City of Brampton June 6; middle, the original design of the proposed Phase 2 expansion under the previous Liberal government; bottom, the design of the massive new Mississauga Hospital now under construction.
(City of Brampton; City of Mississauga)
Instead of a conversion into a full-service hospital with a 24/7 emergency department, it was learned that the Doug Ford PC government only committed 250 beds, mostly for non-acute care and no guarantee the new facility will open with a full-service emergency department. Osler and City Hall will also have to cover about $250 million for a local share contribution toward the expansion.
It was a far cry from the 850 beds, full-service hospital designation, 24/7 acute care emergency department and other frontline care Brampton council demanded as part of its healthcare emergency declaration early in the previous term of office.
Details of where the planning stands, and how much of the required local share Osler has raised to move the project forward, have been hard to come by.
Last month's public meeting hosted by Osler announced the Phase-2 expansion is in the "detailed planning stage" of the Ministry of Health's required three-stage capital planning process. "At this stage we look at the physical space, the staffing needs, equipment needs and other requirements that are needed to create an initial design for the new site," Ann Ford said.

(William Osler Health System)
Osler's next key milestone is the Request for Qualifications (RFQ). "This is the first step in the process to select a team with both the construction expertise and financial capacity to take on a project of this size and scope," Ford continued. The RFQ is expected to be issued later this year.
Once all RFQ submissions are received, Osler would then work directly with Infrastructure Ontario to "prequalify those firms that meet certain criteria and invite them to respond to our request for proposals (RFP)," Ford said.
In August of last year, Osler selected HOK Architects Corporation as the planning, design and conformance team to help meet the specific design requirements before going ahead with the construction for Peel Memorial's expansion. Ten months later, Osler says it has held "visioning sessions" with staff and volunteers, allowing HOK to gather "critical input on the hospital's new look, its feel and function."
"The wealth of insights gained from these sessions has really helped us to establish a foundation for the design of the new peel Memorial Hospital that is appropriate for the patients and families as well as the staff and supporting workplace for Osler's team members," Ford said.
Beyond the look of the facility, no information about what Phase 2 will actually deliver to residents demanding proper healthcare from the organization tasked with providing it, was offered. No clear timeline for completion was given, no financial update on Osler's $125 million requirement or the City of Brampton's equal share was offered and no clarity was provided on when the provincial government will actually fund the project in its budget (it remains unfunded).
A member of the audience, who said she's been a resident of Brampton for 30 years, raised her concerns. "I was pretty much raised in Mississauga and they've had a second hospital…our population is not [much] less than Mississauga…and we're still growing, so I just wonder why it's taking so long?"
Mississauga Hospital, which did not have the same plans for expansion two decades ago as Brampton's system did, has leapfrogged well ahead of Peel Memorial, with work already underway for a massive new facility that will cost more than $2 billion and deliver more than 900 hospital beds.
The Pointer sent Osler a series of questions about how much local share money has been raised to trigger provincial funding, detailed timelines and other concerns about the ongoing Phase-2 delays.
"Osler is proceeding through the required stages of approvals with the Ministry of Health and Infrastructure Ontario, while pre-construction activity at the site continues," a spokesperson wrote in an email. "As with all construction projects, completion dates projected early in the process are always subject to change and are determined by a variety of factors."
The Pointer's questions were not answered.
"Information and updates about the project will continue to be made available on Osler's website and residents are also encouraged to have their say about the design of the new hospital through an online survey at: https://www.williamoslerhs.ca/en/who-we-are/build-peel-memorial.aspx."
The survey, launched about a week ago, includes numerous images of design choices, for example, if residents prefer one external building material choice over another, but no questions about issues such as how many beds residents would like to see, how the design will accommodate specific types of medicine units or how the size of the facility will help meet current demand. The survey exclusively addresses aesthetic questions that have nothing to do with healthcare delivery.
"Why is William Osler asking the community questions about design, architecture or public spaces for Phase 2 when HOK architects have already submitted very detailed plans to the city on June 6?" Chris Bejnar, co-founder of Citizens For a Better Brampton, said when asked about the survey. "Why were there no public consultations over the past year-and-a-half since the Premier's announcement? Looks like more smoke and mirrors like we've seen before."
According to the Fair Deal for Brampton Campaign, Brampton Civic Hospital's emergency department was built for 90,000 visits/year but sees approximately 130,000 instead. Peel Memorial was funded to accommodate 10,000 visits a year but gets around 75,000.
The local share needed to get Phase 2 off the ground is an estimated $250 million, half of which Osler has requested the City of Brampton to fund. Brampton committed $62.5 million through a dedicated levy, which Mayor Patrick Brown fought against, as part of his continued refusal to expand the City's budget. He has tried to get the Region of Peel to cover part of City Hall's required share but the request was rejected.
(William Osler Health System)
Osler would not provide details about how much fundraising has been done or how it will raise the rest of the funds required to fulfill Brampton's need for expanded healthcare.
"Why didn't the survey ask questions about services the community would want to see for Phase 2 like hundreds of more beds, labs, and an MRI so that it truly becomes a full-service hospital from opening day?" Bejnar asked.
"Why is Osler only planning to add 2 floors for future growth (only 96 acute beds) when we needed 500 additional acute beds more than a decade ago?"
He questioned how the RFP phase is still nowhere in sight, after the PCs and Osler last year led residents to believe the expansion would be finished by 2027.
"Meanwhile, south of the 407, Mississauga has received massive investments to create one of North America's largest hospitals along with a secondary facility that's even larger than Peel Memorial Phase 2. How is that equitable Healthcare?
"Shouldn't Brampton taxpayers have the same quality of care as Mississauga taxpayers, or taxpayers across the rest of Ontario who enjoy having their hospital beds subsidized by Brampton residents."
He said even if Phase 2 moves forward, the city will be even further behind.
"With populations of Brampton and Mississauga to be very similar in the next 10 to 15 years, with rapid growth in both, how is it acceptable that Brampton languishes with probably the lowest bed capacity in the country even after this project has been completed?"
---
Email: [email protected]
Twitter: @SamanahAli
---
At a time when vital public information is needed by everyone, The Pointer has taken down our paywall on all stories relating to the pandemic and those of public interest to ensure every resident of Brampton and Mississauga has access to the facts. For those who are able, we encourage you to consider a subscription. This will help us report on important public interest issues the community needs to know about now more than ever. You can register for a 30-day free trial HERE. Thereafter, The Pointer will charge $10 a month and you can cancel any time right on the website. Thank you
Submit a correction about this story