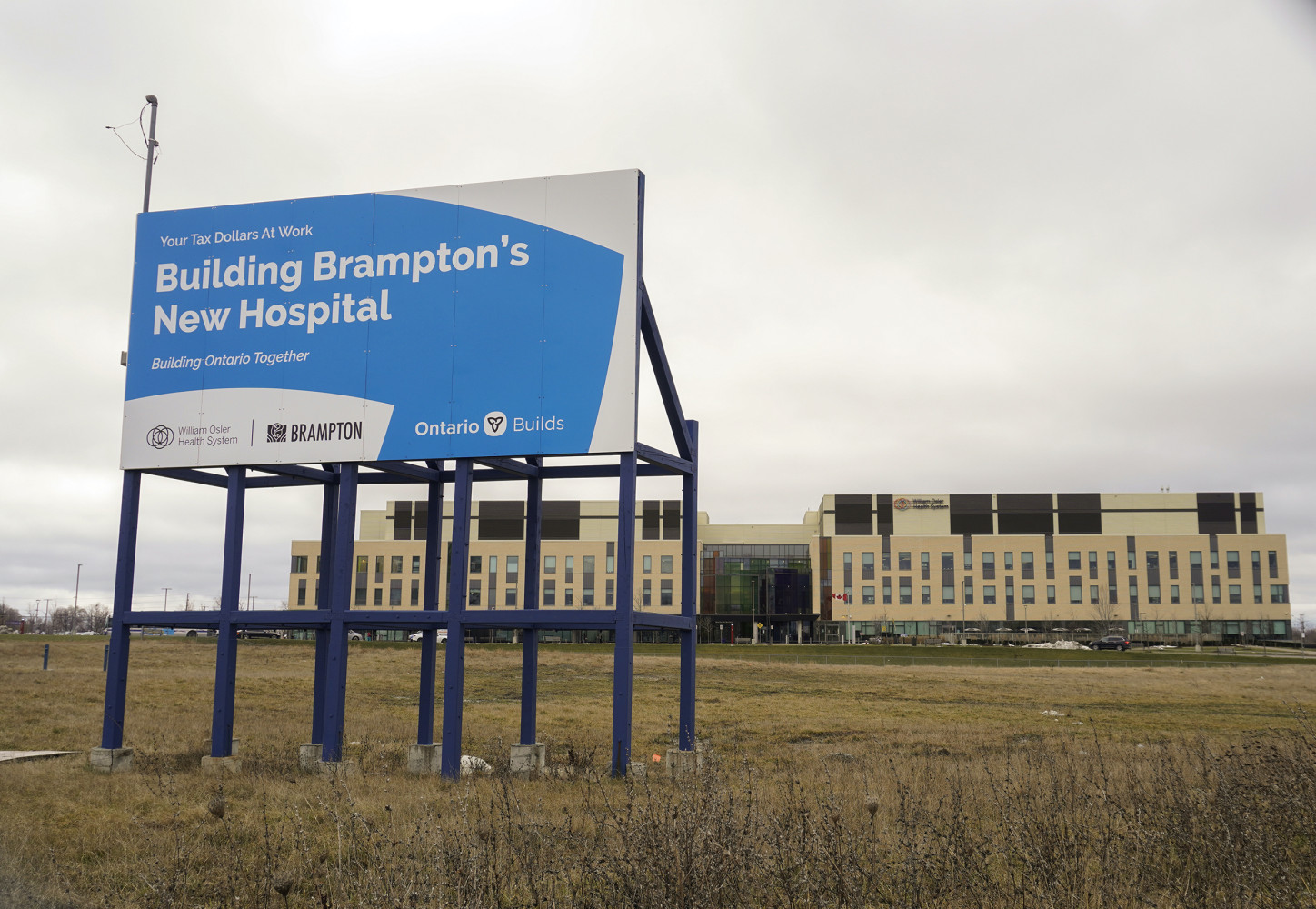 Alexis Wright/The Pointer
Region of Peel can't support Brampton's $12.5M request for cancer centre after Patrick Brown tried to torpedo local funding
Region of Peel staff are reiterating their recommendation to council against allocating $62.5 million for the redevelopment of Brampton's Peel Memorial facility into a full service hospital.
An update recommends the same regarding a $12.5 million request from Brampton to help fund a new cancer centre, costs that staff say regional government simply can not afford on the backs of its property taxpayers.
It's unclear why the Region would even consider providing the $12.5 million after the City of Brampton passed an emergency levy that was added onto the 2022 budget last spring.
Last year, after the provincial government informed Brampton officials that a $250 million local share contribution ($125 million from William Osler which manages Memorial and Brampton Civic Hospital; and $125 million from City Hall) was required before approving the transformation of Peel Memorial from an integrated wellness facility with no inpatient beds into a full service hospital with a 24/7 ER, Mayor Patrick Brown refused to support a City levy to cover part of the cost. Instead, he pushed to have the Region of Peel and property taxpayers in Caledon and Mississauga subsidize a part of the local share requirement for Brampton.
A smaller portion of the $250 million local share of capital funding for hospital expansion is, reportedly, to cover a new cancer centre in Brampton.
In 2021, Brampton committed $62.5 million, half the City Hall share, but Brown refused to back a levy last year to raise the other half of the local government's requirement, instead suggesting the Region could cover it. After he was rejected by council members at the higher tier, Brown refused to take responsibility for the City's funding obligation.
Led by Brampton and Regional Councillor Pat Fortini, a majority of councillors ignored Brown, and the City introduced a levy last year to raise the other half of the municipal portion for the local share. Osler, which has been in turmoil, is expected to raise the remaining $125 million. After trumpeting the Memorial expansion project, even though the PC government's proposal falls woefully short of what Brampton officials demanded to fix the city's ongoing healthcare crisis, former Osler CEO Dr. Naveed Mohammad was suddenly out, no longer in the top job as of February.
Amid mounting dysfunction at Osler, after a senior physician levelled allegations of mismanagement during the pandemic, and as Brampton's healthcare crisis grew worse, no explanation for Mohammad's unexpected departure was provided. Osler's previous CEO had quit not long before Mohammad, who had no experience running a hospital or any other large corporation, was hired.
Almost a year after the unexpected turn of events, Dr. Frank Martino, who had to fill in, is now Osler's President and CEO.
Osler has failed to provide details about how its $125 million local share for Peel Memorial and the cancer facility will be raised or a timeline for the needed funding.
The handling of Peel Memorial's expansion has been widely criticized. Early in Brampton's previous term of council, members declared a healthcare emergency and demanded the redevelopment include at least 850 acute care beds and a 24/7 ER, to turn the facility into a full service hospital.
After a lengthy delay in submitting its proposal for the Memorial expansion, Osler refused to provide the public with information about its submission to the Province and failed to conduct any community consultations ahead of its dealings with Queen's Park, angering local residents who demanded to know if their needs were being represented by Brampton's health system manager.
It appears they were not.
Instead of what residents and council members requested, the PCs and Doug Ford announced 250 beds, and The Pointer reported Osler was told almost all of those would not be acute care beds (they will support mental health needs and other non acute units). There will be no surgical units, no cardiac or cancer care, no IC and none of the other acute features that would allow the facility to meet the frontline pressure created by the ongoing healthcare crisis in Brampton. Memorial, according to the PC commitment, will not open with a full service, 24/7 ER.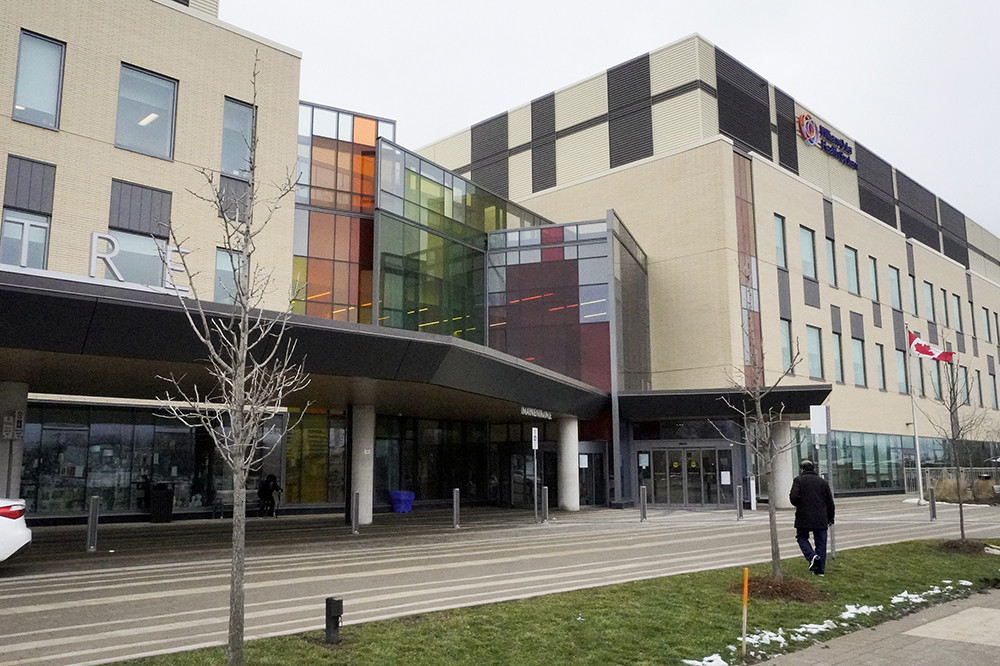 The expansion of Peel Memorial into a full service hospital is desperately needed in Brampton as the city's lone emergency room at Brampton Civic is commonly overwhelmed.
(Alexis Wright/The Pointer)
While others criticized Ford, Brown trumpeted the watered-down commitment as a victory. The 250 non acute care beds will barely get Brampton to half the provincial average of hospital beds per capita, and the new ones will not support the types of immediate healthcare emergencies residents routinely experience.
Despite claims that the PC government's announcement met the City's healthcare priorities, Brown refused to provide any of the needed local funding, pressuring Brampton council members to drop the idea for a levy to raise the remaining half of City Hall's local share.
In a disturbing admission, while Brown was campaigning across the country to become the federal Conservative Party leader and rarely present for important council sessions, one of his closest allies, Councillor Michael Palleschi, tried to defend the mayor during a public meeting that addressed the proposed Memorial levy. He claimed support for the hospital funding was only to "make Mayor Brown look bad" while he sought the CPC leadership. Brown had campaigned on a platform that he had kept taxes frozen in Brampton. Critics, including members of council, expressed frustration that Brown would put his federal political ambitions ahead of the healthcare needs of Brampton residents during an ongoing crisis.
His efforts to stop the levy were unsuccessful, as was his plan to get Mississauga and Caledon taxpayers to help cover the local amount.
After pushing his responsibility to the Region, staff there told Brown last year that his request for hospital funding was not viable.
In March, Regional staff made it clear that funding for the local share need could not be supported by Peel's upper-tier government, highlighting that its revenue model simply has no room for hospital funding.
That didn't stop Brown from trying to kick the responsibility down the road a month later, when he tried to torpedo the Brampton levy.
And now, once again, Region of Peel staff have reiterated their position that local share hospital funding can not be supported by the region's property taxpayers.
In a project update prepared for Regional Council's January 19 meeting, staff determined that any municipal contribution toward the local share requirement would have to be funded from property taxes, so they will not be recommending any funding.
Regional councillors, after taking a pass on the ask for Peel Memorial last year, can still consider $12.5 million for a new cancer centre in Brampton associated with Civic Hospital, but it's unclear why this is still on the regional table after Brampton passed its levy last year to cover the City's entire amount for Memorial and the cancer centre.
The update report suggests the overall $250 million local share required by the province is the combined amount for the Peel Memorial expansion and the cancer centre ($175 million for Memorial and $75 million for the cancer facility). Regional staff report these cost breakdowns were provided by Osler (City of Brampton officials have previously mentioned a $250 million local share requirement for the Peel Memorial expansion).
The update report claims Toronto has been given special treatment: "The City of Toronto has not made municipal contribution to the local share requirement, as historically the funding contribution has been made up through hospital fundraising efforts. For example, the Humber River Hospital Foundation set itself a fundraising goal of $225 million, for its 2015 Humber River Hospital project build. This represented approximately 11 per cent of its total project cost ($1.975 billion) and the entire amount required for the local share capital contribution."
Peel's head of finance highlights healthcare funding already provided by municipalities, and the lack of revenue to cover additional obligations.
"The Region continues to advocate to the Province to re-examine the local share hospital capital calculation methodology to better reflect the limited fiscal capacity of municipalities and acknowledge the contributions to health care services that municipalities already provide to their community," Gary Kent, Chief Financial Officer and Commissioner of Corporate Services, writes in the update.
Kent references Bill 23, the PCs' controversial housing bill, which staff noted represents "a serious financial risk to the Region" among other financial factors, such as increased risk of an economic downturn in Canada in 2023, as well as local rapid population growth.
"While provincial announcements that commit partial funding to building more hospital beds and facilities are important and very much welcome, the Region continues to advocate for the position that the health care system is a provincial responsibility and should be funded through provincial revenue source(s)."
This is the continuation of a resolution made on March 10 by Regional Council, requesting the provincial government re-examine the "local share hospital capital calculation methodology, to better reflect the limited fiscal capacity of municipalities, and the contributions to health care services they already provide to a community".
The resolution, forwarded by Mississauga Mayor Bonnie Crombie and seconded by Brown, argued that healthcare funding should remain a provincial and federal responsibility. From 2009 to 2020 a total of $415.4 million has been transferred from municipal operations to fund and build provincial hospitals.
They pointed out that since a community's required local share is to pay 10 percent of capital construction costs and 100 percent of the cost of equipment, furniture, and fixtures, which includes medical equipment, this translates to a 70 percent provincial share and 30 percent local share of the overall cost of provincial capital projects for hospitals.
The Association of Municipalities of Ontario highlighted the local share of hospital capital contributions as a major issue in its 2022 Pre-Budget Submission to the Province's Standing Committee on Finance and Economic Affairs.
"As desirable as a hospital is for any municipality, it is only one of many public services that contributes to a healthy community. The municipal decision to contribute to a hospital takes resources away from other municipal services that keep people healthy. The local share formula for hospital capital needs must be re-examined," the Association wrote in its submission.
Andrea Horwath, the former Ontario NDP leader, called the 25 percent local hospital share expectation "completely wrong" at the time.
Ahead of the June provincial election, on April 3, Premier Doug Ford announced $21 million in additional funding for William Osler, with $18 million for its urgent care operations at Peel Memorial and $3 million for the Cancer Care Centre at Civic Hospital.
The updated report from the Region notes City of Brampton staff confirmed with William Osler that Ford's April announcement does not change the municipal obligation for the local share requirement – which remains at 25 percent.
---
Email: [email protected]
Twitter: @JessicaRDurling
---
COVID-19 is impacting all Canadians. At a time when vital public information is needed by everyone, The Pointer has taken down our paywall on all stories relating to the pandemic and those of public interest to ensure every resident of Brampton and Mississauga has access to the facts. For those who are able, we encourage you to consider a subscription. This will help us report on important public interest issues the community needs to know about now more than ever. You can register for a 30-day free trial HERE. Thereafter, The Pointer will charge $10 a month and you can cancel any time right on the website. Thank you
Submit a correction about this story