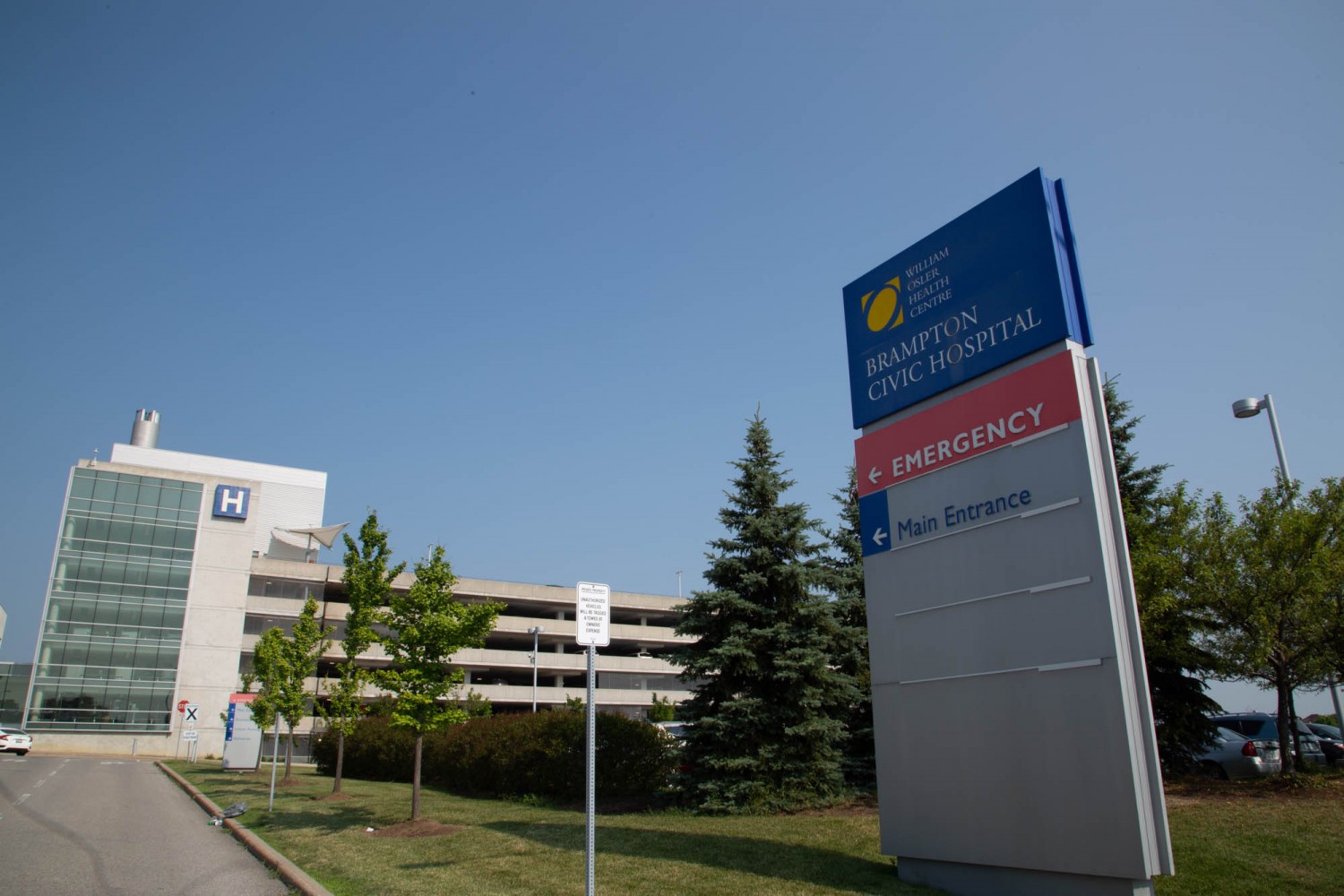 Photos from The Pointer files/Nida Zafar
Brampton declares a healthcare emergency after doctors describe alarming conditions
It was a sombre and angry mood inside Brampton council chambers. Doctors told stories of families who have watched loved ones die in the hallways of the city's overcrowded hospital, while they waited in agony for care.
On Wednesday, after pleaful delegations from an organization of doctors were delivered to city council members, Brampton officially declared a healthcare emergency. The physicians group shared disturbing statistics and stories, putting a face on the growing crisis.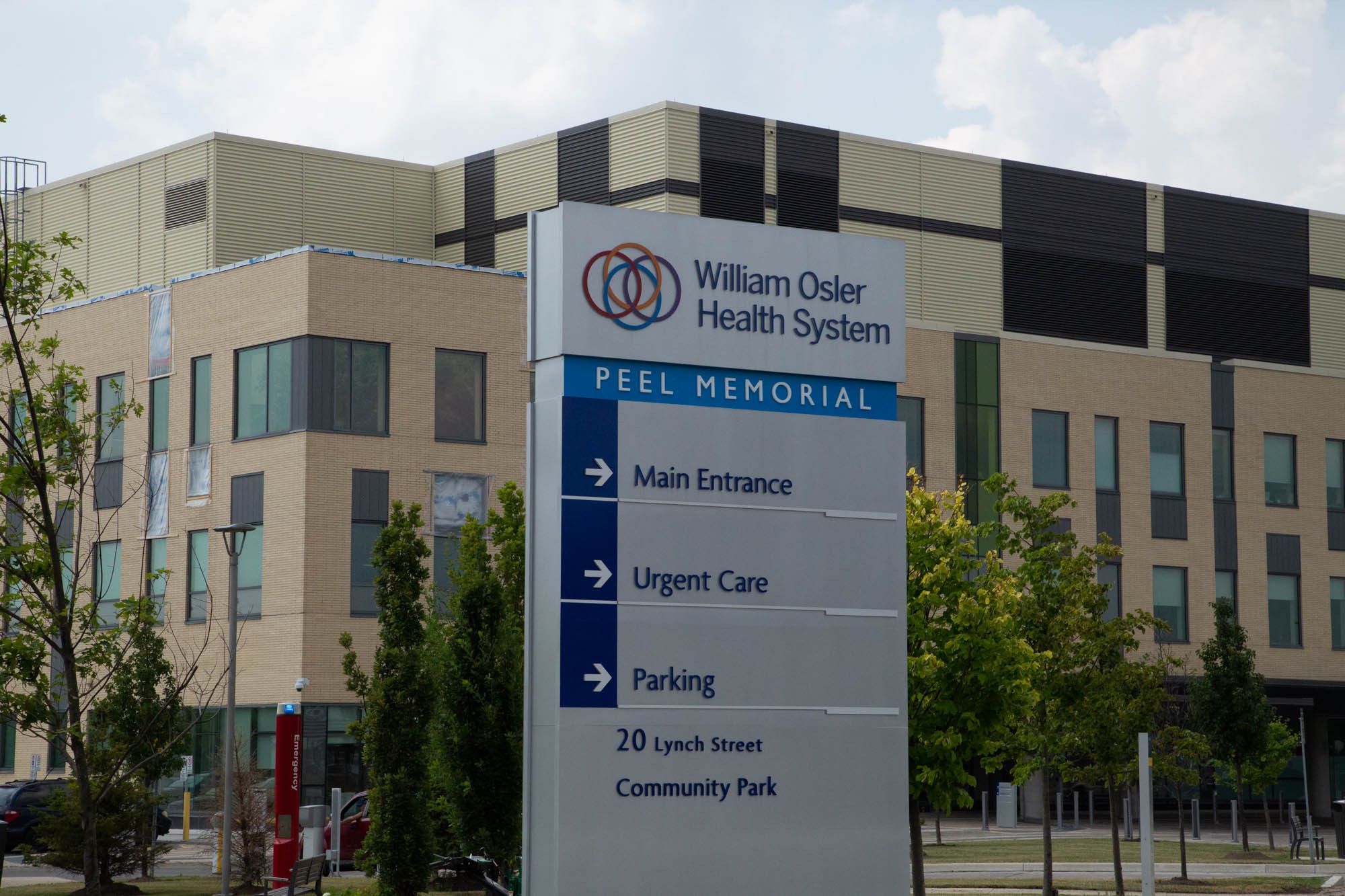 Peel Memorial Hospital, run by the William Osler Health System
Council voted on a number of measures as part of the healthcare emergency declaration. These include ensuring the Chief Administrative Officer (CAO) and city staff work with the William Osler Health System, provincial and federal governments to secure funding for Brampton Civic Hospital and the Peel Memorial Centre to ensure both are operating with full resources.
In her delegation, Dr. Kulvinder Gill, a frontline physician and co-founder of the Concerned Ontario Doctors (COD), slammed the province for not providing the city with adequate healthcare. According to data obtained through a freedom of information request by the NDP last year, Brampton Civic was operating between 101 percent and 106 percent capacity in 2019. The recommended standard of care states hospitals should not operate at more than 85 percent capacity. Peel Memorial started 2019 operating at 557 percent capacity, a number that increased to 587 percent from April to June.
Members of the Concerned Ontario Doctors, led by Dr. Kulvinder Gill, deliver their deligation to city council
These types of numbers, according to front-line healthcare workers and officials working in the sector, place the safety of patients at risk.
There's a fundamental difference between the two hospitals. Brampton Civic is a fully functioning hospital, while Peel Memorial, as Gill put it, "is a glorified walk-in clinic." Brampton Civic operates 24/7, whereas Peel Memorial's Urgent Care Centre is only open for 13 hours a day and often has to send emergency patients to other centres because Memorial does not have many in-hospital wards to treat specific conditions. After its closure and demolition, following decades of service in Brampton, Peel Memorial was rebuilt and reopened in 2017 as an integrated preventative wellness centre, with no acute care, in-patient beds.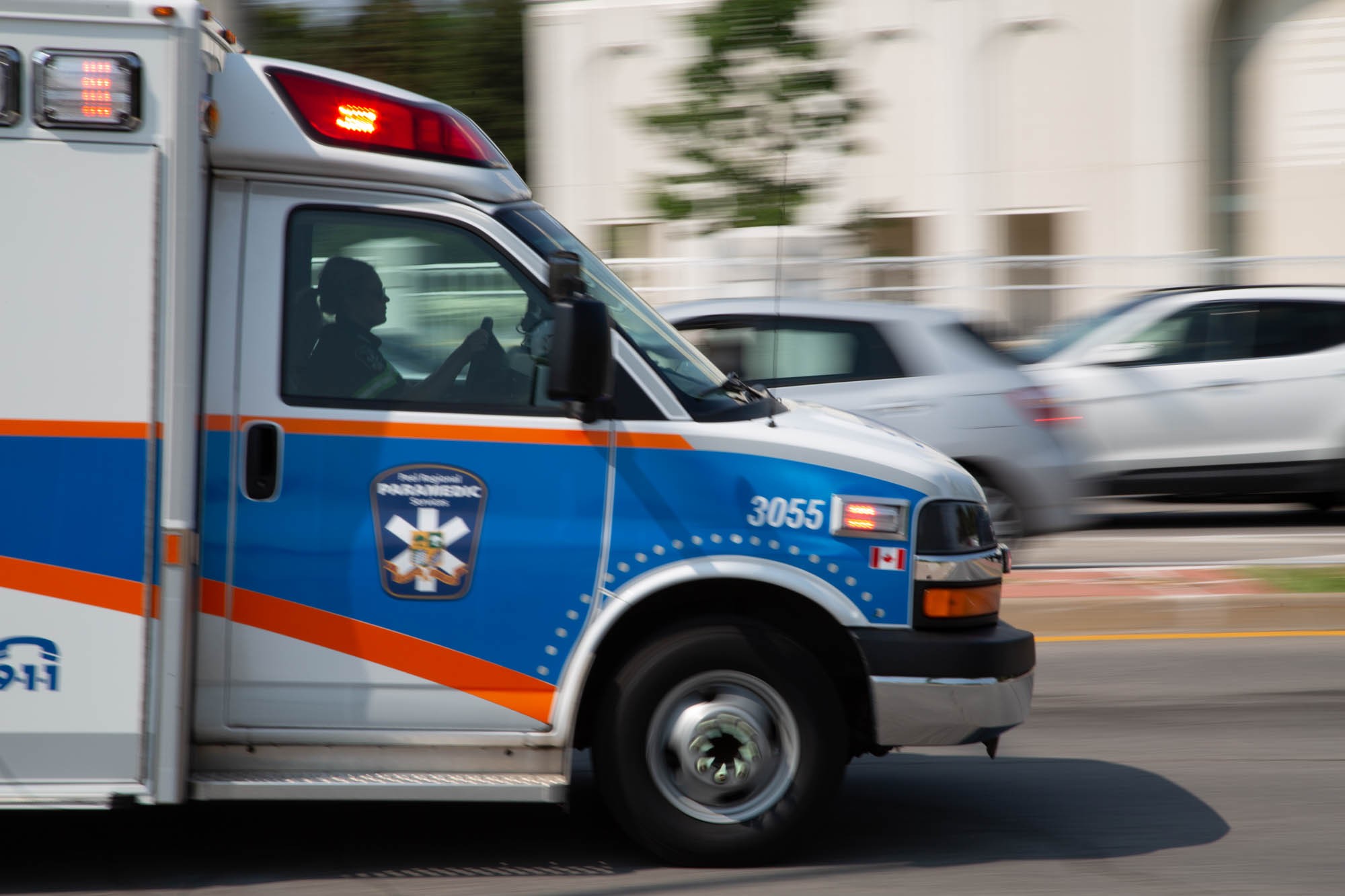 Brampton Civic operated at 101 percent to 106 percent capacity for all of 2019
Gill said that almost every day, patients are transported to Brampton Civic from Memorial's emergency ward because their conditions can't be dealt with there. Those minutes spent in transit, Gill said, can be the difference between life and death. To rub salt in the wound, Peel Memorial's emergency hours were shortened from 10 p.m. to 9 p.m. in the summer of 2019.
There's so much overcrowding at Brampton Civic, Gill told those in the council chamber Wednesday, that the hospital often uses "Code Gridlock," a term used by staff to indicate patient need exceeds hospital resources (not enough beds for all the people who need one). As a result, hospitals faced with Code Gridlock may have 50 patients and nowhere to put them.
According to information obtained from the province by The Pointer through a freedom of information request, 3,035 patients were treated in hallways at Brampton Civic in 2018. While numbers from the freedom of information request aren't as high as the 5,000 patients a year Gill cited in her presentation, there was a 200 percent increase between the number of patients treated in hallways in 2012 and 2018, according to the data obtained by The Pointer. In 2012, the number sat at 1,014 and in 2018, it was 3,035. Gill said this becomes a dangerous cycle because patients stuck in hallways are at greater risk of infection, in turn requiring more hospital time and care.
Gill added that Brampton also has the lowest per capita number of hospital beds in the province, at 0.9 beds for every 1,000 residents. The average for Canada, Gill said, is 2.5 beds for every 1,000 residents.
In order to provide the citizens of Brampton with access to a fully operational hospital, there's "a need for an additional 850 beds, at Peel Memorial Centre in the Phase II development of the Peel Memorial Centre for Integrated Health and Wellness, to be achieved within this current mandate of the Provincial Government," the motion passed Wednesday stated.
"As the fastest growing large city in Canada, Brampton deserves fair and adequate health care. Patients are dying in the hallways of the city's only hospital. It is time for us to demand a fair deal on health care and put a stop to overcrowded and underfunded hallway medicine," stated Regional Councillor Rowena Santos in a press release.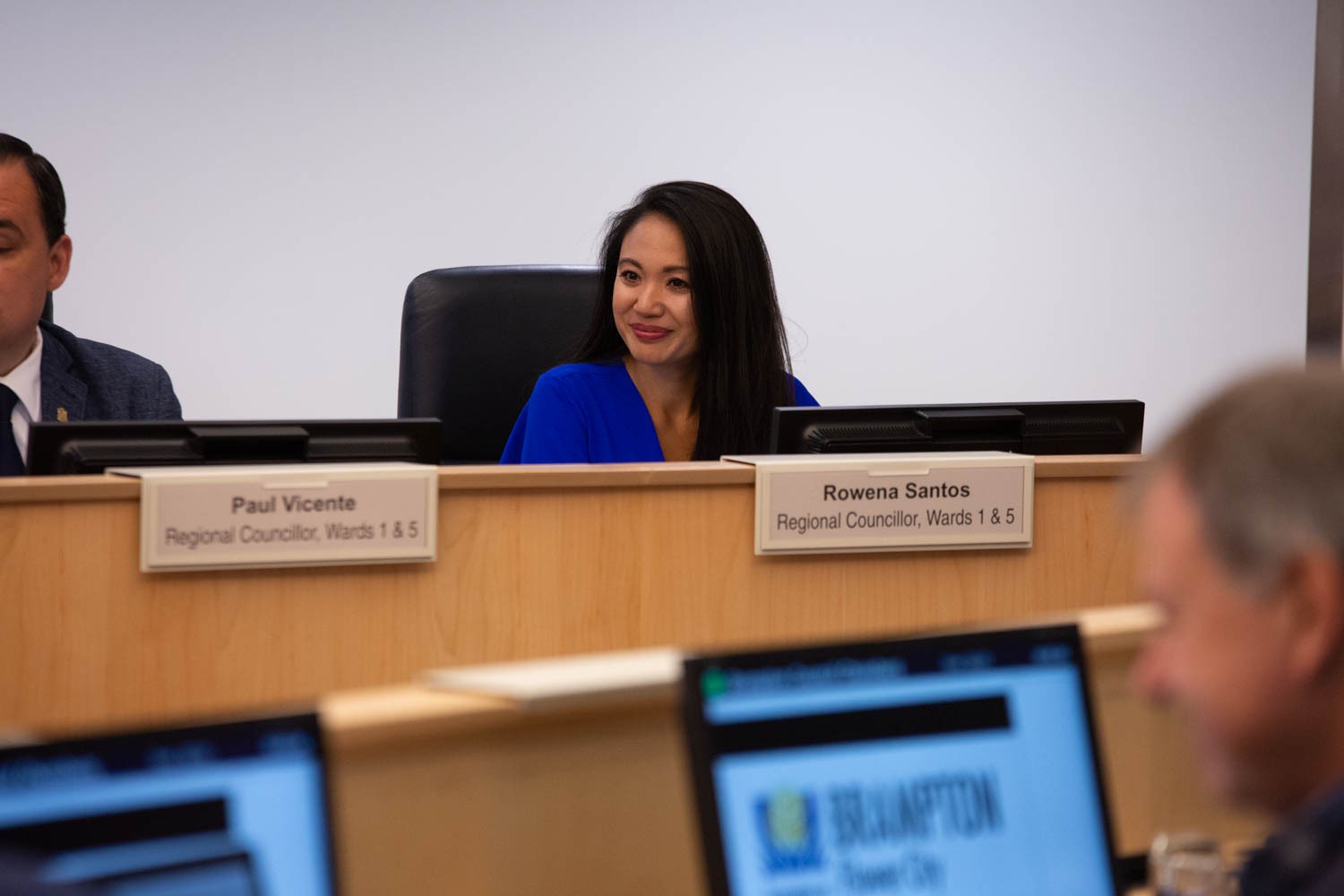 Brampton Regional Councillor Rowena Santos
In the past, the province has done little to respond to Brampton's healthcare concerns, the doctors pointed out. Gill said that despite the legal obligation it must fulfill, the provincial government has violated the law, which states that adequate healthcare has to be provided to all residents. The Canada Health Act has five elements of healthcare that must be available to all Canadians. This includes public administration, comprehensiveness, universality, portability and accessibility. The province, Gill says, isn't delivering on universality and accessibility. As Brampton's healthcare system cannot provide the same level of care afforded to those living in other areas of the province, it isn't universal. With patients facing long wait times, Brampton is unable to provide its residents with proper accessibility to healthcare.
The province's own data, listed on the Health Quality Ontario website, shows that, as of November, Brampton Civic patients had to wait an average of 19.7 hours to be admitted into the hospital after walking into the emergency department, one of the worst averages in the province and two-and-a-half times longer than the 8-hour target set by the province. The five best performing hospitals in Ontario had average wait times for admission between 3.8 and 4.6 hours. This means Brampton families have to wait more than four times as long as patients in other parts of the province to get admitted when suffering from a condition that warrants a hospital bed.
During deliberations, Mayor Patrick Brown said the city is facing a two-tier healthcare system, citing differences between Brampton and other cities. "There's one standard if you live in a diverse community like Brampton and one standard if you don't…We need the province to step up."
The city has been contributing to funding its healthcare system, in part using money raised from numerous charity events. But it's not enough, as healthcare is funded and administered by the province, Brown said.
A close look at funding for both the Region of Peel and the William Osler Health System further evidences the existence of a two-tier health system. Brampton Civic Hospital, Etobicoke General Hospital and Peel Memorial Centre all operate under the William Osler Health System banner. In July 2019, the province announced 168 new long-term care beds were coming to the city, while Mississauga got 457, despite having similar populations. With Brampton's rate of growth far exceeding Mississauga's currently, there is significant demand for increased healthcare infrastructure in the hyper-growth community. Between 2011 and 2016, the city's population grew by 13 percent and is projected to reach about a million residents by 2045. This includes people who will need access to care, putting further stress on an already taxed system.
Gill says Brampton isn't getting its fair share of funding from the William Osler Health System. In 2019, the provincial government announced $358 million in funding for a 250,000 square foot patient tower at the Etobicoke General Hospital, funding which Brampton could desperately use. As previously reported by The Pointer, Brampton did get $1.5 million from the province as part of the Health Infrastructure Renewal Fund for 2018/2019, but this fund only helps with the costs associated with the hospital's existing infrastructure upkeep and replacement needs.
The expansion of Peel Memorial is another issue experiencing ongoing problems. As previously reported by The Pointer, the province has asked the City of Brampton to pitch in more money to pay for the Phase-2 construction of the hospital's expansion. The province told the city a contribution must equal a quarter of the overall cost of construction. "The province has asked both Mayor [Bonnie] Crombie and myself to make contributions to hospital projects in the range of 25 percent. It's a gigantic price tag and it's difficult to put on property tax payers," Brown previously told The Pointer.
The funding for this will likely come from a hospital levy, a tax meant for spending on one specific item, as the hospital is a clear necessity the city desperately needs built. What's not fair, Brown believes, is the amount of money the city will have to dish out. "Do I think it's fair that Brampton could be asked to contribute 25 percent compared to some communities that are [at] 10 percent? I don't think that's fair. It's just another example of how the province hasn't been equitable to our community," Brown told The Pointer.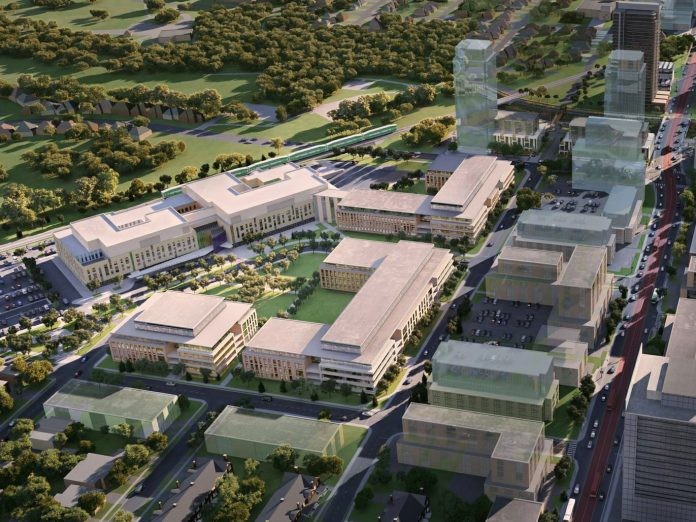 A rendering of the Phase-2 expansion of Peel Memorial Centre
The delegations Wednesday were coupled with personal stories from families who lost family members while waiting in hospital hallways. Sanjay Madgal shared his father's story, after he died in the hallway of Brampton Civic following a second minor stroke. When his father first had a stroke, he was lifted from his gurney to a wheelchair. He sat there for hours, as paramedics needed the gurney for other calls.
The pain of losing loved ones was expressed by numerous councillors, who have seen friends and family members suffer the consequences of hallway healthcare, they said. Councillor Gurpreet Dhillon shared the painful details surrounding his cousin's death, who passed away a couple of weeks ago.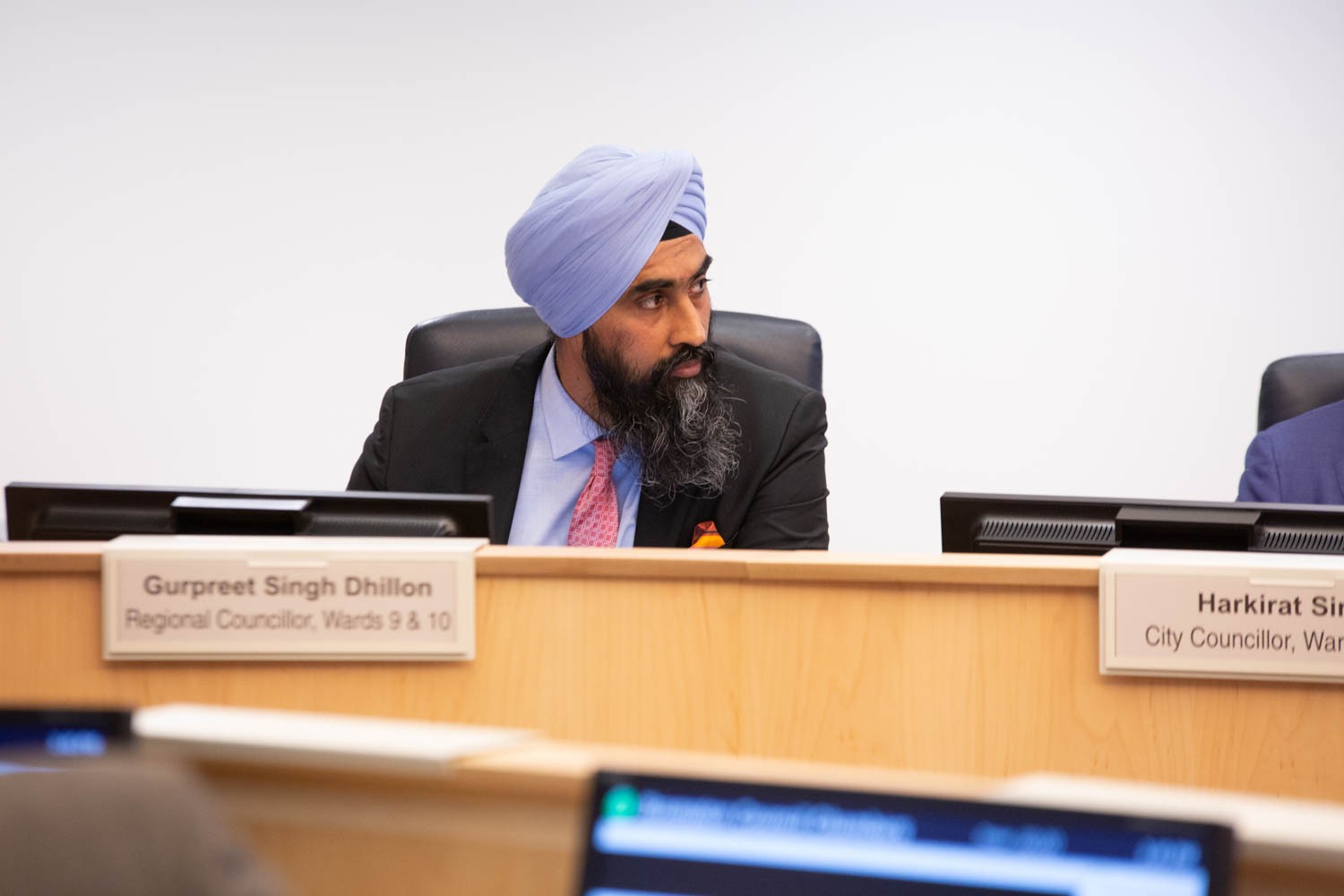 Brampton Wards 9 and 10 Councillor Gurpreet Dhillon
Wards 9 and 10 Councillor Harkirat Singh, who tabled the motion for the healthcare emergency declaration, said he will be speaking with local MPPs over the weekend. Meanwhile, PC MPP Prabmeet Singh Sarkaria (Brampton South) released a statement acknowledging the declaration made by the city. "I am pleased that Brampton City Council continues to support my efforts to expand Peel Memorial Hospital. After years of inaction under the previous Government, hospitals were left underfunded and hallway healthcare had become the norm. Premier Ford and our Government have made it clear that we are committed to protecting what matters most – healthcare," he wrote.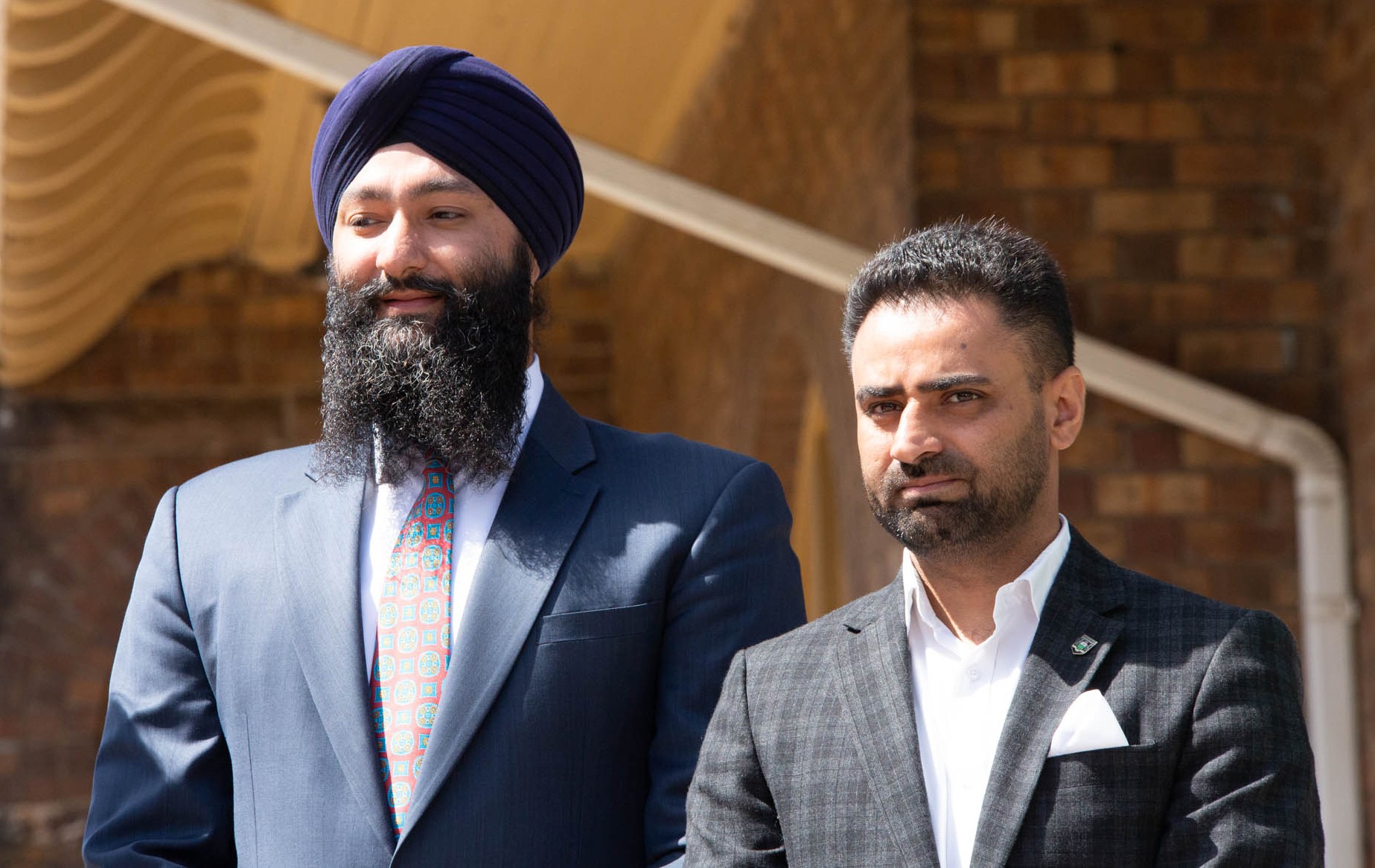 Prabmeet Singh Sarkaria (Brampton South) and Amarjot Sandhu (Brampton West)
The statement goes on to say the provincial government has invested $3 million in mental health support for Brampton residents, which is in stark contrast to the zero Gill stated in her delegation. This number could not be confirmed by The Pointer. The provincial government did invest $3 million in Project Now, aimed at ending youth-suicide in Mississauga. In past instances, both of Brampton's PC MPPs, Sarkaria and Amarjot Sandhu (Brampton West), have brought more questions on their stance for healthcare in Brampton than answers. As previously reported by The Pointer, both MPPs were absent from the fall 2018 vote forced by the NDP to bring a second full service hospital to the city. And both voted against another similar NDP motion in Queen's Park last year, drawing widespread anger from members of the public who said the two local PC MPPs were choosing party loyalty over the safety of their own constituents, who voted for the men to look after their interests.
Sarkaria also appears to have misrepresented the facts around funding for the submission needed to outline Peel Memorial's Phase-2 expansion plan, suggesting he was responsible for $500,000 given to Osler so it could put the plan together. The money was committed and given by the previous Liberal government in early 2018.
Brampton is currently in talks with Minister of Health Christine Elliott, to help secure badly needed hospital expansion that her party has twice rejected and has invited her to visit the city's hospitals.
---
Email: [email protected]
Twitter: @nida_zafar
Tel: 416-890-7643
Submit a correction about this story