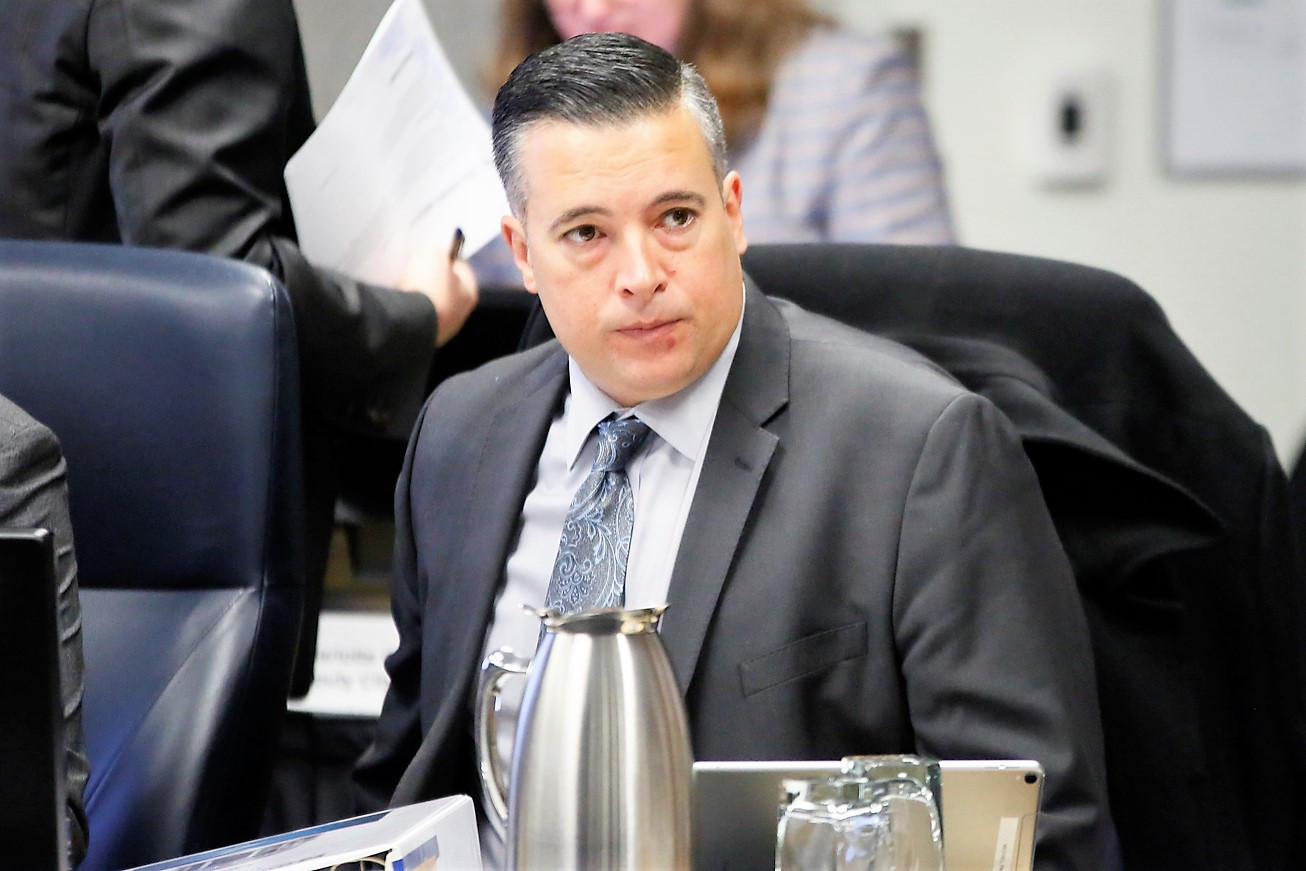 The Pointer file photo
Patrick Brown promised to end 'any notion of nepotism' after his reelection: now he wants to make it even easier
Immediately after being sworn in as Brampton's mayor for a second term, Patrick Brown stood in front of a large crowd for his inaugural address on November 15 and promised he would end "any notion of nepotism" inside City Hall.
Elected officials and senior staff had come under fire the previous term of council after an equity and inclusion audit found a complete mismatch between Brampton's diverse residents and the largely white makeup of its local government.
According to the 2021 Census, 81 percent of the city's residents identify as a visible minority, but the 2019 audit by an external firm found only 37 percent of Brampton's municipal workforce identified as belonging to a visible minority group. Disturbingly, only 15 percent of the City's Corporate Leadership Team (CLT) were visible minorities.
"These findings suggest that the CLT (corporate leadership team) members are not demonstrating awareness of workplace issues that are likely to be negatively impacting the City's inclusion climate," the audit found. "These findings are also indicative the CLT lacks a satisfactory understanding of structural barriers."
Brown was criticized for hiring numerous senior staff, including former CAO David Barrick, who did not reflect Brampton's diversity, did not even live in the city and had ties to him politically. Barrick was hired under a process controlled by Brown as the City's top bureaucrat, making more than $300,000 annually despite having no prior experience as a bureaucrat in municipal government. He was a former Port Colborne councillor with ties to Brown through Conservative Party political connections, and had just been fired from his role in Niagara region after his involvement in the widely publicized "Inside Job" hiring scandal there.
The role Barrick was fired from, with the local conservation authority, came about after an improper hiring process allowed him to land a management job, according to Ontario's Auditor General.
Immediately after being hired in Brampton under Brown's direction, Barrick handed $218,000 in contracts to one of his closest political allies in Niagara, who had no previous experience doing what he was hired for.
Two other white, male senior staffers, both of whom behaved corruptly in the scandal, were also hired under Brown after their disgraceful behaviour in the same Niagara scandal.
After one of them, Jason Tamming, was no longer with the City following a vow by previous councillors to clean up City Hall, Brown had him rehired following his reelection.
Tamming worked for the federal Conservative government when Brown was a Conservative MP.
Brown has been questioned throughout his political career for misleading the public—after making a vow following his reelection to finally clean up rampant nepotism inside City Hall, it took him less than 24 hours to break it.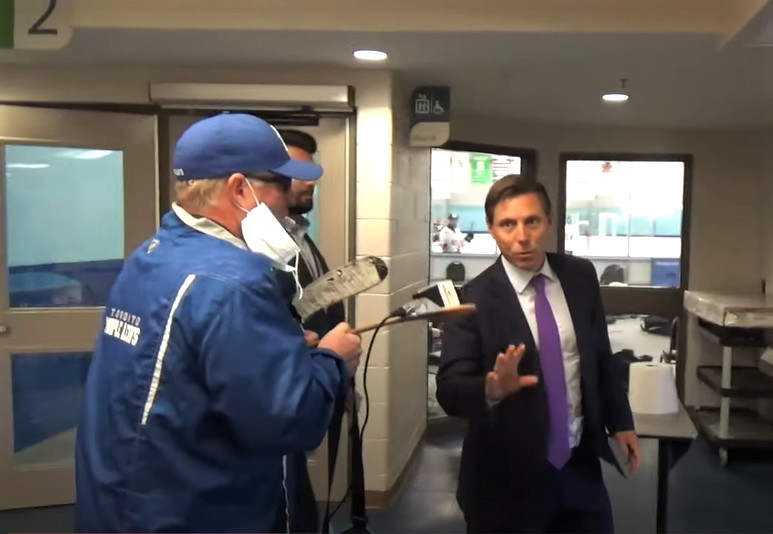 Patrick Brown caught on video at a hockey rink when he was not supposed to be playing hockey during the pandemic.
(YouTube/Rebel Media)
Prior to the rehiring of Tamming, the day after making his promise to end nepotism, it was announced the City was rehiring integrity commissioner Muneeza Sheikh who had been let go last year when a majority group of councillors raised concerns about her billing.
Brown controlled the hiring process that saw her hired initially, despite having no experience and despite their previous connections.
Sheikh even publicly defended Brown's character after two young women came forward in 2018 with allegations that Brown had sexually assaulted them earlier in his political career (he denies the allegations) and was pictured standing next to him on Brown's election campaign website when he first ran for the Brampton mayor's job. Sheikh was hired shortly after his victory, but was let go by the previous council when it was revealed she was billing taxpayers an exorbitant amount for services, more than 7 times the amount billed by former Brampton integrity commissioners. The previous integrity commissioner, Guy Giorno, resigned after Brown's election in 2018 because of the potential conflict due to the pair's prior connections.
Brown's first term was marred by nepotism after City contracts were handed to his political contacts and the hiring of his political associates.
But after promising just months ago to turn things around, Brown now wants to make nepotism even easier.
An upcoming staff report will look at ways to loosen Brampton's nepotism policy as part of an overall review of City Hall's talent acquisition strategy.
The review comes after a request from Councillor Michael Palleschi and Brown during budget deliberations on February 28. Palleschi took issue with the current policy, which he said prevents his daughter from getting a job with the City.
Their move was in direct contrast to Brown's previous commitments to address the alarming equity audit, which showed most Brampton residents are being shut out of lucrative public sector jobs, and his promise to end nepotism.
The handing out of lucrative taxpayer-funded City contracts to his associates drew widespread criticism over Brown's disregard for policies that promote fairness and equity.
During the previous term, work was given to a close friend of Brown, Rob Godfrey. The contracts to his firm ended up being investigated after Godfrey received three times—approximately $360,000—more money than the amount approved by Council for work related to the failed Brampton university (BramptonU) project. Much of the work detailed in the agreement, the investigation discovered, was never even done.
Another company that received contracts for the same failed project was ASI, specifically a man named David Wheeler (ASI has since said it had nothing to do with the BramptonU project and that Wheeler pursued the work on his own). Wheeler is a mentor and close friend of Councillor Rowena Santos (Brown's loudest supporter on council last term) who documents show arranged to get Wheeler the $100,000 contract.
These contracts were subject to an independent investigation launched by the previous council. Documents show investigators from Froese Forensic Partners were narrowing in on Brown's link to these consultants when he shut down the probes in August.
Another lucrative contract was handed to Brown associate Brett Bell, who was given between $200,000 and $400,000 to do real estate consulting work he had never done before. The Pointer revealed Bell did not even have a registered consulting company when a City Hall staffer was directed by Barrick to contact him for the job.
The hiring of Jason Tamming, who became Brampton's communications director, was done after his former employer, Niagara Region, sued him for his involvement in the "inside job" scandal. In Niagara, Tamming worked closely with a group of Conservative associates tied to former MP Rick Dykstra, who served together with Brown as a Conservative backbencher in Ottawa, and then became Ontario PC Party president while Brown was the leader and the two were close friends.
The issue of City Hall nepotism received attention in the fall of 2020 when Williams HR Law LLP was retained by the City of Brampton to conduct a privileged and confidential independent review into the experiences of Black employees at the City, including an assessment of processes, policies and procedures, to help determine the scope of discriminatory experiences or practices.
The full 62-page report, released publicly in 2022, showed nepotism was viewed as a significant issue in hiring practices across multiple departments.
Participant feedback, including from members of senior leadership and management, made clear that there is a perception of significant nepotism throughout the City. Black participants cited examples of friends, family members, and personal contacts of existing employees—and particularly more senior members of management, who tended to be White—who were hired over potentially more qualified candidates.
One participant said there have been attempts to curb nepotism, including through the use of a disclosure form, though feedback suggests that these attempts have not been widely socialized, consistent, or made clear to employees.
The upcoming review of the City's policies, following the complaints by Brown and Palleschi, will give Council the option to gut the limited barriers to prevent nepotism that are left on the books. It is expected to come before council members this month.
"A couple members of council decided it would be a good idea last term to not allow certain levels of staff or councillors to not have their kids hired by the city," Councillor Palleschi said during the recent discussions while the 2023 budget was addressed. "I think maybe it's time that we re-look at that given the labour shortage. I had my daughter, who was dying for a job, let me know that Jim Archdekin (Recreation Centre) was putting on a job fair for the City of Brampton. She was so excited, then I told her she couldn't apply."
Staff informed him they will be reviewing hiring policies as part of the report back to Council on strategies to attract talent to the organization.
"I kind of think enough is enough," Palleschi replied. "I have a child that's of age to start working and she can go and start working in the rec centre or do whatever if that helps. I know there is a countless number of staff that live in the City of Brampton that have kids or just outside the City of Brampton that have kids that are of age to work and that's the way it used to be back 10, 20 years ago."
The ingrained, institutional barriers to equity and inclusion, which for decades have seen the very staff members and councillors Palleschi is now advocating for enjoy exclusive hiring practices that ensured their friends and family would get desirable jobs at the expense of residents shut out from the same access, is a privilege Palleschi defended. He won his council seat after his father Paul had represented the same area for decades, before stepping down to make way for his son. Palleschi had never held an elected position before and had no prior professional work experience, before his father helped him win his seat.
The councillor made reference to his sister being a lifeguard in the past.
"It's not putting them above or outside of the process," he said. "I'm sure that my daughter, if she was to work in Parks and Rec, maybe she would be treated differently, but I don't know how I can change that…Councillor Keenan's kids are too young, Councillor Fortini's kids already work here…I think it's definitely a benefit to the residents, so I think we need to change that. Whenever I can put that forward to change that."
Palleschi suggested loosening policies within Community Services and Parks and Recreation to begin with.
"I think Councillor Palleschi makes a very valid point," Mayor Brown said. "This Council passed one of the, I guess, highest standards of an anti-nepotism position of four cities and maybe it is too broad in the sense it includes youth summer student positions where we have shortages."
The mayor did not name the other three cities he was comparing Brampton to and failed to explain what he was referring to.
"I think its intent is to have a high standard in the city is the right one, but I think Councillor Palleschi makes a point. If we can't find staff and we got staff ready to be a lifeguard or fill the service, there needs to be some reasonableness to that without diluting the overall intent to have a high standard."
It was a distinctively different stance from comments he provided to The Pointer following the release of the 2019 equity audit which found nepotism and the failure to recognize structural barriers were key reasons for the lack of diversity at City Hall.
"There is no shortage of capable individuals within our cultural mosaic of Brampton. They just need to be given the opportunity to compete and when they do they shine," Brown said after the audit's release.
Changes were made following the release of the audit.
Hiring and promotion of relatives is permitted only in specific circumstances outlined in the City's Human Resources policy, effective as of January 1, 2020.
The guideline serves to ensure employees in decision making positions are restricted from influencing the recruitment or advancement of a relative.
Relatives of a senior leader, a member of the Human Resources division, a hiring manager where their relative would work in the same department, and members of Council are not permitted to apply for employment with the City.
All other employee relatives must avoid creating a conflict of interest and require written approval.
The policy is not retroactive so Councillor Pat Fortini, who Palleschi brought up during the discussion, does not have to worry about any relative hired prior to 2020.
Excerpts from the City of Brampton policy on nepotism. (City of Brampton)
Specifically for elected officials, family members being hired is also covered by the Council Code of Conduct Rule Number 17, which states:
1. No member shall attempt to influence the outcome, or to influence any City employee to hire or promote a member of a Councillor's family.
2. No member shall make any decision or participate in the process to hire, transfer, promote, demote, discipline or terminate any member of his or her family.
3. No member shall supervise a family member, or be placed in a position of influence over a family member.
4. No member shall attempt to use a family relationship for his or her personal benefit or gain.
5. Every member shall adhere to the City's nepotism policy.
Unlike the City policy, the Council Code of Conduct does not prohibit the hiring of family, but has clear rules to prevent any influence on their employment.
The nepotism guidelines do not address friends or political associates, which continues to cause repeated conflict inside Brampton City Hall under the leadership of Patrick Brown.
---
Email: [email protected]
Twitter: @JessicaRDurling
---
COVID-19 is impacting all Canadians. At a time when vital public information is needed by everyone, The Pointer has taken down our paywall on all stories relating to the pandemic and those of public interest to ensure every resident of Brampton and Mississauga has access to the facts. For those who are able, we encourage you to consider a subscription. This will help us report on important public interest issues the community needs to know about now more than ever. You can register for a 30-day free trial HERE. Thereafter, The Pointer will charge $10 a month and you can cancel any time right on the website. Thank you
Submit a correction about this story