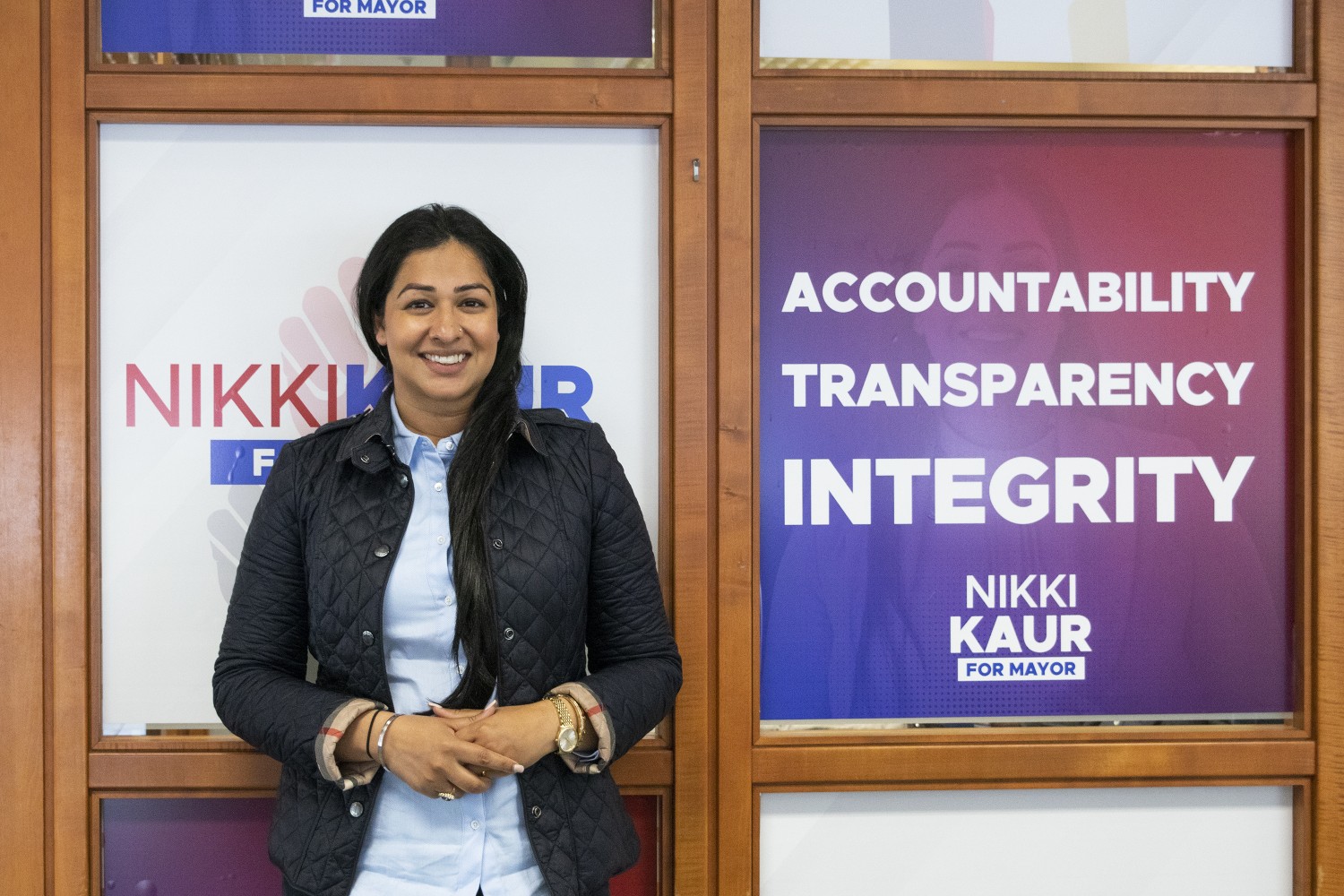 Alexis Wright/The Pointer
Nikki Kaur joins chorus of voices asking province to probe City Hall investigations cancelled by Patrick Brown
There has been silence from Premier Doug Ford, as Brampton mayoral candidate Nikki Kaur and Councillor Jeff Bowman have added their voices to the growing number of City Hall insiders who are asking the provincial government to intervene after Patrick Brown cancelled six forensic investigations into allegations of widespread misconduct under his leadership.
Appearing on the lawn in front of Queen's Park on Thursday, Kaur asked Ford to look into the controversies plaguing the City.
In September, Bowman, who is not seeking reelection, requested that the Municipal Affairs Minister and the Ontario Ombudsman finish the six forensic investigations cancelled by Brown. He also asked that "strong mayor" powers being given to mayors in Toronto and Ottawa, not be extended to the City of Brampton if Brown remains mayor.
Patrick Brown cancelled a number of ongoing investigations into alleged misconduct committed by himself and Councillor Rowena Santos.
(The Pointer files)
Two of the investigations, conducted by Froese Forensic Partners, were probing the mishandling of $629,000 for the failed Brampton University project. One of the hired consultants, represented by Brown's close friend Rob Godfrey, had been paid almost $360,000 more than what was approved by council. Council members were never informed of the extra payments that should not have been made without their approval.
Froese Forensic Partners was in the process of determining why City staff, under Brown's leadership, approved the payments, using public funds, without ensuring the work under the contract terms was completed.
Froese produced damning evidence that showed procurement rules were broken: Godfrey was paid before required work was done; and much of the work that was paid for using unauthorized public funds was never completed.
Froese also found Godfrey's firm and a consultant named David Wheeler, a close friend of councillor and key Brown ally Rowena Santos, received unfair advantages over other bidders competing for the lucrative City contracts due to their relationships inside City Hall.
Froese was in the process of investigating the relationship between Godfrey and Brown when he pulled the plug on all the investigations, which were looking into questionable hirings under Brown and other lucrative contracts handed to his friends and associates.
The Brampton University investigations were ended before completion on August 26 in a 5-4 vote, after six councillors had initiated them in May. Brown called the snap meeting at the end of a Friday with less than 24 hours notice, knowing two of the councillors who voted for the investigations would not be there. Charmaine Williams moved to Queen's Park as an MPP after the June provincial election and Gurpreet Dhillon did not show up for the last-minute meeting.
The other investigations cancelled include one for legal billings to the City involving Howard Winkler, a lawyer Brown used personally who received $180,000 from Brampton taxpayers; the RFP that led to the appointment of former integrity commissioner Muneeza Sheikh, who was unqualified and had personal connections to Brown; the RFP to shape the Municipal Development Corporation initiative, which was given to an associate of Brown who had no experience in the area and the RFPs around COVID-19 supply purchases, after a private equity firm was given a contract for masks that was supposed to be for $82,000 but ended up costing $896,000 without council approval.
"Both Ms. Kaur and Ms. Moore re-stated the belief of Councillor Jeff Bowman that Premier Ford and Minister Clark must intervene in this very serious matter. A dark cloud hangs over Brampton," Kaur's campaign said in a statement, referring to former councillor Elaine Moore who had supported Brown in 2018, before becoming an outspoken critic once she witnessed his disturbing leadership inside City Hall.
Councillor Jeff Bowman, who is not seeking re-election, appeared at Queen's Park urging Premier Doug Ford to continue the investigations into alleged misconduct at Brampton City Hall.
(Jessica Durling/The Pointer files)
Immediately after election, Brown hired senior staff from Niagara who had behaved corruptly in a CAO hiring scandal there, and recruited David Barrick to head the City's bureaucracy despite his involvement in the Niagara scandal.
Almost all the accountability and oversight mechanisms under council's authority, including the Freedom of Information process and internal audit, were taken over by Barrick and contracts to friends and associates of Brown were then handed out without council supervision.
Barrick was eventually fired early this year by the same majority group of councillors who then voted for the series of forensic investigations.
Brown appeared on a popular talk-radio show with host Jerry Agar to address his cancellation of the investigations and told a string of lies about what happened, falsely claiming the Brampton University file had already been previously investigated with no wrongdoing found. The Pointer will be publishing an extensive fact check of his interview with Agar.
"The last four years have been a cover-up. Brampton is suffering and enough is enough," Kaur said outside Queen's Park Thursday.
In particular, Kaur focused on the cancellation of the BramptonU project and legal billing investigations, in addition to the University of Guelph-Humber pulling out of Brampton, and Brown's disqualification from the federal CPC leadership race.
The University of Guelph and Humber College announced last week that they would not be moving forward with plans to create a campus in Brampton's planned Centre for Innovation, citing a "significant concern" around space constraints and inaction around the project.
In a letter to the City of Brampton, Charlotte Yates, President & Vice-Chancellor of University of Guelph, and Ann Marie Vaughan, President and CEO of Humber College, referenced raising their concerns about delays to Council in March.
Still unresolved, the university partners said that timing would be critical for them and they "no longer see the CFI as a timely or viable option for the relocation of Guelph-Humber."
The plan has been advertised on the campaign literature for incumbents Brown, Rowena Santos and Paul Vicente, claiming they would be "re-locating 5,200 University of Guelph-Humber students to Brampton."
Humber College has confirmed to The Pointer that it did not give permission for their logo and name to appear on the campaign flyers, which included a website URL and a QR code for Patrick Brown's campaign website.
"As a publicly assisted institution, the University of Guelph-Humber is impartial during all election periods, and we were not aware of the flyer as we are not involved with the creation of campaign materials," Andrew Leopold, director of marketing and communications, told The Pointer on October 7.
Kaur accused Brown of being "too busy campaigning for the federal Conservative leadership" to focus on the project.
"But to add insult to injury – during this campaign period – he has sent out what may turn out to be the most unethical political flyer of the year, claiming his advocacy to bring BramptonU resulted in his successful attempt to bring Guelph-Humber to town. Neither project is happening! The cherry on top? The Brown campaign placed the logos of a range of post-secondary institutions on this flyer without permission. Brown of course has a long history of campaign controversies...however this incident is most reminiscent of the 2006 incident when Brown's federal MP campaign issued a mea culpa to the president of Barrie's Chamber of Commerce for sending out an ad that said he had endorsed Patrick. (He had not)."
Bowman told The Pointer on Friday that he has been in communication with the provincial Ombudsman, who is currently reviewing requests to investigate Brampton City Hall.
The Ontario Ombudsman is intended to be a recourse of last resort.
"The complaint was just further to my original complaint back last November with more information on what's been uncovered and basically saying, 'Can you do an investigation?'"
---
Email: [email protected]
Twitter: @JessicaRDurling
---
COVID-19 is impacting all Canadians. At a time when vital public information is needed by everyone, The Pointer has taken down our paywall on all stories relating to the pandemic and those of public interest to ensure every resident of Brampton and Mississauga has access to the facts. For those who are able, we encourage you to consider a subscription. This will help us report on important public interest issues the community needs to know about now more than ever. You can register for a 30-day free trial HERE. Thereafter, The Pointer will charge $10 a month and you can cancel any time right on the website. Thank you

Submit a correction about this story