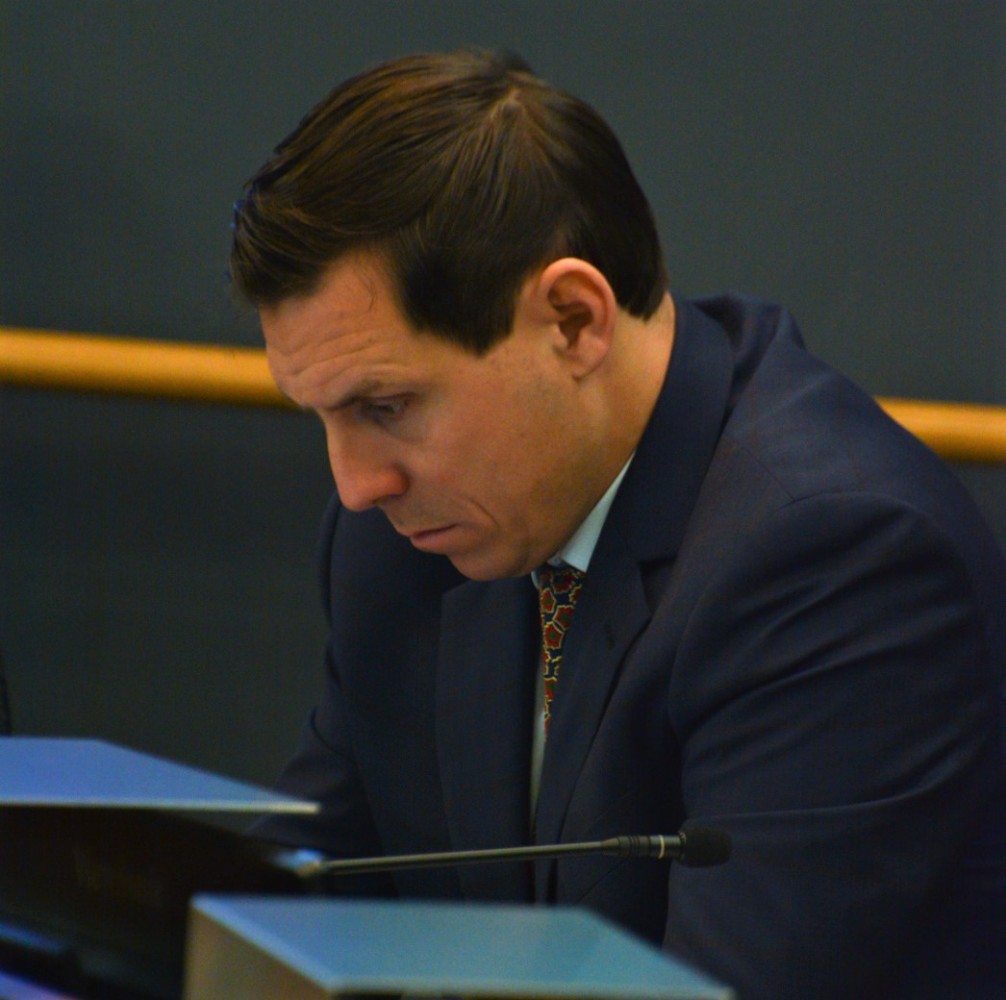 Feature image The Pointer files
Patrick Brown disqualified by CPC for alleged use of campaign staff paid by third-party, cancels another council meeting; evidence shows he was guilty of similar conduct inside City Hall
Facing new allegations from the Conservative Party of Canada that resulted in his disqualification from the leadership race, as well as ongoing forensic investigations inside City Hall, Brampton Mayor Patrick Brown ordered the cancellation of Wednesday's Council meeting.
According to members of Brampton Council, the Conservative Party decision came as no surprise.
Late on Tuesday night, the Party announced Brown had been disqualified due to alleged violations of federal election laws.
Media interviews Wednesday revealed a central allegation is that Brown was using at least one staffer on his campaign who was being paid by a third-party corporation, which is not allowed under Canada's Election Act.
Evidence was brought forward in 2020 that showed Brown had done the same thing when, as mayor, he was working with Peter MacKay to get him elected leader of the CPC ahead of last year's federal election.
Whistleblower Gurdeep (Nikki) Kaur, a director with the City of Brampton, shared screenshots of WhatsApp messages Brown sent her in 2020. They show Brown secretly directed her and former staffer Robert D'Amboise to sell memberships for MacKay during City Hall work hours. Kaur told The Pointer at the time that at least three other City Hall staff were told by Brown to sell memberships and they were also present at locations where he told them to meet. The messages show Brown gave them instructions on how memberships were to be sold and how many needed to be signed up for MacKay.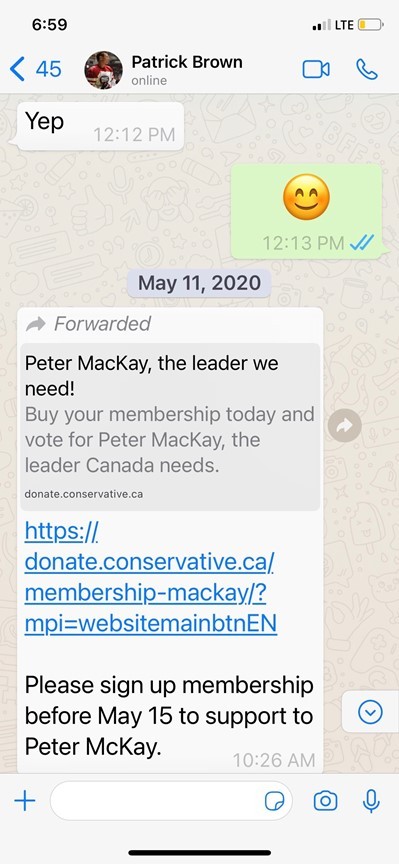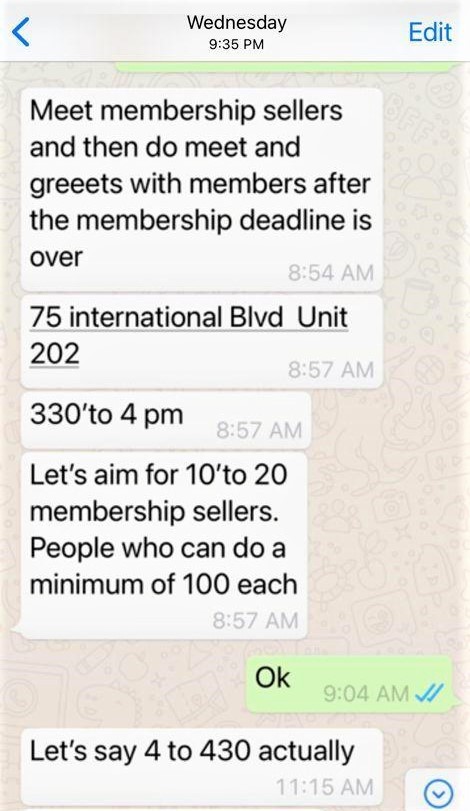 WhatsApp messages from Patrick Brown to senior City Hall staffer Nikki Kaur show the mayor directed her to sell memberships for Peter MacKay's federal Conservative leadership bid in 2020. Brown has refused to answer questions about the messages.
(Nikki Kaur)
This amounts to the same alleged conduct in Brown's federal Conservative leadership campaign. Staff employed by the corporation of the City of Brampton are not supposed to be paid by the municipality to work on a political campaign.
Brown said on Wednesday he was unaware of any campaign staffer being paid by an outside corporation to work on his own federal leadership campaign.
After evidence of Brown directing the same type of illegal conduct came forward last year, an investigation was ordered by a majority of Brampton councillors. It was eventually controlled by Brown and his allies on Council at the time, and somehow Deloitte was hired to do the work. It was never disclosed that MacKay was working for Deloitte when the firm was given the contract to investigate Kaur's sweeping allegations which included her evidence of misconduct in hiring and procurement practices, with millions of dollars in City contracts allegedly going to friends and associates of Brown and former CAO David Barrick who was recruited by the mayor before being fired in February.
Deloitte never investigated Kaur's allegations and evidence that showed Brown had directed her and other City Hall staff to work on MacKay's 2020 leadership campaign. The firm claimed it ran out of time ahead of the deadline to submit its findings, which revealed alarming hiring practices under Brown.
A majority group of six councillors has since ordered a series of sweeping forensic investigations into the allegations and other complaints that have come forward under Brown's controversial leadership.
Now, the CPC has disqualified Brown from its leadership race, citing allegations that conduct similar to what Brown directed inside City Hall (according to the evidence Kaur released) was going on in his leadership campaign.
"In recent weeks, our Party became aware of serious allegations of wrongdoing by the Patrick Brown campaign that appear to violate the financial provisions of the Canada Elections Act," wrote Ian Brodie, chair of the Conservative Party's Leadership Election Organizing Committee (LEOC) in a public statement.
"The information provided to date by the Patrick Brown campaign did not satisfy concerns about their compliance with our Rules and Procedures and/or the Canada Elections Act. The Chief Returning Officer has therefore recommended to LEOC that LEOC disqualify Patrick Brown and earlier tonight LEOC agreed to do so. The Party will be sharing the information it has gathered with Elections Canada, who is responsible for ensuring compliance with, and enforcement of, the Canada Elections Act."
On Wednesday, Councillors Martin Medeiros, Jeff Bowman, Pat Fortini, and Gurpreet Dhillon held a press conference (a press release was also issued with their signatures and that of Councillor Doug Whillans, who was unable to attend the conference).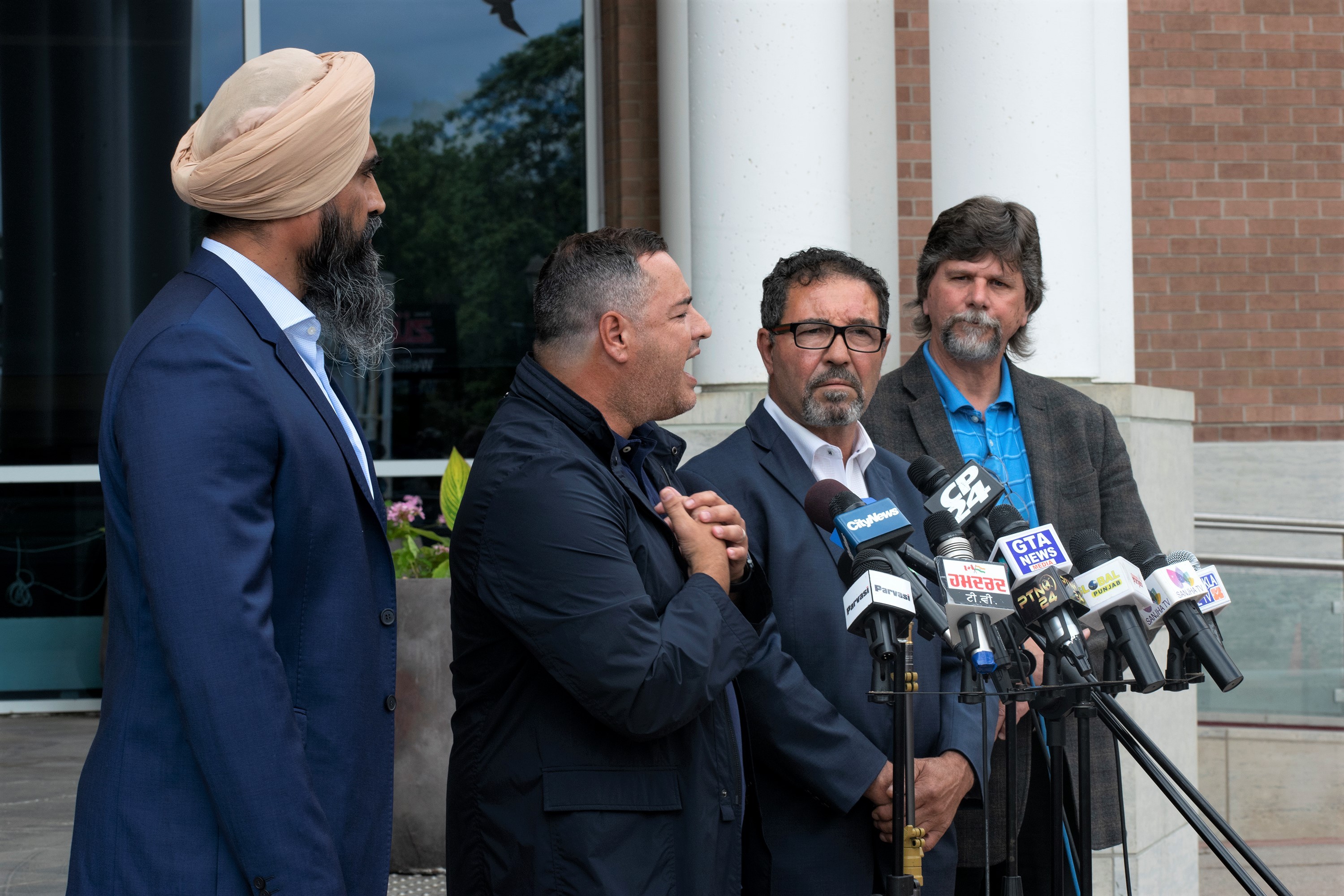 Councillors Gurpreet Dhillon, Martin Medeiros, Pat Fortini and Jeff Bowman held a press conference outside City Hall Wednesday. They say "democracy is under siege because of Patrick Brown."
(Alexis Wright/The Pointer)
The release didn't mince words: "As we stated before, democracy in Brampton is under siege because of Patrick Brown". It points out Brown cancelled Wednesday's scheduled Council meeting and has shut down every other one for the last month, as others try to ensure the ongoing forensic investigations move forward ahead of the October 24 municipal election.
"None of us were involved in the Conservative leadership, however, it had a negative impact on the City of Brampton," Medeiros told the crowd of reporters outside City Hall Wednesday afternoon.
"Looking back, we would have preferred Mayor Brown would have taken a leave of absence to focus on his leadership, as he has every right to do. Our concern is the negative repercussions for the City of Brampton: Not withstanding its image, not withstanding having four council meetings, City business does not continue, so instead of us being right now in council chambers dealing with an agenda that really impacts jobs, employment…the City's at a standstill."
These are the same five councillors who previously vowed to restore good local government in the city following a series of scandals involving former CAO Barrick and Brown. Barrick was recruited by the mayor, who he shared a number of close Conservative ties with, before he was fired in February when the six members had grown frustrated with how Barrick and Brown were running City Hall.
After his CPC disqualification Tuesday evening, the Brown campaign team sent out a response, stating it has not been provided with the full details or evidence of the allegations. Party President Robert Batherson stated Wednesday that the allegations of misconduct came from within Brown's campaign team.
A number of high-profile members have left Brown's campaign in recent weeks.
This isn't the first time Brown has been accused of deliberately violating finance rules.
In 2018, the Ontario Integrity Commissioner found Brown had broken ethics laws when he failed to report a hefty loan from a man who received a PC Party nomination while Brown was the Party leader ahead of the 2018 election, and income he had received through other sources.
This was after the sexual misconduct allegations (which Brown denies) that led to his fall from the PC Party.
The Commissioner's investigation found Brown took $375,000 from Jas Johal—the PC candidate for Brampton North who was given the nomination—using the money to pay for a $2.3 million waterfront property in Brown's riding of Lake Simcoe at the time.
"When the leader of a political party is substantially indebted to a candidate for election as an MPP for that party, the interests of transparency require that the indebtedness be made known so that people have an appropriate context to assess the relationship between the leader and the candidate," the Integrity Commissioner wrote in his findings.
He determined Brown had deliberately misled him.
Just after his expulsion from the PC caucus in 2018, when Brown was found to have breached the Member's Integrity Act four times by failing to disclose certain rental income, as well as the $375,000 from a candidate who was given the nomination, Commissioner David Wake wrote: "It is clear to me that the non-disclosure was deliberate and not through inadvertence."
Recently, Brown has also been accused by other members of council of using taxpayer-funded City Hall staff to work on his federal campaign. This was following the Rebel News release of its own video that shows vehicles belonging to City Hall staff parked at the Vaughan office where Brown was running his federal campaign from.
The video evidence revived concern over Brown's previous use of City resources, including staff, for MacKay's federal leadership campaign, according to Kaur's evidence.
Councillors have told The Pointer they intend to have Brown's conduct investigated as part of the ongoing series of probes into allegations of wrongdoing.
That work is being directly overseen by a three-member steering committee which includes Councillors Bowman, Fortini and Dhillon.
However, the work, along with other key pieces of City business, is currently stalled, as Brown and his four allies refuse to attend Council meetings, claiming they disagree with the process used to select a replacement for Charmaine Williams, who won a Queen's Park seat in the recent provincial election. A court decision is expected any day, after Brown and his allies backed a legal challenge to the appointment of the replacement chosen by the other members, former longtime council member Elaine Moore who has made it clear that if she returns to Council she will demand accountability for what's happened since Brown was elected.
Unless a special meeting is called, the next Council meeting will not take place until August 10.
At Wednesday's press conference, councillors said they will attempt to convene a special meeting on July 25, but will still require quorum, which they need Moore for.
City Hall business is being purposely delayed by Brown, Rowena Santos, Paul Vicente, Harkirat Singh and Michael Palleschi, including updates on a forensic audit into the mishandling of $629,000 on the failed BramptonU project which saw Brown and Santos linked to two firms that were paid for work that either was not completed, or failed to meet the objectives of the project.
Stakeholder Research Associates, employed Rob Godfrey as a senior associate when it was given a contract that was only supposed to be for $170,000 to do work to help launch BramptonU. Despite no council approval, and without the knowledge of a majority of councillors, Godfrey's firm was eventually given more than $500,000, and much of the work was never received. Brown has publicly stated that Godfrey, son of Postmedia Chair Paul Godfrey, is one of his closest confidantes and a key political advisor.
More than $100,000 went to David Wheeler, a close friend of Santos.
Brown and his four allies voted against authorizing disclosure of all closed session records, including audio tapes specific to the BramptonU file, to the forensic audit team upon request on May 31.
The ones who voted in favour of the full disclosure were Councillors Medeiros, Bowman, Fortini, Dhillon, Whillans and former councillor Williams.
At the press conference Wednesday, Bowman, who is part of the steering committee working with the independent investigators, said the probe remains ongoing. He said they expect the next update to come in mid-August.
"The forensic audit is about 40 to 45 days in," Bowman said. "They've made some requests through the CAO. The CAO has gotten back, given them the information that they are looking for. That's about all we can say right now on the forensic audit. We won't know anymore until they're done."
In March, when Brown announced his leadership bid, his City Hall mayor's office social media expense invoices skyrocketed.
In 2021, Brown had 11 charges ranging from about $900 to $1,154 for social media. Seven of them were marked "social media campaigns/social media management and analytics for COVID-19 campaigns." Others were invoiced as "social media promotion and monitoring charges."
In March 2022, after he announced his candidacy, the City received an invoice for $2,849.29, followed by another for $5,138.89. In April, the City received two more invoices for $4,833.61 and $4,121.29.
Within the two-month period this led to $16,943 for social media campaigns charged to the City from Solarit Solutions Inc., a web design and digital marketing company, compared to $9,880.76 for all of 2021.
The same Twitter account he has used as mayor has been dominated since March by posts promoting his CPC leadership bid. It's unclear if City Hall staff worked on his social media promotion while he criss-crossed the country campaigning. Brown has not responded to questions from The Pointer.
Since his campaign began, Brown refused to take a leave of absence despite missing the majority of council meeting sessions and many votes. When he did briefly appear it was usually virtually from another city. His social media platforms show he was rarely in Brampton or dealing with City business during his hectic campaign schedule.
Since Williams' provincial victory, Brown stopped showing up for work altogether, absenting himself along with his four council allies, announcing a strike to prevent the placement of Moore to Williams' former seat.
Until Moore can be officially appointed, this leaves council with 10 members. With Brown and his allies making up a bloc of five, and six being needed for quorum, he has been able to shut down council indefinitely.
Brown ally Councillor Harkirat Singh has submitted an application to the Ontario Superior Court of Justice to overturn council's motion on the succession planning of the seat to Moore.
The hearing was held on June 30, and council is currently waiting for a decision to be made.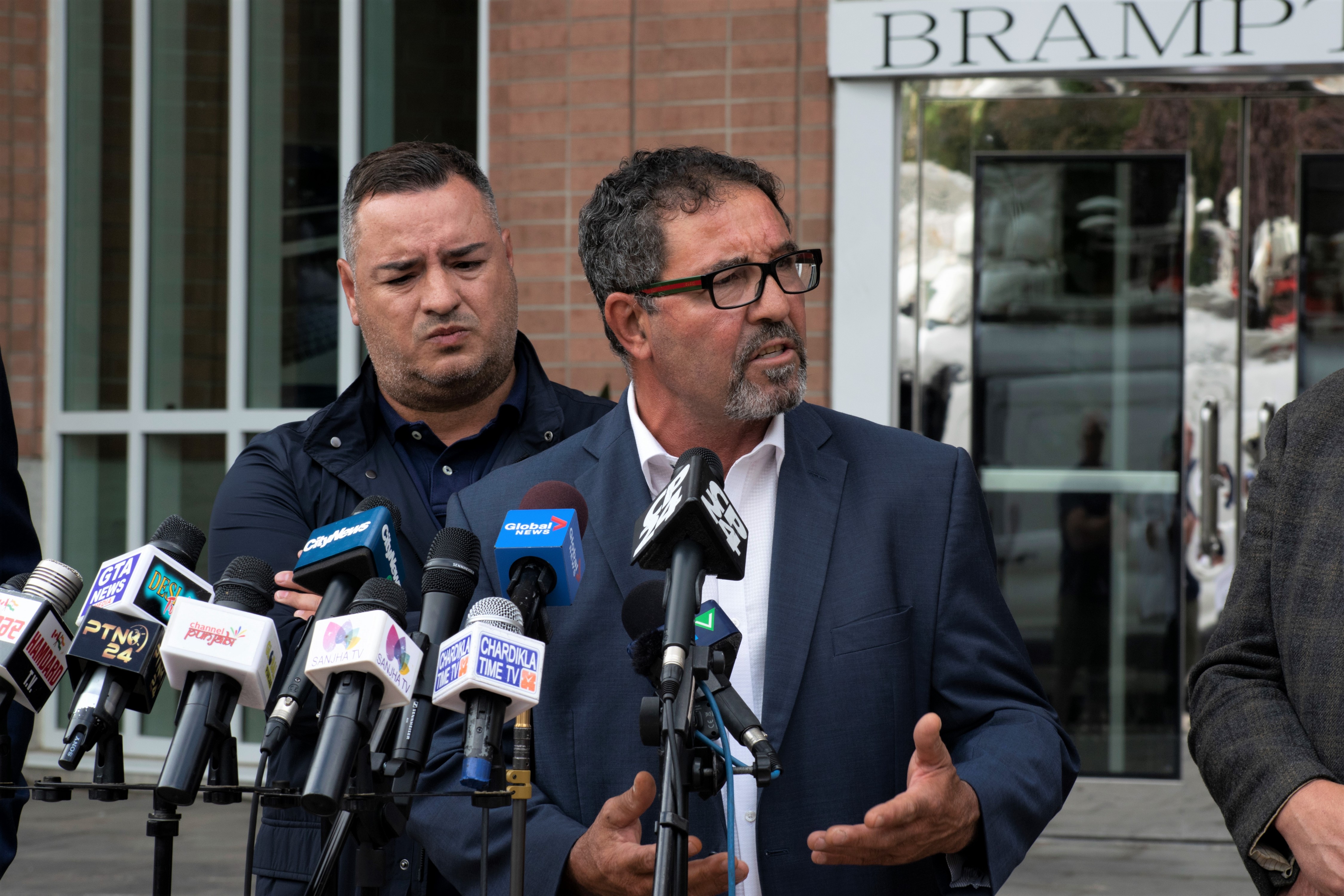 Councillors Martin Medeiros, left, and Pat Fortini.
(Alexis Wright/The Pointer)
"What essentially happened is a pattern and people are asking us, 'What's happening at the City of Brampton?'" Medeiros said during the press conference Wednesday. "We have a forensic audit into a Brampton University [project] where people allegedly, close to a candidate, who received consultant contracts, who we didn't know where it went, we don't know where the money has gone."
Medeiros continued.
"There is no accountability. What seems to be a pattern, not exclusive to what the Conservative Party is dealing with. We've been dealing with this for two years and only many of you have caught on now. So what's frustrating for us is that we know what's going on in Brampton, and only now it seems, today, people finally in a way caught on to what seems to be a larger issue."
---
Email: [email protected]
Twitter: @JessicaRDurling
---
COVID-19 is impacting all Canadians. At a time when vital public information is needed by everyone, The Pointer has taken down our paywall on all stories relating to the pandemic and those of public interest to ensure every resident of Brampton and Mississauga has access to the facts. For those who are able, we encourage you to consider a subscription. This will help us report on important public interest issues the community needs to know about now more than ever. You can register for a 30-day free trial HERE. Thereafter, The Pointer will charge $10 a month and you can cancel any time right on the website. Thank you
Submit a correction about this story