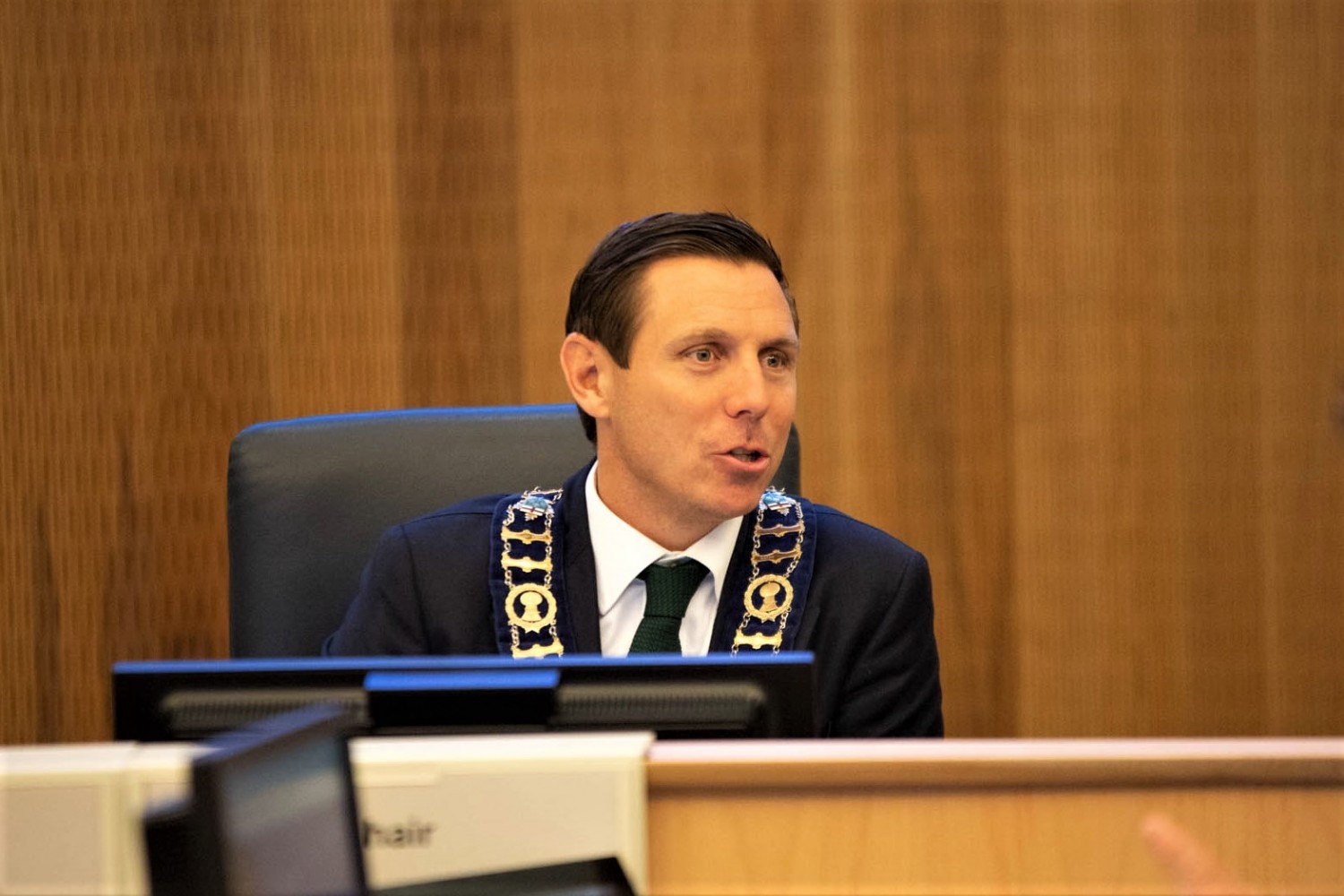 Feature image from The Pointer files
Patrick Brown's personal lawyer received $180,800 from Brampton taxpayers
Documents show the City of Brampton covered $180,800 that went to Winkler Law LLP, a firm owned by Howard Winkler, the lawyer used by Patrick Brown to represent him in an $8 million defamation lawsuit against CTV and in a lawsuit against Brown filed by PC cabinet member Vic Fedeli.
Copies of invoices obtained from a source inside City Hall show "Winkler Dispute Resolution" started invoicing a third-party company on August 21, 2019 for: "City of Brampton re: Patrick Brown DESCRIPTION Monthly fee in respect of Retainer Agreement accepted June 25, 2019 Professional services related to reputational protection and general legal advice".
The total monthly amount was $5,650. The name and signature at the bottom of the invoice is "Howard Winkler".
Five days later, on August 26, 2019, the third-party company, Justice Risk Solutions, began invoicing the City of Brampton for "Management of a Legal Risk Management Agreement as per By-Law 142-2019." The total monthly amount was $8,192.50.
Winkler Law is run by Howard Winkler, who was paid $5,650 per month that came from Brampton taxpayers for professional services to council members related to reputational protection and general legal advice. Council members say they were not given proper access to these services.
In May, a majority of council members ordered a third-party forensic investigation into the contracts for the legal work, but Brown cancelled the probes a few weeks ago, on August 26 when he had a 5-4 majority due to a councillor's absence and the vacated seat left by Charmaine Williams who was elected to Queen's Park in June after she voted for the investigation.
The legal service was cancelled shortly after the investigation was launched as councillors began to question what the legal invoices were for and why there were few details to show what work was done for more than $270,000 in total.
No information from the now-cancelled third-party investigation has come forward publicly.
The invoices for legal work were submitted for almost every month, according to the documents received by The Pointer, between August 2019 and April 2022, which was the last month included in the package that was obtained.
Justice Risk Solutions describes itself as, "...a boutique insurance and financing company that specializes in providing capital and risk solutions for lawyers and law firms. Unlike traditional brokers, who try to make the concern fit the constraints of a standard product, Justice Risk Solutions has developed unique and customized solutions with flexibility in mind. Our specialists understand the intricacies of law firm accounting and business operations, and the unique restraints often found in running the business. We help provide the financial and risk control tools that you need to help you grow your practice and your clients."
It's unclear why a company that provides insurance and financing solutions to law firms was hired by the City of Brampton to provide "Management of Legal Risk" to Brown and councillors.
A spokesperson for Justice Risk Solutions said the company can not address any questions regarding one of its clients. Unlike private-sector clients, the City of Brampton is a public entity and use of public funds is expected to be completely transparent.
The Pointer has tried to reach Howard Winkler since last week. He has not responded to written requests and voice messages.
Brown did not respond to requests for answers to The Pointer's questions.
It's unclear why Winkler did not invoice the City directly for his services. After The Pointer first raised concerns early in 2021 over excessive legal expenses that appeared on Brown's mayor's expense disclosure, asking him if he was using taxpayer funds to cover his personal legal costs, he said the amounts that showed up on his expenses were for all of council, not just him. Shortly after, the invoices submitted by Winkler to Justice Risk Solutions changed, showing, as of March 1, 2021, Winkler's work was for "Mayor Patrick Brown and Members of City Council", not just Brown, as the previous invoices indicated.
Brown has refused to explain what specifically Brampton taxpayers were paying for. A total of $270,352.50 was invoiced by Justice Risk Solutions to the City between August 2019 and April 2022, according to the documents received.
Councillors have raised their own concerns since learning of the arrangement with Winkler, which they did not know about when the vague contract was entered into following Brown's insistence.
Councillor Jeff Bowman told The Pointer that in 2019 the contract idea with Justice Risk Solutions was originally brought to Council by Brown. "He did not mention Mr. Winkler once."
"It was sort of put to us as, 'You guys really need this extra insurance, look what's gone on with the (city hall expansion lawsuit) and the lawsuits that are there and the involvement of other councillors now that they're not councillors anymore.' That's sort of the way it was put to us, that you guys really need this insurance."
On May 4, 2022, Council ordered that staff report on the City contract in place with Justice Risk Solutions, including an itemization of the costs incurred to date and usage terms of the contract. Future discussions on the matter were held in closed session.
The staff report to determine what service Justice Risk Solutions was providing was ordered by Council after Councillor Pat Fortini tried to utilize the service for a legal expense, discovering the number he was given "was a phone hotline."
"It was brought to Council and all the questions started to arise. We were under the understanding that this was a full legal service and anytime we needed it, we'd just call them and we'd get legal representation, but according to what the other councillor said, it was just a phone service that you phone in and they would give you advice over the phone—that's what they were told."
Bowman said the service was used only once for a matter that related to Council, when an issue with a local lacrosse club had to be dealt with. "I believe nine or ten members of council had their names used in a letter sent regarding the lacrosse issue. That's the only time I know of that this legal service was associated with other members of Council."
"I don't know why our own solicitor could not have written the letter… For the mayor to say the legal service has always been used by all members of council, that is a total misrepresentation."
Following this, on June 1, in closed session, relayed through public meeting minutes, Council ordered that the acting CAO end the agreement with Justice Risk Solutions, citing concerns about procurement for the service, invoicing and costs.
In 2018, Brown was ousted as leader of the Ontario PC party following a CTV news story in which two women accused him of sexual misconduct. Winkler represented Brown in a lawsuit against the network ultimately reaching a settlement with CTV in March of this year that involved CTV issuing a correction to the story—changing the age of one of the alleged victims to 19 at the time of the alleged encounter, rather than 18 as was originally reported. The material allegations against Brown of sexual misconduct did not change. He denies the allegations.
Winkler would again be used by Brown to defend against a lawsuit by his former Progressive Conservative caucus colleague Vic Fedeli, who launched an $8 million defamation lawsuit against Brown following allegations he made against Fedeli in Brown's book, "Takedown: The Attempted Political Assassination of Patrick Brown."
The lawsuit was settled with the mayor giving a public apology to the former provincial finance minister and retracting his claims made in the book as part of a deal reached in 2020. This was while Winkler was receiving payment for services to Brown as mayor, covered by Brampton taxpayers. Councillors were not told of the arrangement with Winkler at the time.
Taxpayers covered $8,192.50 per month to Justice Risk Solutions for additional legal coverage, who then paid Winkler Law LLP $5,650 for "professional services related to reputational protection and general legal advice" to Patrick Brown.
Brown did not respond to requests for comment or answer questions related to the legal expenses, including a request for a detailed list of the legal work provided by Winkler Law LLP.
According to documents received through a Freedom of Information Act request by Brampton resident and lawyer Wesley Jackson (which he published on social media) the City could find no records of any claims referred to Justice Risk Solutions by the City since the company was hired.
Brown has previously denied allegations that taxpayer money was used to pay his legal fees in the lawsuit filed by Fedeli—an allegation that was forwarded to the Ontario Ombudsman. The Ombudsman recommended Council launch a third-party investigation, but Brown recently cancelled the ongoing probes into questionable procurements including one that was investigating the contracts with Justice Risk Solutions and Winkler.

Freedom of Information Act requests shows no claims to the City of Brampton were referred to Justice Risk Solutions, who taxpayers paid $270,352 between 2019 and 2022.
"If what has transpired is true, that this money went to Patrick Brown's lawyer, then again this is an example where something should have been declared a conflict and someone should have been excused from voting on it," Bowman says. "We've seen this happen over and over. So no, I don't think we got the value, I don't think we used it beyond that one letter that was written to the Ontario Lacrosse Association on behalf of the City."
Councillor Martin Medeiros said he had one five-minute conversation with Winkler, after being initially refused access to the service.
"I insisted with staff and Justice Risk (Solutions) that I wanted to have a consultation with a lawyer regarding defamation and I was refused several times," Medeiros told The Pointer. "When I created an issue and threatened to go public, they appointed a lawyer to meet with me via video chat and it was a five minute conversation, I believe with Mr. Winkler."
---
Email: [email protected]
Twitter: @JessicaRDurling
---
COVID-19 is impacting all Canadians. At a time when vital public information is needed by everyone, The Pointer has taken down our paywall on all stories relating to the pandemic and those of public interest to ensure every resident of Brampton and Mississauga has access to the facts. For those who are able, we encourage you to consider a subscription. This will help us report on important public interest issues the community needs to know about now more than ever. You can register for a 30-day free trial HERE. Thereafter, The Pointer will charge $10 a month and you can cancel any time right on the website. Thank you

Submit a correction about this story