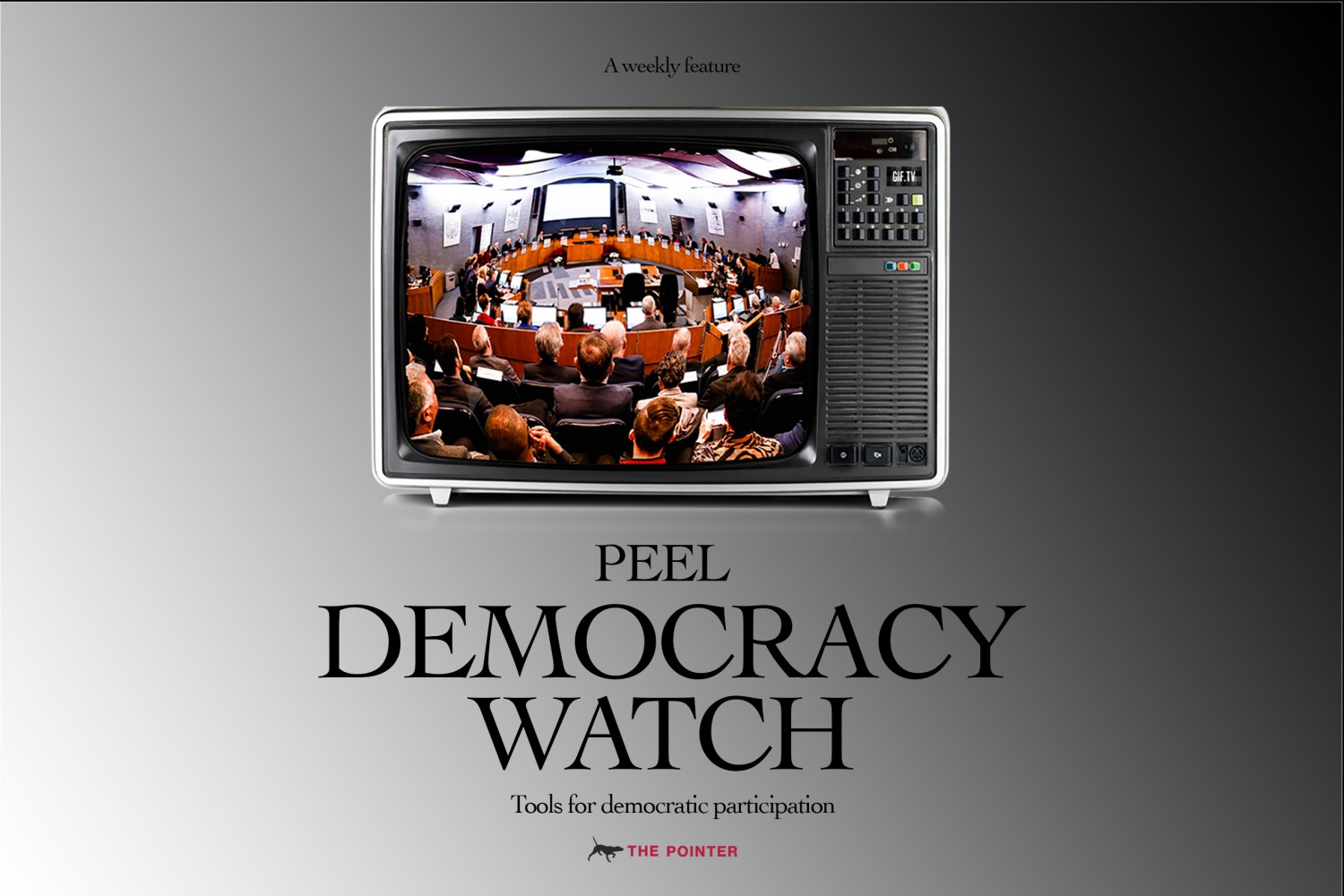 Feature illustration from Joel Wittnebel/The Pointer
Caledon considers fireworks ban; Mississauga to receive update on harassment of Karen Ras; Brampton considering e-scooter ban on pedestrian paths
Peel Democracy Watch is The Pointer's weekly feature aimed at increasing the public's awareness and political involvement in the Region of Peel by highlighting key agenda items, motions and decisions.
---
General Committee
Date: April 19 - 2:30 p.m. | Delegate | Full agenda | Watch live

Caledon to consider permit for consumer fireworks for community events, ban on personal use
The Town council had banned the discharge of fireworks allowing only events and theatrical pyrotechnics in November last year.
Tuesday, April 19, at a committee meeting, staff will present a report that recommends including a $150 permit fee for consumer fireworks for public events. The by-law will be presented at the April 26 Council meeting and will ban the sale of low-hazard consumer fireworks, not allow fireworks for personal use, implement a permit system to set-off fireworks for public events and set acceptable times and locations. Staff is proposing residents use ten pre-approved parks to set ablaze consumer fireworks and will include a separate 'Event Clean-Up Fee' to address the increase in service levels.
You can read the staff report here.
Caledon establishes Municipal Election Compliance Audit Committee
Ahead of the municipal election in October, town staff are recommending setting up a team to address any compliance audit requests Caledon might receive. Staff say no compliance audits have been requested in the past three elections. The Town Clerk will recruit and bring forward the required by-law listing the selected members to the Municipal Elections Compliance Audit Committee, as per staff recommendation. Each Committee member would be paid $150 per meeting.
The staff report can be viewed here.
Motion to examine a Waste Bin Collection Pilot Program for Town Parks
A motion by councillor Nick de Boer will have staff evaluate City of Vaughan's garbage bin sensor pilot project, which aims to reduce overall transport and collection costs. Vaughan has been using the technology since August 2021 in some of its parks. Sensors placed under the lids of waste bins help Park staff to monitor the fill-levels remotely and to receive notifications when they need to be emptied.

Planning and Development Committee
Date: April 19 - 7 p.m. | Delegate | Full agenda | Watch live
Staff recommends expanding Bolton Settlement Area to permit residential units
In a report prepared by MHBC, a planning, urban design and landscape architecture on behalf of the Development and Design, Planning Department is recommending expanding the Bolton Settlement Area, redesignating Prime Agricultural Area and Environmental Policy Area to Medium Density Residential and Environmental Policy Area to allow development of a residential plan of subdivision.
In the report, the staff also requests Council that no further notice or Public Meeting is required.
You can read the staff report here.
Previous reporting:
City Council
Date: April 20 - 9:30 a.m. | Delegate | Full agenda | Watch live
Council to consider endorsing Rowena Santos as Brampton candidate for FCM's Board of Directors
A motion moved by Councillor Paul Vicente asks city council to nominate and endorse Councillor Rowena Santos to contest for a seat on the Federation of Canadian Municipalities (FCM) board. The FCM represents the interests of member municipalities on policy and program matters that fall within federal jurisdiction; and will elect board members at its Annual General Meeting which will be held alongside its Annual Conference and Trade Show from June 2 to 5, 2022.
Previous reporting:
Closed Session:
Council members will discuss closed session items discussed during the Brampton Environment Advisory Committee meeting on April 5; the City Council meeting on April 6; and Committee of Council on April 13. It's unclear what these issues involve and why they are being dealt with behind closed doors.
Cycling Advisory Committee
Date: April 21 - 7 p.m. | Delegate | Full agenda | Watch live
Motion to increase riding speeds on City trails and ban e-scooters from multi-use paths
A recommendation from Nelson Cadete, the project manager for Brampton's Active Transportation program, is seeking speed limits on recreational trails be changed from the current 8 km/hour to 20 km/hour with a caveat that "no person shall ride upon or operate a bicycle, skateboard, in-line skates or roller-skates, coaster, scooter, toy vehicle, toboggan, sleigh, or any similar device on a recreational trail or park path recklessly or negligently in a manner dangerous to the public". City council has approved a pilot project to test out e-scooters in Brampton, but faced harsh criticism from accessibility advocates who claim these scooters endanger public safety and create accessibility issues for people with disabilities and seniors among others. While the recommendation seeks a ban on e-scooters from any public infrastructure shared with pedestrians, including park paths or recreational trails, it still allows e-scooters to operate on cycle tracks, boulevard bike paths and bike lanes.
Previous reporting:
Planning and Development Committee
Date: April 19 - 1:30 p.m. | Delegate | Full agenda | Watch live
Mississauga prepares for population growth
Mississauga is booming and is expected to add 200,000 people and 90,000 jobs by 2051, and with the city completely built-out to its urban boundary, there is no room for expansion. A report by staff states the city could accommodate more than 156,000 new residential units within its Strategic Growth Areas, which could house approximately 360,000 people without the need for many land-use and density changes.
The staff report can be found here. A draft of the Mississauga Official Plan 2051 report can be found here.
Council Meeting
Date: April 20 - 9:30 a.m. | Delegate | Full agenda | Watch live
Integrity Commissioner to provide update on harassment allegations from former councillor Karen Ras
Former Mississauga and regional councillor Karen Ras resigned from her position in February. In a letter announcing her departure from council she alleged harassment at the hands of a fellow councillor as one of the factors influencing her decision. It was quickly made public that councillor Ron Starr was allegedly involved in damaging Ras's vehicle. Mississauga's integrity commissioner Robert Swayze, tasked with investigating the incident, will provide an update on the investigation at Wednesday's council meeting.
Previous reporting:
Has PDSB allowed Mississauga heritage sites to degrade?
Dunton-Gardiner House, Britannia Farmhouse and Conover Barn are deemed heritage sites under the Ontario Heritage Act.
A motion by Councillor George Carlson is urging council to remind and request Peel District School Board (PDSB), which owns the land on which these properties sit, to prioritize the maintenance and conservation of heritage sites.
You can read the motion here.
Previous reporting:
Policies and Procedures Committee
Date: April 21 - 11 a.m. | Delegate | Full agenda | Watch live
Motion to discuss Peel Regional Chair's compensation
A motion by Councillor Carolyn Parrish looks to open discussion on the potential of employing a councillor as Chair or Vice-Chair of the Region of Peel, and the potential savings that could result from this change. Parrish's proposal suggests the reduced staffing could help save over $600,000 in taxpayer money.
The motion can be read here.

Toronto and Region Source Protection Authority
Date: April 22 - 9:30 a.m. | Delegate | Full agenda | Watch live
Drinking water source protection plan is short of target, but 'progressing well'
The Credit Valley – Toronto and Region – Central Lake Ontario (CTC) Source Protection Plan, launched in 2015, provides a framework of policies to protect the quality and quantity of the source waters for municipal drinking water systems located in the CTC Source Protection Region. The Toronto and Region Source Protection Authority (TRSPA) acknowledges the implementation of the CTC Source Protection Plan is progressing, but short of its targets.
You can read the report here.
Previous coverage:
---
Email: [email protected]
Twitter: Anukul_AT
---
COVID-19 is impacting all Canadians. At a time when vital public information is needed by everyone, The Pointer has taken down our paywall on all stories relating to the pandemic and those of public interest to ensure every resident of Brampton and Mississauga has access to the facts. For those who are able, we encourage you to consider a subscription. This will help us report on important public interest issues the community needs to know about now more than ever. You can register for a 30-day free trial HERE. Thereafter, The Pointer will charge $10 a month and you can cancel any time right on the website. Thank you
Submit a correction about this story