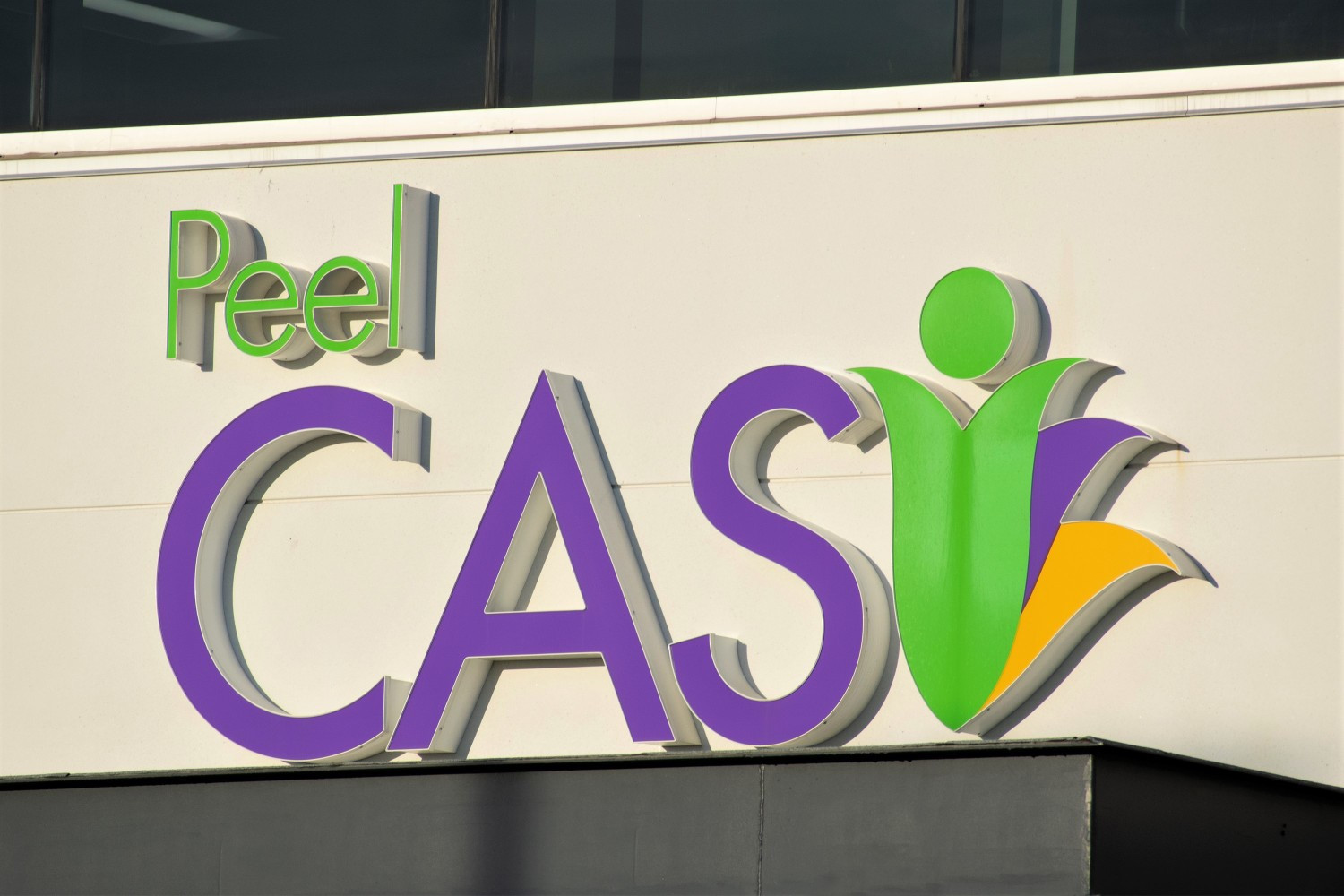 (Alexis Wright/The Pointer) 
Case of former Peel CAS employee charged with swindling the organization heads to pre-trial; details of dysfunctional agency will likely emerge 
The ongoing saga of Peel's Children's Aid Society, which uses taxpayer funds to care for some of the region's most vulnerable residents, is moving slowly toward a court date that will shed light on the alarming mismanagement of the critical social services organization.
The cases against two former Peel CAS employees charged in a "purchase and reimbursement scheme", allegedly defrauding the organization of more than a quarter million dollars, are moving forward after months of delays.
An internal investigation conducted by Peel CAS in 2022 found that Marino Cader, previously responsible for the taxpayer-funded organization's accounts, allegedly abused his former position as director of finance. Andre Paul, a former maintenance coordinator with Peel CAS, was also charged.
After several months of delays a Crown pre-trial hearing for Cader has now been scheduled for July 31, following a set-date for the case in Brampton's Ontario Court of Justice on Monday. The decision comes about eight months after the two former employees were charged in November. The case has been delayed to give the Crown more time to provide the necessary disclosure evidence. Paul's case will be heard on September 18.
After being placed on leave in February 2022, Cader was fired in May of the same year following an internal investigation prompted by staff complaints of discriminatory behaviour and other abuse by senior management that had sparked a provincial review of the troubled organization in 2021. The probe revealed evidence of financial mismanagement. Peel CAS then contacted Peel Police last spring to conduct a criminal investigation and in November, Cader and Paul were arrested and charged.
Investigators believe the pair worked together to defraud the organization of more than $250,000 as part of a "purchase and reimbursement scheme" — a common form of criminal activity against businesses where an employee claims expenses that were never incurred; were for personal use; or are inflated beyond what was actually spent. Cader has been charged with seven counts of fraud over $5,000 and five counts of uttering a false document. Paul has been charged with three counts of uttering a false document.
The arrests came on the heels of nearly two years of friction inside the walls of the organization and alarming allegations that surfaced in a report commissioned by the Province, which found the organization's workplace environment was "seriously troubled." The third-party investigation revealed financial mismanagement of taxpayer funds, and disturbing examples of a dysfunctional culture within the organization.
Peel Children's Aid Society is responsible for looking after some of the region's most vulnerable residents.
(Alexis Wright/The Pointer files)
A lawsuit was filed in June of last year by Cader that includes allegations of wrongdoing, financial mismanagement and the possibility of criminal conduct internally, pointing a finger at the organization's former, scandal-plagued CEO Rav Bains. A statement of defence was subsequently filed by the organization in response to the claims made by Cader. Details of the criminal charges and the allegations in Cader's statement of claim raise more questions about the leadership of an organization responsible for providing proper governance of one of the region's most critical social safety nets.
In response to the fraud charges against him, Cader claims he was wrongfully dismissed from the organization in May 2022, as "a scapegoat" and that his firing was punishment for being a whistleblower after coming forward with allegations of financial abuse by Bains, who discreetly left Peel CAS in the final months of 2022 after being placed on leave by the organization's board the year prior.
The review by the Province and investigations by The Pointer raised red flags about Bains' conduct and use of public funds, while the board failed to provide proper oversight, repeatedly defended the CEO and eventually refused to be transparent about the circumstances around Bains' administrative leave and eventual departure a year later.
The Pointer found Bains misrepresented expenses charged to the publicly funded organization when he travelled to the U.S. to attend personal-wealth creation seminars to create income during his retirement. The provincial review found his travel violated expense rules, which prohibited out-of-country flights unless employees paid for them on their own. Bains also used a subordinate's work credit card to make some of his travel charges.
The board eventually determined Bains did not violate rules and defended the former CEO but refused to explain why his clear violation of the expense policy was being excused. His excessive salary increases, approved by the board, were also red flagged by the ministry in its blistering report following the review, which stated a "culture of fear" had been created under Bains' leadership. The board, which approved his salary increases, once again, defended the former CEO, claiming his exorbitant raises, which led to a compensation of almost $273,000 in 2020, almost 30 percent more than what the CEOs of comparable Children's Aid Societies across Ontario made, were justified. This was despite the widespread mismanagement under Bains exposed by the Province.
Cader alleges that it was a result of Bains' financial mismanagement and "waste of taxpayer money" that the organization "purchased at least $1,300,000 in gift cards." He claims the former CEO instructed him not to confirm or record the financial requests in writing to avoid a paper trail. According to the statement of claim, Bains allegedly secretly purchased the gift cards so unused taxpayer funds would not have to be returned to the provincial Ministry of Children, Community and Social Services, which governs Children's Aid Societies.
"The Agency has made a scapegoat of Mr. Cader for bringing to light the former CEO Mr. Bains' financial improprieties, failure to appease the Former CEO and failure to cooperate with the Acting CEOs and other Agency's employees, in covering up fraud, embezzlement and financial improprieties at the Agency," Cader's claim alleges.
Cader alleged he "experienced bullying, intimidation and pressure to engage in unethical conduct" at the hands of Bains. According to the claim, prior to the former CEO being placed on leave, Bains instructed Cader to engage in "unethical conduct," and that the former CEO "expected blind loyalty" from the organization's management team and when opposed, "he became abusive and threatening."
Former Peel CAS CEO Rav Bains left the organization late last year after being placed on leave in late 2021.
(Youtube)
As a result of his termination, Cader's lawsuit is seeking $325,000 in damages for wrongful dismissal, including loss of benefits during the 18 months reasonable notice period and loss of pension benefit contributions. He is also seeking $150,000 in bad faith and aggravated damages, $50,000 for breach of the Ontario Human Rights Code, $200,000 for punitive damages and $400,000 in defamation damages from Peel CAS.
The statement of defence filed by Peel CAS, which includes numerous allegations of financial wrongdoing by Cader, alleges the former director of finance, responsible for overseeing the organization's finances under the oversight of Bains and the board of directors, caused roughly $1.384 million in losses for the organization through various methods, including submitting fictitious receipts, falsifying online invoices, requesting reimbursements for purchases he returned or cancelled and improperly distributing gift cards.
In response to Cader's claims that he was "a scapegoat," the organization has denied it wrongfully dismissed Cader, stating that throughout the investigation, administrative leave and termination of Cader's employment, Peel CAS "conducted itself with the utmost good faith." Peel CAS claims "Cader's termination had nothing to do with finding a 'scapegoat' or with his having hired counsel, and everything to do with Cader's wrongful, fraudulent activities," the organization claims in its statement of defence.
Despite it being public knowledge the former CEO faced two years of scrutiny after the provincial probe exposed widespread mismanagement, a toxic workplace culture and internal finances in disarray under the organization's leader, Peel CAS's defence avoids addressing many of the allegations made against Bains, stating the claims "regarding Bains' conduct are irrelevant to the actions of Cader which formed the basis for his termination for cause" and that Cader was the one who "engaged in wrongful acts ranging from conflict of interest to theft and fraud, breaching the obligations he owed to Peel CAS in the worst possible way, and the trust that was put in him to protect resources and funds earmarked for vulnerable children and families."
The organization has disputed Cader's claims, noting the allegations made in his lawsuit are "irrelevant," to the bigger picture, "which is that Cader engaged in serious financial misconduct and conflict of interest while working for Peel CAS and breached the trust that was put in him to protect resources and funds earmarked for vulnerable children and families."
Cader's lawyer has declined to comment on the statement of defence and the allegations made in it, stating in a previous email to The Pointer that "as the matter is before the courts it would not be appropriate."
The trial will likely reveal how the disturbing mismanagement of one of Peel's most crucial social services agencies, responsible for the care of young people facing difficult family circumstances, was allowed, and how it impacted the community for years.
Clarification: This story has been updated to reflect the date when the statement of claim in Marino Cader's lawsuit was initially filed, and to explain delays in the case have been a result of the ongoing disclosure of evidence.

---
Email: [email protected]
Twitter: @mcpaigepeacock
---
At a time when vital public information is needed by everyone, The Pointer has taken down our paywall on all stories to ensure every resident of Brampton and Mississauga has access to the facts. For those who are able, we encourage you to consider a subscription. This will help us report on important public interest issues the community needs to know about now more than ever. You can register for a 30-day free trial HERE. Thereafter, The Pointer will charge $10 a month and you can cancel any time right on the website. Thank you
Submit a correction about this story