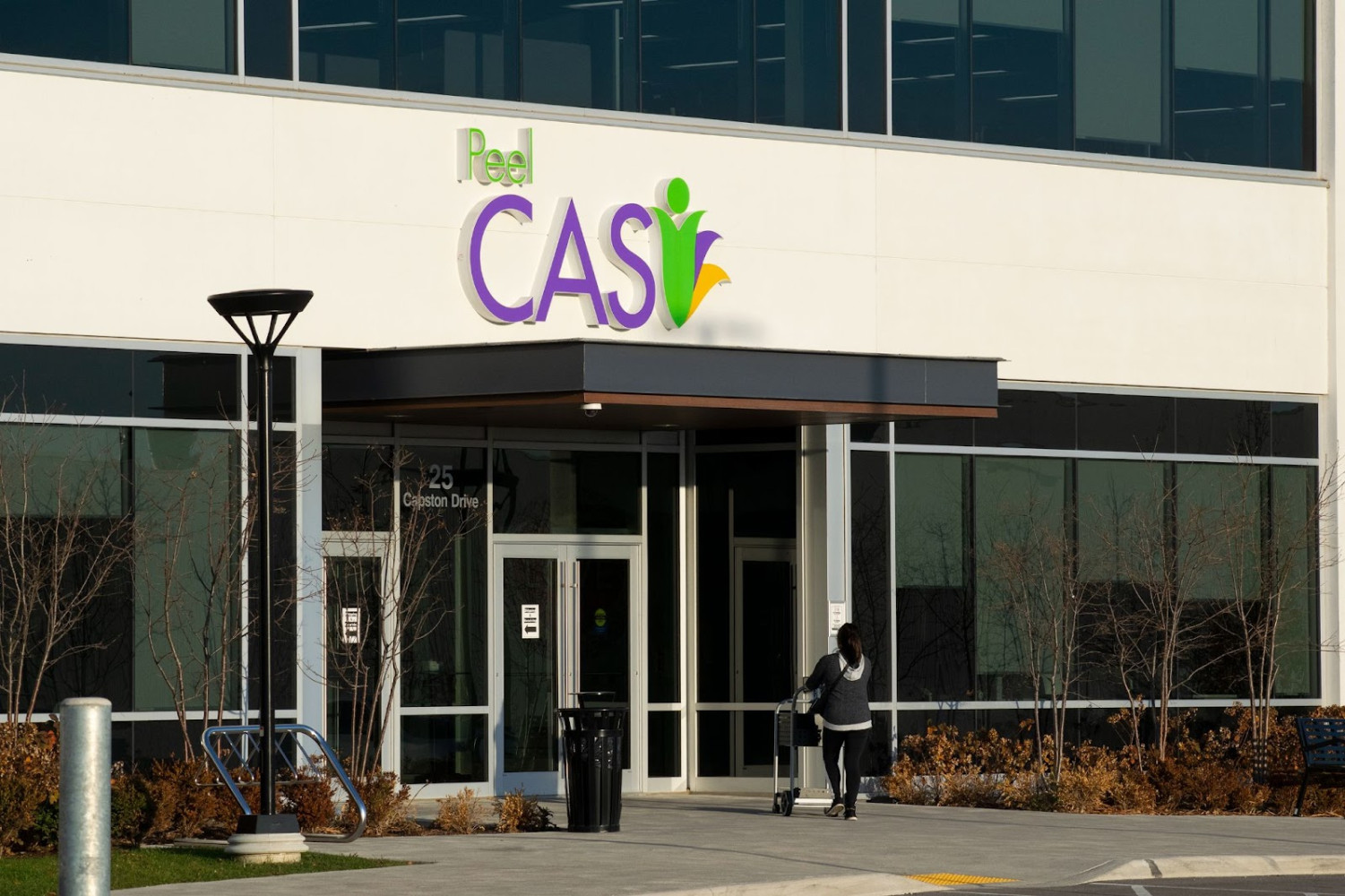 Alexis Wright/The Pointer
Former Peel CAS employee charged with fraud files lawsuit alleging widespread financial abuse by recently departed CEO Rav Bains 
Legal documents in a lawsuit brought by a former employee of the Peel Children's Aid Society who has been criminally charged with fraud, reveal alarming allegations of wrongdoing, financial mismanagement and potential criminal activity inside the organization responsible for care of the region's most vulnerable young people.
The shocking allegations in the claim and the statement of defence by Peel CAS raise serious questions about the organization's leadership including the board that is supposed to provide proper governance of the publicly funded institution.
In a statement of claim against Peel CAS, Marino Cader, the former director of finance, alleges he was wrongfully dismissed from the organization in May 2022 and his firing was punishment for being a whistleblower after coming forward with serious allegations about the organization's embattled former CEO Rav Bains, who departed late last year — after being placed on administrative leave throughout 2022.
Cader, previously responsible for the taxpayer-funded organization's accounts, alleges he "experienced bullying, intimidation and pressure to engage in unethical conduct while reporting to Mr. Bains," and prior to the former CEO being placed on leave, he instructed Cader to engage in "unethical conduct." Cader also alleges Bains "expected blind loyalty" from the organization's management team and when opposed, "he became abusive and threatening."
Cader alleges that, "As a result of Mr. Bains' financial mismanagement and waste of taxpayer money, the Agency purchased at least $1,300,000 in gift cards that Mr. Bains locked away in a vault at the Agency office in Peel," claiming Bains instructed Cader not to email him or to confirm or record his financial requests in writing to avoid a paper trail. Bains allegedly secretly purchased the gift cards so unused taxpayer funds would not have to be returned to the provincial Ministry of Children, Community and Social Services, which governs Children's Aid Societies.
Bains did not respond to questions from The Pointer.
Cader also alleges a document from senior staff handed to former Peel CAS board president Juliet Jackson reported that "Bains directed the Agency Property Manager to conduct home renovations for Mr. Bains on weekends with no pay as a personal favour. The Property Manager was required to complete these home renovations outside of normal working hours. When a member of the Management Team asked the Property Manager about the renovations, the Property Manager said 'you know I can't say no to my boss when he asks me to help out'."
The lawsuit continues: "Mr. Bains insisted that a badminton court be installed at the Agency recreation centre as a 'priority'. Mr. Bains designed the court personally. After installation, Mr. Bains used the Agency badminton court during a Covid lockdown period with friends and family contrary to provincial and workplace health regulations. After completion, Mr. Bains was unhappy with the layout of the courts. He provided instructions to rip out the courts despite an estimated cost of approximately $80,000. The Agency finance department blocked the direction to rip up the badminton courts."
Cader also alleges Bains directed him to purchase $25,000 of supplies from a friend of Bains, who would then donate children's shoes to the agency, but they were never given, according to the lawsuit.
"The Agency has made a scapegoat of Mr. Cader for bringing to light the former CEO Mr. Bains' financial improprieties, failure to appease the Former CEO and failure to cooperate with the Acting CEOs and other Agency's employees, in covering up fraud, embezzlement and financial improprieties at the Agency," the civil claim by Cader alleges.

Former Peel CAS CEO Rav Bains left the organization late last year.
(Youtube)
The allegations come following two years of investigations by The Pointer and the Province which exposed financial mismanagement and a toxic workplace culture. Bains ran the organization and set the tone and in October of 2021, a third-party review by the Province revealed the organization, which is meant to protect vulnerable children across the region, was plagued by a "seriously troubled" workplace and a "culture of fear."
In a statement of defence filed by Peel CAS, the organization addresses some allegations against Bains, and denies allegations against the organization, claiming Cader was the one who "engaged in wrongful acts ranging from conflict of interest to theft and fraud, breaching the obligations he owed to Peel CAS in the worst possible way, and the trust that was put in him to protect resources and funds earmarked for vulnerable children and families."
The organization denies it wrongfully dismissed Cader and alleges significant financial wrongdoing on his behalf, claiming the former employee misappropriated approximately $1.38 million of the organization's funds through various means, including submitting fictitious receipts, falsifying online invoices, requesting reimbursements for purchases he returned or cancelled and improperly distributing gift cards.
"At all times in relation to the investigation, administrative leave and termination of Cader's employment, Peel CAS conducted itself with the utmost good faith. Cader's termination had nothing to do with finding a 'scapegoat' or with his having hired counsel, and everything to do with Cader's wrongful, fraudulent activities," the organization claims in its statement of defence.
"Cader accepted invoices for the supply of PPE from PCS, and caused Peel CAS to pay $1,333,471 to PCS for PPE between the dates of August 2020 and March 2022. Although some PPE was received, Cader caused Peel CAS to pay at least $822,261 (of the $1,333,471) for PPE that was never delivered by PCS. In March of 2022, during his suspension, Cader also pressured at least one Peel CAS employee to say that the PPE had been received."
The statement of defence includes numerous allegations of financial wrongdoing by Cader.
"Normally, Peel CAS requires an inventory of approximately $300,000 worth of gift cards on hand to distribute to families and children in need. In mid-March of 2022, it was discovered that Peel CAS had 35,646 gift cards from various entities, with a total value of $1,305,085. These gift cards were purchased in bulk, either by Cader directly, or at his instruction. When questioned, he blamed the CEO, Rav Bains ('Bains'), stating that he had directed Cader to purchase the gift cards to utilize excess funds received from the Ministry."
The defence also claims Cader purchased a car for his wife while ordering four vehicles for Peel CAS and used the fleet discount for the car.
In total, Peel CAS alleges in its defence that Cader caused about $1.384 million in losses for the organization.
Cader's lawyer declined to comment on the statement of defence and the allegations made in it, stating in an email "as the matter is before the courts it would not be appropriate."
The Peel CAS statement of defence stays away from many of Cader's allegations against former CEO Bains.
"Although irrelevant, the allegations made by Cader against Bains are serious. On or about November 21, November 29 and December 6, 2021, a group of employees, including Cader, made a complaint against Bains regarding certain conduct that they alleged he had engaged in as CEO (the 'Bains Complaint'). Peel CAS immediately commenced an investigation into the allegations contained in the Bains Complaint, and placed Bains on administrative leave… The allegations made throughout the statement of claim regarding Bains' conduct are irrelevant to the actions of Cader which formed the basis for his termination for cause." Peel CAS states in its defence that allegations against Bains were "the subject of an investigation".
When that investigation was completed with no public disclosure about the findings, Jackson, board president at the time, told The Pointer that, despite the provincial findings of financial mismanagement against Bains, who broke rules around charging expenses and used a subordinate's work credit card to avoid scrutiny by the board, the same board concluded policies had not been violated. Jackson provided no explanation for the board's determination.
Late last year, after being on a long-term administrative leave, Bains was no longer with the organization.
Cader alleges in his lawsuit that he "reported the financial misconduct of Mr. Bains to members of the Agency Board on November 21, 2021. Along with other members of the management team, including Sandra Chiodo, Brenda Moody, and Shane Vieira (the "Management Team"), Mr. Cader met with Juliet Jackson, Board President, Carol Kotacka, Board Vice President, and Sandeep Bhatia, Board Treasurer, to report the misconduct of Mr. Bains."
Vieira manages communications for Peel CAS, and has refused to respond to questions from The Pointer, including efforts to find out why Jackson and the board did not know about Bains' alleged conduct, including actions highlighted in the provincial review and other questionable behaviour investigated by The Pointer. Other queries about how the board determined certain rules clearly broken by Bains did not amount to a violation of policies went unanswered, with Vieira claiming, without explanation, that the board had issues with The Pointer's previous reporting.
Vieira reported directly to Bains.
The provincial investigation of the organization found Bains had been given excessive raises by the board, and at the time of the third-party review, "The CEOs salary is 29% (or $60,000) higher than the average" of other CEOs at similar sized CAS organizations across the province. Cader highlighted the salary increases by the board in the lawsuit.
Jackson and the board told The Pointer, after the report was released, that the excessive raises and Bains' out-of-line salary followed guidelines the board was allowed to use. This was not supported by data on his salary increases for certain years, while in other years it appears the board gave him the maximum allowable increase, for exceptional performance, even though widespread allegations of mismanagement painted a picture of dysfunctional leadership, while Bains abused expense privileges.
The board later claimed Bains' travel to create retirement wealth by learning how to promote himself as a self-help expert, was in line with policies that allowed travel for work-related reasons (with no explanation), even though those same policies did not allow such travel out of the country (Bains charged expenses for travel to retirement income generation seminars in the U.S.).
Cader is currently facing criminal charges for his alleged finacial misconduct. An internal investigation conducted early in 2022 found Cader allegedly abused his former position as director of finance and was subsequently charged alongside Andre Paul, a former maintenance coordinator with Peel CAS. The pair allegedly swindled the troubled organization of more than $250,000 as part of a "purchase and reimbursement scheme," according to Peel police. Cader has been charged with seven counts of fraud over $5,000 and five counts of uttering a false document. Paul has been charged with three counts of uttering a false document. The case, which was supposed to begin in January, has been pushed to April to allow more time for disclosure. Both Cader and Paul will now appear in court on April 17.
The allegations revealed in Cader's lawsuit come after Peel CAS struggled under the leadership of Bains, internal strife and damning allegations of wrongdoing over the last three years. Questions about the culture and the former CEO have repeatedly been raised by staff who have come forward with serious concerns about workplace dynamics. Allegations of widespread discrimination, particularly against Black employees, led to reviews by the union and eventually, third-parties brought in by the Province. Staff alleged Bains quickly dismantled equity and inclusion mechanisms implemented by a former senior employee who was widely respected, as soon as she left the organization.
The third-party work revealed concerns about financial mismanagement and how taxpayer funds had been used, in addition to deeply rooted problems in the broader culture of the organization, under Bains.
After the third-party report was released, Peel CAS assured the community it would make improvements including "providing an independent ombudsperson for staff who do not feel comfortable reporting issues to management related to harassment, discrimination, and racism," Cader's claim alleges. He also alleges that despite an independent ombudsman being appointed, the organization "has continued to engage in financial conflict and has perpetuated a toxic workplace."
The ongoing lawsuit raises serious questions about the management of an organization meant to protect vulnerable children in Peel.
(Alexis Wright/The Pointer files)
Following the troubling findings of the provincial review, Cader alleges the organization did little to change the workplace culture at Peel CAS, noting he and other members of management were concerned the Province's investigation did not probe all of Bains' alleged misconduct. According to the statement of claim, in December 2021, Peel CAS's management team provided a 17-page confidential report filled with details implicating Bains "of fraud, embezzlement, high-handed conduct," while he created a "toxic workplace and culture of corruption". These allegations were given to Jackson, the board's former president, according to the lawsuit.
Cader claims the report revealed Bains was controlling and would instruct "the senior team on how they should act, think, and speak." It alleges Bains encouraged gossip at the organization and that he once said, "I want staff to be afraid" and referred to the senior team as "a bunch of toddlers."
"We are fearful that should Mr. Bains become aware of who has come forward with this information, he will, through scheming and manipulation, find a means to remove us as employees of Peel CAS, as well as damaging our professional reputations," the report concluded, according to the claim.
In December 2022, The Pointer reported on Bains departure from Peel CAS. The embattled CEO discreetly stepped down after being placed on leave for over a year following damning investigations that led to the revelation of the organization's toxic work environment and financial mismanagement. In the final month of 2022, an update from CAS' board of directors announced that after 22 years of service, Bains would be stepping down from his role at the head of the organization. The announcement came just over a year after Bains was put on administrative leave in November of 2021, following a tumultuous year for the organization.
The former CEO has been under scrutiny since 2020, following allegations about his management of workplace culture and the organization's finances after the provincial probe exposed widespread issues.
The December 2021 staff report to the board also claimed, according to the lawsuit, that Bains instructed Cader, the former finance director, to code expenses differently to ensure they would not be visible during the Province's review.
The Pointer has previously reported on financial irregularities at the troubled organization which followed up on a particularly alarming expense revealed in the Province's third-party review: Bains used another employee's work credit card to book a flight he said was to San Francisco in 2019 for professional training, which meant the Peel CAS board either was not alerted to the expense and did not sign off on it, or knew about it and no action was taken. An investigation by The Pointer found the trip was not to San Francisco but to Arizona to attend one of Bains' life-coaching seminars to create personal wealth for his retirement.
"The CEO should not use other employees' Society credit cards," the report commissioned by the Province explained. "This results in the Board not signing off on CEO expenses per Delegation of Financial Authority (DOFA) and the CEO would be approving their own expenses."
The investigation found Bains expensed over $6,000 in costs, incurred by taxpayers, to attend two separate training events in 2019 with success coaches who he acknowledged were helping him create personal revenue sources for his retirement. Bains declined to be interviewed about the expenses, however, he did acknowledge them in an email sent to all staff at Peel CAS and seen by The Pointer.
Bains did not reimburse Peel CAS for the cost of his travel until 2021 — the same year reviewers started asking questions.
The organization's board later determined travel expenses Bains charged for seminars in the U.S. aimed at helping him generate income during retirement, were in line with spending policies, despite the violation of rules that did not allow his travel to be expensed. The board did not provide any public explanation of its decision that the use of taxpayer funds by Bains was appropriate and the former CEO was placed on administrative leave four weeks after the expenses were publicized in 2021. He never returned to his job.
The auditors commissioned by the Province found several examples of poor financial management within the organization. Its training expenses were double those of other comparable children's aid societies in Ontario. Investigators also found a number of instances where training costs had been claimed and recorded with "no record of what the actual costs related to." Peel CAS spent three times as much on publicity as its sister organizations.
Cader was the person responsible for overseeing the organization's finances under the oversight of Bains and the board of directors.
Three months after Bains was placed on administrative leave, Cader was put on leave in February 2022. As of late May, the organization indicated Cader was no longer employed by Peel CAS. Cader's claim alleges that following receipt of the "Bains Report" in December 2021, the organization retaliated against the former finance director by placing him on leave and later terminating his employment.
Peel CAS disputes Cader's allegations.
"The allegations throughout the amended statement of claim regarding the conduct of others are entirely irrelevant to the matter at issue in this proceeding, which is that Cader engaged in serious financial misconduct and conflict of interest while working for Peel CAS and breached the trust that was put in him to protect resources and funds earmarked for vulnerable children and families," the organization's defence states. "Peel CAS not only had just cause to terminate his employment, but had no other choice but to do so once the extent of his misconduct was discovered."
As a result of his termination, Cader is seeking $325,000 in damages for wrongful dismissal, including loss of benefits during the 18 months reasonable notice period and loss of pension benefit contributions. He is also seeking $150,000 in bad faith and aggravated damages, $50,000 for breach of the Ontario Human Rights Code, $200,000 for punitive damages and $400,000 in defamation damages from Peel CAS.
---
Email: [email protected]
Twitter: @mcpaigepeacock
---
COVID-19 is impacting all Canadians. At a time when vital public information is needed by everyone, The Pointer has taken down our paywall on all stories relating to the pandemic and those of public interest to ensure every resident of Brampton and Mississauga has access to the facts. For those who are able, we encourage you to consider a subscription. This will help us report on important public interest issues the community needs to know about now more than ever. You can register for a 30-day free trial HERE. Thereafter, The Pointer will charge $10 a month and you can cancel any time right on the website. Thank you
Submit a correction about this story