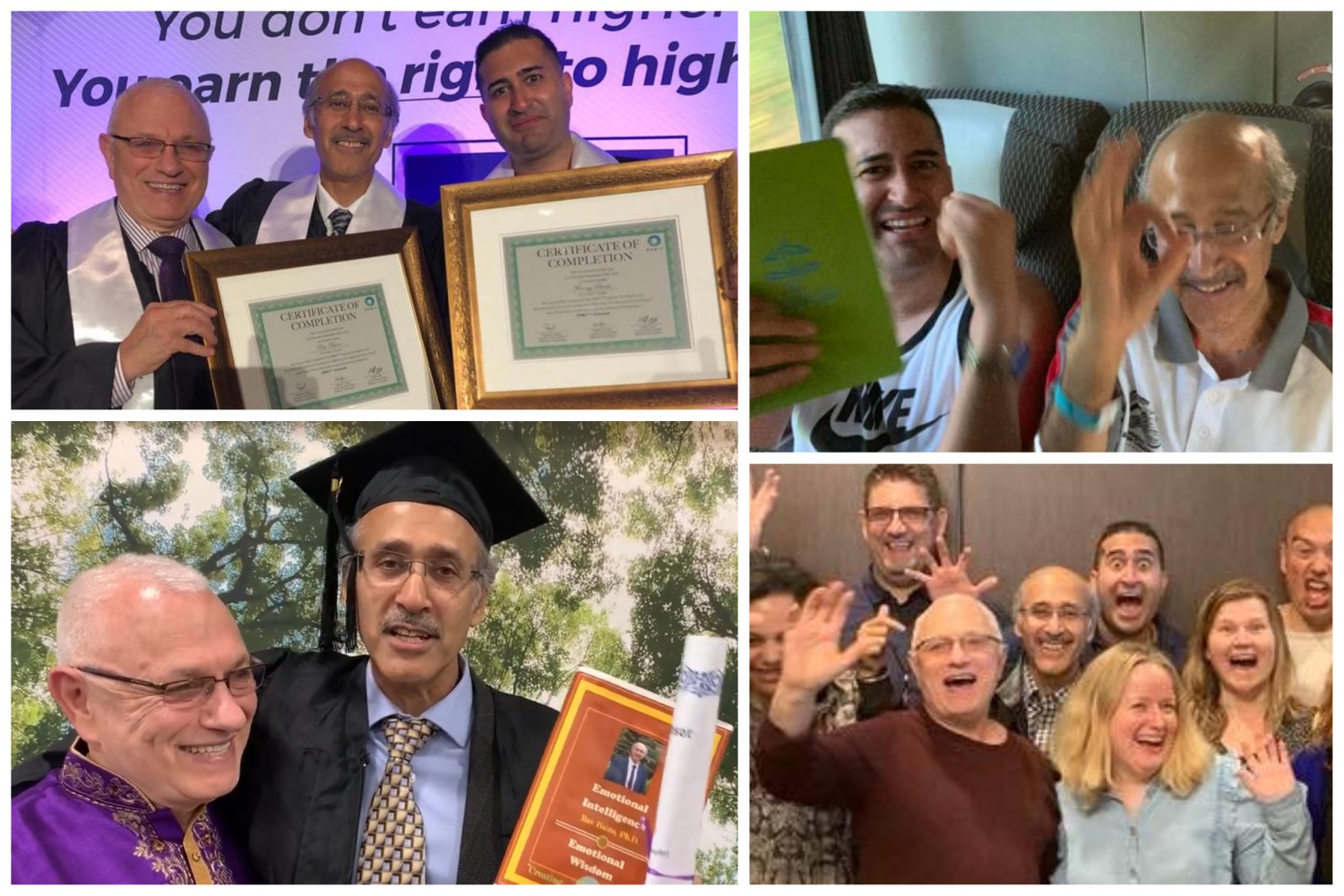 Feature image from Facebook/Raymond Aaron
Rav Bains, Peel Children's Aid CEO, charged taxpayers $6,000-plus on 'success' coaches to build his personal wealth ahead of retirement
The embattled CEO of Peel's Children's Aid Society expensed over $6,000 in costs to attend seminars with success coaches who are helping him create personal wealth ahead of retirement.
One of these self-help-styled events was in Arizona and one in Ontario.
Rav Bains, CEO of Peel Children's Aid Society, charged taxpayers for two separate training events that were part of a broader move toward his retirement planning. Both expenses were incurred in 2019 and The Pointer obtained information from sources after a recently released provincial report on the findings of a ministry-ordered investigation into Peel CAS. The probe was launched after allegations of anti-Black racism and a toxic work environment that surfaced around October 2020, following the advocacy of Black staff working on the frontlines.
The provincial probe was launched as a comprehensive review and eventually led investigators to Bains' expenses, which raised concerns over financial mismanagement.
Between August 5 and 9, 2019, Bains attended an event in Scottsdale, Arizona with the Canfield Training Group called "Breakthrough to Success". The total cost was $3,320 USD (just over $4,100 CAD). Three months later, he again used public funds to pay for an event, this time run by the Raymond Aaron Group, another success-coaching organization. The workshop, held in Toronto, ran from November 1 to 3, 2019 and cost $2,260 CAD.
Both organizations provide clients with life-coaching often aimed at improving their financial position, for a fee.
Peel CAS is funded by the Province, which distributes public money to similar agencies across Ontario entrusted with the protection of vulnerable young people and families in turmoil.
Bains has extensive ties to both the Canfield Training Group, run by Jack Canfield, and the Raymond Aaron Group, run by Raymond Aaron. He told The Pointer most of the money paid to the two life-coaches came from his own pocket.
"Rav is about to retire from a nice long career and wants to do something in his retirement that may even be better," Aaron said in a May 19, 2019 video that was recorded and shared on Facebook. "And so I am helping him with that."
Six months after the video was filmed, Bains used taxpayer funds to attend one of Aaron's sessions.
There is no suggestion of wrongdoing by Aaron or Canfield, who run established businesses and are published authors.
Rav Bains (centre) and his son Manny (right) with Raymond Aaron (left) in Cancun.
(Image from Raymond Aaron/Facebook)
"Continual training is an important part of CEO development and aligned with the agency values of excellence, learning and innovation," Shane Vieira, Peel CAS' director of communications, told The Pointer. "Ongoing CEO development and training is an expectation of the Board of Directors. The Board is informed of all training attended by the CEO as part of their annual performance evaluation process."
Life-coaching to improve Bains' financial standing, ahead of his retirement, does not seem to meet the allowed reasons for CEO training, meant for "development" to ensure the "agency values of excellence, learning and innovation" are upheld.
Bains refused a request to be interviewed by The Pointer. He has not reimbursed the $6,000-plus in training expenses and says he has asked the Peel CAS board of directors to review the "details of these training expenditures in depth".
Bains has been under scrutiny for a year, following reports of anti-Black racism and a toxic, top-down work environment at Peel CAS. A review commissioned by the organization's union and completed in October 2020 showed that Black staff felt undervalued and overworked. They are "used for photo ops, so the organization can appear to celebrate diversity", the report said.
After it became clear the union and Peel CAS could not resolve the issue, the Province stepped in and ordered a third-party review.
The investigation was published on October 1 and found a series of issues with the workplace which it described as "seriously troubled". It was reported that "Workload demands have led to burnout and concerns for safety."
The report found financial issues as well. It confirmed Peel CAS executive salary increases were out of line and potentially in breach of provincial legislation, also flagging an ineligible expense for Bains.
The CEO charged taxpayers for a $1,043 trip to San Francisco, dated August 19, 2019, according to the investigation. Vieira says the expense was for training with Jack Canfield from August 5 to August 9. Such travel out of the country is not allowed to be expensed, under official Peel CAS policy. After the provincial investigation was launched, Bains paid back the amount, two years after he attended the success-coaching seminar.
After The Pointer searched an archived version of Canfield's website, which shows the event actually took place in Arizona, Vieira was asked why San Francisco was listed as the destination for Bains' taxpayer-funded trip.
"You are correct that the training took place in Arizona," Vieira responded on Monday. "Mr. Bain's (sic) flight there was direct from Toronto to Arizona, with no layover. On the way back from Arizona, there was a 2 hour 15 min layover in San Francisco before continuing back to Toronto. San Francisco was mistakenly listed as the place for the training in the comprehensive review, but it was in fact in Arizona."
Photos available through Facebook show Bains was with Raymond Aaron in North Carolina on August 19, 2019, and at Canfield's home in Santa Barbara, California, between August 21 and 23 the same year.


Jack Canfield's website shows the event Bains attended was in Arizona.
(Screenshot from Jack Canfield/Archive.org)
Bains would not share the original expense filing with The Pointer and declined to answer further questions.
"For any information related to the findings in the comprehensive review, please contact the ministry directly," Vieira said, after a request to view the original expense filing which should be in the hands of Peel CAS and not the Province. "The agency has no further information to provide at this time."
Bains violated his organization's rules when he expensed the flights to Arizona; according to the provincial investigation report, "any out of country flights must be paid by employees" and are not eligible for expenses. Bains only repaid the cost of the flights in 2021. It is unclear if this was done before or after provincially appointed auditors addressed the $1,043 flights. The report revealed the expense was charged on another Peel CAS employee's work credit card. Vieira, speaking on behalf of Bains, told The Pointer an HR staffer's credit card was used because it was "intended for training purposes".
This flew in the face of the policy that specifically states out of country travel can not be expensed, as well as another policy that prohibits using credit cards issued to other staff.
"The CEO should not use other employees' Society credit cards," the report says. "This results in the Board not signing off on CEO expenses per Delegation of Financial Authority (DOFA) and the CEO would be approving their own expenses."
Rav Bains in North Carolina, with Raymond Aaron and his son, on August 19, 2019.
(Image from Facebook/Raymond Aaron)
Bains' links to Raymond Aaron go back to at least 2018. The Peel CAS CEO met Jack Canfield through Aaron, who says he is good friends with his American counterpart and the two regularly holiday together. Both operate in the same personal coaching sphere and run events together.
At some point around the beginning of 2019, Bains and his son, Manny, enrolled in Aaron's most expensive coaching plan, known as ORBIT. Facebook also includes a photo of Bains attending at least one class run by Aaron in 2018.
The program costs $100,000 USD per person per year and offers clients near unlimited access to Aaron's various events and advice. Photographs show Bains and his son attending multiple events with Aaron throughout 2019. They include: Santa Barbara, California; High Point, North Carolina; and Cancun, Mexico. Peel CAS says events beyond the August and November, 2019 engagements were paid for by Bains privately.
"Any additional training or personal development involving the Canfield Training Group or the Raymond Aaron Group above and beyond those stated were for personal use, with no tie to agency expenditures," Vieira said.
Bains declined an interview request from The Pointer after previously suggesting he was open to sitting down and answering questions.
"Please come back, happy to have more conversations… we're not a closed organization," Bains promised The Pointer following a 55-minute interview about his organization's approach to anti-Black racism in December.
Rav Bains and his son at an event run by Aaron in 2018.
(Screenshot from Facebook/Manny Bains)
According to the brochure for Aaron's ORBIT coaching, anyone taking part in the plan must "be in business or want to launch a business" and must have a "deep desire to dramatically increase your income", wanting to "earn money with far less effort". A post in September 2019 on Aaron's Facebook shows Bains and his son graduating from his six-figure personal development coaching course.
While they were taking part in the coaching course, in August 2019, Bains and his son visited Canfield's home in Santa Barbara. A video promoting the event filmed by Aaron in July of the same year shows him saying the price for the visit is $5,000 (US) and, as a result of the experience, "your income will rise, your self-esteem will rise". This expense was also covered by Bains, Peel CAS says.
"If you want to be a millionaire, walk beside people who are millionaires and you will get there too," Manny Bains says in a video filmed by Aaron during the visit to Canfield's house. Rav Bains is also shown in the video.
Bains participation in these private programs raises concern over a perceived conflict of interest. It is unclear how the $6,000-plus of training paid for by taxpayers can be justified by Bains as a legitimate expense. He had already confirmed his plan to retire and was attending courses by Canfield and Aaron to prepare him financially.
"Mr. Bains has asked the Peel CAS Board of Directors to review the details of these training expenditures in-depth, including any potential conflicts of interest," Vieira said.
"I've been wanting to retire and then Raymond helped with the program to get a book," Bains said in the May 2019 video shared on Facebook. "Since I've been having coaching lessons off him, I've now been able to really work out a plan [for] how I am going to transition into the retirement. I've already, as a result of his coaching, had now three new clients which I didn't have [before]. So I have three CEOs who actually want me to do workshops for their organizations."
Bains did not respond to questions about his justification for taking the courses.
Pensions for senior Peel CAS staff are calculated under the OMERS plan (a taxpayer-funded pension for municipal employees) and staff are paid based on their most lucrative five years. The provincially-backed review of Peel CAS noted that Bains' salary had increased 30 percent over the past five years, and that he now earned $60,000 more per year than "the average comparator salary" at other children's aid societies in Ontario.
This means taxpayers will be on the hook not only for Bains' excessive salary, but because his publicly funded retirement pension is based on his highest earning years, taxpayers will potentially for decades be paying out far more to him than others who have the same position but make on average $60,000 less annually.
A photo posted to Facebook by Aaron on November 3, 2019, shows Bains (and his son) in front of a sign that reads: "You don't earn higher income, you earn the right to higher income."
Raymond Aaron, Rav Bains and his son graduating from the ORBIT program.
(Image from Facebook/Raymond Aaron)
Aaron worked with Bains on a book he published in March 2019, before the Peel CAS CEO spent taxpayer funds on one of Aaron's events. The book, called The Authorities: Powerful Wisdom from Leaders in the Field, includes extracts from both Aaron and Bains.
One of the Raymond Aaron Group's courses is called the 10-10-10 Program. It promises to publish a book for those who pay "even if you've never written before or if English is not your first language". The course pushes authorship as a way to increase your profile and Aaron coaches his clients to introduce themselves as "the future author of" whatever book they plan to publish, to grow credibility.
Bains' book has the same title and cover design as those published by other authors under the 10-10-10 label, with Markham listed as the location of the publisher.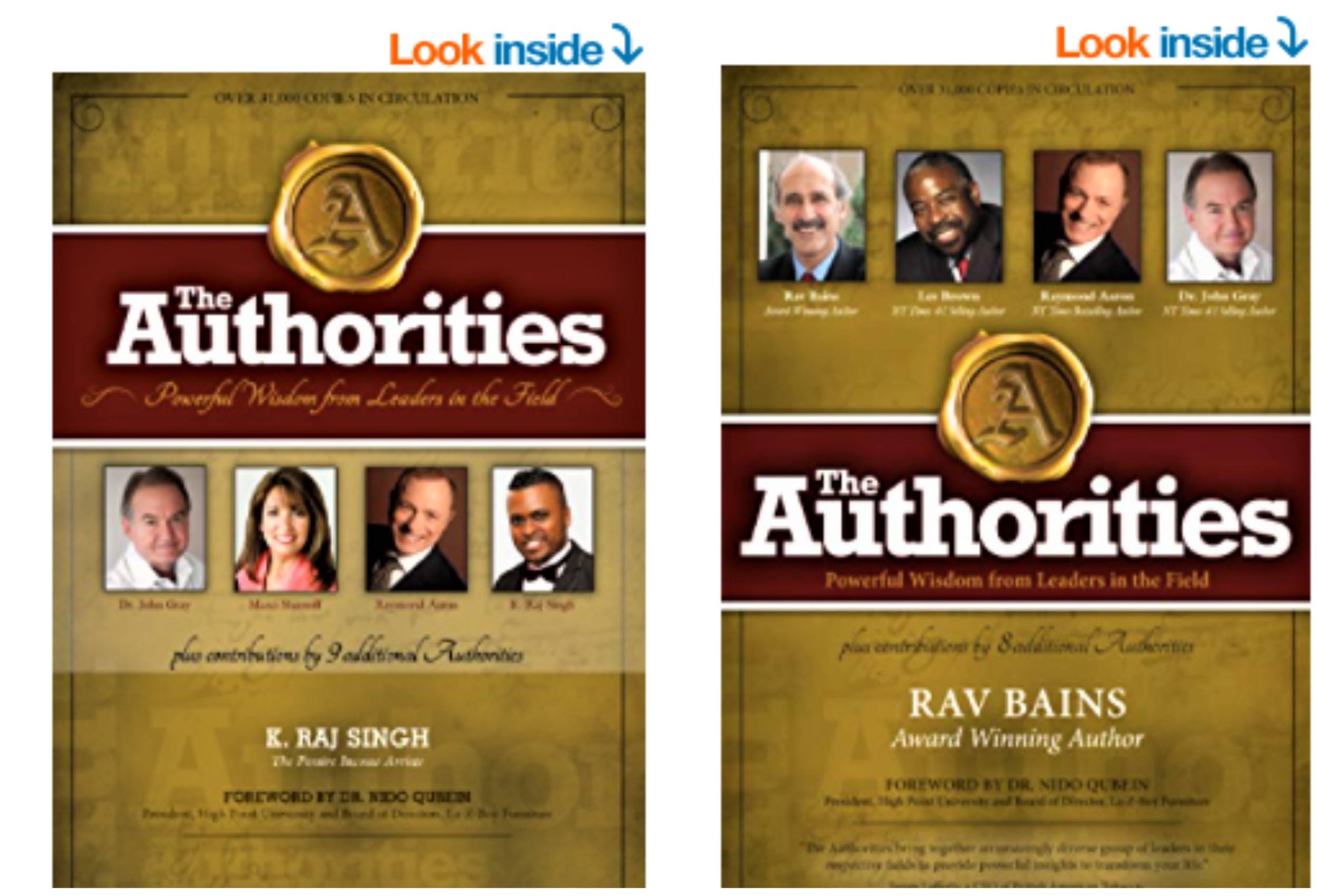 (Images from Amazon.ca)
In an extract of his book, available through online previews, Bains tells businesses that want "more information or to book a seminar" to contact his personal email address. The book includes the details at the end of a chapter.
On top of running his own seminars or workshops, Bains is responsible for the entire operation of Peel CAS. His tax-funded compensation was $272,824 in 2020, including more than $8,500 in taxable benefits (possibly for a car allowance).
Bains did not provide an explanation of how either Canfield or Aaron's training benefitted his organization.
The web page for Canfield's 2019 Breakthrough to Success course Bains attended in August of that year is no longer available. A section of the website promoting an online course by the same name centres almost exclusively on success for the individual. "This powerfully transformative program isn't just a blueprint for becoming rich and successful," the site reads. "Sure, it's great to have financial abundance, but success is more than money."
The November 2019 workshop put on by Aaron, and expensed by Bains, also does not appear to relate to the mandate of Peel CAS.
A video uploaded to YouTube on November 1, the first day of the program that year, shows Bains dressed for graduation, talking about his personal aspirations and where he wants to be in five years:
"I've had my book published," Bains says, dressed in a graduation gown. "And I've just opened the Bains Institute of Learning".
---
Email: [email protected]
Twitter: @isaaccallan
Tel: 647 561-4879
---
COVID-19 is impacting all Canadians. At a time when vital public information is needed by everyone, The Pointer has taken down our paywall on all stories relating to the pandemic and those of public interest to ensure every resident of Brampton and Mississauga has access to the facts. For those who are able, we encourage you to consider a subscription. This will help us report on important public interest issues the community needs to know about now more than ever. You can register for a 30-day free trial HERE. Thereafter, The Pointer will charge $10 a month and you can cancel any time right on the website. Thank you
Submit a correction about this story