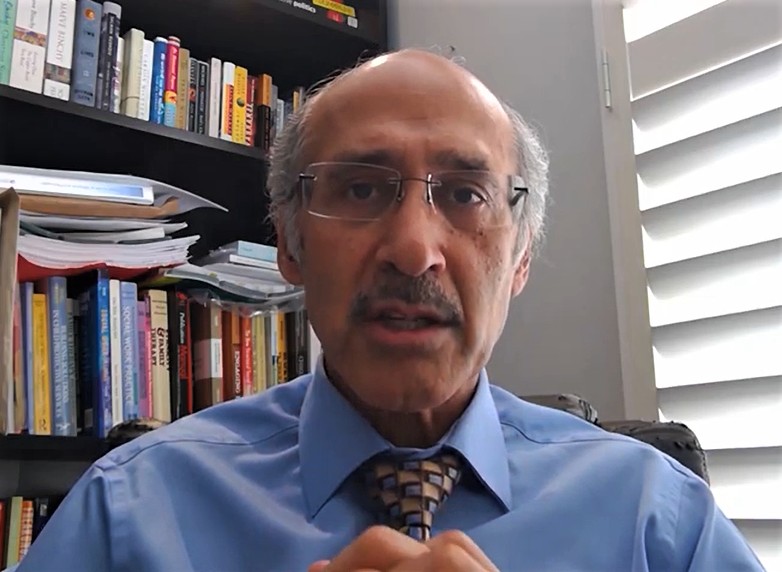 Screengrabs YouTube-Peel CAS
Following report detailing anti-Black racism, Province will investigate Peel Children's Aid Society
Queen's Park is set to appoint a third party to investigate allegations of anti-Black racism and systemic discrimination at the Peel Children's Aid Society (CAS). The office of Jill Dunlop, Associate Minister of Children and Women's Issues, confirmed to The Pointer that the wheels are in motion to facilitate an operational review.
"In October last year, the ministry became aware of a report regarding anti-Black racism towards staff at Peel CAS," Hannah Anderson, director of communications for Dunlop's office, told The Pointer. "The report raised concerns about the society's leadership and workplace culture. Since receiving a copy of the report, the ministry has been working closely with the society to understand their plans to address these concerns."
The move comes after a report last year written for the union, CUPE 4914, described a culture of fear within the organization, where Black staff, who described their marginalization, raised concerns over the impacts of systemic discrimination within Peel CAS.
It is an organization responsible for providing care to some of Peel's most vulnerable residents, in a region that is overwhelmingly non-white. Recent findings of widespread anti-Black racism were particularly disturbing for an organization that in 2019 was duty-bound to look after a large number of Black children – 39 out of 189 children in care at Peel CAS were Black, according to data provided by the organization in December. That was 21 percent of all children in the organization's care a little over a year ago.
The fear of widespread discrimination running through an organization that has to work with schools, police and, ultimately, families in the community, to ensure potentially traumatic decisions are made with the utmost of care and consideration, in a framework grounded in equity and safety, has now led to the Province's intervention.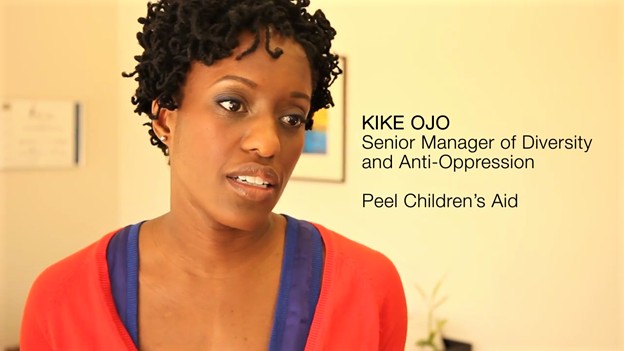 Staff say after Kike Ojo-Thompson left in 2015 things went downhill.
In the union report, staff describe a divide between management and leadership. The CUPE 4914 document references nepotism within the organization and says Black staff see senior leadership as "untrustworthy" when handling their concerns. The report articulates management "has no picture of what is happening to or being experienced by Black staff."
After positioning itself as a leader and making anti-oppression a primary goal, some think the current leadership is dining out on past success, when a former employee led a range of progressive initiatives.
"As much as Peel is part of a very diverse environment and culture and the agency has done a lot of work in previous years to support diversity, equity and inclusion, a lot of that stopped," one staff member told The Pointer last year. Employees asked to not be identified. "We did the great work, we became great leaders and we stopped the things that made us leaders."
When Peel CAS was contacted by The Pointer last year about the concerns raised by staff and the union report, it did not respond to questions about the Province's One Vision One Voice initiative, which addresses the over-representation of Black children in Ontario's child-welfare system and the range of discriminatory attitudes within institutions such as education and policing that often lead to over-reporting on Black children. The lack of concern around these potentially destructive biases raised questions about whether the agency is aware of best practices in the sector to minimize the potentially harmful impact of systemic, institutionalized stereotypes and other attitudes entrenched within referring organizations.
A failure to root out referrals based on racial prejudice lands hardest on Black frontline staff, employees told The Pointer in December. Unable to decline work from a manager, they find themselves aligned with police or principals in a situation they may not think merits child-protection services. Without open communication between managers and frontline workers — a professional environment where everyone feels they can speak their mind — staff can find themselves stuck.
"We [Peel CAS] are not actively challenging the school board and the police, we are kind of just going along with them," one staff member said. "We're going along with the nonsense, so we are part of the problem. We pretend we are good for the community and then we don't understand why the community can't stand us. But we are aligned with the same processes that oppress them."
It can have a serious impact on people's mental health.
"You need your management to be behind you because, at the end of the day, we're not decision making staff," one of the employees added. "We need people in decision making positions who can help us. I cannot just push back against the principal without my supervisor's support. Half the time, it's me stuck between the school board and my supervisor."
To begin to solve the problem, staff and the authors of the CUPE 4914 report asked for clear policies to be put in place.
---
---
The alarming union report was produced after a series of conversations facilitated by Breakthrough Counselling and Wellness, which focused on the experiences of Black staff. Concerns raised by staff during those meetings were aggregated and compiled, alongside recommendations and analysis to complete the report.
The recommendations in the CUPE 4914 report were wide-ranging and included an audit of the organization by a third party, a review that would go beyond the interviews undertaken by Breakthrough Counselling and Wellness. At the end of 2020, senior leaders at Peel CAS said they would use the report as "a guide" but staff and union representatives feared they would commission their own favourable report that risked erasing the blunt assessments captured in the disturbing CUPE 4914 document.
Unable to come to a solution together, and with little trust on either side, the Ministry of Children, Community and Social Services will now step in. The government will appoint a third party to review Peel CAS for workplace issues, policies and practices that may contribute to systemic racism within the organization. It will also assess if Peel CAS remains in compliance with its legislated duties to children in the region.
The Province's move has been acknowledged and welcomed by Peel CAS' directors, who appear to have read the findings in CUPE 4914's report differently. "We became aware of staff experiences related to systemic racism and anti-Black racism in our workplace and have recognized that we are not immune from systemic bias and racism," Juliet Jackson, president of the board of directors, wrote in a statement. She did not allude to the serious concerns about senior leadership raised by staff and echoed by the Province.
Rav Bains, CEO of Peel CAS, who has authority over senior leadership and staff, has not released a public statement.
When the union work around issues of systemic discrimination was launched, Bains and senior staff at Peel CAS said they were also launching their own review, and claimed their move was done independently and proactively.
Speaking to The Pointer late last year in response to the CUPE 4914 report's revelations about the organization he runs, Bains admitted failings and claimed steps had been taken to address them. But he could not name any. He acknowledged systemic issues that needed to be addressed without offering a detailed understanding or explicit plans to address the situation.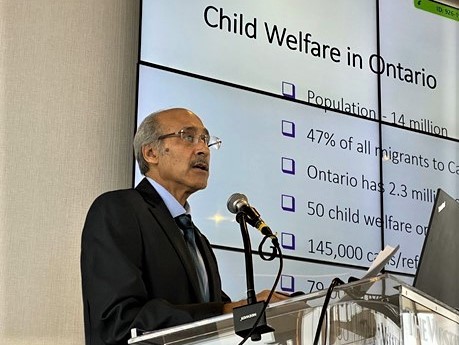 Peel CAS CEO Rav Bains has come under fire for ignoring issues of anti-Black racism within the organization.
Staff told The Pointer late last year that a number of progressive actions by former employee Kike Ojo-Thompson, who spearheaded a range of effective initiatives to eradicate systemic barriers, were sidelined by Bains shortly after she left the organization in 2015.
In December, some members of CUPE 4914 expressed concern Peel CAS was trying to also sideline their report by commissioning a more favourable investigation of their own. "Unfortunately, Peel CAS statements regarding their commitment to tackle anti-Black racism are performative, corporate, unilateral and reflect their consistent top-down approach," the union said at the time. "It's self serving at best and there is a large discrepancy between the information Peel CAS relays to the media/public about their commitments and action plans and how they try to suppress, silence and control the Black voices internally."
Bains disagreed. He did not directly answer a question about a specific recommendation in the union report (to review senior staff performance with an equity lens) and if it would be followed, but said a new report would "not replace anything". Chima Nsitem, Peel CAS director of diversity, equity and inclusion, said the report senior staff planned "is going to be used as a guide".
In a 55-minute interview with The Pointer in December, confronted with the findings of the union report and experiences of staff, Bains and Nsitem admitted shortcomings but also deflected many questions: they acknowledged the organization has work to do, but said they're not alone on this front. Achievements were lauded alongside an acceptance that work is incomplete.
"Bullying, racism, anti-Black racism have no place in our organization," Bains said in December. "Does that mean we don't have more work to do? Like every institution, there's more work to do, including the media, including all the other systems. So we've said that up front."
The union report highlighted concerns raised by staff that leadership consistently deny any problems around systemic racism or other forms of discrimination within the organization.
"We don't want to give you the impression of either being defensive or somehow we've got a perfect system or that we have everything buttoned down," Bains said. "I think that would be a mistake for us. There's always work to be done."
He did not lay out what this work would be or provide any details of a specific strategy to address the issues raised in the union report.
Under Bains' leadership, a watchdog group (the Board Diversity Monitoring Committee) was disbanded and allyship sessions, designed to help non-Black staff to understand their role in fighting anti-Black racism, were discontinued.
Bains defended dissolving the committee and suspending the allyship programs, which Peel CAS has promised to bring back. He said they were "thoughtful" and "gentle" decisions, designed to "integrate diversity and equity into everything we do".
The union has been steadfast in its assessment of Bains and his leadership, describing his claims of being an ally as "performative".
Now, the Province is stepping in. But concerns have already been expressed about who will do the third-party review under the guidance of the ministry.
A spokesperson for Peel CAS did not respond to specific questions, including who requested the external review, if a vendor had been selected or how long they expect the process to take. "It is important that the review be allowed to run its course," the spokesperson said.
Information provided by Queen's Park suggests a deadlock between union and senior leadership led the government to step in.
"As the society and the union have been unable to reach an agreement on the path forward, the ministry is now proceeding with an operational review," Anderson explained. "We want to work with both parties and have them actively engaging in the process. This is key to meaningful, sustainable change. Ensuring all voices are heard is critical to an open and transparent process."
No timeline is yet available for the work. A final decision on which organization will complete the review has not been made.
One organization already armed with experience in this area is Agree Incorporated, the group that completed a review of York CAS at the end of 2020. The review, announced after significant public backlash over reports detailing widespread problems within York CAS, came to several damning conclusions.
"Based on its findings, Agree Inc. recommended that a new leadership direction and approach must be put in place quickly, and that actions must be taken to create engagement toward a better workplace culture that is respectful, healthy and collaborative," the report said.
The review of York CAS was conducted over roughly three months. The process was announced by the ministry on July 31 and then a vendor was selected, with Agree Inc. publishing its findings on November 13 last year.
"We welcome the review and are confident that the results will lay the foundation for ongoing organizational improvement and development," Jackson wrote on behalf of the Peel CAS board. "We recognize the need to work together to chart a path forward and believe that an independent process that is transparent and open is a critical element to that undertaking."
The Province confirmed a timeline will be published when a private-sector organization has been selected to conduct the investigation of Peel CAS.
---
Email: [email protected]
Twitter: @isaaccallan
Tel: 647 561-4879
---
COVID-19 is impacting all Canadians. At a time when vital public information is needed by everyone, The Pointer has taken down our paywall on all stories relating to the pandemic and those of public interest to ensure every resident of Brampton and Mississauga has access to the facts. For those who are able, we encourage you to consider a subscription. This will help us report on important public interest issues the community needs to know about now more than ever. You can register for a 30-day free trial HERE. Thereafter, The Pointer will charge $10 a month and you can cancel any time right on the website. Thank you.
Submit a correction about this story