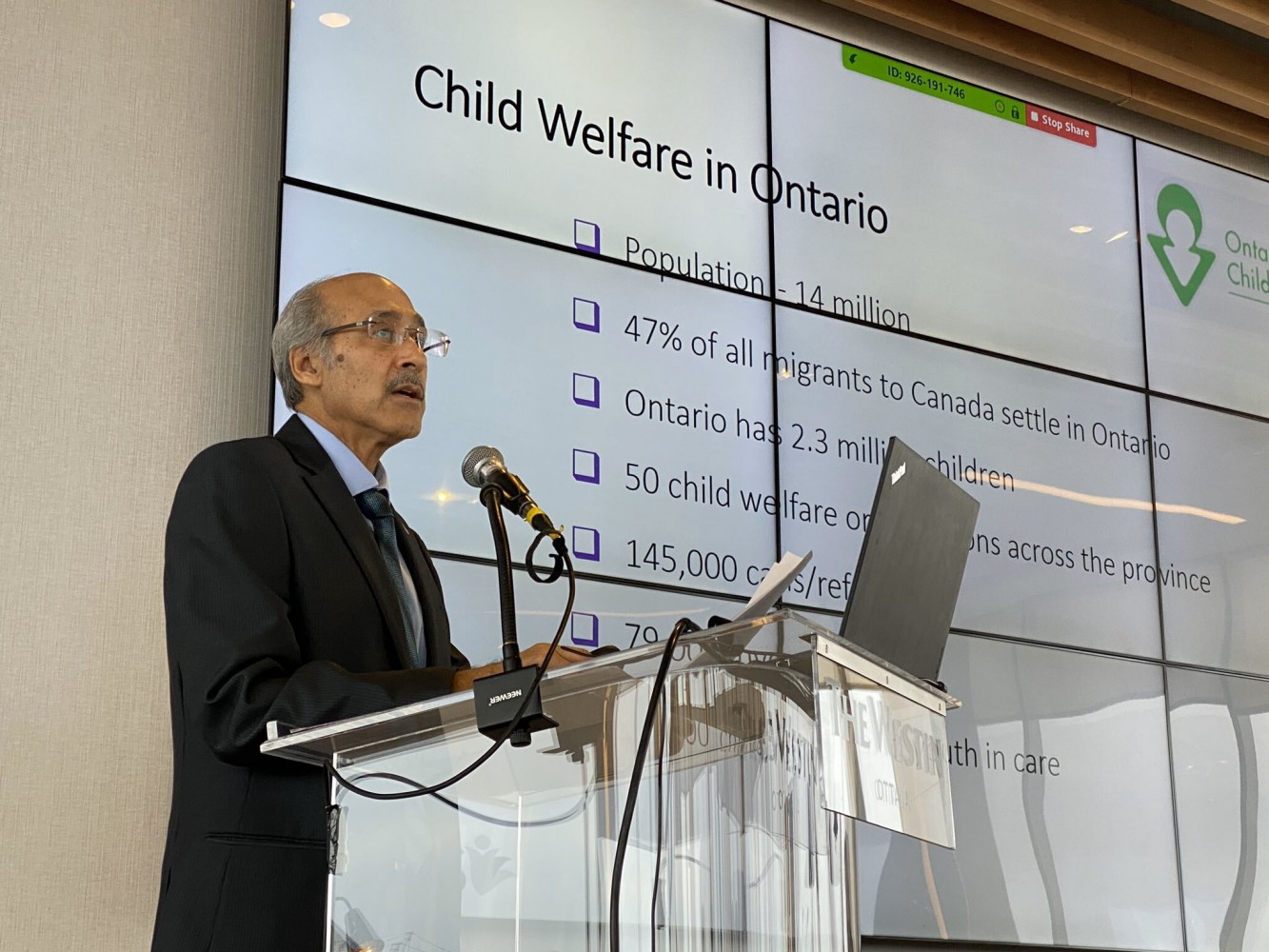 Photos from Peel Children's Aid Society/Twitter
Disturbing report shows Peel Children's Aid Society does harm to Black staff
A decade ago, Peel Children's Aid Society was a leader in diversity.
Hires were made with equity in mind and a series of different strategies existed to promote anti-oppression and inclusion. White staff and other members who were racialized engaged in allyship sessions, learning about internal bias and how to support Black co-workers. A specific group, the Board Diversity Monitoring Committee, oversaw leadership's performance.
The organization's attempts to root out systemic racism were so revered it was recognized by external organizations. In 2010, Peel CAS received the Maytree Diversity in Governance Award.
After the departure of the woman who led much of the organization's progressive approach to ensure equity and diversity were among the guiding principles of Peel CAS, the culture began to change.
Kike Ojo-Thompson, the senior manager of diversity and anti-oppression, left and under the leadership of CEO Rav Bains, key initiatives and supports quickly fell to the wayside.
Kike Ojo-Thompson, who left Peel CAS in 2015, in a video produced by Maytree to celebrate a diversity in governance award.
With staff feeling increasingly marginalized the Peel CAS union that represents them undertook a review and an alarming report completed for CUPE 4914 shows standards have slipped dramatically and a culture of intimidation and fear now pervades throughout an organization that deals directly with Black and other racialized children in one of the world's most diverse regions.
The document was produced after a series of conversations facilitated by Breakthrough Counselling and Wellness, which focused on the experiences of Black staff within the organization.
Summaries of the sessions, which took place by video call over six weeks, sit alongside a series of revelations in the report, a copy of which has been reviewed by The Pointer. The document says staff feel the organization's human resources department "weaponizes its power" against Black staff, while senior leadership is "afraid to name anti-Blackness as an issue".
Four Black staff members spoke to The Pointer but asked to remain anonymous, due to the "culture of fear" cited multiple times in the report.
The sentiment is captured in the document, which says discussions with staff revealed Black and racialized workers do not feel valued for their skills or abilities. Instead, they are "used for photo ops, so the organization can appear to celebrate diversity."
Allyship sessions, appreciated by many staff members, no longer run. The watchful eye of the Board Diversity Monitoring Committee has gone.
"Quite frankly it goes back to Kike Ojo," one staffer said, referencing Ojo-Thompson who left Peel CAS in 2015 to complete equity work for the Ontario Association of Children's Aid Societies. She now runs her own equity and diversity agency.
The Pointer reached Ojo-Thompson who spoke on background about her work at the organization between 2006 and 2015.
"When Kike Ojo was at the organization, she was attempting to infuse the language of anti-oppression and anti-Black racism through all areas of the agency," the current employee continued. "She engaged us in a session once a month — becoming ally sessions. You had them for managers, for frontline staff."
"When Kike was originally there, everything — in your hiring — you needed to know anti-racism and anti-oppression pactices," another added. "And since [she left], that's gone away and ... it's very high school. Management are very cliquey and I feel as if they hire their friends."
Peel CAS and CUPE 4914 both separately say they initiated discussions about anti-Black racism just before the summer, following the Black Lives Matter protests sparked by events in the United States. Unsatisfied with Peel CAS's direction, the union pressed ahead with its plans to bring reform and had a report ready by the fall. Peel CAS maintains it did not know about the union's work until it was published and intends to commission its own report.
"The union suggested retaining mental health supports and sessions with external experts to facilitate safe sharing," the CUPE 4914 Executive Board and the CUPE 4914 Dismantling Anti-Black Racism Steering Committee said in response to questions from The Pointer. "The first week of June, the union proposed this as a joint venture to Peel CAS, so that all staff would have the opportunity to participate and to benefit. Peel CAS declined. The intention of the Breakthrough Sessions was not to commission a report; the report is a byproduct of debriefing and the sheer number of experiences shared and intensity of the related trauma."
Peel CAS's leadership sees the issue differently.
"In fact, we instigated the conversations around diversity, equity and anti-Black racism after the George Floyd death," CEO Rav Bains told The Pointer. "This is not us shying away, like many, many organizations who are keeping their heads down."
While Bains provided vague assurances of a progressive culture, he did not explain why many of the initiatives led by Ojo-Thompson were ended under his leadership.
He did not detail any efforts to replace those crucial functions in the years since she left and did not outline one policy initiative, diversity mechanism or anti-racism strategy instituted by him.
Peel CAS CEO Rav Bains
Oversight and accountability measures to ensure a safe and equitable workplace including proper hiring and promotional practices were not mentioned by Bains.
It's unclear what specifically he was referring to when stating the organization under his leadership is not shying away from the issue. He did not provide any tangible evidence that this is the case.
Some members of CUPE 4914 fear Peel CAS is trying to sideline their report by commissioning a more favourable investigation of their own. "Unfortunately, Peel CAS statements regarding their commitment to tackle anti-Black racism are performative, corporate, unilateral and reflect their consistent top-down approach," the union said. "It's self serving at best and there is a large discrepancy between the information Peel CAS relays to the media/public about their commitments and action plans and how they try to suppress, silence and control the Black voices internally."
Bains disagrees. He did not directly answer a question about a specific recommendation in the union report (to review senior staff performance with an equity lens) and if it would be followed, but said a new report would "not replace anything". Chima Nsitem, Peel CAS director of diversity, equity and inclusion, said the report "is going to be used as a guide".
In a 55-minute interview with The Pointer, confronted with the findings of the report and experiences of staff, Bains and Nsitem admitted shortcomings but also deflected many questions: they acknowledged the organization has work to do, but said they're not alone on this front. Achievements were lauded alongside an acceptance that work is incomplete.
"Bullying, racism, anti-Black racism have no place in our organization," Bains said. "Does that mean we don't have more work to do? Like every institution, there's more work to do, including the media, including all the other systems. So we've said that up front."
It's unclear why he referenced other industries, instead of detailing the reasons for failures within his own organization. The union report highlighted concerns raised by staff that leadership consistently deny any problems around systemic racism or other forms of discrimination within the organization.
"We don't want to give you the impression of either being defensive or somehow we've got a perfect system or that we have everything buttoned down," Bains added. "I think that would be a mistake for us. There's always work to be done."
He did not lay out what this work is or provide any details of a specific strategy to address the issues raised in the union report.
When asked about the over-representation of Black children currently under the care of his organization, compared to the general population, Bains tried to use misleading numbers to justify the situation, instead of addressing the evidence borne out by Peel CAS's own data.
"Currently, we have 39 Black kids [in care]," Bains said. "If you look at the population of 1.4 million of the Region of Peel, just under 140,000 is the Afro-Caribbean community [131,060 identified as Black in the 2016 census]. You can see as a percentage, having 39 kids in care out of 139,000 Afro-Caribbean, that's a tiny percentage."
In 2019, 39 out of 189 children in care at Peel CAS were Black, according to data provided by the organization on December 7. Regardless of Bains' attempt to present the data in a better light, the fact is 21 percent of all children in the organization's care last year were Black, while the 2016 Census shows Black residents made up only 10 percent of Peel's population.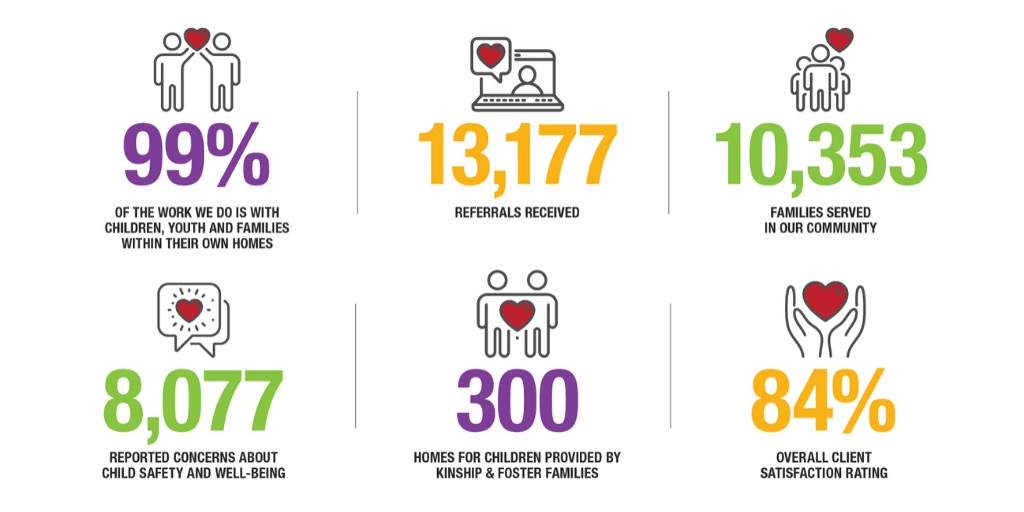 Statistics for child welfare referrals in Peel
When pushed to explain this over-representation, Bains said it was a "very double edged sword" to present the information that way. "Where we can't win this argument is, if we have 500-400 kids in care and we have 30 Black [children], that would be a tiny percentage," he tried to explain. It's unclear what he meant and why he tried to minimize the actual percentage of Black children under the care of Peel CAS.
Staff describe a divide between management and leadership. The CUPE 4914 report references nepotism within the organization and says Black staff see senior leadership as "untrustworthy" when handling their concerns. The report articulates management "has no picture of what is happening to or being experienced by Black staff."
After positioning itself as a leader and making anti-oppression a primary goal, some think the current leadership is dining out on past success, when Ojo-Thompson led a range of progressive initiatives.
"As much as Peel is part of a very diverse environment and culture and the agency has done a lot of work in previous years to support diversity, equity and inclusion, a lot of that stopped," one staff member told The Pointer. "We did the great work, we became great leaders and we stopped the things that made us leaders."
Since Ojo-Thompson moved on, some staff have seen a demonstrable decline in equity and human rights work within the organization. They said the organization was not perfect before, but sensed things were heading in the right direction. In 2020, they fear things are moving backward.
"The difference now is we don't have someone to fight for us," one said. "Kike was there to bring the issues to the table, to address them in a clear, articulate, concise manner."
Bains defended dissolving the Board Diversity Monitoring Committee and suspending the allyship programs, which Peel CAS is now promising to bring back. He said they were "thoughtful" and "gentle" decisions, designed to "integrate diversity and equity into everything we do".
Bains said the committee, a watchdog of sorts, was wound up because the organization had grown. He said the fact his board is 60 percent racialized as evidence of this success; in Peel Region 62 percent of residents were visible minorities, according to the 2016 census.
"Things come and go," Bains said. "That doesn't mean we're a horrible organization or we're a broken organization or that we're not doing the right things. Yes, projects do get started, you revise them, you review them. It doesn't make us a bad organization or a horrible senior team that we've done that. I think that's what people are trying to portray."
But the issue, staff contend, is not about character — it is rooted in policy. Rigorous systemic overhaul, and not friendly leaders, is recommended in the CUPE 4914 report. Tackling anti-Black racism and discrimination should not rely on the calibre of leadership, experts say. It should be written in ink.
The provincial government did not waste time debating the need for clear, prescriptive policies when it dealt with the Peel District School Board earlier this year, after allegations of anti-Black racism and other forms of systemic discrimination were raised by stakeholders.
A review was swiftly called by the Ministry of Education. After its alarming findings, 27 directives were handed down, the head of the school board was fired and the Province installed a coordinator to take over governance of the troubled organization to ensure no more vague platitudes would be used where a firm set of equity rules and human rights policies were needed.
Now, the Province has been informed of the union's report into Peel CAS.
"We have been made aware that Peel Children's Aid Society has received a report regarding anti-Black racism within the society... Any allegation of racism within the child welfare system, or against a children's aid society, is deeply troubling," a spokesperson for Jill Dunlop, Associate Minister of Children and Women's Issues, told The Pointer. "The ministry is currently engaged with Peel CAS to understand the concerns raised in the report and how the society plans to address these concerns."
The report shows staff believe there is no reporting structure to document, track or investigate the racism they experience. It also says human resources and senior leadership must review their current operations to address an "overarching culture of fear cultivated within the organization, bolstered by a repeatedly demonstrated denial of systemic racism and anti-Black racism by the organization's leadership."
Another clear step backward in recent years is the priority placed around the handling of racism and equity issues. When Ojo-Thompson worked for Peel CAS, according to her profile on LinkedIn, her role was as senior manager of diversity and anti-oppression. Nsitem, tasked with her old job, has a dual portfolio. His focus is split between his role as director of diversity, equity and inclusion and a separate set of responsibilities as the service director for parent and child capacity building.
An anti-oppression portfolio once managed by a full-time employee is now one of two demanding roles to be balanced by the same person.
A key to understanding and addressing issues of institutionalized discrimination is data. Tracking a problem is near impossible if you can't measure or assess the parameters and scope.
Peel CAS has plenty of data to offer on staff: 62 percent are racialized; 65 percent of middle management are too; of 500 employees, just 18 went off sick in 2020, six Black, five racialized and seven white. The board, as previously mentioned, includes 60 percent of members who are visible minorities.
But asked for data on families and referrals, Peel CAS couldn't demonstrate the same literacy. Requests for demographic datasets were declined. Race-based breakdowns of referrals and cases were not provided, with the organization admitting its data collection is lacking.
Nsitem explained Peel CAS is aiming for 100 percent data collection on clients by sometime this month to analyze its community work. It is unclear how that will be achieved, as the organization currently only collects race-based data on 50 percent of completed assessments and 60 percent related to ongoing work with families.
It's also unclear why the organization is only now endeavoring to collect this data.
"We are a data-driven organization," Nsitem insisted.
The issue of anti-Black racism at Peel CAS, one Bains repeatedly stressed is a struggle across Ontario, is especially pertinent because of the organization's role in the community. Frontline workers are provincially mandated to assist in the protection of children, they have far-reaching powers and can make significant decisions. Child protection workers partner with figures of authority ranging from immigration officials and educators to police.
Both the Peel Regional Police and the Peel District School Board have admitted to issues of systemic racism in 2020. Forty-three percent of Peel CAS' referrals come from law enforcement and 21 percent from the education sector.
"We're the ones dealing with the community," one frontline worker said. "We're the ones dealing with the racist police, we're the ones dealing with the racist school board, we're the ones dealing with the racist hospital system, we're the ones dealing with a racist immigration [system]."
For an organization like Peel CAS, straddling the responsibility of child welfare in a challenging demographic environment, checks and balances are key. It is important for intake workers and management to look at referrals critically and separate child protection from internal bias or obvious racism — once a case is opened, even if it is immediately closed again, the family's details stay in the system.
"Our agency, because of building relationships with our community partners, are not very willing to push back," one staff member explained. "In the past, when people have pushed back, they have been reprimanded."
In 2019/2020, Peel CAS opened cases on 61 percent of all referrals it received, higher than the Ontario average of 57 percent. The figures raise concern in a region where well-documented biases and institutional discrimination thrive.
Bains and Nsitem could not articulate what checks and balances are in place to prevent families from being mischaracterized due to systemic biases within Peel police or the PDSB. They were asked about tangible safeguards to ensure such attitudes don't inform and influence the work of Peel CAS. "The Ministry expects us to do the proper assessment," Bains said, failing to provide internal policies and structures within his organization to ensure ministerial expectations are met. He did highlight "duty to report" rules which compel people to act on suspicions of child abuse or neglect by calling a CAS.
Potential issues around these rules — and how organizations should combat them — are laid out in provincial research.
"African Canadian educators who participated in the consultations emphasized that the duty to report requires that teachers contact child welfare when they have reasonable suspicion of neglect or abuse, and that often because of stereotypes and anti-Black racism, that bar is significantly lower for African Canadian children and youth than it is for white and other racialized children and youth," the One Vision One Voice project explained in 2016, when it conducted research on the issue. "From their perspective, teachers' biases, lack of cultural understanding, fear of African Canadian students, and in some cases fear of African Canadian parents, all feed an overreporting of African Canadian students to child welfare."
A case study within the latest volume of One Vision One Voice — published in March 2020 — explains how children's aid societies should go about dismantling the systemic issues duty to report can raise.
Peel CAS did not reference One Vision One Voice in written or verbal answers to questions from The Pointer, raising concern about whether the agency is aware of best practices in the sector to minimize the potentially harmful impact of systemic, institutionalized stereotypes and other attitudes entrenched within referring organizations.
A failure to root out referrals based on racial prejudice lands hardest on Black frontline staff, employees told The Pointer. Unable to decline work from a manager, they find themselves aligned with police or principals in a situation they may not think merits child-protection services. Without open communication between managers and frontline workers — a professional environment where everyone feels they can speak their mind — staff can find themselves stuck.
"We [Peel CAS] are not actively challenging the school board and the police, we are kind of just going along with them," one staff member said. "We're going along with the nonsense, so we are part of the problem. We pretend we are good for the community and then we don't understand why the community can't stand us. But we are aligned with the same processes that oppress them."
It can have a serious impact on people's mental health.
"You need your management to be behind you because, at the end of the day, we're not decision making staff," one of the employees added. "We need people in decision making positions who can help us. I cannot just push back against the principal without my supervisor's support. Half the time, it's me stuck between the school board and my supervisor."
To begin to solve the problem, staff and the authors of the CUPE 4914 report want clear policies in place.
Peel CAS does not have a specific anti-Black racism guide, but says it is captured within its Prevention and Resolution of Harassment and Discrimination in the Workplace Policy. The organization did not provide a copy to The Pointer and the number of people disciplined under the rules was also not shared.
"We have zero tolerance for racism and anti-Black racism and it's a disciplinary infraction which is taken very seriously," a spokesperson for Peel CAS said. "We have also recently hired an Employee Experience Consultant. This position will help lead our ongoing positive culture and engagement outcomes for staff, and continue to ensure all policies, programs and practices support the agency's commitment to DEI [Diversity, Equity and Inclusion]."
The union, which has promised to retain Breakthrough Counselling to action the report's recommendations, is unconvinced by Peel CAS's response. "They took a harsh, defensive stance when they learned of the report instead of simply taking it as the truth and experience of the collective," the union said. "The first step to healing is acknowledgement and apologizing; neither has been offered by Peel CAS."
The CUPE 4914 report suggests an additional audit of the organization. Peel CAS is currently commissioning a probe, but it's unclear what the terms of reference are and which stakeholders are directly involved in the process to ensure the objectives of a comprehensive audit will be met. Peel CAS has offered to have the union help find a company to do the work.
The union report does not specify the need to re-interview staff, but does say an external reviewer should take a look at areas such as senior leadership, human resources, hiring and promotions, organizational policies and operating procedures. Staff are desperate to see the same and will wait to learn if the process helps with the issues they are experiencing — or if it is used by senior leadership to deflect and explain away any future complaints.
"Let's put something in place", one staffer said. "I don't want it to be used as a launchpad for people's careers who are new in our DEI department, with our newly appointed managerial team and what not. No!" The employee described being pushed aside for raising issues of anti-Black racism. "What can we do so this doesn't happen again?"
---
Email: [email protected]
Twitter: @isaaccallan
Tel: 647 561-4879
---
COVID-19 is impacting all Canadians. At a time when vital public information is needed by everyone, The Pointer has taken down our paywall on all stories relating to the pandemic and those of public interest to ensure every resident of Brampton and Mississauga has access to the facts. For those who are able, we encourage you to consider a subscription. This will help us report on important public interest issues the community needs to know about now more than ever. You can register for a 30-day free trial HERE. Thereafter, The Pointer will charge $10 a month and you can cancel any time right on the website. Thank you.
Submit a correction about this story