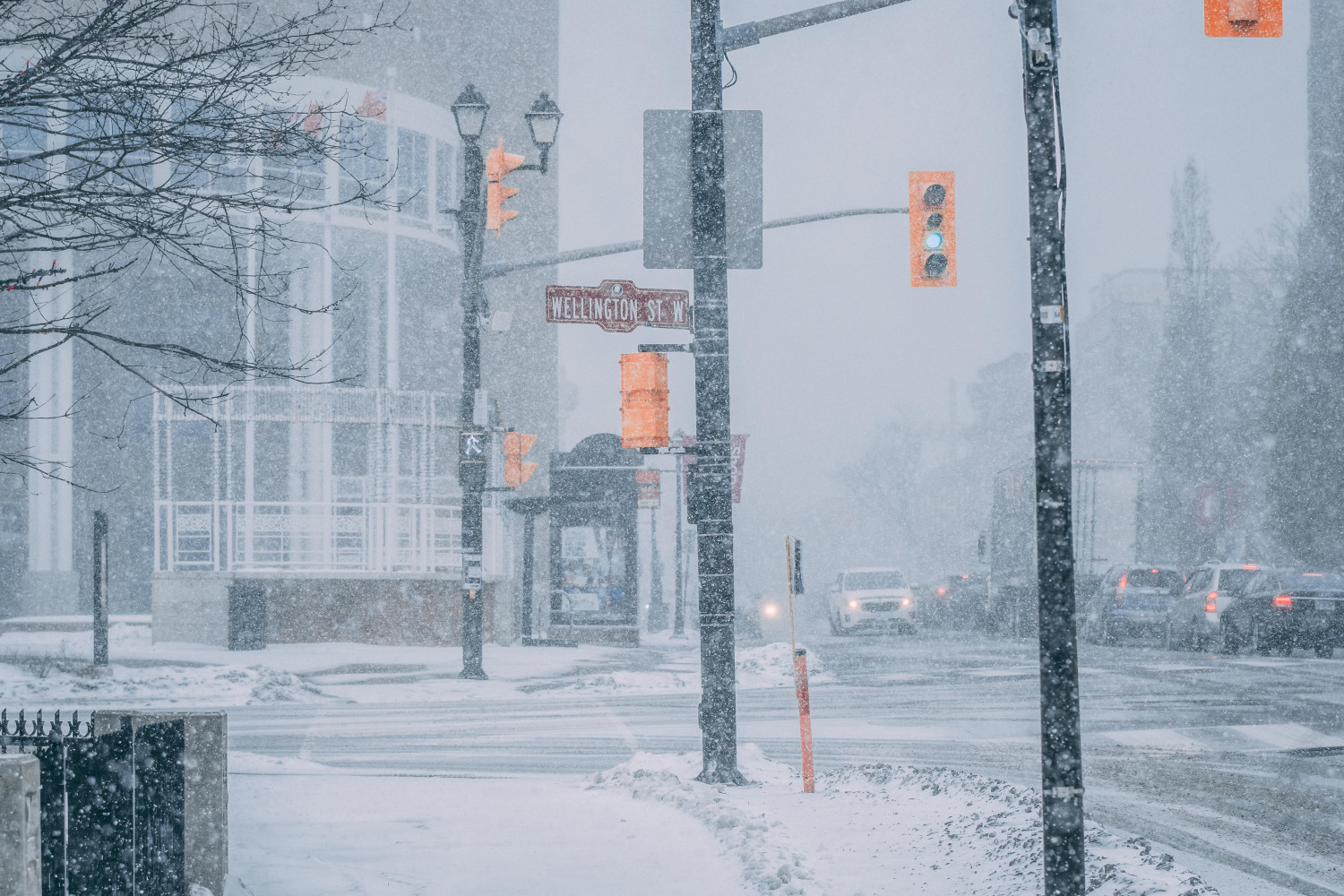 City of Brampton
Brampton's 2023 budget exposes Council's empty climate change promises
The changing climate has not been kind to Brampton: Massive flooding in the Churchville neighbourhood last year was the result of wildly fluctuating temperatures as melting ice dams on the Credit River caused waters to rise so fast homes in the area had to be evacuated.
Farther east, Etobicoke Creek poses an even greater threat throughout much of the city centre, already prone to flooding, but now at even greater risk due to more frequent extreme weather events. The elevated risk makes it difficult to redevelop the struggling downtown core.
In early August, the first mosquitoes carrying the West Nile Virus were reported in the area by Peel Public Health, a reality of our warming climate, as vector borne diseases travel farther around the world, to places like Brampton where such threats were of little to no concern only a few decades ago.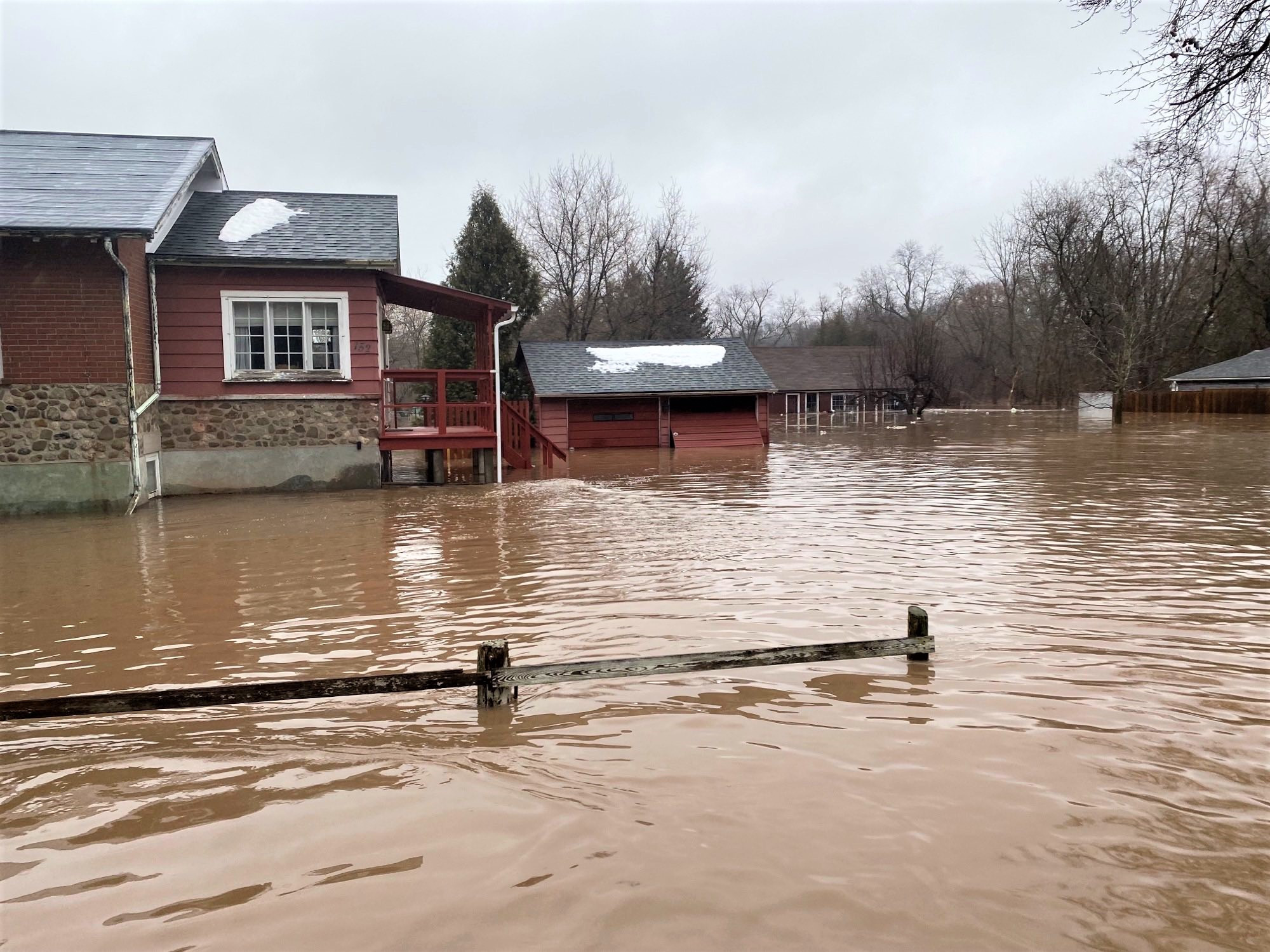 Flooding in Brampton's Churchville neighbourhood in February 2022.
(City of Brampton)
Other looming problems posed by our warming planet include declining local air quality, widespread respiratory issues caused by fine particulates trapped in polluted air and the ongoing threat of dangerously sweltering summer humidity due to increased moisture in the warmer air.
But you wouldn't think any of this is much of a concern when watching elected officials inside City Hall set the 2023 municipal budget.
Council held a series of meetings over the last two weeks, hearing from the City of Brampton's various departments and their respective senior managers who laid out their needs for the coming year. The City has released a series of budget highlights for public consumption which lay out the big ticket investments coming in 2023, including: $9 million for cricket, soccer and tennis fields; $24 million for the redevelopment of the Howden Recreation Centre; and $21 million over three years dedicated to downtown revitalization. Brampton Transit is getting a significant boost in 2023 with $15.4 million for Zum expansion along the Chinguacousy corridor; and $16 million for bus refurbishments.
Community consultations and deliberations for Brampton's 2023 budget are now complete, with council members facing a proposed 2.9 percent tax increase, or an additional $177 on the average household bill, and a 10 percent fare increase for riders of Brampton Transit.
But one of the biggest question marks hanging over the City budget is the municipality's efforts to mitigate and adapt to the looming impacts of climate change. Both the Region of Peel and City of Mississauga have made it clear that preparing for the looming impacts of our warming world is front and centre during their budget process. In Mississauga, an analysis by The Pointer determined more than half of the City's entire capital budget is dedicated to climate mitigation or adaptation projects. The Region of Peel has dedicated $40 million in 2023 to the climate emergency.
In Brampton, despite elected officials declaring a climate emergency last term, and paying lip service to the need for immediate action, hardly any has been taken.
Malkeet Sandhu, a community organizer with the David Suzuki Foundation, as well as a local mother, appeared before the Budget Committee on Tuesday, urging Council to invest in stronger transportation and environmental initiatives.
"It's been four years since council declared a climate emergency and Brampton's emissions are still rising," she said. "Last year I watched from my window as the Credit River flooded Creditview Road, damaging trees, roads and homes in the Churchville neighbourhood…To be honest, as a parent I'm frightened for my child's future, but what gives me hope is knowing that the solutions do exist and there are leaders pushing to implement them."
This implementation has been very limited in Brampton. Following the election of Patrick Brown in 2018, spending on environmental initiatives and the City's master plans associated with its natural heritage were cut from successive budgets and commitments have not been followed by action.
In 2019, when Council declared a climate emergency, the symbolic gesture did little to change how the municipality operates. In the same meeting, council members, led by Brown, thumbed their nose at the commitment moments later when they endorsed the PC government's Highway 413 plan to construct a major 400-series thoroughfare along the west side of the city and across Caledon. It has been heavily criticized by environmental groups and residents across Ontario for its potential to destroy large swaths of sensitive habitat, including portions of the Greenbelt while increasing greenhouse gas emissions.
In 2022, Brampton's lack of commitment to climate action was made abundantly clear when council members approved a budget that invested more in a single road project than all of its climate initiatives combined.
"I'm here today to urge council to be those leaders who give us hope," Sandhu said. "The 2023 budget could set a strong foundation for the rest of your term on council. We have less than 20 years to cut our emissions in half, so I ask you to make this budget count."
Council has committed to reduce GHG emissions by 80 percent from 2016 levels by 2050.
If built, the Riverwalk project, which has been promised $38 million in funding from the federal government, would prevent Etobicoke Creek from flooding in heavy rainfall events and finally allow major development in the city centre which has been barred for decades due to the Province's Special Policy Area designation that hangs over downtown because it sits in a floodplain.
Staff are budgeting $20 million for the project this year, doubling the investment of $9.3 million made in 2022. Construction is currently slated to begin in 2024, and will roll out in phases. While the $20 million is a good start to get this project off the ground, there is still a significant question mark around the remaining funding for full rollout of the Riverwalk plan, which could cost as much as $106 million.
The City is also moving forward with a pilot program to purchase ten battery electric buses through financing from the Canada Infrastructure Bank. But the move is dwarfed by the 38 diesel buses the City is purchasing to replace others in its aging fleet. Due to the long lifespan of these buses, it means Brampton's fleet won't be fully electric for 12 to 18 years (despite wildly false claims Brown has made that the transit system is fully electrified). While other large cities have stopped purchasing diesel buses, Brampton is falling even further behind.
"I urge council to not buy any more diesel buses and instead leverage support from the Canada Infrastructure Bank to buy an additional 38 electric buses instead," Sandhu said. "I also urge council to commit to fully electrifying Brampton's fleet by 2040 given the support system that you have in place now. At the very least, Council should be replacing any buses with Generation II electric buses which can be converted to fully electric in the future."
Councillor Gurpartap Singh Toor—the only councillor to respond to Sandhu— said he shared the same concerns about the diesel bus purchases, but said there are "limitations" on how fast the fleet can be electrified due to the lack of infrastructure to support electric buses.
Brampton's 2023 budget tries to address the long ignored infrastructure question. As part of the capital budget, $150 million is included for a third transit maintenance facility, and a further $60 million to retrofit the existing Sandalwood transit maintenance facility to service electric buses.
The facility has been delayed for years and Brown repeatedly postponed funding while he refused to expand the City budget throughout all of the last term.
The $210 million finally included in 2023 has one big problem: It was put in the City's overall capital budget with the source of funding labelled as federal and provincial government grants. Yet there have been no public assurances from upper levels of government that the funding will be approved.
"We are moving at the fastest pace on onboarding electric vehicles, but they are contingent on our infrastructure to be able to support them, and that is what we're trying to move on with implementation of this infrastructure," Alex Milojevic, general manager of Brampton Transit, said. "Part of our capital program reflects that, as outlined in our $210 million capital program that strictly deals with the electrification of our third facility and our Sandalwood facility. They are critical components to onboarding more electric vehicles."
Brampton Transit has seen a post-pandemic surge in ridership.
(City of Brampton)
Without funding for infrastructure, which is currently waiting on federal and provincial grants before proceeding, the City would need to come up with the funds on its own, something that would not be possible without a significant boost in revenues, or cutting other projects.
In response to Sandhu's delegation, at a subsequent Budget Committee meeting, Council introduced a motion directing staff to report back in April on an overview of current bus procurement considerations. This includes a strategy with recommendations to address the urgent need for replacement buses and ones needed to keep up with growth while minimizing the purchase of greenhouse gas emitting buses.
In her delegation, Sandhu said that while she supports the introduction of free transit for seniors, she also suggested that by eliminating fare requirements for riders under 12, it could increase interest and create "life-long transit riders who will pay in the future."
"I'm living proof of this. Growing up I took transit everywhere with my mom and the habit stuck throughout high school, university and even as a young professional."
Sandhu also took the opportunity to draw attention to Bill 23, the PC government's controversial housing Bill which has drawn criticism from residents, local advocates and environmental groups. Stakeholders have argued that without sweeping amendments it will make Peel's affordable housing crisis even worse, put residents and businesses in existing floodplains at greater risk and blow apart current emissions reductions targets.
"On the topic of tax rates I also wanted to address Bill 23. By changing the development charges this Bill is depleting municipal income and forcing taxpayers to make up for billions in lost revenue," she said. "I urge council to continue to advocate against Bill 23 with the Ontario government. Even with the tax increase there is still a huge gap in the city's income.I urge council to also advocate with the federal government for a municipal climate fund and funding for transit operations."
The City noted in November that Bill 23 could cause between $260 million and $800 million in revenue losses, money that will not be available for climate mitigation projects, new electric buses and other investments to adapt to our changing reality.
The 2023 budget includes funds for the City's first Climate Change Adaptation Plan "to help reduce our vulnerabilities to climate change through a series of recommended actions that will improve our resiliency and ensure communities are prepared for future impacts," according to the budget document.
Previously endorsed master plans that address environmental issues have not been met with much success.
The Brampton Grow Green Environmental Master Plan (EMP), the City's first comprehensive strategy focusing on sustainability and reducing the municipality's footprint on everything from greenhouse gas emissions, to water usage, land use and waste, was released in 2014. The plan outlined ambitious goals for addressing a number of environmental concerns, by City Hall and the community.
The plan's first update in 2020 showed the City of Brampton failed to reach the majority of its goals, with only 3 of 20 on target; it omitted key details on what went wrong, and how far the City still has to go. Aside from referring to a number of educational campaigns, it's unclear what the City did for the past five years.
Such campaigns can be impactful, but concrete action, and required project funding, is the only way Council will meet its own emissions reductions targets.
Final approval for the 2023 budget is scheduled for March 9.
---
Email: [email protected]
Twitter: @JessicaRDurling
---
COVID-19 is impacting all Canadians. At a time when vital public information is needed by everyone, The Pointer has taken down our paywall on all stories relating to the pandemic and those of public interest to ensure every resident of Brampton and Mississauga has access to the facts. For those who are able, we encourage you to consider a subscription. This will help us report on important public interest issues the community needs to know about now more than ever. You can register for a 30-day free trial HERE. Thereafter, The Pointer will charge $10 a month and you can cancel any time right on the website. Thank you


Submit a correction about this story