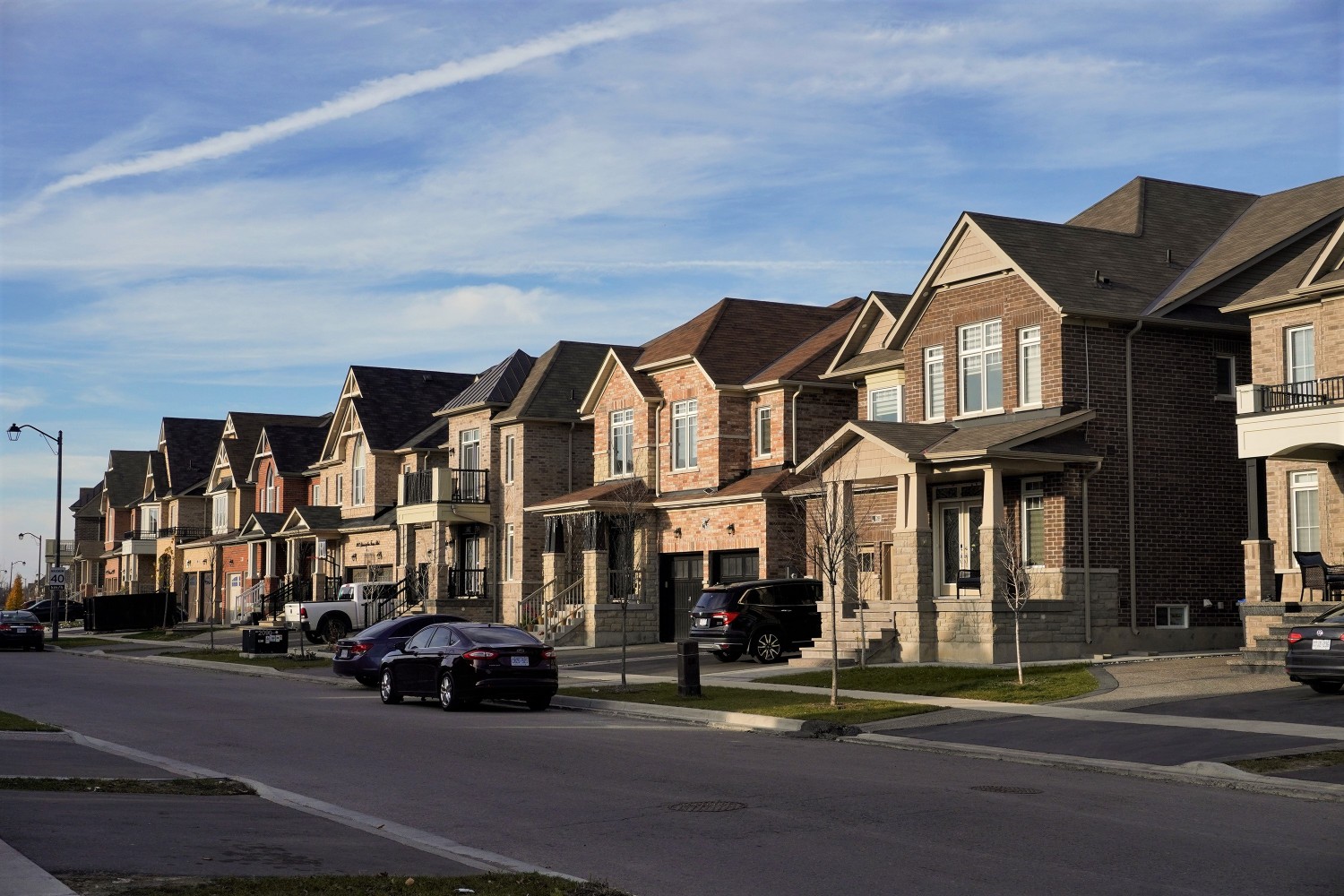 Alexis Wright/The Pointer
Peel organizations express concern over Bill 23—Ford's radical housing plan
Peel environmental and housing organizations cited serious concerns at a local consultation on Bill 23 hosted by the provincial government Thursday. If the proposed legislation is passed, pushing the construction of 1.5 million new homes and adding hundreds of thousands of residents in places such as Mississauga and Brampton in just eight years (by 2031) advocates worry that a range of critical problems will only be made worse.
Provisions for affordable housing, the protection of valuable land, including the protected Greenbelt, property tax stability and carbon emissions reduction targets will all suffer due to what attendees described as a developer-driven agenda being carried out by Premier Doug Ford and his powerful PC majority government.
"It's overriding protections for tenants and not maintaining the rental stock that we have," said Tanya Burkart, who represented Peel ACORN. "I know with my community of Brampton there hasn't been purpose-built rental for decades and so we can't blame developers for not building, because the land is there–it's just corporate landlords and developers don't want to build rental because there's more money in condos, and in our community we need two-and-three-bedroom units."
Peel ACORN was one of seven delegates, along with Ontario for All, Brampton Environmental Alliance, Future Majority, Felix Vortsman and the Toronto and Region Conservation Authority who spoke on the proposed Bill 23: More Homes Built Faster Act in Brampton yesterday. The Bill would take away the Region of Peel's role in future planning decisions for housing, leaving it to each individual lower-tier municipality and the Province.
The public hearing was organized by the Standing Committee on Heritage, Infrastructure and Cultural Policy, one of four consultations being held on the Bill across the province.
Burkart told the committee that Bill 23 does nothing to tackle the root causes of the lack of affordable housing including improper rent increases, the lack of inclusionary zoning and corporate landlords who evict tenants to make more profits.
In Mississauga, Bill 23 could actually reduce the amount of affordable units by capping them at five percent of all new units built in projects going forward.
An inclusionary zoning (IZ) bylaw passed in August in Mississauga allows the City to require affordable housing units in certain new housing developments. Following a phase-in period, the bylaw requires 5-10 percent of the residential units in a new building be set aside for affordable housing; the percentage varies based on where in the city the development is located; areas designated as major transit hubs have been identified for more affordable housing units.
Bill 23 could cut the number in half. It also proposes to place the onus on property owners to cover infrastructure-related fees for affordable units, instead of the builder. Critics say this will curtail the amount of affordable housing municipalities will mandate.
According to the Province's website, Ontario had over 100,000 housing starts in 2021 – well above the annual average of 67,500 starts over the past 30 years, and the highest level since 1987. Bill 23 would see an average of about 180,000 starts each year to 2031.
(Ontario.ca)
The proposal to exempt affordable units from fees known as development charges goes against the traditional policy that growth should pay for growth, demanding builders pay for the necessary infrastructure home buyers require, such as storm and wastewater systems, roads, police, paramedics and fire, and even hospitals.
---
"I think it's really important to think about what development charges actually are…Development charges are specifically linked to the things we need to build in a city to make it sustainable as we build new developments."—Sean Meagher, Ontario for All
---
By waiving the development fees, Burkart told the committee that it would push the funding for roads, sewer and other necessary development infrastructure onto municipalities.
"We already pay for healthcare and so adding infrastructure values to land and property tax is not fair. Those fees were designed, if the developer wants to develop and wants to build housing, those fees belong with the developer."
ACORN has been critical of the Bill, taking action since it was quietly introduced, organizing protests in Toronto, Hamilton, London, Ottawa and Brampton. The tenants' rights organization also created an online email page where residents can go to highlight their concerns which are sent to their respective MPP.
Another point raised by Burkart is that the proposed Bill does not consider income when determining affordability; it defines an affordable residential unit as one whose "rent is no greater than 80 percent of the average market rent."
These same concerns were also voiced by Sean Meagher, coordinator with Ontario for All, an alliance of nonprofit community organizations that has joined together to create a fair, equitable and inclusive province.
"By setting the definition of affordability of home ownership at 80 percent of the market rate, units that would have sold for a million dollars are now considered affordable and are exempted from development charges if they sell for $800,000. $800,000 homes are not affordable homes. This Bill will make them," Meagher said.
Missing middle housing provisions are lacking in the proposed Bill 23, which could allow developers to focus on larger family homes.
(Alexis Wright/The Pointer)
He told the committee members that while the group supports the goal to increase the number of homes, it is warning of "unintended consequences" if the Bill is not corrected.
"The Bill, as it's currently written, would eliminate the charges developers currently pay towards affordable housing," Meagher said. "This will, according to recent estimates, eliminate hundreds of millions of dollars that municipalities currently invest in creating affordable housing and that would dramatically reduce municipal affordable housing efforts."
When Burkart was asked by the NDP official opposition what she would recommend to resolve her concerns, she advised using the Canada Mortgage and Housing Corporation definition of affordable housing, which is that the rent is no more than 30 percent of the household income.
She also recommended that the limit not be set to 25 years of affordability, but require it permanently.
David Laing, president of the Brampton Environmental Alliance, spoke to the environmental impacts, calling Bill 23 "not environmentally or socially balanced." He pointed to the provincial government's backtracking on the promise not to touch the Greenbelt.
On November 4 Steve Clark, Minister of Municipal Affairs and Housing, announced the government is proposing the removal of 15 areas of land from the Greenbelt totalling 7,400 acres. In return, the proposal will reclassify 9,400 acres of land from elsewhere as part of the Greenbelt.
It's unclear how the PC government's plan to reclassify other lands will do anything to prevent the devastation caused by destroying 7,400 acres of ecologically critical watershed lands in the supposedly protected Greenbelt. Environmental groups have said the plan is not grounded in science, and that the damage will be irreversible.
Previously, Ford promised the Greenbelt would be left untouched, after he was caught on video in 2018 promising developers he would open it up for construction.
Premier Doug Ford previously promised that he would not consider any proposals to remove or develop any part of the Greenbelt.
(Twitter)
Laing spoke to proposed changes under the new Bill that will make it easier to get development projects approved with less involvement from environmental and municipal bodies, which have been key parts of the application process to ensure local and public interests are protected.
"Under this Bill our land will be compromised. Natural habitat such as forest and wetlands will be compromised. Watershed quality will be compromised. Farmland and food security will be compromised. Species at risk will be compromised. Housing standards will be compromised. All this, so that the government can say it's cutting red tape, taking bold action to provide more affordable homes," Laing said.
"It's not balanced when the only people who seem to be happy with the Bill are developers and construction companies."
The stripping of power from provincial conservation authorities under the proposed legislation has been heavily criticized.
As previously outlined by The Pointer, the proposed changes include:
Reworking Ontario's Wetland Evaluation System which will significantly weaken the process by potentially eliminating the concept of a "wetland complex" and erasing large portions of the evaluation system that places weight on the interconnectedness of wetlands and surrounding habitats

Permits would not be required within lands regulated by conservation authorities, including wetlands, for developments approved under the Planning Act

Conservation authorities will lose the power to regulate or refuse permits based on "pollution or conservation of land"; and the potential opening of large swaths of protected land for development as the Bill will remove regulations that prevent land managed by conservation authorities from being sold off for development

The removal of planning authority from the Region of York, Peel, Durham, Halton, Niagara, Waterloo and the County of Simcoe. The changes will remove upper tier municipalities from the approval process for lower tier official plans and plans for subdivisions. This will pass approval authority for lower tier plans to the Minister of Municipal Affairs and Housing. The Minister's decisions are not subject to appeal

Public meetings will no longer be required for approval of a draft plan for subdivisions, leaving community members in the dark on development applications that are proposed in their city or town.
There are countless wetlands and watersheds in Ontario – like the Credit River pictured above – which are responsible for sustaining the ecosystems around them. Humans, along with animals and insects, all rely on clean, fresh water to survive.
(Alexis Wright/The Pointer)
Laing implored the government to pull back from its plan to strip conservation authorities of current powers, many that are mandated to protect watersheds and critical greenspaces.
When asked by the Ontario NDP about his group's concerns over the Greenbelt, Laing said once it is opened up to be repurposed there's no going back.
"That basically gives existing land owners in the Greenbelt the hope that they can sell their land at higher price to developers in the future and also gives developers the wrong message that then by lobbying hard enough they can get additional wetlands to open up," Laing responded.
Before he could finish his next sentence, he was interrupted by Natalia Kusendova, PC MPP for Mississauga Centre, who called for a point of order, arguing that the "Greenbelt is not part of the Bill."
The meeting chair, Amarjot Sandhu, PC MPP for Brampton East, overruled the validity of Kusendova's point of order, as it's clear the Bill will directly impact the Greenbelt.
Laing continued.
"What it means is it opens up the door for other parcels of land being taken from the Greenbelt in the future and it ultimately signals the demise of the Greenbelt. It's that serious."
Kusendova told The Pointer she felt it was out of scope to ask questions about the Greenbelt.
"When we are doing public hearings on a certain Bill we like to keep the questions on the scope of the Bill, and the Greenbelt is not part of this Bill, therefore it is out of scope to ask questions because then we could go on tangents on very different topics," she said.
Ottavia Paluch with Future Majority, an organization that strategizes around the priorities of young Canadians, also cited environmental concerns. She highlighted the stripping away of municipal and regional authority.
"Specifically, today we're asking, 'can you amend this Bill so it doesn't override Council approved green and sustainable design standards that include energy efficiency?'"
Other environmental concerns were shared by the Toronto and Region Conservation Authority's CEO John MacKenzie, who made four specific requests to amend the Bill that if not changed will "unequivocally create risk to our communities."
1) Remove or change subsection 3(2) section 21.1.111 and subsection 4-2 that restricts conservation authorities from providing services including renewing and commenting on proposals or applications on prescribed Acts.
2) Strongly recommend the government allow CAs to retain inclusion and conservation of lands.
3) Sufficient opportunity for conservation authorities to review and comment on recommended positions of approval.
4) Criteria added for when a minister can impose certain types of overriding actions, limiting the government's power to circumvent existing environmental safeguards.
---
The one delegate that spoke at the consultation in favour of the Bill, without amendments, was the Ontario Home Builders' Association.
"The OHBA supports Bill 23 because it will make it faster, easier and more affordable to build new homes," Luca Bucci, OHBA's CEO, told the committee.
Bill 23 will allow developers to build almost anywhere they want. It gives tremendous planning power to the Province, effectively sidelining towns, cities and regions from the process.
(Alexis Wright/The Pointer)
Hardeep Singh Grewal, PC MPP for Brampton East, was approached for comment after the consultation.
He said his statement will be released after Bill 23 is passed.
"I'll be making public statements for sure once this Bill has been passed and once we're implementing it. Right now we're in the consultation phase, so there's a lot of people that come in and put their name on the list and they can join the committee and we can talk about it."
Mary-Margaret McMahon, Liberal MPP Beaches-East York, told The Pointer that over the hearing she heard serious concerns about the removal of the role of conservation authorities and the removal of green regulations.
"Everybody agrees we're in a housing crisis and we want to do something about it. We all want to get people to have safe, comfortable and sustainable, affordable homes and we need to do it quickly and through a proper way," McMahon said. "We need to build up, not out."
---
Email: [email protected]
Twitter: @JessicaRDurling
---
COVID-19 is impacting all Canadians. At a time when vital public information is needed by everyone, The Pointer has taken down our paywall on all stories relating to the pandemic and those of public interest to ensure every resident of Brampton and Mississauga has access to the facts. For those who are able, we encourage you to consider a subscription. This will help us report on important public interest issues the community needs to know about now more than ever. You can register for a 30-day free trial HERE. Thereafter, The Pointer will charge $10 a month and you can cancel any time right on the website. Thank you
Submit a correction about this story