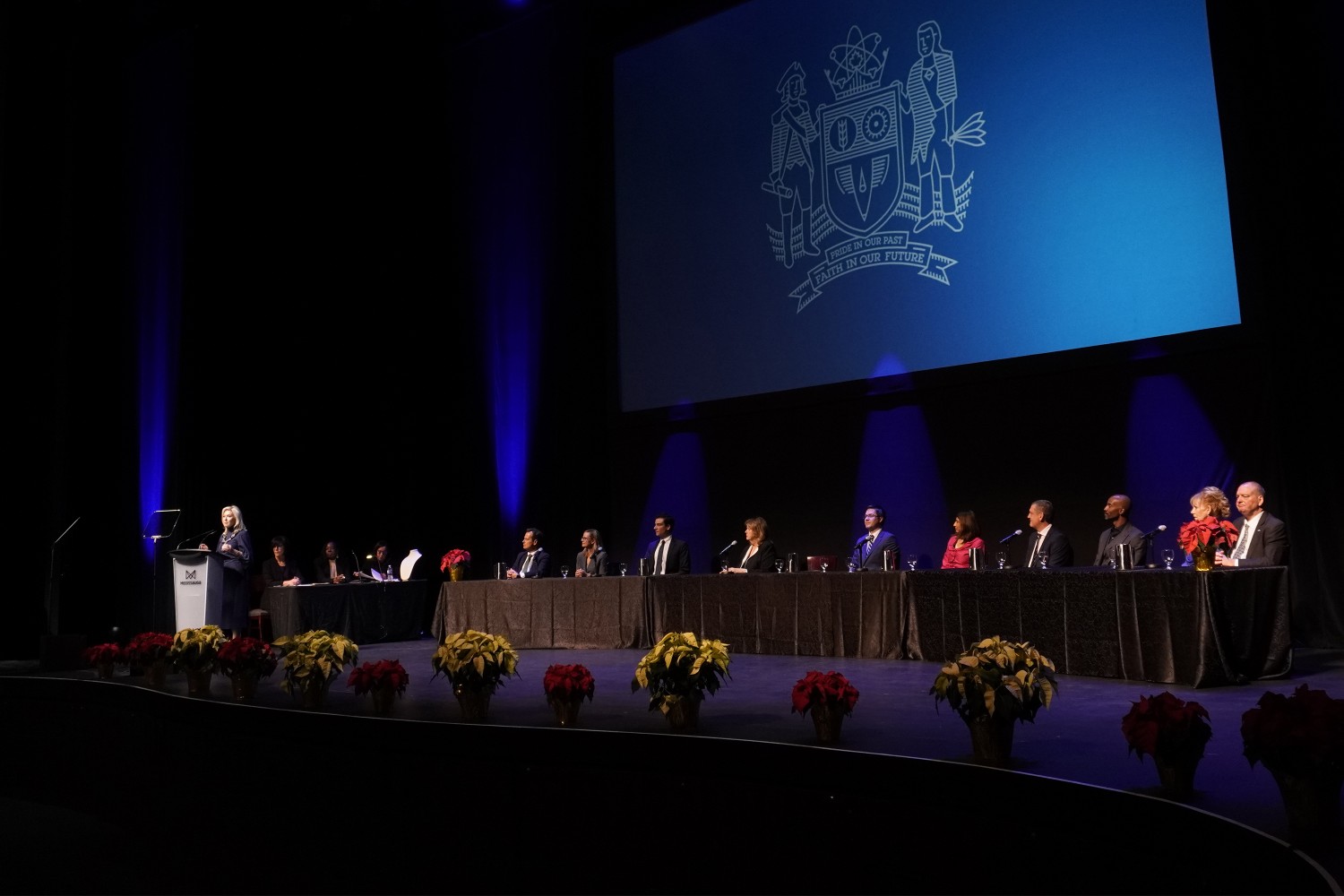 Alexis Wright/The Pointer
Will a new council shape Mississauga into the city it wants to be?
For the last decade, Mississauga has been in a state of flux.
Urban growth has intensified, and pressure has increased to shift from a satellite city, overshadowed by Toronto, to a vertical metropolis that is beginning to rival its neighbour for new investments and development.
But with population growth slowing considerably over the last five years—as recorded in the latest Census—and the city built out to its urban boundary, a number of new issues are emerging.
On Tuesday evening, the councillors who will represent residents for the next four years were officially sworn in during a ceremony at the Living Arts Centre. These elected officials—four of whom are first-time councillors—will be tasked with making critical decisions about Mississauga's development, budget and the plan to address climate change, while also trying to attract critical investment from upper levels of government which have not flowed fairly from Ottawa and Queen's Park in the past.
Will the new council members be up to the task?
"As the province's third largest city we are quickly emerging as an innovative, sustainable city of the future," Bonnie Crombie said during her inaugural address on Tuesday after being sworn in for her third term as the city's mayor.
"As we reflect and celebrate our past we must look to our future and what's the best for our city by continuing to call on the province to allow Mississauga to forge a new path on its own as an independent city that can make its own decisions and can stand on its own two feet and plan for our future."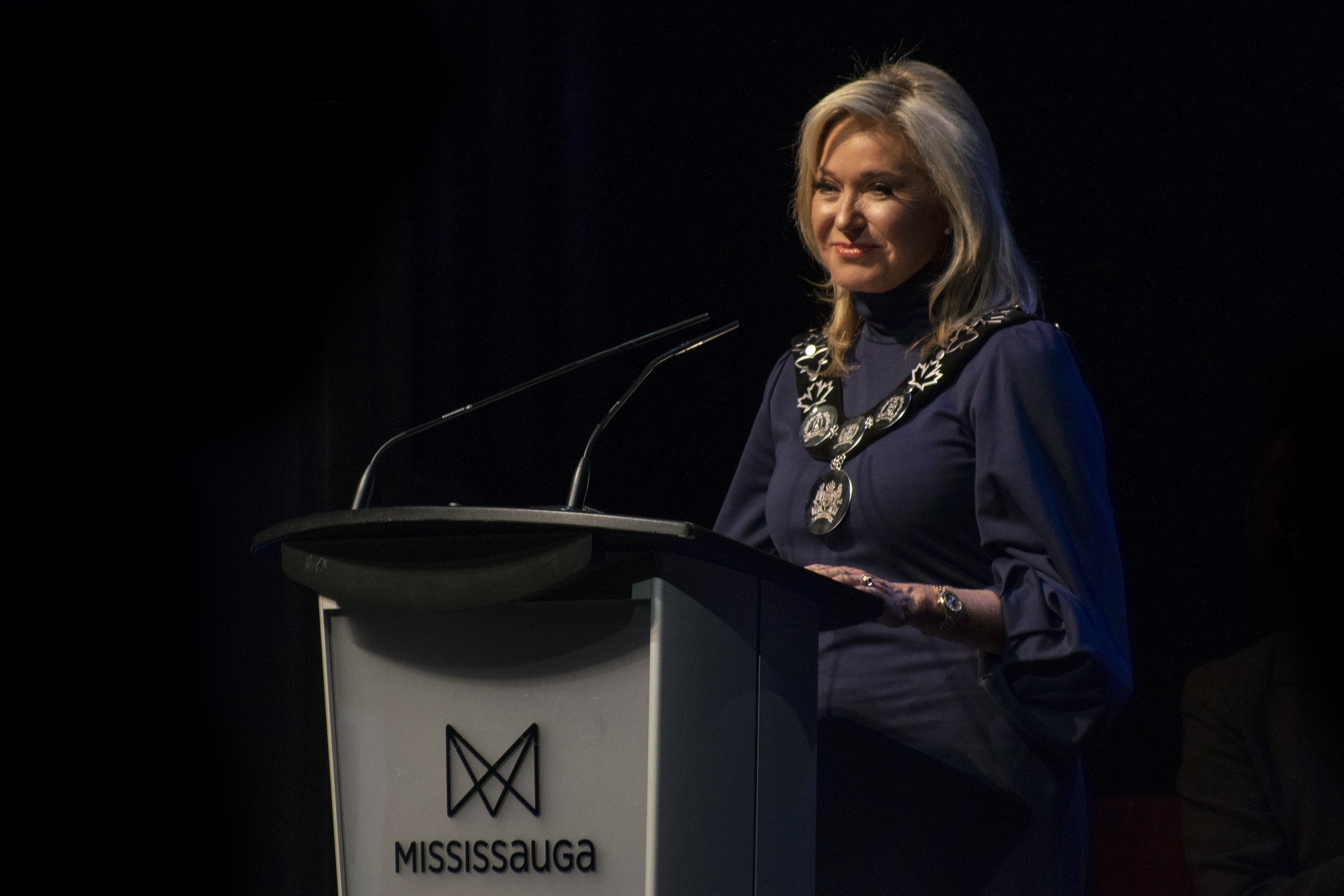 Mississauga Mayor Bonnie Crombie has plans to push the provincial government to allow Mississauga to separate from the Region of Peel.
(Alexis Wright/The Pointer)
During this pivotal time for Mississauga, Crombie stressed the importance of putting the needs of residents and the city first – something that is best achieved by Mississauga becoming a single entity, she said.
The main focus of Crombie's reelection platform was a renewed call for the Province to allow Mississauga to separate from the Region of Peel and become an independent, single-tier municipality. It's a proposal that was mired in controversy early in the last term after Premier Doug Ford considered the potential of breaking apart a number of Ontario's large, upper-tier municipalities, including the Region of Peel. Ford ultimately decided to leave the system as is, but not before Peel was plagued by dueling factions at council and hundreds of thousands of taxpayer dollars were spent on consultant reports with competing opinions on what would be best for the region.
It remains unclear how Crombie plans to move forward with her desire to extricate Mississauga from the Region of Peel.
Returning to council alongside Crombie are councillors Stephen Dasko (Ward 1), Chris Fonseca (Ward 3), John Kovac (Ward 4), Carolyn Parrish (Ward 5), Dipika Damerla (Ward 7), Matt Mahoney (Ward 8) and Sue McFadden (Ward 10).
New councillors sworn in Tuesday evening include Alvin Tedjo (Ward 2), Joe Horneck (Ward 6), Martin Reid (Ward 9) and Brad Butt (Ward 11).
While Crombie's words dripped with her determination to address the pressing needs of Mississauga's aging infrastructure; accommodating the city's projected growth over the next decade; and the looming threat of climate change, dealing with these pressures will be a formidable task. For years before Crombie's first mayoral term began in 2014, the City budget neglected critical pieces of city infrastructure—like municipal buildings and the fire department—and now there are numerous emerging challenges facing the new council.
With Mississauga built out to its geographic boundaries, and the province forcing cities to meet significantly larger housing targets—the PCs are attempting to push 120,000 new units in Mississauga by 2031— the new council will have to determine how, and where, to accommodate this influx of houses and residents.
The impacts of this hastened development will need to be dealt with in conjunction with the realities of climate change, an infrastructure gap that has seen critical projects in need of immediate funding postponed—the funding gap for necessary projects is estimated to surpass $400 million over the next decade—and residents whose public health and safety are directly tied to decisions inside City Hall.
With widespread issues looming over the city, and few sources of revenue to pay for them outside relying on local property taxpayers, Mississauga councillors must engage and advocate to upper levels of government for assistance to pay for things such as housing; transit (there is a desperate need to improve the infrastructure white elephant that is Mississauga's Transitway and create dense east-west transit corridors to support the future HurontarioLRT); climate/green investments; and public safety.
Economic development will also be a major focus. Big wins in the local television and film production space have led the push to create another Hollywood North vibe west of Toronto. But there have been losses too. When Microsoft Canada announced in 2018 it was relocating its national headquarters from the Meadowvale business park in Mississauga to downtown Toronto, the software giant summed up the issues facing its former host.
A lack of transportation infrastructure for tech professionals, big city amenities and housing supply for modern families were among the reasons the company left. The lack of a technology ecosystem for partnerships and sector growth that comes from a business hive model, were also issues.
If Mississauga wants to finally shed its suburban past, it can't just be a place for professionals to rest their head at night, it has to attract more white-collar jobs where transit and other cosmopolitan features are located.
Building new infrastructure and maintaining current assets are keys to attracting new employers and residents, while ensuring existing ones don't leave.
The City's aging infrastructure is in desperate need of repairs, yet, to date, Mississauga has received a pittance of financial assistance from the federal government in comparison to other cities of similar scale and size which have been successful in attracting new jobs and residents.
The Pointer reported that a total of $65.2 million in federal funding was sent to Mississauga over a four-year period to help with around 70 infrastructure projects, according to data from the Investing in Canada Infrastructure Plan website. The figure represents just a tiny fraction of the per capita infrastructure funding Mississauga should have received, about $1.5 billion over the four-year period from 2015 to 2019.
Even Brampton, which also remains dramatically underfunded, received $166.5 million from the federal government in recent years. Its biggest funding allocation from Ottawa was $69.9 million, more than triple the value of the biggest contribution to Mississauga. The City of Hamilton, with about 70 percent of Mississauga's population, received $224.7 million for projects since the fall of 2019, according to numbers from last year.
With six PC Mississauga MPPs sitting in a majority government at Queen's Park, the new council will need to renew those relationships, demand more assistance, and request that these provincial officials add their voices to the calls for Ottawa to increase funding.
While slightly more funding has flowed from the federal government to Mississauga over the past two years, key projects remain unfunded. The City received a total of $73.7 million from the Investing in Canada Plan between late-2019 and summer 2021, an increase of 13 percent in two years.
But the figures still only represent a tiny fraction of the per capita infrastructure funding the city should have received. By comparison, Edmonton, which is about a third larger in population, received approximately $2 billion in infrastructure funding from Ottawa between 2015 and 2019, about what its per capita allotment should have been. Alberta's capital received about 20 times more than Mississauga, per capita, from the federal government between 2015 and 2019.
This means Mississauga income taxpayers are sending their dollars so they can be used to subsidize other cities.
Some regular funds flow from other levels of government, including the Gas Tax, but investment in specific projects is vital. Launching new multi-billion dollar projects, the types that move cities forward, similar to the Hurontario LRT can only be achieved with the help of other levels of government.
Many basic infrastructure repair and replacement costs are also too expensive to handle alone.
Council could also look into pursuing other revenue streams such as naming rights and other private sector investments and partnerships to help cover looming budget needs.
Elected members will also need to devise a plan to prioritize and manage where future growth will occur in the city. A top priority will need to be the completion of a new comprehensive master plan for its downtown. The previous document—the Downtown 21 Master Plan served its purpose, and the City is currently in the consultation and study phase to devise an updated version.
Without a master plan document to guide that growth, it will be up to the new councillors to ensure they have a collective vision to plan the city's growth. Attracting far more private-sector employment space and new commercial investments into the downtown core has been a stated priority, but the city-centre is still dominated by Square One Mall and towering condos, with few amenities and offices between.
The City's waterfront is another area where councillors will need to ensure responsible and sustainable growth principles are applied, especially without an overarching plan to guide growth along one of the longest stretches of undeveloped lakefront properties in North America.
There are also many unanswered questions around how Mississauga is going to deal with the amount of growth the City is being mandated by the Province to handle through the PC government's proposed Bill 23.
If passed, it would allocate the construction of 120,000 new homes to be completed in Mississauga by 2031, adding hundreds of thousands of residents to the increasingly dense city. Particularly in Mississauga, Bill 23 also has the potential to reduce the number of affordable units by capping them at five percent of all new units built in projects going forward.
In total, currently, 8,552 hectares of Mississauga is dedicated to residential development and 71 percent of that land is single-detached homes, generally located in planned subdivisions. Single-family homes, the developments councillors are now attempting to leave in the past, make up the largest form of land use in the city.
In Wards 1 and 2, roughly one third of the land in both wards is dedicated to single-family homes, something that will change in the near future, as a number of massive waterfront projects completely reshape the area.
With Mississauga built-out to its urban boundary, the city will need to switch from single-detached homes to more dense forms of urban growth in order to accommodate new housing units and residents.
(Alexis Wright/The Pointer)
The new representative of Ward 2, Alvin Tedjo, will have to guide one of Mississauga's historic lakefront communities through a number of significant challenges over the next four years.
Many consider Ward 2, which includes the neighbourhoods of Clarkson and Lorne Park, the first settled area of Mississauga. The city's most south-westerly ward is one of its most well-off areas, extending to Lake Ontario on its southern edge and the Queensway to the north; it will continue to face many questions around urban development in the coming years.
Already, along the other side of the waterfront, the City has pushed for increased height along the eastern portion of Lakeshore Road — one of Ward 2's main thoroughfares. While those height changes do not affect Lakeshore in Ward 2, similar changes are already taking shape along the western side of the Lakeshore corridor.
With redefining projects like the expansive Lakeview Village development, it will be incumbent upon the new council to introduce a plan for waterfront development to manage growth along the lake as more development and private sector investment is drawn toward popular waterfront destinations.
The new Mississauga council will also contend with past decisions that once allowed taxes to remain irresponsibly low while infrastructure assets decayed without rehabilitation. That was the legacy of Hazel McCallion and sharp tax increases since she stepped down in 2014 will likely have to continue to make up for decades of poor financial planning under her leadership. Council will need to continue catching up after decades of neglect that caused infrastructure and key City departments to suffer.
Prior to Crombie's arrival as mayor, Mississauga councils had approved zero percent or very low property tax increases the City's reserves could not afford, tightening the budget beyond its limit. While politically popular for McCallion, who benefited most from her narrow minded approach, it left little money for Mississauga to attract major funding from higher levels of government, through partnerships that often require each level of government to commit a one-third share.
While Toronto received billions for major transit projects, lakefront redevelopment and other city-building initiatives, Mississauga has been historically neglected.
To continue the approach adopted under Crombie, to invest in the future, council approved a 4.3 percent increase on the City's portion of the 2022 tax bill, a decision deemed a surprising move for an election year. But many new initiatives to address its aging assets were still left out of the budget.
Much of the City's infrastructure is decaying, creating a significant deficit. The list of aging assets Mississauga owns includes roughly 60 percent of all infrastructure located within the city's boundaries.
In total, Mississauga owns about $13.6 billion in assets. It takes a massive investment to ensure this web of interconnecting infrastructure, from libraries to community centres and stormwater pipes and sewers, is maintained in an operational state. The new council will be faced with a growing infrastructure gap, while the Province has proposed 120,000 new homes in about eight years.
With developers being excused of more and more costs associated with the growth they build (the proposed Bill 23 would transfer certain fees from them to property taxpayers) council members could face an even larger funding gap.
Roughly 20 percent of Mississauga's roads are in poor condition, along with 13 percent of its buildings. Two-thirds of City Hall's capital program is set aside for state-of-good-repair projects to patch up crumbling assets. More than half of Mississauga's facilities are at least 30-years old.
About half (52 percent) of the City's buildings are more than 30-years-old and are in need of investments, meaning a significant portion of City spending over the next 10 years will need to be dedicated to these crucial facilities.
The Port Credit Library is just one example of the problems posed by aging facilities in Mississauga – although a rather extreme one. In July 2021, the structure had sunk so far down into the earth, Mississauga had to shut the doors to protect the public.
Earlier this year an $8-million project was approved by council to save the facility.
Community-focused recreation centres, fire stations and libraries are often last in line when critical infrastructure ages. In a three-part investigative series, The Pointer revealed how a lack of investment in City fire halls had led to many of them decaying beyond their life-cycle. The City was told some should even be torn down due to the state of disrepair.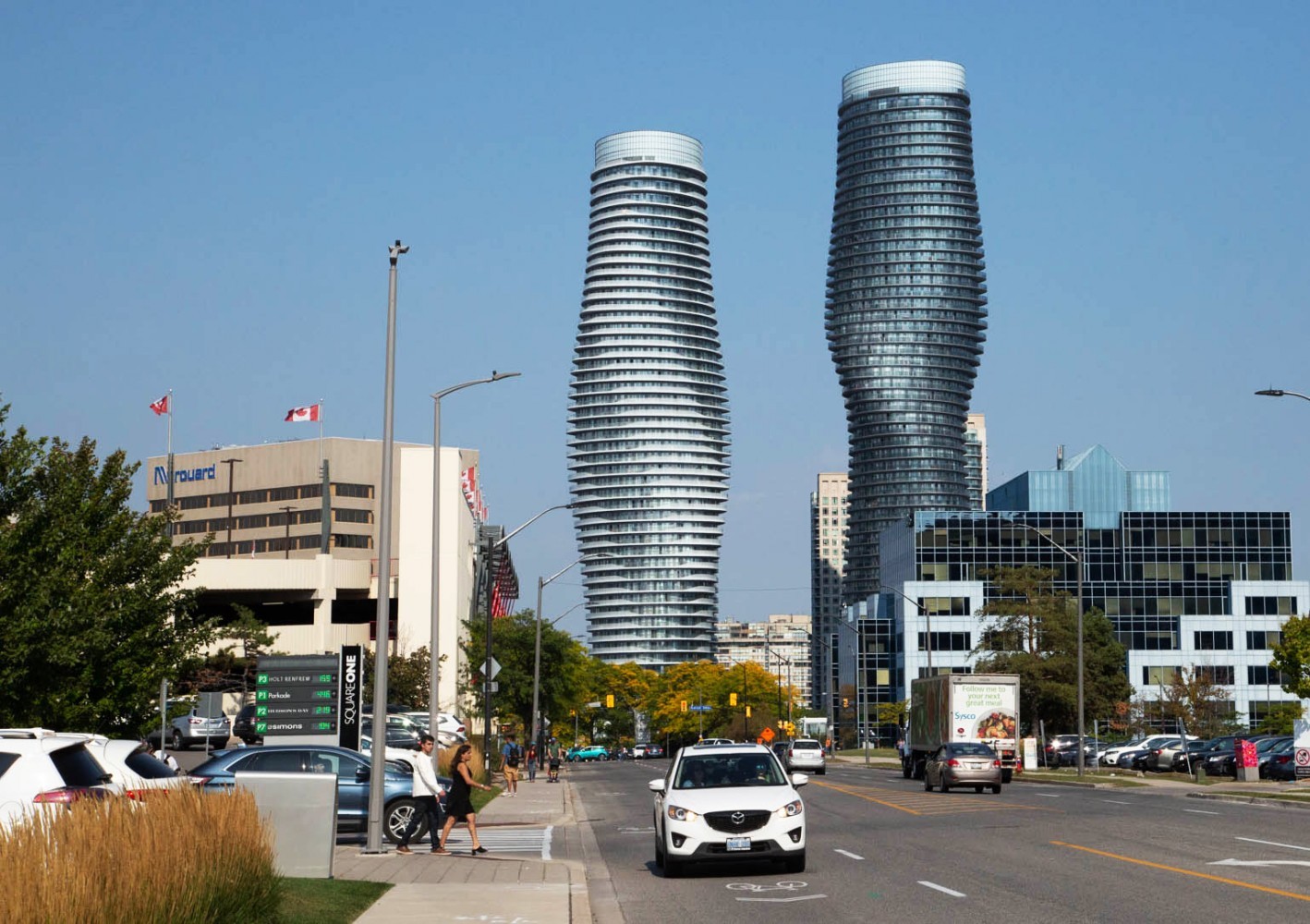 Managing City finances to maintain aging infrastructure will be a key challenge for the new council.
(The Pointer files)
Due to budget shortfalls, the incoming council will be left to decide between which roads, bridges, culverts and buildings are the highest priority and which can potentially be postponed to later years.
There is also a pressing need for the City to make investments in order to reach critical climate change targets and continue budgeting for the transition from diesel to electric vehicles to meet the City's emissions targets.
An analysis of the 2022 capital budget completed by The Pointer found a total of $197.9 million worth of investment connected to the City's plans to mitigate or adapt to the changing climate.
Big ticket items include hybrid bus replacements and dedicating just under $100 million in capital investments to transition MiWay's fleet from diesel to electric.
The City has also stated its desire to rapidly expand the transit system to take advantage of the Hurontario LRT, slated to become operational in 2024. The MiWay system is an apt example of the dilemma facing Mississauga. It wants to get people out of cars and move the city away from its suburban past, but revenues needed to expand transit are being eaten up by existing costs such as labour and the need to maintain current infrastructure. It will take billions of dollars not currently available to shape the city into what it wants to be.
Seven years ago, Mississauga had an infrastructure gap of $60 million; in the 2022 budget document, staff predicted that over the next 10 years, the City's infrastructure gap would sit between $400 and $450 million.
According to the 2022 budget proposal, the City is unable to cover the total costs of keeping its assets in good condition over the next decade. The City has to spend $206.6 million annually over the next 10 years to simply maintain existing assets in a decent state.
These are just some of the financial pressures facing the new council over the next four years. As budget time approaches and the City reviews its annual bill, it will be up to a new collection of decision makers to determine their priorities during a term of office that will define Mississauga for decades to come.
---
Email: [email protected]
Twitter: @mcpaigepeacock
---
COVID-19 is impacting all Canadians. At a time when vital public information is needed by everyone, The Pointer has taken down our paywall on all stories relating to the pandemic and those of public interest to ensure every resident of Brampton and Mississauga has access to the facts. For those who are able, we encourage you to consider a subscription. This will help us report on important public interest issues the community needs to know about now more than ever. You can register for a 30-day free trial HERE. Thereafter, The Pointer will charge $10 a month and you can cancel any time right on the website. Thank you
Submit a correction about this story