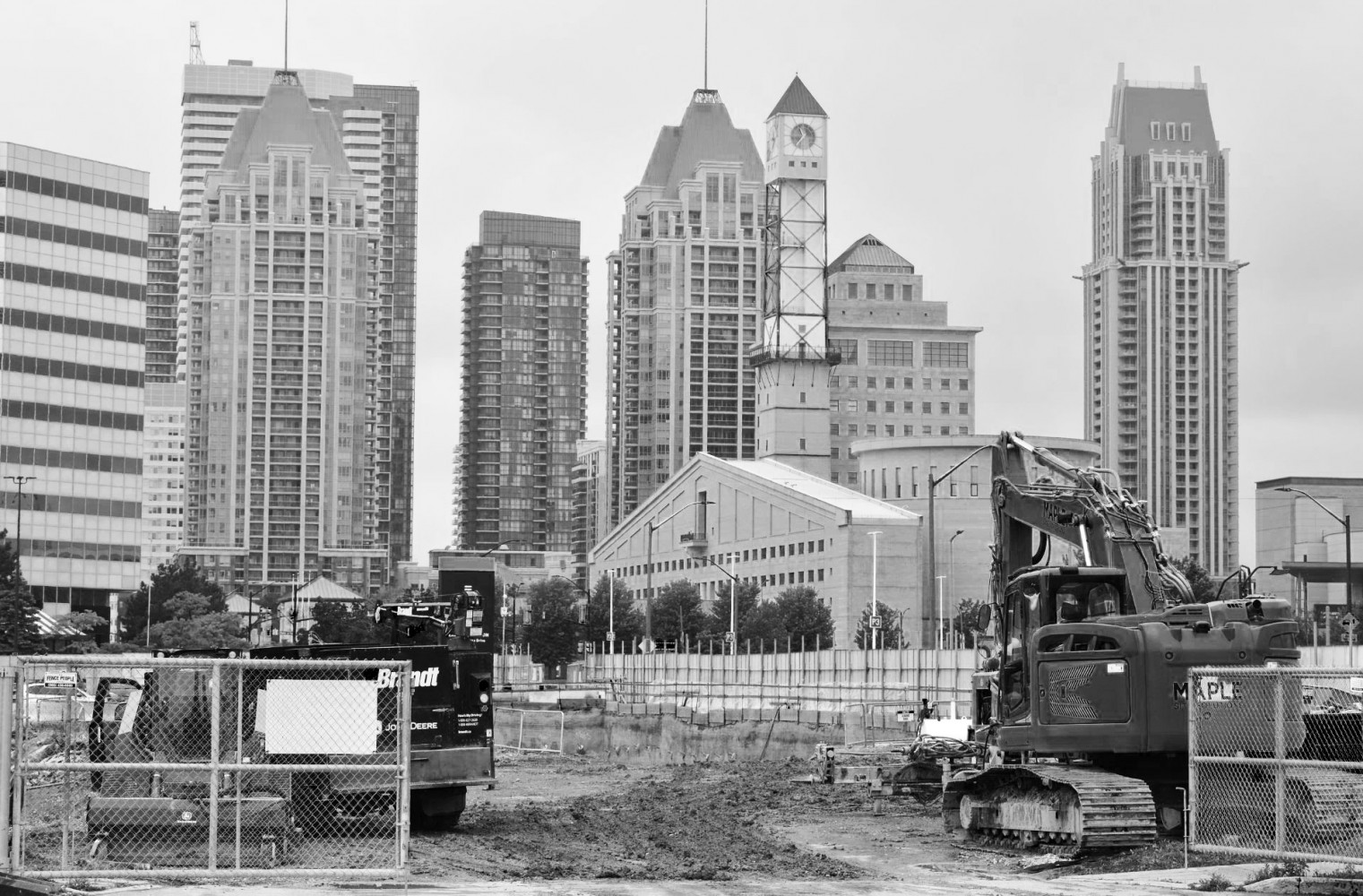 Feature image from Isaac Callan/The Pointer
Ottawa starves Mississauga of infrastructure funding 
For anyone watching the terrifying scenes south of the border over recent days, first in and around Louisiana and then across parts of New York and New Jersey, the devastating impact of climate change on underfunded cities hit home with resounding effect.
Municipal and state leaders repeatedly spoke of the lives lost, people trapped in basement apartments where they drowned and others who were swept into stormwater sewers overpowered by the raging waters.
The unfolding story is one of cities that simply are not equipped to handle the looming threat of climate change, and nowhere in Canada is this more evident than Mississauga. The city has been ravaged by massive storms and flooding in recent years, its aging infrastructure in desperate need of an overhaul.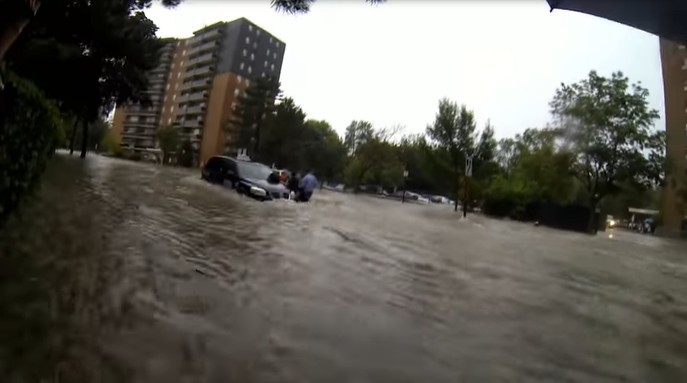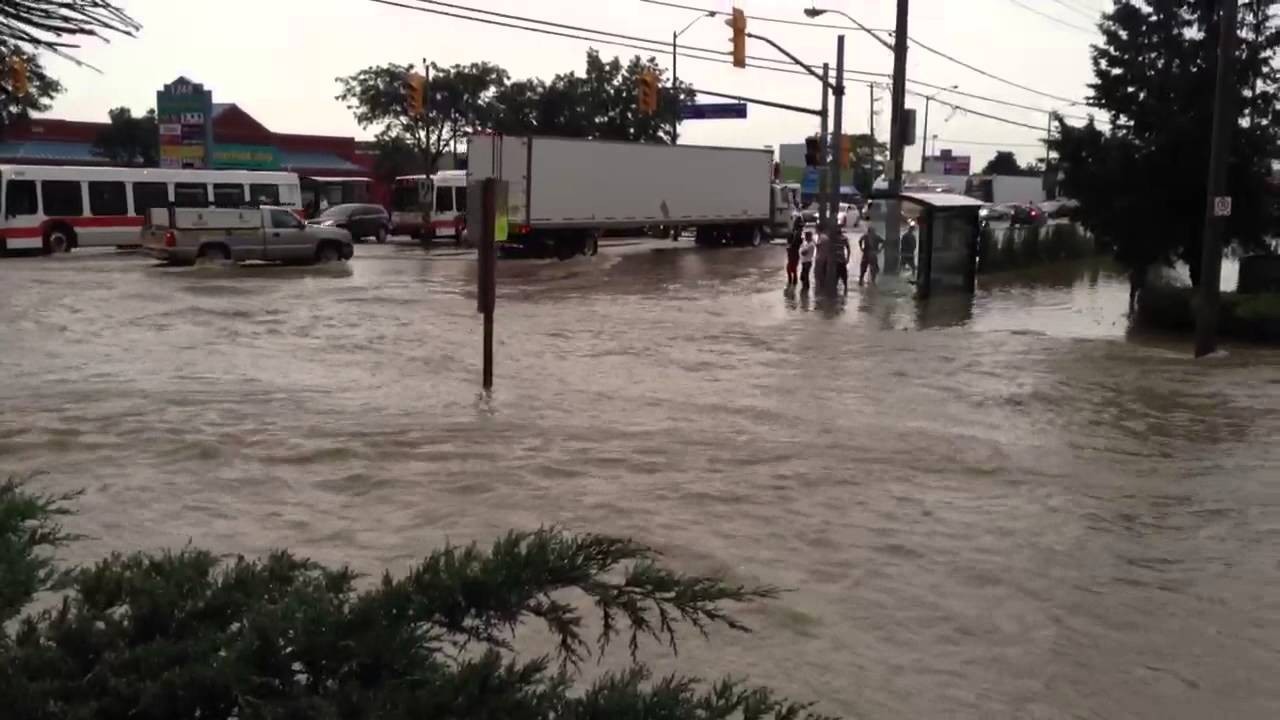 Images from the 2013 flooding in Mississauga.
Meanwhile, other badly needed infrastructure to keep up with its exploding population and future proof the city against the impacts of our climate reality, has not come online fast enough to make Mississauga a destination for residents who want to live in the type of modern environment younger generations now demand.
The Hurontario LRT is part of that future and has become synonymous with the modernization of a transit system that in the past was an afterthought amid Mississauga's sprawling '80s and '90s trajectory. Time and again it is rolled out as an example of how the city is finally gliding toward a truly urban future.
The project itself has been on the table for almost a decade. It was officially confirmed in 2014 and will enter service in 2024.
Thanks to the transit route, there has been a tangible sense of excitement around Mississauga's growth. Developers have flocked to build condos and office towers along Hurontario Street, away from the unsustainable subdivisions of the past, while politicians continue to laud the line's potential.
It's a symbol of progress, but the eye-catching project is also papering over the cracks.
Much of Mississauga's infrastructure was built at the tail end of the last century and is now in an increasingly desperate state of disrepair. Attempts to build other transformative projects to complement the Hurontario LRT, and unlock its potential within a rapid transit network, have met with mixed success.
The list of aging assets Mississauga owns is enormous and includes roughly 60 percent of all infrastructure located within the city's boundaries. This portfolio features: $4.5 billion worth of stormwater assets, $2.9 billion in roads, $1.9 billion in buildings and $935 million worth of bridges.
The $4.5 billion in infrastructure to protect the city against the next big storm, is now being completely rethought, just as urban planners south of the border have explained in recent days, as the sight of submerged city streets dominated screens. Cities like Mississauga simply are not prepared to handle once-in-a-century storms now occurring almost every year.
But there is no way this infrastructure can be rebuilt to address our modern reality without funding from the federal government. The bill would bankrupt every city, and the property tax base can barely put a dent into the needed cost.
The dynamics are all intertwined. The federal government has pledged to create a cleaner future, and its carbon-tax policy is both the carrot and the stick to achieve this. But without federal investment in transit, it's impossible to build density to replace sprawl, and without density, storm water systems will continue to be overwhelmed by runoff from all the paved and covered services to accommodate yesterday's urban planning.
Spread-out urban subdivisions are not conducive to public transit, pushing demand for single-passenger vehicles, which are one of the biggest causes of global temperature increase.
Compounding the complex infrastructure considerations needed to address our new climate reality, is the state of existing assets owned by the City. Roughly 20 percent of Mississauga's roads are in poor condition, along with 13 percent of its buildings. Two-thirds of City Hall's capital program is set aside for state of good repair projects to patch up crumbling assets. More than half of Mississauga's facilities are at least 30-years old.
The City of Mississauga will boast an LRT route by 2024.
(Rendering from Metrolinx)
The aging buildings and cracked roads are captured in the City's growing infrastructure gap.
This indicator represents the difference between the annual depreciation of City infrastructure based on its replacement cost and the funding that has been put aside for those projects. It now sits at $291 million, having grown a further $17 million between 2020 and 2021. Six years ago, Mississauga had an infrastructure gap of $60 million; in the 2020 budget document, staff predicted it would grow to $309 million by 2029. Over the past two years, it has increased by $16 million and $17 million, suggesting that prediction could be eclipsed far earlier.
It's an impossible situation local staff and councillors face.
Some regular funds flow from other levels of government, including the Gas Tax, but investment in specific projects is vital. The expensive task of launching new projects similar to the Hurontario LRT can only be achieved with the help of other levels of government; some rehabilitation costs are also too expensive to handle alone.
Six years ago, residents in Mississauga elected six Liberal MPs to represent them in Ottawa after their party promised to help cities with the cost of aging infrastructure. A key election pledge for the party in 2015 was to add $60 billion of new funding over a decade through the Investing in Canada Infrastructure Plan. That funding, added to the previous Stephen Harper government's commitment of $128 billion, brought the total up to an impressive $188 billion.
But the City of Mississauga received little support over the four years of majority Liberal rule that followed.
A total of $65.2 million in federal funding was sent to Mississauga to help with around 70 infrastructure projects, according to data from the Investing in Canada Infrastructure Plan website. The figure represents just a tiny fraction of the per capita infrastructure funding Mississauga should have received, about $1.5 billion over the four-year period from 2015 to 2019, however, it could take time to get the lion's share of the $188-billion national fund flowing, so some lag can be expected. But for Mississauga residents to enjoy a fair return on their federal income tax contributions, around $4 billion from the fund will have to come to the city over the roughly ten-year period for the ICIP fund outlined by the Liberals.
The majority of funding that has so far been committed to Mississauga came through a public transit stream, including $14.8 million to acquire new 40-foot buses, $13.9 million for 60-foot buses and $3.8 million to improve pedestrian and cyclist access to the Mississauga Transitway. The median value of each federal contribution between 2015 and the summer of 2019 was just $143,142, with a large number of the projects and the actual work initiated in 2017.
Despite under-delivering on the infrastructure file, all six Liberal MPs were returned to Ottawa in 2019. Following his reelection Mississauga-Lakeshore MP Sven Spengemann promised he and his colleagues would do better. Speaking at his election party, he admitted there had been a "shortfall" in infrastructure funding and promised to take the issue "very seriously".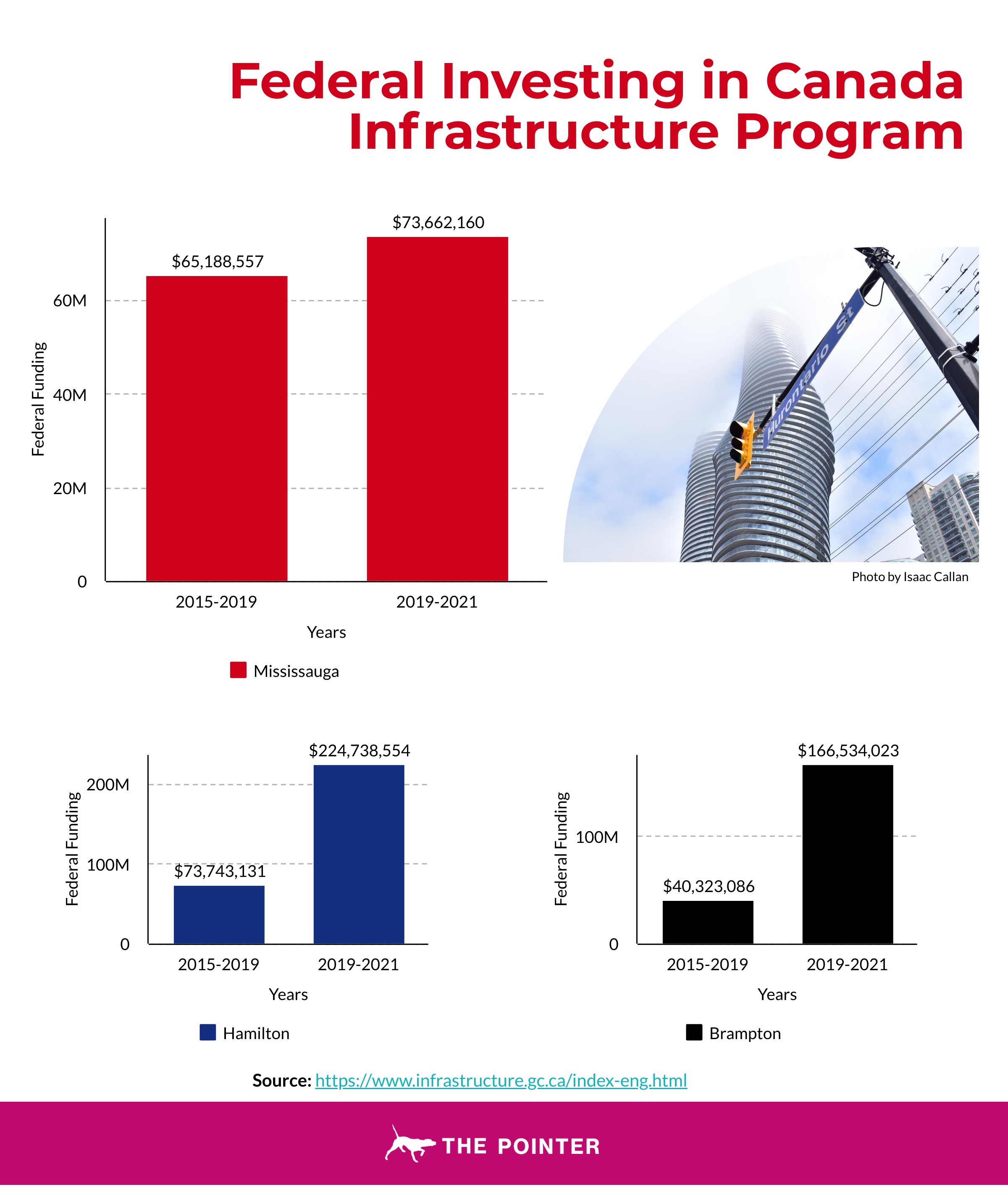 "We have two to three waterfront projects [in Lakeshore] and a whole bunch of infill as well," he said. "So people are going to be using Lakeshore [Road], they're going to be using Highway 10 (Hurontario) to get to their workplaces. Ideally we're going to have communities where people don't have to take the car to drive to the GO Station, but take some shuttle bus or make it more walkable. So transit remains very high on our radar."
The MP delivered locally on his promise to bring rapid transit to Lakeshore Road, but the minority government of the last two years largely left Mississauga high and dry.
While slightly more funding has flowed from the federal government to Mississauga over the past two years, key projects remain unfunded. The City received a total of $73.7 million from the Investing in Canada Plan between late-2019 and summer 2021, an increase of 13 percent over the previous government, and over just two years, compared to the previous four-year term, so the annual increase worked out to more than 25 percent. But the figures still only represent a tiny fraction of the per capita infrastructure funding the city should have received. By comparison, Edmonton, with a somewhat similar population, received around $2 billion in infrastructure funding between 2015 and 2019, which was approximately what its per capita allotment should have been.
What this means is Mississauga federal income taxpayers, all those residents who are employed and dutifully pay their taxes, are effectively subsidizing infrastructure in other parts of the country, which they get no benefit from.
The biggest contribution to Mississauga's infrastructure wishlist was $21.8 million for a bus rapid transit route along a short section of the city's waterfront. The project will directly deal with the growing population Spengemann referenced, but is a drop in the bucket compared to the City's overall transit needs.
Another $17.6 million was pitched for bus rehabilitations and $14.7 million to improve amenities at bus shelters in the city. The median contribution from the federal government increased in the past two years to $1.2 million, but fewer than 20 projects were greenlit through the Investing in Canada Infrastructure Plan.
Other funds are being spent in Peel that will benefit residents in Mississauga and have not been sent directly to City Hall.
Peel's two school boards received over $50 million at the beginning of this year, while the Region of Peel received around $20 million between 2019 and 2021. Ottawa has also committed $32.5 million to reconfiguring the Queen Elizabeth Way and Dixie Road interchange.
Mississauga's federal assistance compares dismally to other cities. Even Brampton, which also remains dramatically underfunded, received $166.5 million from the federal government over the past two years. Its biggest funding allocation from Ottawa was $69.9 million, more than triple the value of the biggest contribution to Mississauga. The City of Hamilton, with about 70 percent of Mississauga's population, received $224.7 million for projects since the fall of 2019.
Transit is a top infrastructure need in Mississauga.
(Image from Isaac Callan/The Pointer)
The Mississauga projects that still haven't been funded only rub salt in the wounds.
The most high profile unfulfilled federal request is support to build a bus rapid transit corridor along Dundas Street. The route is a key part of the City's transit policy, connecting the Hurontario LRT to the TTC subway system with rapid service on Mississauga's second busiest MiWay corridor.
The number 1 and 101 routes provide local and express service respectively on Dundas Street, but neither is given priority. Instead, the express route simply stops in fewer places than its local sister-service. Both options are susceptible to congestion related delays and traffic incidents.
Mississauga sent a request to the federal government to help with the $305.7 million construction cost in 2019, around $122 million of which should be funded by Ottawa. The Investing in Canada Infrastructure Plan website shows a decision has not yet been made on funding the project.
The City received more bad news last year when it was confirmed the federal and provincial governments would not help with the $71.3 million bill to develop the Port Credit marina. Under the Investing in Canada Infrastructure Plan, provinces prioritize which projects should receive funding and elevate those requests to Ottawa for final approval. It is unclear if it is local MPPs or MPs who bear the ultimate responsibility for failing to secure vital waterfront funds for Mississauga, but the project's rejection suggests a lack of advocacy and negotiation from both groups.
A decision has been made on the City's $359 million request ($143.6 from Ottawa) to purchase more buses, but funds have not been released. No announcement was made before Justin Trudeau dissolved Parliament and called Canada's 44th election.
As Mississauga lays out its new list of requests for the federal government, including funding for the Dundas Street rapid transit route, officials will hope Ottawa is more generous this time around.
---
Email: [email protected]
Twitter: @isaaccallan
Tel: 647 561-4879
---
COVID-19 is impacting all Canadians. At a time when vital public information is needed by everyone, The Pointer has taken down our paywall on all stories relating to the pandemic and those of public interest to ensure every resident of Brampton and Mississauga has access to the facts. For those who are able, we encourage you to consider a subscription. This will help us report on important public interest issues the community needs to know about now more than ever. You can register for a 30-day free trial HERE. Thereafter, The Pointer will charge $10 a month and you can cancel any time right on the website. Thank you.
Submit a correction about this story