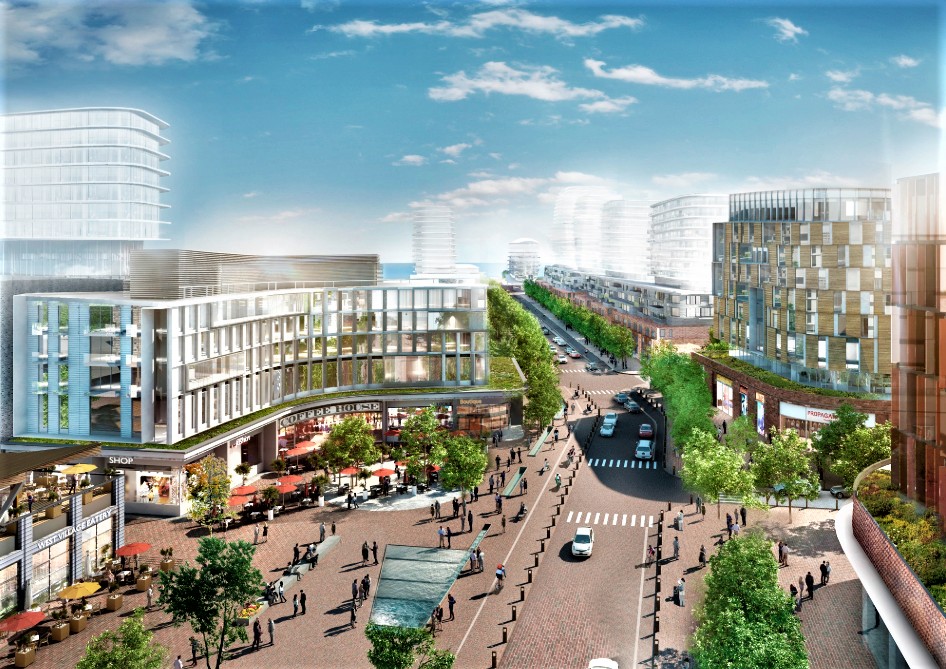 Renderings City of Mississauga/Photo map Torontocondo4U.ca
Funding setback for what PCs think is a 'vanity project' won't end Mississauga's waterfront dreams
The financial setback of COVID-19 reflected in Mississauga's 2021 budget proposal was met with more bad news in the fall, when the City failed to secure much-needed provincial funding for one of three major waterfront developments that will shape the city's future.
Capital investments to fulfill an exhilarating vision will still move ahead over the next decade, in tandem with private developers poised to build housing and other features of the signature projects.
The city's towering ambitions have been brought down to earth by this year's steep revenue losses – driven primarily by transit and recreation deficits due to low service levels throughout the pandemic.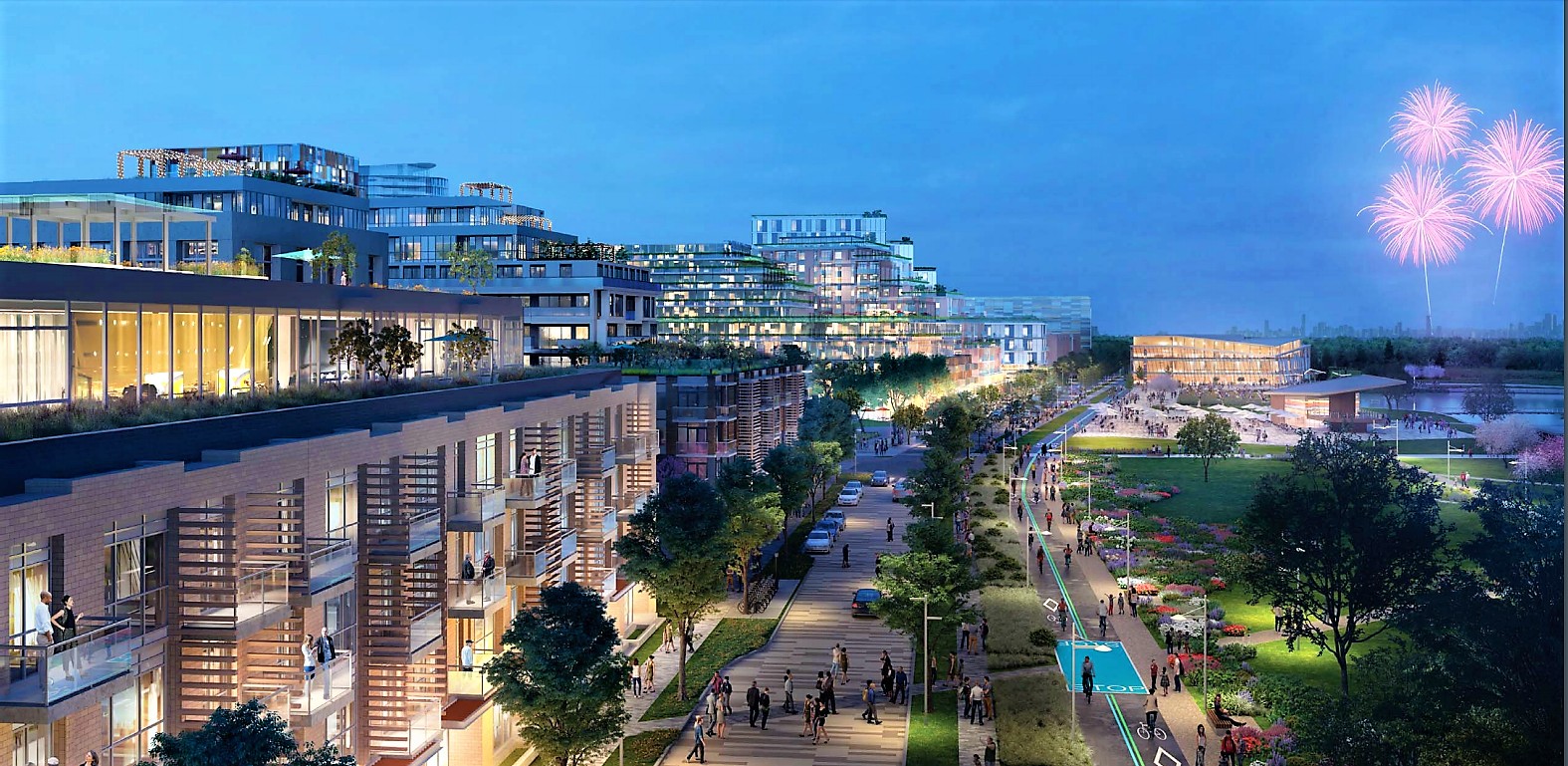 Lakeview Village, which will erase the dirty legacy of the old coal-fired power plant, is one of the largest projects in Ontario's history
The ongoing public health emergency has primed Mississauga to take cost-saving measures with a cautious approach guiding decisions for the coming year. Council will resume deliberations in January to approve a budget like none other in the city's short history. Staff and those elected to steer the country's sixth largest municipality are slated to deliver a one percent property tax increase on the City's share of the 2021 property bill, in an effort to ease financial difficulties so many are experiencing in this ongoing crisis. Some capital projects linked to Mississauga's climate change plan and transit priorities have been delayed.
As Mississauga's economic recovery is shaped by the widespread effects of COVID-19, waterfront development is emerging as an even more pressing priority for the city's future. Prior to the pandemic, staff reports emphasized the transformational potential of these prime lakeside sites. From creating vibrant, walkable communities and affordable "missing middle" housing units, to expanding tourism and innovation industry spaces, these projects have the potential to draw thousands of new jobs and visitors to Mississauga. Three of these key projects are located in Lakeview Village, Port Credit West Village, and the proposed site of a new marina at 1 Port Street East. They remain a priority for the city's economic recovery plans.
In January, the City submitted its terms of reference to the Province to kick off the environmental assessment process for the proposed $71.3 million marina development site, located behind mid-rise residential units along the waterfront trail in Port Credit. Ten months later, the Province denied the project's application for funding through the Community, Culture and Recreation project stream under Ottawa's Investing in Canada Infrastructure Plan (ICIP). In an October letter posted via the Town of Port Credit Association, Ward 1 Councillor Stephen Dasko called the Province's decision "profoundly shocking and disappointing." The proposed plan to redevelop Port Credit's deep-water marina to accommodate larger vessels, boat storage and a 3.4-acre parkland space was approved by Council years ago.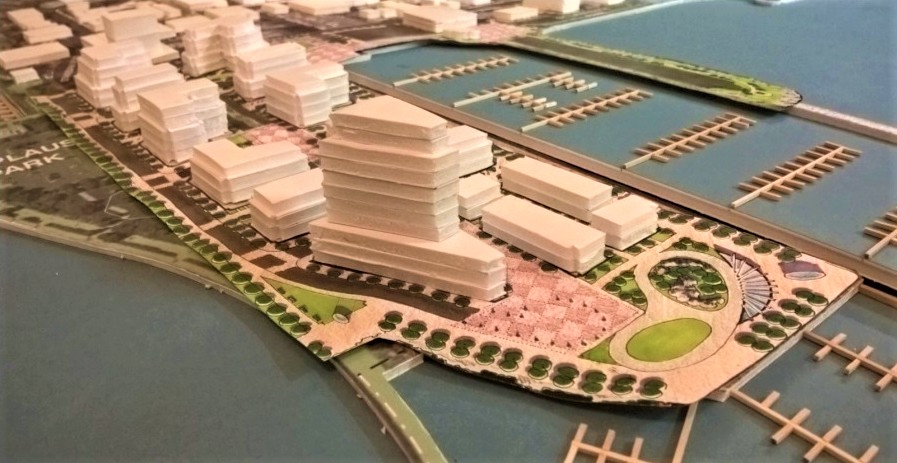 The plan for a new Port Credit marina will need some creative financing after the Province blocked federal funding
"Our frustration with the provincial government was that they looked at this almost as a vanity project. 'It's a marina, it's recreational [for] people with deep pockets'…It's so much more," said Mary Simpson, president of the Town of Port Credit Association. Simpson has advocated alongside local PC MPP Rudy Cuzzetto for a future marina to be reimagined as a commercial, rather than recreational, development opportunity.
In an October press conference, Mayor Bonnie Crombie said the marina is "vital" to Port Credit, a community that is a significant tourism driver in Mississauga, and said the City is appealing to Cuzzetto and Premier Doug Ford for assistance.
"Unfortunately, it is not a project that can be debt-financed from the City at this point. There are too many other budget constraints to go forward, so unless we have the assistance of the federal and the provincial government, we would be unable to build the public marina," Crombie said.
Under the ICIP, which is funded by the federal government and included a total of $188 billion for major infrastructure investments when it was launched in 2015, province's get to select which applications are sent to Ottawa. They choose from a pool of proposals put forward by municipalities that have to meet criteria for specific funding envelopes within the ICIP framework.
More than 150 people are employed at the Port Credit marina site. Expanding its operations could include building longer docking slips, investing in capacity to repair bigger boats in the 18-foot minimum deep-water harbours and reducing the waitlist for those wanting to dock their vessels in Port Credit.
After provincial funding was denied, City staff shared its business case with the Association and are continuing to explore how to seek funding. Private investors may not be incentivized to take on the project because of how long it would take to receive a return on their investment, Simpson said.
"I don't think that private funding was ever really pursued, and I'm honestly thinking that that is one of the ways that we need to look at funding this marina," she said, including subsidies such as a Tax Increment Financing (TIF) scheme. This would freeze property tax revenue to the current valuation level, prior to development, for a determined time. The property tax difference, or increment, above that fixed level over the years would then be used to pay off the development.
While the marina project is still up in the air, a short distance away, the marina dock system at 135 Lakefront Promenade is set to receive a $2.3 million facelift through a capital investment by the City in 2021. Another $2 million has been set aside next year for development at Port Credit Harbour West Parks, near Front Street and Lakeshore Road. The City's 2021 to 2025 capital forecast includes $13.1 million for the Marina Park developments.
Another hotly anticipated project on Mississauga's 22-kilometre-long waterfront is dreamed up in the City's Lakeview Development Master Plan, endorsed by Council in 2019. It will transform 177 acres of land that once housed the Lakeview Power Generating Station into a mixed-use space with mid-to-high-rise buildings. About $14.1 million will be set aside in the capital budget between 2021 to 2028 for the City's work on the site.
The massive development will be built by a consortium of private companies that have come together under one corporation, Lakeview Community Partners Ltd., which will construct one of the largest projects in the province's history.
The group has estimated the value of its project could be as much as $6 billion.
Lakeview Village will include more than 8,000 residential units for more than 17,000 residents, including townhomes, high-rise apartments and some affordable housing.
To support the unprecedented private-sector investments that will reshape the lakeshore, City staff are also requesting a contract position in 2022 to "lead all real estate investment and attraction activities to create momentum for growth," said Bonnie Brown, Mississauga's Director Economic Development, in a statement to The Pointer. The City is budgeting $273,451 to hire a Real Estate Investment Manager on an 18-month contract, which includes a salary range of $100,874 to $134,493, and a $40,000 operating budget for annual general expenses.
---
Before... The Port Credit West Village area where an old oil refinery was housed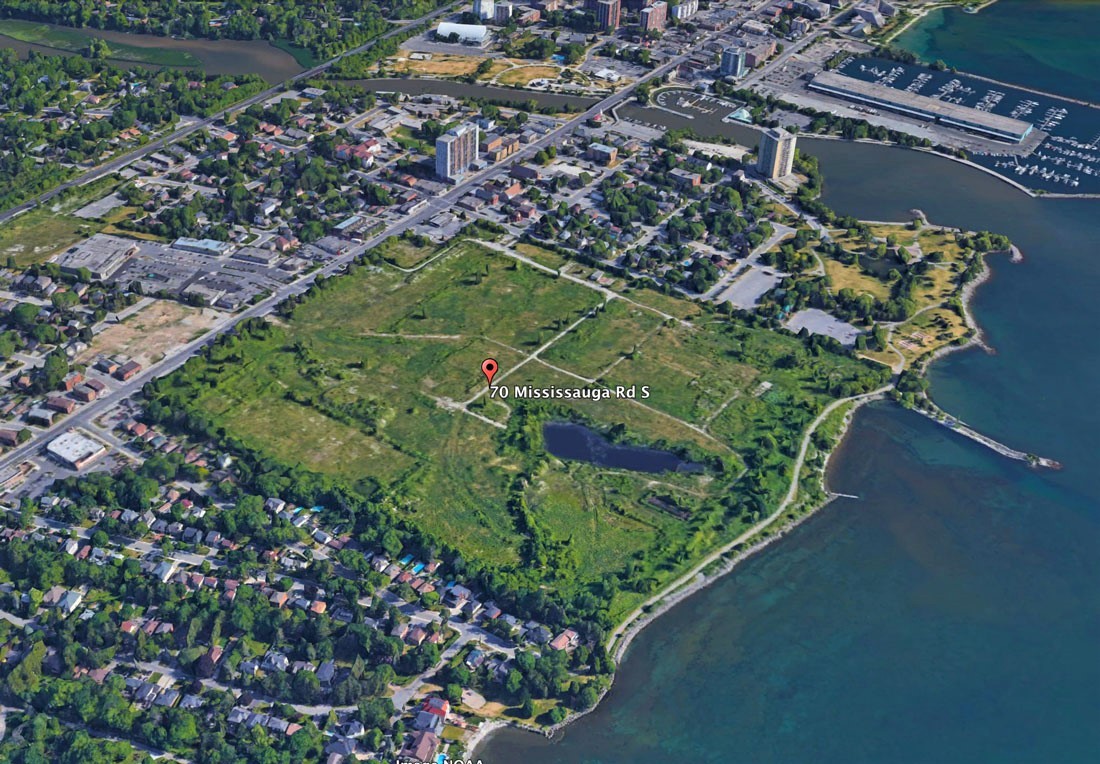 After... What the "Brightwater" area will look like when a planned $2-billion redevelopment of the brownfield is completed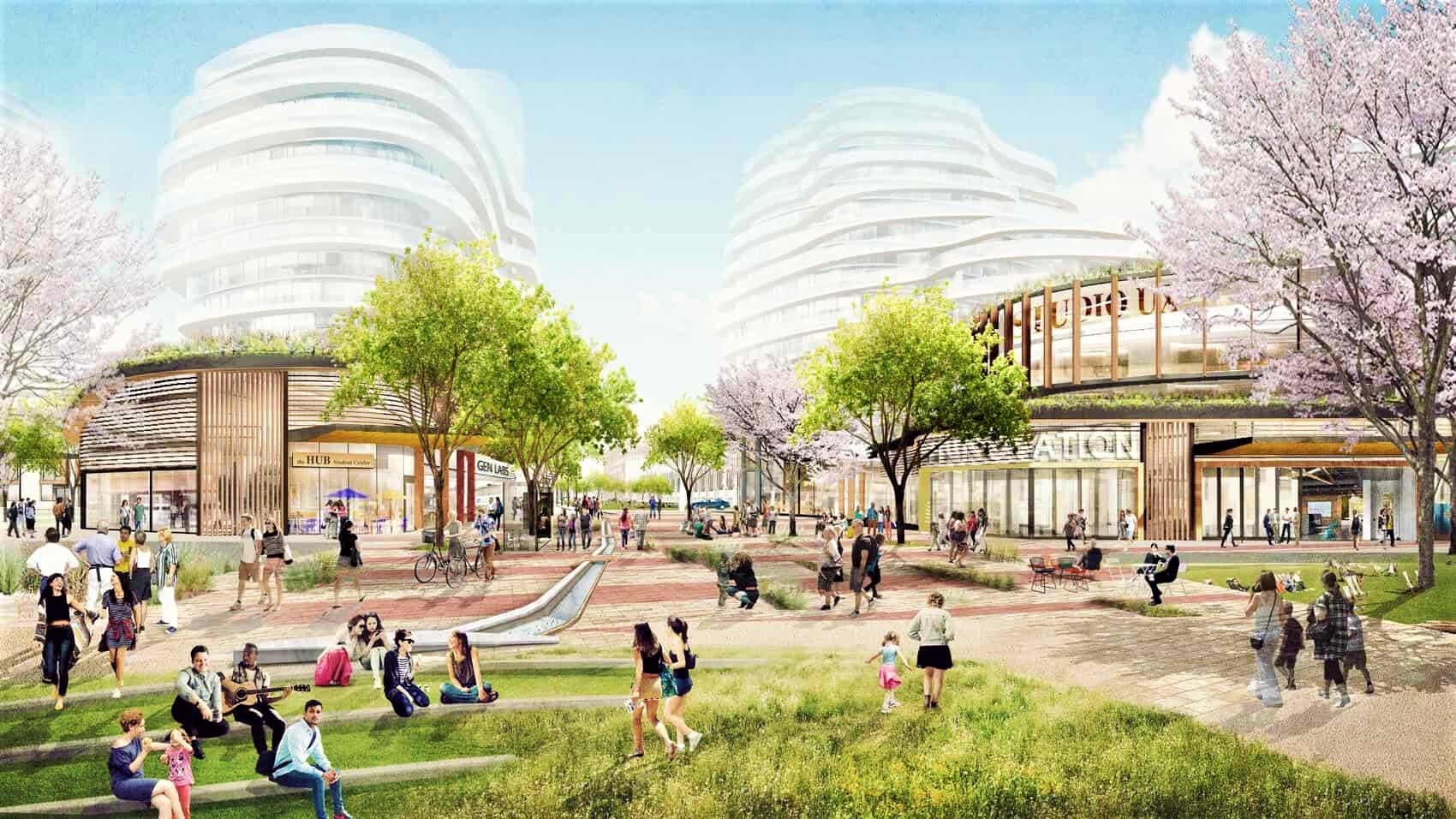 ---
"This position is intended to yield positive economic impacts for the city and broader region," said Brown, adding the site will include close to 2-million square-feet in innovation and employment space in the Lakeview Innovation Corridor, and the potential for at least 9,000 new jobs.
Due to COVID-19-related delays, the City is extending an online public survey regarding parkland at the Lakeview Village project until January 4, 2021. The parks include the redevelopment of Lakefront Promenade Park and a conservation area named after former Ward 1 Councillor Jim Tovey, who died in 2018. Prior to joining council, Tovey founded the Lakeview Ratepayers Association and led the creation of an award-winning master plan, Inspiration Lakeview, for the area's redevelopment.
The Association has carried the baton and continues to advocate for their residents' wishes to not sacrifice a human-scale connection with the waterfront in the name of creating more vertical density, walling off citizens from their own natural surroundings. A zoning change requested by Lakeview Community Partners was submitted and open to public feedback in the fall. This followed concessions made by LCP last year, which reduced the proposed number of units in the development to 8,026 from 9,700. The parties are still debating a proposed 24-storey tower the Association wants to replace with two 12-storey buildings.
"It's a good budget. Obviously it's not going to give us everything that we see in a lot of the LCP [rendering] pictures, but it's going to be a good working budget for things to get started," said Deborah Goss, president of the Lakeview Ratepayers Association. She said the last major discussion with the City, regarding park development in Lakeview, happened in February, just before the pandemic began.
Though the project is facing delays because of public health measures, the developers are keen to push forward, said Brad Butt, vice-president of government and stakeholder relations at the Mississauga Board of Trade. Both the LCP and developers at the Port Credit West Village site are members of the Board, he said.
"They are not delaying their project plans. They are planning on moving forward irrespective of COVID-19," Butt said. "The City needs to continue to support them and process their applications on a timely basis, so that we can get this great waterfront development that we want to all see [happen]."
The City's capital budget has $26.7 million earmarked for work to support the redevelopment of Port Credit West Village starting in 2021 to 2030. The $2 billion Brightwater project is on the site of another former industrial brownfield, where the old Imperial Oil refinery was housed, and will see the creation of about 2,995 residential units, with a high-rise of up to 29 storeys, a cluster of other buildings, parkland and other mixed-use space.
---
Email: [email protected]
Twitter: @LaVjosa
---
COVID-19 is impacting all Canadians. At a time when vital public information is needed by everyone, The Pointer has taken down our paywall on all stories relating to the pandemic and those of public interest to ensure every resident of Brampton and Mississauga has access to the facts. For those who are able, we encourage you to consider a subscription. This will help us report on important public interest issues the community needs to know about now more than ever. You can register for a 30-day free trial HERE. Thereafter, The Pointer will charge $10 a month and you can cancel any time right on the website. Thank you.
Submit a correction about this story