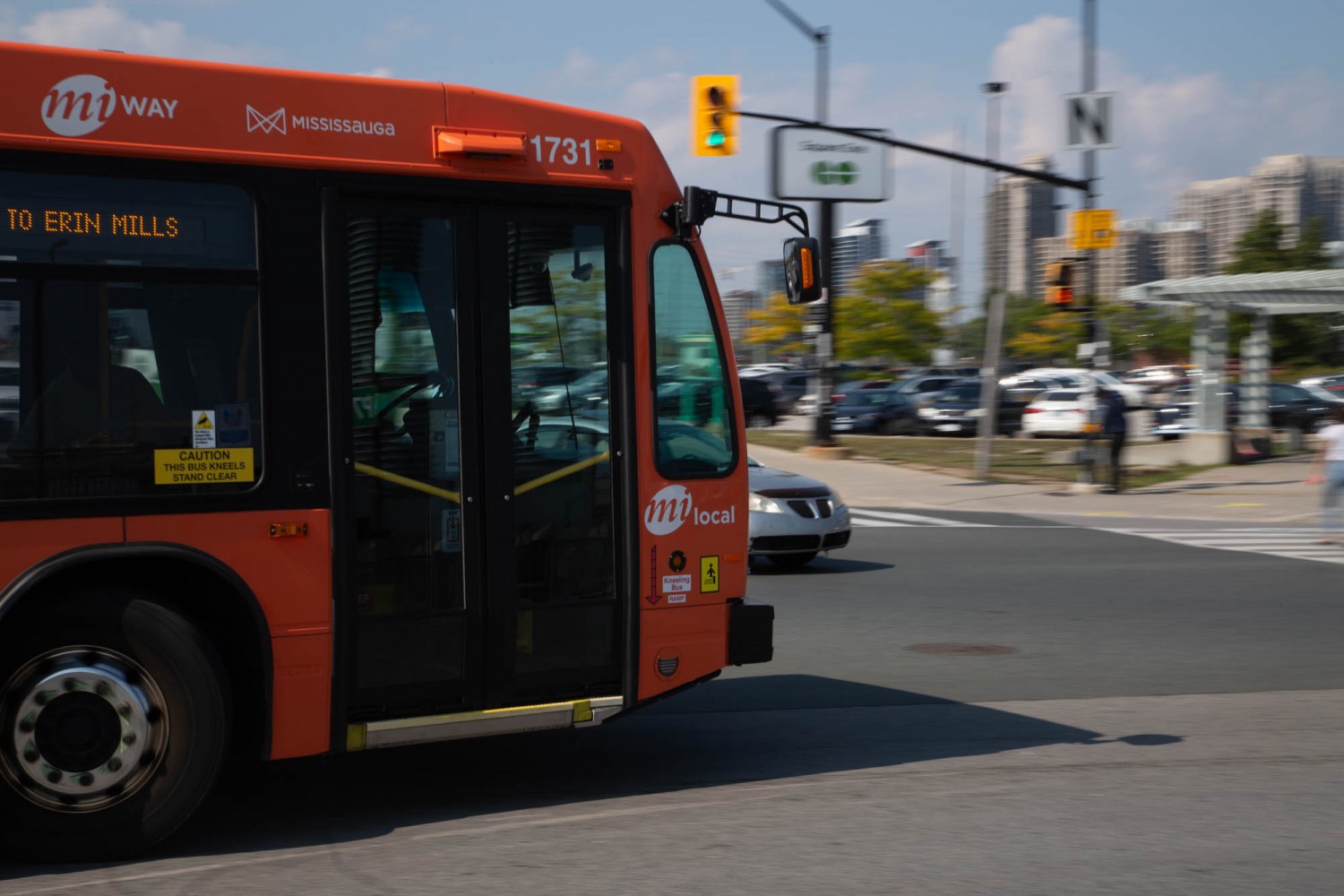 Photos from The Pointer files/City of Mississauga
Decimated demand and uncertain future put Mississauga transit expansion 'on hold' for years
At the beginning of 2020, things were looking rosy for Mississauga's MiWay bus service. Years of consistent expansion were paying off and ridership was up almost 10 percent year-on-year in January and February.
MiWay and its director, Geoff Marinoff, were being vindicated in plans to shift the city's transit network to a grid system. Annual demands to crank up service hours were also paying dividends.
In the winter frost, a well-used bus network was slowly beginning to flourish. The plan is central to Mississauga's vision of transitioning away from its suburban past.
Then, early in the morning on March 6, Marinoff received a call. A member of the public, who later tested positive for COVID-19, had travelled for several days on a Mississauga bus. Enhanced cleaning was introduced, but things spiralled downward quickly.
By March 17, the Province declared a state of emergency and buses soon rolled through streets near-empty.
At its lowest point, MiWay was operating with just 25 percent of its normal ridership. While things picked up over the summer, buses are currently carrying between 43 and 45 percent of their pre-pandemic passenger load.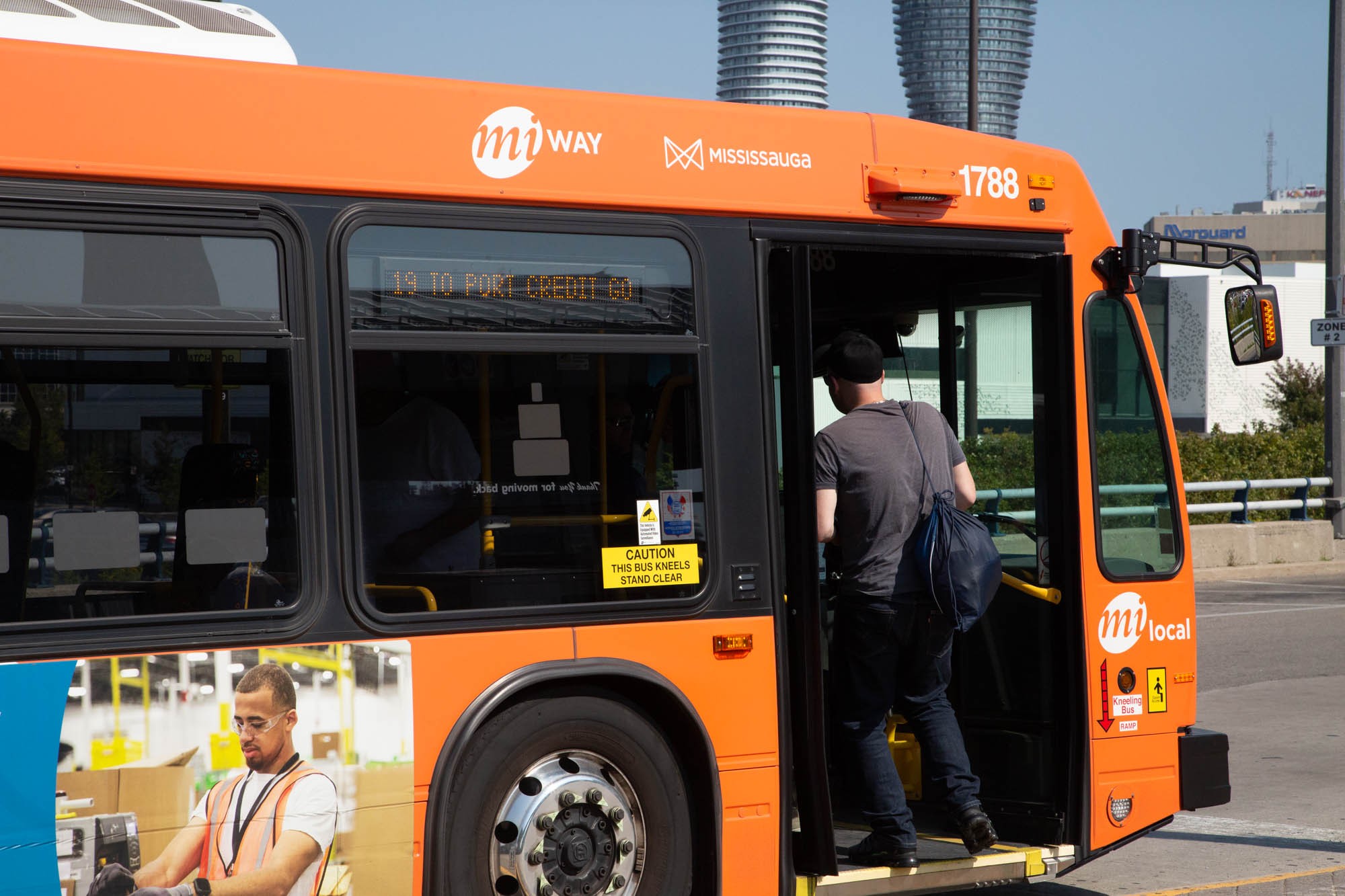 Transit ridership numbers significantly declined at the start of the pandemic. They've started to slowly pick up again.
With mass vaccinations not likely before September 2021, according to new estimates by the federal government, and COVID-19 continuing to hang over the process, City staff are baking low ridership assumptions into their plans for the future. Any hopes for a budget to capitalize on MiWay's success are gone and proposals for 2021 aim to stop the bleeding.
Planning currently centres around a hope ridership will hit 50 percent by the end of 2020, climb to 75 percent at the end of 2021 and, in 2022, return to pre-COVID levels or even begin to grow.
In the face of the pandemic, 2020 service growth (approved by councillors) never took place. Instead, the City's final recruitment drive was in February. The 18 new drivers Mississauga had hoped to hire this year were no longer needed and the positions did not get filled.
For 2021, expansions have also been scrapped, while the same is projected for 2022. To reflect its new reality, MiWay has scrapped two express routes and reduced its service hours below 2019 levels.
"At this point our transit expansion plans haven't been stopped, but they are on hold," Paul Mitcham, Mississauga City Manager, explained to The Pointer. "We have curtailed the transit expansion that was planned in 2020 and we're taking a pause in 2021."
This juddering halt is illustrated in the number of drivers MiWay needs. A projection included in the 2020 budget suggested the transit service would need 1,187 drivers in 2020, rising to 1,211 by 2021 and 1,235 in 2022. The reduction in service hours for the foreseeable future means MiWay will only need 1,127 drivers in 2021.
Because new hiring stopped in 2020, 42 drivers will not be replaced as exits, retirements and promotions naturally reduce the workforce. That number will stay constant in 2022 and finally grow to 1,153 drivers in 2023. The number of drivers in 2023 will represent an increase, but is still 107 operators below the number originally predicted in 2020.
Generally speaking, a driver adds 1,500 service hours in a single year.
The reduction in hiring represents a major obstacle in the road of transit expansion in Mississauga. It may concern those who rely on the service and will disappoint smart growth advocates, but some councillors only see benefits.
"I just wanted to take the opportunity to really congratulate Geoff Marinoff and his team … for really sharpening the pencil. I think our budget is looking so much better mainly because of MiWay, when you look at the trade-offs," Ward 7 Councillor Dipika Damerla said during a virtual budget committee meeting Tuesday. "It's a tough year, but it's a little less tough because of the pencil sharpening."
Damerla, who has already announced her plans to run in the next provincial election, to regain the seat she lost in 2018 before jumping into municipal politics, has been preoccupied with low taxes, banking on the populist message after she was removed from Queen's Park largely because of her Liberal party's reputation of being reckless with taxpayers' money.
Overall, MiWay has reduced its operating budget 7.4 percent, from $91.5 million in 2020 to $84.8 in 2021. The department has proposed no new initiatives and is dropping its service hours as well.
The budget will likely not be finalized until February, but councillors showed no signs of asking staff to reconsider their transit plans.
Drastically reduced demand has led to service cuts in 2020, including the scrapping of two express routes. The 100 (Airport Express) and 185 (Dixie Express North) have both been discontinued, with their passengers left to rely on slower, local services.
"To some extent that route 100 was duplicating other services," Marinoff explained to The Pointer, saying he hoped to bring it back eventually. "When we had lots of riders, it justified itself, but when ridership crashed, it no longer [did]."
An imminent move for MiWay buses from Islington subway station to Kipling will also save money. The transfer, scheduled before the end of the year, will bring MiWay's terminus closer to the Mississauga border and reduce the length of some routes. As a result, fewer vehicles and drivers will be needed to provide the same level of service by turning around a little earlier.
The cancellations combined with a move to Kipling are expected to save MiWay $7.6 million.
It is the unknowns that hang heavy over MiWay. Freezing service just below 2019 levels for the next two years is logical in the context of stalling ridership, but leaves a chasm to fill in future years. Mitcham told The Pointer the issue of ramping service back up without a huge tax hike or serious delays for the City's transit ambitions was the "million dollar question".
While staff hit the pause button on the service front, some changes still hover on the horizon. Plans continue for a downtown transit terminal to integrate with the Mississauga Transitway, a bus rapid transit route along Dundas Street and another along Lakeshore Road. Applications under the Investing in Canada Infrastructure Program (ICIP) have been filed, but so far no responses have been received.
"Our capital budget is about $230 million in a year, to build the LRT, for example, it's billions of dollars. There's no way you can do that scale of project on the property tax," Gary Kent, commissioner of corporate services and chief financial officer, said. "There's certain projects the property tax just cannot fit, so a lot of those big projects, like a downtown transit terminal, Dundas Connects ... we cannot afford ourselves."
Under ICIP, cities in Ontario are expected to budget 27 percent of project costs. In Mississauga, those funds are being set aside over the next decade, with $698 million being added to the 10-year capital plan to accommodate the three projects and a transition away from diesel buses.
MiWay is proposing $440.6 million to replace 409 buses across the next 10 years. Marinoff told councillors Tuesday that 40 percent of his fleet would be turned over to hybrid buses over the next four years. In addition, $427.7 million is being budgeted for the City's share of a Dundas BRT, a similar project on Lakeshore Road and its downtown transit terminal.
Geoff Marinoff presents the MiWay budget, including an increase to the service's 10-year capital plan.
To reach this vision, one the city is earmarking future funding for, there is a stumbling block. COVID-19 means short-term cuts and freezes are the reality MiWay faces. To catch up on the cutbacks brought on by the pandemic will be a tall order.
In 2021, service hours will sit at 1,575,860 – 78,518 hours below their 2019 levels. Previous years have seen MiWay request a 2 percent increase in service hours most years. Service reductions mean 2021 hours will be 4.7 percent less than 2019, leaving a need for significant future investment to make up for lost time in years to come. With the city's population projected to grow steadily there will be much greater demand for more service hours.
MiWay's pre-pandemic target, still referenced in the 2021 budget document, was to accommodate 50 million annual riders by 2027. Achieving that with service reductions and decimated demand seems impossible now. The trouble is, with the ongoing uncertainty of the COVID-19 pandemic, staff aren't sure what the new target should be either.
"I don't think we really know what post-COVID ridership is going to look like," Marinoff said, listing work-from-home and post secondary education as two key factors to consider when trying to project future transit use.
"Transit survived the Spanish Flu," he added with a sense of optimism. "We will get through this, too."
---
Email: [email protected]
Twitter: @isaaccallan
Tel: 647 561-4879
---
COVID-19 is impacting all Canadians. At a time when vital public information is needed by everyone, The Pointer has taken down our paywall on all stories relating to the pandemic and those of public interest to ensure every resident of Brampton and Mississauga has access to the facts. For those who are able, we encourage you to consider a subscription. This will help us report on important public interest issues the community needs to know about now more than ever. You can register for a 30-day free trial HERE. Thereafter, The Pointer will charge $10 a month and you can cancel any time right on the website. Thank you.
Submit a correction about this story