Photos from the City of Mississauga/Robert Linsdell
Mississauga's 2021 'pandemic' budget offers short-term relief
By all measures, the COVID-19 pandemic response has been a test in balance.
Stricter public health interventions have been tempered to account for the economic consequences of shutting down brick-and-mortar businesses.
Shopping, visiting elderly parents, sending kids to school and maintaining a social life are governed by a strict set of public health rules that are wearing individuals down. This so-called COVID-fatigue is the price being paid to come out from the other end of this pandemic as soon as possible.
Another COVID balancing act began on Monday, as Mississauga City Council launched deliberations on its 2021 budget, headlined by a proposed one percent property tax increase on the City's share of the overall bill, which is blended with the Region of Peel portion and the Province's education levy.
The proposed modest increase is designed as a minimum setback for residents struggling through the pandemic.
The refrain residents heard over the last nine months, namely that various holidays "will look a little different this year", also applies to the virtual budget proceedings under unprecedented circumstances.
It's not just the physical setting that has been rearranged. The entire budget process has been forced to recalibrate how the living financial document that establishes Mississauga's entire operation should be approached. Instead of planning for future growth along a predictable trajectory, City staff, like so many residents relearning how to manage their own finances, are doing the same.
The 4.52 percent increase approved earlier this year for the City's share of the 2020 property tax bill was in line with recent hikes needed throughout most of the previous decade, after former mayor Hazel McCallion froze taxes for about 20 years, while massive growth kept City coffers flush with development-related revenues.
Former city manager Janice Baker, who retired in late spring and was recently hired as the new chief administrative officer for the Region of Peel, repeatedly told councillors over much of the past decade that revenues had to match the city's rapidly growing needs. Money from previous fees, known as development charges, was still being received, but at nowhere near the rate compared to Mississauga's hyper-growth period in the '80s and '90s.
An infrastructure deficit that has since ballooned to about $275 million does not capture all of the approximately $1.5 billion worth of approved projects (for badly needed new infrastructure and repairs) that is currently unfunded.
With the sudden need for austerity, the hole could deepen.
Decisions in the coming weeks could snowball, quite significantly, in 2022 and beyond – coined by Mississauga's finance department as the COVID-19 "echo impact".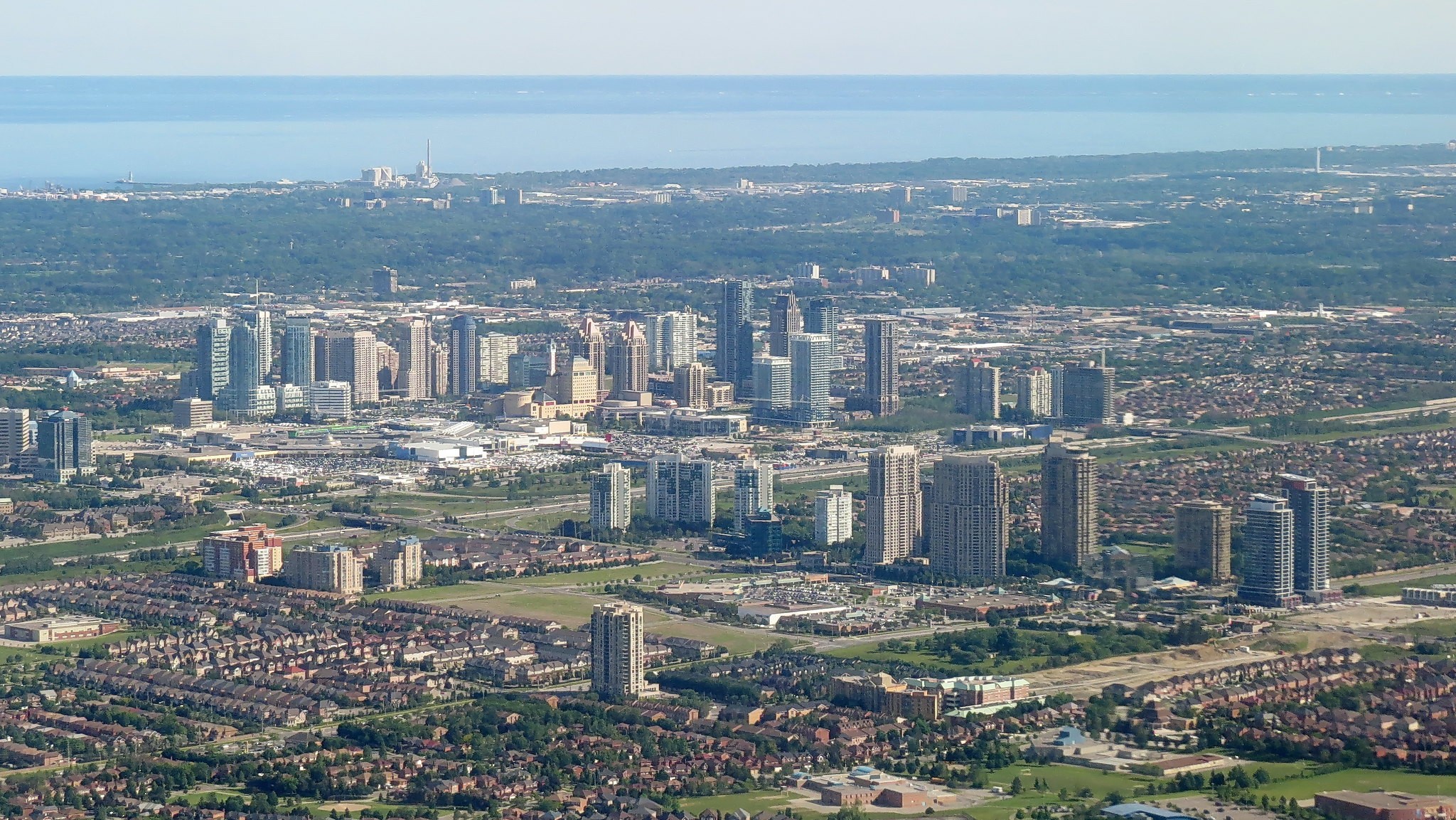 City councillors are tasked with balancing the 2021 budget's impacts on taxpayers already hit by the COVID-19 pandemic and planning for the future of the city.
Councillors will have to decide, if they approve a low tax increase, how to eventually make up for the short-term relief in order to keep the city's ambitious growth plans on track.
The operating budget for fire and emergency services, including desperately-needed upgrades for aging stations, is expected to increase by a net $24.9 million by 2024. Other important infrastructure projects, such as the Hurontario Light Rail Transit, is on a completion timeline for fall of 2024. From the $42.5 million Central Library redevelopment, to building out Mississauga's waterfront and innovation sectors – while staying committed to climate change initiatives – a steeper tax hike appears to not be a question of how, but when.
The proposed increase to the 2021 operating budget is driven by needs in several areas across the city.
"Despite the pandemic, Mississauga must move forward with investments in transportation, fire and road safety, climate change and infrastructure," Paul Mitcham, city manager and chief administrative officer, noted in his budget message.
Staff are proposing a restrained one percent tax increase on the City's portion of the property bill this year, which translates to about $56 on the average single-family home assessed at $730,000, said Jeff Jackson, Mississauga's treasurer and head of finance, in a presentation to City Council on Monday. The proposed commercial tax increase is 0.6 percent, though both rates are partial given the Region of Peel's projected 1.4 percent portion is not included. Residential and commercial tax rates for the City's portion could rise to 2.9 percent and 1.7 percent, respectively, according to 2022 budget forecasts.
The proposed net operating budget has increased by 2.7 percent to $554.4 million, with the greatest share allocated to fire and emergency services at $122 million. The capital budget may also increase by a proposed 0.7 percent to $259.1 million, two-thirds of which is slated for maintaining the state of City infrastructure, which has a replacement value of about $12.5 billion.
The proposed City stormwater rate includes an increase of 2 percent for 2021 to generate $43.5 million for stormwater reserve funds, which for most households would translate to $2.20 cents, while "even the largest" residential properties would see a negligible increase of $3.68 per year. These charges are used to create stormwater infrastructure and related programs, which are essential for addressing unpredictable weather. Climate change spurred by human activity is leading to more extreme rainfalls in North America, according to a study published this June.
Council reached for money-saving levers early in the pandemic, implementing temporary layoffs, a hiring freeze for new staff, and other savings generated from reduced programming in culture, recreational facilities and parks. These measures were intended to offset the steep decline in revenue from low transit ridership and reduced or closed operations at community centres. Still, the City would need to come up with $21.7 million to make up these losses, which were forecast on the assumption that Mississauga would not be subject to further health measures. Staff will be reassessing how the current restrictions will affect the bottom line if Peel's lockdown were to persist for 28 days, with an early ballpark estimate of $1 million to $4 million, Council heard.
Property tax, stormwater payments, suspensions to parking enforcement and an approved increase to water and wastewater fees were all deferred by 90 days earlier in the pandemic. Most homeowners paid property taxes on time despite the deferral, though the City is still waiting on about $67.3 million in outstanding fees.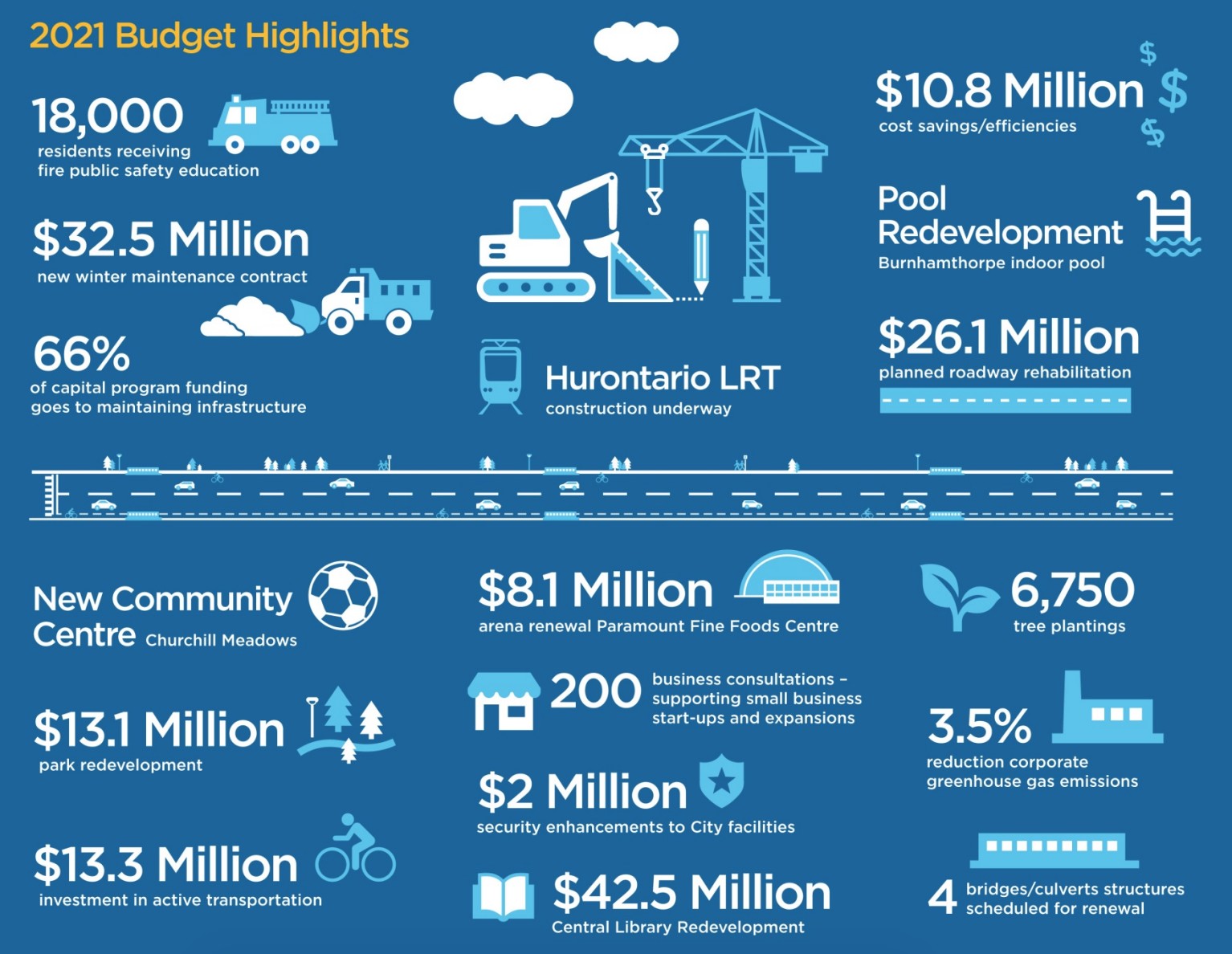 Between the property tax and fee increases, the City is hoping to pull Mississauga through the pandemic with a minimal blow to residents' wallets, though service delivery will be adjusted to produce savings. For example, staff are recommending that Miway cancel two express routes, route 100 and 185, and adjust TTC station routes to save $7.6 million.
Another looming red line-item is expected in 2022, to the tune of a $22 million deficit, from the Payment in Lieu of Taxes (PILT) deal with the Greater Toronto Airports Authority, which runs Toronto Pearson International Airport. The PILT system, devised 20 years ago, allows the airport authority to pay the City a $0.94 fee per passenger, instead of paying a property tax. The City has repeatedly asked for the rules to be changed and in a recent submission to the provincial budget, made another request to terminate this arrangement, which does not exist in other provinces. Because the PILT is paid in arrears, next year will reflect pre-pandemic travel volumes, whereas 2022 will see a loss in PILT revenue to reflect the current reality facing the airline industry. Travel restrictions have caused a drastic drop in domestic and international travel, from about 34.4 million passengers in 2019, to just 11.2 million passengers with a little more than one month left in 2020, according to airport data.
Payment increases, despite what passenger volumes might be, are limited to five percent per year but are not capped at how much they can drop, which the City is also fighting to change if the PILT is not replaced.
Statistics on global air travel show why the current system is regressive for the City of Mississauga. According to airline industry data, passenger volumes increased by about 135 percent in the 15 years prior to the pandemic (data for Pearson is not available) but the PILT to cover all the services provided by Mississauga taxpayers to those passengers such as fire and, through the Region of Peel, paramedics and police, can only go up five percent a year.
The drop in revenue for the City based on per passenger fees, has no bottom limit.
"When the revenue plummets, theirs will go up [after], a bit like a NIKE swoosh. However ours will only go up by five percent per year, which I think is unfair. We can share the pain with them, then we should also be able to share the gain when that happens," said Gary Kent, Chief Financial Officer and Commissioner of Corporate Services.
"We need to roll up our sleeves next year and be ready with some decisions for Council," he said.
The Province is also slated to hear from Council with a request to delay an asset management requirement that, by law, asks it to create a plan for core infrastructure by July 2021. This will involve hiring 21 new full-time staff despite the City's hiring freeze.
"It's not something we can or should entertain at this point," said Ward 2 Councillor Karen Ras. She said while it can be covered in the capital budget this year, it will have a compounding effect on the operating budgets to come.
---
Email: [email protected]
Twitter: @LaVjosa
---
COVID-19 is impacting all Canadians. At a time when vital public information is needed by everyone, The Pointer has taken down our paywall on all stories relating to the pandemic and those of public interest to ensure every resident of Brampton and Mississauga has access to the facts. For those who are able, we encourage you to consider a subscription. This will help us report on important public interest issues the community needs to know about now more than ever. You can register for a 30-day free trial HERE. Thereafter, The Pointer will charge $10 a month and you can cancel any time right on the website. Thank you.
Submit a correction about this story