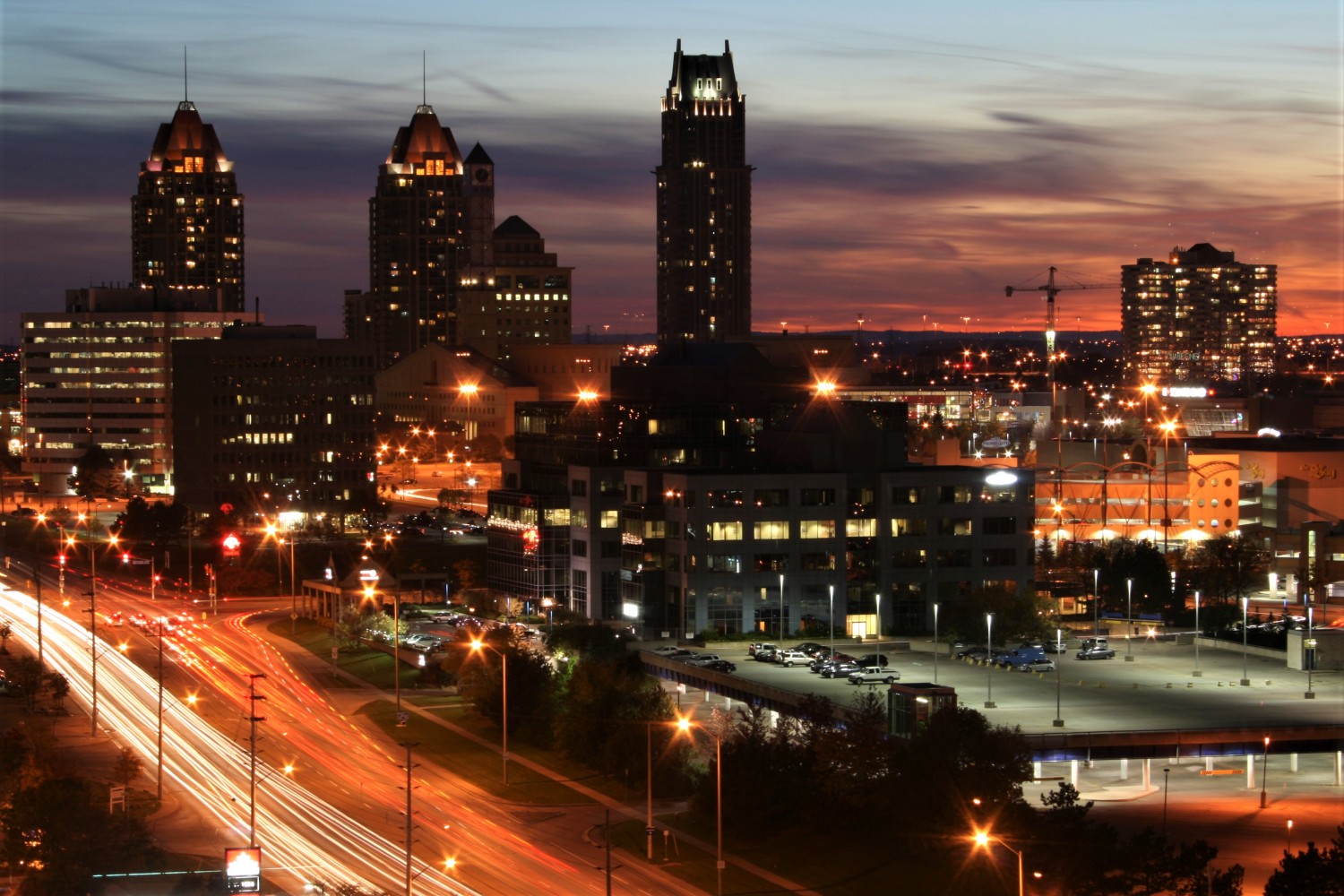 Photos by Sylvie Li/The Pointer files/City of Mississauga
Plan for a greener Mississauga takes backseat in proposed 2021 budget 
Social determinants of health – such as discrimination, proper housing and occupation – are critical factors for public health officials when considering how to target resources at those whose risk of contracting the novel coronavirus is highest.
As health interventions aim to address these social liabilities in the short-term, the pandemic is also exposing how environmental determinants of health are often overlooked. Air pollution, for example, produces worse health outcomes and occurs more intensely in areas with poorer social and economic conditions, according to research cited in a study published earlier this month by health data non-profit ICES and the University of Toronto. The paper notes that previous studies "have also implicated environmental pollution as having a biological relationship to the risk and severity of COVID-19 and other respiratory infections."
Environmental factors affecting local public health may emerge as a larger discussion in the coming weeks, as Mississauga's climate plans resurface during budget committee presentations which resumed Monday. Estimated to cost more than $460 million in the next decade, or about $46 million per year, the City is slow to commit funding in its first year of budgeting for a greener future in Mississauga.
In June 2019, following the lead of several other Canadian cities, Mississauga's Council passed a motion to declare a climate change emergency and approved an ambitious Climate Change Action Plan six months later.
In the summer, as the 2021 budget document was being considered by City staff, The Pointer asked Mayor Bonnie Crombie about the ambitious goals she championed in the Climate Action Plan just prior to the pandemic, including some $160 million that would be needed in the short term for hybrid and electric buses.
"Certainly, the greening of our economy is the right direction to move and I think we all agree with that," she said at the time. "We are very hopeful that the impact of COVID will be contained to the next three-year horizon and that we will still move forward with our Climate Action Plan. It is very dependent on the ICIP money (Ottawa's Invest In Canada Plan for infrastructure) – money coming from the provincial and federal government – to assist us to green our fleet and implement many of the recommendations that you found in that report."
Now, implementing the climate plan is a highlight of the City's 2021 budget.
The two-pronged climate change solution universally advocated by scientists – mitigation and adaptation – is reflected in the City's strategy to promote green energy, and retrofit or build resilient infrastructure. The plan sets out to reduce greenhouse gas emissions by 40 percent in the next ten years and by 80 percent ahead of 2050, with the long-term goal of reaching zero emissions. The second pillar is to "build resilience" against the effects of climate change, including severe weather damage to City infrastructure.
Next year's 'pandemic' budget, has leaned out capital project funding to help weather the City's major revenue losses in transit and recreation due to the ongoing public health emergency. Parks, Forestry and Environment staff are proposing a net $37.5 million operating budget, or a $1 million increase from last year, to maintain service levels, support higher fleet costs and kick-off climate protection goals.
"Now, having a bold plan is very different than action. This is where the City now has to try and follow through on that, and I don't see that in this year's budget yet," said Marc Johnson, Director of the Centre for Urban Environments at the University of Toronto Mississauga.
He cited urbanization data that shows 82 percent of Canadians live in cities, with significant greenhouse-gas emissions and resource extraction linked to oil, lumber and other materials that support urban development.
Marc Johnson, Director of the Centre for Urban Environments at the University of Toronto Mississauga, does not see a strong push to address the impacts of climate change in Mississauga's 2021 budget.
Though projects including infrastructure lifecycle maintenance, tree planting, stormwater drainage, trail upkeep, parks construction and pedestrian bridge replacement may relate to climate change, the budget does not directly connect these developments to the City's climate strategy.
"I want to see earmarked in [the budget] which of these investments in staff, in green technology, and infrastructure refurbishment are aligned with their Climate Action Plan," he said.
Perhaps the clearest funding link to execute the Climate Change Action Plan is the addition of another full-time staffer, a climate change specialist, in next year's operating budget, with a salary of $92,000, and $121,000 forecast in 2022. No funding has been allocated until 2023 for the Climate Change Plan Implementation in corporate buildings, with budget documents recommending about $216,000 be set aside.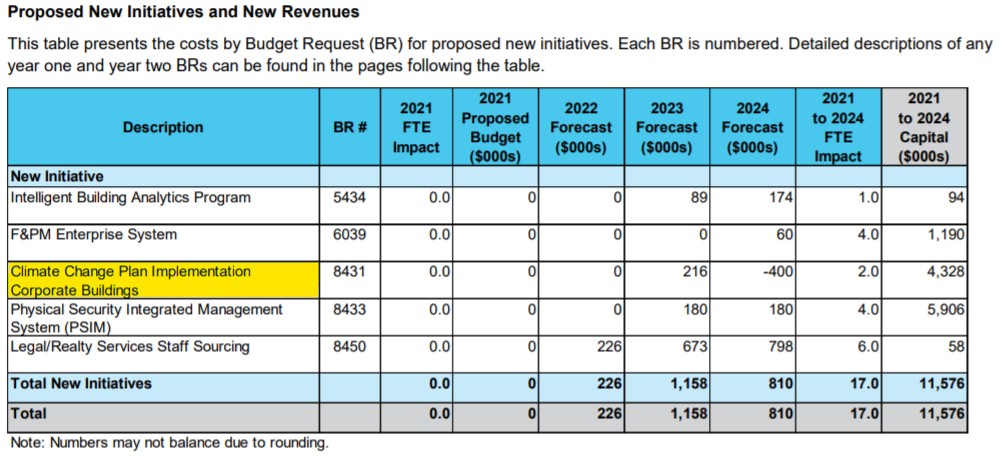 The City of Mississauga does not plan to invest any money into its corporate buildings through the Climate Change Implementation Plan until 2023.
In budget presentation documents, staff acknowledged the City requires resources to fulfill its climate plan and parkland growth expansion. However, parkland growth is not funded until 2022, with a recommended $291,000 budget.
Capital projects in the Parks, Forestry and Environment departmental budget will also face deferrals, with an overall budget of about $32.3 million for 2021, forecast to more than double in 2022 to $66 million, and drop slightly to $51 million the following year. There is also a modest budget for parkland acquisition in 2021, at $120,000, compared to $26 million forecast for 2022.
Corporate building retrofits as part of the climate plan are also being set aside, not being requested in the budget until 2023, with staff forecasting $216,000.
More than 40 percent of parks and related infrastructure will need capital funding for replacements and maintenance over the next decade.
Funding in other service sectors will affect Mississauga's climate change goals, most prominently in transit, which accounts for about 70 percent of the City's emissions. MiWay Director Geoff Marinoff said, during Tuesday's transit presentation to the committee, that 40 percent of the fleet would be turned over to hybrid energy buses in the next four years. MiWay is proposing $440.6 million to replace 409 buses over the next 10 years. However, staff are proposing only a small fraction of the annual investment needed if 40 percent of a new hybrid fleet is to be acquired in the next four years. The bus replacement budget for 2021 is just $2 million, even though MiWay reaffirmed its commitment to "no longer purchase any conventional diesel buses, and will be required to purchase hybrid-electric and zero emission vehicles." The budget does not specify if the bus replacement budget will be solely for hybrid-electric vehicles. (The City currently has 36, and the remaining 475 buses run on ultra-refined diesel.)
The federal government, as Crombie highlighted in the summer, could provide a significant contribution, as clean energy infrastructure is one of the priorities in its infrastructure investment policy and Ottawa has already approved large sums to municipalities and provinces for clean transportation since the plan was adopted under the Liberals in 2015.
The budget also notes the City's training program for fleet operation will be amended to train drivers in reducing idling and fuel consumption to align with climate goals.
Initiatives linked to fighting climate change can also be found in the increased stormwater tax. Mississauga has seen its share of extreme weather in the past decade, with heavy rain and flash floods last spring and fall. Human activity connected to climate change is leading to more extreme rainfalls in North America, according to a study published this June. A stormwater tax raise, which will range from $2.20 to $3.68 per year, is slated to help generate $43.5 million toward the City's stormwater reserve funds for unpredictable weather caused by changing environmental conditions.
Natural disasters and severe weather events demand crucial consideration when making urgent local policy shifts, said Lauren Latour, a coordinator at Climate Action Network Canada.
"A lot of the time when we talk about climate policy, we're talking about federal level policy, but the effects are going to have to be dealt with by municipal governments," Latour said. "They become those frontline protectors for their communities."
---
Email: [email protected]
Twitter: @LaVjosa
---
COVID-19 is impacting all Canadians. At a time when vital public information is needed by everyone, The Pointer has taken down our paywall on all stories relating to the pandemic and those of public interest to ensure every resident of Brampton and Mississauga has access to the facts. For those who are able, we encourage you to consider a subscription. This will help us report on important public interest issues the community needs to know about now more than ever. You can register for a 30-day free trial HERE. Thereafter, The Pointer will charge $10 a month and you can cancel any time right on the website. Thank you.
Submit a correction about this story