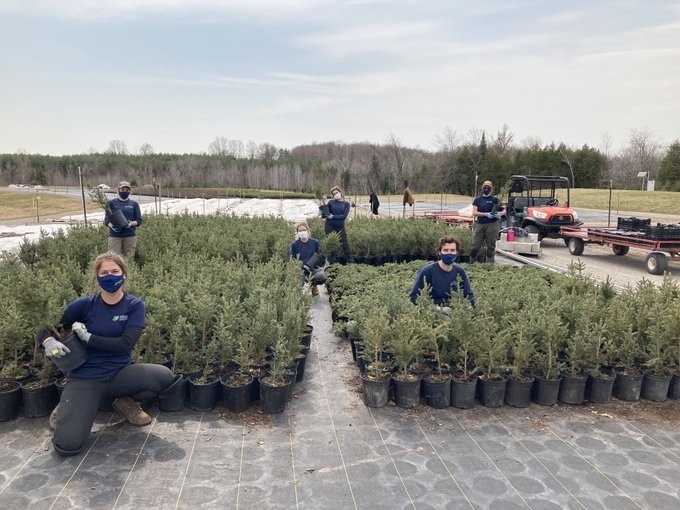 Feature image from Credit Valley Conservation/Twitter
Hoping for a green future: Mississauga's 2022 budget invests in reaching critical climate change targets
There are two key components to battling the climate crisis: adaptation and mitigation.
Adaptation refers to how cities can mold themselves to the changing climate, whereas mitigation is the cutting back of greenhouse gas (GHG) emissions or energy consumption to avoid heating the planet further and driving catastrophic change.
For 2022, the City of Mississauga is focused on both, investing nearly $200 million into a variety of climate change initiatives that will reduce the City's carbon footprint, while attempting to maintain its vital parks and greenspaces that provide a range of benefits for our planet, wildlife, and those residents who call Mississauga home.
The 2022 budget looks familiar to recent financial blueprints for the city. Staff are desperately trying to stop the bleeding where they can — swallowing steep revenue losses from things like reduced transit ridership and program user fees — while continuing to advise council to invest in the City's future. It's a balancing act that has resulted in few new initiatives next year, generally, but shows signs of previous green commitments coming to fruition.
Even with two years of losses, Mississauga is still committing to investing in a greener future. An overwhelming amount of capital projects being proposed for 2022 directly impact the City's Climate Change Action Plan (CCAP).
In 2019, council declared a climate change emergency followed by the approval of the CCAP, which provided a roadmap for how Canada's sixth largest city will adapt to the changing climate and cut 80 percent of its GHG emissions by 2050. The CCAP has 89 recommended actions, two have been completed by the City to date, 27 are being implemented, 29 are ongoing, six are paused and 25 have not been started, according to a recent update earlier this month.
An analysis of the 2022 capital budget completed by The Pointer found a total of $197.9 million worth of investment connected to the City's plans to mitigate or adapt to the changing climate. This accounts for approximately 41 percent of the $476.2 million in capital projects moving ahead next year.
The most expensive green projects are transit related, representing nearly 80% of climate related investments identified by The Pointer.
(Natasha O'Neill / The Pointer)
An overwhelming amount (37 percent) of the total capital budget is dedicated to transit projects. Further evaluating each capital project, Mississauga is spending approximately $152 million on green climate initiatives related to transit. This does not include regular maintenance. The Pointer also included a sum of $1.1 million for electric vehicle charging infrastructure in the transportation specific climate initiatives.
Big ticket items include hybrid bus replacements and dedicating just under $100 million in capital investments to transition MiWay's fleet from diesel to electric. The City is working to implement a bus rapid transit (BRT) line down Dundas Street, costing approximately $40.7 million in 2022 for the design and construction from Confederation Parkway to the city's border with Etobicoke.
The Lakeshore Road BRT design and construction and land acquisition is proposed to cost $4.3 million in the 2022 budget. A total of $6 million is going toward the continued construction of the Hurontario LRT, a portion of which is funded through the City's Gas Tax allocations.
This focus on transit investment is supported by the data in the City's climate change plan and its recent update. According to a November report presented to council, transit is the City's biggest contributor to GHG emissions. In order to meet the City's reduction targets, transit must switch over to electric or hybrid electric vehicles.
In the past few years, the GHG emissions from municipal operations have increased, largely due to the expanding population and vast energy consumption. The CCAP report card notes in 2020 there was a dramatic decrease in emissions but this, "can be attributed in large part to COVID-19, as there were partial building shutdowns and City services were significantly reduced."
Mississauga's Climate Change Action Plan highlighted transit as the City's biggest GHG emitter.
(Natasha O'Neill / The Pointer)
Even under a stay at home order, Mississauga's GHG emissions were higher than 1990 levels, showing the problem is still present.
While the vast majority of the climate initiatives are aimed at reducing corporate GHG emissions, approximately $42.3 million in projects will go to adapting the City to the changing climate. Just under half of the money will go towards stormwater management, one of the City's most expensive assets, valued at approximately $4.8 billion.
As a result of the warming climate, rain storms that previously occurred once in a century are occurring more regularly in Mississauga, which is forcing the City to upgrade stormwater and sewer systems to handle this greater influx of water. Most of the City's capital projects related to adaptation measures are in stormwater and attempting to mitigate erosion of creeks to limit flooding, including Applewood Creek, Sawmill Creek, Sheridan Creek, Cooksville Creek and the Credit Valley River, totalling $11.5 million this upcoming year.
Other projects include the rehabilitating of two stormwater ponds, funding towards the stormwater asset management program and a natural disaster mitigation program contribution to Credit Valley Conservation Authority.
The investment in stormwater management is due to the water having nowhere to go once it hits pavement. The sprawling, wide-lane streets of Mississauga act as a runway for rain, preventing it from being absorbed into the ground.
Grassy areas take eight hours for rainwater to reach the water table, on a concrete parking lot it takes eight minutes. Modern stormwater systems must be built to withstand a large volume of water in a short period of time. This has forced Mississauga to spend millions of dollars each year on maintaining stormwater infrastructure. The 2013 flood in Mississauga, which caused approximately $932 million in damages, is still very much fresh in the minds of residents and elected officials.
The City is also working to maintain its existing parkland and spending $120,0000 in 2022 to acquire new potential green spaces.
Another $2.2 million will be invested into maintaining Mississauga's urban canopy — the trees that line its streets and woodlots — which is a natural climate solution that reduces GHG emissions and mitigates the urban heat island effect. This amount includes tree planting and replacement, urban forest management and rehabilitation.
In a further effort to preserve the trees it already has, $4.2 million is being dedicated to the Emerald Ash Borer management program and $3 million for an aerial spray for Lymantria dispar dispar (LDD or gypsy moths) and cankerworm. These invasive species can kill trees by either burrowing inside the trunk or destroying its leaves.
This past spring residents saw creepy, crawly caterpillars munching away at leaves in droves. A vast number of LDD caterpillars were present in cities across southern Ontario. The 2021 infestation was particularly bad in areas that missed out on the 2018 spraying. Areas such Applewood Hills have not been sprayed for the moths since 2007. The 11-year gap, compared to other parts of the City, has allowed the infestation to become sizable in certain neighbourhoods, particularly those with a more mature tree cover.
This led Councillor Karen Ras to table a motion earlier this year requesting the spraying be done in 2022 and seems the city will be following through. The spray, known as BTK, is a naturally occurring bacteria found in soil. It is only harmful to caterpillars in larvae form and has no known impact on humans. The spraying has been criticized by some biologists as it is not species specific. The BTK pesticide, if consumed, will kill any butterfly or moth larvae at the time it is sprayed.
LDD moths wreaked havoc on many mature trees within the city last spring.
(Image from Meghan Grandy The Pointer)
Mississauga has a dream to become a healthy, walkable community. To encourage residents to use lower emission transportation, there needs to be more infrastructure in place. Transit is one component to an easily commutable city, the other part is getting places by walking or biking.
In 2022, the budget proposes approximately $10.9 million towards walking, cycling and other forms of active transportation like trail infrastructure. The most expensive project is for sidewalks at $2.4 million.
Under the Cycling Master Plan (CMP) which Council endorsed in 2018, 897 kilometres of cycling infrastructure is to be built over 27 years, with an average $5.2 million to be invested in these projects every year.
The small but vocal cycling community in the City are not just looking for painted bike lanes, but also segregated lanes that place a physical barrier between them and traffic. In 2020, only 14.5 kilometres of bike lanes, multi-use and off-road trails, shared routes and tracks with separate lanes, were added to the City's network.
It's unclear from the 2022 budget if the majority of funds will be going to maintenance of existing bike lanes or the creation of new ones.
Two other green projects include a solar energy generation system at the Edward J. Dowling Transit Facility for $2.6 million and pathway lighting LED upgrades for $1.7 million at various parks.
One glaring gap in the City's approach is the complete absence of retrofitting projects for City buildings in 2022. Residential homes, industrial sites, and all city buildings account for 50 percent of a community's GHG emissions. They require a lot of energy to heat, light and cool, while also operating various types of equipment. The CCAP recommends 19 actions towards retrofitting or advancing green energy into buildings. Only one has been completed to date, with six others underway.
Retrofitting homes and businesses can cost thousands of dollars. With no incentives from governments; many residents don't have deep enough pockets for the upgrades. While Mississauga could set aside money for incentives on retrofitting buildings, the 2022 proposed budget does not suggest this. A residential or business retrofitting program would likely come from upper levels of government who have more financial power than cities.
Buildings owned by the City of Mississauga account for 20 percent of GHG emissions in the city. To achieve 2050 targets Mississauga has approved the Corporate Green Building Standards, to mandate new construction or major renovations to City-owned or operated buildings to have green elements like solar energy systems or energy efficient heating and cooling systems. Since the implementation, there has been a 30 percent reduction in corporate building emissions in 2019 relative to 1990 levels.
---
Email: [email protected]
Twitter: @taasha__15
---
COVID-19 is impacting all Canadians. At a time when vital public information is needed by everyone, The Pointer has taken down our paywall on all stories relating to the pandemic and those of public interest to ensure every resident of Brampton and Mississauga has access to the facts. For those who are able, we encourage you to consider a subscription. This will help us report on important public interest issues the community needs to know about now more than ever. You can register for a 30-day free trial HERE. Thereafter, The Pointer will charge $10 a month and you can cancel any time right on the website. Thank you
Submit a correction about this story