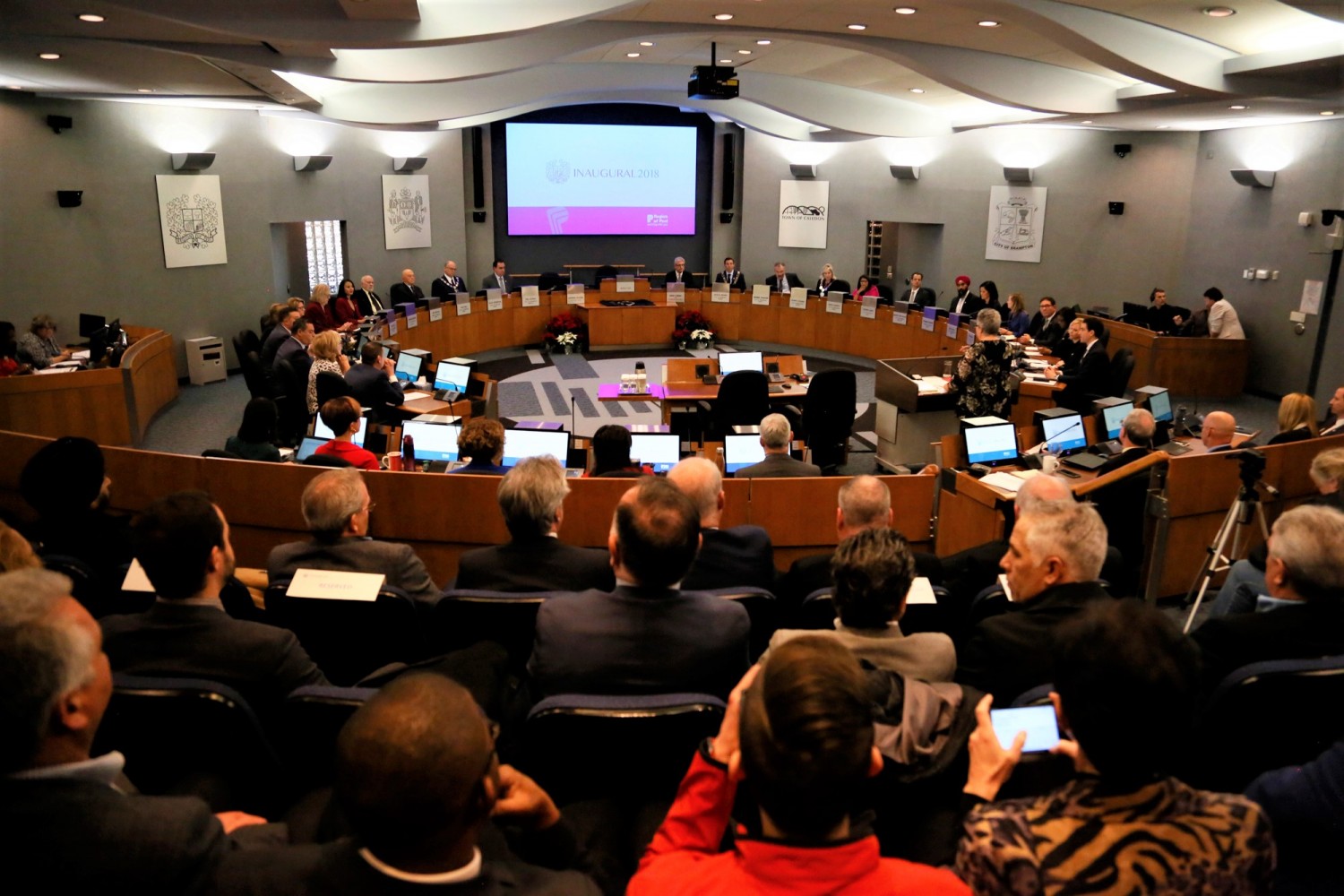 The Pointer file photo
In Peel's budget season are elected officials and civil servants using your $6.6 billion for the public's interests, or theirs?
As budget season begins this week across Peel, with council members deciding on how to use the hard-earned contributions of property owners to better their lives, why does it seem like the disconnect between public and personal interests keeps getting wider?
From economic development and climate change to affordable housing, higher education and making transportation easier for commuters, along with the public safety and well being of our most vulnerable members, are your elected representatives using your tax dollars the way you want?
In your household, decisions around the way money is spent likely follow a somewhat predictable pattern, determined by need.
For example, a family of three in Peel led by a single mother earning a decent middle-class income, let's say $78,000 annually, might prioritize how the after-tax amount of approximately $58,000 is spent over the course of a year along these lines: $26,000 for rent/mortgage; $8,000 on all food; $7,000 on all utilities and telecommunications; $6,000 on transportation; $3,000 on clothes; $2,500 for travel, recreation and miscellaneous expenses; $2,000 on entertainment, activities, arts and culture; $1,500 on healthcare; $1,000 for personal care; and $1,000 for furnishings and appliances.
That's exactly $58,000 and does not allow any budgeting toward personal savings, unexpected household repairs or educational costs once the children leave the public system.
(For a detailed breakdown of the average annual Canadian household budget, click here to see the StatsCan national survey of household spending: Editor's note – the difference in the StatsCan table between Total Expenditures and Total Consumption reflects the exclusion of income taxes and certain personal finance costs that some cover.)
The decisions you make around how hard-earned money is spent to benefit and look after your family are not handled lightly.
They are, after your health, the most important actions to guarantee everyone under the household roof is on the path to happiness and the good life.
When these decisions are made irresponsibly, feeding a gambling habit or substance addiction, taking a vacation or buying a car the family can't afford and neglecting a furnace that's about to stop working or a roof that's on the brink of collapse, the entire family unit can break down and individuals can begin the rapid spiral toward personal catastrophe.
One significant cost not reflected in the numbers listed earlier is the average amount spent on property taxes and user fees to support all the infrastructure and services City Hall and the Region of Peel are obligated to provide for residents who fund both levels of local government (renters typically pay a portion of the property tax that's built into their rate, and some of the various municipal user and service fees, for example when riding local transit, are included in the rough breakdown of the family's annual budget).
But the average amount we hand over to local government is often overlooked, even though it's one of the biggest expense categories families use their income for, often while paying little attention to it.
In 2022, Peel residents will give four local governments (the three lower-tier municipalities and the upper-tier regional government) approximately $6.6 billion in property taxes and user fees, the main contributors, and grants from higher levels of government which ultimately come from taxpayers as well.
Using an average of three people under each roof this amounts to about $13,200 spent by every Peel household on taxes, special levies, utilities and user fees (on top of our share of income taxes that come back as grants from higher governments) that fund City Hall and the Region of Peel.
This means, after direct shelter costs, money that families give to their local governments accounts for the largest single expense in each household.
As we move into budget season this week The Pointer wants to shine a light on how your money is being spent by the local elected officials sent to council by you, the voters who pay their salaries.
We see some troubling trends in how elected public servants and the civil servants in local government who are supposed to work for you, are often doing the opposite.
Your hard-earned money is increasingly being spent on the political ambitions of elected officials, pet projects that benefit private and personal interests, consultants and other contracted workers with direct ties to City Hall, and, most alarmingly, on the egregious salaries, bonuses and special perks such as lavish car allowances being handed to non-union staff, and some unionized workers, in a municipal sector with little accountability and oversight of the men and women who spend your money.
About $590 million of Mississauga's overall proposed budget of approximately $1.48 billion is for labour costs, an increase of about 17 percent since 2018, which includes two years of a pandemic that saw many residents lose large portions of their income and wage freezes across much of the public and private sector in Canada.
But not in Peel.
Here are some of the salaries, reported by the annual Ontario Sunshine list, paid out by Mississauga City Hall last year using your money: $193,000 for the director of arts and culture; $191,000 to the senior manager of talent management; $212,000 to the director of works operations and maintenance; $208,000 for a fire training officer; $169,000 for a senior manager of traffic engineering; $159,000 for a district manager of recreation; $156,000 for the manager of culture services; $142,000 for the manager of a recreation facility; $133,000 for a team leader of parks planning; $128,000 for a 311 information specialist; $124,000 for a surveyor; $122,000 for a bus driver; and almost $105,000 for the assistant to a councillor.
To illustrate the obscenity of these salaries paid by you, here are some average salaries across Canada for various jobs, according to StatsCan: Professional Occupations in Business and Finance, $68,000; Senior Management Occupations, $102,000; Dentists, $117,000; Financial Managers, $90,000; Professional Occupations in Natural and Applied Sciences, $83,000; Pharmacists, $104,000; Civil Engineers, $90,000; registered nurses and registered psychiatric nurses, $80,000; lawyers, $115,000; transit bus and subway drivers, $62,000; university professors, $117,000; and Banking/Credit/Investment Managers, $83,000. (Data is from the 2016 Census; approximately ten percent can be added to get a rough comparison to 2020 salaries.)
So, the assistant to a Mississauga councillor makes more than the average pharmacist in Canada, far more than a registered nurse, quite a bit more than a civil engineer and not much less than a dentist, university professor or lawyer, on average.
City staff will tell you the reason wage freezes have not been pursued during the pandemic is because it would hurt morale and that employees have been working extra hard.
Really?
Extra hard?
Even those staff who had demonstrably less to do during long stretches of the pandemic?
But what's most aggravating about the refusal to address the runaway labour costs for exorbitant salary increases and perks like lavish car allowances, as much as $12,000 annually for staff and more than $17,000 for council members (almost unheard of today in the real world), is the utter disrespect toward the residents who have to pay for these royal entitlements.
Don't bother trying to reason with City Hall. Council members will tell you staff deserve the largesse paid for by struggling taxpayers, who themselves are often having to sacrifice just to make ends meet. These employees are "incredibly hard-working" and Mississauga can't afford to lose the "best of the best".
The "best of the best", meanwhile do everything in their power to protect the excessive salaries and benefits enjoyed by Mississauga's councillors, who are at the top of the list of highest paid municipal elected officials in Canada, making roughly 36 percent more than their Toronto counterparts (last year Toronto councillors, this does not include the mayor, were given approximately $147,000 in salaries and benefits by the residents; in Mississauga, they allowed for themselves approximately $200,000 in salaries and benefits, on average, including their compensation from the Region of Peel) all paid by you.
Again, they will tell you they deserve this compensation on the backs of taxpayers but can't explain how councillors in Toronto who must manage one of the largest transit systems in the world, have almost twice as many constituents, on average, and deal with some of the most complex urban issues in Canada, somehow deserve 36 percent less in salary and benefits paid for by the public.
Oh, and they don't get one cent for a car allowance.
It's futile trying to make Mississauga elected officials or staff understand how out-of-control their sense of entitlement, paid for by hard-working Mississauga residents, is. It's the way aristocracies work. They serve each other, not the peasants who keep them flush with personal riches.
Here is what the former auditor general of Ontario Jim McCarter wrote about the amount Brampton taxpayers were paying for salaries inside City Hall when he went in to review the finances in 2015: "Over the 10 years from 2004 to 2013, the amount of property taxes that Brampton collected has increased by 120%. Coincidentally, payroll costs have increased by an almost identical 121% over the same 10-year period… over 90% of total property tax revenues each year have consistently gone to fund the City's payroll costs."
To make things worse, the current Mayor, Patrick Brown, uses your money to pay for a battery of staff that do little more than promote the Conservative politician and perform public relations duties to elevate his profile.
He still performs weekly press conferences that masquerade as pandemic updates, even though most other local leaders now either hold these media-staged events periodically, when needed, or have moved on to less costly forms of communication.
His mayor's salary and benefits paid by you rose to $195,867 last year (this does not include the $70,000 he received for sitting on regional council), compared to what former mayor Linda Jeffrey received in 2016, after she cut her salary by about $50,000 and made approximately $142,695 in salary and benefits, including her car allowance.
That means Patrick Brown, the same politician who has demanded three consecutive tax freezes, which have slashed crucial investments in Brampton to the bone, telling the public that everyone must tighten their belts, made $53,000 more last year than what the mayor made in 2016, and it was paid by you.
That's a 37 percent increase between 2016 and 2020, for someone who claims to be a fiscal conservative who looks out for the taxpayer.
Do as I say, not as I do, should be Brown's next campaign slogan.
His bloated team of employees, paid by you, runs his constant social media machine, drives Brown to appointments, accompanies him to play hockey when he's not supposed to and puts on tele-town halls that offer little substantive content, but allow him to use staff for the collection of valuable data for future election campaigns. He claims to be planning a $35-million "world class, state-of-the-art" cricket stadium, to be paid for by you, ahead of next year's election, which plays well to some in the city, but leaves others scratching their heads, wondering why that kind of money isn't going toward a badly needed new hospital, a first university or transit investments, instead of a blatant scheme to buy votes, with your money.
Don't look to Brampton's proposed 2022 budget for investments in a new hospital, the city's first university or the proposed LRT – there are none.
These are the features families are asking for, that they need to thrive. Where are they in the budget?
And what about the decaying city centre?
Peanuts.
After Brown cancelled the Downtown Reimagined revitalization plan as soon as he took office, tens of millions of dollars promised for a complete makeover of the city centre, vanished into the ether.
Now, after fierce backlash from local property owners and residents who have watched downtown descend into a decaying, crime-ridden mess, Brown has thrown some scraps, in the form of $12 million toward superficial upgrades that will be paid for through debt.
Those property owners might want to ask City Hall what exactly is being provided in return for all the taxes they hand over.
He pads his own salary and uses more and more staff for his own political ambitions, but where is the leadership on behalf of Brampton residents who unknowingly have to pay for all of it but get little in return.
It was revealed early in the year that Brown was even ordering staff who don't even work in his office, who he is not supposed to have any authority over, to further his career outside Brampton.
Secret communications from him to staff that were shared with The Pointer showed taxpayer-funded resources were being used by the mayor, who directed City employees to campaign during working hours on behalf of Peter MacKay's effort to win the federal Conservative leadership race last year.
Meanwhile, CAO David Barrick, a former Port Colborne councillor with conservative political ties to Brown, made more than $320,000 last year, despite having zero experience in municipal governance.
Oh, and the Brampton taxpayer did not know he quietly handed almost $220,000 of public money to an old political ally of his from Niagara Region, for work that was never detailed.
Brown, meanwhile, made sure a close political associate of his walked away with about $300,000 paid by the city's taxpayers, for work the man was not even qualified to perform.
It was more proof of leadership inside City Hall that has little regard for the way the public's money is used.
As The Pointer reported, the City's proposed budget for 2022 doesn't even come close to meeting its own commitments to addressing climate change, another growing priority for many residents who expect their tax dollars and user fees to create the type of community they want.
It's more of the same at the Region of Peel.
Excessive salaries, benefits and perks such as car allowances, take priority over critical needs such as affordable housing and addressing climate change.
Despite the profound impacts of global temperature increase that we are witnessing everyday, and the need now more than ever to protect our natural world, the Region's proposed $3.8 billion budget for 2022 includes (and this is not a typo) just $700,000 in increased operating funding for the three conservation authorities it is supposed to help support. The total proposed amount in operating funds for the three critical agencies for 2022, is $30 million, compared to $29.3 million in 2021.
Affordable housing does not fare much better.
After effectively abandoning its own Home For All plan, which set a target of 75,000 new units between 2018 and 2028, many for low-income families, because elected officials failed to support the very strategy they approved, the proposal for 2022 leaves little hope for change, in a region being crushed by an affordable housing crisis.
The proposed regional budget calls for a net spending increase of $6.2 million, from $135.8 million in 2021 to $141.9 million for housing support in 2022.
Meanwhile the wait list for affordable housing has exploded during the pandemic with a 50 percent increase from the end of 2019 to the end of 2020, when the number reached more than 22,400 households waiting for assistance.
A June, 2020 staff report to regional council informed elected officials that, "Current ownership and rental housing prices are out of reach for 80 percent of Peel households."
Yet the same elected representatives continue to largely ignore a crisis that is getting worse by the day.
"The 10-year Peel Housing and Homelessness Plan (2018-2028) identified that more than one in 10 new homes that are built must be affordable to low-income households to keep up with forecasted growth – since 2018, less than one in 2,600 new ownership homes built have met that threshold," the June 2020 report stated.
Even more frustrating is the 2022 budget proposal for income support, used by many residents who need help to avoid losing housing, to access healthcare and for a range of other "life stabilization" supports.
The proposal calls for a decrease in the income support budget of $200,000 and a reduction of 2 staff.
This is while the pandemic and the housing crisis are putting so much more pressure on Peel families.
Of course, if your family is lucky enough to have a member employed by the Region of Peel, you're laughing.
Labour costs for salaries and benefits will increase by more than $11 million, and the number would likely be far higher if not for "considerations" around the ongoing pandemic.
Everything in this correspondence will be explained away by staff and elected officials, if they even bother to read it. All the points are baseless and unfounded, not grounded in any understanding of the sophisticated and complex nature of municipal budgeting, they will tell each other.
Staff deserve every cent the taxpayers hand them, and top dollar has to be paid to attract the very best – people like David Barrick and Jason Tamming, who make about half a million dollars between them on the backs of struggling Brampton taxpayers, even after they were chased out of Niagara by citizens who had seen enough of their utter incompetence.
While many Peel residents strain under increasing pressure, as groceries and fuel costs climb, salaries stay frozen or disappear and the cost of housing gets further and further out of reach, voters should ask themselves if their money is being spent to make their lives better, or if it's being used by politicians and civil servants more concerned with protecting their own interests.
Submit a correction about this story