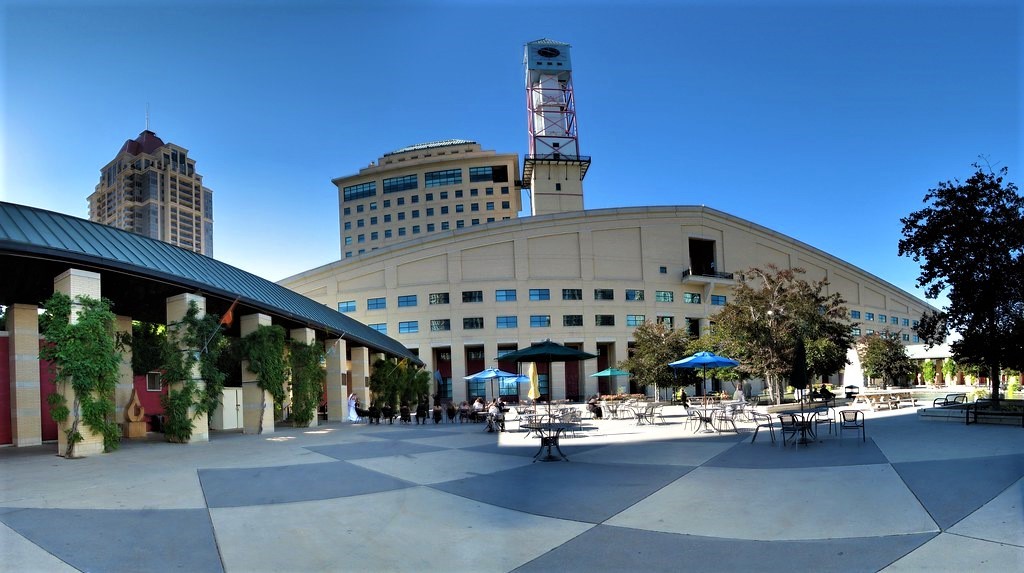 The Pointer files/City of Mississauga
Mississauga council members reduce vehicle perks & freeze their salary for 2021 to show support
After a long hiatus, Mississauga councillors returned to their budget document with a flurry of last minute requests on Monday.
During the final budget meeting of the season, a series of ideas were thrown into the mix to reduce the property tax increase in 2021. With each suggestion, staff grew more determined to illustrate the impact cuts could have on Mississauga's long-term growth.
"[It] depends on how quickly and how great... you want to make the city, I suppose," Jeff Jackson, director of finance and treasurer, told councillors. He was responding to various suggestions, including scrapping a vital two-percent infrastructure levy or cancelling the stormwater charge in its entirety for a year.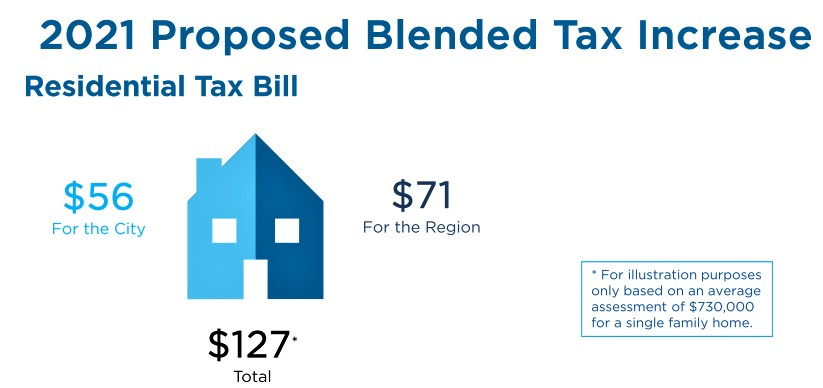 In the end, councillors passed a budget with only symbolic savings.
All twelve members of council agreed to forgo a 1.75-percent salary increase and reduced their car allowance by 33 percent. They pushed ahead with salary increases for non-union staff, citing their hard work during the pandemic.
Commissioners in Mississauga earn north of $200,000 per year. In 2019, former City Manager Janice Baker earned $325,864.23.
A spokesperson confirmed the move would have "an impact" on the property tax, but said it was not large enough to change the percentage increase of the budget.
The City's 2021 budget will increase 2.7 percent, with a property tax impact of 1 percent once it is blended with the Region of Peel budget and an unchanging provincial education levy. As staff outlined, the increase will equate to a $56 dollar increase on the City's portion of the property tax for a home assessed at $730,000.
The tone for the meeting was set early with a presentation from the Mississauga Board of Trade (MBOT). Repeating a request he had unsuccessfully made at the Region of Peel 10 days earlier, Brad Butt, MBOT's vice president of government and stakeholder relations, asked councillors to freeze taxes for the year to offer some relief to small businesses.
Unlike his presentation to the Region, where the request was quickly dismissed, councillors sounded more willing. "We're going to try our best," Mayor Bonnie Crombie promised, while Ward 9 Councillor Pat Saito said she agreed with Butt. "This is a very difficult year," she said.
Then Jackson arrived, armed with a sobering slide deck.
The focus of his presentation was the City's two-percent infrastructure levy. Every year, this budget line feels the pinch when councillors look to cut. Faced with a bleak pandemic picture, elected officials, particularly Karen Ras (Ward 2) and Saito, were keen to explore dropping the levy for a year. In total, the two-percent levy accounts for almost three quarters of the City's budget increase in 2021.
Staff rallied together to discourage the move. Dropping the levy for even one year would cost the City $90 million across the next decade, Jackson warned.
Some councillors were not to be deterred.
What would happen if the stormwater charge — which taxes residents based on the footprint of their property to pay for drainage infrastructure — was dropped for a year, Saito wondered. "You would basically wipe the reserve out," Gary Kent, commissioner of corporate services and chief financial officer, said.
---
What's in the 2021 budget? Detailed coverage from The Pointer:
---
As councillors, particularly Saito and Ras, looked to find savings, staff warned the financial picture is only going to get worse. Despite brutal losses to transit and recreation revenue, 2021 could be a comparatively rosy memory for the City when the next budget season rolls around.
In 2022, City Hall will face the same inflationary and infrastructure replacement-based pressures that have pushed budgets up every year, along with at least two other significant challenges.
Next year, Mississauga will feel the impact of reduced passenger volumes at Toronto Pearson Airport.
Instead of contributing property tax to the City, the airport is bound by payments in lieu of taxes (PILTs). These take the form of a fee per passenger capped at a five percent increase annually and without a downward limit. (Read more about that story here).
Dramatically reduced airline traffic during the pandemic means the City is expecting a hit of at least $22 million next year as PILTs plummet, reflecting grounded planes and cancelled holidays. If the upward cap (which limits PILT increases to five percent per year) was removed, staff believe it would still take five to seven years to return to pre-COVID-19 revenue levels. If, as the Province has indicated, the five percent cap remains in place, it will take Mississauga 35 years to return to pre-COVID-19 revenues from the airport.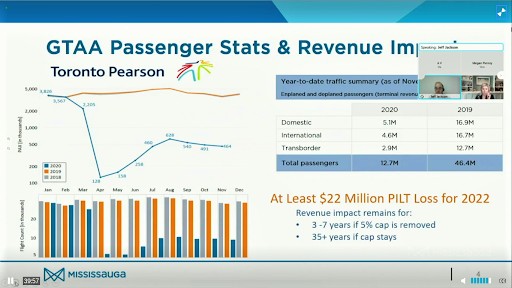 Staff told councillors the provincial response to their pleas for a more equitable agreement with the airport had been "disappointing" with no changes planned for the upcoming budget at Queen's Park. The City and airport have been told to work together on a solution.
The blow means the 2022 budget will have to account for a $22 million dollar hole, while capital needs pile up in the rapidly developing city. Neglected fire infrastructure, which will likely cost at least $30 million to repair, is on the urgent to-do-list for councillors in the coming months.
"It always comes down to pay now or pay more later," Ward 7 Councillor Dipika Damerla said during the budget discussions, taking a new position. In previous budgets, Damerla has been a keen advocate for low taxes, willing to sacrifice capital needs, but 2021 budget discussions at the City and Region have seen her staunchly defend infrastructure levies. "I don't think next year will be any easier," she said.
During the discussion, staff repeatedly told councillors that reductions could cost Mississauga its future.
In his presentation, Jackson twice alluded to the climate emergency councillors declared in 2019, saying significant funding would be required to see the elected officials deliver on that promise. He also offered the ambitious waterfront transformation and rapid transit expansion plans as other promises that could be at risk if cuts took place.
"We have $3 billion in unfunded capital over the next 15 to 20 years," City Manager Paul Mitcham said, voicing his own concern.
It was a typical display – many councillors concerned about the impact of a tax increase on voters, and staff reminding them that city building is impossible without required revenues to make good on council's own promises.
In the end, two motions to reduce costs were brought forward. Saito and Ras combined to put both on the floor.
The first, unanimously approved, froze councillors' salaries and reduced their car allowance of $17,304 by a third. "We have made a symbolic gesture," Crombie said after, suggesting the move showed council's support for residents.
The second motion asked to drop the infrastructure levy by 0.5 percent, despite the grave warnings of staff. The move failed, with only Ras, Chris Fonseca (Ward 3) and Saito in support.
Ward 1 Councillor Stephen Dasko complained about the motions, saying they were "not well thought through" and pushed back against "last minute bartering". Ward 11 Councillor and Mississauga veteran George Carlson agreed.
"We sure as hell can't do this on the eve of a budget being approved," he said.
The finalized budget, with most staff recommendations left intact, will be approved at a special council meeting Wednesday morning. In the background, staff have already begun work on the unenviable task of absorbing a $22 million loss from the airport and continuing to run a city in the middle of a pandemic.
"I've been around long enough in the municipal world to know that these low increases, ultimately, are reflected in service levels or larger tax increases in the future," Jackson said, referring to zero percent budget increases passed in nearby cities including Brampton.
---
Email: [email protected]
Twitter: @isaaccallan
Tel: 647 561-4879
---
COVID-19 is impacting all Canadians. At a time when vital public information is needed by everyone, The Pointer has taken down our paywall on all stories relating to the pandemic and those of public interest to ensure every resident of Brampton and Mississauga has access to the facts. For those who are able, we encourage you to consider a subscription. This will help us report on important public interest issues the community needs to know about now more than ever. You can register for a 30-day free trial HERE. Thereafter, The Pointer will charge $10 a month and you can cancel any time right on the website. Thank you.
Submit a correction about this story