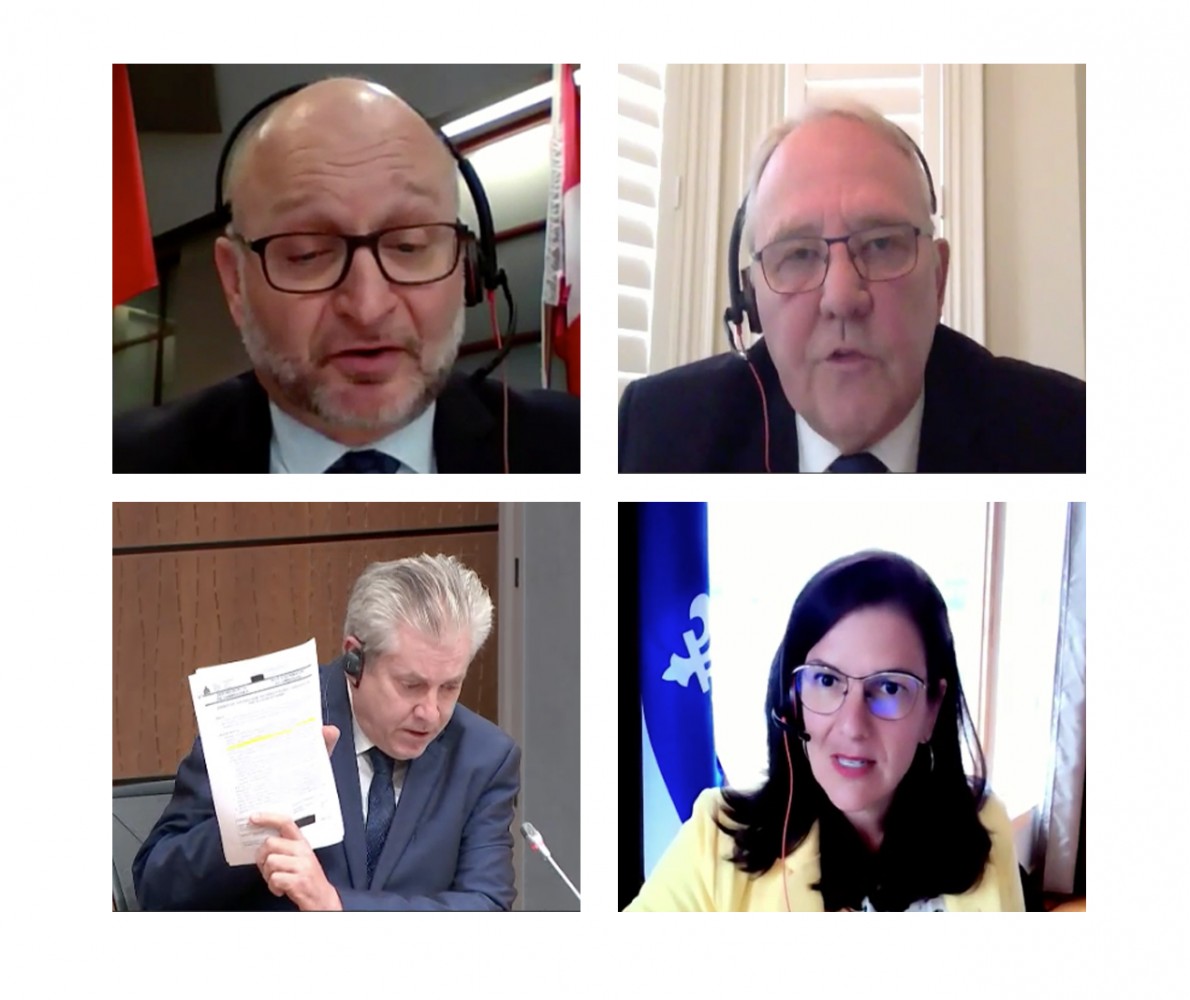 Photos from ParlVu/NCMEC
'What the hell is going on then?': Pressure intensifying on RCMP to launch Pornhub investigation 
MindGeek's top executives live in Canada, approximately 1,000 of its employees work in Canada, the pornography industry leader, which owns Pornhub, has its headquarters in Montreal, Canada's second largest city, and it provides a service that is used — according to the company's numbers — by more than 4-million Canadians every single day.
Yet, Canada's national police agency remains uncertain that it has the jurisdiction to investigate allegations MindGeek failed to report videos of child sexual abuse, rape, and human trafficking to authorities for years. The uncertainty has led to mounting frustration among politicians and the Canadian public.
On Monday, the Standing Committee on Access to Information, Privacy and Ethics, which met several times in February and March, returned to gather more testimony on whether MindGeek, through its flagship website Pornhub, failed to follow Canadian law by not reporting evidence of child sexual abuse material (CSAM) posted on its website.
While members of the committee pointed to a significant amount of evidence suggesting the company has broken the law for years, suggesting a cut-and-dry case for a criminal probe, Monday's hearing created further confusion. It raised questions about whether a criminal investigation will be launched, who has jurisdiction to investigate such reporting failures and how MindGeek was allowed to avoid compliance with Canadian law for close to a decade.
MindGeek has maintained its innocence and has denied any wrongdoing. The company has stated it has taken steps to detect and remove illegal content and that since December a number of safeguards were implemented.
The company has not explained why it only took these actions recently, after public outrage against MindGeek swept across North America last year, following almost a decade of CSAM material on Pornhub that appears to have gone unreported.
Starting in February, MPs heard sworn testimony from numerous survivors who had their intimate images or videos, some depicting rape or videos of them while underage, posted on Pornhub without their consent. The stories have continued to flood in.

---
The Pointer's past reporting on Pornhub and recent ETHI meetings:
1. RCMP won't commit to criminal investigation of Pornhub
2. Investigation into Pornhub offers opportunity to curb proliferation of 'haunting' online child sexual exploitation
3. Calls mount for RCMP criminal investigation of Pornhub's Canadian executives
4. The 'largest repository of child pornography in North America': More survivors testify against Pornhub
5. 'How do you sleep at night?' Canadian Pornhub execs grilled by MPs over child exploitation
6. Predators and a pandemic: parents urged to protect children as online exploitation projected to rise
---

Rose Kalemba, one of the first survivors to go public with her story in 2019 after a video of her rape and torture when she was 14 was posted to Pornhub, wrote to the committee detailing how she has been deeply scarred by what happened. She begged Pornhub to take down the videos, which she says they refused to do, and only after posing as a lawyer, were they removed. They had already been constantly downloaded (before Pornhub disabled its download button) and amassed over 2 million views.
"My cries to them where I begged them to take them down, stating that I was a minor and that it was not consensual, both of which were glaringly obvious, went unheard. Every single day I had to watch the view counts continue to rise while ads appeared along with the rape video," she stated. "My rapists put me in a mental prison all on their own, but it is PornHub who gave me a life sentence and threw away the key. I am twenty six years old today and many days are still a fight to break free. I think to some degree it will be that way for the rest of my life, and I am slowly learning to make peace with that."
The committee also heard from a number of other survivors, including Serena Fleites, whose story in the New York Times, dramatically increased the public's awareness of what has become a crisis of child pornography, human trafficking imagery and other non-consensual material that perpetuate the horrific crimes driving abhorrent behaviour. Children and young women are commonly exploited and victimized as Pornhub and sites not as commonly known to the general public build demand for illegal content.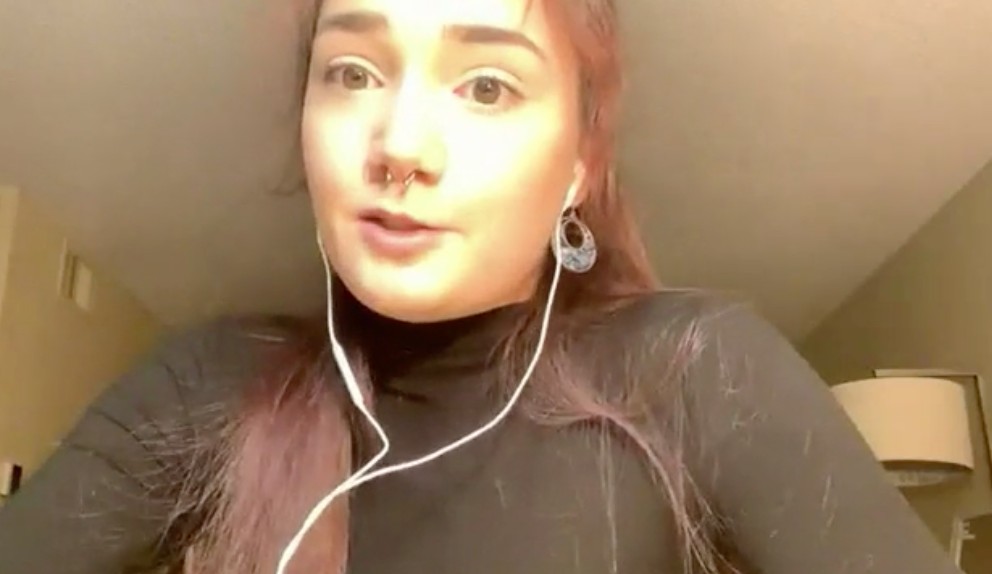 Serena Fleites told her story to the New York Times which brought international attention to MindGeek.
In Canada, the National Child Exploitation Crime Centre (NCECC) saw a 566 percent increase in the number of CSAM reports received between 2015 and 2018. The Cybertip line, operated by the Centre for Child Protection (C3P) receives approximately 3,000 tips about suspected CSAM every month. According to the 2020 report from the U.S. National Centre for Missing and Exploited Children (NCMEC, which also handles reports from Canada) the number of reports received jumped from 16.9 million in 2019 to 21.7 million last year, the vast majority being suspected child pornography. The overwhelming majority of these reports, nearly 95 percent, came from Facebook.
In Canada, under the Mandatory Reporting Act, internet service providers like MindGeek have a legal obligation to report suspected instances of CSAM on their platforms to both C3P and law enforcement in their jurisdictional area. Top executives from the C3P and it's American equivalent NCMEC previously testified that it was only after the New York Times article in December that they began receiving reports of suspected CSAM from MindGeek. This evidence suggests that for close to 10 years — the Mandatory Reporting Act has been in place since 2011 — MindGeek was not following Canadian law. According to RCMP and Department of Justice (DOJ) officials, it's not that simple.
Minister of Public Safety, Bill Blair, and Minister of Justice and Attorney General, David Lametti, were repeatedly asked by MPs whether an RCMP investigation has been launched into MindGeek or if one is currently being planned, but the ministers did not provide direct answers. They mentioned the complexity of determining jurisdiction in the case.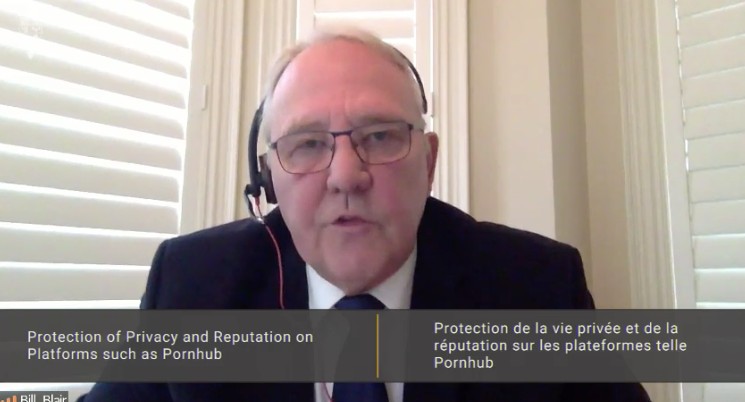 Minister of Public Safety, Bill Blair
Minister Blair noted the scope of the internet and the often complex nature of internet service companies make it difficult to determine who is responsible for investigating, creating further difficulty in obtaining all of the information and evidence needed to conduct a successful investigation. Companies can be headquartered in one country, legally registered in another, and with servers hosting their online content in a third country, it "affects the authority, and challenges the ability of Canadian law enforcement agencies to investigate and the application of Canadian laws," Blair explained.
"Unfortunately, we do not comment on whether or not an investigation or an incident is under investigation," RCMP Commissioner Brenda Lucki told the committee. "What I can say is that, specifically in regards to Pornhub/MindGeek, the call for a criminal investigation is under review."
The response did not sit well with many of the MPs.
"Can I just ask you really simply, what the hell is going on then? How can it be that undertaking an investigation is 'under consideration' right now and there have been no charges," said Lakeland Alberta MP Shannon Stubbs.
"For over nine years they failed to comply, we have clear evidence of child sexual exploitation on their website and yet no reporting, do you think that that is a following of the law?" asked Arnold Viersen (CPC – Peace River-Westlock).
Commissioner Lucki explained the RCMP is currently working with "police of jurisdiction" to determine next steps. The Pointer attempted to clarify with the RCMP what police force Lucki was referring to, but the police agency provided no further information.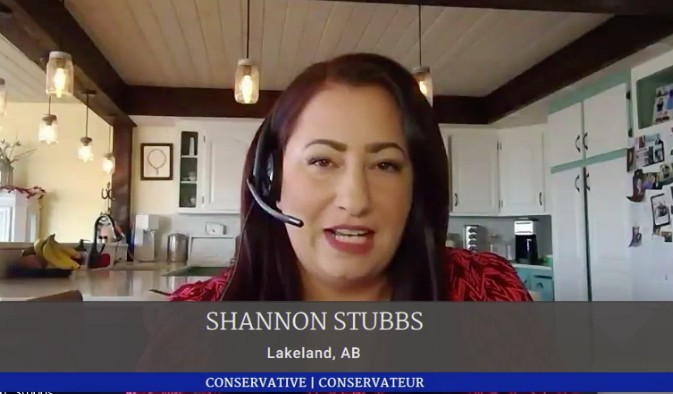 "Investigations such as this, they don't happen overnight and there's always, obviously, gaps in the information," Lucki said, noting that reports shared with the RCMP need to go through a significant vetting process to ensure they qualify as child pornography under the criminal code definition. She also pointed to the jurisdictional challenges with investigating these cases.
"It's such a complicated issue because, as you know, the application of domestic criminal law and territorial limits… has been a challenge given the global nature of the internet, which is not bound by the traditional borders," she said.
The RCMP's statements are complicated because the force clearly dropped the ball in 2018, when it was engaged by MindGeek about potentially illegal content on its websites. Instead of dealing with jurisdiction issues then and ensuring legally required reporting practices were being followed, the RCMP accepted MindGeek's claim that it was following the rules and reporting all potentially illegal material to NCMEC in the U.S. It had not been doing so, and since 2011 MindGeek appears to have violated Canadian law.
Not only did the RCMP fail to look into this, after it was engaged by the company in 2018, the force did not ensure that legal reporting was being done following its communication with the company.
MindGeek continued to flout the rules, according to the evidence presented to the parliamentary committee, and only took steps to comply after public backlash exploded in December.
Now, after almost a decade of illegal, deeply destructive pornographic material was being posted under the RCMP's nose, it is claiming jurisdictional issues have to be worked out before a formal investigation can be launched.
The complexity of investigating a company like MindGeek is understandable, and its corporate structure is something MPs have already commented on, describing it as "incomprehensibly complex". The company's website states "MindGeek HQ" is in Luxembourg, with offices also in London, Los Angeles, Cyprus, Romania and Montreal. However, reports have stated the majority of its employees work out of the Montreal office and the Wikipedia page labels it as a "privately held Canadian company."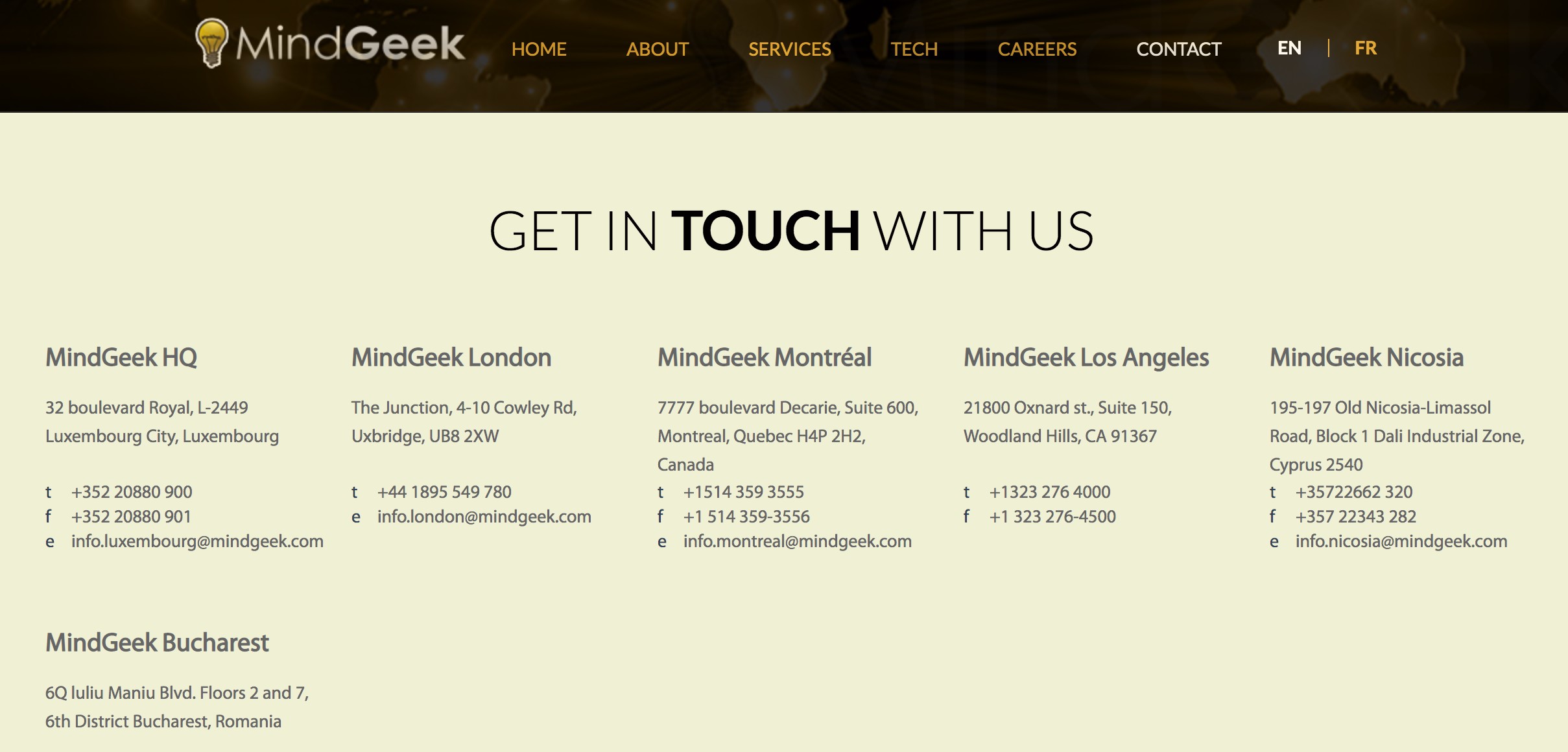 A list of MindGeek's offices found on the company website.
Regardless of the complexity, the RCMP is part of several international agencies meant to facilitate the ease of such investigations. For example, the Five Eyes is an alliance between Australia, Canada, New Zealand, the United States and the UK designed to facilitate ease in the information and intelligence sharing process.
The RCMP also chairs the Virtual Global Task Force (VGT) an organization whose sole mission is to "build an effective, international partnership of law enforcement agencies, non-government organizations and industry to help protect children from online child abuse and other forms of transnational child sexual exploitation." This means the RCMP should be well positioned to take on these complex investigations.
The RCMP is no stranger to investigations that span international borders. The much publicized SNC Lavalin affair led to an "extensive" criminal investigation of former SNC executive vice president Sami Bebawi which resulted in the seizure of over $4 million. That case, which involved the investigation of allegedly corrupt public officials trying to obtain contracts in Libya involved evidence across international borders and cooperation with other law enforcement agencies.
In the realm of cyber-crime, the RCMP also routinely works with Canadian law and law enforcement agencies as well as international law and foreign or international law enforcement agencies such as Interpol.
The RCMP website states: "The RCMP National Child Exploitation Coordination Centre (NCECC) works with law enforcement partners across Canada and internationally to combat the online sexual exploitation of children. The NCECC also works closely with the Canadian Centre for Child Protection, a charitable organization that operates Canada's national tipline for reporting the online sexual exploitation of children."
The RCMP in 2012, and its "Combined Forces Special Enforcement Unit" learned of an international gambling operation run by a syndicated crime group that used an off-shore gambling website, Platinum Sports Book.com, to launder money from criminal activities in Canada. An investigation was immediately launched, the gaming enterprise was dismantled and in 2013 30 people were arrested and charged.
Its website's cyber-crime section states the force's work in child exploitation and other areas "enable the RCMP to address serious and organized crimes where offenders use technology to extend the reach of their traditional activities, and to identify new criminal activities that unfold in tandem with technological advancements."
Despite all the work done by the RCMP it now claims "jurisdictional" complexity is the main reason an investigation into Pornhub has not yet been launched.
It's unclear how much priority the force is placing on cyber-crime that does unthinkable damage to children and women, compared to other international online activity it also investigates, such as money laundering, identity theft, internet-based drug trafficking and marketing fraud.
Listening to the statements from Ministers and top RCMP officials describing child exploitation as "the most heinous of crimes [which] deserves society's strongest condemnation" it created the impression the issue is a top priority for the government and law enforcement. The protection of youth is also listed as one of the RCMP's top operational priorities. It's unclear how an issue given such high status publicly by Canada's national police agency has been handled so casually in the past.
Following the publication of the New York Times story in December, a briefing note was sent by the RCMP to top officials explaining that the police agency had met with MindGeek in 2018. The company was looking for assistance in finding software that could aid them in detecting CSAM, and the RCMP referred them to a third-party provider. During that meeting, the RCMP also briefed MindGeek about its responsibilities under Canada's Mandatory Reporting Act.
"Mindgeek informed the RCMP that, based on advice from their legal counsel, they would be reporting to the National Center for Missing and Exploited Children (NCMEC) in the United States. As a global company that is registered abroad, jurisdiction over MindGeek is difficult to determine, as content is hosted outside of Canada," the RCMP told The Pointer.
When asked if any attempts were made to follow-up with MindGeek after the 2018 communication around the world's largest porn site's compliance with Canadian laws, the RCMP said because it was not receiving any CSAM reports from Pornhub, there was no effort to follow-up.
It's unclear why its National Child Exploitation Coordination Unit did not simply check with NCMEC in the U.S. to confirm Pornhub was reporting suspected illegal material. If it had, the RCMP would have learned three years ago that MindGeek continued to ignore the rules.
It's also unclear why the RCMP and its own child exploitation unit apparently did not monitor NCMEC and other agencies to see if any Canadian-based companies were reporting suspected illegal material.
"So when you guys go to companies that you think may have broken Canadian law, but they have other jurisdictions and they just tell you, 'oh, we're not a Canadian company,' is that good enough?" NDP MP Charlie Angus (Timmins-James Bay) asked during questioning of AG Lametti.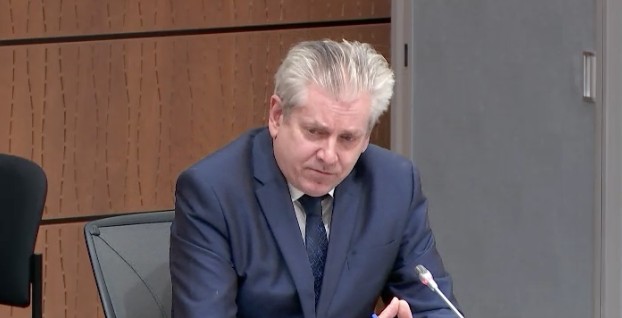 MP Charlie Angus
"I'm not going to answer on the specifics," Lametti replied. "A company may also be required to report in another country, such as the United States, which then may be required to report back to the Canadian law enforcement authorities."
In MindGeek's case, this is now the process in place. CSAM reports are sent from MindGeek to NCMEC in the United States, which are then passed on to the C3P and Canadian authorities. According to the DOJ, this satisfies MindGeek's obligations under the Mandatory Reporting Act.
"Section 9 of the Act makes clear that reporting in compliance with reporting under the law of a foreign jurisdiction is deemed to have complied with the Canadian law," the DOJ states.
It remains unclear if MindGeek will be investigated for prior violations of the Act, going back to 2011. Evidence shows the company only began reporting to NCMEC in late 2020.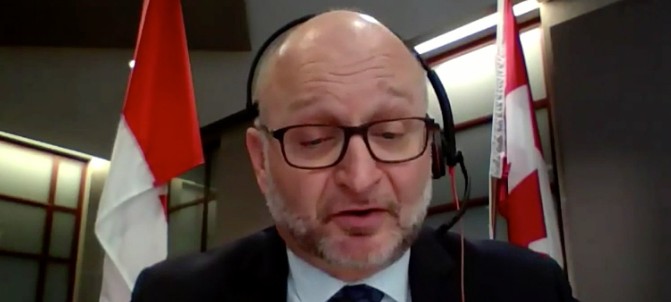 Minister of Justice and Attorney General, David Lametti
According to Pornhub's recently released 2020 Transparency Report, 4,171 reports of potential CSAM were sent to NCMEC in 2020 and 653,465 pieces of content were removed for violating the Terms of Service, which includes bans on CSAM, hate speech, non-consensual content and other potentially harmful material. The report also notes the company complied with 1,081 requests from law enforcement in 2020, a large portion of them from the United States.
"We are committed to being as transparent as possible and to being a leader in eradicating abusive content from the internet. We will continue to do our part to ensure Pornhub is free from any illegal content," the company's report states. "When content is brought to our attention through external reports, we take those requests seriously: if the content is CSAM, it is immediately removed, it is fingerprinted to prevent re-upload, and it is reported to NCMEC. We also review the user's account to identify any other material that should be reported to NCMEC and we ban the user. We continue to cooperate with law enforcement and child protection oriented non-profits around the world."
Victims who testified before the parliamentary committee this year provided evidence that MindGeek for years had not removed flagged CSAM, and that when some material was finally taken down, if often reappeared on the same website, such as Pornhub, shortly after.
The high volume of traffic to this illegal material allowed the company to increase its revenues.
Regardless of current reporting, the RCMP must still consider the evidence that for two years, CSAM could live on the site without the knowledge of authorities, leaving victims to fight with Pornhub to remove the illegal content. These battles were shared by victims to the committee, described as gruelling and usually unsuccessful.
This might have been happening since Pornhub was launched and for close to a decade since the reporting Act was passed, but the statute of limitations in the Mandatory Reporting Act is two years, meaning any failure to follow the law beyond the last two years can not be investigated.
Lametti says he has confidence in Canada's legal framework to protect victims of child exploitation and to hold perpetrators accountable, describing the Criminal Code and the Mandatory Reporting Act as "second to none in the world."
It was a claim rejected by MPs who listened to "haunting" stories from victims who have suffered while the Canadian law failed to keep up with the rapid growth of the internet and the criminals who exploit lax regulations and the lack of enforcement around rules.
"When I talk to these young people they say governments come and go, the reset button is constantly pushed, so at the end of the day we are forgotten. There is help out there, but the help seems to disappear once-and-a-while because legislation which should be enforced is not keeping up with the reality on the ground," MP Marie-Helene Gaudreau (BQ-Laurentides-Labelle) said. "If the law kept up with changing technologies we could help victims better. Victims are already at the end of their rope, so there are gaps that we need to fill. We need to move quickly, we need to move as quickly as the internet does."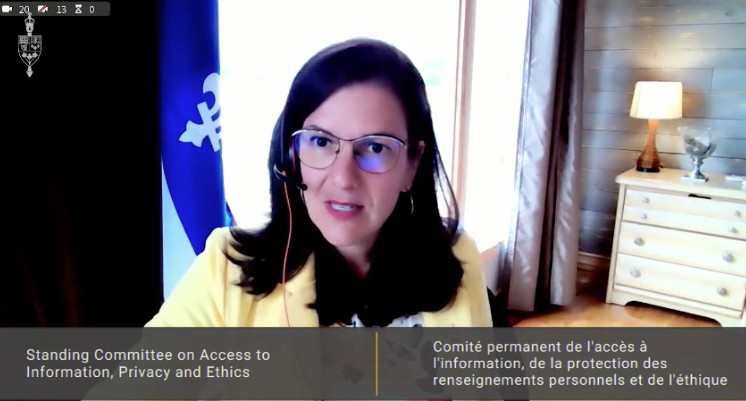 MP Marie-Helene Gaudreau (BQ-Laurentides-Labelle)
Lametti, in a contradiction of his earlier claims, along with staff from the RCMP's NCECC, explained they are currently reviewing ways to improve existing legislation.
Lametti noted that a new "regulator" is being considered whose responsibility would be the enforcement of the reporting Act. The attorney general provided no further details, saying he could not reveal the contents of a draft Bill. It is common practice for this type of legislation to be discussed publicly and even involve widespread public and expert consultation before a draft is done.
It was also shared that amendments to the reporting Act are being considered in an effort to centralize the reporting of CSAM to law enforcement. Currently, the Act instructs internet service providers to report CSAM to law enforcement in their jurisdiction. The DOJ, when asked by The Pointer, why this grey area exists, instead of having the RCMP (which already has a child exploitation unit that focuses on online crime) identified as the mandatory contact in the Act, it explained this was to maintain optimal flexibility.
"The MRA (the reporting Act) is designed to facilitate reporting for ISPs and the reference to police is general so as to provide the greatest amount of flexibility in fulfilling the reporting obligation, and to allow reporting to specialized units in provinces that have them," the DOJ said in an emailed statement. "The Department of Justice continues to monitor the implementation of the law to ensure that it is meeting its intended objectives."
That's a departure from the claim by Lametti, head of the DOJ, who said the reporting Act is "second to none in the world."
It's unclear if the DOJ believes failures that have been reported are due to gaps in the law itself, or the enforcement of it, or both.
The Act, as illustrated by the disturbing evidence presented to the committee, clearly needs to be changed.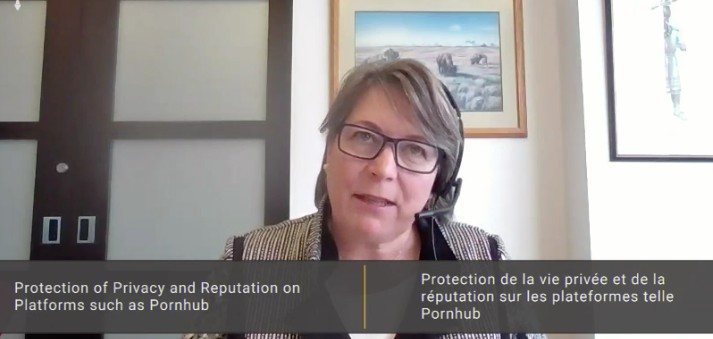 RCMP Commissioner Brenda Lucki
At Monday's committee hearing, Andre Boileau, the officer in charge of the NCECC, explained that a change is being considered to the Act which would make the NCECC the centralized reporting agency for CSAM, as opposed to having vague reference to law enforcement departments across Canada that might be responsible for dealing with reports of CSAM.
"There is no particular as to whom they can actually do their reporting," Boileau said. "By naming the NCECC in Section 3, this would actually allow (us) to concentrate the information towards us, all the reporting, and we'd be able to actually take care of duplication."
---
Email: [email protected]
Twitter: @JoeljWittnebel
---
COVID-19 is impacting all Canadians. At a time when vital public information is needed by everyone, The Pointer has taken down our paywall on all stories relating to the pandemic and those of public interest to ensure every resident of Brampton and Mississauga has access to the facts. For those who are able, we encourage you to consider a subscription. This will help us report on important public interest issues the community needs to know about now more than ever. You can register for a 30-day free trial HERE. Thereafter, The Pointer will charge $10 a month and you can cancel any time right on the website. Thank you.
Submit a correction about this story