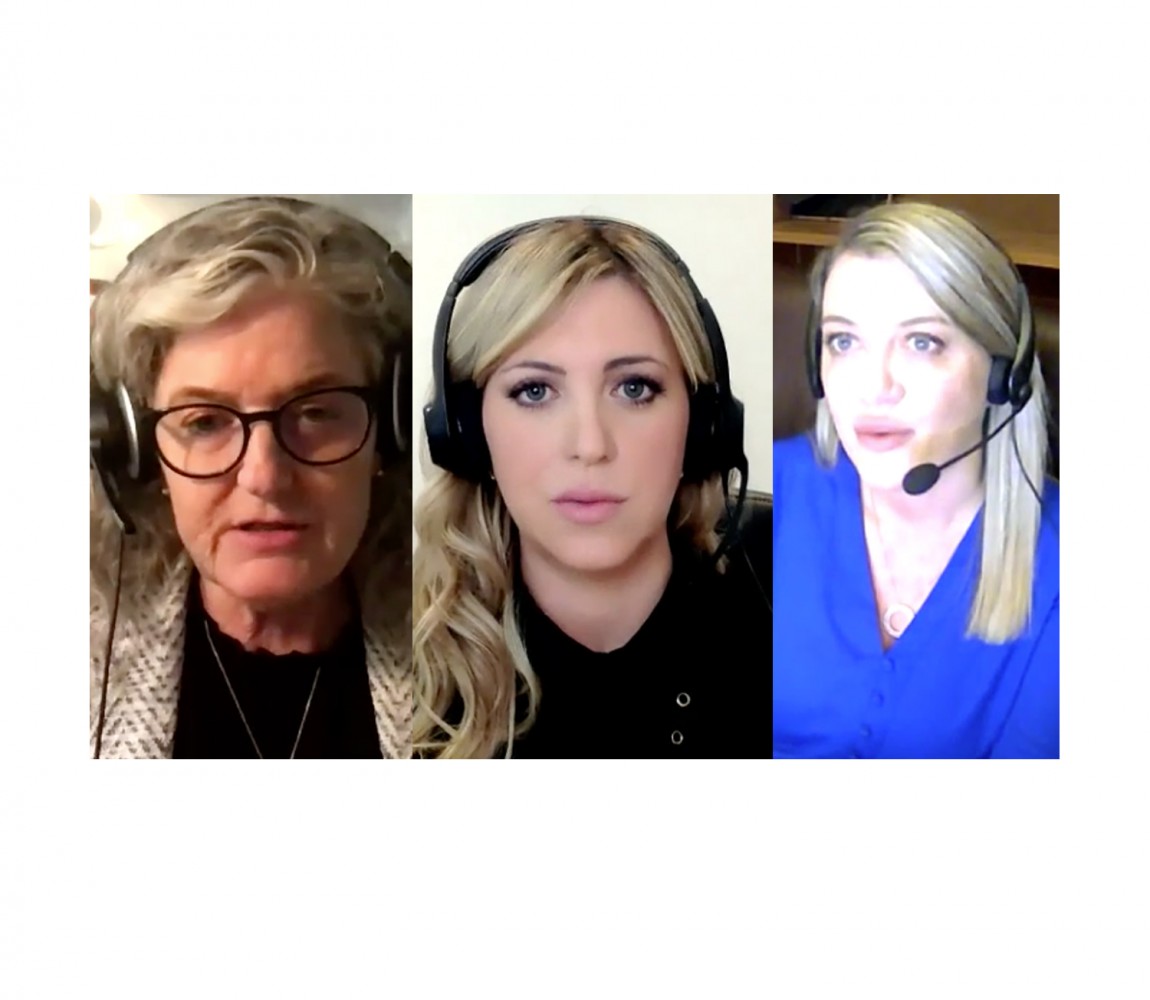 Screengrabs from ParlVu
The 'largest repository of child pornography in North America': More survivors testify against Pornhub
Two weeks after the top executives of Montreal-based MindGeek appeared before a parliamentary committee to defend their flagship site Pornhub, labelling it the "safest place on the internet to consume adult content" – despite numerous complaints of child sexual abuse material appearing on the platform – Canada's Standing Committee on Information Privacy and Ethics heard more stories from survivors who suffered after non-consensual intimate imagery of themselves was published on the site, leading many MPs to question whether the executives had been less than truthful.
"This company is probably the largest repository of child pornography in North America," said Manhattan-based lawyer Michael Bowe whose firm has spent the last year investigating MindGeek. "We have some monsters in the U.S., we had a monster named Harvey Weinstein, we had a monster named Epstein – MindGeek is Canada's monster."
The condemnation stands in stark contrast to the testimony offered by MindGeek CEO Feras Antoon and COO David Tassillo who defended the company's efforts to stop child sexual abuse material (CSAM) and other abusive or non-consensual material from being posted, or reuploaded to Pornhub or other tube sites operated by MindGeek. The pair described a system that removes content immediately after it is flagged, and videos that are "fingerprinted" after being found to be CSAM or other non-consensual content.
Evidence suggests this is far from the case.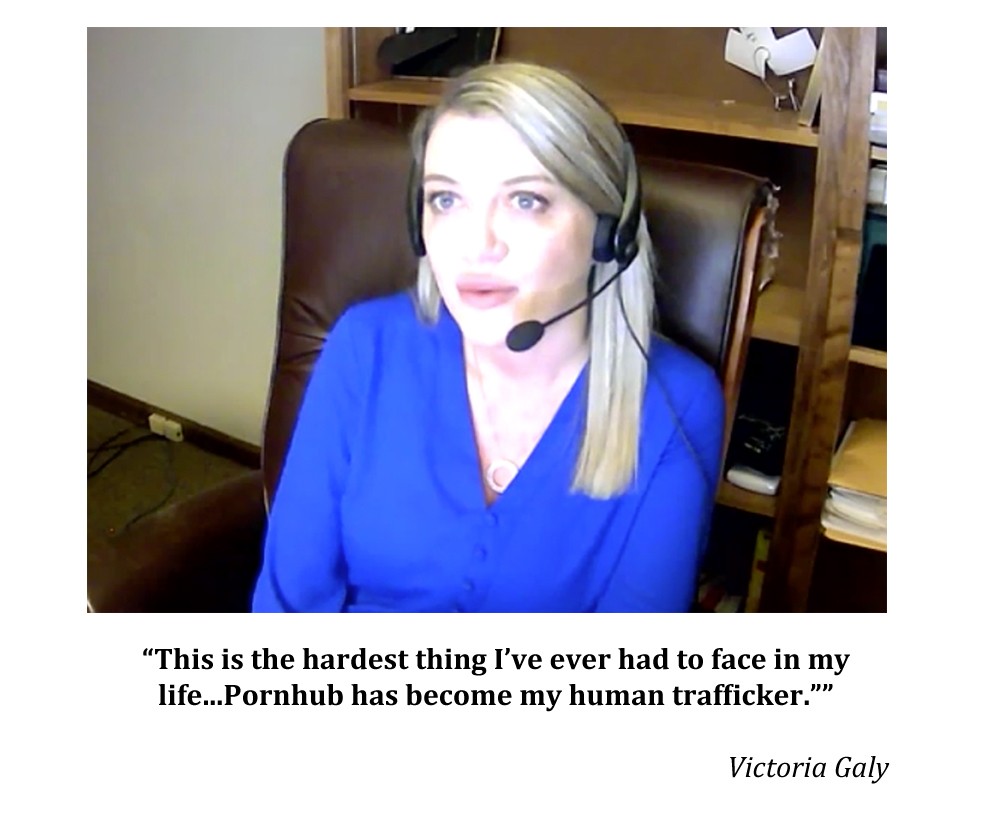 On Friday, a trio of survivors testified before the committee, offering day-to-day experiences with the company that highlighted alarming practices. They told similar stories of non-consensual images being shared on Pornhub, the devastating impacts it had on their lives, including lingering mental health struggles, as well as the significant effort it took to convince MindGeek to remove the content, despite the clear violation of Canada's child pornography laws. Their stories followed the testimony of Serena Fleites, a survivor of similar non-consensual content posted on Pornhub, who appeared before the committee earlier this month.
In December, an article in the New York Times Opinion section, which included Serena's story, intensified the growing backlash against Pornhub and drew widespread attention to allegations of CSAM and other illegal content on the site. Only days after the Times story was published, Visa, Mastercard and Discover blocked customers from using their credit cards on the website. Aside from advertisers like Unilever and the Dollar Shave Club which had pulled ads from the site because of the controversy unfolding for much of last year, this marked the first time a major financial player took any action to distance itself from the company and the stomach-turning allegations levelled against it.
At the same time, Pornhub finally announced a new verification process which would only allow identified users to upload content, and deleted close to 10 million videos from the site that were posted by unverified accounts.
"This is the hardest thing I've ever had to face in my life," Victoria Galy told the parliamentary committee. She had a number of intimate images and videos, many of her while drugged or intoxicated and taken without her knowledge, posted to Pornhub. "Pornhub has become my human trafficker."
Galy said in 2018 she reported approximately 30 videos of her to Pornhub, asking them to be removed. Three of the videos were taken down, but Pornhub told her she would need to take further steps and file a takedown notice to have the others removed. In August 2020, when she checked again, there were more than 60 videos of her on the site. She currently takes medication to help her deal with depression and PTSD. She says she came close to suicide.
"I have never been more broken than I have been throughout this process," she told the committee.
Two anonymous survivors also testified, sharing similar stories of videos of them shared to the site without their knowledge, the struggle it took to try and get them removed and the lingering trauma the online attention caused.
"Pornhub is complicit in the trafficking of women and girls," said Megan Walker, the CEO of London's Abused Women's Centre, who also testified before the committee. "When an industry is predatory, especially the porn industry, it is incumbent on the government to regulate."
The continued testimony before Canadian parliamentarians is the result of a year that saw unprecedented levels of public outrage directed at Pornhub and its Canadian parent company, Montreal-based MindGeek, after numerous stories were made public of videos of rape, human trafficking, child pornography and other non-consensual content being made available and monetized on the site.
The Trafficking Hub campaign was launched with the explicit goal of getting the site shut down and has garnered close to 2.2 million signatures on a petition. The campaign's founder, Laila Mickelwait, testified before the committee on Friday and refuted many of the claims made by the Pornhub executives, including their contention that CSAM material hurts their business model and degrades the "Pornhub brand."
"Child abuse material has no place on our platform and makes us lose money," Antoon said on February 5. "(Our brand) has the trust of its users. When four million Canadians that come to Pornhub daily, see this disgusting kind of material, they lose trust and faith in us…With every view, a user leaves forever."
Mickelwait told MPs this is simply not true. She described videos of underage girls being beaten and raped, and videos of women being filmed without their knowledge, all of which appeared on Pornhub, right under the noses of the executives who run the company.
"Every single video of a child that is found on Pornhub, or an adult, is heavily monetized," she testified, adding that she has spoken with many survivors who are "terrified and traumatized" because of what Pornhub has allowed.
Mickelwait said she has heard from a number of former employees at MindGeek who described a "reckless disregard for human safety" in the company's practices. In a recent report from the Globe and Mail, the newspaper detailed allegations by two former "formatters" with Pornhub who claimed they were discouraged by managers from reporting videos that contained what they thought was illegal content.
The executives tried to deflect the comments.
"I mean, media articles are not facts, it's journalists writing whatever they want," Antoon said.
Pornhub's top executives (from left to right): Vice-President Corey Urman, CEO Feras Antoon, and COO David Tassillo.
Antoon called the Globe's reporting "completely unfactual" noting that formatters do not review content, and the story is "a perfect example of a journalist not understanding who they've interviewed."
The denial of wrongdoing and deflection of responsibility was a common theme during the executives' testimony on Feb. 5, despite numerous prompts from MPs asking whether the pair would like to apologize for the harm their site has caused.
The lack of information and deflection – even labelling the allegations as conspiracy theory – have been commonplace in Pornhub's response to the entire controversy, Bowe said, noting that any time scrutiny was directed at the company, executives refused to acknowledge the problem. They instead conducted gas-lighting campaigns against the victims who came forward and attempted to deflect the issue and blame it on other things.
On Friday, MP Charlie Angus explained the committee received a letter from Tassillo and Antoon ahead of Mickelwait's testimony "warning" the committee about her. The full details of the letter were not available, but Angus noted it also included mention of Benjamin Nolot, the founder of Exodus Cry, the organization where Mickelwait previously worked. In previous reports, MindGeek has pointed to 2013 tweets from Nolot who compared abortion to the Holocaust and opposed same sex marriage, in an apparent attempt to discredit the Trafficking Hub campaign.
As part of The Pointer's initial story on Pornhub in June, a spokesperson for the company labelled Exodus Cry, the group behind the Trafficking Hub petition, a "radical rightwing fundamentalist group." In an interview, provided to a media outlet in March ahead of an International Women's Day Protest, a MindGeek spokesperson said Exodus Cry's founders "have long vilified and attacked LGBTQ communities and women's rights groups, aligned themselves with hate groups, and espoused extremist and despicable language."
MPs were not impressed by the attempts of the MindGeek executives to discredit the witnesses who were set to testify against the company and its disturbing behaviour.
"I've never had people being investigated send us letters about people who are giving witness testimony," Angus said.
Founder of the Trafficking Hub campaign Laila Mickelwait.
"That's standard procedure from them to try to distract, to try to defame, to try to discredit those who are trying to tell the truth about what is happening on their site," Mickelwait said.
Testimony from Galy also forced Angus to rethink the responses from Antoon related to Pornhub's Terms of Service, which state anyone with a legal complaint must take it up with the courts in Cyprus.
Pornhub's Terms were most recently updated on December 8, and read: "The relationship between you and us shall be governed by the laws of Cyprus, without regard to conflict of law rules. Nothing contained in these Terms of Service shall constitute an agreement to the application of the laws of any other nation to the Websites," the terms read. "The sole and exclusive jurisdiction and venue for any action or proceeding arising out of or related to these Terms of Service shall be in an appropriate court located in Limassol, Cyprus. You hereby submit to the jurisdiction and venue of said Courts."
When asked about this portion of Pornhub's Terms, Antoon said, "To be honest, I would have to get back to you on that and ask legal counsel," Antoon said. "But clearly we are living in Canada, we abide by Canadian law for sure."
However, when Galy, who lives in the U.S., brought her complaints to Pornhub, she was directed to the courts in Cyprus by Pornhub's legal director.
While Bowe questioned the legitimacy of the Terms, he said it raises an important point about the operations of the MindGeek corporation.
"This is a company that has an international corporate structure of shell companies that if you're teaching a class on tax evasion, money laundering and shielding, this would be something you would teach if you look at this structure," he said, adding that the set up makes it hard to know who to sue and where to sue.
MPs also heard from Francis Fortin, an associate professor of criminology at the University of Montreal who explained there needs to be significantly more effort undertaken to address the presence of CSAM and other harmful material online.
Currently, internet service providers have a legal obligation to report all potential incidents of criminal activity depicted on their site to the authorities. Fortin said this system clearly doesn't work.
"I do not think we can trust the industry to self-regulate and I think you've seen examples of that," he said.
With the ETHI committee being tasked with determining whether Pornhub, and other content sharing platforms like it, are following Canadian law including child pornography sections of the Criminal Code which make it illegal to create and distribute child pornography, Fortin made several recommendations to improve the current system, including the creation of an ombud who would be tasked with reviewing complaints, and assiting victims through the process of having videos removed from platforms like Pornhub.
He also recommended some form of stricter licensing for platforms sharing sensitive content, noting that it should be a "privilege" to be able to host such content.
"I think the priority should be to eliminate the images as quickly as possible to avoid repeated victimization," he said. "I think all resources should be deployed to that purpose."
Francis Fortin, an associate professor of criminology at the University of Montreal.
Marie-Helene Gaudreau (BQ-Laurentides-Labelle) vice chair of the ETHI committee, assured the witnesses who testified that their stories would make a difference.
"As I've told other witnesses beforehand, what you're doing is going to be really important. We as legislators have received what you are saying and we see that this is very important and urgent," she said. "This goes to your dignity, to your respect and the importance of protecting private information, you are helping us see how urgent the situation is."
"The most important voice is the voice of the victims," Walker said, telling the committee that more resources need to be put into supporting those who have had non-consensual videos posted online.
The long-lasting damage caused by the posting of these videos is something the Ontario justice system is starting to recognize when sentencing offenders. With the nature of the internet and the ease of copying and sharing content, victims fear that if they are able to have non-consensual videos of them removed from one site, they will simply pop up on another. It's a "soul destroying" fear that leads many victims to develop severe social anxiety, Walker said.
"I feel like everyone who looks at me has looked at those videos," one survivor told the committee.
One Ontario Court justice put it this way in 2019:
"Once images or videos are circulated, the degradation of these children becomes both permanent and global. Images once distributed through [an] informal network can never be truly eliminated from circulation. The harm is both acute and perpetual. The growing numbers of victims — most unidentified – suffer from wounds that are continually re-opened and harm that can manifest itself over decades."
The committee will hear from more witnesses today starting at 11 a.m. Witnesses scheduled to testify include: Lianna McDonald, Executive Director and Lloyd Richardson, Director, Information Technology from the Canadian Centre for Child Protection; Daniel Bernhard, Executive Director of the Friends of Canadian Broadcasting; John F. Clark, President and Chief Executive Officer, National Centre for Missing & Exploited Children; and from the Royal Canadian Mounted Police: Stephen White, Deputy Commissioner, Specialized Policing Services, Marie-Claude Arsenault, Chief Superintendent, and Paul Boudreau, Executive Director, Technical Operations, Specialized Policing Services.
---
Email: [email protected]
Twitter: @JoeljWittnebel
---
COVID-19 is impacting all Canadians. At a time when vital public information is needed by everyone, The Pointer has taken down our paywall on all stories relating to the pandemic and those of public interest to ensure every resident of Brampton and Mississauga has access to the facts. For those who are able, we encourage you to consider a subscription. This will help us report on important public interest issues the community needs to know about now more than ever. You can register for a 30-day free trial HERE. Thereafter, The Pointer will charge $10 a month and you can cancel any time right on the website. Thank you.
Submit a correction about this story