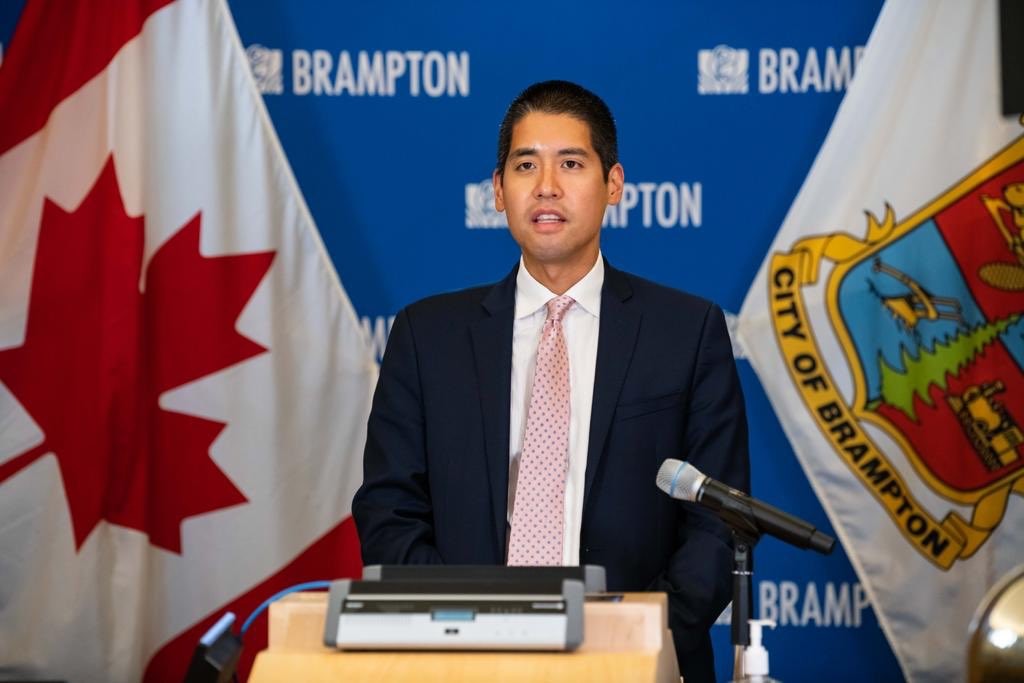 Photos from Region of Peel/City of Brampton/Trillium Health Partners/Twitter
Managing a public health unit during a global crisis
Dr. Lawrence Loh would usually be headed to Quebec this time of year, to visit his in-laws. That's exactly what he was doing last March.
"We were up in Montreal – I had just assumed the role – and I basically turned around and came right back," Peel's top doctor told The Pointer in a recent interview. "I [remember thinking] I'm gonna leave my family here [to] do the usual March Break thing. I got to go back to [Peel] because this thing is really starting to blow up."
Loh, who had just stepped into the job, was welcomed by the arrival of a deadly virus set to devastate Peel. He didn't even have the permanent title – a press release was sent out last week by the Region, officially recognizing him as the Medical Officer of Health.
He's earned his stripes.
Peel's Medical Officer of Health Dr. Lawrence Loh
Previous Peel medical officer of health Dr. Jessica Hopkins, who was widely respected, had overseen broad programs such as minimizing rates of tobacco use and promoting healthy diets and exercise for Peel's diverse residents. She helped shed light on the inequities in provincial funding for health programs delivered by the Region.
As the interim replacement, Dr. Loh would have been prioritizing similar programs.
Instead, he was swept into a fog of press conferences, epidemiological data and crushing news pouring in from around the world.
Directives from Ottawa and Queen's Park changed by the hour as public health experts across the country scrambled to understand something they had never encountered before.
Loh was suddenly responsible for a mission to control the advancing virus moving from person to person, spreading uncontrollably across Brampton, Mississauga and Caledon where conditions were ideal for transmission of the deadly organism.
"A year and a half ago it was just a novel pneumonia in China," he recalls. "But we now know about the role of masks, we now know about the role of distancing [and] we're still trying to figure this stuff out even today around variants and all this other stuff. But we know a little bit more about who's at risk, where the risk is [and] what behaviours that need to be limited."
How could transmission rates be controlled, Loh asked himself, while guiding the region into lockdown and making decisions to keep the diverse community safe. Peel faced many socio-cultural and socio-economic issues, religious considerations and accessibility barriers, along with a labourforce reality that made the pandemic an even more precarious threat.
One example was high rates of infection among the large Black and South Asian-Canadian communities due to underlying conditions such as diabetes, hyper-tension and heart disease more common in certain ethno-racial groups.
The region's high rate of labour participation in the essential workforce would prove to be another challenge for Loh, on top of the situation inside long-term care facilities, ravaged by the killer virus.
March 5, 2020 marked the first COVID-19 positive case in Peel. Today, it is finally in the grey zone after an extended stay-at-home-order was lifted at the start of the week. Nine vaccination clinics are now open for priority groups and inoculation is expected to ramp up once more vaccine supply flows into the region.
Recent news of two newly-approved vaccines and more shipments on the way after weeks of delays offers hope, but the mutations of the virus are spreading faster than the initial version, even with preventative measures.
Loh has been urging patience and a redoubling of efforts.
The medical officer of health has been firm and transparent in his decision to caution against a more robust opening, pushing back against the cries of Peel mayors and small business owners. The general public is growing tired of hearing the same grave speech each week and Dr. Loh knows his pleas have been falling on deaf ears, for some.
Many residents in Peel have taken to social media to vent their frustrations since hearing Mississauga Mayor Bonnie Crombie react somberly to the move into the grey zone instead of red.
But he won't relent.
"This is a critical time in our pandemic response," he said. "We are in a race between the variants and the vaccine. I continue to stress the importance of listening to Public Health guidelines and holding on for a little bit longer so we can see the other side of this and get back to normalcy. I know everyone is tired – so am I. But we need to dig deep and do our part by staying apart and when it's your turn, get the vaccine. I know I will. As long as we are able to hold on for a few more weeks, it may help us avert months of a third wave and closures in the future."
Even getting to this point has been a vexing process, filled with second guessing and mixed messages from political decision makers who have claimed public health experts will establish policies.
In the beginning of the pandemic, public health officials jockeyed to promote social distancing, hand washing, donning masks and staying home as much as possible. The fear of the unknown helped the general public comply.
But in Peel, insufficient COVID-19 testing and contract tracing emerged from top-down orders and resources trickled into the hard-hit region. Through the first half of the pandemic, Brampton only had one provincial assessment facility for testing, to serve a population of more than 650,000 residents and screening rates were far below the provincial average, allowing the virus to spread more widely. Peel, home to only three full-service hospitals for a population of 1.5 million – Winnipeg has eight for a population of about 800,000 – has consistently seen hospitals near or over capacity throughout much of the pandemic; 626 people have died from the novel coronavirus as of March 12, and 411 were seniors in long-term care and retirement homes.
While responsibility for the lack of funding lies with the Province, it took months for Dr. Loh to find his footing and begin effectively advocating for Peel and decision making based on public health data.
In March of last year, when some politicians in Peel downplayed the pandemic, Loh said asymptomatic spread was not a risk, which went against the Centers for Disease Control and Prevention and the World Health Organization's reports that asymptomatic transmission of the virus was a cause of concern. But Loh quickly changed his position in accordance with experts at Queen's Park and Ottawa who cautioned from the start that symptoms were not needed to transmit the virus.
Loh was clearly unwilling to correct misinformation spread by Brampton Mayor Patrick Brown, who has misled the public in the past in regard to COVID-19 information, during press conferences and on his own social media.
Brown used incorrect testing figures that made Brampton's screening situation look better than it was and he claimed there were no infections taking place in restaurants and bars when there were, before he softened his rhetoric.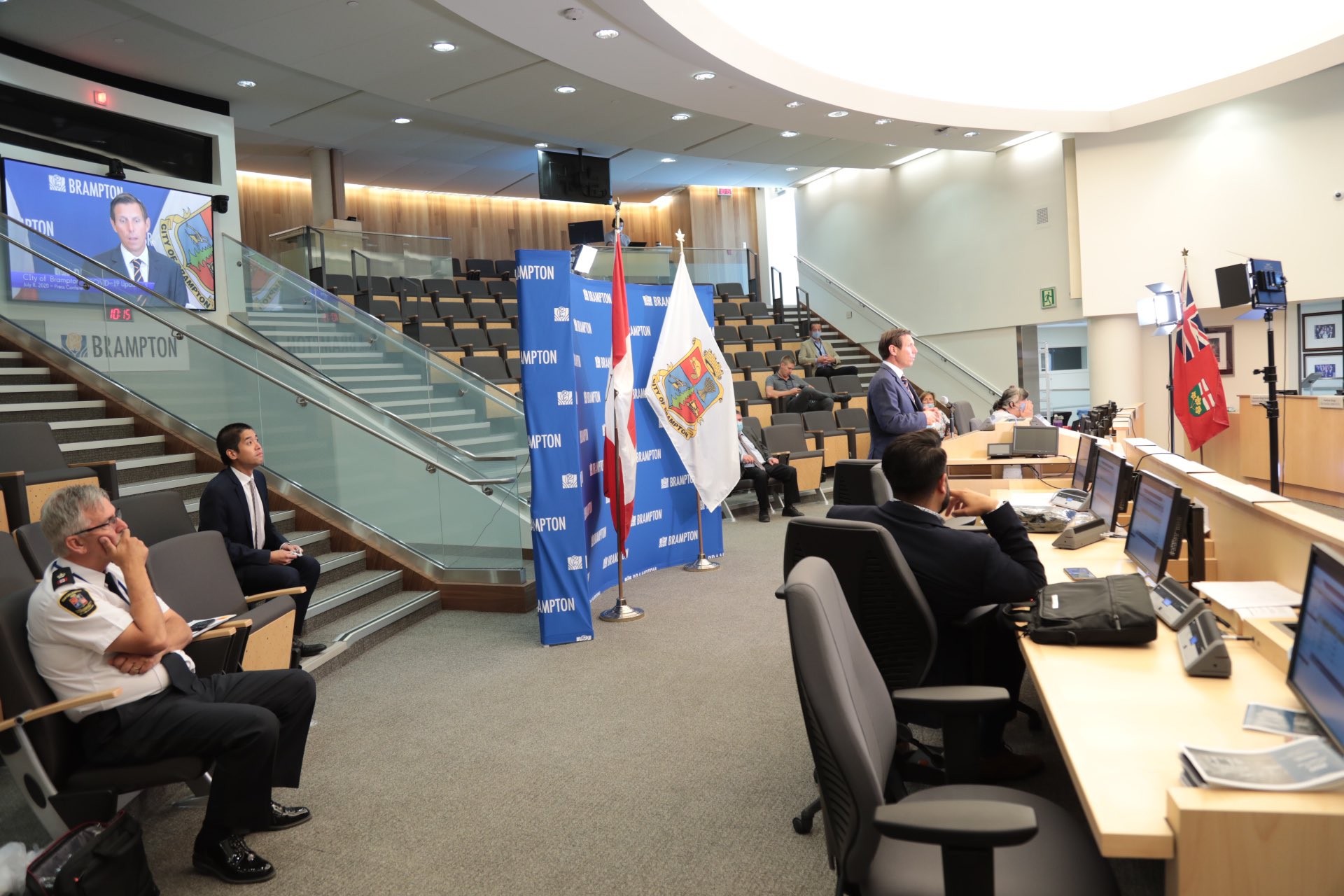 Dr. Loh (second from left) and Brampton Mayor Patrick Brown (at podium) during a weekly COVID-19 press conference.
Loh has since appeared to distance himself from some of Brown's claims.
But he continues to take fire from all sides. Two Mississauga councillors, Carolyn Parrish and Ron Starr, recently heaped heavy criticism on him for refusing to support a move into the red zone instead of the grey category.
In October, during the approach to the second wave, and despite Toronto and other cities setting the precedent of implementing harsher restrictions amid worrying transmission rates, Dr. Loh held back on recommending the same restrictions in Peel, drawing opposition from those demanding stricter measures.
His recent go-ahead to reopen schools for broad in-class learning in February came after he suggested they could open earlier, prompting educators to rally against a hasty return to classrooms.
And his latest decision to stand firm in his recommendations to keep Peel in an extended stay-at-home-order (until it was lifted Monday) longer than the majority of the province, saw him vilified by some in the region's small business community.
"I appreciate all of the sacrifices our small business owners have made and know that they also want certainty," said Dr. Loh. "It's clear that their sacrifice, however, has saved lives and ultimately prevented the pictures seen elsewhere that have seen lives lost and hospitals overwhelmed. For that reason, I continue to recommend reopening cautiously. If we move too quickly, we will find ourselves back in a stay-at-home-order, in an open-close cycle that would devastate our small businesses even more so than what they've experienced to date and also result in further hospitalizations and lives lost."
Loh has often been caught between competing interests and considerations. For a doctor, it's unlikely he studied a political playbook to prepare for the job.
Advocating for Peel's fair share in the pandemic has not been his strong suit.
In Peel, home to many essential workers and where 39 percent of the total workplace outbreaks have been in the industrial and manufacturing sector, provincial support in terms of funding, vaccine allocation and testing to keep transmission rates down has fallen far short of the need.
Loh has been advocating for months alongside Mississauga Mayor Bonnie Crombie and Mayor Brown for paid sick days to encourage workers to get tested and stay home with symptoms without fear of missing a paycheque, but none of them drew much attention to the issue early in the pandemic when unions and healthcare advocates were making the demand. While Dr. Loh has since been consistently outspoken about the need for paid sick days, which the Doug Ford PC government has ignored, the same can't be said about his advocacy for adequate vaccine supply in one of the country's worst impacted regions.
"Just to let you know, in the event that there's AstraZeneca available for pharmacies at Peel at a future date, I would be more than happy to talk about that," said Dr. Loh in regard to General Rick Hillier's announcement that left Peel out of a new vaccine rollout program for adults aged 60 to 64. Instead of strong words, he offered a matter-of-fact, diplomatic stance when asked about his response to Peel being left out of the pharmacy vaccine pilot. For many residents and even councillors, this sort of approach doesn't contribute to getting Peel any closer to reopening.
Testing capacity has ramped up and contact tracing has improved since the first wave. In Peel, public messaging surrounding COVID-19 adapted to display communication in different languages to help reach diverse communities. Today, almost all seniors in retirement and long-term care homes who wanted it, have been among the first to receive a COVID-19 vaccine. And vaccine clinics, awaiting supply, are open and ready to ramp up operation at short notice.
Despite small wins, bigger victories are needed to keep capacity at hospitals safe and test positivity rates down while vaccination protection reaches levels across communities for a broad reopening to take place.
"All of these are factors that limit the ability to open broadly and quickly at this time," said Dr. Loh. "As immunization progresses, widespread community rates of immunity will help bring transmission under control, and will ultimately change the trajectory of opening from gradual to hopefully more widespread and lasting. In the context of limited vaccine supply, it means that rapid spread and the associated hospitalizations and deaths remain a risk in our population."
In the balancing act that is reopening, Dr. Loh must constantly consider and evaluate how his decisions now may impact factors in the future. Should children stay in school while novel coronavirus variants continue to spread? What will happen to the businesses that are struggling to make it to the full reopening? How will our hospitals fare if acute care beds remain in short supply? And, perhaps most importantly, how can he keep a clamouring public from tuning him out?
Loh says all of these issues are important and he considers all of them as he steps onto the podium each week to deliver his COVID-19 updates, which have lately shown transmission climbing back up, reversing a downward trend residents helped achieve for about five weeks, until March arrived. Three variants, from Brazil, the UK and South Africa, have been detected within Peel, with close to a thousand possible cases in just a month.
On Friday, it was announced that a Brampton Amazon warehouse has just been shut down, and schools across Peel continue to report a worrying number of cases.
Looking ahead, Loh is trying to get to a future where residents are free to interact with one another once again. Vaccine supply, he says, is the key.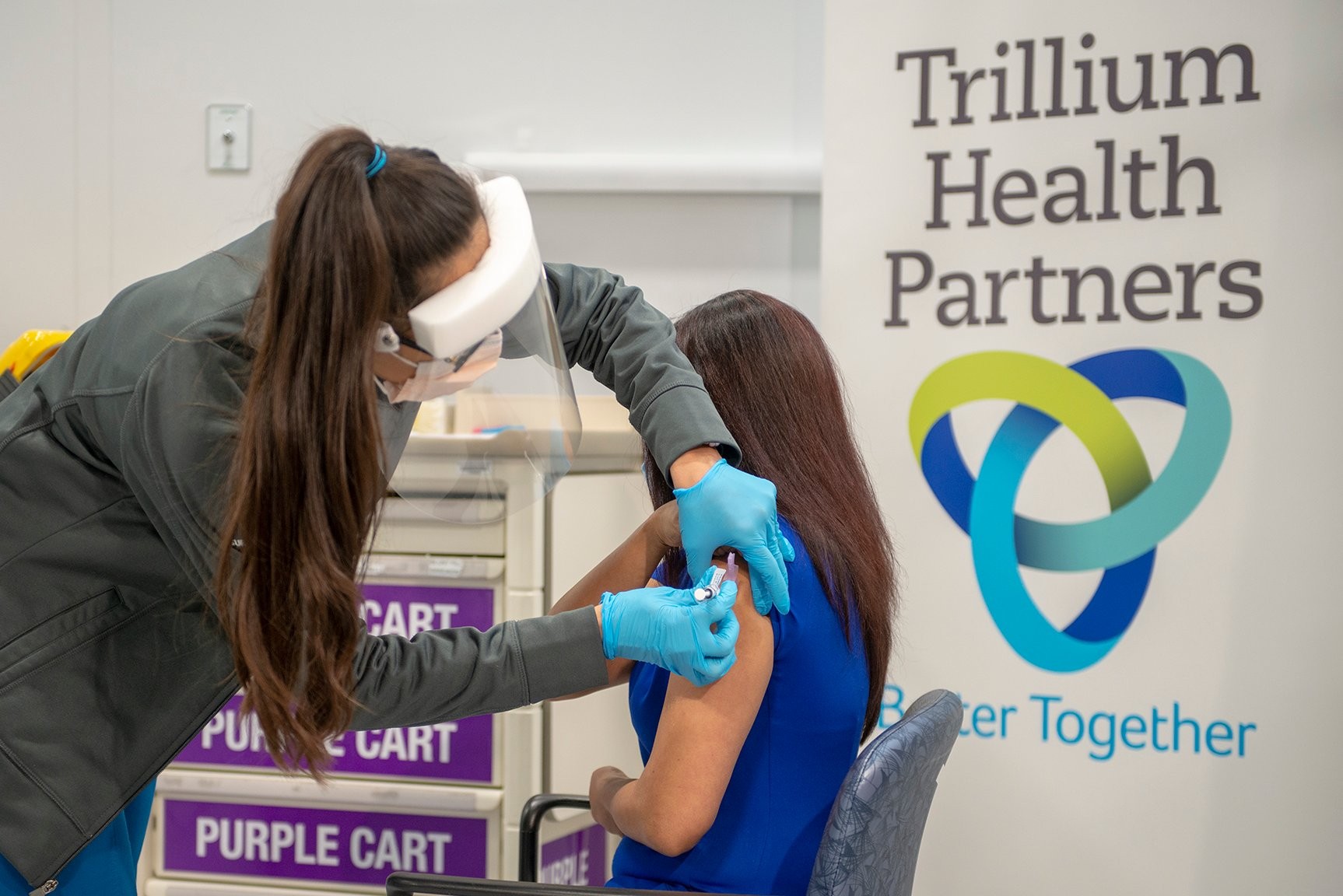 The first COVID-19 vaccination being delivered at Trillium Health in Mississauga.
"We knew that there was going to be a lot of volatility in the vaccine rollout and our goal was to say if we're going to get a ton of vaccines, we need to be over-prepared," Loh said. "We've already hired 800 staff to work these various clinics [and] we're looking at hiring another 800. We're staffing up like mad. Our goal is that as that vaccine starts to flood in, we've got the staff ready to up shifts, up capacity and make sure that we're ready to just get this out there as quickly as possible."
On March 8, the Region of Peel congratulated Dr. Loh for his confirmed status as the official medical officer of health. As the now permanent MOH for the region, he has officially inherited a years-long struggle between Peel and the Province for equitable funding, recognition and public health prioritization, and now he can add the aftermath and recovery from a global health crisis like nothing seen in at least a century.
"Dr. Loh has been leading the fight against COVID-19 on behalf of the residents of Peel, since becoming Peel's Medical Officer of Health," said Regional Chair Nando Iannicca in a press release. "The confirmation of his appointment ensures that Peel Public Health remains under his capable leadership during the pandemic. We have come to rely on his calm focus during these unprecedented times."
The pandemic has been a test of Loh's ability. Prioritizing long-term health and safety over short term wins and serving the pleasures of politicians has been a balancing act.
An avid long-distance runner, Loh compares the process to a race.
"I've always been a distance runner, and even throughout the pandemic, it's been one of those things that just kept me sane," he admits. "I liken it a lot to right now where we are in the pandemic. We're in the last 10k. This is like the 32k mark, you're trying to make it to the finish line and it's always the hardest one because you're giving it your all, you're trying not to hit the wall, and it really is about the mental game at this point."
He describes how running has been his mental and physical refuge from the daily chaos as the head of the public health unit in one of Canada's largest and worst hit regions.
"It's served me well," he said. "It's definitely been something that I've been able to lean on in the midst of this very unprecedented year."
---
Email: [email protected]
Twitter: @vanessabalintec
---
COVID-19 is impacting all Canadians. At a time when vital public information is needed by everyone, The Pointer has taken down our paywall on all stories relating to the pandemic and those of public interest to ensure every resident of Brampton and Mississauga has access to the facts. For those who are able, we encourage you to consider a subscription. This will help us report on important public interest issues the community needs to know about now more than ever. You can register for a 30-day free trial HERE. Thereafter, The Pointer will charge $10 a month and you can cancel any time right on the website. Thank you.

Submit a correction about this story