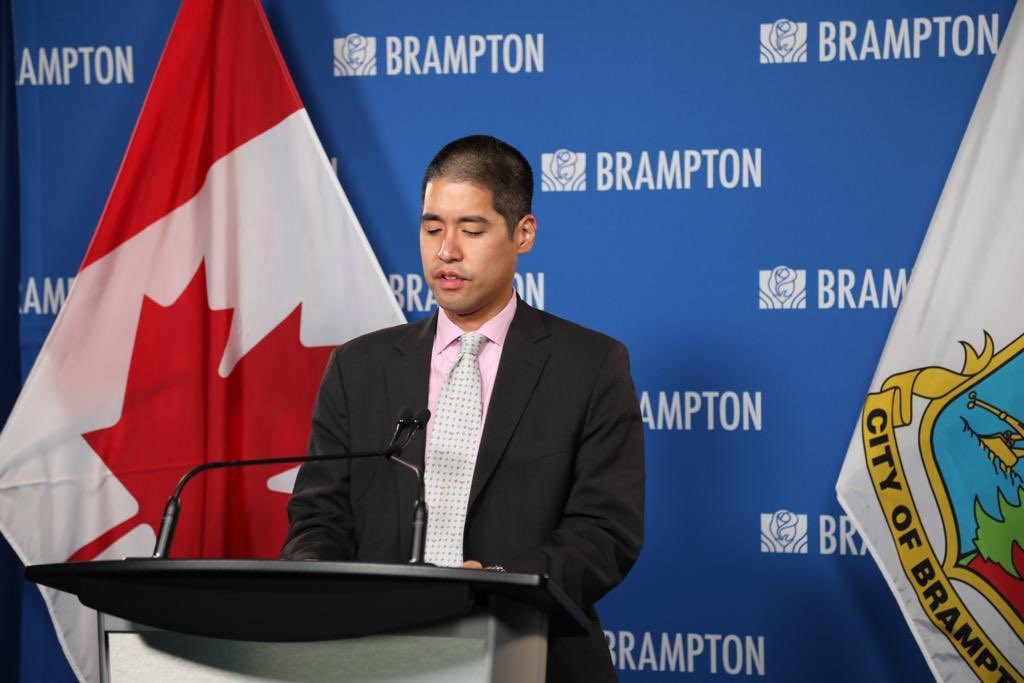 Photos from Region of Peel/City of Brampton/Government of Ontario
Peel health officials stubbornly insist region is not in a second wave of COVID-19; Ford labels Peel a 'hotspot' once again, implements tighter restrictions
Friday night will mark the start of stricter restrictions to curb the spread of COVID-19 in Peel Region. As the province is stepping up its efforts to fight the second wave of COVID-19, officials in Peel continue to deny that wave has arrived in the region.
Announced today, indoor capacity at restaurants and bars will be reduced, with only six people allowed per table, only 10 attendees will be allowed in fitness classes, and only 50 people will be allowed in banquet halls.
"We have to offer our full support in every power possible to help our healthcare sector fight the second wave. The weather is driving more people indoors, which has led to more community spread and a surge in testing," Ford said Friday.
New modeling released by provincial health officials Wednesday painted a concerning picture. If Ontario maintained the status quo with no new restrictions, 1,000 new cases will be reported every day in the first two weeks of October. Friday marked Ontario's highest daily case count since the start of the pandemic, with 732 new cases in Ontario, 111 of them in Peel Region.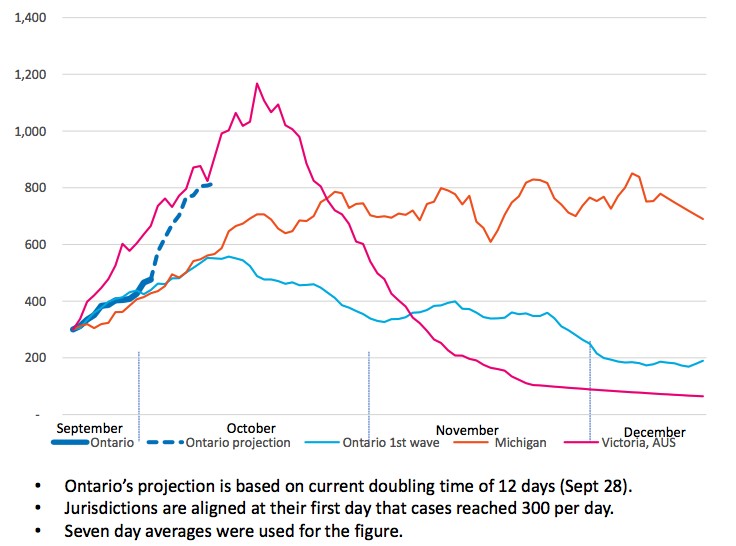 Provincial modelling released earlier this week shows Ontario on an upward trajectory for the first two weeks of October.
Unlike Peel, Toronto has taken active steps to reduce the virus's spread in the city by implementing new rules. On Wednesday, Toronto City Council voted in favour of reducing the number of patrons in bars and restaurants to 75, only allowing 6 people at a table compared to the previous 10. The rules came into effect Thursday.
Dr. Eileen de Villa, Toronto's medical officer of health, also sent a letter to her provincial counterpart, Dr. David Williams, Friday asking for stricter measures to be enforced in Toronto. Parts of the letter have since been shared on social media, showing she asked the province to suspend indoor dining and fitness classes in a similar manner seen at the beginning of the pandemic. Those activities were prohibited at the time.
Dr. Williams said Dr. de Villa made it clear that she was only speaking for Toronto. "She was not trying to apply that to other jurisdictions as that would be up to their local medical officer of health and their local jurisdictions," he said. Advice was sought from public health units in Toronto, Ottawa, and Peel before stricter measures were introduced today.
Dr. Williams said municipalities and regions can take further steps to implement stricter measures on their own in a similar manner to Toronto. Nothing of the sort has taken place in Peel Region.
Earlier this week, Dr. Lawrence Loh, the region's chief medical officer of health, said Peel is not in a second wave at this time, despite it being labeled as a hotspot numerous times by Ford, including on Friday. Mississauga Mayor Bonnie Crombie also released a statement claiming Peel was not in a second wave.
Both Dr. Loh and Crombie point to case numbers staying within a "60 and 100 cases on a daily average since Labour day."
It's unclear what Loh and Crombie are comparing this to, as those numbers are far higher than the figures throughout much of the first wave. Loh said public health officials in the region are able to identify up to 90 percent of acquisition sources, knowing where transmission is occurring within the community. Again, he provided no explanation for how this differentiates Peel from the rest of the province and country.
Dr. Loh and Crombie's denial that Peel is in a second wave comes despite not only the provincial declaration, but a similar warning from the federal government that the country is in a second wave.
"While we are not currently seeing exponential growth and undifferentiated community spread that would characterize the epidemiological definition of a 'wave', we continue to see consistent, high levels of activity in the region that call for continued vigilance," Dr. Loh told The Pointer Friday.

Despite some of the highest daily case counts since the beginning of the pandemic, Peel officials continue to deny a second wave has arrived in the region.
According to the province's weekly epidemiological update, between September 20 and 26, Peel recorded the second highest per capita rate of cases in the province with 38.5 cases for every 100,000 residents. Ottawa reported the highest rate with 43.9 cases. In Ottawa, the chief medical officer of health, Dr. Vera Etches, declared the city in a second wave on September 18. The city recorded 63 new cases that day, Peel recorded 96.
Within the last week, Brampton reported its highest and second highest number of new daily cases since the pandemic began. On September 25, it recorded 95 cases, and on September 29, 84 cases were reported.
When asked why he hasn't advocated to the province for restrictions to reduce the spread of the virus, similar to the efforts of Dr. de Villa in Toronto, Dr. Loh noted Peel is not experiencing the same problems as its neighbouring municipality.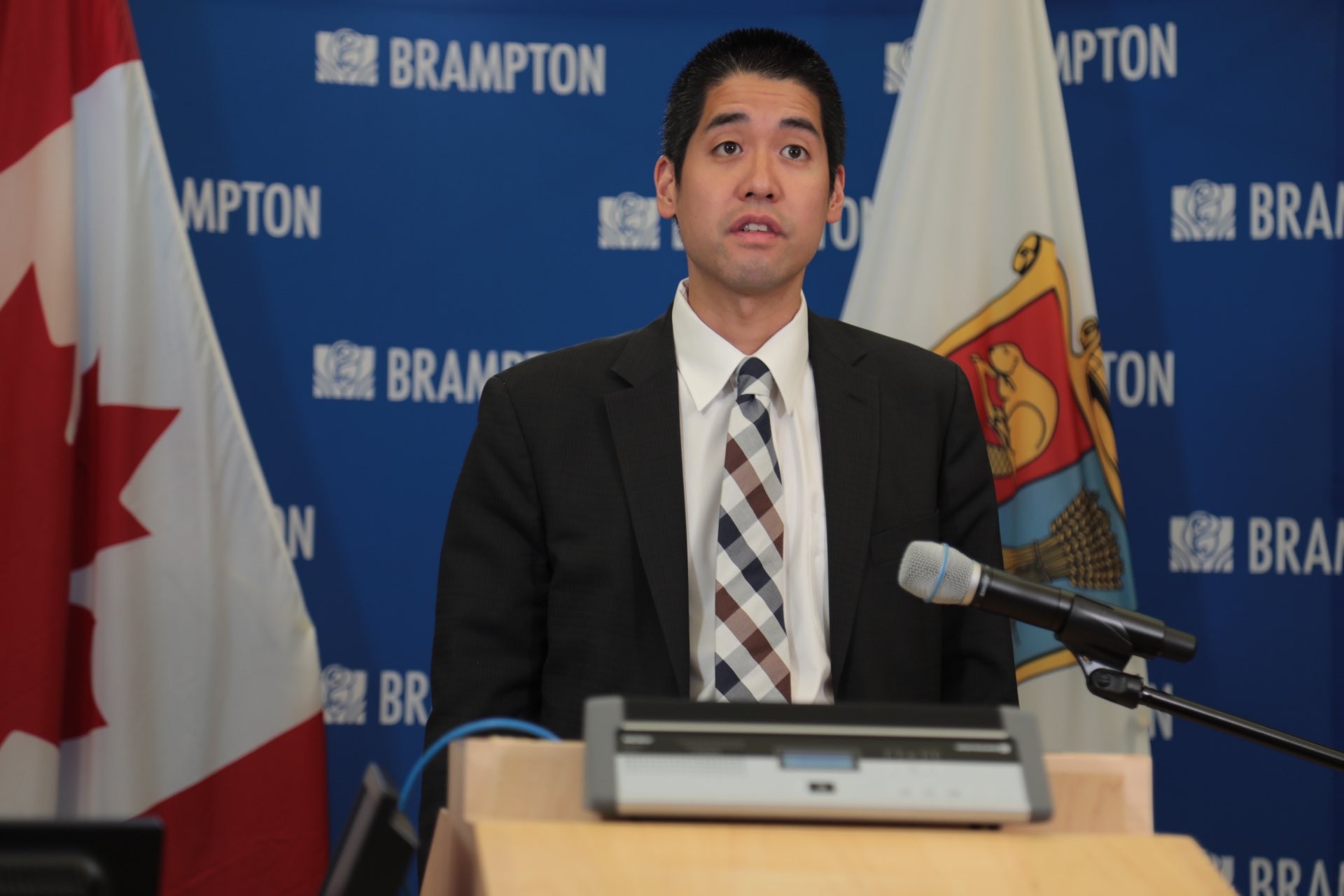 Dr. Lawrence Loh
"Toronto has seen significant transmission in certain bar and restaurant settings, notably from precautions being ignored. Data from our case investigations to date have not identified any outbreaks of concern in these settings," he said. "Together with our enforcement activities to date, this presents a different picture and suggests that precautions are being followed in our community."
According to Peel's October 2 epidemiological update, community spread accounted for 639 confirmed cases in the region in the last two weeks. It was the highest recording category representing 52 percent of the new cases in the region.
Premier Ford has singled out Peel, and more specifically Brampton, numerous times during the pandemic. At a September 4 press conference, he called the response from political and health leaders to the COVID-19 pandemic in Brampton "broken", pointing to how it accounted for 37 percent of the province's new cases on September 2. Brampton represented more than 30 percent of the province's new cases on three separate dates that week.
Through it all, testing in the city has been woefully inadequate. Between June 16 and September 28, the testing facility set up at South Fletcher's Sportsplex, the only testing facility in Brampton, has taken 57,383 swabs, a spokesperson for Ontario Health told The Pointer. A second testing facility at Greenbriar Recreation Centre completed 2,500 tests between September 18 and 25 before shutting down. Originally slated to be in the city for the "foreseeable future," it closed one week after it began operating because of a change in provincial rules on who can be tested, Peel Public Health claim.
Testing is reserved for people who have COVID-19 symptoms, have been exposed to a confirmed case, work or live in a setting where there's an outbreak, or work in a "risk setting." Starting October 6, appointments will be needed before anyone can get a test at any assessment facility, ending the practice of walk-ins.
Pharmacies are also offering testing for asymptomatic individuals. There are nine pharmacies in Brampton and eight in Mississauga offering such testing. The Pointer has learned the amount of tests completed at pharmacies can differ every day at each location and depends on the availability of pharmacists. Each testing slot lasts 30 minutes, according to one source.
Testing in pharmacies, billed as a partial solution to the province's testing woes, will have limited ability to alleviate the testing shortages in Brampton. For example, if the Shoppers Drug Mart pharmacy at 160 Main Street in Brampton were to offer testing during the entire time it stays open (from 8 a.m. to midnight), it will complete a maximum of 32 tests in a single day with the 30 minute time slots. Given each pharmacy sets their own times for testing, the actual amount one pharmacy tests could be much lower and fluctuate between days. Tests can only be booked over the phone for the same day and bookings cannot be made ahead of time.
A cold and flu clinic is also set up at Peel Memorial to test those with "moderate" flu symptoms, but it is not a testing facility as it doesn't cater to anyone who qualifies for a COVID test.
No indication has been made if pop-up testing centres will come to the region to help increase testing numbers. William Osler previously told The Pointer South Fletcher's completes 635 tests a day on average. This is lower than the 2,300 tests the city needs to do to reach its share of the province's target of 50,000 daily tests, expected to come into effect in two weeks.
The new restrictions announced Friday are in addition to those shared just two weeks ago. Premier Doug Ford announced only 10 people are allowed to gather indoors and 25 outdoors in Peel, Ottawa and Toronto starting September 18. The rules were expanded to the entire province one day later.
Ford also announced Friday masks will have to be worn in all public and indoor settings. Peel Region took measures to put this in place back in July.
---
Email: [email protected]
Twitter: @nida_zafar
Tel: 416-890-7643
---
COVID-19 is impacting all Canadians. At a time when vital public information is needed by everyone, The Pointer has taken down our paywall on all stories relating to the pandemic and those of public interest to ensure every resident of Brampton and Mississauga has access to the facts. For those who are able, we encourage you to consider a subscription. This will help us report on important public interest issues the community needs to know about now more than ever. You can register for a 30-day free trial HERE. Thereafter, The Pointer will charge $10 a month and you can cancel any time right on the website. Thank you.
Submit a correction about this story