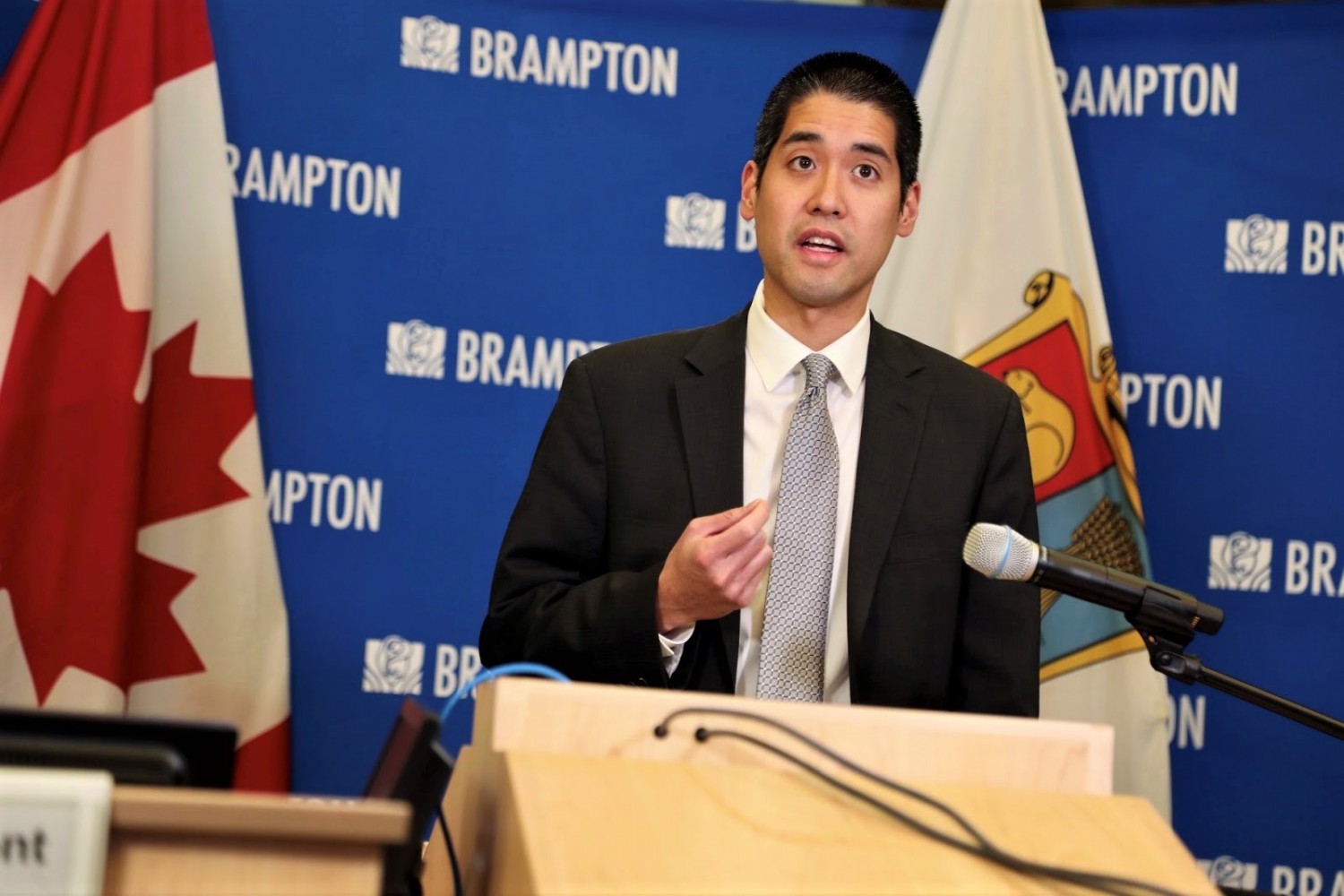 Screengrab YouTube/The Pointer file photo/Graphs Region of Peel
Brampton's 2nd testing site closes a week after opening; Peel's top medical officer once again downplays infections 
When a testing facility opened at Greenbriar Recreation Centre on September 18, it was a relief for many of the 670,000 residents who call Brampton home. Prior to this, screening options were limited, despite some of the highest infection rates anywhere in the country.
Originally opened as a pop-up, Peel Public Health trumpeted the facility would be here for the "foreseeable future" and Mayor Patrick Brown told anyone who would listen that the city had a second testing site. It was celebrated as a "new testing facility" by other politicians representing the city as well. But when it shut down, no one mentioned it. Instead of being open for the "foreseeable future" it was only open a week.
At a press conference last week, Brown even said it was one of three testing centres in the city, the others being the permanent drive-through facility at South Fletcher's Sportsplex and a cold and flu clinic at Peel Memorial, which, despite Brown's misleading claims, is not a COVID testing site. It is only open for those with "moderate" flu symptoms and does not cater to those looking for a COVID test. In a similar fashion, Brampton PC MPP Prabmeet Sarkaria tweeted about the Greenbriar facility, saying the city's third testing centre is open for residents.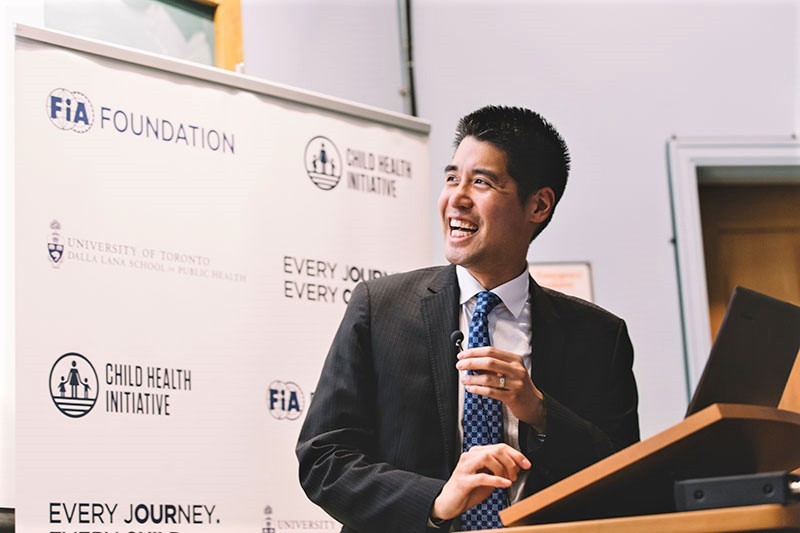 Dr. Lawrence Loh has failed to get Brampton's testing capacity anywhere near where it should be
While they blared out the opening of the site on social media and in press conferences, neither politician made an announcement to reveal the facility shut down on the evening of September 25 because of new guidelines from the Province.
"The pop-up community testing at Greenbriar Recreation Centre in Brampton closed due to the new Ministry guidance to prioritize those who are at the greatest risk, while shifting away from untargeted asymptomatic testing as Greenbriar was an asymptomatic testing centre," Peel Public Health told The Pointer Wednesday.
The facility closed the day Brampton recorded 97 new cases, its highest daily COVID-19 count yet. The increase is part of a disturbing trend seen across the province. On Monday, Ontario reported 700 new COVID-19 cases, the highest since the pandemic began.
The province's health experts only expect things to get worse. New modeling shared Wednesday reveals, under current practices, the province is forecasting 1,000 new cases could be reported every day in the first half of October. The modeling notes these numbers do not include any impact from new rules the province put out as part of its fall second wave plan.
New rules restrict who can be tested and where. Asymptomatic individuals can now only be tested at pharmacies. Assessment centres are reserved for people who have COVID-19 symptoms, have been exposed to a confirmed case, work or live in a setting which has an outbreak, or work in a "risk setting" such as long-term care homes.
Eight Shoppers Drug Mart pharmacies and 1 Rexall location will be doing testing in Brampton, along with eight Shoppers locations in Mississauga, for anyone who makes an appointment. The Pointer reached out to both companies to ask about daily capacity and test processing time, but no answer was received.
Since the new rules came into effect, long lines at South Fletcher's have resumed. At Wednesday's City Council meeting Regional Councillor Michael Palleschi shared the testing experience of two related residents who had flu-like symptoms. The first resident stood in line for five-and-a-half hours Tuesday to get a test. The second resident arrived at the facility on the same day just after 2 p.m., Palleschi said, but "turned around and left" because the "facility wasn't taking anybody else." The location closes at 6 p.m. every day and because of limited capacity some residents are asked to return another day.
A similar situation also impacted Councillor Jeff Bowman's wife, who works as a teacher. When she went for a test last Tuesday at South Fletcher's, she was told the wait time would be six hours. Bowman said it was suggested to her that she get tested at a different location.
The recent provincial changes brought a notable sense of frustration to the council meeting and Palleschi questioned the ineffectiveness of Brown to get more testing in a city that has been a hotspot for months, but has only had one assessment centre since the beginning of the pandemic; Mississauga has had three. "Not only are they closing the [testing centre] in Brampton that they promised you that they were going to open up but now they're saying not everybody can go get tested," Palleschi said.
In response, Brown said the rules changed across the province on who could get tested and it wasn't specific to Brampton, noting the city has "dramatically more Shoppers Drug Marts that are offering appointments than other municipalities." Ottawa has 7 pharmacies offering tests and Toronto has 20, Mississauga has 8 and Brampton, whose COVID-19 rate has been two to four times higher than its southern neighbour, has 9.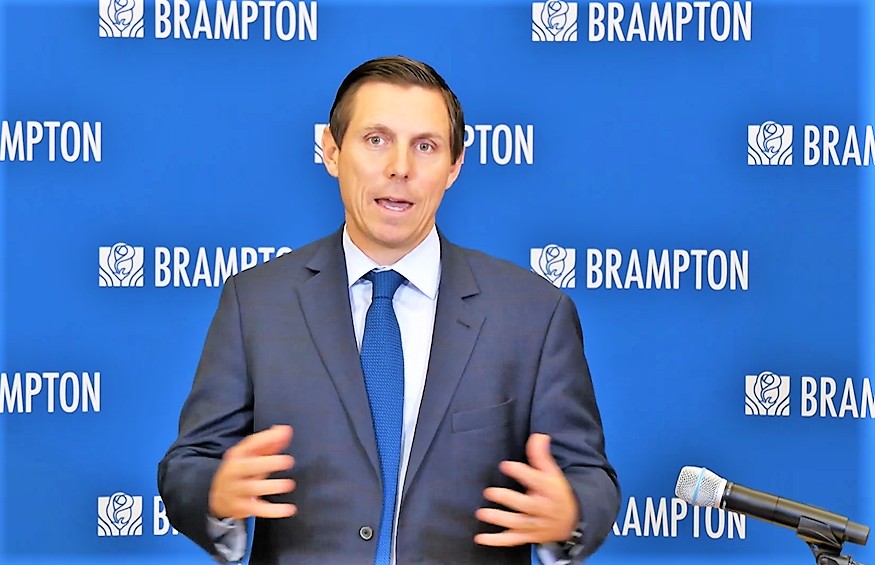 Patrick Brown has repeatedly misled the public about testing numbers in the city, which he has failed to get to adequate levels
It follows a pattern of misleading remarks by Brown since the spring. He has repeatedly downplayed the lack of testing in the city, which has never come close to meeting its per capita target, based on the Province's goals.
The latest figures provided by William Osler, which runs the city's lone testing site, indicate about 635 tests are being conducted daily at the facility. It's a fraction of the 2,300 the city will need to do in order to reach the Province's target of 50,000 a day within about two weeks. Currently, about 38,000 to 40,000 are being done in Ontario, a per capita rate about three times higher than the numbers from Brampton's lone screening centre, despite the city having a COVID-19 rate three to four times higher than the province overall.
Premier Doug Ford called out Brown, specifically, on September 4, during a press conference right before the Labour Day long weekend, calling Brampton "broken", pointing out it accounted for 37 percent of Ontario's cases on September 2, the same figure on September 6. That's more than eight times the rate of the province overall, as the city only has 4.5 percent of its population.
Since then, the city has had three to four times the provincial rate, yet, inexplicably, only one third the testing rate as the province overall.
The city's residents have been waiting hours to get tested since mid-August, a period when cases in the city represented about 20 percent of the province's new COVID-19 counts for 13 days throughout the month into September when the trend continued.
In the first week of September, the city accounted for more than 30 percent of the province's new cases on three separate dates, when Ford called it broken.
He first singled out the city's pathetic testing levels in June, when the Province first set up emergency pop-up sites that only remained open for a day or two.
Testing and then the contact tracing done with the screening data is one of the main weapons in the fight against the virus, and the disturbing lack of screening in Brampton could be a key reason why it has been a hotspot throughout most of the pandemic.
Brown has claimed on numerous occasions and on social media that the city has the best or among the best testing rates in Ontario. But the misleading figures he uses include tests done in Etobicoke, where Osler ran two screening facilities through the end of July and still has one.
On Tuesday, Ontario reported 554 cases of COVID-19; 113 of those were from Peel Region and 77 from Brampton, which represents 14 percent of the province's cases.
He's not the only leader the public expects transparency from, but has failed to deliver.
While Brampton has clearly been in a second wave of the pandemic for weeks, with daily COVID-19 case counts far higher than most periods throughout the first wave, Dr. Lawrence Loh, the region's chief medical officer, has continued his efforts to downplay the viral spread. Both he and Brown have buried their heads in the sand when the issue of woeful testing levels has been raised.
On Wednesday, despite the Province declaring Ontario is in the second wave two days earlier and Brampton having much higher per capita case numbers than the province, Loh claimed the city is not in a second wave.
Even with the region's disproportionate case numbers and label as a provincial hotspot, he doesn't believe Peel is in a second wave. This despite not only the provincial declaration, but a similar warning from the federal government that the country is in a second wave. When asked why he disagrees, regarding Peel, despite its much higher current rates of infection compared to the province and country as a whole, he said cases in the region stayed within "60 and 100 on a daily average, since Labour day". It's unclear what he is comparing this to, as those numbers are far higher than the figures throughout much of the first wave. Loh said public health officials in the region are able to identify up to 90 percent of acquisition sources, knowing where transmission is occurring within the community. Again, he provided no explanation for how this differentiates Peel from the rest of the province and country.
"Peel certainly remains a higher-incidence community, but to say that our community itself is in a second wave misses the picture – our residents seem to have taken advice to heart and spread has been held to linear increase," Loh told The Pointer. It's unclear what he means by "linear increase" because the line representing the COVID-19 case rate over the last few weeks certainly is not straight.


Dr. Loh says we're not in a second wave; the daily numbers for Brampton, top, and Peel, bottom, show he is wrong, as do the declarations by the Province and the federal government.
At this time, Peel and Toronto have similar per capita rates of active cases, with Peel at 6.25 active cases for every 10,000 residents, and Toronto at 6.38.
It's not the first time Loh has downplayed the problems in the region. When Ford singled out the doctor's failure to get proper testing done, Loh would not acknowledge the screening problems when asked about it in June, and he did nothing to correct the misleading testing numbers used by Brown, despite standing right next to the mayor.
Shockingly, near the beginning of the pandemic, Loh downplayed the risk of viral spread in the community, using factually incorrect medical information.
"I can't speak to what MiWay is doing with their employees," Loh told The Pointer on March 12, when a passenger on a Mississauga bus tested positive for the novel coronavirus. "It's important for me to stress at this point in time that if they are well, if, for example, the bus driver or the mechanic, or whoever, is well, they actually are not considered capable of transmitting the virus. Right now every suggestion is that you have to have symptoms in order to be passing the virus on."
That statement was blatantly incorrect. At that time the Centres for Disease Control and Prevention and the World Health Organization were widely reporting that asymptomatic transmission of the virus was a common feature. A simple Google search at that time would have shown Peel's top doctor hundreds of articles that made it clear the virus could be spread even if a carrier had no symptoms. Some research suggests as many as 20 percent of those who have contracted the novel coronavirus did so through asymptomatic transmission.
Ontario's chief medical officer of health, Dr. David Williams, said there are numerous factors that can dictate how the current second wave will go regionally, including case growth, where the viral spread is coming from, ICU capacity and test processing.
"We really have to hunker down and stay on task to see if we can flatten this curve like we did the first time. People had gotten very casual I think at the end of summer, early fall, and we've seen that effect," he said Monday when making it clear that Ontario is in a second wave.
At a Queen's Park briefing last week, testing capacity came up as a consistent issue. The Province's lab capacity increased by 350 percent since March, Matthew Anderson, president and CEO of Ontario Health, said, but more is needed in order to process 50,000 tests a day, a target set by Health Minister Christine Elliott.
The Pointer has repeatedly asked Peel Public Health, led by Loh, what the current testing capacity is, and whether or not Brampton and Mississauga are hitting the per capita targets established by the Province to keep residents safe, but details have not been provided.
---
Email: [email protected]
Twitter: @nida_zafar
Tel: 416 890-7643
---
COVID-19 is impacting all Canadians. At a time when vital public information is needed by everyone, The Pointer has taken down our paywall on all stories relating to the pandemic and those of public interest to ensure every resident of Brampton and Mississauga has access to the facts. For those who are able, we encourage you to consider a subscription. This will help us report on important public interest issues the community needs to know about now more than ever. You can register for a 30-day free trial HERE. Thereafter, The Pointer will charge $10 a month and you can cancel any time right on the website. Thank you.
Submit a correction about this story