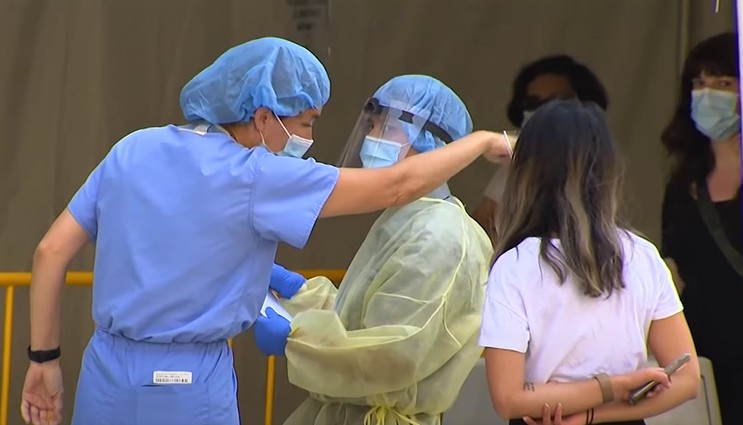 Screengrabs YouTube-City of Mississauga/Graphs Region of Peel
Peel is Ontario's hardest hit region, so why was it left out of a major vaccine rollout?
"I heard the decision at the same time that all of you did."
Those were the words of Dr. Lawrence Loh, late Friday afternoon. Peel's medical officer of health spoke to The Pointer shortly after a provincial announcement revealed Ontario's hardest hit region has been left out of a vaccine rollout for those 60 to 64 in problem parts of the province.
"I reached out to General Hillier and said in the event that there's AstraZeneca available for pharmacies at Peel at a future date, I would be more than happy to talk about that."
General Rick Hillier, who is heading the province's vaccine strategy, revealed details around a rollout next week for the recently approved vaccine which is not being recommended for seniors. Instead, pharmacies in Toronto, Windsor and the Kingston, Frontenac and Lennox & Addington region will participate in the soft launch of the AstraZeneca vaccine starting next week, after 500,000 doses arrived from India on Wednesday. Of those, 194,500 are expected in Ontario March 10, and they will be immediately used in the selected regions, but apparently not in Peel.
"We were disappointed, we should have been included in the soft launch, we're one of the hotspots," Mississauga Mayor Bonnie Crombie told The Pointer, shortly after General Hillier's announcement.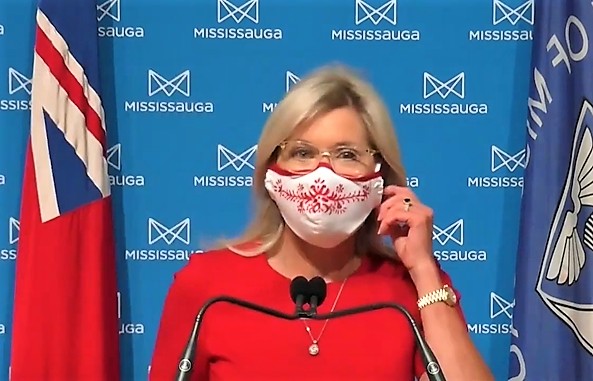 Mississauga Mayor Bonnie Crombie voiced her frustration over the Province's announcement Friday.
Peel, which has suffered Ontario's highest infection rates throughout most of the pandemic, was not mentioned in the press conference detailing the soft launch or the release that followed, leaving Loh to question the thinking.
"I think the Ontario Science Table made it very clear – if you target by age and hotspot status, then you actually save more lives and you get this thing under control sooner," he said. "If you look at where the cases are typically right now in Ontario [and] you get this thing under control in the hotspots of Toronto, Peel and York, you solve most of the province's problem right there."
Recent news of Health Canada's approval of the AstraZeneca vaccine and the Johnson & Johnson vaccine, alongside the National Advisory Committee on Immunization's (NACI) latest recommendation to extend the vaccine dose interval to up to four months from 42 days, prompted General Hillier, the chair of the Province's vaccination task force, to aim for every eligible and willing Ontarian to have their first dose of the vaccine by the first day of summer on June 20.
But the NACI recommendation came after vaccine supplies since early in the year fell far short of what Ottawa had expected, leaving Canada far behind other countries, such as the U.S. which has administered almost five times more doses per capita and the UK which has vaccinated about six times more residents per capita compared to Canada.
But with recently approved vaccines on the way, Peel is ready to ramp up inoculation and open up more community clinics to get residents protected. Despite this and months of provincial recognition that Peel Region is a hotspot for the novel coronavirus, Peel was left off the Province's latest program to vaccinate adults aged 60 to 64.
"We are gaining confidence every day that the flow will continue uninterrupted for the vaccines arriving in Ontario, and not only will it continue uninterrupted, it will grow every single week," said General Hillier during Friday's provincial announcement. "We have established integrated relationships with a critically important 34 public health units. And they, in conjunction with us, and in collaboration with hospitals and pharmacies and primary care professionals and family doctors, will roll out the vaccination program across Ontario."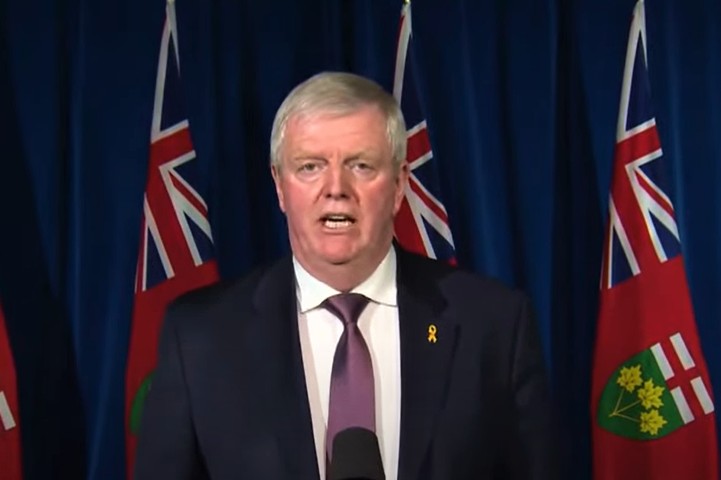 General Rick Hillier is heading Ontario's vaccine rollout
The announcement, which left Peel out, came hours after Mississauga city councillors implored MPPs and MPs in a Friday morning virtual open meeting for more vaccine priority in the region.
"When you're fighting a forest fire you don't water the whole forest – you aggressively attack the areas that are on fire, and Peel Region is on fire when it comes to the pandemic," Ward 2 Councillor Karen Ras exhorted. "That would be my one ask – please advocate for an increased level of vaccine distribution here in Peel and not look at it on a per capita basis. It just doesn't make sense. All it does is prolong the pandemic here."
Hours later, she and others learned the exact opposite had happened.
Although Mississauga PC MPPs Nina Tangri and Natalia Kusendova alluded during the morning meeting to the announcement coming later in the day on news of vaccine distribution and suggested a better allocation for Peel was being pushed, the AstraZeneca soft launch program was not specifically mentioned.
"We are very pleased that we have the AstraZeneca vaccine available to us, and we will be starting to roll that out to people aged 60 to 64 years old, and we will be asking our pharmacies, primary care and clinics to engage in this process," said Kusendova. "Peel is listed among the top 13 hotspots which will be prioritized for vaccine rollout. Every chance we get, my colleagues and I, we do advocate for increased supply to the regional field because I think we're probably the hardest hit region in all of Ontario. The fact that we have the airport, the airport within our region, but also our ethno-cultural, socio-economic makeup of the region – I think there's some good news coming for the vaccine."
That news did not come later in the day.
The frustrating move by the Province comes as Dr. Loh has been warning that Peel's pandemic situation could take another turn for the worse.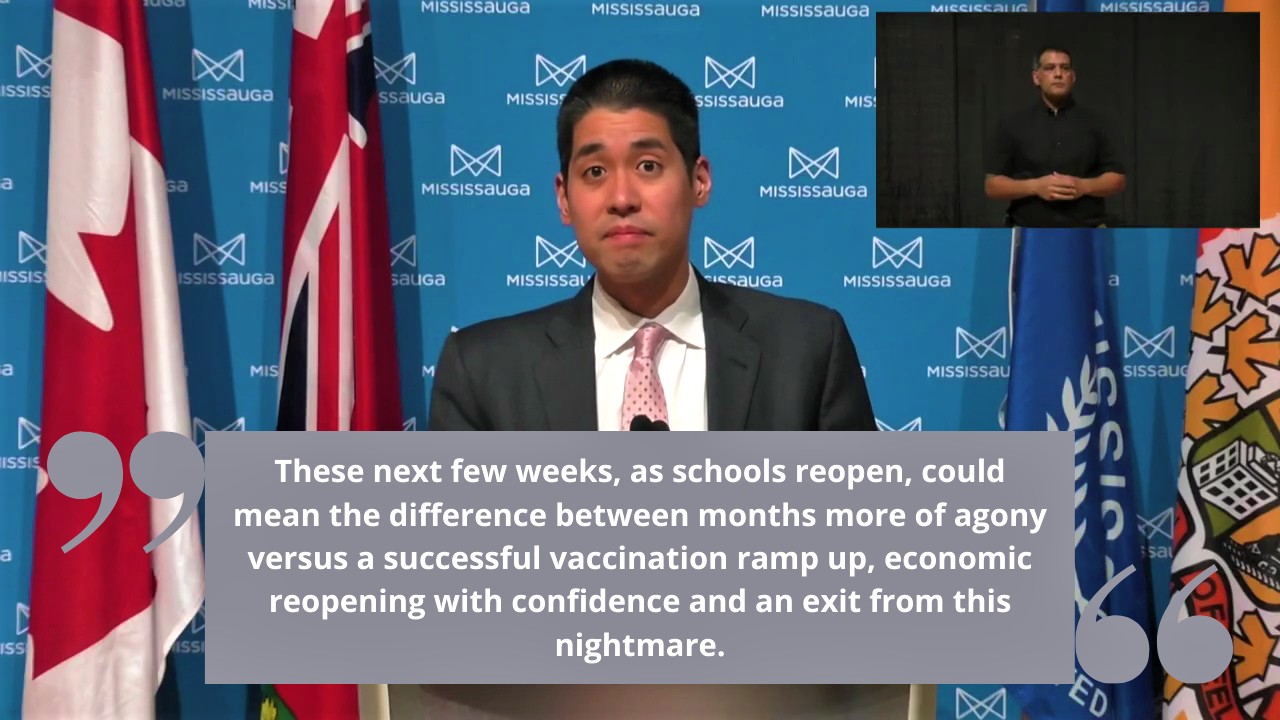 Dr. Lawrence Loh has been concerned about patterns in Peel recently.
A confluence of dynamics now poses another serious risk. On Monday, the extended stay-at-home order will be lifted in Peel, meaning looser restrictions, and school children remain in class. This week The Pointer received confirmation that Peel District School Board and Peel Public Health decided to temporarily close McHugh Public School in Brampton after 14 staff, including the Principal, had to self isolate because of possible exposure to the virus or a variant of concern.
The region is reporting a worrisome number of these new strains. There have been 166 confirmed cases involving a variant and another 776 cases that likely involve a variant of the virus.
The news comes as the region is seeing the infection incidence rate and the test positivity rate increase. The infection rate per 100,000 residents has climbed to 94.3 for the week ended February 27, compared to 88.3 the previous week, while test positivity spiked to 6.7 percent from 5.8 percent. Anything over 2.5 percent suggests viral spread in an area is not under control.
Perhaps the most worrying figure is the current 95 percent capacity for all acute patient beds in Peel's hospitals. The danger point is 90 percent, meaning it's likely that new patients in Peel in need of care are being sent to other hospitals outside the region, as capacities are currently stretched to the limit.
This all means that those waiting for elective procedures in Peel probably can not be accommodated here.
Dr. Loh has been highlighting all of these troubling trends, but despite Peel's dire situation, it was somehow left out of the PC government's plan to roll out the first AstraZeneca vaccines.
In Peel, a total of 60,156 doses have been administered as of March 5. Currently, high priority and very-high priority groups are being vaccinated, according to Dr. Loh's presentation at Mississauga's Wednesday council meeting.
Inoculation in Phase 2 will take place through mass vaccination clinics, pharmacies, primary care, site-specific clinics, mobile teams, mobile sites and public health units, a notable increase of venues compared to Phase 1, which relied on hospital-based, site-specific, mass community clinics and mobile clinic vaccinations.
In order of priority, adults aged 60 to 79 years of age, individuals with specific health conditions, people who live in or work in congregate settings and some primary caregivers, people who live in hot spots with high rates of transmission, death, hospitalization and certain workers who cannot do their jobs from home will be the next group identified for vaccinations.
With the arrival in Ontario of the 194,500 doses of the recently-approved AstraZeneca vaccine, NACI's recommendation that they should not be used on individuals 65 and older due to concerns around the effectiveness of the product for seniors, led some in Peel to speculate that many under 65 in the region would finally get relief, especially those at higher risk.
With Friday's announcement, the region will have to wait for future shipments.
It's unclear when these will arrive and how many doses will be provided.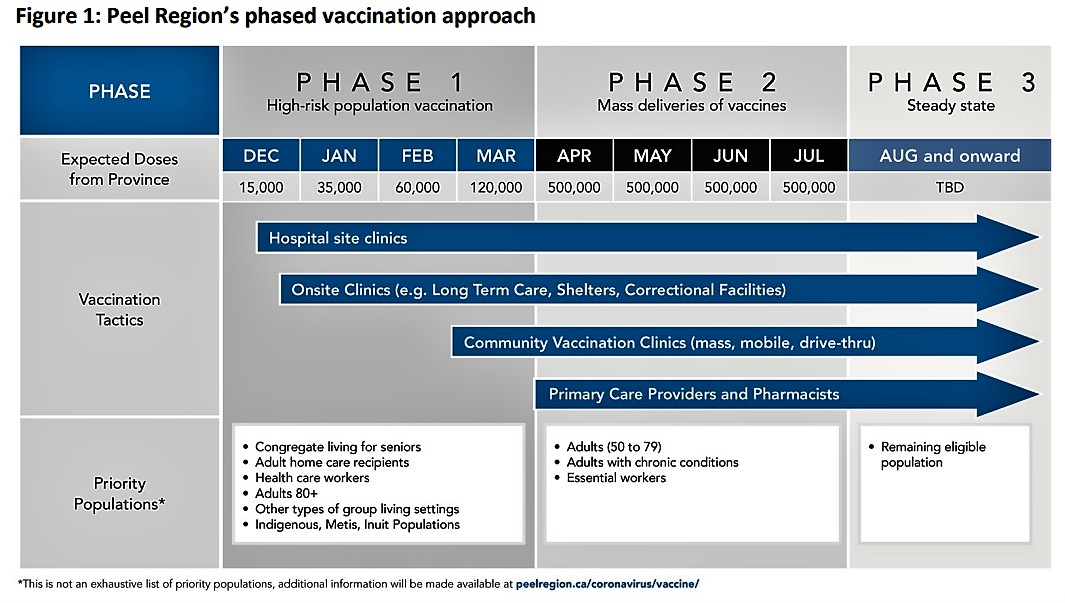 Peel's vaccine rollout plan
The Region's plan is to have 500,000 doses administered a month starting April. But this will be hard to achieve if expected supplies do not arrive as planned.
Friday's disappointing news came after Region of Peel council passed a motion on February 25 to request Ontario Premier Doug Ford and his provincial government adapt its vaccination rollout plan for prioritization of supply, eligibility and distribution in areas hard-hit by COVID-19, specifically Peel. Although prioritization of hotspots is outlined in Phase 2, Peel Region was not included in the list of regions that will benefit from the soft-launch of the pharmacy vaccination pilot program.
---
Email: [email protected]
Twitter: @vanessabalintec
---
COVID-19 is impacting all Canadians. At a time when vital public information is needed by everyone, The Pointer has taken down our paywall on all stories relating to the pandemic and those of public interest to ensure every resident of Brampton and Mississauga has access to the facts. For those who are able, we encourage you to consider a subscription. This will help us report on important public interest issues the community needs to know about now more than ever. You can register for a 30-day free trial HERE. Thereafter, The Pointer will charge $10 a month and you can cancel any time right on the website. Thank you.
Submit a correction about this story