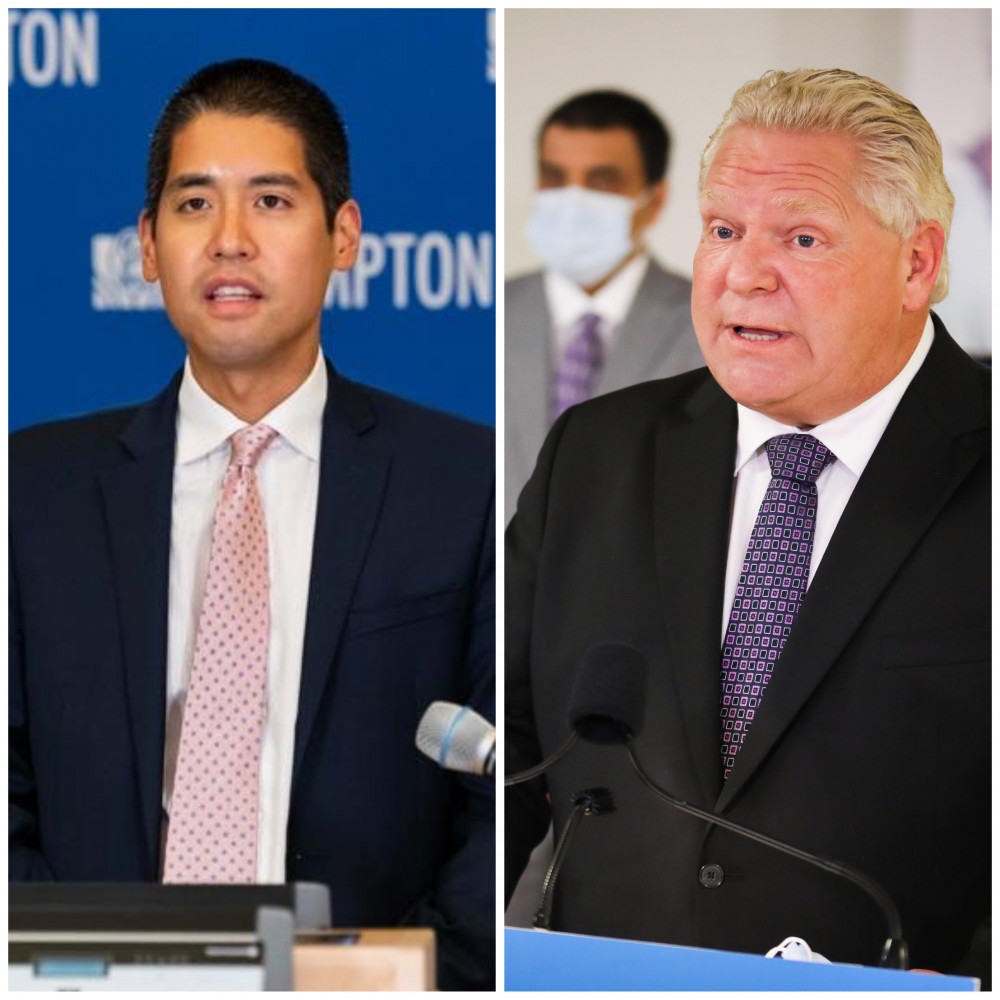 Photos from The Pointer files/City of Brampton/Government of Ontario
Pandemic divisions grow as Auditor General's report raises questions about who's taking the lead in Peel 
We can all feel it.
Canada and Ontario and Peel are becoming increasingly divided over the way to manage this crippling public health crisis.
It has become a debate between safety at all costs and the protection of our economy.
Society is tired of growing apart from our own family. Video calls with friends and colleagues have become tedious.
Now, with Toronto and Peel under lockdown, Ontario's government is facing widespread criticism over its priorities during a life or death public health crisis.
On Wednesday, the Auditor General, Bonnie Lysyk, revealed a series of fundamental flaws hindering its response to COVID-19 as the government flails.
On Thursday, Health Minister Christine Elliott reported 572 cases in Peel, more than three times the per capita rate of Toronto, which had 356 cases. The pandemic's rapid spread in Brampton and Mississauga has for months given rise to sharp criticism over the way public health decisions are being made.
The most alarming element of the new report is an allegation that Dr. David Williams, the province's chief medical officer of health, "did not lead Ontario's response to COVID-19". Lysyk and her team believe political leaders have sidelined Queen's Park's top doctor and failed to follow medical priorities in their plans. Elliott and Doug Ford have since faced widespread backlash while the Premier launched his own criticism, telling Lysyk to focus on numbers and value for money audits instead of acting like a doctor.
She has responded, stating the report is based on facts, targets organizational processes and is exactly the kind of work her office is mandated to perform.
At a local level, including within the Region of Peel, the report suggests a confusing structure stopped doctors and medical experts from calling the shots. "The regional response structure was not led by public health experts," the damning report states. "Local Medical Officers of Health participated in Regional Steering Committees established by Ontario Health to implement provincial policy, but they were not the leaders of these tables."
Ford and his PC government were quick to hit back at the report. He questioned Lysyk's credentials to comment on medical matters and said the report did nothing "but undermine our entire health team." He said she had overreached her responsibilities and should get back to "number crunching".
The report is typical of the type of audit Lysyk routinely oversees and it's unclear why Ford would think otherwise.
The central themes of the report will be familiar to anyone frustrated by the constantly changing COVID-19 rules in Ontario. It provides examples of politicians stepping outside the guidance of health experts, confusing decisions that did not use data to determine actions and issues with testing that prevented better control of viral spread.
Peel residents, particularly those in Brampton, have been especially hard hit by the pandemic and its fallout.
Over the past couple of months in Peel, politicians have become more vocal in their criticism of measures designed to stop the spread of the novel coronavirus that causes COVID-19. At Queen's Park, the Auditor General's allegation that politics is trumping medical expertise has been refuted by the government and some municipal politicians have actively embraced an approach more sympathetic to economic concerns.
Mississauga Ward 5 Councillor Carolyn Parrish has led the charge, suggesting politicians should attempt to influence Peel's medical officer of health, Dr. Lawrence Loh, on at least two occasions, to be more lenient toward restaurants and other local businesses. Frustrated by restrictions suffocating retailers and restaurateurs while Peel's COVID-19 cases mount, she has been pushing hardest with the majority of councillors falling in behind.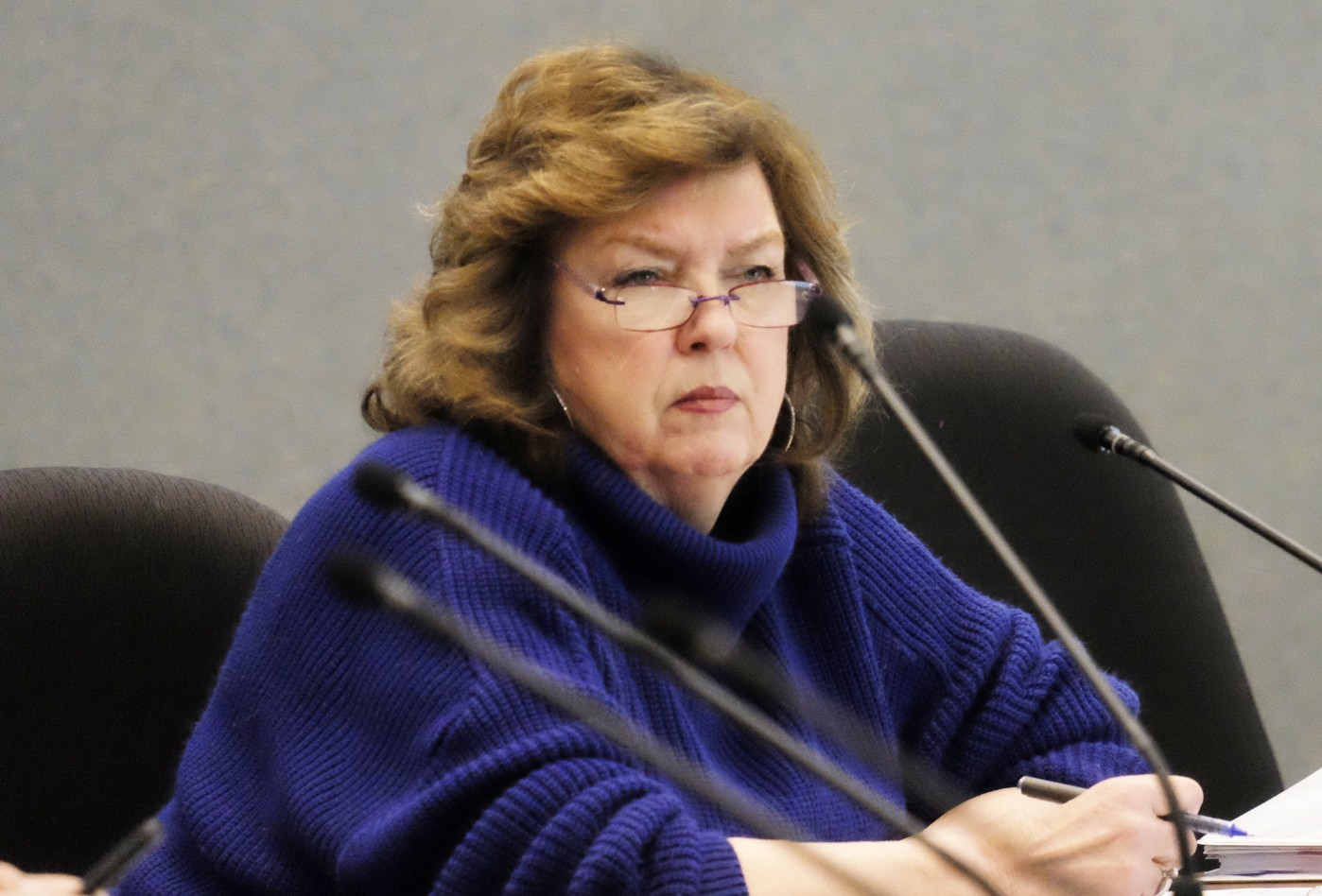 Mississauga Councillor Carolyn Parrish
On November 11, Parrish suggested that "if we put a little pressure on Dr. Loh" at the Region, he could be convinced to alter restrictions around indoor dining. On November 23, she was more brazen in her calls, saying City Council should "start pressuring" Loh to separate Brampton from Mississauga.
Various other Mississauga councillors have joined in, suggesting that economic and political decision-making, not public health authority, should rule the day.
Ward 1 Councillor Stephen Dasko has said several times that effective contact tracing could be used to reopen indoor dining, despite the fact Peel Public Health has been forced to streamline its process to concentrate on the most pressing cases due to immense pressure from rapid viral spread. Regularly referencing the frustrated, upset and angry voices on phone calls he receives from constituents, Ward 6 Councillor Ron Starr has expressed opposition to the rules and contended the data are not being deployed effectively in decision making. Brampton Mayor Patrick Brown has appeared regularly on social and traditional media repeating inaccurate claims indoor dining has not caused any transmission of infection in his city.
Dasko's dream that perfect contact tracing could be used to reopen restaurants in his affluent ward is indicative of the pro-business mindset around the council table.
The third chapter of the Auditor General's special report into Ontario's COVID-19 response focuses on lab capacity and testing. It shows Peel Public Health struggled with its test and trace mandate during the first wave and over the summer when cases were low, all before it was forced to concentrate its efforts.
"Overall, we found that laboratory testing, case management and contact tracing for COVID-19 were not all being performed in a timely enough manner to contain the spread of the virus," the report states. "In most cases, the Ministry's targets for these activities were not met."
The Province set a target for completion of tests in Ontario: it said lab test processing should be completed within 24 hours 60 percent of the time. On average, the target was completed 45 percent of the time.
Only Ottawa's public health unit had met the target as of August 31, 2020. Peel's time between collecting a sample and beginning case management was the second longest in Ontario at 4.5 days from March to August.
A survey of Toronto, Peel, Ottawa and Middlesex-London public health units also found local officials did not even attempt to reach out to 31 percent of close contacts of those who tested positive for the novel coronavirus. The shortfall was largely attributed to contacts who lived with the infected individual.
The Auditor General also reports case management and contact tracing did not begin promptly after specimens were collected. As a result, individuals already infected were allowed to move around without knowing they were positive and could, unwittingly, pass on the virus. A graph included in the report shows Peel Public Health had one of Ontario's worst metrics for contacting infected individuals within a 24-hour window.
On November 12, Dasko suggested "rigourous contact tracing" and enforcement of strict protocols could be used to reopen restaurants. "At this point in time, we're really asking people to limit their non-essential in-person activities and the mixing of households is a big thing," Dr. Loh explained.
Asked about examples of Mississauga councillors failing to grasp the severity of Peel's second wave, instead suggesting Dr. Loh be pressured to rethink actions being taken to protect public health, Mayor Bonnie Crombie said they were looking out for businesses.
"I believe my councillors are deeply committed and very concerned about the spread of the virus. We're all trying to balance lives and livelihoods," Crombie told The Pointer at a press conference. "On the other hand, I have a very strong, pro-business council that are worried about small businesses and entrepreneurs and those individuals in our community who are driving our economy."
By contrast to her councillors, Crombie has been a growing voice of reason, recently. A few weeks ago, the Mayor was pushing for a safe reopening for small businesses and emphasizing Mississauga's improved viral picture compared to Brampton.
Faced with the grim facts, that tone has changed. "At this point, with our numbers the way they look, our positivity rates, our cases per 100,000, our R factor, it's out of control," she added.
On Thursday she echoed a particular concern in Peel, which resulted in a successful motion at Regional Council, calling for big-box stores to be limited in what they can sell, to level the playing field with local retailers who cannot invite customers inside to shop. Walmart, by contrast, and other large retailers are allowed to open their doors because they sell essential items.
While economic issues have dominated the priority lists of many politicians, Peel's top public health official has been mired in an increasingly bleak situation. Since October, Loh has sounded grave. He has spoken with a growing urgency as a variety of pleas and half measures fail to get the pandemic under control. Before his new found urgency, crystalized in his widely praised decision to recently stand up to the Province, the medical officer of health was guilty of confused communication and appeared to be taking his cues from people like Brown, even while the mayor spread misinformation.
This was a problem flagged in the Auditor General's report, laying the blame at the feet of the Province, not local health professionals. "Reasons why public health measures are imposed or relaxed are not clearly communicated or shared with the public," one section of the report proclaims in its title.
Peel's move into Stage 3 offers an example of this confusion. At the end of July, Mississauga, Brampton and Caledon moved into the most liberal stage of reopening, despite failing to achieve a consistent two-week reduction in their case counts. After some confusion, Loh admitted that not every pandemic indicator had to have gone green for a region to move into a more liberal reopening stage.
"It's very important for me to clarify that the decision is made on the overall picture of all the indicators," he said. "As long as you have the capacity to respond, the idea is you need to go forward because ultimately you are trying to reduce the other health impacts that are associated with competing closures."
It was clear that Brampton should not have been allowed to loosen restrictions. It was experiencing between four and six times the infection rates of Mississauga between mid-August and mid-September. In earlier stages it allowed more liberal openings than its southern neighbour, despite having a much worse viral picture. But Brown aggressively downplayed the crisis in the city he's supposed to lead.
The Auditor General's report found medical officers of health "were confused" by politicians taking the lead on pandemic briefings, which may have muddied the waters. Equally, as the local unit, Peel Public Health has a responsibility to clearly communicate changes to the public and explain exactly why they are taking place.
On several occasions, prior to the fall, Loh showed a reluctance to exercise powers granted to him by the Province under the Health Protection and Promotion Act and asked local councils to pass bylaws instead. Mandatory mask bylaws and additional measures inside gyms are just two examples where Loh actively resisted calls to use his powers.
"We can only use a Section 22 order on a person or a class of persons that represent a communicable disease threat," he said, explaining his reluctance to impose strict measures on bars, "And so that is part of the reason for proceeding cautiously."
On November 14, he used the same powers to fine businesses failing to comply with COVID-19 regulations.
A list included in the Auditor General's report shows Loh was not alone in his confusion or unwillingness to stand up to politicians like Brown. Comparing how various cities implemented their mandatory masking bylaws, the table shows a split between council decisions and orders from medical officers of health.
A delayed decision by Peel Public Health to declare a second wave of COVID-19 until late October may also have added to public confusion. For weeks, as other levels of government and regions acknowledged the regrettable arrival of a second wave of COVID-19, Loh steadfastly told residents Peel was not in a second wave, despite some of the worst figures in the whole country. Again, this appeared to fit the political agenda of Brown, not the data Loh poured over every day.
Mayors can be expected to look out for their political futures, aligning with business interests that have large influence over those seeking reelection, and there are legitimate economic interests leaders have to consider. But public health leaders like Loh are expected to view the pandemic in a fairly simple way: when you're sick or dying, economic livelihood becomes less relevant. For nurses and doctors struggling to keep people alive, the economic argument naturally comes after the need to keep people healthy.
Others argue that health includes emotional well being, and the need for financial security.
Loh is caught in the middle. But he has a clear mandate.
He was wrong when claiming as late as the last days of October the trajectory of infection in his region meant Brampton and Mississauga were not in a second wave. By all indicators used by other public health experts across Canada, Peel and Brampton, specifically, had been in a second wave as early as August, or September at the latest for the entire region. But once again, Loh appeared to be following Brown's misguided lead.
Asked if such messaging would give people a false sense of security, on September 30 Loh said he wanted to offer encouragement. "It's a measure of positive reinforcement to say [that] there's not a second wave yet and it's up to all of us to keep it that way."
It was a blatantly political statement from someone who was only supposed to consider the data.
After tighter restrictions were introduced in Peel, Ottawa and Toronto, Loh maintained he did not regret his more upbeat tone. His messaging stood in stark contrast to Dr. Eileen De Villa, Toronto's medical officer of health, who had implored Queen's Park to rollout shutdowns.
"I have to speak the truth to the data and evidence I see," Loh told The Pointer, adding it would be "irresponsible to be stoking fear and to be speaking to some picture that I'm not seeing."
"I certainly don't have any regrets," he added, saying he had been honest with the community.
Loh declared a second wave in Peel on October 26 (pictured) with cases already above the peak of the region's first wave.
On testing too, Loh has not been as clear with the public as some may have hoped. Despite woefully low testing rates in Brampton, he has sidestepped opportunities to publicly demand extra resources from the Province. When Ford was clearly singling out Peel in May for not meeting testing targets, Loh refused to admit his public health unit was a focus of the Premier's frustration. Instead of turning Ford's comments back at him, using the opportunity to advocate for more provincial testing resources in the neglected region, Loh failed to fight for his residents.
In her report, the Auditor General noted Ontario's repeated inability to meet its daily test targets, something vital additional testing in Peel may have helped with. Ontario set two deadlines for tests to reach 50,000 per day: it fell 13,700 tests short of its initial target in July, stopping 5,900 tests below the same target in September.
The report specifically cites a miscommunication involving William Osler Health System resulting in a failure to report hundreds of positive cases to public health.
As The Pointer reported Monday, a rigid strategy across Ontario has left Peel Region behind. Despite regularly recording positivity rates double the Ontario average, targeted testing failed to materialize and the government continued a stubborn strategy of raising levels across the entire province instead of properly resourcing hard hit areas, especially Peel. Brampton had just one testing centre until early November compared to 17 in Toronto, despite having a far higher rate of infection.
In jurisdictions around the world where they did test effectively, the virus was confronted, and in places like South Korea, a hyper focus on testing and tracing almost immediately eradicated the novel coronavirus.
Between August 1 and October 26, for example, Peel's positivity rate jumped from 1 to 7.1 percent. To fight the virus, a seven-day average of 181 tests per 100,000 were completed in Peel. By comparison, Ontario, with a 2.9 test positivity, conducted 210 tests per 100,000.
The release of the Auditor General's report suggests pandemic leadership has been upside down. Similar evidence has been on display in Peel, though the report makes it clear Loh has been forced to work within a confusing and near-impossible framework.
Ford, in particular, has shown frustration at the Auditor General's use of hindsight to pinpoint where it all went wrong. Regardless of exactly when that happened, Peel just recorded three times more cases per capita than Toronto on Thursday. The region, which has about 10 percent of the province's population, had 39 percent of its cases.
If politicians like Parrish and Brown are successful in pressuring Dr. Loh, and they dictate how to handle a public health crisis, many will be left to pray for the patients, and the nurses and doctors trying to save their lives.
---
Email: [email protected]
Twitter: @isaaccallan
Tel: 647 561-4879
---
COVID-19 is impacting all Canadians. At a time when vital public information is needed by everyone, The Pointer has taken down our paywall on all stories relating to the pandemic and those of public interest to ensure every resident of Brampton and Mississauga has access to the facts. For those who are able, we encourage you to consider a subscription. This will help us report on important public interest issues the community needs to know about now more than ever. You can register for a 30-day free trial HERE. Thereafter, The Pointer will charge $10 a month and you can cancel any time right on the website. Thank you.
Submit a correction about this story