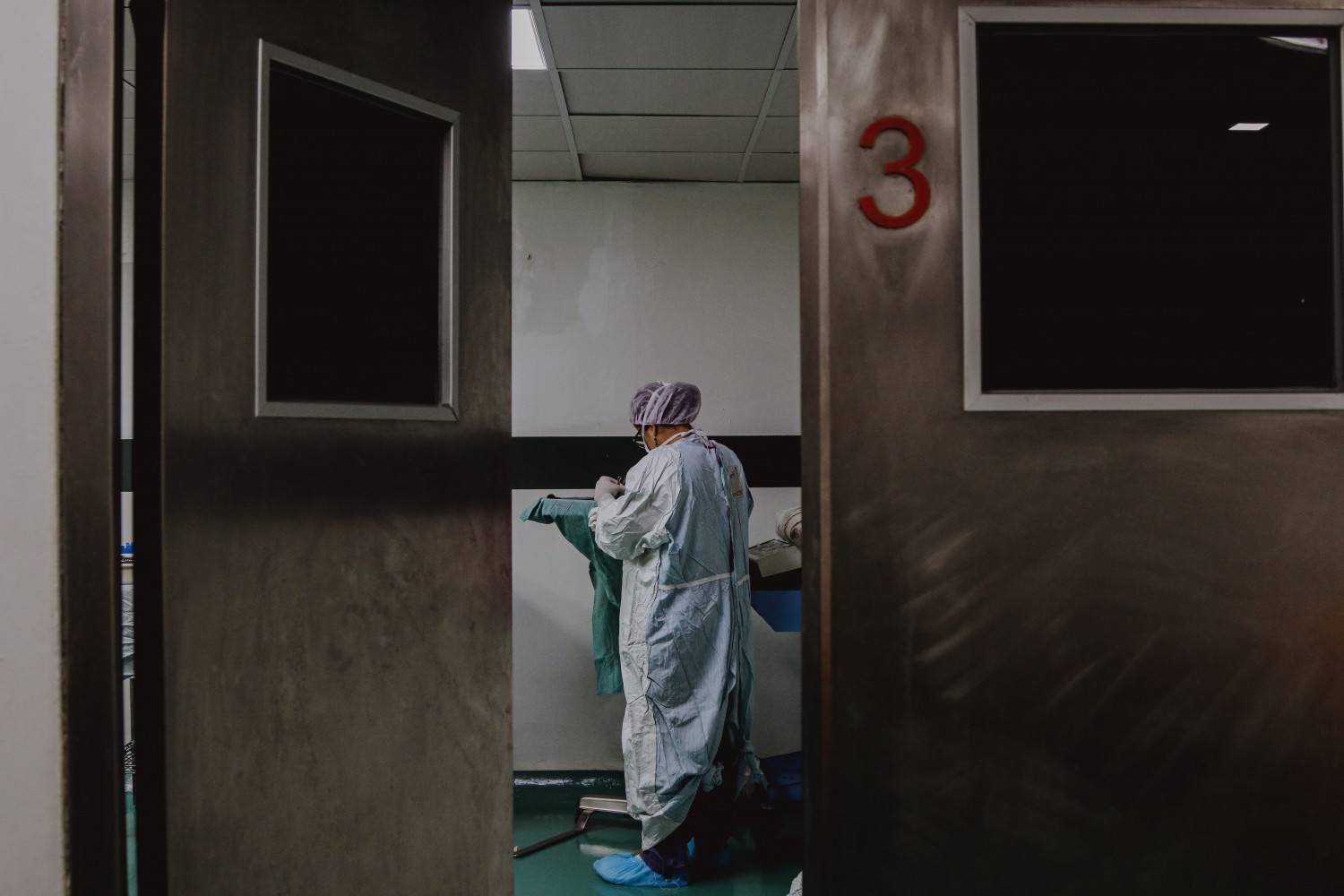 Photos from The Region of Peel/City of Brampton/Government of Ontario/Sj Objio via Unsplash
Peel residents not part of 'high risk exposures' now responsible for informing others if they test positive; 497 new cases reported Saturday; Fears mount over weekend Diwali celebrations; Region under new emergency order
Contact tracing has been a key tool to ease the spread of the novel coronavirus for public health units across the country. The process informs individuals who had close contact with someone who tested positive that they are at a higher risk of being infected.
This tool has stayed with Peel Public Health (PPH) throughout the pandemic, as the case count climbed from hundreds to thousands. Not every city with a steeply climbing infection rate was able to keep up. Toronto, for example, started to limit its contact tracing efforts back in October as the second wave swelled.
In Peel, recent numbers have been far worse than those being reported out of Ontario's capital.
On Saturday, Ontario's Minister of Health Christine Elliott reported 497 new infections in Peel, compared with 456 in Toronto, which has twice the population.
On Friday, both had 440 new cases and on Thursday Elliott reported 448 in Peel and 472 in Toronto. These are by far the highest numbers seen since the beginning of the pandemic, as Peel is routinely reaching new marks almost every day during this current surge of infection spread.
And like Toronto's public health unit, PPH is now facing a similar reality, with not enough contact tracing resources to prevent the novel coronavirus from spreading further out of control.
In Brampton, the most recent test positivity rate, between November 1 and 7, was 13.3 percent, more than five times the 2.5 percent threshold set by the Province to indicate control of viral spread.
Epidemiologist Dr. Nitin Mohan, a professor at the University of Western Ontario and a public health expert, explained that when this rate goes above 2.5 percent it means residents in a hard hit jurisdiction should remain at home, as much as possible, otherwise there is a high risk of contracting the virus which is widely present in the community.
The alarming test positivity, which stands at just over ten percent for Peel overall, shows that testing and tracing is not anywhere near where it should be to control the virus.
Dr. Lawrence Loh, Peel's medical officer of health, told The Pointer contact tracing will now focus on the "highest risk exposures" only at this time, but didn't specify what specific groups this involves. People who are not part of these highest-risk groups will be given instructions to notify and instruct their close contacts, so they are fully aware of possibly being exposed.
"This is necessary because we want to make sure that we're getting to all of the cases, the hundreds and hundreds of cases that are being reported, in a reasonable amount of time," Dr. Loh said Friday, the day the change was made.
Making inferences from data, front-line workers and schools might fall under the group of "highest risk exposures". It's possible the region will also focus on congregate settings, such as long-term care homes and hospitals, as Toronto has.
Friday's 440 cases in Peel represented 31.5 percent of the province's 1,396 cases, and Saturday's 497 new infections in Peel represents 31.4 percent of the 1,581 new cases in Ontario, according to Elliott's numbers.
These daily new case counts in the region this week are now routinely establishing new high-marks, with numbers like these almost three times higher than what was seen during the peak of the first wave in the spring.

Peel recorded over 400 new COVID-19 cases several days during the last week, by far the highest numbers seen since the pandemic began.
Peel has been struggling with contact tracing for some time. According to its November 13 epidemiological report, only 51 percent of those infected between November 3 and 9 were contacted by PPH within 24-hours. This is a drop from a week prior, when between October 27 and November 2, 56 percent of people were contacted in the same time frame. The goal is to reach 90 percent of those who test positive within 24 hours, so they don't unknowingly transmit to others. Research indicates as many as 40 percent of individuals who contract the virus remain asymptomatic and many never know they picked it up. However, they can still infect others, given the contagious nature of the novel coronavirus.
Peel is barely meeting half its goal for contact tracing, a sign of how badly stretched resources are. Only 40 percent of positive test results are being reported to Peel Public Health within one day, the target is 60 percent.
Earlier this week, the province committed 70 additional case management and contact tracing staff to Peel Region; 10 public health units with a small caseload were also helping Peel with its investigations. It's not clear what units these are.
"My hope is that if the community takes my recommendation seriously, limit their interactions, avoid large gatherings, especially this weekend, that we can hopefully bring our case counts back down to something manageable where contact tracing can again resume in a manner that is really allowing us to understand this," Dr. Loh said.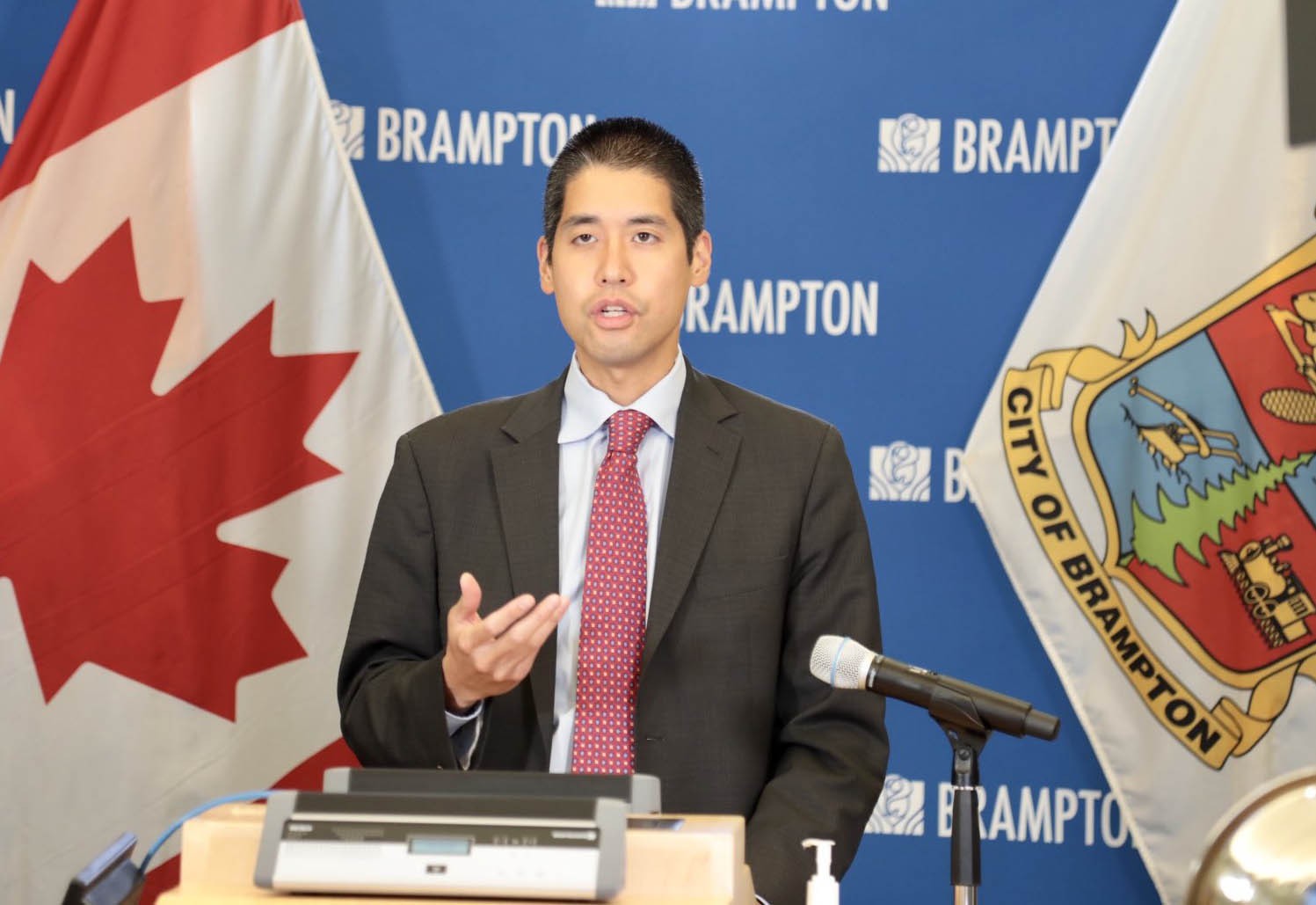 Dr. Lawrence Loh, Peel's medical officer of health.
This weekend marks the start of Diwali, commonly referred to as the festival of lights. With Peel's large South Asian-Canadian population, especially Brampton's, the event is a larger celebration than Thanksgiving.
Loh and politicians across Canada have been imploring residents to stay home during Diwali, which starts today and is often celebrated for much of the week ahead. Those who observe the festivity are being asked to forego large gatherings and neighbourhood fireworks celebrations, usually a hallmark of the significant occasion.
There is hope for many locally and provincially to save Christmas, which could be celebrated under a lockdown, if current trends continue. Alarming modelling was released by the Province this week that shows Ontario could reach 6,000 daily cases by mid-December, if current patterns continue. That would be about four times the daily case counts seen this week, which are already setting ominous milestones.
Peel remains in the red, control category of the Province's framework, and a move up to the next level would mean a shutdown for the region.
On Friday, Elliott spoke briefly on the updated guidelines the Province introduced for the framework, lowering the threshold for public health units to enter categories with stringent conditions. For the red category, the weekly incidence rate was lowered to more than 40 positive cases per 100,000, compared to 100 in the first version of the framework. The acceptable test positivity rate has been dramatically lowered to 2.5 percent for this level, compared to 10 in the previous version, which saw region's placed in the orange, restrict category if test positivity reached 2.5 percent.
The changes come about a week after Loh sent a letter to the Province asking it to consider stricter measures for Peel, as it was being moved out of the modified Stage-2 rules that prevented indoor dining and other activities. The Province ignored his advice, despite claims by Premier Doug Ford that local public health officials, who best know what is happening in their communities, will dictate the rules for their jurisdictions, to keep residents safe.
When it put together its new framework, the Province established safety thresholds far lower than the ones now in place, as the viral spread has exploded over the last two weeks, as evidenced by the new modelling, which seemed to be a wake-up call to Ford and his government.
Peel's incidence rate between November 1 and 7 was 119.5 new cases for every 100,000 residents. In Brampton, it was 182.5, and 74.2 in Mississauga, according to PPH's weekly epidemiological update. Under the Province's new framework, anything above 40 moves a region into the red, control category. Peel's test positivity rate for the same period was 10.2. In Brampton it was 13.3, and in Mississauga it was 7.1, the lowest in the region, but almost three times above the acceptable threshold.
The new COVID modelling, released by the Province Thursday, suggests there could be upwards of 2,000 new cases every day by mid-December in Peel. The modelling prompted officials to predict huge increases in case numbers, largely because of the alarming current situation in Peel and Toronto.
Peel's positivity rates are well above safe levels.
In a city like Brampton, with its high proportion of front-line workers, the virus is spreading outside households and within.
Thousands of people work in the trucking, food processing, and manufacturing sectors. When these essential workers go home, the virus can be easily transmitted. In some cases, these employees may be part of larger households, with numerous generations or roommates living under one roof, making it difficult to self-isolate.
According to PPH, out of the 4,327 cases reported in the region over the past 14 days, 40.3 percent of them came from households. This adds to the cumulative case count for the category, which represents 46.5 percent of all infections in the region since the onset of the pandemic.
Since the beginning of September, 126 cases have been reported from outbreaks in workplaces; 8 outbreaks are active at this time and four of these outbreaks are in Brampton, resulting in 18 cases among employees in numerous sectors. In Mississauga, four workplaces have outbreaks, representing a total of 14 cases. Manufacturing and industrial settings lead workplace outbreaks, with a total of 39 since March.
One of the worst workplace outbreaks in the region came from a single manufacturing facility. Out of the 110 cases, 61 were directly linked to the workplace and 49 came from household or other close contacts. Outlined in the latest epidemiological update, there is no date attached to the outbreak, indicating it may have occurred before September 9.
Officials have been asking residents in Peel, especially Brampton, to do their part in stopping the spread. But for those trying to self-isolate in large families or among large numbers of roommates, there often isn't enough support to assist them.
While an isolation centre is coming to Peel, it's not clear how useful it will actually be. Approval from the federal government came November 9, and $6.5 million will be used to turn a hotel into an isolation centre, covering lodging, meals, cleaning services and security for its residents.
"The site will support individuals who lack the space and means to undertake an effective isolation in their usual place of residence due to crowded housing," a spokesperson from the Public Health Agency of Canada confirmed to The Pointer.
Applications for isolation centres are assessed on epidemiological trends, and demographics, among a number of other factors. It's not clear why Peel's application was only accepted now, after numerous attempts to gain funding were made earlier in the pandemic. Cases in Brampton have been rising rapidly since early August and in Mississauga since labour day, right after Premier Ford called Brampton "broken".
Dr. Loh told Regional Council Thursday the isolation centre will likely be up and running by December 1. It's not clear how many rooms this money will be able to support. Toronto got $13.9 million in funding to operate its isolation centre, which has enough room to house 140 people. Peel only received 47 percent of that funding.
Premier Doug Ford
After households, exposure in the community is the setting that leads case counts. In the past two weeks 38.2 percent of new infections reported came from the community, an increase from PPH's November 6 epidemiological report which put this number at 35.3 percent.
Spread within the community can come from any setting where people mix with others from outside their households, and the exact transmission point is usually not known.
"Community transmission is cloudy, pervasive, subtle. It's community transmission where we don't have a clue where [cases] happen that then actually imports cases into all different things," Dr. Peter Jüni, Scientific Director Ontario COVID-19 Science Table and professor of epidemiology at the University of Toronto, told The Pointer.
Last week, Dr. Loh, introduced a list of instructions to Peel residents, adding an extra layer of rules on top of the restrictions in the red category the Province put in place for Peel, closing banquet halls and asking that people not mix with members outside of their household.
This includes meeting with people in restaurants. At this time, indoor dining only allows 10 customers to be within a restaurant. Dr. Loh's instructions only allow four people at a table and they have to be from the same household.
Between August 1 and October 24, restaurants, bars and clubs accounted for 3 percent of the outbreaks in Peel Region, according to the Science Table. This group is independent of the Ontario government but it advises the government directly through a weekly meeting at the health coordination table, Dr. Jüni said. The group did not give any input on the Province's recent framework but it has presented modelling, including the new report presented Thursday by Dr. Adalsteinn Brown, the Dean of the Dalla Lana School of Public Health at the University of Toronto and co-chair of Ontario's COVID-19 Science Table.
Brampton Mayor Patrick Brown has said on numerous occasions there has been no outbreaks linked to restaurants in Peel Region. When The Pointer asked the mayor why he was making these claims, given the data shows otherwise, he claimed this is misinformation, but offered no explanation to back-up his remark.
The data that shows there has been restaurant transmission in Peel was taken from the case and contact management system, a space where public health units report their case numbers. Dr. Jüni, David Fisman, a member of the Science Table, and Antonina Maltsev, a project manager who worked on the data, confirmed this to The Pointer.
Dr. Loh also confirmed the source data used in the group's table, and referenced by The Pointer, was the same. But since the analysis was conducted by the Science Table, PPH "would have to review and apply their methods to see if we would draw the same conclusions."
"If mayor Brown thinks they're inaccurate it would be helpful for him to articulate what he thinks is incorrect. Otherwise it's really him that's spouting misinformation, and that's unhelpful right now," Fisman, told The Pointer.
Brown did not provide any examples of how this information, or The Pointer's reporting of it, was incorrect.
Meanwhile, as Brown continues to make claims in defence of keeping restaurants open, the region and much of Ontario is moving toward another shutdown, if trends don't change.
This week, Prime Minister Justin Trudeau exhorted mayors and premiers to listen to public health officials and avoid being pressured by businesses. Ford pushed back against Trudeau's suggestion that he might have to introduce sweeping emergency measures.
The Region of Peel already did so.
Chair Nando Iannicca issued "Emergency Order No. 1" with infections in Peel soaring.
It states: "The Medical Officer of Health for the Region's Public Health Unit and other medical professionals have advised that COVID-19, a disease caused by a novel coronavirus, which has caused and continues to threaten severe illness and death in humans, has grown in severity to second wave infection status which exceeds previous dangerous levels, and may overwhelm efforts to keep community transmission under control and to ensure that the health care system can be available for those who need it, such that measures to curtail the transmission between persons should be taken."
The regional move gives Dr. Loh sweeping power to close businesses and have enforcement action taken under the unprecedented emergency order, in the face of a crisis gripping Peel.
---
Email: [email protected]
Twitter: @nida_zafar
Tel: 416 890-7643
---
COVID-19 is impacting all Canadians. At a time when vital public information is needed by everyone, The Pointer has taken down our paywall on all stories relating to the pandemic and those of public interest to ensure every resident of Brampton and Mississauga has access to the facts. For those who are able, we encourage you to consider a subscription. This will help us report on important public interest issues the community needs to know about now more than ever. You can register for a 30-day free trial HERE. Thereafter, The Pointer will charge $10 a month and you can cancel any time right on the website. Thank you.
Submit a correction about this story