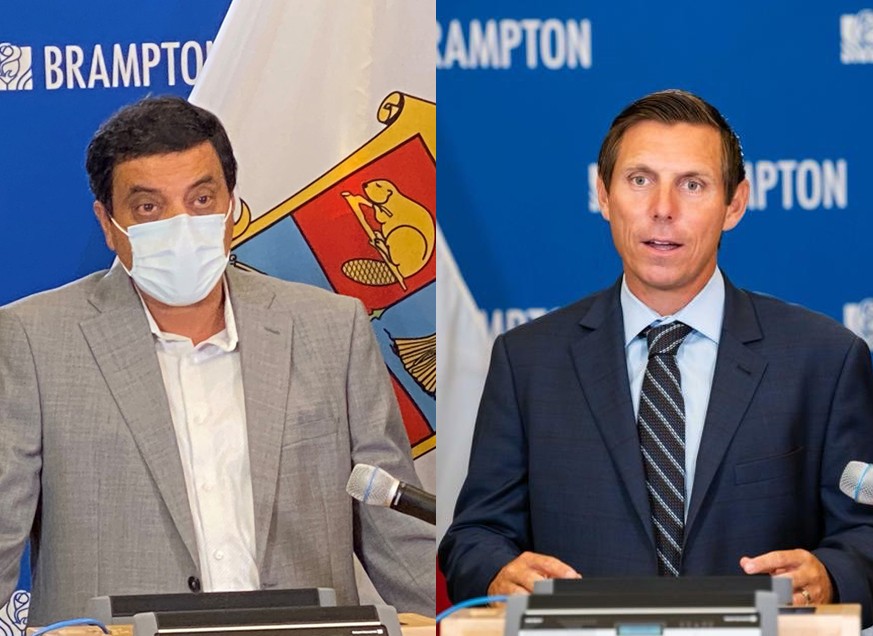 Photos from the City of Brampton/William Osler Health System/Region of Peel
After Ford calls Brampton's pandemic response 'broken', local leaders refuse to take any responsibility 
After weeks of rapidly climbing case numbers, and Brampton being singled out across the country as a COVID-19 hot spot, Mayor Patrick Brown and the CEO of the city's hospital system are defending themselves following Premier Doug Ford's statement that Brampton is "broken".
The city has had approximately 20 percent of Ontario's new COVID-19 cases over the last three weeks and Peel currently has more active cases than any other part of the province. Despite Brampton only accounting for 4.5 percent of the Ontario population, it has seen alarming numbers recently, with Peel currently reporting 451 active COVID-19 cases, compared to Toronto at 439. Canada's largest city has twice Peel's population.


COVID-19 case numbers in the City of Brampton (very top) have consistently outpaced the neighbouring, and larger city of Mississauga (above).
Refusing to acknowledge his role in the city's woeful testing performance since the beginning of the pandemic, William Osler CEO, Dr. Naveed Mohammad, on Thursday said it's not the hospital system's role to conduct testing.
The hospital network is responsible for running COVID-19 "assessment" or testing facilities, but has only maintained one in Brampton since the start of the pandemic. It has run two testing facilities in Etobicoke, through the end of July, despite Brampton having almost twice the population.
Mississauga is currently listed as having three assessment centres, all run by Trillium Health Partners, Osler's counterpart that manages hospitals in the neighbouring municipality.
The Pointer has repeatedly asked Osler since May, why it has failed to get adequate testing done in Brampton and why it refuses to open up a second facility to keep the city's 650,000 residents safe.
"Even though we are stepping up to do a lot of testing, our main responsibility is to care for the acute patient that shows up in our emergency department," Dr. Mohammad said Thursday.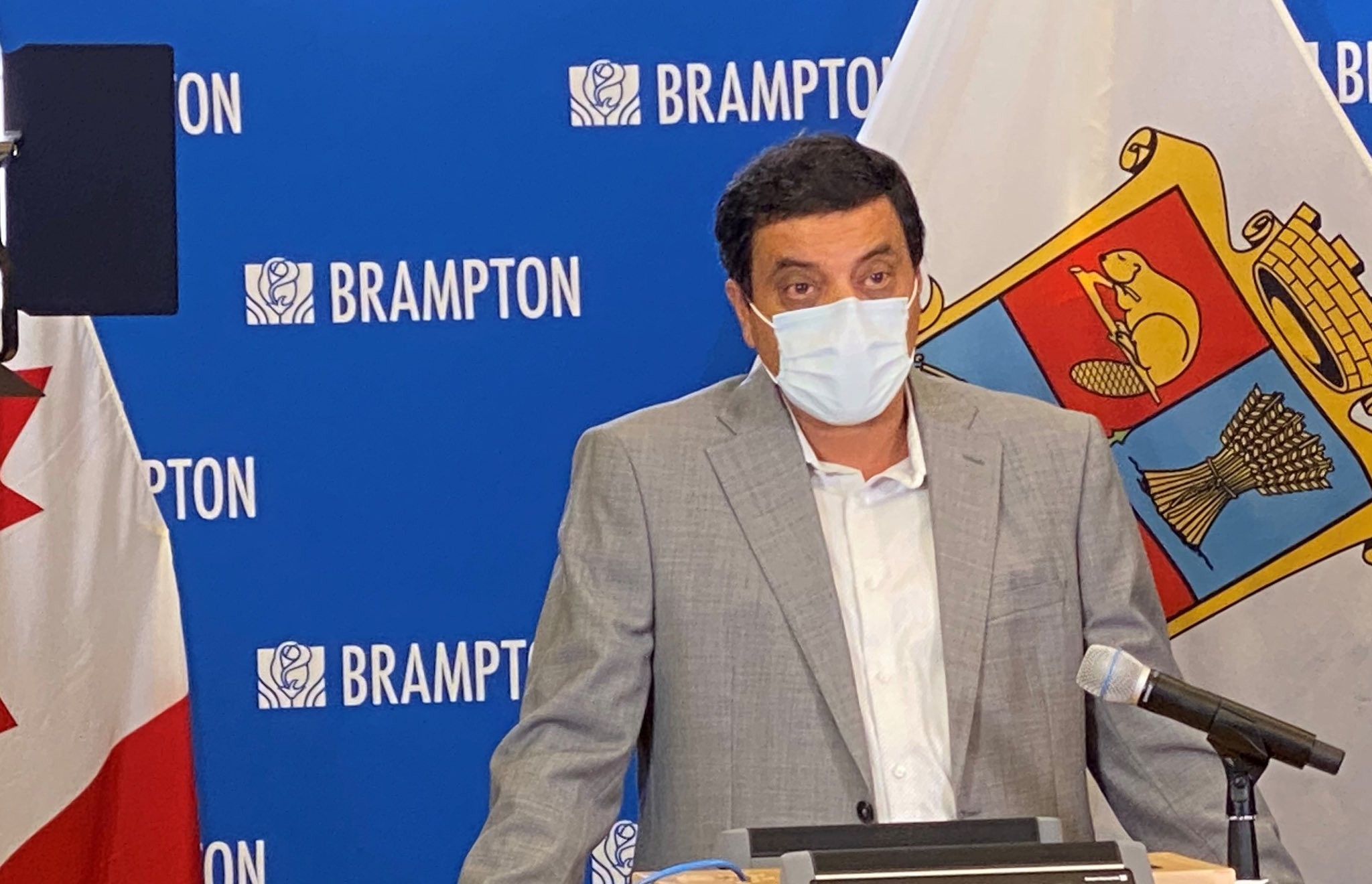 William Osler CEO, Dr. Naveed Mohammad speaks during a Brampton press conference Wednesday.
Both he and Brampton Mayor Patrick Brown have been in damage control mode this week afer Ford called out Brown and the city on Friday for its "broken" COVID-19 situation.
Part of their strategy, after widespread local public backlash following Ford's harsh words and because of the complete failure to control the virus, was the announcement of a new flu clinic, but it won't deal with the city's current COVID-19 crisis directly.
On September 15, Peel Memorial's Urgent Care Centre will be reopened as what Osler, which runs both of the city's hospitals, is calling a COVID-19, Cold and Flu Clinic.
The clinic will only provide care for people with "moderate flu-like symptoms" and will differentiate those individuals from others with COVID-19 symptoms.
Though Osler trumpeted the new clinic in two press conferences Wednesday and Thursday, while Brampton residents reel from the local COVID-19 crisis, the announcement doesn't appear to offer any immediate or direct help for the dire situation facing the city.
When The Pointer asked why the initiative was only being revealed now, Dr. Mohammad, said plans have been in place to open the flu clinic, but he did not say when the strategy was put together. With schools reopening, a dramatic rise in local cases, and "the lack of primary care physicians who are willing to see these very high risk patients" because they lack proper "infrastructure", it was a good idea "to open a completely separate flu and influenza-like illness and COVID-19 assessment centre," he said Wednesday.
"This clinic is dedicated exclusively to providing care for people with moderate flu-like symptoms and to differentiate them from COVID-19 cases. Patients over the age of six months will receive medical assessment and COVID-19 testing at the clinic by a physician, a nurse or nurse practitioner. Based on their symptoms patients will receive information about the next steps of care," Dr. Mohammad said. "This clinic will make testing, assessment, and care convenient and safe for people with flu-like symptoms and provide them with an additional option to access care outside the emergency department or their family physician."
It will not provide an additional permanent COVID-19 testing capacity, and only those with "flu-like" symptoms will be seen.
It leaves more questions than answers about Brampton's skyrocketing COVID-19 case rate, and the woeful lack of testing that Osler has done in the city since the start of the pandemic.
The timing of the flu clinic announcement comes less than a week after Ford singled Brampton out, taking issue with alarming COVID-19 case numbers in the city. "Something is broken when you have 3 percent of the population with [almost] 40 percent of the cases. I need to sit down with the mayor," Ford said last week.
Brampton has 4.5 percent of Ontario's population and Ford was referring to the daily case numbers for September 2, when the city accounted for 37 percent of the province's total COVID-19 cases.
Since then, shockingly high numbers have continued to be reported in the city. It's a disconcerting trend that started at the beginning of August, but had also been seen through earlier stretches of the pandemic.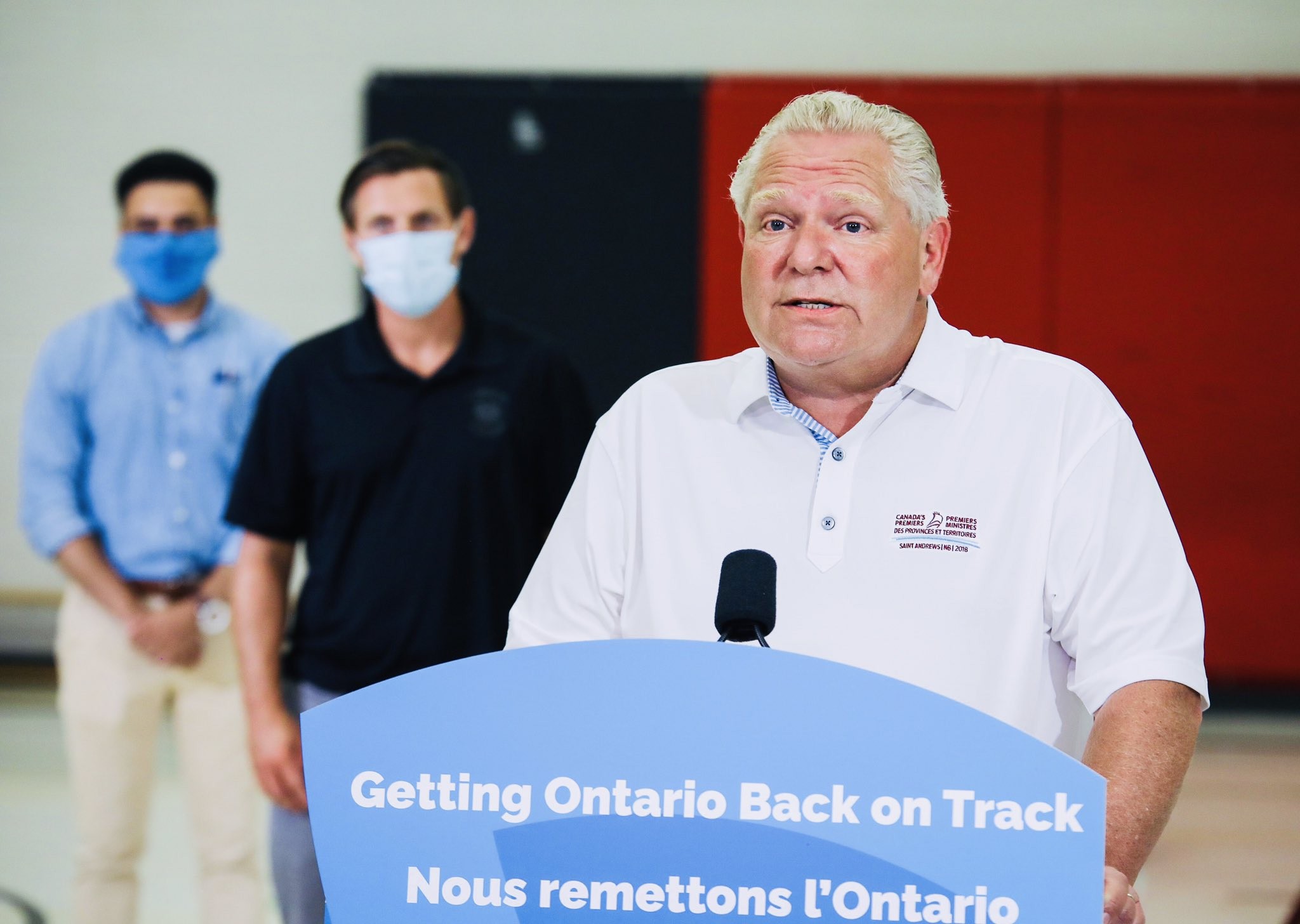 Premier Doug Ford has repeatedly singled out Brampton and its response to the pandemic, labelling the city a "hot spot" earlier this summer and labelling the city's response to COVID as "broken" just last week.
On Sunday, Brampton's 58 cases again represented 37 percent of the province's total and over the three day Labour Day long weekend, the city reported 116 COVID-19 cases, the second highest three-day total since the end of May. The highest over three days since the spring was just a few days earlier, from September 1 to 3.
Despite the disturbing COVID-19 picture in the city, which has been singled out as a hot spot across the country, Brampton's weekly press conference did not include any mention of Ford's harsh words, while speakers touted the soon-to-open flu clinic.
"Just last week, I was on the phone pleading with the premier for this support. If Mississauga can have multiple assessment centres, if Ottawa can, if Toronto can, why can't we have that same ability and the same resources in the City of Brampton? So this is a step in the right direction," Mayor Brown said.
That call was on Friday, and Brown tweeted out that he had spoken to Ford, about an hour after the premier said he called Brown three times prior to addressing the province right before the start of the long weekend, but couldn't get through.
Brown's comments Wednesday suggest the planned COVID-19, flu and cold clinic did not have the needed funding commitment for it prior to Friday, when he was "pleading" with Ford for more help, after being called out for the city's "broken" response to the pandemic.
In June, Ford singled out the city for its woeful testing efforts, sending in pop-up screening facilities after voicing his concern over public health networks in the province that were not meeting adequate testing levels to keep local residents safe.
The Pointer has asked Brown and Osler numerous times why only one screening site in the city has been run since the beginning of the pandemic, as the province made clear in the spring that it was up to local officials to meet testing needs in their communities in order to keep residents properly protected from the virus.
When The Pointer asked why a second COVID-19 testing centre hasn't been opened, Dr. Mohammad said the "small spikes" in case numbers was something "we don't react to" as they may only last a couple of days.
His comment suggests an alarming lack of awareness among Osler's top decision makers, as testing needs are not based on point-in-time COVID-19 case numbers, but the size of the overall population and the testing targets that are set to ensure the viral spread does not exceed the ability to contain it.
His characterization of "small spikes" only lasting "a couple of days" is misleading. The city has had prolonged periods, as long as three weeks, when it has been recognized as a hot spot since the first month of the pandemic.
As of May 29, from the beginning of the pandemic, Osler had only conducted about 12 percent of the tests it should have, based on per capita levels and the Ontario target of 20,000 tests a day.
But it and the City of Brampton failed to get a second screening facility opened. Meanwhile, Osler was running two testing facilities in Etobicoke.
Dr. Mohammad suggested reasons for Brampton's surging COVID-19 cases, but refused to address the role of inadequate testing.
"What we're currently seeing is that a lot of the spikes that have been occurring in the Peel Region have been due to social gathering, or due to certain workplaces or certain households. The only thing that has changed is that from August to September, the numbers have now consistently started to rise as opposed to a small spike," he said. This does not square with the Region's own data, which shows prolonged periods of high daily case counts in Brampton, at least for a week, during every month since the end of March.
Epidemiologists and public health officials, including Canada's Chief Public Health Officer, Dr. Theresa Tam, have repeatedly said testing is a key to bringing numbers down.
But in Brampton, the message from experts has been repeatedly ignored.
When asked by The Pointer Thursday, during his press conference, about testing, Dr. Mohammad said Osler was conducting 1,500 tests daily between its Etobicoke and Brampton facilities, alongside screening at "other organizations." He did not specify how many of these daily tests were conducted at its Brampton assessment centre. "I'm of the belief that there has been [an] appropriate amount of testing in this region and more testing is coming just in time for when more testing is needed. I don't think we needed more testing in August."
The comments come as Brampton continues to be singled out by officials outside the city for its alarming numbers, which have rapidly climbed since just after the start of August.
Between August 31 and September 6, Brampton accounted for 27 percent of Ontario's new cases over the week, about five-and-a-half times the province's per capita rate. Between August 10 and 16, Brampton represented an average of 21.5 percent of Ontario's new cases each day that week.
There are currently seven people at Brampton Civic Hospital being treated for COVID-19, with one person in the intensive care unit. Many residents in the city reside in multi-generational families, work front-line jobs, and don't have the option to work from home, factors cited by local officials when explaining the city's high numbers.
In May, Ford and his government set the COVID-19 testing target at 20,000 a day. It's not clear what the testing target is at Brampton's lone assessment centre and if that capacity is being reached. It's also not clear what the capacity for COVID-19 testing will be at the flu clinic that will open later this month or if it will significantly improve testing in the city. Osler did not respond to questions ahead of publication.
Brampton should be conducting roughly 890 tests in a single day, based on the province's target and per capita calculations.
Based on numbers Osler previously shared with The Pointer, 55,083 tests were conducted by the system in Brampton between March 11 and August 16, an average of about 573 a day in the city.
On June 29, an Osler spokesperson said 27,700 tests had been conducted at Peel Memorial (up to June 15 when it closed), the drive-thru testing centre at South Fletcher's Sportsplex (from its opening on June 16) and any testing that occured in Brampton Civic's emergency department since March 11. An additional 27,383 tests were conducted between June 28 and August 16 at the drive-thru testing centre and emergency department at Brampton Civic.
It's not clear if this target has ever been reached. With the 27,383 tests conducted between June 28 and August 16, only an average of 548 tests were conducted each day, a little more than half of the province's target, based on the city's per capita number and the 20,000 daily tests the Ontario government wants to conduct.
A second testing centre would have allowed Brampton to meet its responsibility or come close.
Brampton's lone COVID-19 testing centre at South Fletcher's Sportsplex
When The Pointer asked Dr. Mohammad about the shortfall, he said the question should be directed to the province and Peel Public Health. "We're not the ones that just come up with resources out of our pocket. That resources for testing comes from the province and the premier didn't say that each hospital should be testing and meeting...the premier said that each community should be testing and meeting the per capita," he said. When The Pointer pointed out that Osler is the key testing stakeholder in the community and manages the screening facility, Dr. Mohammad said testing can also be done at the offices of primary care physicians and walk-in clinics before repeating that Osler "has done the most tests in the province."
He then used overall testing numbers done by Osler, which include its facilities in Etobicoke, where two sites were operated through the end of July. Based on numbers provided to The Pointer, only about one-third of Osler's tests were conducted in Brampton.
Dr. Monica Hau, Peel's associate medical officer of health, said the Region could restrict reopening times and could impose other safety measures going forward. Strategies for Brampton are being discussed with officials at the provincial level, she said. "If we do see a consistent increase in the trend, then we would certainly consider those options [of restrictions]."
This would coincide with actions taken earlier this week. On Tuesday, Ontario's Health Minister, Christine Elliott, paused any further plans for reopening in the province as cases continue to climb, especially in Brampton. "Taking a pause in further re-opening will help avoid broad-scale closures and shutdowns," Elliott tweeted Tuesday.
---
Email: [email protected]
Twitter: @nida_zafar
Tel: 416 890-7643
---
COVID-19 is impacting all Canadians. At a time when vital public information is needed by everyone, The Pointer has taken down our paywall on all stories relating to the pandemic and those of public interest to ensure every resident of Brampton and Mississauga has access to the facts. For those who are able, we encourage you to consider a subscription. This will help us report on important public interest issues the community needs to know about now more than ever. You can register for a 30-day free trial HERE. Thereafter, The Pointer will charge $10 a month and you can cancel any time right on the website. Thank you.
Submit a correction about this story