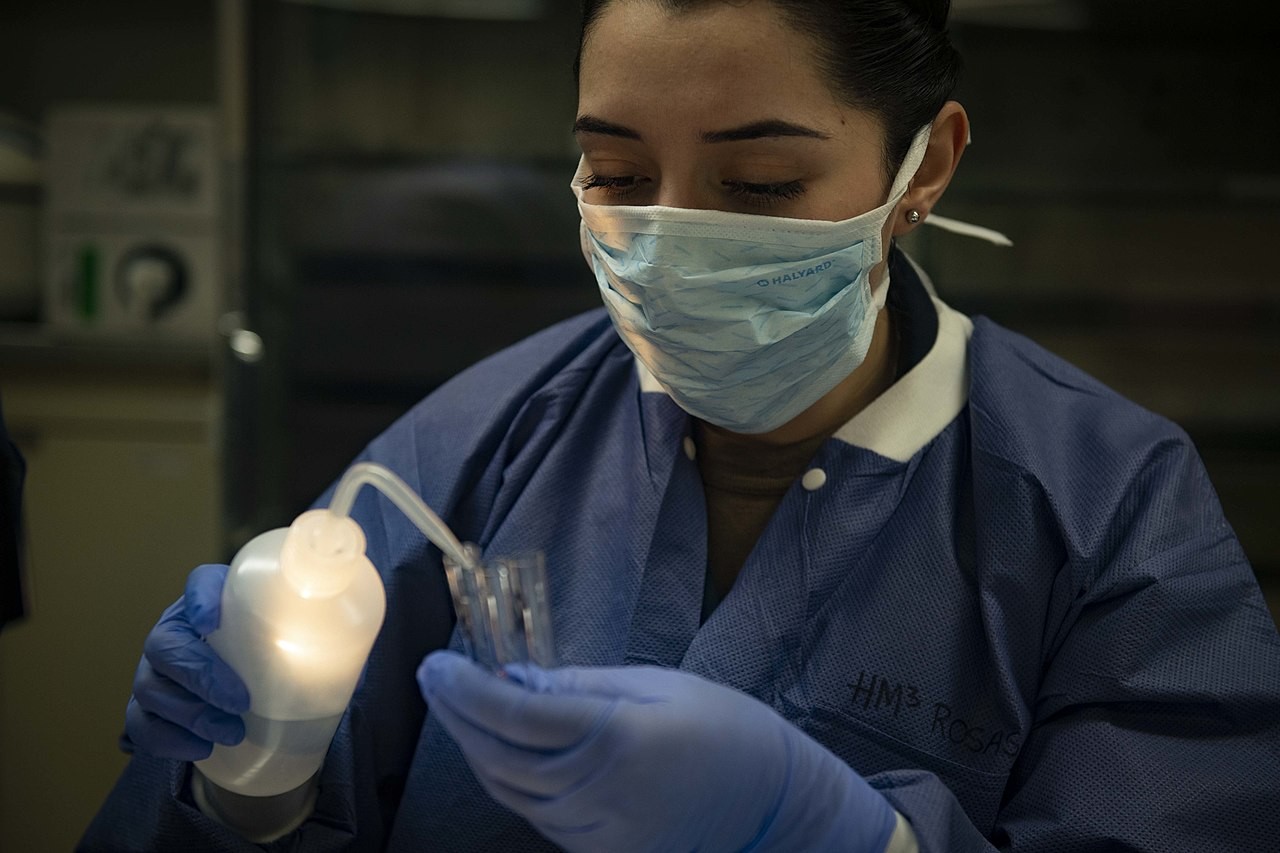 Photos from Wikimedia Commons-Navy Medicine/Graphics from CDC/Government of Ontario
Peel trying to meet contact tracing, testing benchmarks to speed up reopening across the region
This week, Ontario is regaining another ounce of normalcy.
A small number of local businesses will begin operating with limited or restricted services — including curb-side pickup or with physical distancing restrictions in place. If the COVID-19 case numbers continue their downward trajectory, more businesses could soon follow.
The openings come after a framework was released by the province late last month which has become a litmus test for how and when a city can begin to return their community to the way things were.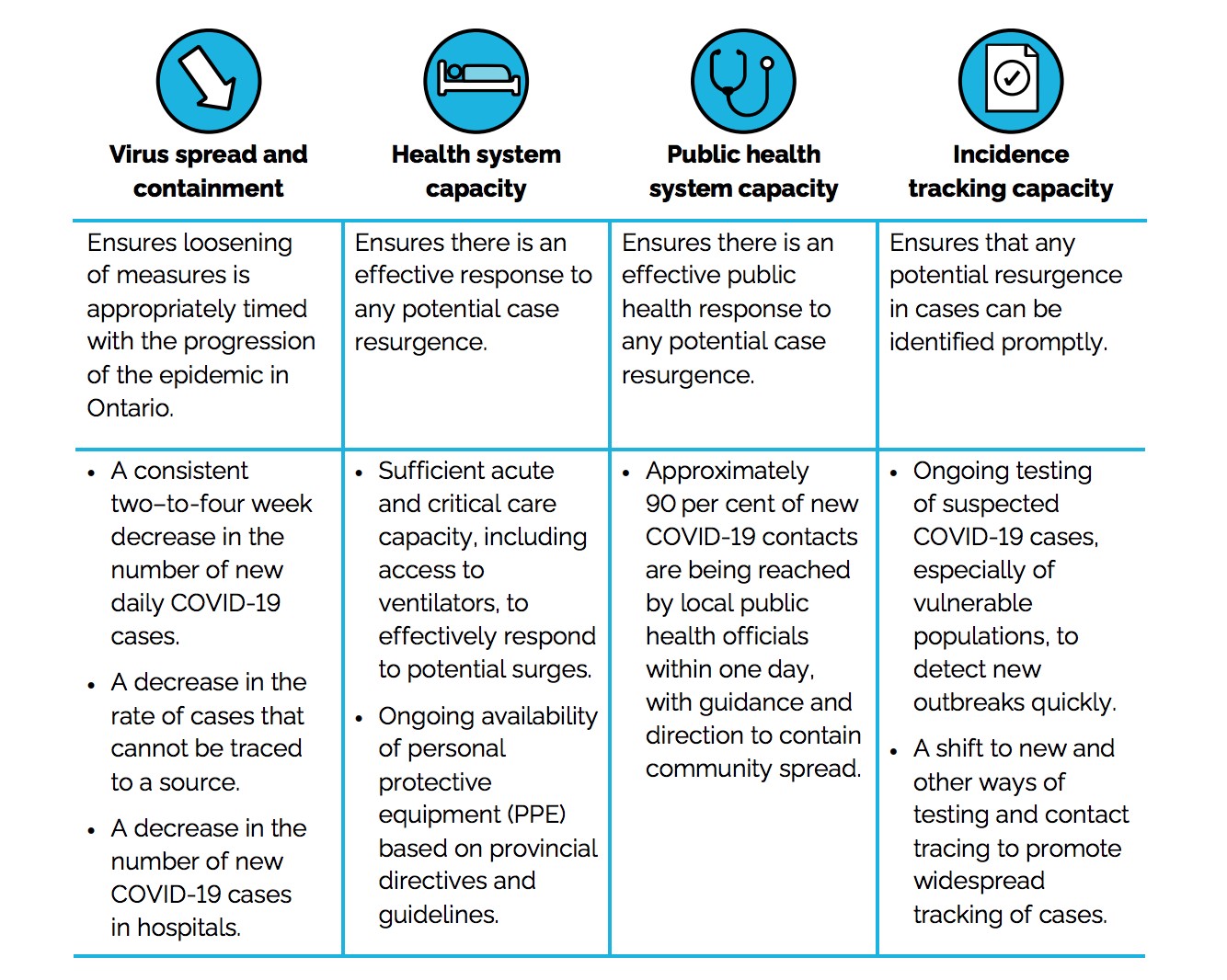 Provincial guidelines for jurisdictions to follow before easing physical distancing restrictions.
The criteria includes the need for a consistent two-to-four week decrease in the number of new daily COVID-19 cases, a lowering in the rate of cases that cannot be traced to a source and a decrease in the number of new COVID-19 admissions to local hospitals.
The area needs to ensure there is adequate capacity within the local hospitals and reliable supplies of personal protective equipment for the frontline healthcare professionals in case there is a surge following the loosening of certain restrictions.
In the Region of Peel, the Osler and Trillium health systems continue to treat an increasing number of COVID-19 patients.
As of May 9, 1,241people had received positive COVID-19 tests at Trillium Health Partners facilities, and the health system had 94 patients being cared for in in-patient beds and 22 in critical care at its hospitals. For William Osler, 2,568 people had received positive tests at its facilities and there were 83 patients being treated for the coronavirus at its hospitals, 16 of them in critical care.
These numbers are certainly keeping frontline staff occupied, but are well below the surge in COVID-19 patients hospitals across Ontario expected to see when planning began earlier this year.
Peel as a whole is also seeing a general decreasing trend in the number of new cases of the novel coronavirus confirmed on a daily basis. While the region has yet to see a consistent two week period of reductions, with several spikes over the last two weeks, recent days have seen a more steady decline. Since 68 new cases were confirmed on May 6, the number of new daily cases has decreased each day, with only 18 new cases confirmed Saturday and only two on Sunday, bringing the region's overall total to 3,064 confirmed and probable infections.
But simply following the numbers with crossed fingers in the hopes of seeing continued decline, does not give the Region of Peel the necessary data needed to begin reopening more of society. There are certain aspects of the provincial framework that Peel can influence, through testing and contact tracing for new infections.
According to the provincial guideline, public health units need to trace approximately 90 percent of new COVID-19 contacts within 24 hours. Public health units should also be completing testing among vulnerable populations to detect outbreaks quickly, and working to implement new, faster methods for contact tracing.
Contact tracing, as described by the World Health Organization, has three fundamental steps medical investigators employ as soon as a case of infection is discovered: identify, inform and follow up.
The first step requires identifying each and every person who has interacted with the infected individual. That is achieved by tracing movements and activities when an infected person was known to be contagious. Anyone contacted, a family member, friend or just a stranger who happened to be in close proximity, needs to be identified.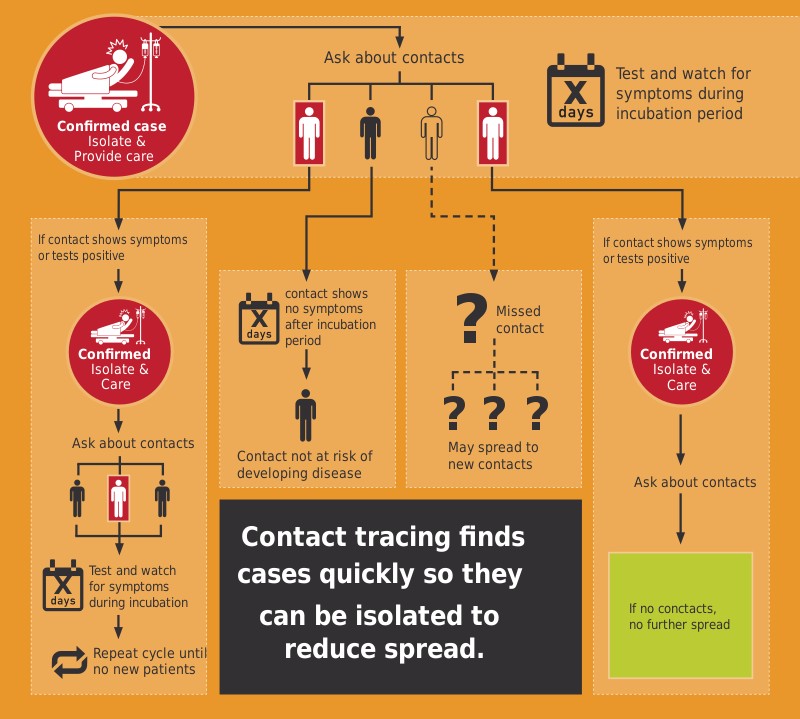 Some cases might require reviewing security footage or gaining access to credit card data and even travel logs from various authorities required to share sensitive information during an emergency such as the current situation.
In some places around the world, complex technologies such as facial recognition through machine learning, geo-locating and GPS tracking are now being deployed in the life or death race to trace the spread of COVID-19.
For privacy reasons, some of these techniques cannot be used in Peel. Currently, Peel's main tool for contact tracing is call or texting individuals. If these prove unsuccessful, they send a letter by mail.
Every detail is key in determining just how far and where exactly the infection may have spread.
Public health investigators who do the tracing will look at factors such as the types of interactions a contact may have had, were they in close proximity for a long enough time for the virus to be transmitted for example. They'll examine the contact's travels, such as if they were going to work or traveling at the time they might have been infected.
It's clear the Region of Peel still has some work to do. Jeff LeMoine, a spokesperson for the region, says that after receiving a positive test result, they are able to reach 90 percent of the individuals within 24 to 48 hours. This is generally okay if the person who took the test is isolating themselves, but it still increases the odds of that person infecting others without the knowledge that they have tested positive. The region's ability to reach contacts varies, and it is training more staff to improve their results.
"For most cases, the contacts are within the household and reachable at the same time as the case. When contacts are outside the home the time to reach them is dependent on the availability and accuracy of the information we have," LeMoine says. "Secondment and training of additional Public Health staff is underway and is expected to allow reach cases within the 24 hour target more consistently."
As the province begins to open up again, the availability and quantity of testing being completed will be crucial to identify and contain outbreaks when they inevitably do happen, particularly among vulnerable populations like homeless shelters or long-term care homes. Already, the long-term care sector has been decimated by COVID-19. In Peel, over 500 of the region's 3,000 cases are in long-term care and retirement homes, and 119 of Peel's 196 deaths involve individuals from these facilities. There have been more than 1,200 deaths in long-term care homes across the province.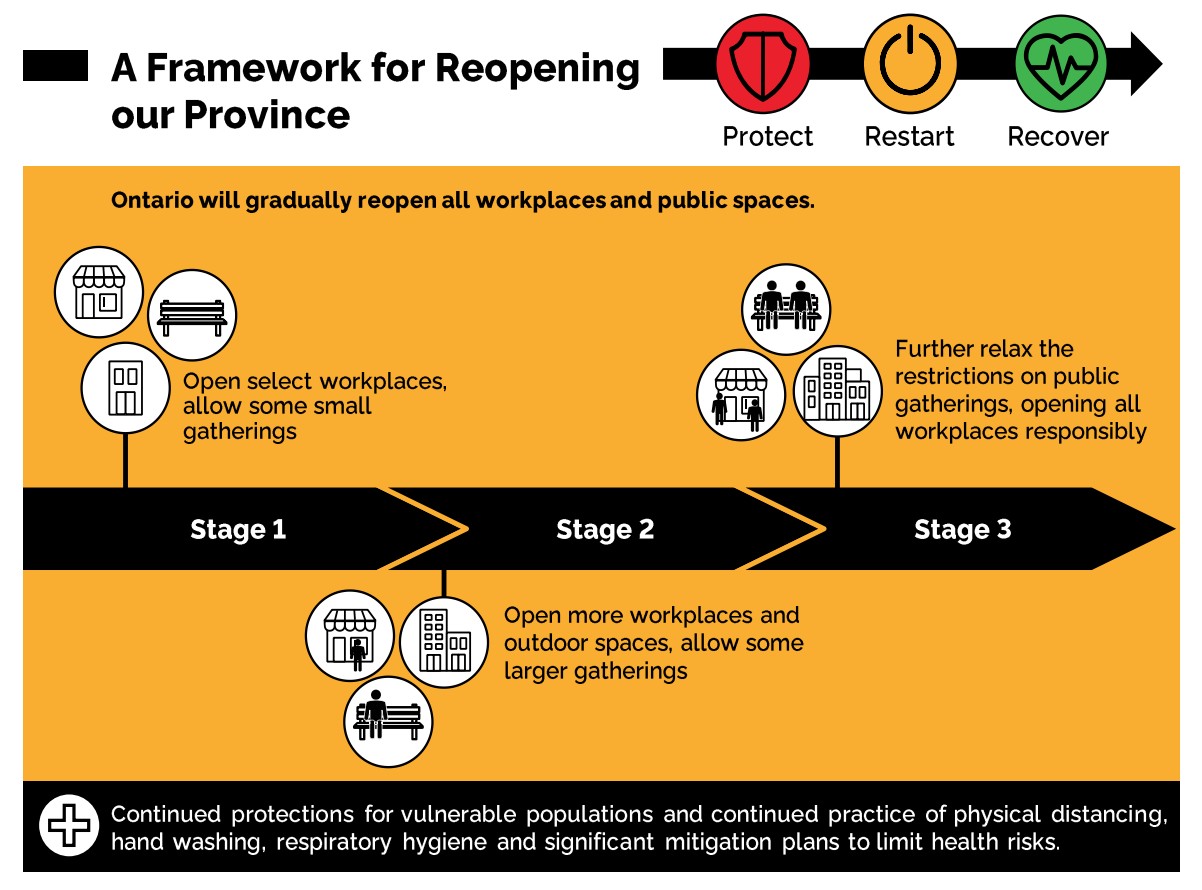 The provincial plans lay out a gradual, phased reopening of society.
According to LeMoine, the region has nearly completed testing in all of the region's long-term care homes, and will then be moving on to the staff who work in the region's child care centres.
When asked for an idea of the general testing picture in the region, including the total number of tests that have been completed in the region, The Pointer was told that data was unavailable.
"At this time, total numbers of tests are reported at the provincial level. Together with other health units, we have been awaiting a response to a request to the provincial laboratory for regular sharing of our Region specific testing numbers to assist with our ongoing response," LeMoine stated.
The lack of transparency around testing data has been a consistent concern throughout the course of the pandemic. Last week, Premier Doug Ford lashed out at certain medical officials in the province who, he says, are not pulling their weight when it comes to testing.
"There's certain medical officers, certain jurisdictions, now keep in mind we have 34 medical officers across the province, some are just not performing. I'm calling them out right now," Ford said. "You've gotta pick up the pace. We have a whole bunch of them, half of them, that are exceeding expectations, and then others who aren't even putting the work in as far as I can see."
The provincial testing numbers have been in constant flux since the beginning of the pandemic. Currently, Ontario has a lab capacity to analyze nearly 20,000 tests a day. However, at the start of last week, Ontario analyzed about half of that. As of May 9, the province had returned closer to its capacity, analyzing over 17,000 COVID-19 tests. These numbers also place Ontario behind the national average for testing, which earlier this week was 24,460 tested per million people, but Ontario was only testing at 22,715 per million. Alberta is testing 34,800 per million, which means it is conducting 42 per cent more tests than Ontario, per capita.
"We need to hold these people accountable," Ford stated. "I'm disappointed in the chief medical officers in certain regions, I'm not going to name them, they know who they are, start picking up your socks, start doing testing."
While it's not clear which region's Ford was referring to, Peel's testing procedure has not been without speed bumps during this pandemic.
Early last month, Peel's public health unit issued an apology for mailing incorrect testing information to a number of residents. According to the apology from Interim Medical Officer of Health Dr. Lawrence Loh, the region accidentally mailed 16 letters to residents advising them that their COVID-19 test results were negative, when they were actually positive.
"I know the relief those residents felt for a few moments has sadly been transformed into feelings of fear and uncertainty. Our team is working quickly to notify these residents and make sure they have what they need to manage this difficult situation," Loh wrote. "On investigation, we found that several positive test slips were mixed with a batch of negative results received from labs," he added. "This error was not noticed until after the notification letters were mailed. We have made changes to our process to ensure that this situation does not occur again in the future. On behalf of the Region of Peel, I extend apologies to those residents impacted by this error."
When asked about the Premier's remarks, Dr. Loh offered little in the way of further clarity on the region's testing capacity, but noted 27 out of 28 long-term care homes had been tested, with the final one to be completed by the end of the week.
"I very much appreciate Premier Ford's passion for the work that is going on, I know that we're all on the same side here," he said.
Dr. Loh again referred to the regional testing data being tracked at the provincial level and referred reporters to the provincial website which lists the number of tests conducted across Ontario. However, this webpage does not include region-specific data.
When pressed for an answer on the region's testing performance in light of Ford's statements. Dr. Loh again referred questions to the province.
"It wasn't clear to us, at least at the time, which regions he was referring to," he said. "I would refer you back to the province if you need further clarity as to the premier's specific comments."
---
Email: [email protected]
Twitter: @JoeljWittnebel
---
COVID-19 is impacting all Canadians. At a time when vital public information is needed by everyone, The Pointer has taken down our paywall on all stories relating to the pandemic to ensure every resident of Brampton and Mississauga has access to the facts. For those who are able, we encourage you to consider a subscription. This will help us report on important public interest issues the community needs to know about now more than ever. You can register for a 30-day free trial HERE. Thereafter, The Pointer will charge $10 a month and you can cancel any time right on the website. Thank you.
Submit a correction about this story