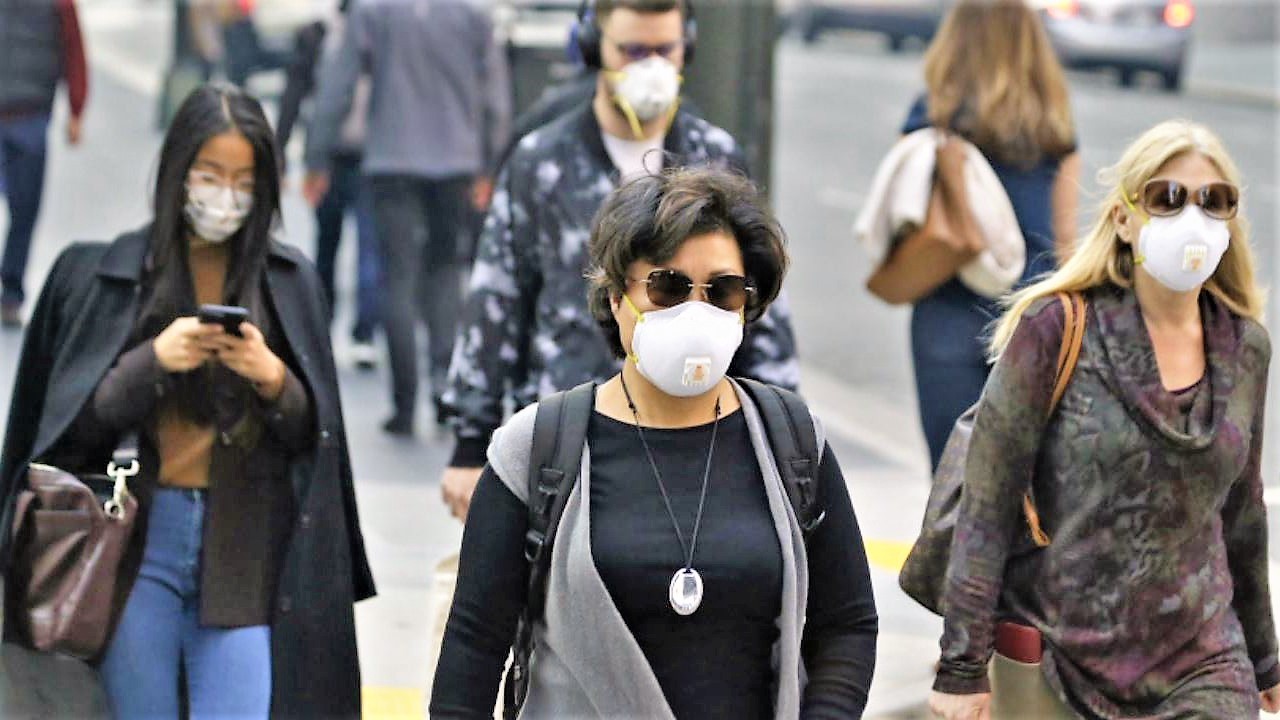 The Pointer file photos/Flickr/Twitter/Canadian Armed Forces
Dangerous Brampton 'hot spots' feared while province takes over devastated Mississauga care home
As COVID-19 cases in Peel continue to rise at rates well above those in other parts of the province, officials are scrambling to get the situation under control.
Out of Ontario's 477 cases reported on May 7, 62 came from the Region of Peel. The 428 provincial cases from May 14 represented 74 Peel cases, and on May 21, 89 of Ontario's 441 cases originated in the Region. Two weeks ago, almost a quarter of the new cases reported in Ontario were in Peel.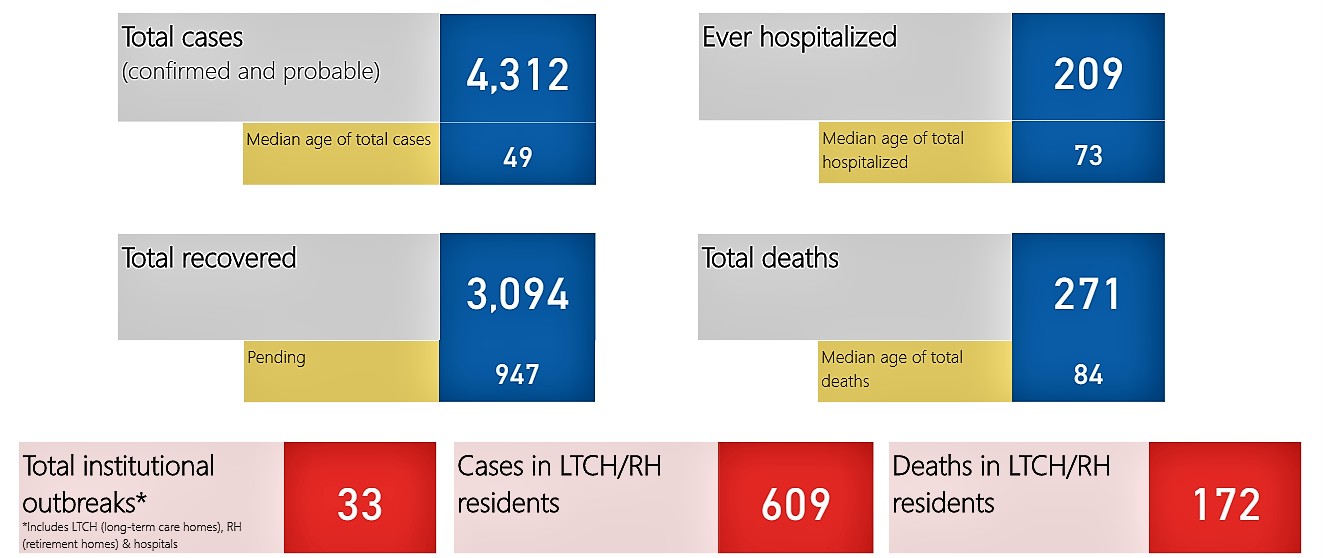 Peel COVID-19 cases as of May 27
The numbers don't bode well for a wide scale reopening of the region. To put them in perspective, Peel has had about 15 times as many confirmed cases as Manitoba, which has close to the same population.
Before Ontario can move onto Phase Two of its framework for returning to normal (not all of Phase 1 has been followed in Brampton, and particularly in Mississauga which has taken a more cautious approach) a decrease in new cases has to be seen for a period of two to four weeks. This has not been experienced in Peel which has been labelled a "hot spot" by provincial officials. On Monday, Premier Doug Ford said parts of Peel Region, including one specific area of Brampton, were part of the issue.
"Peel's seven-day moving average in new cases has trended upwards over the last week and I want to be clear, that is not the direction that we want to see things go in," Dr. Lawrence Loh, Peel's Interim Medical Officer of Health, said Wednesday.
Between May 14 and 20, there was an average of 64.7 new cases every day in Peel Region. That number increased to 74.8 between May 21 and 27. The data comes as images of larger public gatherings and stories of people clamouring to free themselves from isolation spread as fast as the continuing threat of the virus across Mississauga and Brampton.
No local outbreak has been worse than that experienced at Camilla Care Community in Mississauga. The spread of the novel coronavirus through the ravaged long-term care home has killed 62 residents at the facility and the province announced Wednesday that it is moving in to take over the private facility, which was completely overwhelmed and ill-prepared to deal with the pandemic.
The solution to the growing local dilemma might, partly, lie in the ability to increase testing. While anyone can now technically be tested, following instructions from Ford over the weekend, who urged all Ontarians to get tested, and Dr. Loh said no one will be turned away, the focus, he added, must not involve everyone in the general population.
"We hope to afford opportunities as much as possible to those who are symptomatic, or who are at risk first and foremost. Testing those individuals will give us the best chance of identifying … [it] in our community," he said.
Calls for increased local testing come as news of outbreaks in Brampton and continued devastation in long-term care facilities within both cities grab headlines. Ford this week mentioned that outbreaks in Brampton have been reported to him, while the same local information has not been publicly provided by officials responsible for keeping Brampton residents properly informed.
Those same officials, including Brampton Mayor Patrick Brown, who has held numerous press conferences that have revealed very little detailed local information to give an accurate, up to date picture of the COVID-19 picture throughout the city, are now being questioned about Ford's statement that revealed parts of the city are far from safe.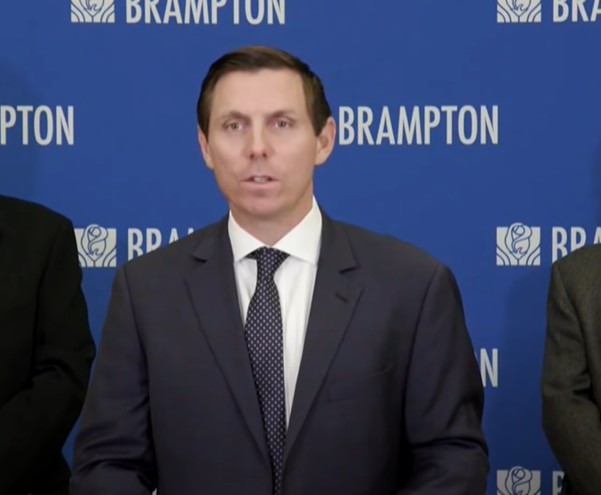 Brampton Mayor Patrick Brown at one of his numerous press conferences which offer little detailed information about the local infection situation
The call for better testing in Peel comes as an investigation revealed recent cases in Peel were connected to outbreaks in households and workplaces, Dr. Loh said. Mississauga Mayor Bonnie Crombie said the spike in workplace cases revolve around food processing facilities, manufacturing plants, warehouses and delivery companies, but no details were provided.
On May 8, Sofina Foods reported one positive case at its Mississauga meat processing plant. In Brampton, an Amazon warehouse, the massive Fiat Chrysler Assembly plant and Maple Lodge Farms have all reported cases. Amazon and FCA said there was no outbreak and each facility only had one case, but Maple Lodge was another story, with one worker who died from COVID-19 and another 24 who tested positive for the virus.
It remains unclear why the outbreak was only reported to the public on May 4, despite the first case being confirmed April 16 and a total of 24 infections by the end of April.
These sorts of lags in reporting out to the public can lead to much worse outbreaks when residents are unaware of a particular local risk. Peel Public Health has provided little information about contact tracing to help determine who might have been at risk of contracting the virus through community contact with those already infected.
Ford has blasted local and regional public health officials for not conducting sufficient testing, but stopped short of naming the specific problem areas. Dr. Loh would not confirm or deny if Peel's agency was one of those failing to meet standards, but he admitted last week that Peel needs to broaden its testing.
On Sunday, Premier Ford announced the province will release a new testing strategy in the coming days. He also asked any residents who thought they had the virus to go get tested. "Let me reassure you, even if you or your family do not have symptoms, if you feel you need a test, you will be able to get a test," Ford said. The Premier has repeatedly said an increase in testing is part of the answer to beating the virus.
However, boosting testing capabilities in Ontario is easier said than done, and the roadblocks facing such testing are endless. From backlogs in the ability to process tests to a lack of supplies, problems have been facing Ontario's testing system since the province declared a state of emergency in March. Its current benchmark of 16,000 daily tests is also falling short. A CBC analysis indicated the target had only been reached 10 days between May 1 to May 25.
"The testing has been dismal and the Premier has been promising for weeks and weeks that he's all over it," Andrea Horwath, leader of Ontario's New Democratic Party, told The Pointer. While extremely important, such a plan has to include more than testing, she said. Inspectors should be available to confirm businesses are safe to operate and ensure protocols are being followed. "I think there's no employer on the earth that would want to be responsible for having an infection in their workplace…the Premier needs to be pretty clear if he's going to open up more of the economy, how these issues are going to be addressed."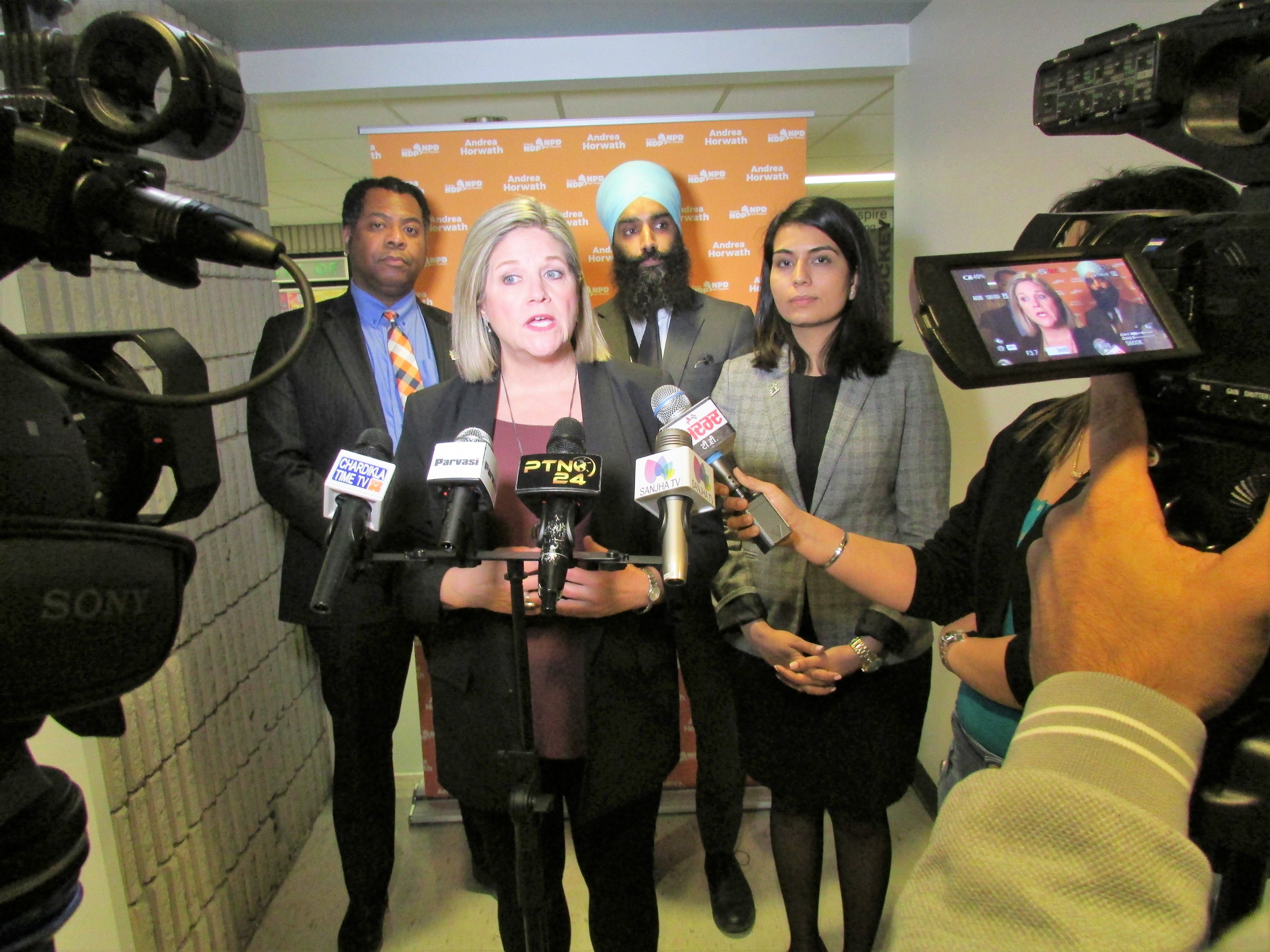 Ontario NDP Leader Andrea Horwath in Brampton last year with the city's three NDP MPPs; she says Peel residents are blind without local COVID-19 data
The first phase to reopen came earlier this month and targeted some retail stores, nurseries and outdoor facilities, such as parks and tennis courts. While the framework was outlined by the province, municipalities had free rein to implement what they wanted and when. Despite Brown's vow to not rush reopening and follow a timeline based on the local COVID-19 picture, the City has basically followed the province's lead.
Until recently, stricter measures existed in Mississauga where tennis courts and parks were kept closed to the public. On Wednesday, some of the City restrictions were lifted, but after images of Toronto's packed Trinity Bellwoods Park flooded screens since the weekend, Mississauga's more measured response has been drawing widespread praise.
Its council voted in favour of starting the next stage of reopening on June 1. Park spaces including benches, picnic shelters and leash-free dog zones are on the list of things slated to open. At Mississauga's City Council meeting, Dr. Loh said he didn't want the opening of such facilities to be taken as a sign of things turning back to normal. Instead, he said it should be seen as a signal marking the importance outdoor activities have on mental health. "From the broad perspective, outdoor spaces present a lower risk of transmission of COVID-19, if they're used in a responsible manner," Dr. Loh said.
To ensure outbreaks in workplaces don't spread out the doors and lead to further community transmission, many steps need to be considered. These include investigative teams, Dr. Loh said, which are using contact tracing methods to inform anyone who may have come in close proximity to an infected individual. The community also has to play a role, ensuring physical distancing measures are followed and non-medical masks are worn when necessary.
Given that many of the cases included in the recent spike in Peel have been traced back to their source, Crombie said the city feels confident about loosening certain restrictions, as long as everyone follows the rules of physical distancing.
"Mark my words. We will not hesitate to close it all down again," Crombie said Wednesday. While she said the City did discuss extra measures it could take in parks, such as marking circles in the grass for people to sit while maintaining physical distancing, it's not something that will be done at this time.
Ford on Monday said that the province's data has pointed to parts of Peel as being problematic.
"We measured by postal codes and like I mentioned some areas are lighting up like a Christmas tree," Ford said. "I've reached out to Mayor Brown and we're really going to drive the testing, get people out where the hotspots are, get them tested. It's absolutely critical at the end of the day and I've got to make sure we're fully ramped up."
While the Region was labelled as a "hotspot", details about specific areas within Peel are not available at this time, something that might soon change. At Wednesday's press conference, Brown said conversations with health officials have led them to determine that such information will be available "as soon as possible."
"I think transparency is the best recipe. We're dealing with a pandemic and so I'm glad there's a move afoot to release what areas in the GTA have a higher circulation of the virus. I have a good sense from my conversations with the Premier for where they are in the GTA, but I would love for the entire community to know," Brown said in response to a question from The Pointer.
It's an issue highlighted by Horwath, who said simply mentioning parts of Peel or Brampton as hot spots without detailing where they are is not enough information for people to avoid specific areas.
"It's all about slowing down the spread, stopping the spread. So you have to give people the tools they need to do exactly that," she said.
Dr. Loh's tone highlighted a different concern. While he did acknowledge such information can be helpful, it has to be used with "other tools to inform the public." Geographic data would speak more to where an infected individual lives and not necessarily to the area where they might pose the greatest risk of exposing others.
"Brampton's population is highly mobile and interconnected in the GTA, which means that acquisition of the disease can actually happen far away from home, as opposed to around what may show up on a geographic map," Dr. Loh said.
No date for when hot-spot information might be released to the public was shared at the press conference.
In some instances, mobility issues are part of the concern with institutionalized settings as well. A number of outbreaks in Peel Region have occurred in such settings, specifically long-term care homes.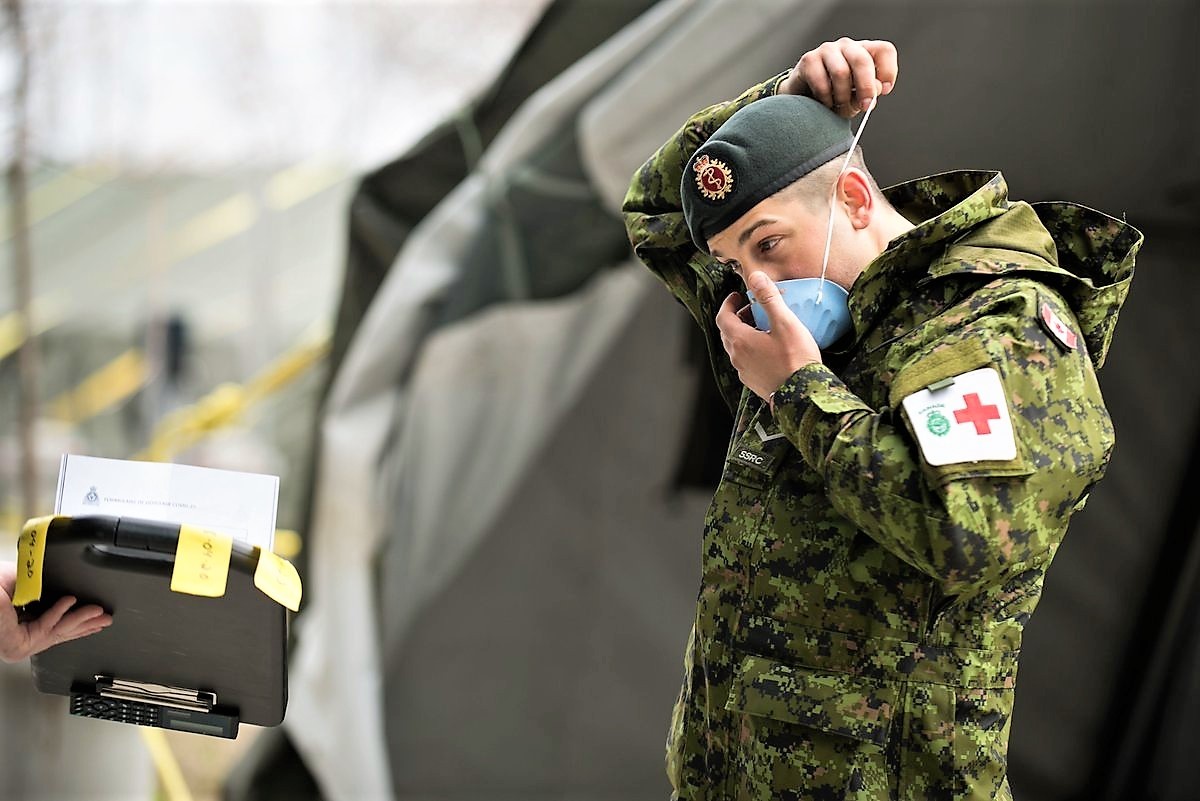 Canadian Armed Forces members had to provide emergency help at Brampton's Grace Manor long-term care home
A report released by the Canadian Armed Forces illustrated examples of neglect and misconduct witnessed in five homes being assisted by the military. This includes Brampton's Grace Manor, with concerns around staff not following proper hygiene practices and wearing the same personal protective equipment for multiple tasks.
The release is closely followed by the province's decision to take over five long-term care homes, including Camilla Care Community in Mississauga, where the devastating spread of the novel coronavirus has killed 62 residents.
The action is something the province should have done a long time ago Horwath said. "For months, people have been losing their lives in long term care…for weeks there have been lawsuits filed, there have been affidavits sworn, there was an auditor's report a year ago, there have been umpteen letters and calls and cries of help from the public, and it takes the Canadian Armed Forces to have a report that hit the media yesterday, it takes that for the government to finally move on taking over the operation of these homes. They are far, far too late," she said.
---
Email: [email protected]
Twitter: @nida_zafar
Tel: 416 890-7643
---
COVID-19 is impacting all Canadians. At a time when vital public information is needed by everyone, The Pointer has taken down our paywall on all stories relating to the pandemic to ensure every resident of Brampton and Mississauga has access to the facts. For those who are able, we encourage you to consider a subscription. This will help us report on important public interest issues the community needs to know about now more than ever. You can register for a 30-day free trial HERE. Thereafter, The Pointer will charge $10 a month and you can cancel any time right on the website. Thank you.
Submit a correction about this story