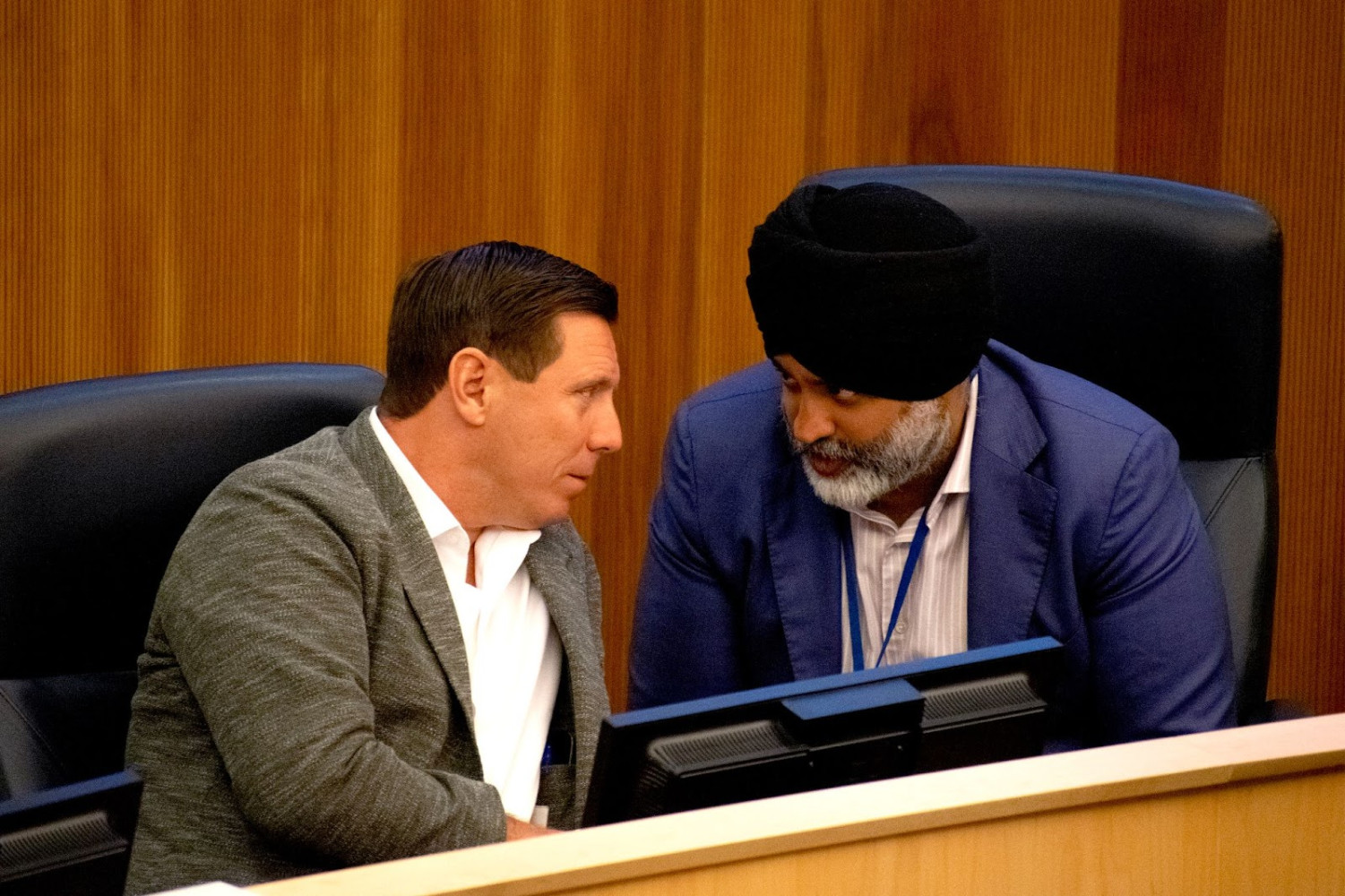 Alexis Wright/The Pointer
Patrick Brown still faces allegations of sexual assault; asked to support stricter penalties for council members in harassment and abuse cases 
After the Stopping Harassment and Abuse by Local Leaders Act failed its second reading inside Queen's Park on May 31, a grassroots organization called Women of Ontario Say No, delegated to the City of Brampton Wednesday to support the legislation.
Specifically, they asked for council members to pass a motion to endorse the Association of Municipalities of Ontario's recommendations around stricter rules and punishments for local officials caught abusing others in the workplace. They asked the city's elected leaders to write a letter of support to local MPPs, Ontario Premier Doug Ford, Minister of Municipal Affairs and Housing Steve Clark, AMO, and the Associate Minister of Women's Social and Economic Opportunity, Brampton MPP Charmaine Williams.
In 2021, AMO sent a letter to the Minister of Municipal Affairs and Housing, Steve Clark, to enhance municipal Codes of Conduct and compliance.
(Women of Ontario Say No)
The Rural Ontario Municipal Association had also sent a letter to Minister of Municipal Affairs and Housing Steve Clark, to call for the legislation to be moved forward as soon as possible. "In recent years, there have been many incidents involving municipal council members whose behaviour has clearly crossed the line with colleagues, staff members or the public. Councils have few options to take appropriate action to discipline the member or enforce the Codes of Conduct all councillors agree to upon taking office. This impedes our abilities to maintain and improve trust with the public for what is their most accessible and direct form of government," the letter reads.
"One solid step forward would be to strengthen municipal Codes of Conduct, improve the training and consistency of Integrity Commissioners work, consider putting in place administrative penalties for certain infractions to improve compliance with municipal Codes and ultimately, allow removal from office if recommended by an Integrity Commissioner and approved through an application to a judge."
According to the Women of Ontario Say No website, 168 municipalities (38 percent of all municipalities in Ontario) have shown support for Bill 5.
Former Mississauga councillor Karen Ras stepped down from her position during the last term of office after alleging her colleague at the time, now former councillor Ron Starr, had repeatedly harassed her. He denied the allegations and refused to apologize after losing 60 days pay following a ruling at the time by the City's integrity commissioner who found Starr had keyed Ras's car on at least one occasion. Critics said it was a slap on the wrist.
Currently, the most severe penalty that can be imposed on a municipal council member for violating code of conduct policies is the suspension of pay for 90 days, without any possibility of removing them from office.
Former Brampton Councillor Gurpreet Dhillon faced allegations of sexual assault and was investigated by the city's controversial integrity commissioner Muneeza Sheikh, who found he had violated the City's code of conduct (her ruling is not legally binding and has never been tested in court) while on a City trade mission to Turkey in 2019 when he was accused of sexually assaulting a Brampton woman in a hotel room. Dhillon denied the allegations and questioned how Sheikh came to her conclusion despite the lack of police interest in pursuing charges (Sheikh has been criticized for taking the IC role even though she has no prior experience and has been professionally linked to Patrick Brown, who opposed Dhillon on council and repeatedly attacked him over the allegation). He was suspended without pay for 90 days.
Brown's presence during the delegation that pushed for the harassment legislation raises questions about his own past.
In 2018 two young women came forward with allegations that Brown had sexually assaulted them about a decade earlier when they were teenagers and he was a Conservative MP in Barrie. In a story first reported by CTV the two women detailed their accusations. One said she had been drinking excessively at a bar where she met Brown who then allegedly took her into a bedroom in his house, exposed his penis to her and then forcefully told her to put his penis in her mouth, which she did for a short period before stopping.
The other woman alleged in a separate incident that, while employed at his constituency office in Barrie, after Brown made advances toward her on a plane before eventually hiring her, the politician supplied her with alcohol at a local nightclub, then at his house later on, began kissing her without consent before getting on top of her on a bed with an erection. She said she told him to stop and was able to remove herself from the situation, which she described as a sexual assault.
Brown has denied the allegations, which still stand. Despite his claims that the CTV story was discredited, the allegations and the original story remain published (CTV acknowledged one of the two women in the original story was a year older than first reported).
Critics have pointed out that Brown has not denied many of the circumstances around the allegations, some of which are supported by text messages made public, and photos posted on social media, which show him with one of the women at his home on the night he allegedly assaulted her.
If, as a Member of Parliament, he made advances toward a teenage woman on a plane, eventually hired her, was at a nightclub supplying the employee with alcohol and was later photographed with his arm around her at his home, this raises questions about his fitness for public office.
A Globe and Mail article published in 2018 raised serious concerns about Brown's history with young women. It included parts of a memo written in 2017 by Ontario PC Party lawyer Mike Richmond, when Brown was the PC leader. After the CTV story was broadcast and published, information began to leak about long standing problems Brown's behaviour with women had created for the Party. A year earlier Richmond detailed information that could be made public including text messages Brown had sent to a staffer he had dated: "Tamara has 3 years of texts from PB [Patrick Brown] and the rest of the team. She is also the lead for the story that none of us wants to deal with: the relationship with every female staffer in his office."
Brown is now being asked to support legislation that would deter politicians from abusing, assaulting or in any way harassing or taking advantage of others sexually, particularly women.
Multiple Brampton Council members expressed support for the legislation, including Rowena Santos, who herself was accused by former City Hall staffer Nikki Kaur of harassment. (The City's integrity commissioner at the time accepted Kaur's version of the alleged interaction, deciding that Santos likely did behave inappropriately. The commissioner said it did not amount to harassment, though, because Kaur said it only happened once.)
Santos, one of Brown's loudest supporters, also voted to cancel an investigation into her own alleged abuse of office, and multiple other investigations into alleged abuses by Brown involving contracts worth millions of dollars, one to a friend of Santos and others to friends and associates of Brown, including the controversial agreement to hire Sheikh as the integrity commissioner following a process controlled by Brown and despite her lack of any prior experience.
Councillor Gurpartap Singh Toor, who defeated Dhillon in October, responded to the delegation, questioning why there are not stricter penalties for council members who engage in harassment.
"It is very difficult to see this not just in Brampton but other municipalities as well that when something like this happens, you basically just get a slap on the wrist and that is unacceptable and it is embarrassing that we're having this discussion in 2023."
Brampton council chambers on June 21 when the issue of harassment by members of council was dealt with.
(Alexis Wright/The Pointer)
Kaur said she was taking legal action after she was fired from her job with the City the day after losing to Brown in the October mayoral election. She had come forward during the last term of office with allegations of misconduct by Brown and senior staff hired by him.
She alleges Brown carried out a reprisal against her, first for coming forward as a whistleblower with her allegations and then for running against him.
"Patrick Brown has once again tried to silence me for alleging wrongdoing and mismanagement at City Hall," she wrote in a statement following the termination of her employment the day after the municipal election.
"I have retained legal counsel and will fight this injustice."
Last month, the provincial Ombudsman issued another letter to City Council to complete the half-dozen investigations into the mishandling of large contracts to Brown's friends and one to a close friend of Santos. Not only did Brown, Santos and their allies shut the investigations down, the mayor then repeatedly lied about the Ombudsman's communication to council members.
Councillor Paul Vicente said he was involved in discussions around the request for the provincial government to tighten rules on council member misconduct. He was one of the Brown allies who voted in August to cancel the investigations that were, at the time, zeroing in on the relationships between Brown, Santos and their friends who were awarded lucrative contracts without council's knowledge of the relationships, in highly questionable procurements (one of Brown's closest friends was paid three times what council had approved for the work, much of which was never completed).
Councillors Paul Vicente, centre, and Rowena Santos, right, both voted to cancel investigations into alleged misconduct by Patrick Brown and Santos herself.
(Alexis Wright/The Pointer)
"I believe here at the City of Brampton, you will find that we would be supportive if someone were to table legislation again, and we would want to see that speedily go through the House and be approved," Vicente said, apparently mistaking the federal Parliament for Queen's Park.
Santos said a specific request to the Premier would be sent on behalf of the Council. Brown remained silent throughout the delegation.
Emily McIntosh, who delegated on Wednesday, with a focus on the harassment of women, said the movement will continue to engage in talks with unions and policing bodies while rolling out more deputations across the province. "We are continuing to reach out to Conservative MPPs in particular, to really express absolutely how critical this legislation is, and the fact that it cannot be resolved at the local level. In fact, municipalities are completely pigeonholed when it comes to dealing with this kind of behaviour," she said, adding that a statement from the Ontario Human Rights Commission would be welcomed.
"We actually have about 14 to 16 different examples as to why this type of legislation is absolutely critical and necessary as far as workplace safety is concerned and also, you know, getting diversity of voice at the decision making table is never going to happen if that arena is not safe."
---
Email: [email protected]
Twitter: @SamanahAli
---
At a time when vital public information is needed by everyone, The Pointer has taken down our paywall on all stories relating to the pandemic and those of public interest to ensure every resident of Brampton and Mississauga has access to the facts. For those who are able, we encourage you to consider a subscription. This will help us report on important public interest issues the community needs to know about now more than ever. You can register for a 30-day free trial HERE. Thereafter, The Pointer will charge $10 a month and you can cancel any time right on the website. Thank you
Submit a correction about this story